Looking to print documents and images but don't have a laptop to connect to your printer? Turns out, you can print whatever you want directly from your iPhone. But how do you print from your iPhone?
The easiest method uses a wireless method that requires an Airprint setup on iPhone. If you can't or don't want to use a wireless connection, there are other options.
Today, we'll show you how to print from iPhone in a few different ways.
What is AirPrint?
AirPrint is a wireless method that uses Wi-Fi to connect devices, letting you print easily. To use AirPrint on an iPhone, all you need to do is make sure your device and printer are connected to the same Wi-Fi network.
After you're connected, you can print directly from an iPhone. Apple has collaborated with companies like HP to make this technology possible.
Related Reading: How to Fix the Last Line Not Available Error
How to Set up AirPrint
Let's dive into how to add a wireless printer to an iPhone with the steps below.
Step 1: Go to the "Settings" app on your iOS device and tap on "AirPrint". You can also access this menu by clicking on "General," followed by tapping on the AirPrint button.
Choose an option to select what you would like to be displayed under the menu. You can choose to display all available printers or just the ones your device can print to.
Step 2: Tap on "Done" and then tap on the "Print & Scan" tab. Select a printer from the list and toggle it on if it is disabled previously.
Now, you're ready to go!
How to Print From iPhone with AirPrint
Step 1: Make sure that the AirPrint feature is turned on and check whether your printer is available for AirPrint.
Step 2: Head to the webpage, document, etc. that you want to print
Step 3: Click the share button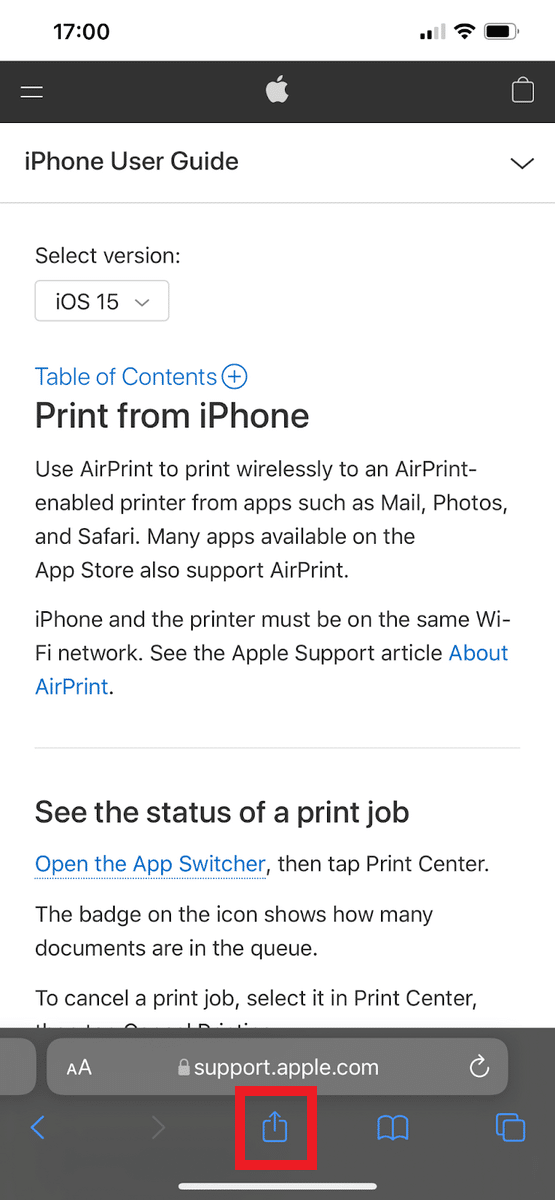 Step 4: Scroll down and click Print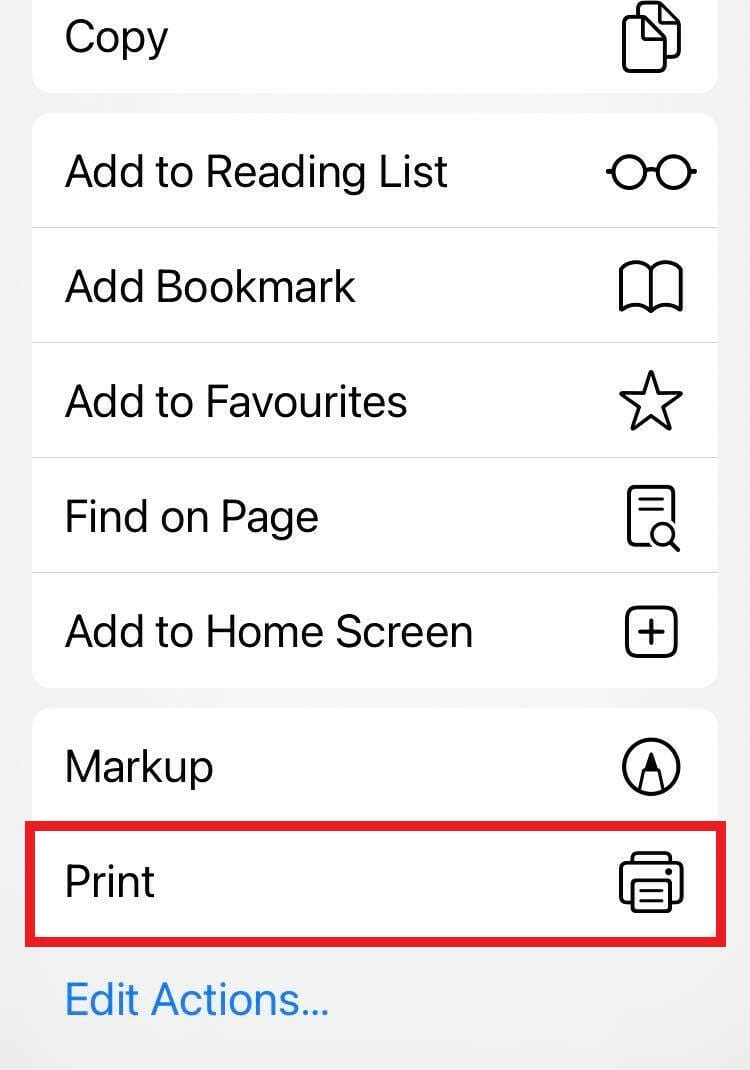 Step 5: Select Printer in the Printer Options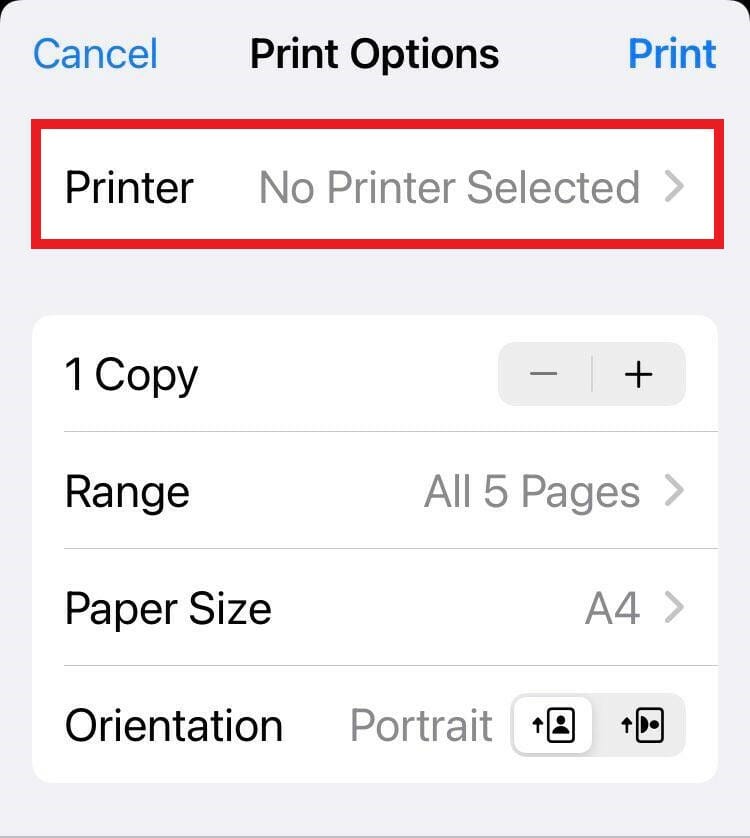 If your printer is AirPrint compatible, switched on, and connected to the same WiFi, it will appear in the list of available options and you can simply print from there.
Related Reading: Print Labels from Google Sheets
How to Print from iPhone Without AirPrint + iPad Too
Often you can plug the phone into a printer directly through a USB port on it. After you've connected it, head to Settings > Printer Options > Printer > Add Printer to iPhone. After that, you can print as normal. Otherwise you can use printer specific apps to your iPhone and follow the in-app instructions from there to print over WiFi.
How to Print From an iPhone or iPad With a USB Cable
Here are detailed instructions on how to add printer to iPhone via USB:
Step 1: Make sure the printer is on. It has to be compatible with iOS devices.
Step 2: Connect your iOS device directly to your printer via a USB cable.
Step 3: Unlock your iPhone and tap on the "Settings" app.
Step 4: Scroll down and tap on "Printer Options," then hit "Printer" You'll see a list of available printers. Select "Add printer to iPhone" when you see your printer.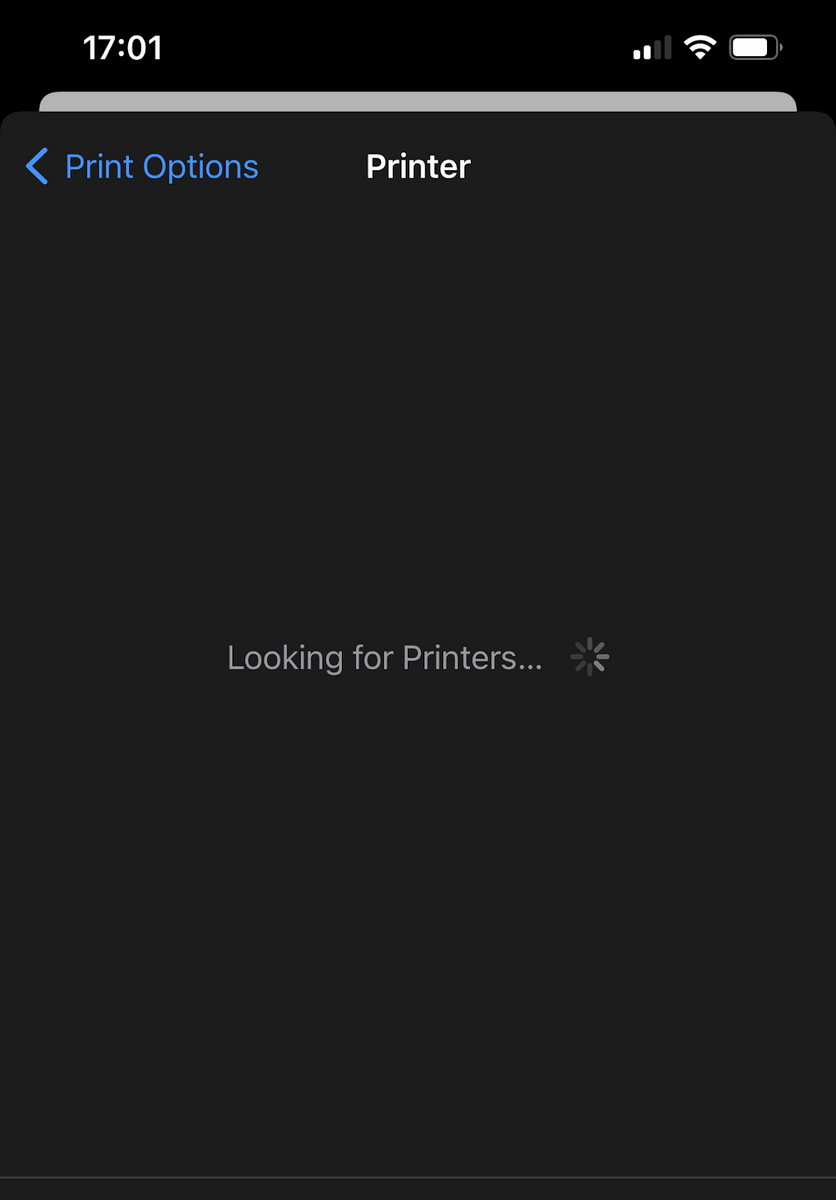 Step 5: Go back and tap the Printer Options iPhone button again to access its settings. Here you can manage copies or change the print job to be portrait vs landscape, or a number of other printer settings on your iPhone.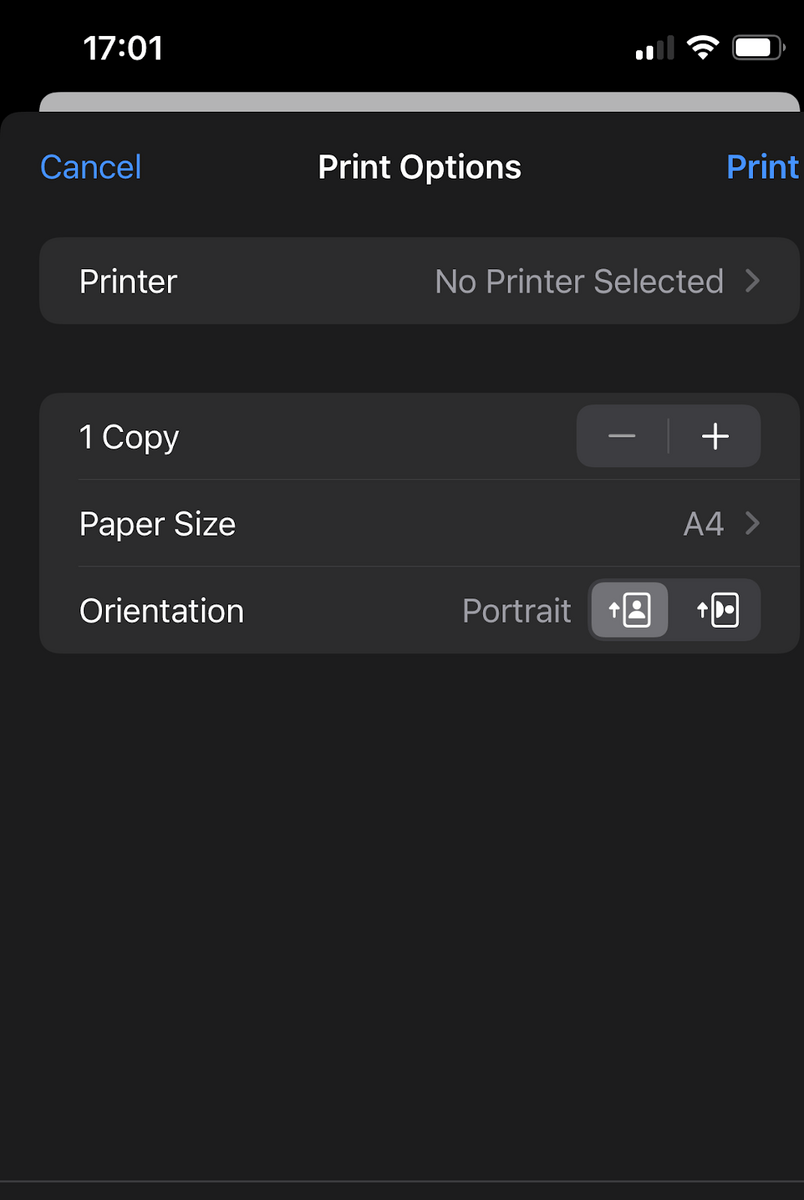 Step 6: Come back to the "Printer" section and tap on your printer's name to access its settings. In that menu, toggle on the option "Rendering Print Jobs". This will mark a checkbox saying "Print directly without AirPrint," which means you can print from iPhone without using AirPrint.
Step 7: Go to where you have contents you'd like to print. Confirm your intention and your printer should start printing from the iPhone!
Print From iPhone or iPad Using Third-Party Apps With Bluetooth or Email
Still struggling? The ways described above aren't the only ways to print from iPhone to a printer. Here's how to connect an iPhone to a printer in 3 other ways.
If you can't find a branded app for your printer, some third-party apps are available. One such example is Printopia which pairs with your macOS device and prints from your phone or Printnode, which helps from windows devices or in-app.
Some printers can be connected via Bluetooth. So check if it's discoverable on your Bluetooth devices. Then, it should prompt you to download the correct software.
Lastly, many wifi connected printers have their own email address. You simply have to share the documents you wish to print to the email address and print from the menu on the printer.
Related Reading: Set a Print Area in Google Sheets
Frequently Asked Questions
Can I Print Directly From My iPhone to a Printer?
Yes, you can. This is the easiest way to print from your device because you don't have to install any apps to print — the function is already part of your iPhone. Here's how to connect printer to iPhone: 
With AirPrint, you just have to click the Share button, then Print to get to the print menu and select the printer.
If your printer doesn't have AirPrint, you can try connecting the iPhone to it via USB.
How Do You Print From an iPhone Step-by-Step? / How Do I Print From My iPhone
Here's how to add a printer to iPhone with AirPlay. Let's say you want to print a picture. First, open the "Photos" app on your device. Select the image and tap on the share icon (box with arrow) in the bottom right of your screen.
Here, select the printer which you want to print from and then tap on the "Color Printer" icon on the next page.
Finally, tap on the "Print" icon, and your picture will start printing.
Why Won't My iPhone Find My Printer? / Why Can't I Find the Print Option on My iPhone?

Sometimes, this issue can be fixed by resetting your printer. If the problem still persists after resetting it, try unplugging your device and then plugging it back in.
To fix this, select your printer in the printers settings menu under "Printers & Scanners" and toggle on the option which says "Rendering Print Jobs."
Your device should be able to find it. If this still doesn't work, you should try resetting your wireless printer by unplugging it for a few seconds and then plugging it back in.
How Do You Know If You Have an AirPrint Printer?
The best way to check if you have an AirPrint printer is to open an app on your device with a print function.
For example, open the "Photos" app and tap on "Share" in the bottom right corner. This will show a list of available printers. If you don't see your wireless printer in that list, then it may not be compatible with AirPrint.
How Do I Know if My Printer Has AirPrint?
You can check your printer's name against the list on the Apple support website.
Is AirPrint On Older iPhone Models?
Your device must be running iOS 4.2 or later versions to use AirPrint. You also need a compatible printer.
Can I Print From an Android Phone?
You can print data from your Android device if it is compatible with the printer and has the right apps installed on it. You may need to add the printer to your phone library or have to look into using an app from the printer's company such as HP ePrint or Epson iPrint.
How Can I Print From My iPhone Without Airprint?
There are a few different ways to print without AirPrint, you can:
Connect your iPhone to the printer via a USB cable and follow the standard printing instructions for iPhones.

Connect via Bluetooth and download the recommended software.

Download the appropriate app from your printer manufacturer to your iPhone and follow the prompts in the app. For example, if you're looking for how to print from iPhone to an HP printer without AirPrint, you could download HP ePrint.
The Bottom Line
Now that you know how to print from iPhone, you'll find some extra time in your day to focus on pressing work tasks. If you're a small business owner, student, or professional and want to print something directly from your iPhone, the AirPrint iPhone feature is the best way to do that. Here's an example of an AirPrint-compatible printer: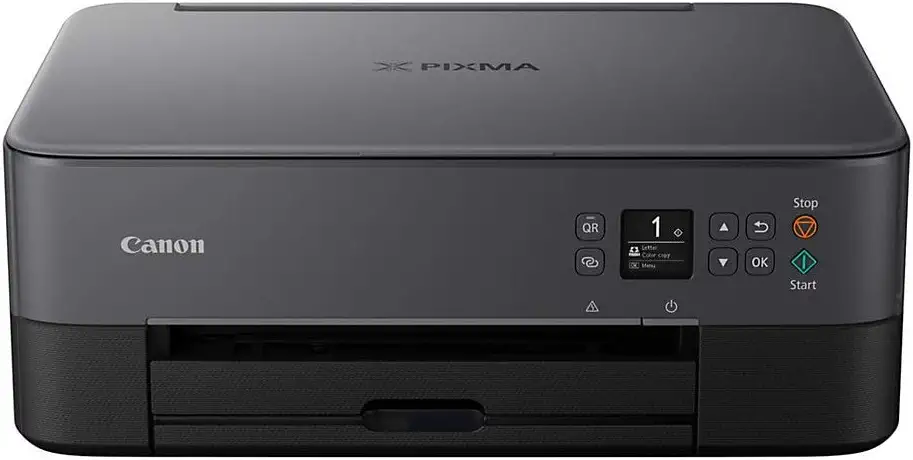 If this doesn't work, you can always try one of the other print options for iPhone, like connecting your iPhone to your printer with a USB, or via compatible apps.
Looking for a great high-quality printer? We highly recommend checking out Epson's extensive line of printers, ranging from compact and efficient home printers to large multifunction printers for your business.
Interested in finding more ways to be more productive? Check out some of these related articles: