You're probably here because you're looking for ways to increase your productivity and make it easier to do what you have to do daily. One of the things you can do is read some of the best productivity books to help put you on the right path. You can also find the best Mac apps to help streamline your work processes. And, if you have an iPad, you can use some of the best iPad productivity apps.
Ready to find your new favorite tools? In this article, we put together a list of some of the top iPad productivity apps available on the app store today. Some are free, while others are paid or subscription-based. Let's get to it!
Looking to really level up your productivity skills? Try taking an affordable productivity course. We recommend: Productivity and Time Management for the Overwhelmed.
What Makes a Great Productivity App for the iPad?
There are thousands upon thousands of productivity apps on the app store, but not all of them are good quality. Some are okay, decent even, but others need a lot more work, are overpriced, or are stuffed to the brim with ads. So how can you tell which ones are worth your time?
The top productivity apps for iPad all have a few things in common. Below, you'll find some of the qualities that the iPad's best productivity apps usually have. Note that an app doesn't need to have all the traits mentioned below to be good!
No or reasonable ads – Ads aren't inherently bad, and it's natural for some apps to have them. After all, apps need to make money to make their development worthwhile (and support their servers, developers, and more). However, if an app is so full of ads that they hamper its function, it may be time to consider alternatives. Additionally, if you pay for an app's ad-free premium version, you should reasonably be able to expect that there won't be any ads anymore.
Fulfills a purpose and improves your work process – Productivity apps should be able to meet the purpose they were made to fulfill. What good is an app that promises one thing but can't deliver on the said promise?
Brings convenience – The best productivity apps on iPad should bring you greater daily convenience. Great apps allow you to skip a few steps in your work routines or streamline the entire process.
Allows collaboration – Some of the best iPad apps for productivity allow collaboration either in real-time or by making it easy for you to share what you've worked on. However, it's worth mentioning that not all apps will require or offer collaboration.
Helps organization – The best iPad apps for organization should provide you with the means to keep your device, files, links, etc., organized and easy to navigate. However, it's not just organization apps that should be able to help you stay organized. In many cases, you'll want your productivity apps to be easy to navigate and provide features for organization, such as tags, folders, and the like.
Good user interface and experience – Not all users will be tech wizzes who just know how everything works. Thus, great productivity apps should provide intuitive user interfaces and experiences to make them accessible to all kinds of users.
Allows automation – Not all apps will offer automation features, which is why we've put this criterion last. However, it's reasonable to look for at least some automation processes in purpose-built productivity apps meant for work. For example, some apps will allow you to use templates to let you work faster. Others will allow you to duplicate work or create recurring tasks.
Best iPad Productivity Apps to Download in 2023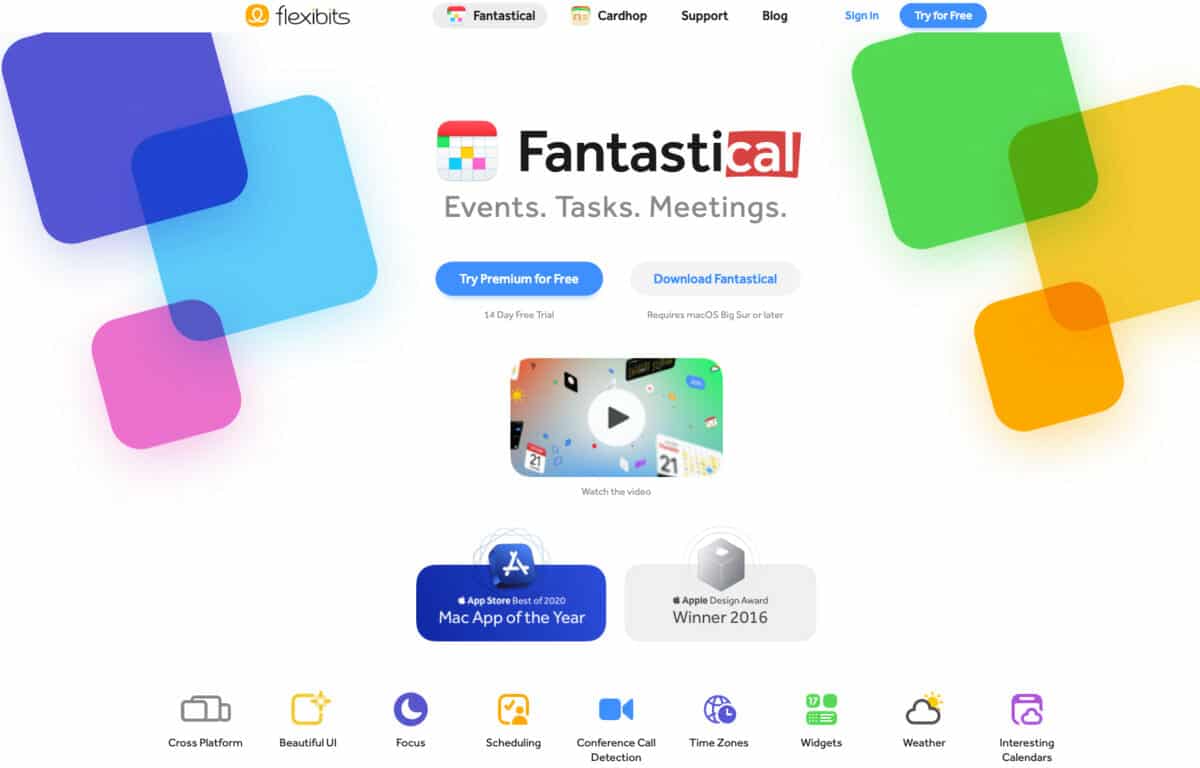 Pricing:

Free forever version with many limitations
Premium subscription

Individuals: $4.99 for the first month, then $6.99 month-to-month; $3.33 per month when billed annually
Family (up to five users): $7.99 for the first month, then $10.49 month-to-month; $5.42 per month when billed annually

Flexibits states that Fantastical Premium is for individuals and families and for personal use only. If you want to use Fantastical for your business or organization, contact Flexibits for more information
Platforms: macOS, iOS, Apple Watch
Why We Chose This App
If you're looking for iPad apps for work that can make your life easier all around, consider Fantastical. It's not the cheapest option out there, but it's one of the best iPad business apps for those who can't seem to keep track of their schedules.
Fantastical is a calendar app that lets you keep track of all your calendars and entries into a single app. Creating new events and appointments is even easier — as simple as typing a single line of text! This calendar app is full of features to make your life much easier to manage. You can purchase a subscription for yourself (individual) or pay for a family account (for up to five users).
Unfortunately, Fantastical is only available through a subscription. Subscribing gives you access to Fantastical and Cardhop, which is a similar app for managing your contacts. Fantastical offers a free trial of premium services if you want to try before you buy. You can use the limited free forever version if you choose not to renew.
Pros
Attach files and photos
Use various views to organize your agenda
Manage tasks right within Fantastical
Time zones feature makes it easy to schedule things no matter where you are
Use widgets on your phone or tablet
Cons
Only for Apple devices — no luck if you're a Windows or Android user!
Pricey subscription model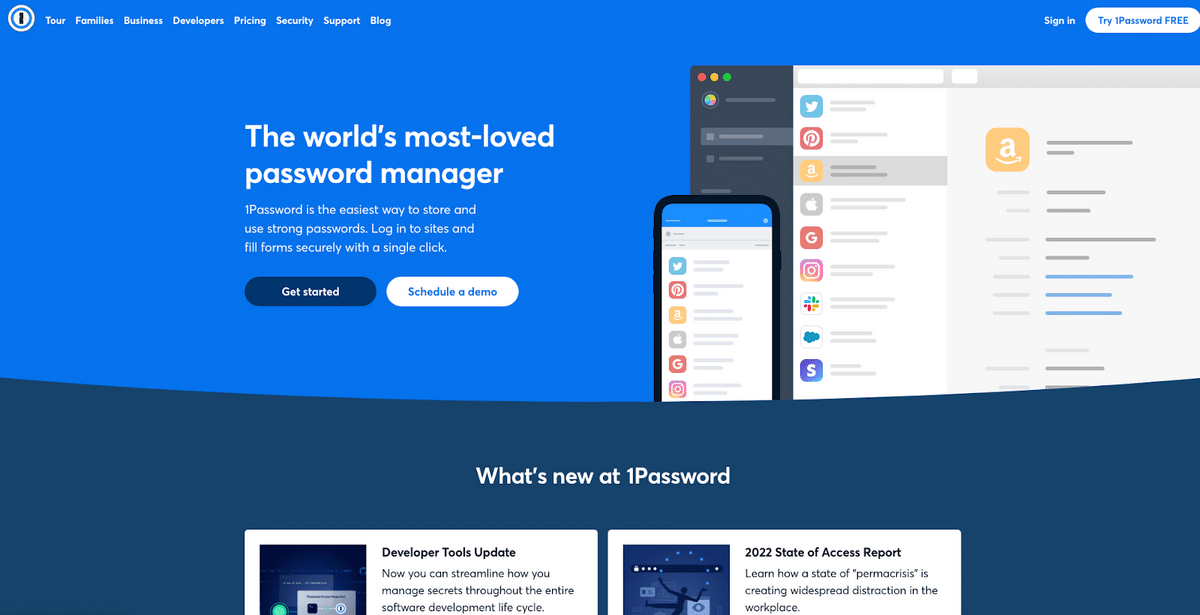 Pricing:

Personal: $2.99 per month billed annually
1Password Families: $4.99 per month billed annually
1Password Business: $7.99 per user per month; get your custom quote (with free family accounts)
1Password Teams Starter Pack (for teams of ten or fewer): $19.95 per month, billed annually
Enterprise: Contact sales
Platforms: macOS, Windows, iOS/iPadOS, Android, Linux, Web, Browser extensions, Command line
Why We Chose This App
With hackers and bad actors developing more and more sophisticated techniques to access your accounts, it's more vital than ever to use a password manager to keep all your login details safe. You might not think it at first, but a password vault is one of the best iPad apps for work. It can keep all your login details safe, so you only have to remember one password — your vault's. No more rummaging through notes and sheets of paper for your login details and clicking "forgot password?" every time you visit a website!
1Password is available on practically every platform you can think of. You can download their apps and browser extensions right from the 1Password website.
Pros
Save your login details and access them whenever necessary
Available on any platform
Works with biometric login so you don't have to enter your 1Password password every time (though you'll need to enter it every two weeks)
Has a password generator so you can create a strong password in one click
With proper permissions and with browser extensions, you can use 1Password to enter your login information automatically
Cons
Subscription-based model
On rare occasions, slow or buggy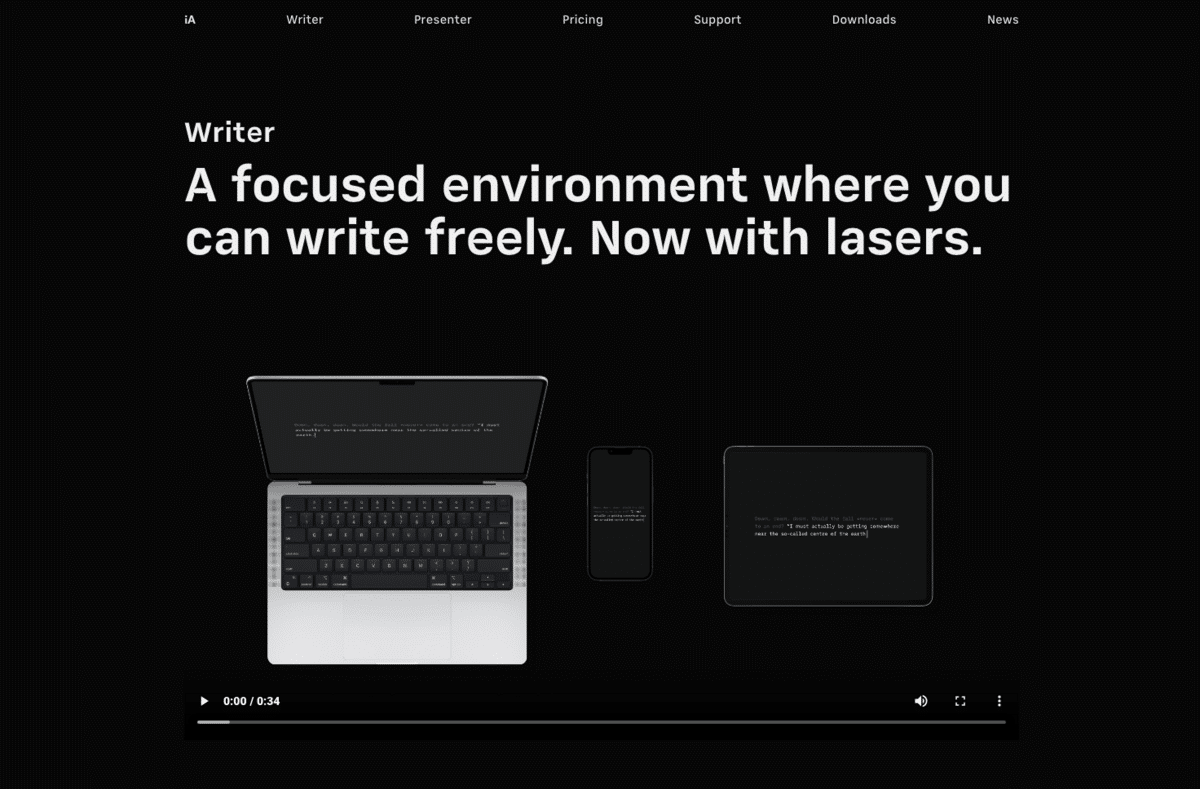 Pricing:

Free 14-day trial on macOS and Windows
Free 30-day trial on Android
No trial on iPadOS or iOS
One-time purchase at $49.99 for macOS, iOS & iPadOS (you must purchase the app on each platform separately)
One-time purchase of $29.99 for Windows and Android
Alternatively, you can subscribe for $4.99/month paid yearly on Android
More information is available here
Platforms: Windows, macOS, Android, iOS, iPadOS
Why We Chose This App
If you find yourself constantly distracted by all sorts of things when you're trying to write, iA Writer might be worth considering. This simple and minimalistic app lets you focus on what matters while writing. It also uses markdown for formatting and now allows you to link your documents for easy navigation.
The only downside to this app is that it's pretty expensive, especially if you want to use it across different platforms. For example, if you want to use this app on Mac and iPad, you need to purchase it twice! Luckily, it's a one-time purchase rather than a subscription, so you won't have to pay $40-50 a year like you would for other apps.
Pros
Has a focus mode to help you minimize distractions
Works on Windows, Mac, Android, and iOS
Great features for writers
Cons
Relatively expensive
Requires you to buy it on every platform you want to use it on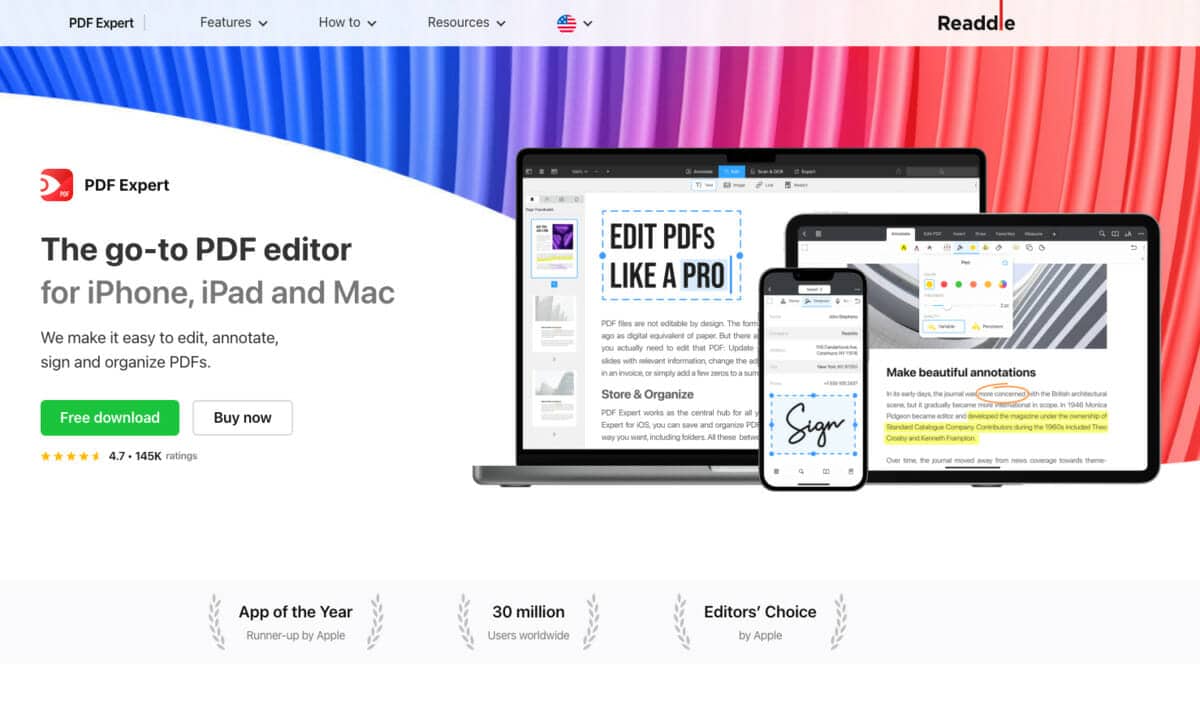 Pricing:

Free forever tier with limited features
Premium: Yearly at $79.99 ($6.67/month)
One-time lifetime purchase: $139.99 for one device only
All plans offer a money-back guarantee for 30 days
Platforms: macOS, iOS, iPadOS
Why We Chose This App
If you use your iPad for productivity, chances are you'll need to work with PDF files often. You can open and read PDF files natively within your iPad, and you can even add annotations and highlights without downloading anything. So why do you need PDF Expert?
PDF Expert allows you to do more — you can edit your PDFs, including text and images, and also annotate and add markup as needed. Plus, you can sign documents, open ZIP files, and fill out any forms. You can use PDF Expert for free, but most of the unique features are locked behind the paywall.
This app has so many features that we simply don't have room to talk about all of them. So instead, you can view them on the PDF Expert website.
Pros
Offers tons of features to make working with PDFs a breeze
Recognizes text with Optical Character Recognition
Allows you to sign PDFs
Converts your PDF to other file types
Cons
Expensive
Only for Apple computers and devices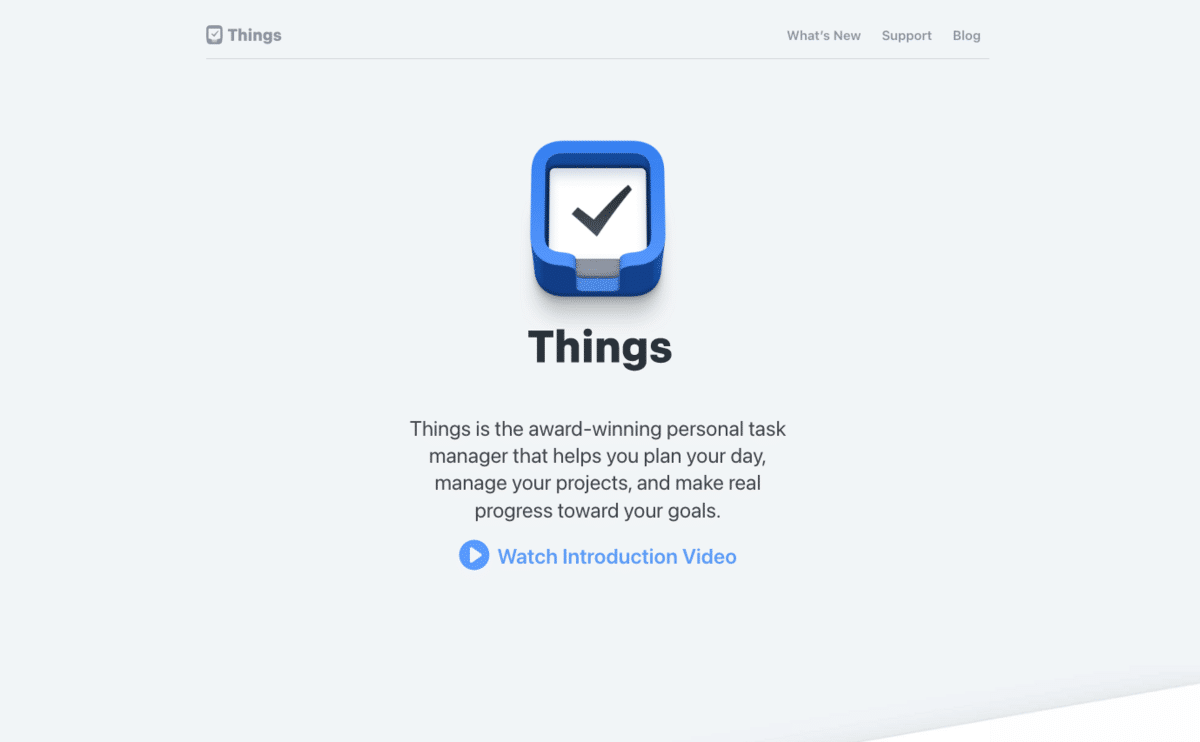 Pricing:

14-day free trial then $49.99 one-time purchase for macOS
$9.99 one-time purchase for iOS and Apple Watch
$19.99 one-time purchase for iPadOS
Platforms: macOS, iOS, iPadOS, Apple Watch
Why We Chose This App
If you're the type who likes to use productivity planners, Things might be for you. This app will allow you to take all of your planning digital in a simple, uncluttered, and elegant way. Everything is manageable via drag-and-drop, and you can work with deadlines, subtasks, and more.
Pros
Simple, uncluttered, and elegant
See your agenda for the day and the evening
See your upcoming schedule
Intuitive, even for the non-tech savvy
Cons
For Apple devices only
Requires you to purchase the app for every device you want to use it on (except for iPhone/Apple Watch)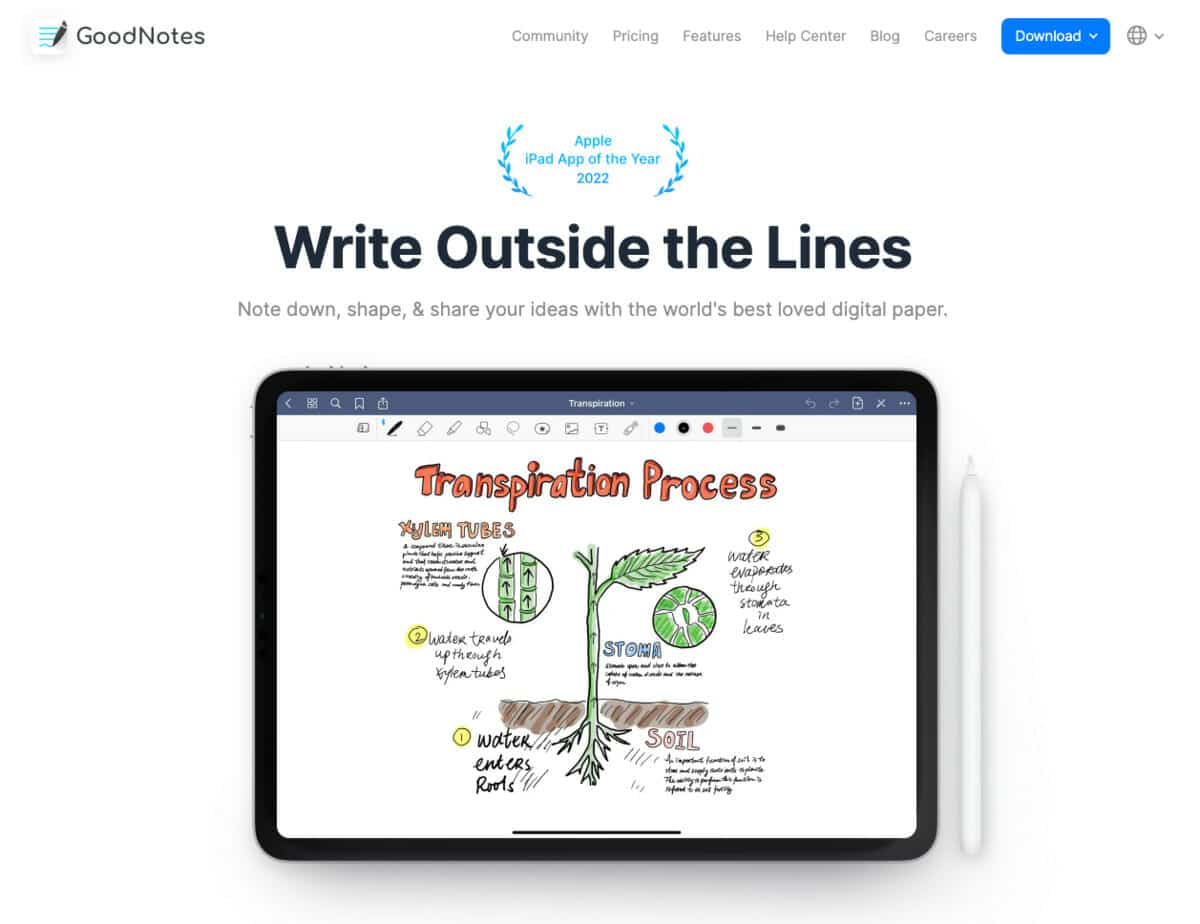 Pricing:

Free forever tier with limited features
One-time purchase of $8.99
Platforms: macOS, iOS, Windows (Beta)
Download GoodNotes 5 on macOS | iOS | Windows(Beta)
Why We Chose This App
GoodNotes 5 won iPad app of the year in 2022 and gets the title of best iPad productivity app from us.
This handy little note-taking app is capable of more than you think, including OCR text recognition, collaboration, and all sorts of customization. This editor uses GoodNotes 5 every single day, for personal and professional purposes. With a stylus, this app provides endless possibilities — especially since you can create or use templates, stickers, elements, and more!
Pros
Extremely affordable
Loaded with features
Use templates, stickers, and elements (or create your own)
View notebooks side by side
Import PDFs
Cons
Apple Freeform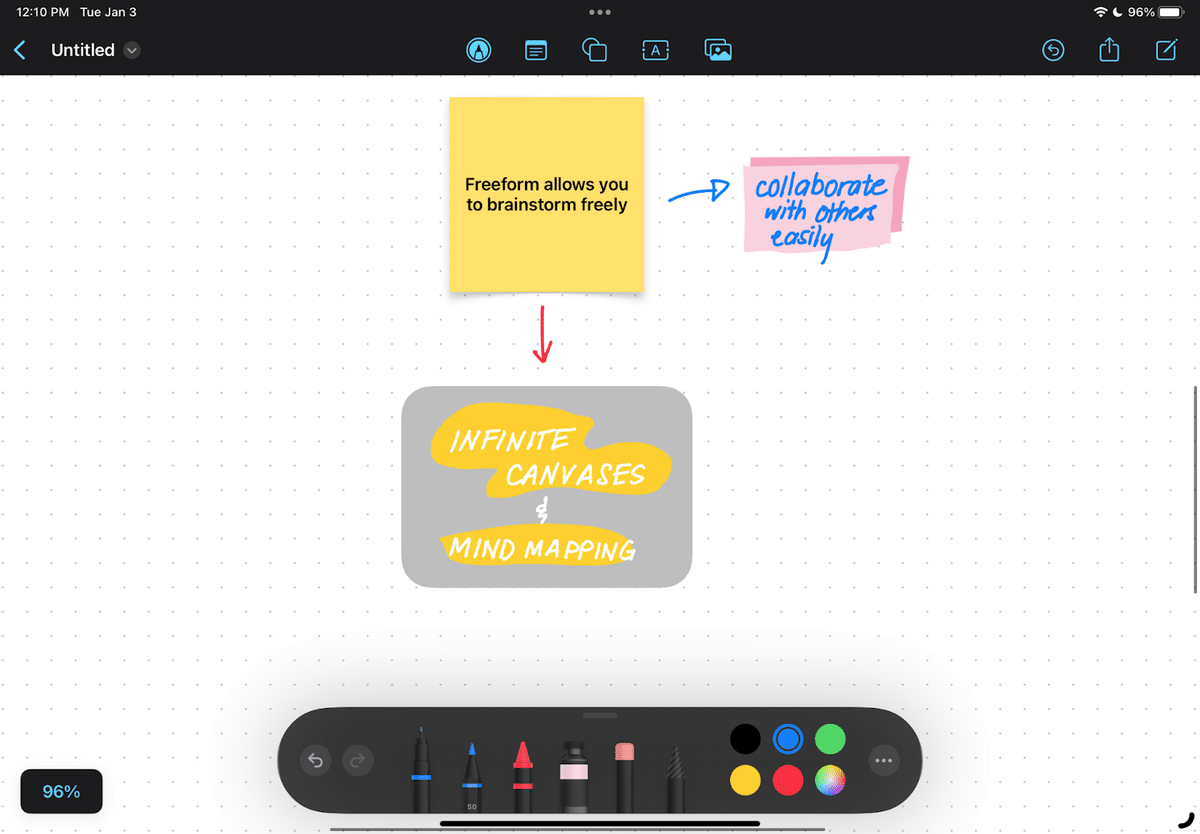 Pricing: FREE
Platforms: macOS, iOS, and iPadOS on compatible devices
Why We Chose This App
If you enjoy mind-mapping or a non-linear approach to planning and brainstorming, you can consider Apple Freeform. Although it's not exclusively a mind-mapping app, this brand-new, just-released Apple app brings a lot to the table. Despite its fresh release, it's fast becoming one of the best productivity apps for iPad users. You can see its useful features here.
Pros
Available for free
Infinite canvas allows you to brainstorm as freely as you want
Collaborate with others
Wide selection of tools
Cons
Only on Apple devices
Only available on certain models updated to the latest versions of macOS/iOS/iPadOS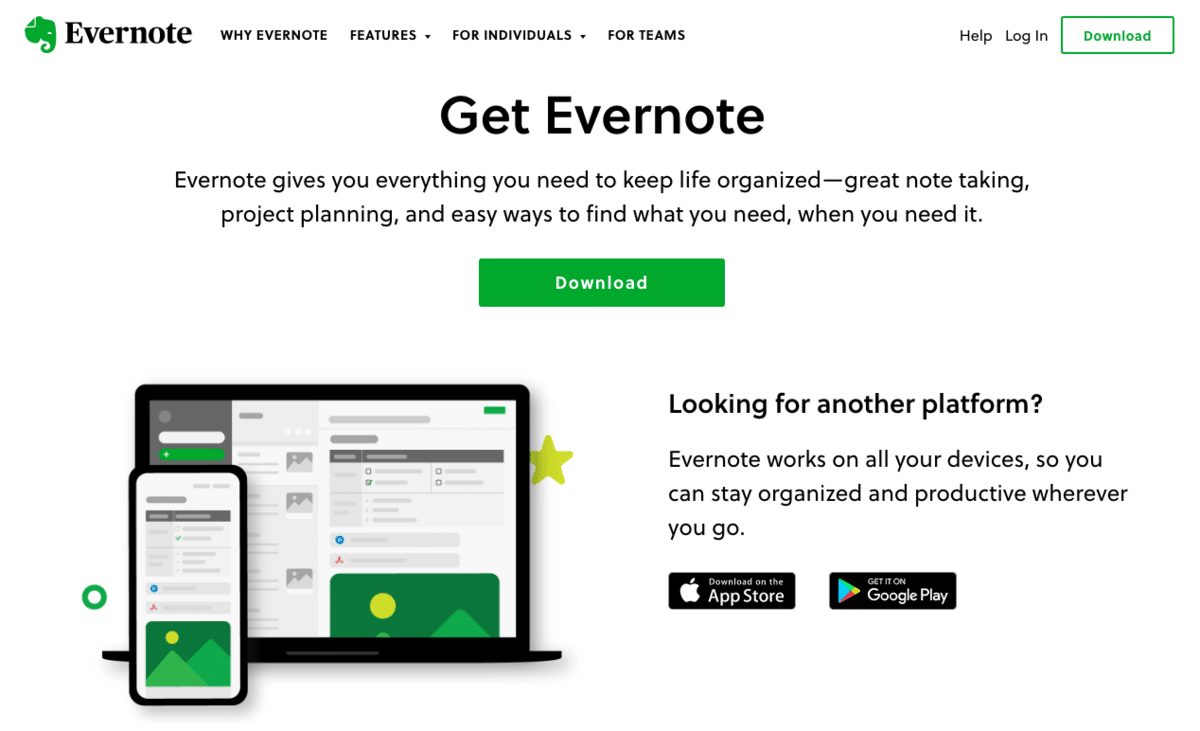 Pricing:

Limited free forever plan
Personal Plan: $79 per year or $8.99 month-to-month
Professional Plan: $109.99 per year or $10.99 month-to-month
Evernote Teams: $14.99 per user/month
Platforms: Web, macOS, iOS, iPadOS, Windows, Android; Linux (Beta)
Download EverNote | Download Penultimate
Why We Chose This App
Evernote is one of the best note-taking apps around. It's been around for almost two decades now (founded in 2004) and has since then continued to add more features to make organizing your life a breeze. You can use this app for whatever purpose, be it school, work, or personal.
Evernote doesn't handle handwriting as naturally as GoodNotes 5. You'll need to add a sketch separately or use the Penultimate app, which can sync your notes into your Evernote.
You can use Evernote for free with limited features. To access more features, you'll need to pay for a subscription.
Pros
Create all sorts of notes
Use Evernote for free with limited features
Use with the browser extension to quickly clip websites, images, text, and more
Cons
Subscription-based pricing model
Not the most intuitive handwriting experience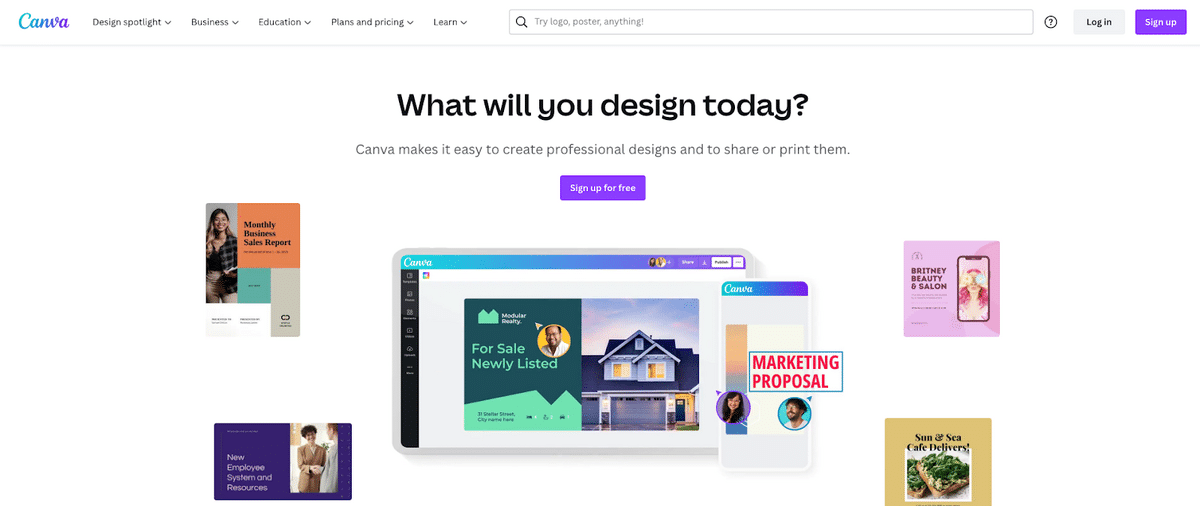 Pricing:

Free forever plan with limited features
Canva Pro for one user: $119.99 per year or $12.99 month-to-month
Canva for Teams for 2+ users: $149.90 per year for the first five people, or $14.99 for the first five people month-to-month (then an additional cost per user)
Platforms: macOS, iOS/iPadOS, Windows, Android
Download Canva for Mac | iOS | Windows | Android
Why We Chose This App
Canva has exploded in popularity over the past few years. Today, it's one of the best ways to create graphics, especially since it enables anyone to make them regardless of design background (or lack thereof).
You can use Canva for free with the free forever plan, although you'll experience many limitations. If you want access to more features, you'll need a Canva Pro subscription.
Pros
Has a free forever plan
Great for solo users or teams
Loaded with tons of handy features for creating graphics and documents
Plenty of templates
Cons
Many features, templates, etc. locked behind a paywall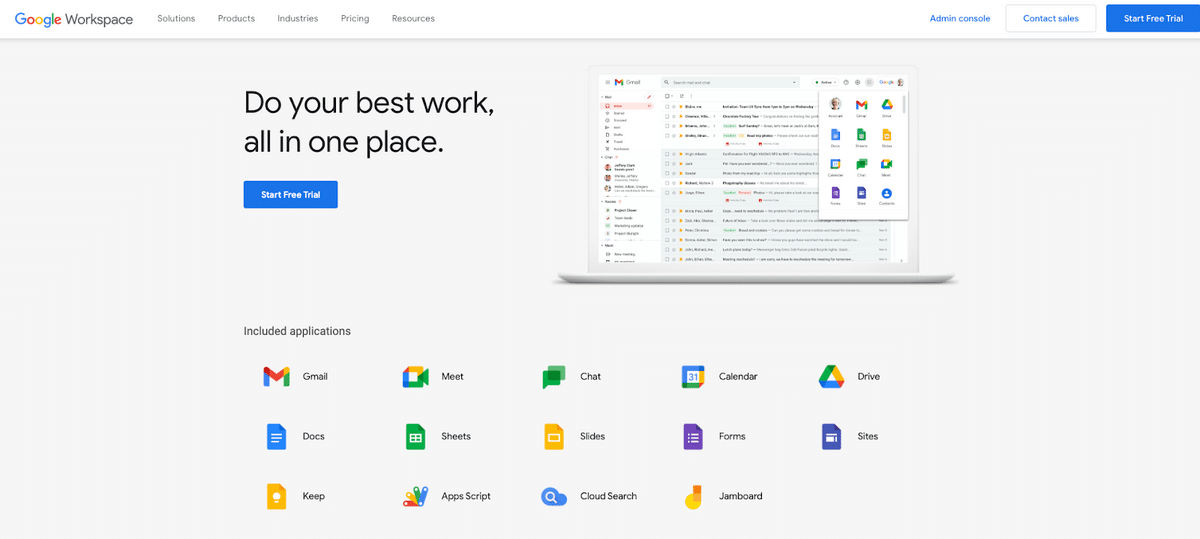 Pricing:

FREE, or
Sign up for Google Workspace: 14-day free trial, then a monthly or yearly subscription per user; pricing information is available here
Why We Chose These Apps
How could we not include Google's productivity apps? Google offers some of the best free apps available today, benefiting students and professionals alike. You can use apps like Google Docs, Google Sheets, Google Keep, and Google Drive straight from the web or download them onto your iPad for ease.
Google Docs is a fantastic Microsoft Word (or Apple Pages) alternative, while Sheets makes an excellent Microsoft Excel (or Numbers) replacement. Google Drive is a great way to store your files and sync everything across all of Google's apps, including the two mentioned above.
Since you're looking for productive apps for iPad, you might want to consider Google Keep as well. Google Keep is a great free app that allows you to take text-based notes, set reminders, create checklists, record voice notes (on mobile), organize, and collaborate. When used with the Google Chrome extension, you can even clip snippets of text, images, and websites right into your Google Keep app. Pretty handy for keeping track of stuff you come across!
Pros
Available for free, though you can access more apps and features through a Google Workspace subscription
Compatible across platforms, mobile apps available
Seamlessly integrates with other Google apps and products
Get 15GB of Google Drive storage for free
Cons
Requires internet for best use
Sometimes buggy
Some apps can be resource intensive, especially when loaded with a lot of data
Frequently Asked Questions
How can an iPad increase productivity?
A mere decade ago, iPads were practically just novelty devices for games, entertainment, web browsing, and light productivity. Today, iPads have much more powerful internals that allow users to do far more than ever before. You can turn your iPad into the perfect schoolwork tablet or productivity machine with the right iPad apps for productivity. iPads are also more easily accessible and are compatible with styluses like the Apple Pencil, giving you endless possibilities.
What is the best free iPad app for productivity?
There are countless free productivity iPad apps available today, some even built right into your iPad (like Apple Notes or Freeform, if your iPad is updated and compatible with the latter). However, if you ask us, some of the best free apps include the Google productivity suite, GoodNotes 5, EverNote, and Canva. Note that some apps have limitations if used on the "free" plans, with more of their features hidden behind paywalls.
How much are iPad productivity apps?
The best work apps for iPad come in varying price ranges, with some available for free and others costing upwards of $60 per year. Some apps are available on a subscription-only basis, meaning you'll need to pay for continued access. Others are available through one-time purchases, which may be more economical.
Conclusion
With countless options available on the app store, it can be overwhelming to even begin deciding which apps to install on your iPad. Luckily, many apps offer free versions or free trial periods to let you take things for a test drive before you commit.
In some cases, the free versions of the apps may even suffice for your needs, and you won't have to purchase anything at all! Add to that the fact that tons of apps are available entirely for free, and you'll be able to start building your iPad productivity tech stack in no time.
We hope our recommendations for the best iPad productivity apps have helped you find new ones to try. Do you have a favorite app for your iPad? Tell us in the comments below!
Are you still unsure whether you want an iPad or a different tablet? Consider one of the best iPad alternatives instead.
Related: