When Alexa was first released in 2014, she was the most exciting new technology. Many probably never anticipated how popular Alexa would become, dismissing the voice assistant as a fad likely to fade into obscurity. It was a pain to find compatible devices and functions for a while — until the world began catching up.
Now, Alexa is so prevalent that practically every new device released into the market proudly is voice assistant compatible. It is no surprise that Alexa is finding her way into many homes and offices.
So, what can Alexa do for productivity? If you're thinking of upgrading your home or office with a voice assistant or if you already have Alexa, keep reading to learn all about how you can make the best use of her.
Best Alexa Skills List for Productivity
For Planning and Scheduling
Weather
Reminders
Alarms
Scheduling (or rescheduling) meetings
"Alexa, what's on my calendar today?"
Todoist
For Improving Focus
Play music
Pomodoro timer
Play ambient noise
For Learning
For Mental and Physical Health
Quick exercise sessions
Guided meditation
For Convenience and Saving Time
Routines
Control lights
Start and warm up vehicle
Clean up
Why Use Alexa?
There are quite a few reasons why Alexa can be a helpful addition to your life. Amazon's Alexa syncs with so many devices and services nowadays — a far cry from how slim the pickings were back in the early days of the technology. Because of the massive demand for compatibility and availability, now is a great time to start adopting voice assistant technology.
Alexa can provide you with information and answer your burning questions by searching the internet for relevant answers. She can also deliver news, weather updates, and sports scores. If you feel like hearing your favorite playlist, Alexa can play music, too. On some devices, she can stream videos or even host video calls.
The voice assistant's benefits don't end there. Alexa works well for connecting and integrating your home or workplace by acting as an intercom, sending out system-wide reminders, delivering messages from one Echo device to another, and more.
When used in your smart home, Alexa can:
Control compatible smart devices by turning them on or off and adjusting their settings.
Trigger grouped skills called routines, such as waking you up gently, getting you ready for sleep, or even getting you hyped for work.
Act as your personal assistant.
What Is an Alexa Skill?
Technically, all the things Alexa can do are skills. Skills are capabilities you can add to Alexa that allow you to use her for many functions.
Right out of the box, Alexa knows the basics like reporting the news and the weather, setting alarms, and creating reminders.
However, if you want to use other skills, you may have to "teach" them to Alexa. You can do this by integrating third-party apps and skills. Apps can cover just about anything you can think of, including but not limited to functions related to:
News
Music
Online shopping
Finances
Weather
Security
Traffic
Trivia
Entertainment
Productivity
Health
Here's an analogy: skills are the same thing to Alexa as installed apps are to your smartphone.
How Can Alexa Help Improve Productivity?
Many skills and routines streamline your day. They help with chores, exercise, work, and saving time. With the right skills, Alexa can help you make plans and remember them, too.
The Alexa top skills list we've put together below contains some of the most useful things to ask Alexa — especially if you want to improve your productivity at home, school, or work.
Best Alexa Commands for Productivity in 2022
For Planning and Scheduling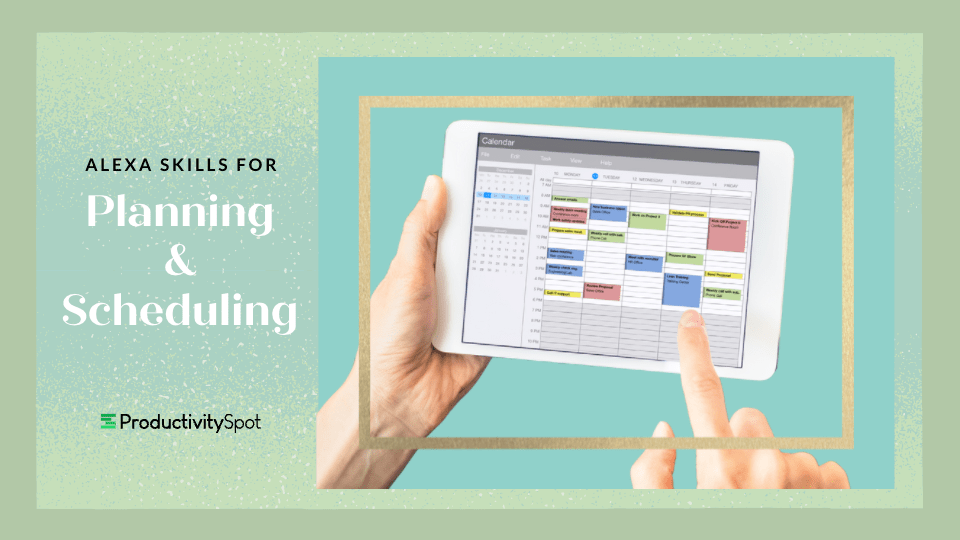 Poorly planned meetings, activities, and tasks can impede your productivity. Likewise, if you've forgotten what you've planned and scheduled, you might fall behind.
The Alexa skills, in the forms of questions, below can help you plan things and remind you when a scheduled date is approaching:
1) "Alexa, What's the Weather Like Today?"
Alexa has built-in weather forecast support, so you don't need to use any other app to know how cold it is outside. However, if you want the most accurate information possible, you can enable the Big Sky skill since it provides hyper-local weather forecast information, up to the minute.
2) "Alexa, Remind Me…"
One of Alexa's most basic functions lets you ask her to remind you about something on a specific date and time. Setting a reminder through Alexa is one of the easiest ways to ensure you don't miss something incredibly important.
3) "Alexa, Set an Alarm For…"
Alexa's great at setting alarms. You can ask Alexa to set one to wake you up or remind you when it's almost time to start working. You can set an alarm yourself on your phone, but Alexa makes things more convenient.
4) Schedule Meetings (and Move Them)
If you have access to your contacts' calendars, you can ask Alexa to schedule meetings with them. After considering both parties ' schedules, the voice assistant will give you a few suggestions for meeting times.
Alternatively, if something comes up that makes you unable to attend a meeting, you can ask Amazon's voice assistant to move your appointment to a more suitable time.
Alexa supports various calendars, including:
G Suite
iCloud
Microsoft Office 365
Gmail
Microsoft Outlook
She also supports Microsoft Exchange, but only if you have Alexa for Business.
5) "Alexa, What's On My Calendar Today?"
The above question is one of the best things to ask Alexa when you're ready to face your day. Alexa can give you everything on your agenda on any given day so you can plan accordingly. This simple feature greatly improves your productivity by allowing you to set your priorities for the day.
6) Todoist
If you use Todoist to manage your tasks, projects, and lists, you'll happy to know that the service integrates with Alexa. Alexa can add to or manage your tasks and shopping list, ensuring that you won't forget one thing.
Unfortunately, Todoist's integration with Alexa is pretty basic at the moment. Because of this, you currently can't sync any of your custom lists. Right now, Alexa can only handle two default Todoist lists: Alexa To-Do List and Alexa Shopping List.
If you want to learn more about using Alexa with Todoist, you can see Todoist's guide here.
Related: Best Time Management Apps in 2022
For Focus
There's no denying that focus plays a huge part in productivity. If you're unable to stay focused on the task at hand, you may waste valuable time entertaining distractions. The ability to stay focused can also help improve the quality of your work since you'll be able to put all your effort into your current task.
Thankfully, Alexa has a few tricks up her sleeve to help you improve your concentration.
1) Alexa Can Play Your Favorite Focus Music
Alexa works with Spotify, Apple Music, Amazon Music, iHeartRadio, Sirius XM, Tidal, Deezer, Pandora, and other music apps so she can play your favorite work playlists to help you focus.
Alexa plays the audio through your Echo device. However, if you want better audio quality, you can connect your Echo device to an external speaker. Connecting an external speaker is easy — you can use a 3.5mm aux cable or connect via Bluetooth.
2) "Alexa, Set a Timer For…"
If you've ever heard of the Pomodoro technique, you know how helpful it is for staying on track with a task. Alexa works well as a Pomodoro timer — just ask her to set a timer for the amount of time you intend to work. Take a break once the timer finishes, then do it all over again!
3) Ask Alexa to Play Ambient Noise
Ambient, white noise is fantastic when you're trying to get some sleep. However, it also has benefits for productivity.
You can use a third-party ambient noise skill to ask Alexa to play ambient noises in the background while you work.
For Physical and Mental Health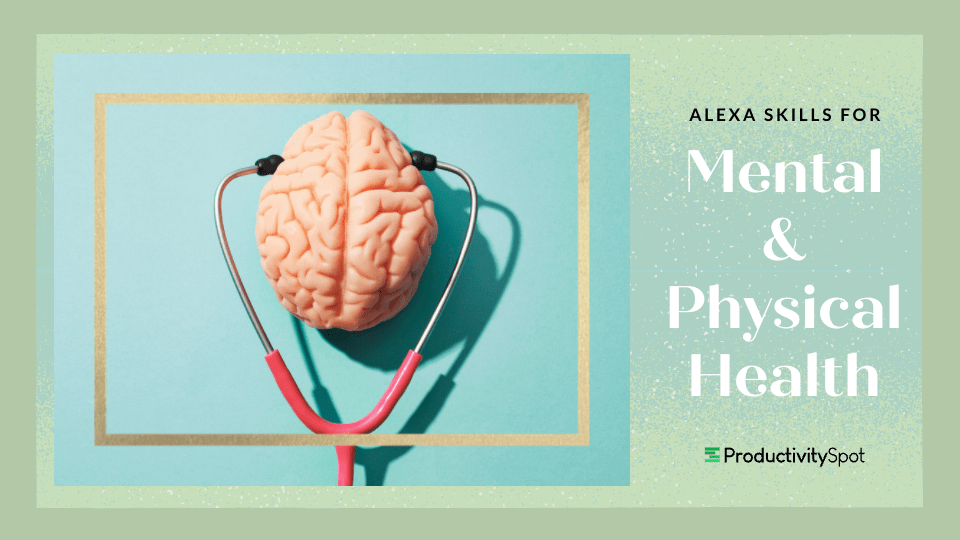 Your productivity takes a hit when your health is down. Taking care of your physical and mental health can keep you in good shape and ready to work, so it's important to ensure you watch out for yourself. With a few skills, Alexa can help you take care of yourself, too.
1) Alexa Can Guide You Through Some Quick Exercises
Exercise releases endorphins that can improve your mood and morale. It also helps keep you healthy physically. Unfortunately, not everyone has the time to fit a full workout into their day. Thankfully, Alexa has a solution.
Alexa has a few skills that can help you get through a quick workout so you can break up a long day of sitting at your desk.
You can ask Alexa to guide you through a quick seven-minute workout routine designed to help improve your energy and metabolism. She can also guide you through a five-minute plank session (with plenty of breaks!).
2) Alexa Can Help You Meditate
Alexa can help you with a bit of guided meditation to ground and recenter yourself. You might enjoy this feature when you're under a lot of stress or trying to take a break to reassess your goals and tasks.
Amazon's voice assistant also has quick, one-minute mindfulness sessions to help you breathe when you feel overwhelmed.
For Learning
The pursuit of knowledge never ends. It may come as a surprise, but Alexa also has skills to help you learn!
TED Talks
TED Talks are an amazing way to learn new things — you can watch or listen to a random talk, or choose something on a specific topic. With Alexa integration, it's become even easier to get your daily TED Talk.
If you already have an Echo device or you're an existing Alexa user, setting it up is as simple as telling Alexa to enable the TED talks skill. Once you're all good to go, you can make requests like the ones below.
"Alexa, play a funny TED Talk."
"Alexa, ask TED Talks to play the latest talk."
For Saving Time and Convenience
One of the best things Alexa can do for you is save you a lot of time. Through automation, you can take control of your home or office and save yourself valuable time that you can use for work or other productive activities.
Alexa has tons of skills to help you save time.
You can put together Routines that automate various aspects of your day-to-day life.
With compatible lighting devices and fixtures, you can ask Alexa to control your lights. She can turn them on or off, dim them, or change their color. If you have a three-tone bulb, you can switch between warm, daylight, and cool tones depending on what you intend to do. Warm tones may help you relax, while daylight and cool tones might help with improving productivity.
Alexa can start and pre-heat your car before you walk out your front door, as long as your vehicle is compatible. No more waiting for your car to get warm on the cold, winter days.
If you have a compatible robot vacuum cleaner, you can ask Alexa to clean your home or office. You can also set up scheduled cleaning times so your robot vacuum won't disrupt you while you're trying to get something done.
There are many more things that Alexa can do for your convenience — she can control your thermostat and get your kitchen ready for cooking time, for example. If you can think of something the voice assistant can help you with, there's likely a way to make it work.
What Can You Do With Routines?
Creating an Alexa routine is an easy way to bundle together tasks and skills. You can then automate these tasks, triggering them all at once with a single voice command or event.
A routine is a list of tasks and actions that Alexa will perform at once or consecutively once triggered. You can choose which trigger to use when you're creating your routine. There are six possible triggers — let's look at them and what they do.
Choose a voice command to make Alexa perform a routine. For example, saying, "Alexa, good night!" will run your nighttime routine.
You can assign a scheduled time for your routine. For example, your lights and coffee machine can turn on to help wake you up at a specific time.
A location-based trigger can start your routine when you arrive at a location, like when you walk into your office.
An alarm trigger can initiate your routine off when your alarm goes off.
A device, such as a smart lock, motion sensor, or temperature sensor can trigger routines when certain conditions are met.
You can also set Echo buttons on your Alexa device as triggers.
Here are some more things you can do using Alexa's routines:
Wake you up in the morning and get your coffee ready
Help you wind down for a good sleep at night
Set the mood and walk you through meditation
Turn on your workstation and prepare you to work
Get you up to speed on your day's agenda
Set up your workstation for ultimate focus and productivity
You can create your own routines, so your only limit is your imagination. You can look at your day-to-day activities and see where you can save some time and energy. When things are automated, you might just be able to improve your productivity even further.
Frequently Asked Questions
Are Alexa Skills Free to Use?
To put it simply, yes and no.
Basic skills like asking Alexa to set you an alarm or create a reminder are completely free to use.
But, some skills may require a subscription. For example, if you want to use Spotify with Alexa, you need a Spotify subscription to access all of its features. There is a free version, but the caveat is you'll have limited functionality, and you'll also have to deal with ads.
Many apps and skills like Spotify provide you with a limited free version but require you to pay for all the possible features.
How Many Alexa Skills Are There?
Because Amazon made the Alexa Skills Kit openly available, anyone can create an Alexa skill as long as they know what they're doing. According to Toms Guide, there are now more than 100,000 skills — not even counting the best new Alexa skills added each day.
What Echo Is the Best?
The answer to this question depends entirely on your preferences and needs. There are a few things to consider:
Do you want a display?
Would you rather have a smaller device?
Are you using your device at home or the office?
How much are you willing to pay?
If you want an Echo with a display, the Echo Show is for you. You can choose between the 5, 10, or 15-inch versions. The Echo Show 15 is a recent 2022 release.
The Echo Dot 3rd Gen (2018 release, but still a great choice!) might suit you if you want a device with a small footprint. Alternatively, you can go for the newer  Echo Dot 4th Gen if you want better sound quality and updated Alexa features.
Is Alexa Always Listening?
If you ask Alexa this very question, she will tell you that she is designed to respect your privacy. Because of this, Alexa only records audio once you say a wake word ("Alexa" or "Echo") or press the action button on your Echo device.
Wrapping Up
Alexa isn't perfect by any means, but despite her imperfections, one thing's for sure: Alexa has come a long way from the days of her release.
Nowadays, it's easy to get started with Alexa. Automating things has become more affordable, and you can slowly upgrade over time. As you get used to the best Alexa skills, you may just find yourself saving time and improving your productivity!
Interested in finding more ways to be productive? Check out our list of the best Chrome extensions for productivity and our list of the best productivity books of the year.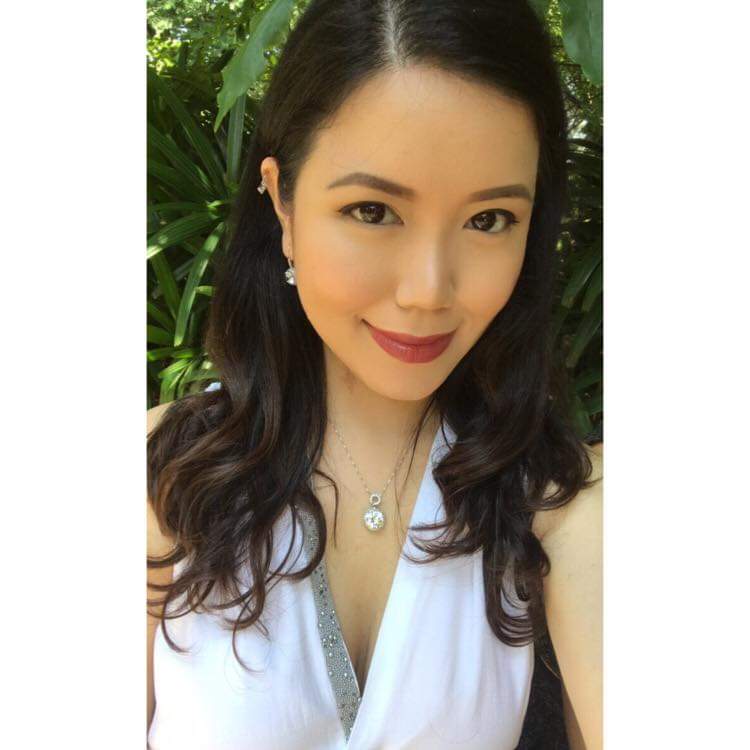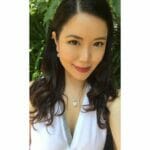 Chriselle has been a passionate writer for over 10 years, but she's a geek at heart. When she isn't busy writing, she spends her time streaming video games and learning new skills.