So you have purchased a Mac and are looking for an ideal mouse to partner with your computer? No worries, you are in the right place. Our comprehensive guide and reviews will tell you all you need to know to find the best mouse for MacBook pro users of all kinds. Read on to find your perfect match.
Disclosure: Productivity Spot is supported by its audience. When you purchase through links on our site, we may earn an affiliate commission.
Picking the Best Mouse for MacBook Pro and MacBook Air
When it comes to finding a mouse for your computer, many factors can be used to determine what option is the best, such as:
Aesthetics
Compatibility
Ergonomics,
DPI specifications
The ideal mouse will make it simple to use your Mac and act as a great efficiency enhancer. Depending on what you intend to use your mouse for, slight differences in precision, speed, and button capacity can help you identify a preference for what you want.
It's a smart idea to get a Bluetooth mouse for Mac if you're using a MacBook air as they have a lack of available USB ports to plug into.
However, seeing that the market is saturated with tons of Mac-compatible mice, you might find yourself spoiled for choice when it comes to picking a mouse. You'll have even more to choose from if you have any of the best MacBook alternative laptops.
We went through the options in the market and compiled a list of what we deem to be the best options for a Mac book Pro in 2022.
The Best Mice for MacBook Pro and MacBook Air Users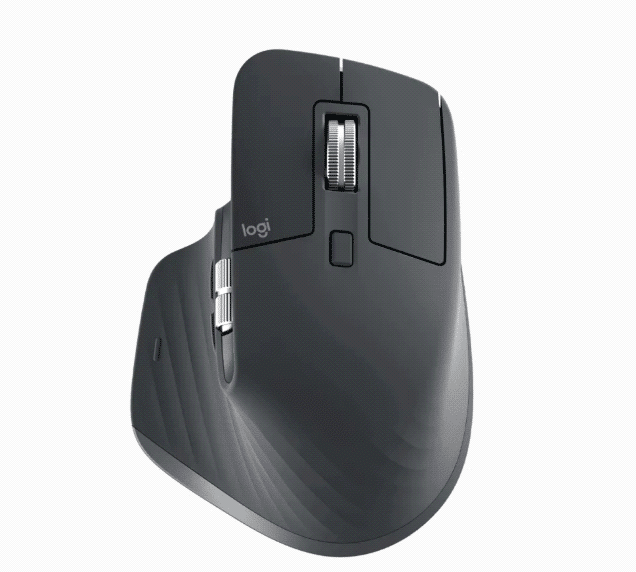 Pros
Multiple device Bluetooth connectivity
Multiple surface material sensor
Mag speed scroll allows speed when scrolling.
Cons
Expensive
Heavy compared to other mice
Not ambidextrous
Specifications
Wireless Bluetooth Connectivity
Battery life- 70 days (Full charge), 3 hours (1 min charge)
Compatible with Logitech Flow software
7 buttons
200-8000 dpi
Dark field high-pressure Sensor technology
Weighs 141g
Very rarely do you see a third-party product outshine an original, but when it comes to the MacBook Pro, the Logitech MX Master 3 is way better than any original Mac mouse.
Straight of the box, you will notice the MX has a unique extended platform look designed to ensure your thumb doesn't drag as you use the mouse and provides ultimate comfort regardless of your hand size.
A custom Mag speed scroll wheel enables users to choose between free spin and ratchet modes. The free spin mode helps users to scroll easily across large documents.
A 3- device Bluetooth switch at the belly of the mouse gives users the ability to connect and switch between the devices effortlessly. This is made even easier should you use the Logitech flow feature, which allows you to glide between computers in seconds.
Users can install Logitech's programming software to program the various buttons and create unique shortcut options. Additionally, you can also use the software to interface the mouse to your preferences.
Lastly, the MX Master 3 comes with a USB-C port and can last up to 70 days fully charged and 3 hours with 1 minute of charging. For creators or coders, this is an excellent way to boost your efficiency levels while on your Mac, even if you occasionally forget to charge your mouse.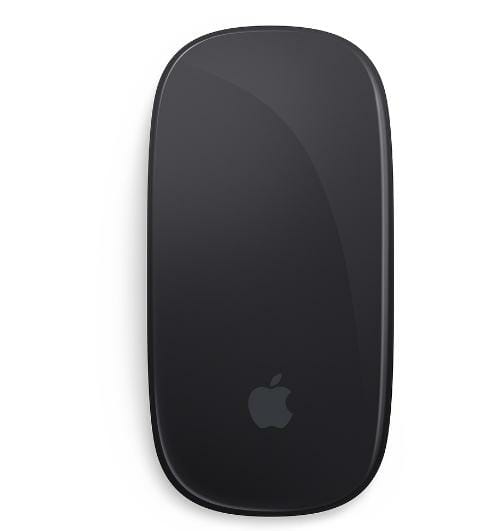 Pros
Slim Compact Design
Ambidextrous
Cons
Inconvenient charging port
Specifications
Wireless Connectivity
Battery life- one month (Full charge), 9 hours (2 min charge)
Multi-touch command functions
Ambidextrous
1300 dpi
Laser sensor technology
Wireless connectivity
If you are a user looking for a simple design mouse that will get the job done without much fuss, this is the best wireless mouse for MacBook pro users. Its lightweight design means you can use this mouse as a travel mouse without worrying about weight. As it's an Apple product, it comes with above-average Mac OS gesture features.
With just two minutes' worth of charge time, you can go for up to 9 hours and up to a month when fully charged. Its multi-touch commands function just like you would expect any other Apple-designed product to function, smoothly and with excellent Mac connectivity.
While the design quality of this mouse often takes negative review hits because of the inconveniently placed charging port, its compact design is durable, and users are usually delighted with this quality. In addition, the click noise is almost non-existent.
This mouse is designed specifically for everyday Mac Book Pro and Mac Book Air users. Its unique design allows for use with both left and right-handed users with acceptable comfort. Ideally, this is a high-quality general-use mouse. For gamers, there are better options.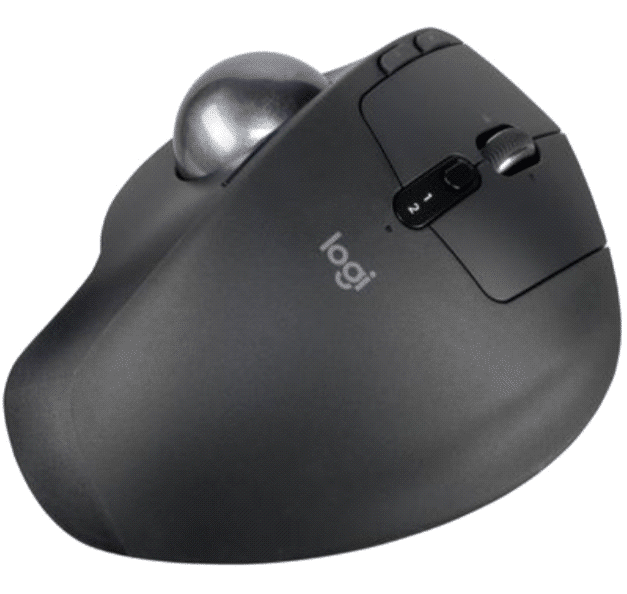 Pros
Some of the best Ergonomics
Long-lasting battery
Cons
Heavy
Hardly usable for gaming
Specifications
Wireless Connectivity
Battery life- Up to 3 months (Full charge)
Trackball Sensor technology
8 Buttons
Weighs 164g
512- 2048 dpi
When it comes to mice designed for ultimate ergonomics, not many can compete with Logitech's MX Ergo. The first thing you will notice about this mouse is its relatively large design compared to other types of mice. This is so that users can rest their palms on the mouse regardless of hand size.
You won't have to move your wrists too much as the thumb does much of the work. This results in a reduction of RSI. A magnetic plate design on the bottom of the mouse allows users to tilt the mouse a few degrees to increase comfort levels even further.
The mouse has a center button that allows you to switch between two connected devices. It also comes with the Logitech Flow feature that enables you to slide across multiple devices.
You might find that the trackball may pick up some dirt after using it for some time. But, the Logitech designers placed a mechanism at the bottom of the mouse that allows users to clean the ball itself and its compartment.
Like its Logitech sibling, the MX Master 3S, this mouse is also compatible with the Logitech software allowing you to modify precision and speed settings for the mouse. An additional button just above the trackball allows you to adjust the dpi for extra precision through sensitivity settings.
According to Logitech, the mouse can last up to 3 months when fully charged.
It is important to note that this is predominantly a right-hand mouse. However, there are left-hand versions you could purchase too. While some have been able to use this mouse for gaming, you might have to use another mouse, especially if you are used to a certain style of gaming mouse already.
4) Logitech Pebble M350 (Best Wireless Mouse for MacBook Air)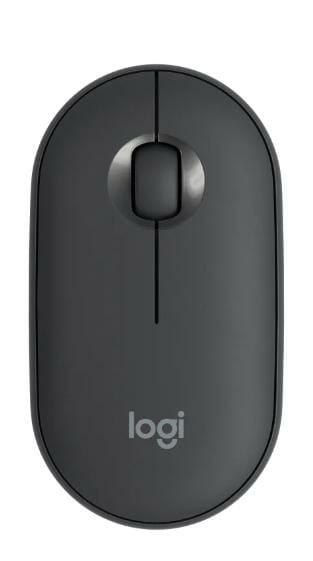 Pros
Cheap
Silent clicking capabilities
Ideal design for travel
Cons
Not so many features overall
Bad ergonomics
Specifications
Wireless Connectivity
Battery life- 1 AA (Lasts 18 months)
Ambidextrous
Optical LED sensor tech
Weighs 3.53 ounces
If you are looking for the best Bluetooth mouse for mac you can quickly slip it into your bag or pocket and use it anywhere, the Logitech Pebble is one of the best options you can find on the market.
Its compact, slim design coupled with its impressively quiet clicking capabilities are some of the reasons users love this mouse. These features make it the ideal mouse for the library, cafe, home use, or any setting where you may not want to make noise.
It comes with a preinstalled 1 AA battery that can last up to 18 months before you have to replace it. In addition, the mouse has a battery-saving mode that makes it sleep whenever it is not in use.
While there are many mice better in terms of ergonomics, the mouse is comfortable enough for use over short periods. Although it has a relatively small design, the smooth round edges ensure users get the best comfort possible for a tiny mouse. In addition, the tracking sensor on the mouse means you don't have to worry about where you put it. For its price, this is a pretty decent mouse.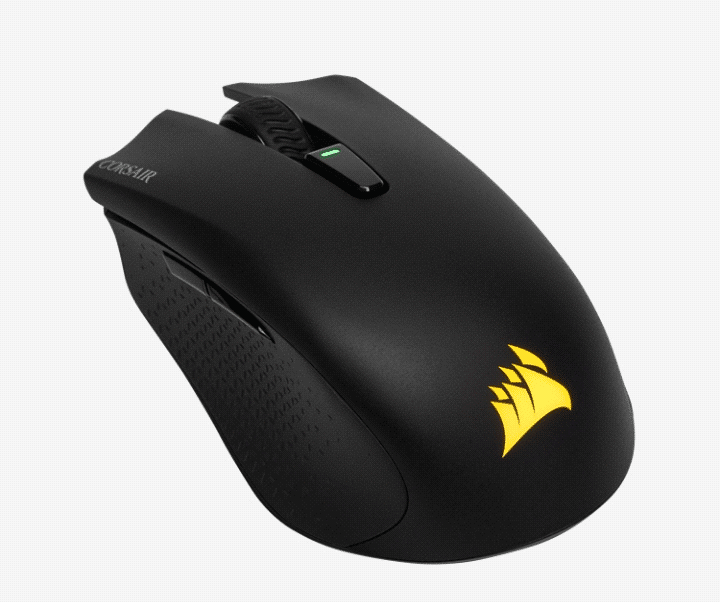 Pros
A cheap option for gaming
Good battery life
Lightweight compared to other gaming devices
Cons
Specifications
Wireless Connectivity
Weighs 99 grams
Battery life- Up to 30 hrs. With standard lighting or 45hrs with lighting off
Lasts up to 60hrs using Bluetooth
Slipstream Wireless Technology and Bluetooth connectivity
6 Programmable buttons
Dynamic RGB lighting
While most users don't usually purchase Macs as gaming computers, you can use a MacBook Pro for light gaming. For this reason, we decided to include the Corsair Harpoon RGB Wireless, as it is arguably one of the best options you could pair with a Mac for a gaming session.
Considering just how expensive most gaming mice are, it becomes clear how cheap the Corsair Harpoon is at just over 50 dollars. While it was initially marketed as an upgraded version of its wired Corsair sibling, there aren't many differences between them.
Among the features put in place to increase ergonomics is an extra arched back that gradually slopes down to the right to allow the palm to rest easily on the mouse. The mouse also smoothly glides across the mouse pad with a reduction in drag due to no wires.
You can also rest assured that regardless of whichever sensitivity settings you settle on, the Harpoon will deliver. This is a result of the Slipstream wireless technology that vastly reduces latency.
If you are looking for a cheap gaming option on your Mac, the Corsair Harpoon RGB Wireless is undoubtedly one of the best options you could get.
Read also: Best Drag Clicking Mouse
How to Choose the Best Mouse for MacBook
When choosing a mouse for your Mac, the first thing you should consider is always compatibility. While most mice will work on a MacBook, specific options tend to handle Mac gestures and the Mac operating systems more smoothly.
Once you have established a list of compatible mice, the choice will boil down to your preferences and what you intend to use the mouse for. For example, the best mouse for MacBook Air will likely be a Bluetooth mouse, but you may have USB ports to spare on your MacBook Pro.
Generally, factors such as ergonomics, DPI, aesthetics, and price can help you narrow down your options. Some mice will have strengths in one area and weaknesses in others. Say, for instance, you are looking for something that will be the most comfortable, then ergonomics will be your main priority, if you want something cheap, then price. In terms of gestures, you can't beat an official Apple mouse.
Cost doesn't always equal quality. The best option will likely have a good balance of all the features at a reasonable price.
Will My Mouse Work With My Mac?
Generally, most USB and wireless mice will function just fine on a Mac. However, compatible options tend to handle Mac gestures and the Mac operating systems more smoothly. If you have a choice, always go for the compatible options.
What Size and Shape Mouse Is Best for MacBook?
There isn't one best shape or size for every type of user as this matter depends on each user's individual preferences. However, you can check the ergonomics ratings of each type of mouse to determine which ones will have the best shapes and sizes for efficient working.
For instance, the Logitech MX Ergo is designed to give users the most comfortable experience when using their mice.
Should I Get a Wired or Wireless Mouse?
If you are looking for something that will have less drag as you slide across your mouse pad then a wireless mouse is a good option. Equally, wireless mice are the best options when it comes to portability. As MacBooks have limited USB ports, a Bluetooth mouse is a smart choice.
On the other hand, when it comes to connection stability and long-term battery reliability, wired mice are the better option.
Is the Magic Mouse a Good Mouse for MacBook?
Yes. Do not be shocked even to find some users ranking it as the better option when it comes to Mac Mice. The Magic Mice are designed specifically to function on MacBooks and as a result function pretty smoothly with Mac gestures and MS operating systems.
Equally, they have pretty good ergonomics and overall features when compared to other mice in the industry. If for nothing else, consider the aesthetics that make the Magic Mouse seamlessly combine with the MacBook Pro for the ultimate professional computer look.
Do I Need a Special Mouse for MacBook Pro?
No, most USB or wireless mice will function well on your MacBook Pro with the right settings in place. However, some gestures may not be accessible to you if you should opt for a mouse that is not directly compatible with the MacBook Pro. Ie, the best Apple mouse in the official Apple Magic Mouse.
Can I Use a Non-Apple Mouse on a Mac?
Yes, regardless of the brand, you will find that there is a good chance your mouse will still work on your Mac. Even better, some mice that are not Apple-designed function just as effectively as Apple mice. Regarding functionality in Macs, the brand has almost no impact on whether or not a mouse will work.
Can I Use Any Bluetooth Mouse With MacBook?
Generally, most Bluetooth devices will work on your MacBook Pro. However, some may not function if the version your MacBook supports is not compatible with what your mouse has. Always confirm the Bluetooth version on your mouse is supported by your Mac.
Can Mac Mice Use Gestures?
Yes, the latest versions of the Magic Mouse and the Multi-touch pad are equipped with multiple gesture settings. Make sure to check that your settings are enabled before you try out the gesture functions. Gestures are also dependent on Mac apps having compatibility too.
Final Thoughts
Depending on your personal preferences, there are multiple options you could pair with your Mac for the ultimate efficiency levels. Between the five options on this list, there is something for all types of Mac users.
Yet, the best mouse for MacBook Pro overall from our picks is the Logitech MX Master 3.
If you love using gestures to navigate the Mac environment, you can't go past an official Apple Magic Mouse.
For a budget-friendly choice, all the remaining options can qualify.
Related Reading: