The MacBook Air M1 (2020) and the newly released MacBook Air M2 are beautiful machines. They're capable machines in an ultraportable body, making them an excellent choice for many. That said, they're still not the choice for everybody.
If you want a laptop comparable to the MacBook Air but you don't want a MacBook Air, this article is for you. In this list, we've included a few contenders for best MacBook Air Alternatives for 2022. We've even included a buying guide to help you decide.
Which laptop is the best choice for you? Read on to find out!
Best MacBook Air Alternatives for 2023: In Comparison
The team at ProductivitySpot provides tech tips. We also review popular products. Recently, we discussed the contenders competing for the title of best laptop for remote work. This article looks specifically at options to choose as an alternative for MacBook Air laptops. Ready for the details?
​​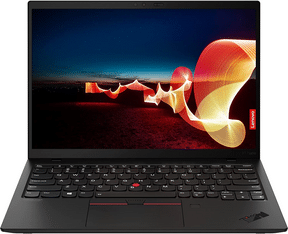 Specifications
Processor: Runs on Intel Evo; up to 11th-generation Intel i7 vPro
GPU: Intel Iris Xe (integrated)
Memory: Up to 16GB
Storage: Up to 1TB SSD
Display: 13" 2K 2160×1350, 100% sRGB, 450 nits brightness; available in touch or non-touchscreen
Battery: 48Wh, Rapid Charge, rated up to 13 hours
Weight: Starts at 1.99lbs
2x Thunderbolt 4 ports, 1 headphone/mic jack
Spill-resistant backlit keyboard
The Lenovo ThinkPad X1 series of laptops have long been known to be reliable business (and casual) machines that perform well in many situations. The X1 Nano Gen 1 sips power, making it last about as long as the MacBook Air. It's more configurable, so you can set your machine up the way you'd like.
The Lenovo ThinkPad X1 Nano Gen 1 can deliver powerful and reliable performance suitable for most users. It can do productivity tasks with ease and can probably manage some light photo and video editing tasks.
Although Lenovo recently released the second generation of the ThinkPad X1 Nano, we've chosen to include the first generation as it is more on par with the cost of the MacBook Air. You can buy Gen 2 here if you prefer the latest iteration of this laptop.
Pros
Extremely reliable machine
Great performance
Highly configurable
Spill-resistant keyboard offers great typing experience
Great battery life
Chargeable via 65W+ power bank
Cons
Can get quite more expensive than the MacBook Air depending on configuration
Although thin and sleek, it doesn't quite have the aesthetic appeal the Air has
Few ports
Dell XPS 13 – A More Premium Alternative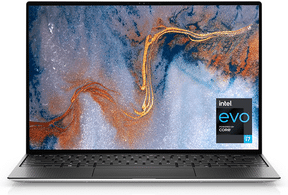 Specifications
Processor: Up to Intel Core i7 1185G7
GPU: Intel Iris XE Graphics
Memory: Up to 32GB
Storage: Up to 1TB SSD
Display:

13.4-inch FHD+ 1920×200 at 60Hz, Touch, 500 nits brightness
13.4-inch 3.5K 3456×2160 at 60Hz, OLED, Touch, 400 nits brightness
Battery: 52 Wh, up to 11 hours real-world use
Weight: Starting at 2.64 lbs
2x Thunderbolt 4 ports, 1 headphone/mic jack, microSD reader
Dell is also quite well-known for making laptops comparable to MacBook Air. The Dell XPS 13 is an excellent machine that offers reliability and portability with a pretty good battery life. You can configure your XPS 13 to your liking.
There are newer versions of the XPS 13 available, including the XPS 13 Plus. However, we have chosen to exclude the XPS 13 Plus as it offers gimmicky features such as capacitative touch function keys that can take away from the experience (and it's much more expensive than the Air).
Pros
Powerful internals in a beautiful chassis
Reliable performance
Touch screen available
Configurable
Chargeable via 65W+ power bank
Has a microSD reader
Cons
Prices on par with or higher than MacBook Air (with some configurations)
One generation behind
Few ports
Razer Book 13 – Best MacBook Air Alternative with More Ports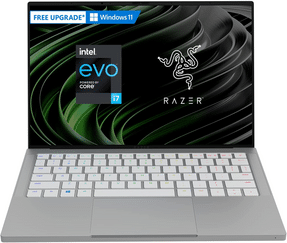 Specifications
Processor: Intel Core i5-1135G7/Intel Core i7-1165G7
GPU: Intel Iris Xe Graphics
Memory: 8GB/16GB RAM
Storage: 256GB/512GB/1TB SSD
Display:

13.4-inch Full HD
13.4-inch Full HD, Touch
13.4-inch UHD, Touch
Battery: 55 Wh, Quick Recharge (30 mins = 4 hours of use)
Weight: 3.09 lbs+
2x Thunderbolt 4 USB-C, 1x USB-A, HDMI, microSD slot, 1 headphone/microphone jack
Although Razer is known as a brand for gamers, the Book 13 is geared more towards professionals. This laptop is configurable, highly capable, and has a pretty good battery life. Prices are close to the Air, but somewhat at a premium considering the brand.
Pros
Full-sized HDMI and USB-A ports, microSD slot
Per-key RGB-lit keyboard (if you're into that)
Powerful internals, good performance
Beautiful design and aluminum chassis
Decent battery life
Massive trackpad
Cons
Base and midrange models only have 256GB storage
Can be a bit clunky
There have been some complaints about the keyboard feeling mushy to type on
Costs more than some MacBook Airs
ASUS Zenbook 13 UX325 OLED i7 – Best Affordable Alternative to MacBook Air with More Ports
Specifications
Processor: Intel Core i3-1115G4/i5-1135G7/i7-1165G7
GPU: Intel UHD/Intel Iris XE Graphics
Memory: Up to 32GB
Storage: Up to 1TB SSD
Display:

13.3-inch 1080p OLED, 550 nits brightness, P3 color gamut, glossy
13.3-inch 4K (3840×2160) OLED, 550 nits brightness, p3 color gamut, glossy
Battery: 67 Wh
Weight: 2.51 lbs
1x USB-A, 2x Thunderbolt 4 USB-C, 1x HDMI, microSD
The configurable Asus Zenbook 13 offers the ultrabook experience at a much more affordable price. It's got a gimmicky on-demand numpad, but the fact that it's printed onto the touch pad makes it an eyesore in our book. Nevertheless, this customizable laptop is a great choice.
You can configure this laptop however you prefer, but if you'd like to get performance as close to the MacBook Air as possible, you'll want the i7 option.
Pros
More affordable than the MacBook Air
Sleek design and slim, portable profile
Configurable
Beautiful displays
USB-A, HDMI, microSD ports
Light and portable
Cons
Numbers printed on trackpad are an eyesore
Some customer reviews complain about nonexistent Asus customer support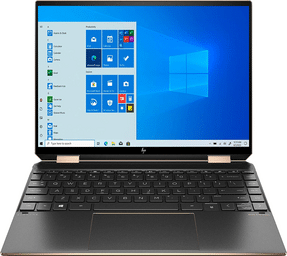 Specifications
Processor: Intel Core i5-1235U/i7-1255U
GPU: Intel Iris Xe Graphics
Memory: Up to 32GB
Storage: 512GB, 1TB, 2TB SSD
Display:

13.5-inch WUXGA+ 1920×1280 IPS, touch, 400 nits brightness
13.5-inch WUXGA+ 1920×1280 IPS, touch, 1000 nits brightness, integrated privacy screen
13.5-inch 3K2K 3000×2000 OLED, touch, UWVA, SDR 400 nits brightness
Battery: 66 Wh, according to HP up to 22 hours with i5 configuration (real-world performance likely less and closer to half, especially with i7 CPU)
Weight: 3.01 lbs
1x USB-A, 1x USB-C, microSD, webcam kill switch, power adapter plug/port, 1x headphone/mic jack
Pros
Uses 12th-gen Intel CPUs
Configurable
2-in-1 convertible to tablet, works with a stylus
Great battery life
Great screen with low blue light
Cons
Not everyone wants a 2-in-1 machine
CPU just as powerful as the previous-gen M1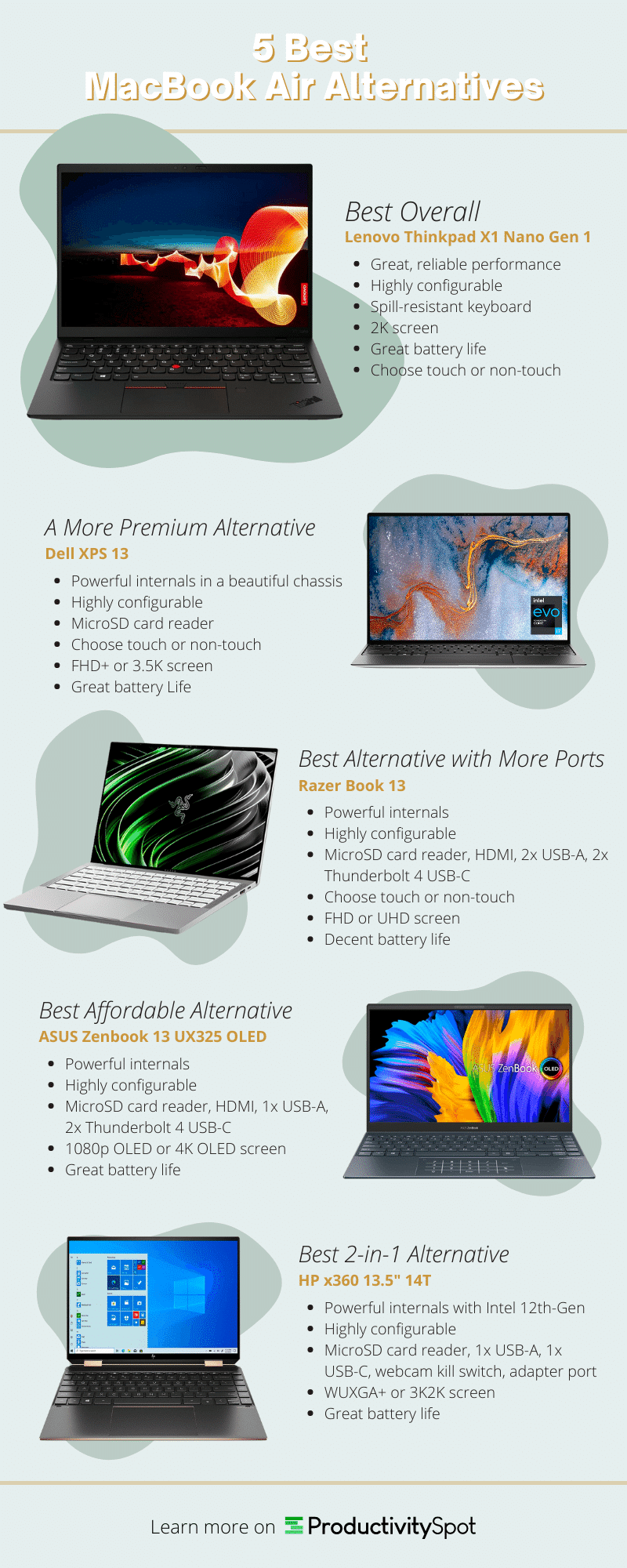 MacBook Air M1 and M2 At-a-Glance
To give you a point of comparison, let's take a look at the Air M1 and M2's specifications.
Starts at $999
Starts at $1,199

11.97×8.36×0.16-0.63 inches
2.8 lbs

11.97×8.46×0.44 inches
2.7 lbs

Apple M1 Chip, 8-Core CPU
7 or 8-core GPU

Apple M2 Chip, 8-Core CPU
8 or 10-core GPU

8GB RAM upgradeable to 16GB

8GB RAM upgradeable to 16GB or 24GB

13.3-inch IPS Retina display
2560×1600 @227 PPI
Wide color (P3)
400 nits brightness

13.6-inch IPS Liquid Retina display
2560×1664 @224 PPI
Wide color (P3)
500 nits brightness

Battery up to 15 hours wireless web use, up to 18 hours Apple TV app playback

Two Thunderbolt 4 USB-C ports (DisplayPort/Charging Supported)
1 headphone/mic jack

Two Thunderbolt 4 USB-C ports (DisplayPort/Charging Supported)
MagSafe 3 charging port
1 headphone/mic jack

256GB or 512GB SSD, configurable to 512GB, 1TB, or 2TB

Supports one external display (up to 6K resolution at 60Hz)

Buy the MacBook Air M1
Buy the MacBook Air M2
Your Buying Guide: Choosing Your MacBook Air Alternative
There are a few things you can consider when you're choosing between laptops similar to the MacBook Air. The majority of alternatives tend to run Windows 10 or 11, so you don't have to worry about deciding on an OS. Instead, consider the criteria below:
Screen/Display
The MacBook Air M2 has a non-touch IPS liquid retina display at 13.6 inches. You get a 2560×1664 resolution at 224 PPI (pixels per inch), 500 nits brightness, Apple's True Tone technology, and wide color (P3). There's no denying the Air has a seriously beautiful screen, but would you rather have something else?
Some alternatives have touchscreens, OLED displays, and higher resolutions and PPIs. If you're picky about displays, you may want to compare each laptop's screen first.
Performance
The Apple M1 chip packs a lot of punch in one tiny package. Just look at the stats and comparisons here, where benchmark comparisons show that the base M1 chip has the highest single-core performance when compared to all of Apple's Intel notebooks. It even beat the single-core performance of the 27-in iMac running on a tenth-gen Intel i9. Looking at multi-core performance, the M1 is about on par with (or just under) some of Apple's more powerful desktops. The same article suggests that the M1's integrated graphics are more powerful than an Nvidia 1050 Ti, an impressive feat. The M2 chip is even more powerful.
That said, that doesn't mean that newer laptops can't compete — especially if you are able to find an Air alternative with a discrete GPU. Some laptops running the 12th generation i7-12700H Intel chips also outperform the M2 in some regards.
Unfortunately, many ultrabooks get outperformed by the Apple chips.
Overall Portability
The MacBook Air is a seriously portable machine — it's super slim and weighs only 2.7lbs for the M2 model (2.84lbs for the M1). Despite the 13.3-inch screen in the M1 and the 13.6-inch screen in the M2, Apple manages to keep the Air's footprint pretty small. It's an excellent ultraportable, so if you're looking for a similar alternative, you'll also want to consider size and weight.
Battery Life
Apple rates MacBook Air (M1 & M2) battery life at up to 18 hours, which is impressive on its own, but how accurate is it? In real-life testing, this writer's MacBook Air M1 has been able to last around 12 to 14 hours on a single charge (doing general web browsing and occasional video watching at one tick below half brightness). TomsGuide reports the M2 battery is very slightly behind the M1's performance.
That said, many MacBook Air competitors also have decent battery life. The ThinkPad X1 Nano, for example, has lasted around 13 hours on a single charge. The HP Spectre x360 13 is proudly advertised as having up to 22 hours of battery life, but real-world testing brings that down to a more realistic 13 or 14 hours.
Look at reviews for a laptop's battery life in real-life conditions and decide a minimum you're willing to settle for.
Aesthetics
MacBooks have always been beautiful laptops, and the Air is no different. The Air M2 looks even better now as well, thanks to the new design (no more taper!) and the addition of a new color: Midnight. Many buy MacBooks for their sleek, chic appeal, so it only makes sense to look for alternatives that have a similar aesthetic. Thankfully, many MacBook Air alternatives are well-designed, beautiful machines.
Trackpad
MacBooks are known for their legendary trackpads that simply feel comfortable to use. They're responsive and intuitive — so much so that many (including this writer) skip using a mouse altogether. A laptop's trackpad quality won't be as important if it has a touchscreen, but for non-touchscreen displays, make sure to check that the trackpad is accurate and comfortable. After using many different brands of laptops at various price points, one thing this writer can tell you for certain is: that a bad trackpad can ruin the entire user experience.
Ports & Connectivity
Ports are the MacBook Air's weakness. The Air M1 only has two Thunderbolt 4 USB-C ports responsible for charging, data connections, and DisplayPort. The M2 adds a MagSafe 3 charging port, for a total of three ports altogether. That means that to use USB-A, ethernet, and HDMI cables, you'll need a USB-C hub like this one from Anker.
If you don't want to tote a dongle around all the time, you may want to look for MacBook Air alternatives with the ports you need.
Cost
The MacBook Air isn't cheap, at $999 for the base M1 model and $1,199 for the base M2 model. Most of the laptops on this list are around the same price range, as we've listed models that are as close to the Air as possible. However, you may be able to get an Air alternative for a few hundred cheaper (for some configurations) — for example, the Asus ZenBook Flip 13 OLED comes in slightly more affordable than the base M1 Air.
As you look for the best MacBook Air alternatives for 2022, one thing to consider is cost — are you willing to pay more for similar performance? Would you rather pay less for a laptop that performs somewhat on par with the Air?
Other Features
Laptops have plenty of features to compare, but to some users these features may not be as important as a laptop's overall performance.
Webcam
Microphone
Speakers
Customer Support
Although there have been stories of people having bad experiences with Apple's customer service, Apple can sometimes be more customer-oriented than other companies. With the addition of Apple Care (purchased separately), you extend the support for your laptop further.
Other brands, such as Asus and Acer, receive many online reviews speaking of appalling or nonexistent after-sales customer care.
Before purchasing your laptop, look into a brand's recent history and see whether there is an overwhelming number of negative reviews about customer service. The last thing you want is to have a bricked laptop with no support from the manufacturer.
Frequently Asked Questions
What is the best alternative to an M1 MacBook Air?
The best alternative will depend on what you're looking for. Generally, if you just want a Windows version with similar performance,  you'll probably enjoy the Lenovo ThinkPad X1 Nano. Want something that looks just as great, performs just as well, and runs Windows 11? Look to the Dell XPS 13 or the Razer Book 13.
What laptop is better than the MacBook Air?
There are tons of laptops like MacBook Air that could be called "better" — it just depends on what criteria you're judging on. The Razer Book 13 has better connectivity and more ports, the HP Spectre x360 13 has a 20+ hour battery life, and the Lenovo ThinkPad X1 Nano delivers an excellent experience on Windows. Better is subjective, but if you ask us, we would suggest either the Razer Book 13 or the Lenovo ThinkPad X1 Nano!
Are MacBook Airs worth it?
The MacBook Air is not cheap — in fact, it got even more expensive, jumping up $200 for the base M2 model. Can you justify the price of an M1 Air at $999 minimum or an M2 Air at $1,199 minimum? An Air can be worth it if you want to be in the Apple/Mac ecosystem, especially if you already have other Apple devices. Otherwise, you can find similar performing Windows laptops that could also be more affordable.
If you're looking for more power and the Air doesn't seem to be enough, consider a MacBook Pro or look into the best MacBook Pro alternatives.
Will laptop prices drop in 2022?
The answer to the question is — well, it's hard to tell. Some sources say yes if the chip shortages resolve. There's only one way to ensure a cheaper price when you buy: wait for Black Friday or Cyber Monday sales. Alternatively, you can buy the last generation model when the new version comes out.
Conclusion
The MacBook Air is a beautiful laptop that offers best-in-class ultraportable performance. With the new M2 models, performance gets even better. Still, the Air (and macOS) isn't for everyone. We hope that this list of the best MacBook Air Alternatives for 2022 has helped you figure out which laptop suits your needs best!
Decided to go with the Mac after all? Check out the best Mac apps for your new laptop!
Related Reading: