If you're an avid video game player, you may have noticed the need for faster click rates. You ought to deal damage more quickly than your opponent — accurately. Drag clicking is one of the best techniques to do this, but it does require a specialized mouse that can support its intensity.
In this article, we'll explore what drag clicking is, why you need a separate gaming mouse, what you should consider when buying, and the best drag clicking mouse you can get in 2023.
Best Drag Clicking Mouse: Our Top Picks
Overall Best
Best Value for Money
Best Budget Pick
Logitech G502 HERO
Roccat Kone Aimo Remastered
Redragon M711 Cobra

Wired programmable mouse
Mechanical switches
Right-handed
11 buttons
26,000 DPI
Variable weight
LIGHTSYNC RGB lighting
Onboard memory with up to 5 profiles

Wired programmable mouse
Omron optical switches
Right-handed
12 buttons
16,000 DPI
5 light zones
Stores up to 24 functions

Wired programmable mouse
Huano switches
Right-handed
10,000 DPI
Onboard DPI switch
What Is Drag Clicking?
Drag clicking is a gaming technique where you literally drag your finger across the button of your mouse to achieve more clicks than usual at the same time frame. The friction between your finger and the mouse button produces vibrations that count as more clicks.
You usually need a higher clicks-per-second (CPS) rate if you want to win PVP games on Minecraft and Roblox. Some external software that can help you auto-click does exist but expect to be warned or banned from online video games if you do use them.
Drag clicking is more than just a technique — it also needs the right equipment. You can't expect a regular office mouse to do the trick. Gaming mice for drag clicking that offer good sensitivity, excellent grip, and durable build are the right ones to pick.
Why Buy a Drag Clicking Mouse?
You've probably asked at least once the question, "can't I just use my regular mouse to drag click?" However, there are indeed some advantages to buying specialized mice that can drag click aside from the higher speed, such as:
Enhanced precision: You won't win your games if you're not aiming properly against your target, especially in PVP. Good drag clicking mice usually have high-quality sensors, ensuring precise cursor movement and higher accuracy.
Durable build: While such a technique offers you better click rates, it does damage your equipment. Drag clicking mice are often built with long lifespans due to their tough materials that can withstand intense usage.
Programmable buttons: Being able to customize the functionality of your mouse is something that the regular ones can't offer. The buttons of most gaming mice can be programmed to store specific shortcuts and functions, allowing for ease.
Enhanced gaming experience: Overall, the high speed and high accuracy of drag clicking mice give you an edge over other players. And if you perfect your technique, you may even get a good win streak.
But what is the best mouse for drag clicking?
What To Consider Before Buying a Drag Clicking Mouse
When choosing a drag clicking mouse, you also want to pay attention to its features aside from its appearance. While the "cool" factor plays a huge part, below are some product specs you want to consider:
Material and Form Factor
Having a good grip on your gaming mouse is necessary to ensure that you're really creating the clicks through friction. But you also want to have a smooth-enough mouse so that your finger can slide without interruption. Therefore, consider looking for mice with textured sides or a matte grip.
On the other hand, you also need to consider your hand orientation, which is pretty self-explanatory. But to put things simply, you need to choose an ambidextrous drag clicking mouse if you're left-handed, as that would make your gameplay more convenient.
DPI
Dots per Inch (DPI) refers to the number of pixels available in one inch of your screen. A higher DPI rating means your cursor can travel more quickly across and respond to high-speed clicks. It can also be called sensitivity among other players.
DPI is usually adjustable, and your sensitivity rating is entirely up to you. However, drag clicking mice that offer a wide DPI range allow for better customization according to your gaming requirements.
Connectivity
Choose between a wired or wireless mouse — it's that easy. But really, it's a matter of preference, especially since the latency differences between the two are almost negligible. Some pro players even like using wireless options.
On the other hand, you want to ensure it's compatible with your operating system. Some mice, as well as their customization software, only work for Windows, and the same goes for Apple-specific options.
Dimensions and Weight
When talking about a good drag clicking mouse, size does matter. You want one that is neither too big nor too small for your hand. It's also about whether you can properly access the extra buttons and features of your mouse.
The weight can also affect your gameplay. Lightweight mice are great if you're doing high-speed cursor movements, while heavy ones can usually provide better ergonomy. You may also notice that heavy ones usually pack more features than their counterparts.
Additional Features
Although most gaming mice come with RGB lighting, only a few come with onboard memory that allows you to save your custom profiles. Features like extra action buttons and programmable functions are great to look for when buying a drag clicking mouse.
Best Drag Clicking Mouse to Get in 2023
1. Logitech G502 HERO  — Overall Best Mouse for Drag Clicking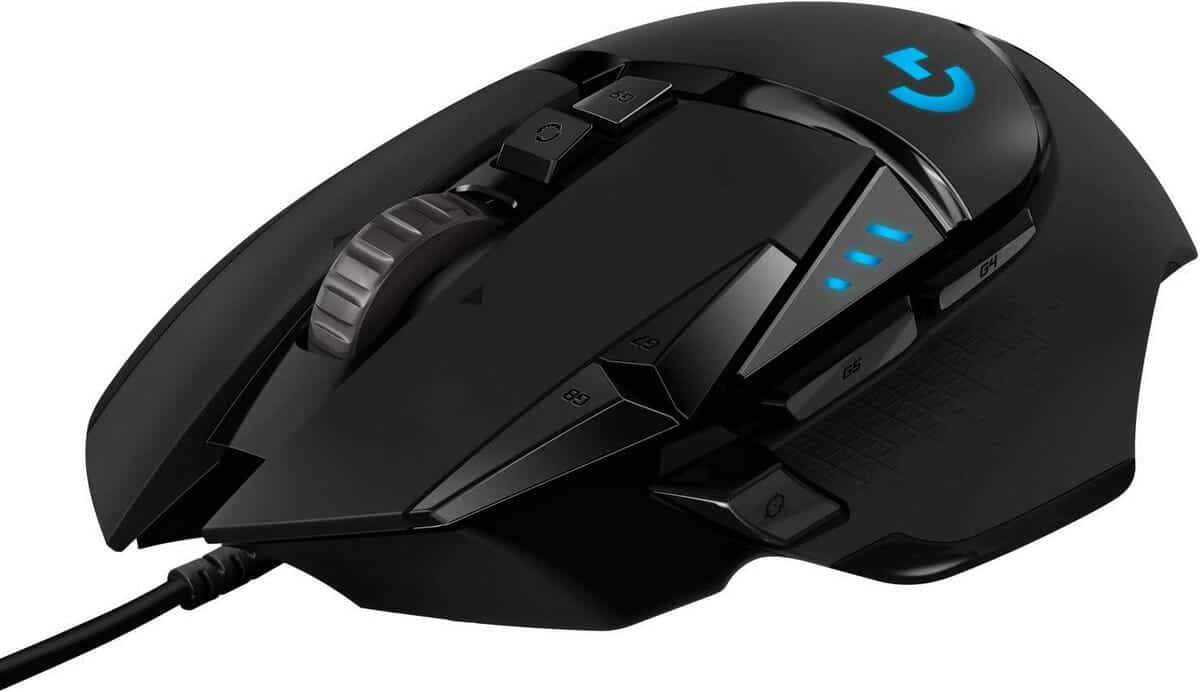 Pros
Variable weight
Changeable RGB lighting
Provides a good grip with textured rubber
Programmable with onboard memory
Cons
Only available in wired connectivity
Only good for right-handed gamers
Complex software features for some users
Specifications
Dimensions: 132 mm x 75 mm x 40 mm
Weight: 121 g (customizable up to 18 g)
Connectivity: Wired
Switches: Mechanical
Sensor: HERO™ 25K
Maximum DPI: 25,600
Microprocessor: 32-bit ARM
Form Factor: Right-handed
Logitech's G502 HERO is not only great in terms of its programmable buttons but also its grip and immersive experience.
It features 11 buttons that you can configure with various commands via the Logitech G HUB. Its onboard memory also allows you to save five different profiles. This way, you can still use your preferred mouse settings on whichever computer you use.
On the other hand, you can install or detach five 3.6-gram weights to find your preferred weight profile. A more comfy grip on your mouse is crucial to getting good CPS rates. It also makes for better cursor movement, together with its high DPI range of up to 25,600, free of acceleration.
The lighting system of the Logitech G502 HERO syncs with your in-game colors and themes, which may help set the mood for a more immersive play.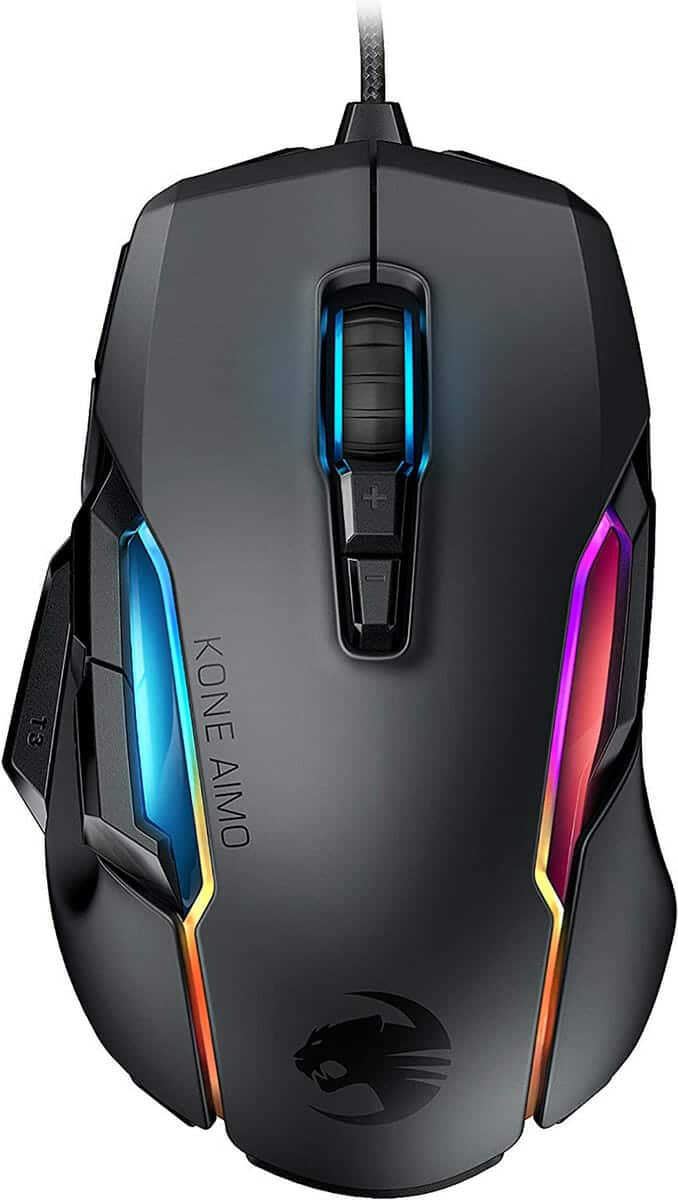 Pros
Powerful precision
Numerous programmable buttons
Durable with optical switches
Excellent grip
Customizable RGB lighting
Cons
Only good for right-handed gamers
Specifications
Dimensions: 125 mm x 85 mm x 40 mm
Weight: 130 g
Connectivity: Wired
Switches: Omron
Sensor: ROCCAT® Owl-Eye PMW3360
Maximum DPI: 16,000
Microprocessor: 32-bit
Form Factor: Right-handed
To tell you straight away, the Roccat Kone Aimo Remastered can be pretty pricey, especially with its feature-rich build. For one, it allows players with relatively good drag clicking skills to reach CPS rates of 60 or so.
Aside from your technique and its excellent accuracy, such a good CPS may owe to its big size and grippy material that its predecessor doesn't have. If you're one to be observant of hygiene, this gaming mouse may suit you since it's resistant to dirt.
While it only features 12 buttons, you can program it to store up to 24 functionalities. You can also modify its five light zones to your taste.
One of its best aspects is that it uses optical switches, which makes it last longer and more resistant to wear. However, you should know that these switches rely on electric prompts instead of a physical mechanism.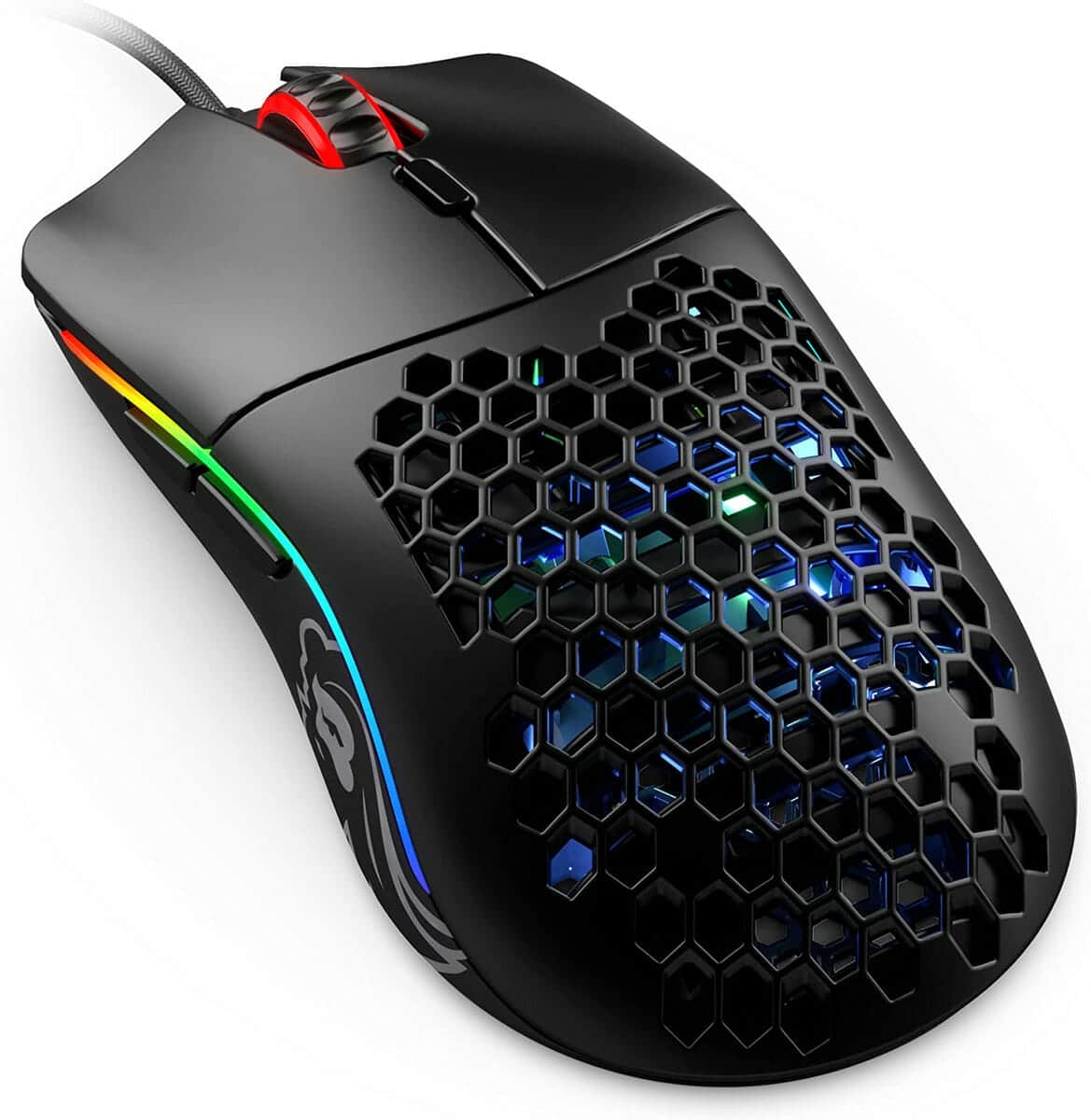 Pros
Good sensitivity
Suitable for right-handed and left-handed gamers
Lightweight design
Well-ventilated with honeycomb design
Cons
Accumulates hard-to-clean dust with honeycomb design
Specifications
Dimensions: 128 mm x 66 mm x 38 mm
Weight: ~ 67 g
Connectivity: Wired
Switches: Omron
Sensor: Pixart® PMW3360
Maximum DPI: 12,000
Form Factor: Ambidextrous
The Glorious Model O is perhaps one of the best lightweight gaming mice you can find at an affordable price. It only weighs around 67 grams and is suitable for almost any hand size. Not to mention, its neutral form factor makes it a good fit for you if you're left-handed.
You may get a higher CPS (at around 20) with its two-pronged boost: a six-step customizable DPI together with its high mouse speed at 250 IPS. It also uses Omron switches rated at 20 million clicks.
Design-wise, this mouse lets good airflow for your palms with its honeycomb design. While it can cause a little clutter on your setup (unless you do proper cable management), its cable is also resistant to drag.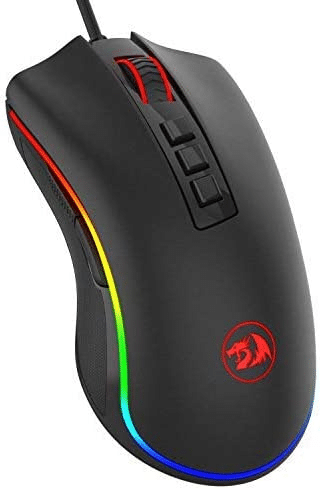 Pros
Cheap drag clicking mouse
Comfortable to use
Good for big hands
Easy-adjustment DPI onboard switch
Works on Windows and macOS
Cons
No software CD when bought (must be installed online)
Complex software features for some users
Only good for right-handed gamers
Specifications
Dimensions: 130 mm x 60 mm x 40.6 mm
Weight: ~ 113 g
Connectivity: Wired
Switches: Huano
Sensor: Pixart® PMW3325
Maximum DPI: 10,000
Form Factor: Right-handed
Redragon's M711 Cobra is one of the most affordable drag clicking mice you can buy for under $20 with around 20 CPS.
Aside from its relatively big size, this mouse has two side buttons that make for not only easy access but also an excellent grip for your hand. It also has a decent latency rate, especially with its high click sensitivity.
This drag clicking mouse features two onboard switches for easy DPI adjustments. The first one stores preset DPI values, while the other allows you to configure it via its accompanying software. You have to download the software online, though, as it doesn't come on a CD.
Aside from the DPI switches, it also comes with seven programmable buttons you can store macros and functions. Note that you can only use the software on Windows-based computers, while you can still use it as a mouse for macOS.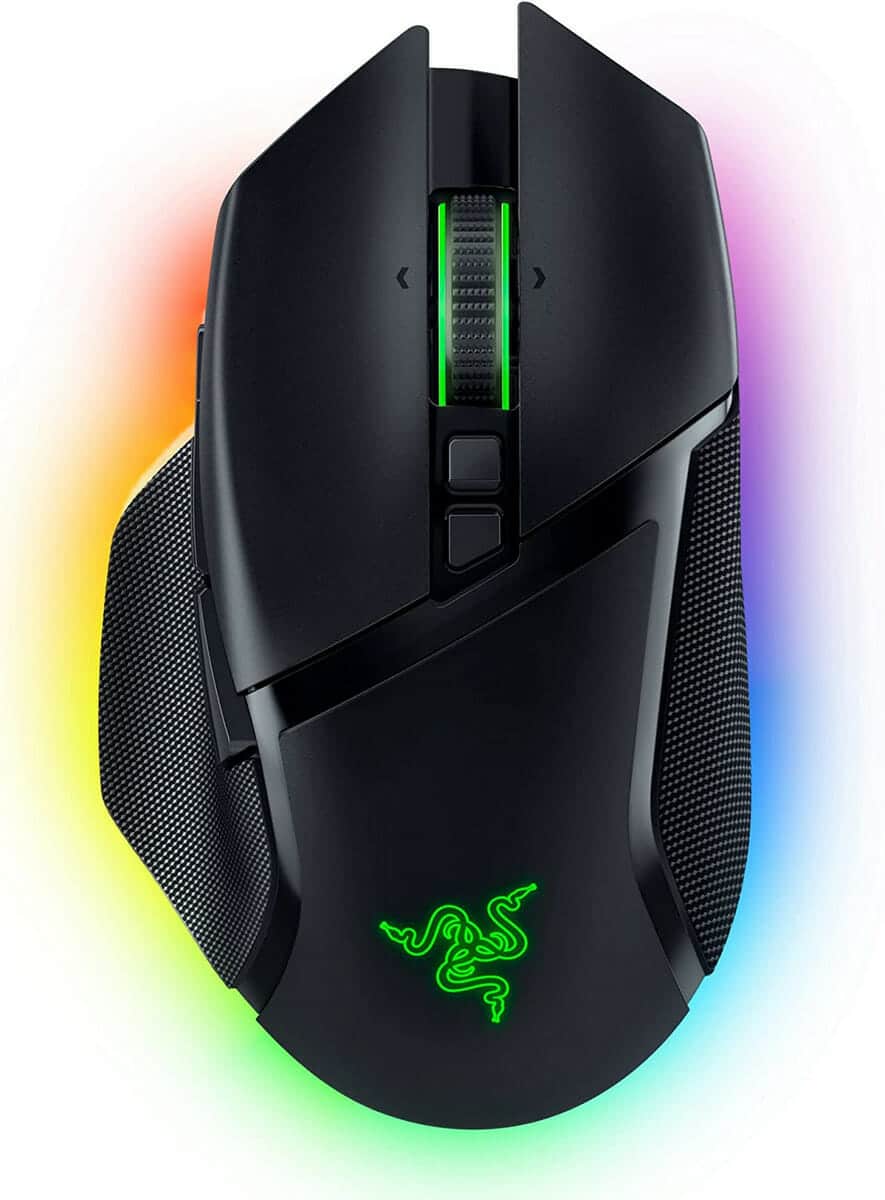 Pros
Excellent DPI range
Supports both wired and wireless usage
Feature-rich
Good battery life
Cons
Only good for right-handed gamers
Specifications
Dimensions: 130 mm x 75.4 mm x 42.5 mm
Weight: 112 g
Connectivity: Wired, Wireless
Switches: Razer Optical
Sensor: Razer Focus Pro 30K
Maximum DPI: 30,000
Form Factor: Right-handed
If you're looking for a versatile drag clicking mouse, the Razer Basilisk V3 Pro may be a good choice. You can use it either wired or connected via Bluetooth. But aside from its convenient connectivity options, it also has other edges.
It takes "wireless" to the next level with its wireless charging design — you just need to put it on its charging dock. And the best thing about it is its long-lasting battery. This makes it a bit more pricey than other mice, but the features it packs make it worth the buck.
For example, it also offers features like the sniper button and infinite scroll, which you otherwise can't find on other mice models. Its excellent DPI range, maxed at 30,000, also makes for quick cursor movement and accuracy.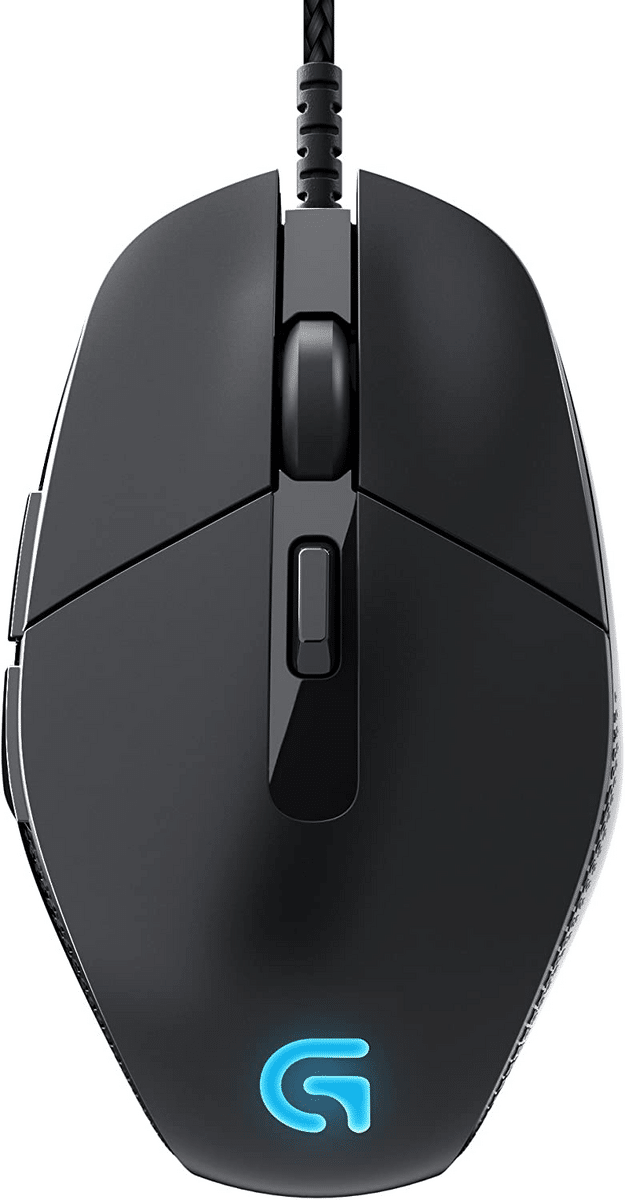 Pros
Good for right-handed and left-handed gamers
Comfortable to use
Excellent design
Programmable
Cons
Specifications
Dimensions: 115 mm x 65 mm x 37 mm
Weight: 87 g
Connectivity: Wired
Sensor: Delta Zero™ PMW3366
Maximum DPI: 12,000
Form Factor: Ambidextrous
Logitech makes some of the best computer hardware out there, and another good-performing mouse from their range is the G303 Daedalus Apex. It's made tough with its 20-million-click rating, while its 300 IPS makes for good mouse speed.
Its most remarkable characteristic, aside from being pricey, is its accompanying software, which allows you to fully customize your RGB lighting, sensitivity preferences, and DPI configurations. This mouse even self-adjusts its sensitivity to maintain uniform performance.
The Logitech G303 Daedalus Apex is great for both right-handed and left-handed users, except for the buttons that can't be used by the latter. Nonetheless, its excellent build quality and configurable features may offset this caveat.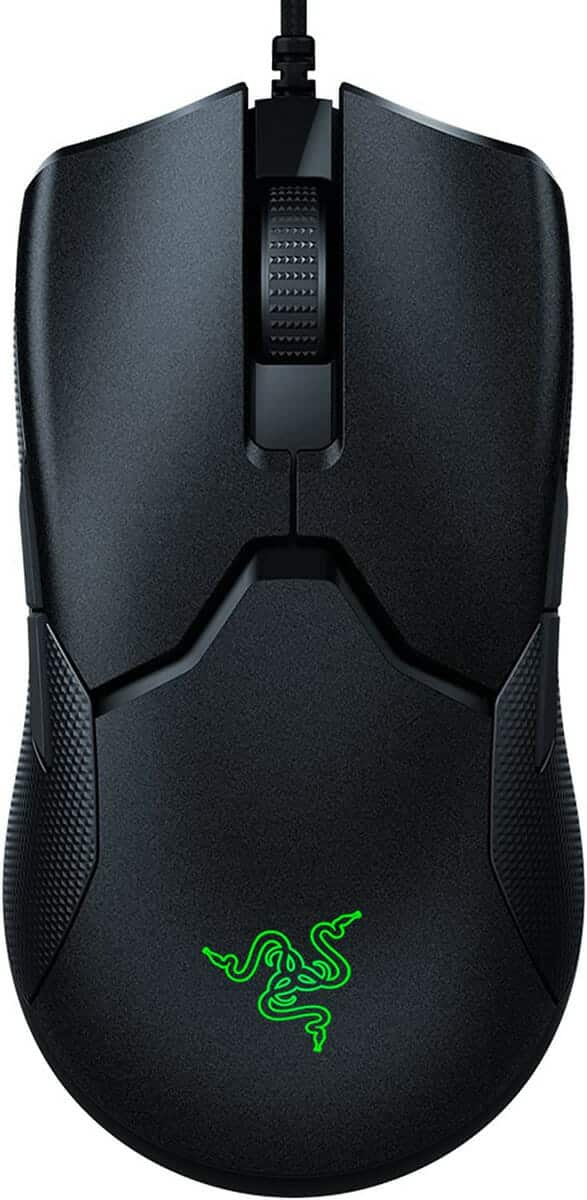 Pros
Good for right-handed and left-handed gamers
Programmable with onboard memory
Excellent grip
Lightweight design
Durable cable
Cons
Specifications
Dimensions: 126.7 mm x 57.6 mm x 37.8 mm
Weight: ~ 71 g
Connectivity: Wired
Switches: Razer™ Optical
Sensor: Optical
Maximum DPI: 20,000
Form Factor: Ambidextrous
It's hard to find mice that suit left-handed people — more often than not, their only options are ambidextrous ones. But while designed for ambidexterity, the Razer Viper 8KHz's neutral form factor makes it an excellent choice for left-handers.
Build-wise, this mouse is lightweight and comes with rubber on its sides, which makes for an excellent grip. In addition, while it usually comes with a durable woven cable, it also has a wireless counterpart.
These aside, it also features 8 programmable buttons, which you can save via its onboard memory, and a customizable RGB lighting system. You can also adjust its DPI maxed at 20,000. More so, its 8000 Hz polling rate makes for negligible latency rates that offer you quicker response times.
Why Trust Productivity Spot?
Our team at Productivity Spot aims to match our readers with the devices that best meet their needs — in this case, a drag clicking mouse. We know that it's pretty difficult to find mice that last long under intense usage and can provide powerful accuracy. As such, we tried to be as transparent as possible and only pick the ones that truly offer a bang for your buck.
How We Selected the Best Drag Clicking Mouse
Aside from considering the factors we have listed in our buying guide for drag clicking mice, we also assessed a mouse's price, durability, CPS rating, polling rate, and other aspects that are relevant. We ensured that every mouse listed above is able to offer the quick response rates and accuracy needed for intense PVP games like Minecraft and Roblox.
We also think that listening to what people who've used the products really say about them is essential. Therefore, we looked into the varying opinions of people, from product reviews to forum discussions. And the ones on this roundup are the culmination of the best that matched our criteria.
Frequently Asked Questions
Can All Mice Drag Click?
No, not every mouse is suitable for drag clicking. The technique requires powerful mouse sensors and durable switches that support high CPS rates, which are usually absent from regular mice.
Is Drag Clicking Bad for Your Hand?
There really isn't much evidence of why drag clicking can be bad for your hands. But to be on the safe side, ensure you're using skin-safe tapes, which are often used to improve drag clicking friction. Also, give your hands some rest to free them from potential strains.
How Many CPS Is Drag Clicking?
There's really no standard clicks-per-second rate set in stone. But if you've honed your drag clicking technique and use an equally powerful mouse, you can generate up to 32 CPS and beyond.
Does Drag Clicking Damage Your Mouse?
Unfortunately, yes. The rapid clicks registered put your mouse button switches under strain, resulting in faster wear. This is why buying mice built for drag clicking and similarly intense techniques is essential.
Final Thoughts
Creating your gaming setup can take many considerations, especially on the keyboard and mouse that you'll use. Considering if you want a macOS-specific keyboard and a mouse for drag clicking is a good example. After all, it's your gameplay on the line.
Drag clicking with the right gaming mouse gives you an edge over your opponents and targets by being able to deal damage more quickly and accurately. We think the current best drag clicking mouse is Logitech's G502 HERO. But if you're looking for the best value for your money, Roccat's Kone Aimo Remastered may be just what you need.
Related: