The Apple Watch is probably one of the very best smartwatches and wearables around today. iPhone users, in particular, will find the Apple wearable to be a natural choice. It only makes sense, considering the Apple Watch is made specifically to work well within the Apple ecosystem. In fact, you'd be hard-pressed to find an Apple Watch equivalent when it comes to the dedicated app store and the third-party app availability.
However, the Apple Watch is not the be-all-end-all when it comes to smart wearables — and it is certainly not unimpeachable, either. There are downsides to the Apple wearables, such as the high price and mediocre battery life, which can both be massive turn-offs on their own.
If you're in the market for a smartwatch but don't want the Apple version, we've put together this list of the best Apple Watch alternatives available in 2023. Which one is right for you? Read on to find out!
Related: How to Ping Apple Watch
Disclosure: Productivity Spot is supported by its audience. When you purchase through links on our site, we may earn an affiliate commission.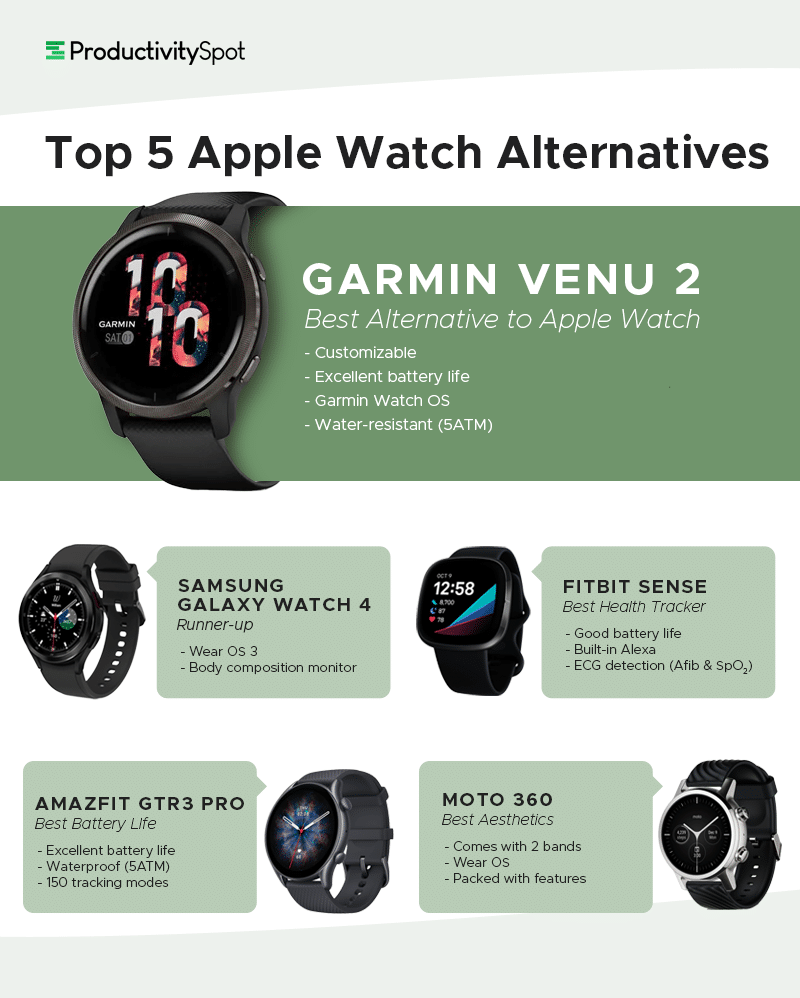 Best Apple Watch Alternatives in 2023
1. Garmin Venu 2 – Best Alternative to Apple Watch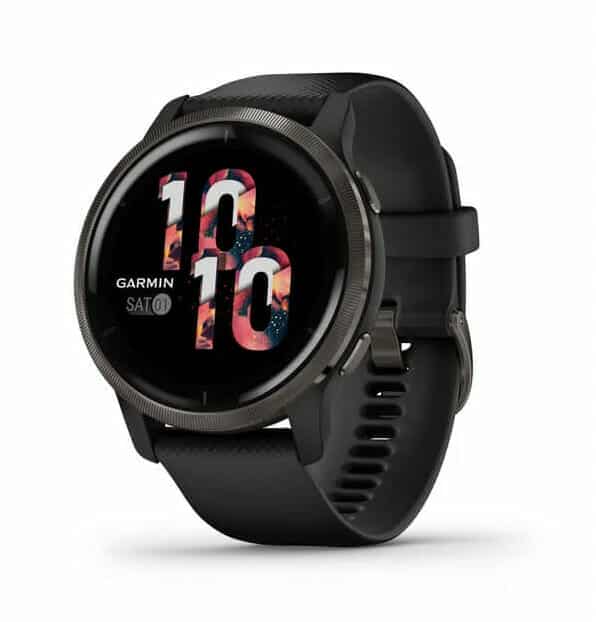 Image via Garmin.com
Specifications
3 screen sizes: 40mm, 43mm, 45mm
Water resistant up to 50 meters (164 ft)
9-day battery life with normal use; 3-4 day battery life with always-on display; rapid recharging
Basic version is much more affordable; premium version nearly double the price

Premium features: round watch face, high-resolution AMOLED screen, health snapshot, stainless steel hardware, elevation sensor for tracking floors climbed, animated on-screen workouts
Optional voice functionality allows you to make calls and interact with your phone voice assistant from your wrist
The Garmin Venu 2 is the best alternative to the Apple Watch, especially if you choose the version with the premium features. Garmin's always been a name in the fitness tracking game, but they've now also made a name in the smartwatch sector. This watch includes countless features, including a pulse ox sensor, stress tracking, hydration tracking, women's health tracking, heart rate tracking, advanced sleep monitoring, and more.
What We Like
Excellent battery life
Several versions available, customizable
Great with sports tracking
(Limited) app store available
Health metrics available on premium version
What We Don't Like
Quite expensive for the version with the premium features
No ECG or temperature sensors
Some users report battery life not as long as Garmin's assessment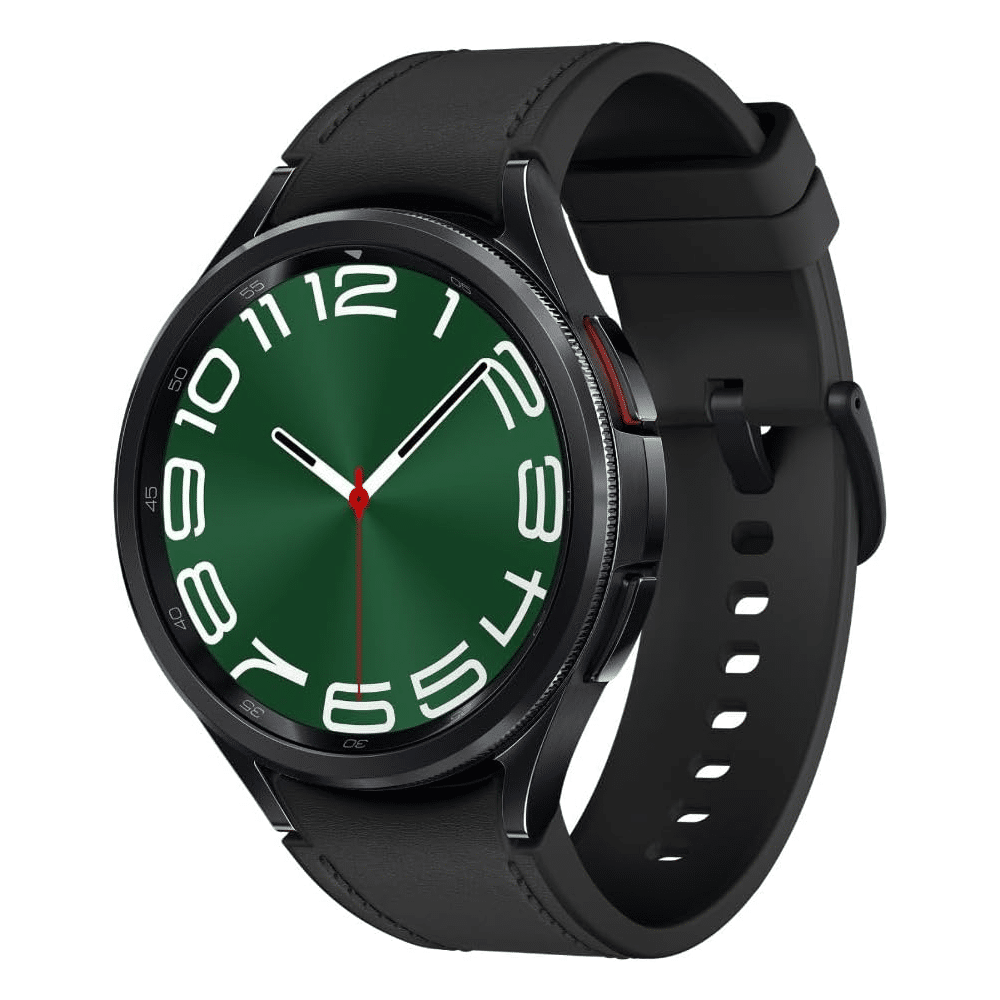 Specifications
New for 2023
Comes in 43mm and 47mm sizes
Always-on monitor for your heart rate
Sleep coach feature tracks light, deep, and REM sleep
Stainless steel bezel
2GB RAM and 16GB Memory
The Samsung Galaxy Watch has always been a contender in the smartwatch market. It is a solid alternative to the Apple Watch, especially going up to alternatives to Samsung Galaxy Watches. Version 6 isn't bad either, but what made us give it 2nd place instead of first is the price. That's a major factor in any new tech purchase and, while the price point isn't out of line for a latest release, we found exceptional value on earlier releases. Once the price drops (or if you can find it on sale), this is a first-rate watch and could easily take first place.
What We Like
Great watch all around
Decent battery life
Improved tracking features such as the heart rate monitor, and more
Only watch with body composition monitoring and metrics
What We Don't Like
Biggest size lists at $479.99
Smaller size lists at $399.99
3. Fitbit Sense – Best Health Tracker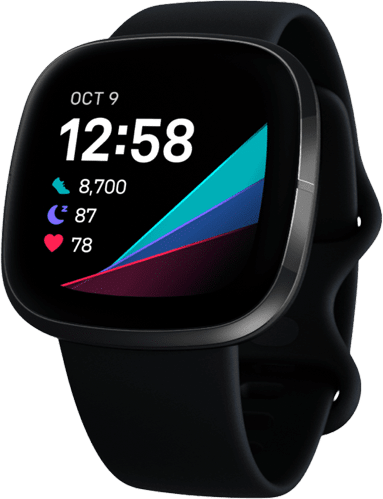 Specifications
5-6 day battery life
Includes the best of Fitbit's features, such as heart rate monitoring (with ECG detection for Afib and SpO2), sleep monitoring, electrodermal activity sensor, temperature sensor, GPS + Strava support, elevation sensor, and more
Square-shaped watch face
Watch apps are incredibly basic, but the Fitbit mobile app is robust and includes plenty of features (especially with Fitbit Premium)
Alexa built-in
The Fitbit Sense is an excellent health and activity tracking watch that has some smartwatch functionalities. If you're after health tracking features more than anything, it's pretty tough to beat the Fitbit, which is also a fair bit more affordable than the other options on this list.
What We Like
Amazing health and activity tracker
Nearly a week of battery life depending on use
Fast charging
Fitbit mobile app is great
What We Don't Like
So-so smartwatch
Somewhat clunky to use
Many mobile app features are behind a paywall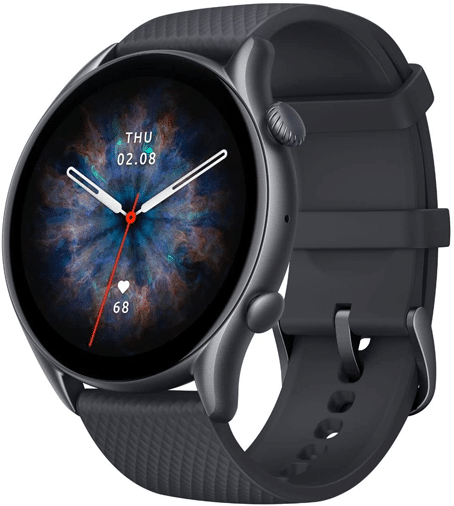 Specifications
Waterproof up to 5ATM (50 meters for 10 minutes)
Quoted battery life of 24 days, but closer to a dozen days with real use
1.44" AMOLED 480×480 display (Ultra HD)
Biotracker 3.0 includes features such as heart rate monitoring, blood oxygen monitoring, stress level detection, and more
150 activity tracking modes
One-tap measure of biometric data
The GTR 3 Pro by Amazfit was one of three watches (GTR 3, GTS3) released by Zepp Health in 2021. All three have excellent features to rival the Apple Watch, but the pro version has additional features like Wi-Fi, speaker, Bluetooth calling, and music storage. It also has an app store, even though it's not quite as robust as Apple's (and doesn't really have many third-party apps).
What We Like
Amazing battery life compared to many other smartwatches
Great display
Packed with features
150 sports modes
What We Don't Like
App store is small and has no third-party apps
Price has recently gone up a bit
Some complaints from users about buggy software and accuracy issues
5. Moto 360 – Best Aesthetic Choice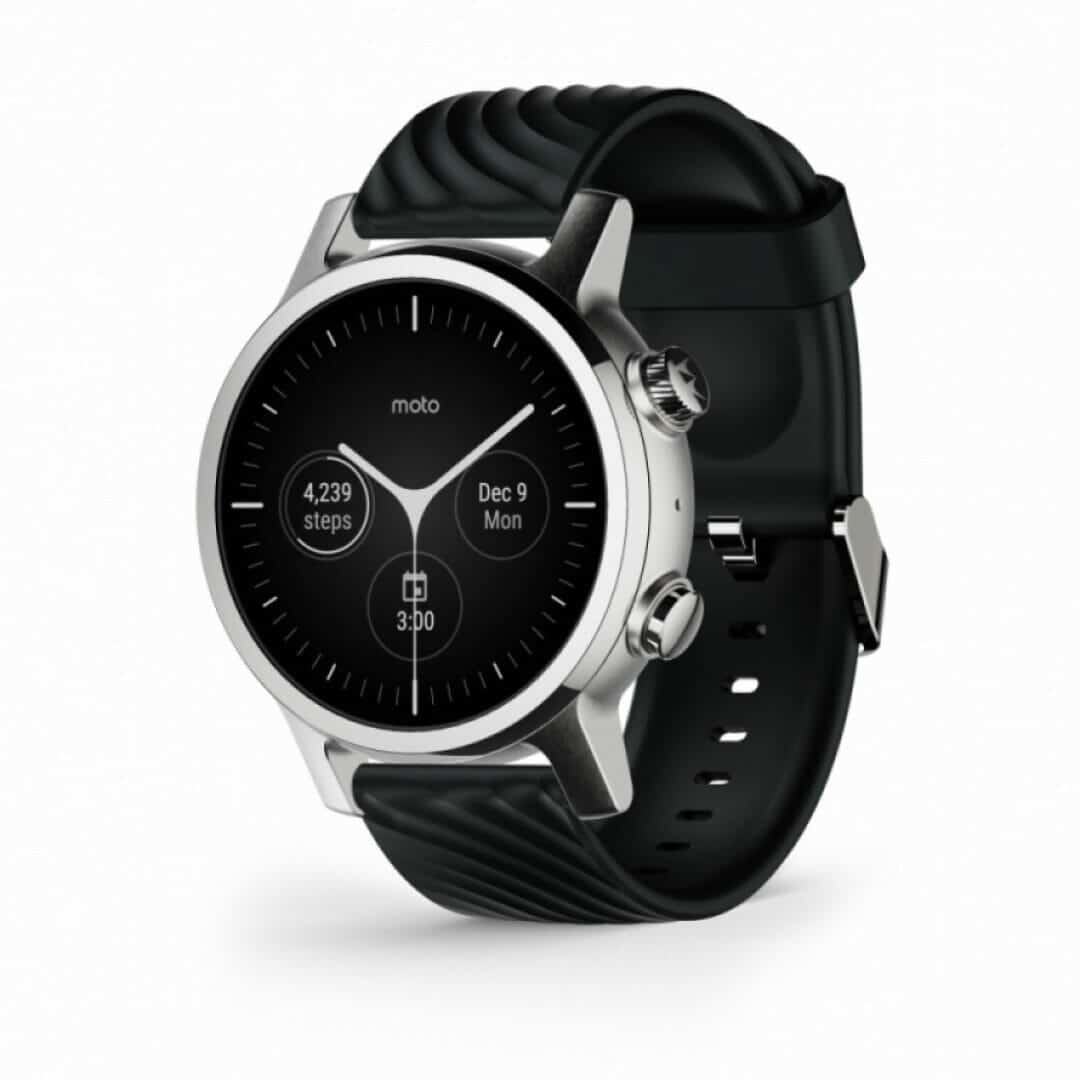 Specifications
Came out in 2020 — may be lagging slightly behind the newer generations of watches at this point
Uses Google Wear OS
Round watch face, looks more like an actual timepiece
Comes with two bands in the box, one leather and one sports
Compatible with many apps and supports some contactless payments
Includes features like heart monitor, GPS, Calm app (for meditation), sleep monitoring, and more
The Moto 360 is a beautiful smartwatch that offers plenty of features on par with even some of the best Apple Watch alternatives. It's sleek, chic, and overall an aesthetic choice that can take you from work to working out.
NOTE: By now the Moto 360 is around two years old and may soon start showing its age. If you would like a newer alternative from Motorola, consider the Moto Watch 100. It is much more affordable, but doesn't have quite as many features as the 360.
What We Like
Sleek, stylish, and aesthetic
Fast charging – full in 60 minutes
Water-resistant (3ATM)
Comes with two bands in the box
What We Don't Like
Released in 2020, so may not be as up-to-date on some tech
Some users report a less than stellar battery life
Buyer's Guide: What to Consider When Buying a Smartwatch
As you're shopping around for some alternatives to Apple Watch, there are quite a few things that you may want to consider. It's easy to pick a watch simply for the way that it looks, but appearances aren't everything — especially not in the smartwatch game. When it comes to selecting an Apple Watch dupe, you may actually want to look at other features and specifications, such as the criteria below.
Compatibility and Operating System
Back when smartwatches were a shiny, new technology, it could be difficult to find compatible wearables to suit your device(s). Cross-compatibility was somewhat of a rarity, so people generally had to stick to their own OS (whether Android or iOS) to ensure that they could access all their watch's features. Nowadays, wearables tend to come with native apps for Android and iOS to ensure cross-compatibility. However, as you're shopping around for a smartwatch, it's still a good idea to check whether it has a reliable app for your mobile phone.
It may also be a good idea to check the watch's operating system to see whether it performs to your liking. Some operating systems, such as Tizen OS (Samsung) don't fully play well with iOS, so some features like replying to iMessages or Find My iPhone won't work. Other operating systems, such as Garmin Watch OS, can provide a near-seamless integration experience very close to that of the Apple Watch. Wear OS, on the other hand, only works with Android.
The Apple Watch is nearly unbeatable when it comes to having an app store with third-party apps available, but some operating systems are already working on catching up!
Battery Life
One of the biggest grips people seem to have with the Apple Watches is the short battery life. Truth be told, it can be difficult to justify purchasing a wearable as expensive as the Apple Watch when even Apple itself states the battery is rated to last about 18 hours on a single charge (with specific usage). However, some users do state that when using fewer features, the watch can last as long as 24-36 hours. Unfortunately, that's still not long enough to keep your watch on your wrist for more than a day or so. Thankfully, the new Apple Watch 7 had the goal of having faster charging — but it still doesn't excuse the short battery life.
As you search for watches like the Apple Watch, one of the things you may want to consider is the battery life. Thankfully, there are many alternatives that have batteries lasting anywhere from a few days to nearly two weeks, which can save you the hassle of daily charging.
Connectivity
Most smartwatches these days have some sort of connectivity. Most have Bluetooth, while some may have both Bluetooth and WiFi. However, in most cases, wearable connectivity is mostly for short-range use such as connecting headphones and third-party sensors, and for receiving wireless system and operating system updates. Most of the time, watches with Bluetooth connectivity provide more than enough functions to be useful in daily life.
Some watches have now also started getting cellular network support, such as 3G, 4G, and even LTE. Cellular-supported wearables can theoretically function as a smartphone on your wrist, taking phone calls and performing GPS navigation with no extra setup. Unfortunately, this feature brings extra cost, making a wearable's price go up significantly.
When searching for your perfect off-brand Apple Watch, figure out whether you need cellular network support. If you think you're likely to have your mobile phone nearby most of the time anyway, you can probably save yourself some money by skipping the 4G.
Health Tracking
One of the main reasons people decide to use smartwatches is health tracking. Wearables have come a long way since their inception. First came a heart rate monitor that helped track activity and energy spent more accurately. Then came sleep tracking. Nowadays, however, there are even more features that provide health metrics to users.
Ask yourself if you need all the bells and whistles, such as ECG detection, stress monitoring, blood oxygen level monitoring, and even skin temperature sensors. If you don't, chances are you can get by with just the heart rate monitor, which is typically enough to get features like activity tracking and sleep tracking.
Productivity Features
It's worth noting that some watches have features to help you get through your daily stresses, such as meditation and mindfulness functions. Used regularly, these can help you increase your productivity. Some watches even have Pomodoro functions to help you set up tracking properly. You can also get notifications right on your wrist!
Activity Tracking
Another one of the biggest reasons people use smartwatches is for activity and workout tracking. Smartwatches offer varying activity tracking features, with some offering tracking profiles for a great number of exercises and activities. Some watches even offer automatic workout detection, so you don't have to remember to start tracking every single time. Activity trackers with dedicated exercise tracking options can help you gain more insights into your workouts to help you track progress and look for points of improvement.
Some watches also offer GPS functionality to let you track how your walks, runs, or biking sessions go. There are watches with built-in GPS technology. Others, however, use your smartphone's GPS location services through Bluetooth or WiFi connection.
Design/Aesthetics
Some people criticize the Apple Watch for its square shape, which can take away from its watch or timepiece "feel." Others, on the other hand, find the Apple wearable's design to be sleek and beautiful. Whether you're shopping around for watches that look like Apple Watches or you're looking for something that looks closer to an actual watch (with a round face), you may want to consider a wearable's design and aesthetics.
It's worth noting that most watches have replaceable watch bands, so you can also consider the availability of accessories for a certain product. After all, watches, despite their function, also serve as accessories that can showcase your personality or bring your outfit together.
Screen
Some users are particular about what they like in a wearable's screen. You may want to consider screen size, color accuracy, resolution, and the actual hardware's size as you shop around for the best alternative to Apple Watch.
Water Resistance
It may not seem like such an important thing to worry about, but if you don't want to constantly have to remove your watch for activities like washing your hands or taking a shower, you may want to take water resistance into consideration. Some smartwatches can be used for swimming and shallow-water activities, depending on their rating.
For example, if a watch is rated 5ATM it means it can survive for 10 minutes at 50 meters. If you intend to purchase a smartwatch for scuba diving, you'll probably want a diving-specific watch like this one by Garmin.
Frequently Asked Questions
What is a good substitute for an Apple Watch?
If you want an excellent alternative all around, look to the Garmin Venu 2 and the Samsung Galaxy Watch 6. If you're looking for the best health trackers and activity trackers, consider Fitbit watches like the Sense and Versa 3. Moto smartwatches are great when it comes to aesthetics, and the Xiaomi bands are amazing cheap Apple Watch alternatives.
Do any other smartwatches work with iPhones?
Yes! Nowadays, most smartwatches come with their own apps for both Android and iOS smartphones. Most of the choices on this list are 100% compatible with the iPhone. Unfortunately, the Samsung Galaxy Watch 4 is not after switching to Wear OS 3 (from Tizen). If you would like a Galaxy watch compatible with the iPhone, look at the Galaxy Watch 3 — though by now the Watch 3 is about to be three generations behind.
Is an Apple Watch really necessary?
No! The Apple Watch is an excellent wearable, but it's priced like a luxury item. Couple that with short battery life and you might be left wanting for a cheaper smartwatch that lasts a long time between charges. We will say, however, that if you want an app store with plenty of third-party apps available, the Apple Watch is difficult to beat.
Is there a smartwatch better than Apple?
In some respects, certainly! You'd have a hard time finding a smart wearable with a battery worse than Apple's. Fitbit's offerings tend to offer better health tracking features than the Apple Watch, and the Garmin Venu 2 offers excellent features mostly rivaling Apple's own.
Which smartwatch is best for iPhone users?
It's hard not to say the Apple Watch, as indeed it is the best for the Apple ecosystem. However, you can also consider the Samsung Galaxy Watch 4, Garmin Venu 2, or Fitbit Sense.
Conclusion
Beyond telling the time, smartwatches provide many features that can help optimize your life. Some are even starting to offer features that can help you track your health so you can pick up on anomalies and schedule doctor's appointments where necessary. Just make sure that you consider all the criteria before you purchase your new smart accessory!
We hope that this list of Apple Watch alternatives has helped you find some wearables worth considering. If you have any suggestions for this list, feel free to tell us in the comments below!
Related Reading: