Keeping a planner can greatly enhance your productivity and organization. Not only does it serve as a centralized hub for managing tasks, appointments, and deadlines, but it also keeps you focused on your commitments and responsibilities.
Whether you prefer a minimalist layout or a more detailed format, this app proves it's one of the best productivity planners.
Let's explore the best Notion planner templates for your daily, weekly, and monthly schedule.
Best Daily Notion Planner Templates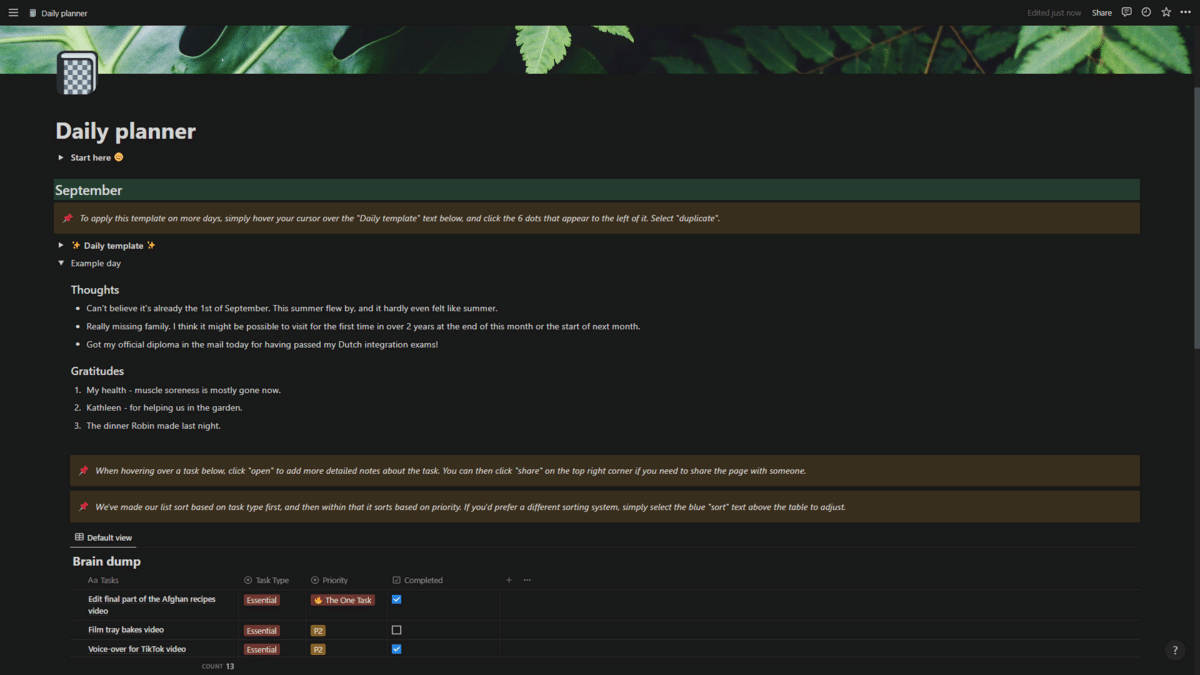 For those who want a simple, minimalistic task manager, we think The Daily Planner by Pick Up Limes is great.
Related: Udemy offers a huge range of Notion lessons to take your planners to the next level!
Key Features
Bulleted list for thoughts and gratitudes: Record your thoughts, accomplishments, and moments of gratitude in a simple and structured manner.
Simple database for tasks: Dump all your tasks and ideas to declutter your mind and stay organized. Inside the database, assign key task types and priority levels for your tasks.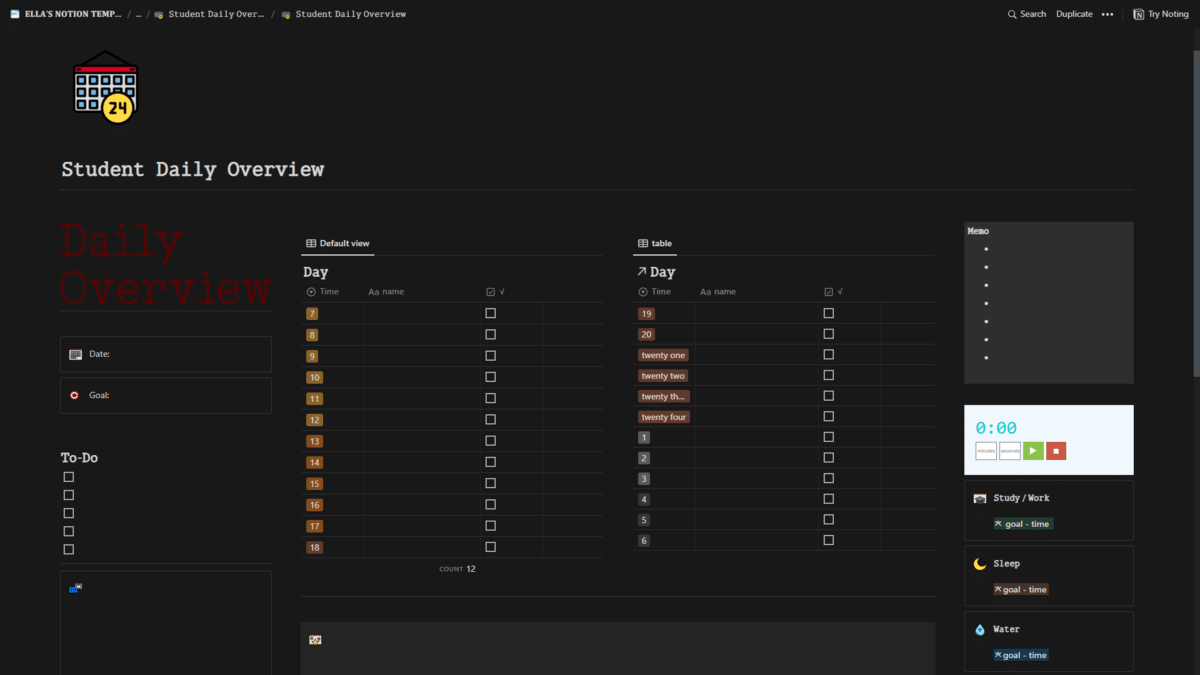 The Student Daily Overview by Ella is a more detailed Notion day planner that's designed specifically to meet the unique needs of students. It offers numerous features that cater to your educational and personal development.
Key Features
Notion hourly planner: Plan your daily schedule by hour. Simply add the specific task to each time slot and mark the checkbox once it's done.
To-do list: A simple list of task checkboxes for the day.
Bulleted memo list: For your daily goals or reminders.
Digital notepads: Blank spaces for notes, inspiring quotes, and any other text you make for the day. Use it like your personal journal.
Habit tracking: Track your habits (e.g., workouts, water intake, sleep). There's also a space to track your mood for the day.
Timer: Use the timer widget to time your study sessions.
Meal Plan: A basic checklist of what you eat during the day.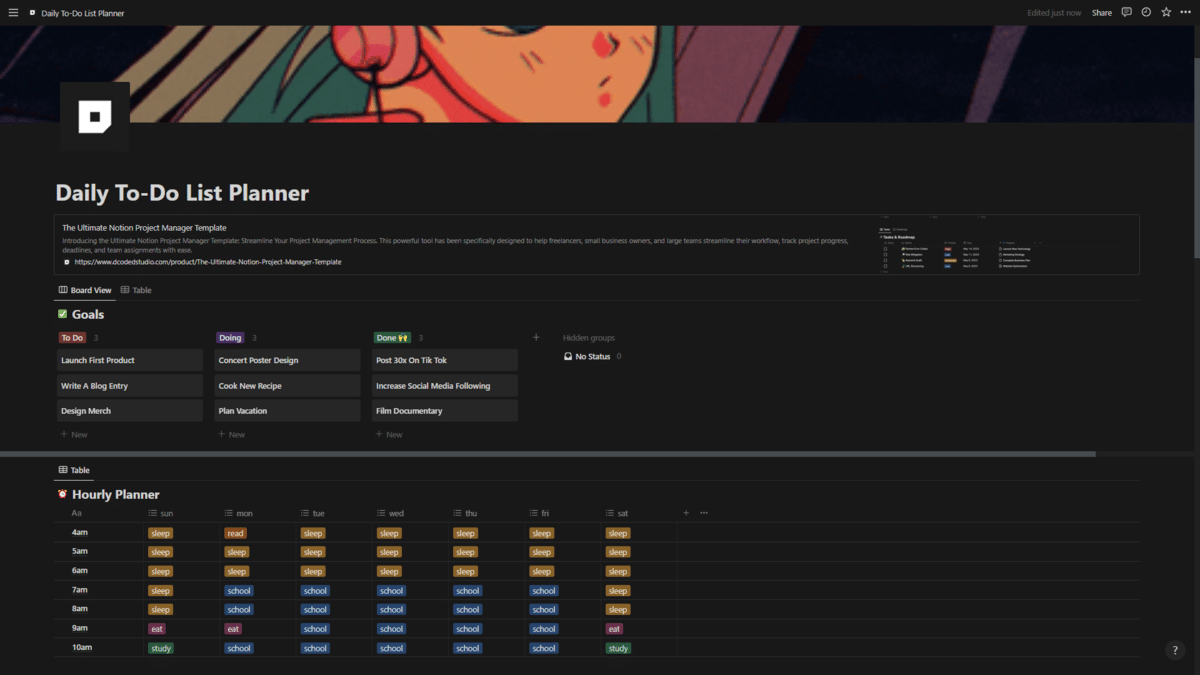 If you're looking for a Notion daily planner with daily tasks, DCODED's Daily To-Do Planner might be exactly what you need. There are no bells or whistles. Think of this like a Notion hourly planner.
Key Features
Kanban board: Define your daily objectives and categorize them into To Do, Doing, and Done columns.
Database of your daily schedule for the week: Schedule your tasks for every hour. The database already has predefined tasks like Sleep, Study, Eat, Read, School, and Free Time.
Related: AppSumo offers countless Notion courses — check them out!
Best Weekly Notion Planner Templates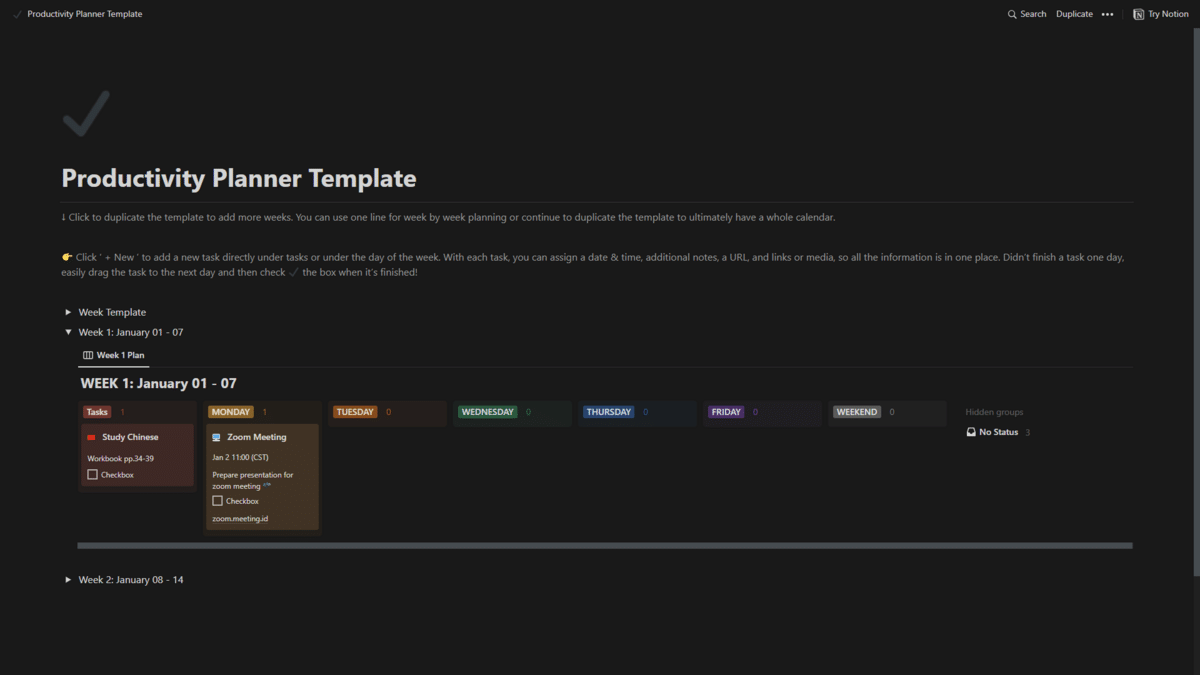 The Productivity Planner is a Notion weekly planner template that's designed to simplify and improve task management. It provides users with a centralized platform to effortlessly organize, track, and complete tasks for the entire week.
Key Features
Kanban board-like week template: It features a column named "Tasks," where you can dump all the tasks you need to do for the week. Then, you can move them to the specific day you need to do them.
Task template: Every task added inside the Kanban board follows a template to fill out (e.g., name, date, URL, files/media, details, checkbox).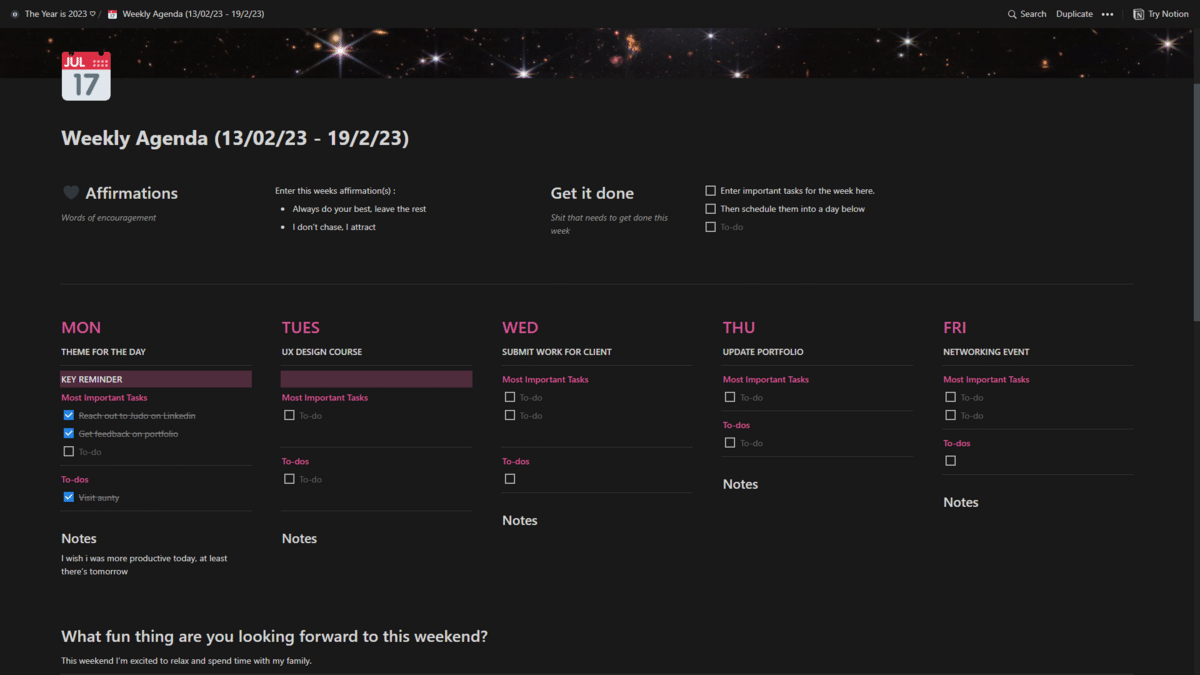 Originally created by Marie Poulin and modified by Fisayo Osilaja, this Notion Weekly Agenda template covers everything you need for the week. It features not only a task list but also spaces for your affirmations, notes, and habits.
Key Features
Affirmations for the week: This is a simple bullet list of affirmations or words of encouragement to motivate you throughout the week.
General task list: A basic to-do list where you can put your weekly tasks. After listing them, drag and drop them into a specific day of the week.
Weekday task list: Features a Notion daily schedule for weekdays. Add your tasks, the day's theme, and any notes you have.
Weekend task list: A simple to-do list of things to tackle on Saturday and Sunday.
Outstanding task list: Any leftover tasks you didn't finish during the previous week.
Habit tracker: A table database to keep track of habits throughout the week.
Weekly reflection: Prompts help you reflect on what happened.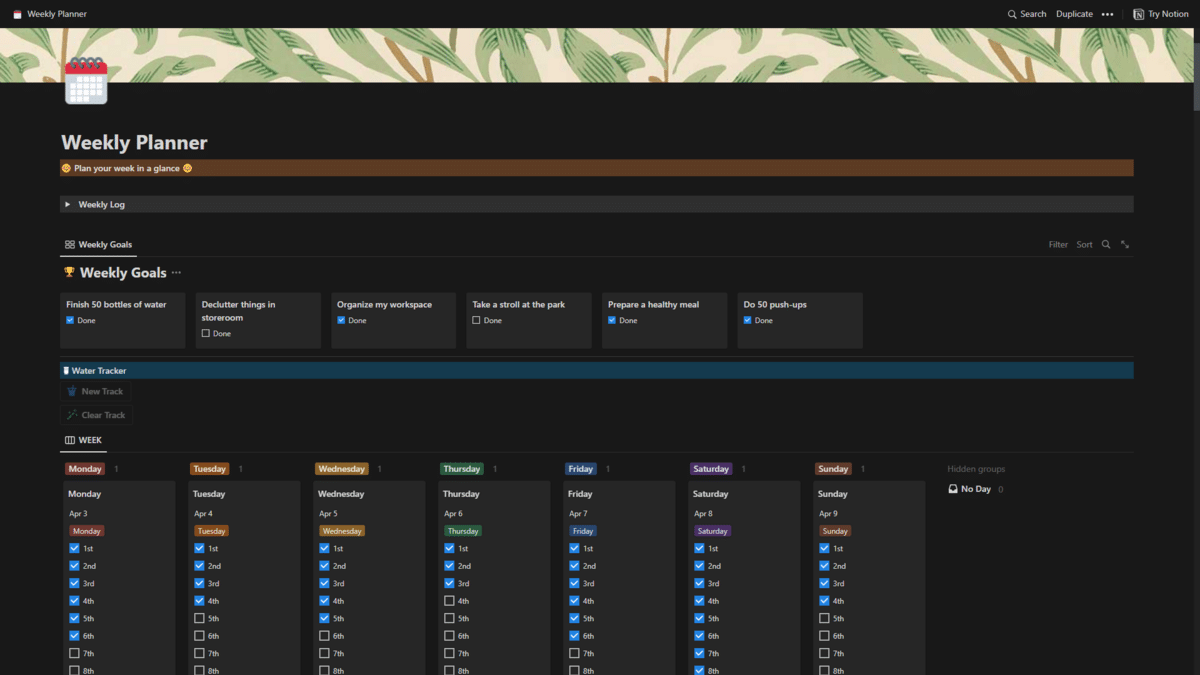 The Weekly Planner Template by JoyLoveDigital helps you plan your entire week in just a single Notion page. It offers a visual representation of your weekly schedule, goals, habits, and even budget in an organized, intuitive format.
Key Features
Weekly goals: A gallery database that can include important tasks to do each week (or the goals you want to accomplish).
Water tracker: A dedicated database for tracking your water intake. Simply check the box for each glass of water consumed.
Habit tracker: A Kanban board-like database of your daily habits. Check the box for each habit (and clear them just as quickly).
To-do calendar: This shows you a calendar of the current week and comes with a template for added tasks.
Weekly to-do list: Provides you with a simple to-do list for each day.
Best Monthly Notion Planner Templates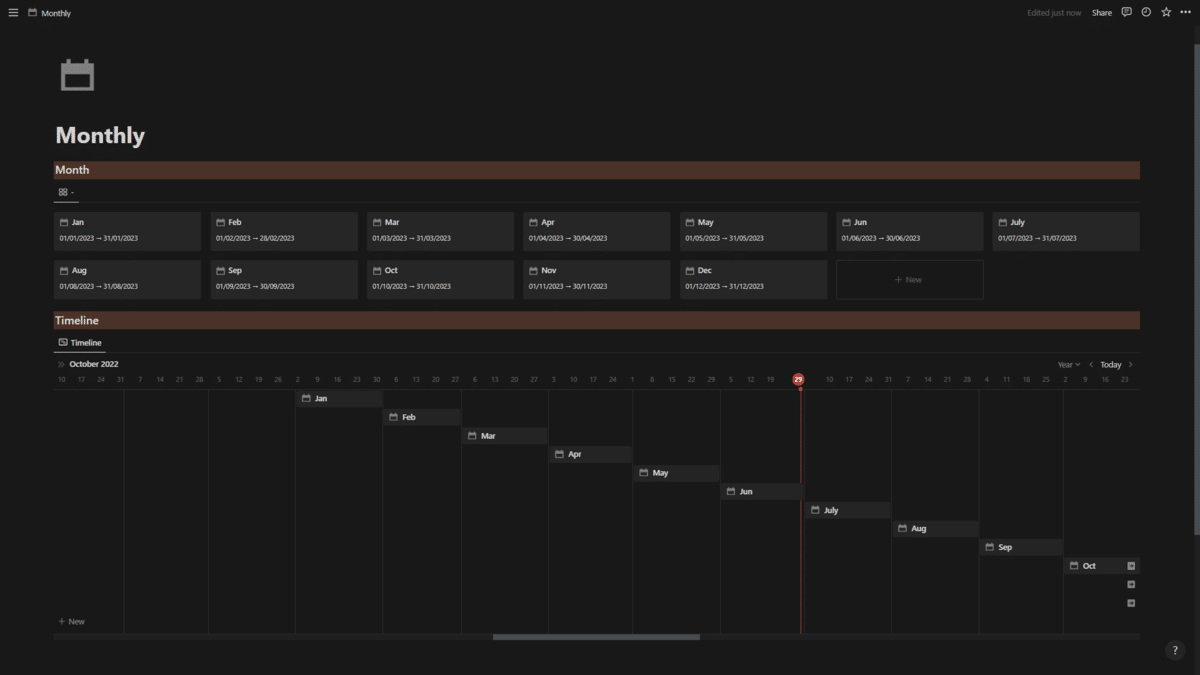 The Monthly Planner by HyeUkiyo is a minimalist option for managing your to-do lists.
Key Features
Monthly template: Each monthly template includes a calendar, a list of your monthly goals and important events, and a table database of your to-do list.
Timeline: This shows you the monthly templates arranged in a timeline. It also indicates the current date and year.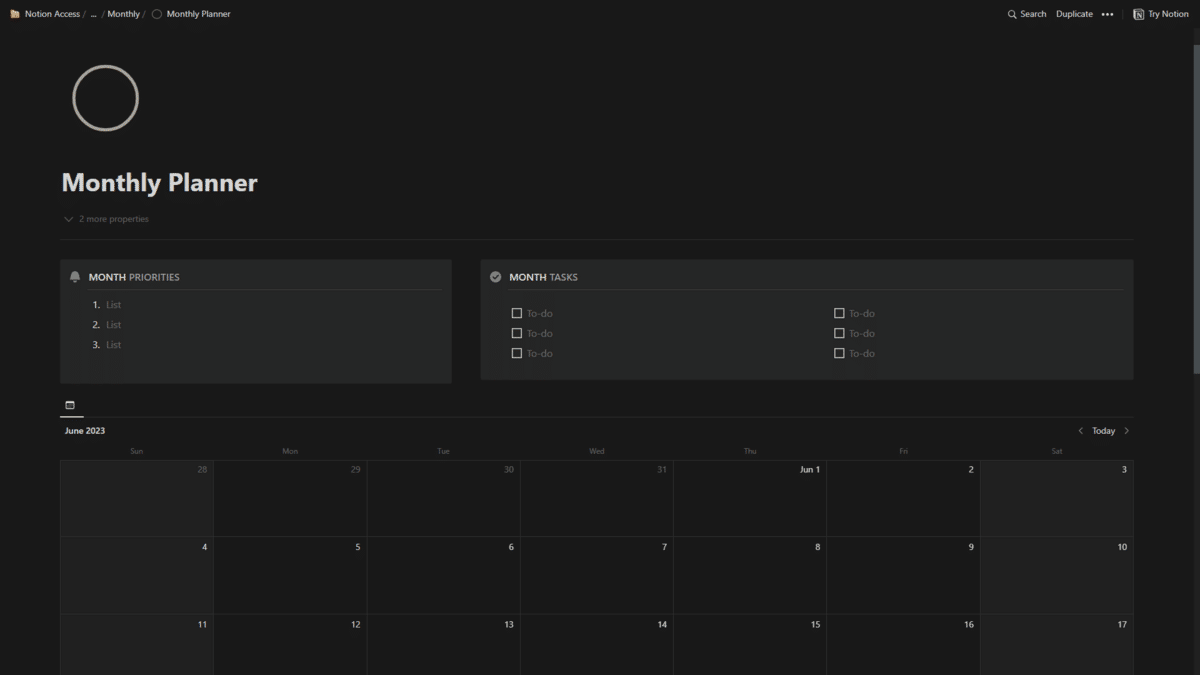 Notion Avenue's Monthly Planner is designed to simplify your monthly tasks. Its simple layout allows you to prioritize tasks effortlessly and set priorities. What's great about this template is its versatile features to optimize for dark and light modes. Not only is this visually appealing, but it's also user-friendly.
Key Features
Numbered list for priorities: A simple numbered list of items you plan to prioritize for the month.
To-do list for tasks: A list for dumping all your tasks for the month.
Calendar: This shows you a calendar for the entire month.
Month reflections: A blank space for reflecting, best done at the start of a new month.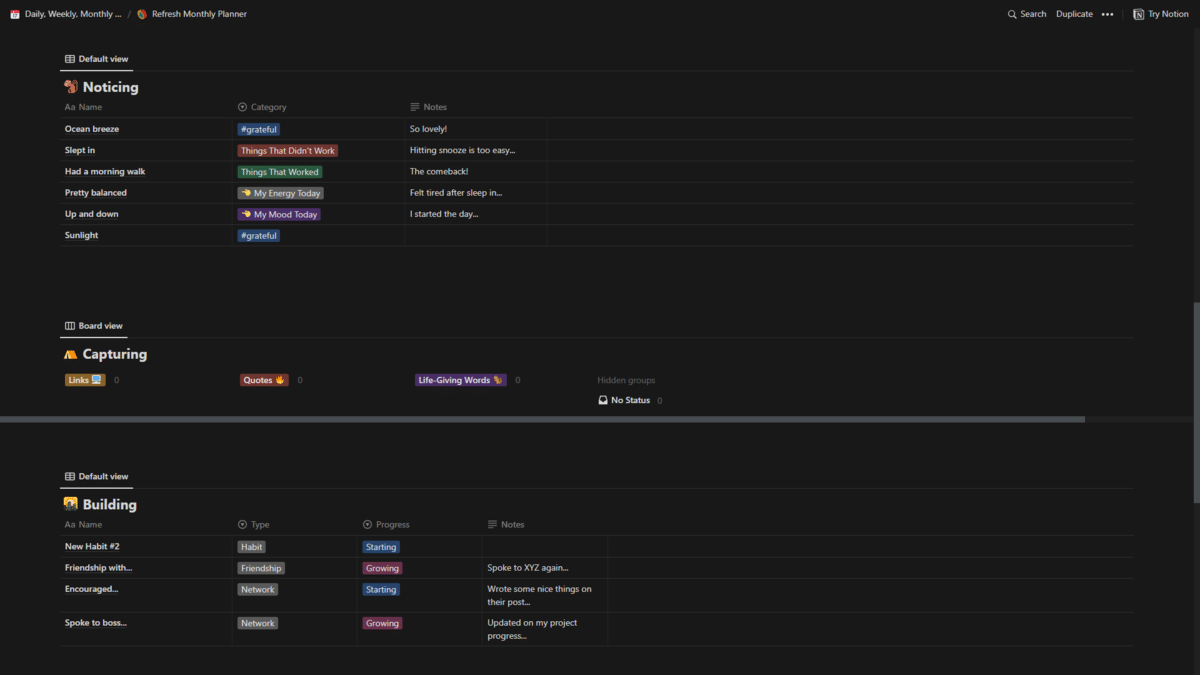 The Refresh Monthly Planner isn't just a Notion planner to keep your tasks organized: It's designed to help you build positive habits and become more aware of your surroundings. The page is divided into four parts: Planning, Noticing, Capturing, and Building.
Key Features
Planning section: A database that's organized in monthly and Kanban board styles.
Noticing section: A separate database where you can input things about your physical self (e.g., mood, energy levels) and your surroundings (e.g., nature, things you're grateful for).
Capturing section: Captures links, quotes, and motivational words that catch your attention.
Building section: Designed to help you organize the habits you want to build. It includes a column for assigning the habit type and your current progress.
Frequently Asked Questions
Can You Use Notion as a Planner?
Absolutely! Notion's flexible and customizable interface helps create personalized planners that bring a sense of clarity to your daily routine. Its database-like structure organizes and categorizes information in various ways — perfect for creating task lists, setting goals, and tracking progress.
Is Notion Planner Free?
You can get both free and paid Notion planner templates. Find them on the official Notion templates page as well as Gumroad.
Final Thoughts
Notion is a versatile platform for creating and managing planners across different timeframes. Whether you prefer daily, weekly, or monthly planning, there's a customizable Notion planner template for you.
Related: