Dashboards provide you with a visualization of multiple data at a glance. They are designed to make data easier to understand and monitor. It's also easier to grasp patterns and keep track of different aspects of your work, personal life, or academics.
Using a  Notion dashboard template will provide a great starting point for creating a personalized dashboard that fits your specific needs.
In this article, we'll explore the benefits of using Notion dashboard templates and how you can use them to help you stay on top of your work and achieve your goals. We've also included a couple of ready-to-use dashboard templates you can get started with straight away.
How Using a  Notion Dashboard Template Can Make You More Productive
Centralized Information: A dashboard in  Notion allows you to centralize all your important information in one place. Instead of switching between different apps or searching for information in different locations, you can access everything from one location, thereby saving time and effort.
Visualization: Dashboards can help you visualize your data and track your progress toward your goals.  Notion allows you to create a variety of visualizations, such as charts, table views, calendars, etc. These visualizations can help you understand your data better and make better decisions.
Customization:  Notion dashboards are highly customizable. You can create dashboards that are tailored to your specific needs and preferences. This customization can help you focus on the information that is most important to you and make the best use of your time.
Collaboration:  Notion allows for easy collaboration with others. You can share your dashboard with colleagues or team members and work together towards common goals. The ability to collaborate in real time can help you work more efficiently and accomplish more in less time.
How to Create a Simple Dashboard in  Notion
With all its flexibility and customizing features,  Notion can be pretty intimidating to use. We'll show you how to create a simple dashboard with just a few steps:
Step 1: Create a New Page
Start by login into your account and create a new page in  Notion by clicking +New Page at the bottom of the sidebar.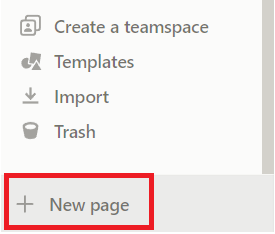 Step 2: Set Up The Page
Name your dashboard and click empty page to start.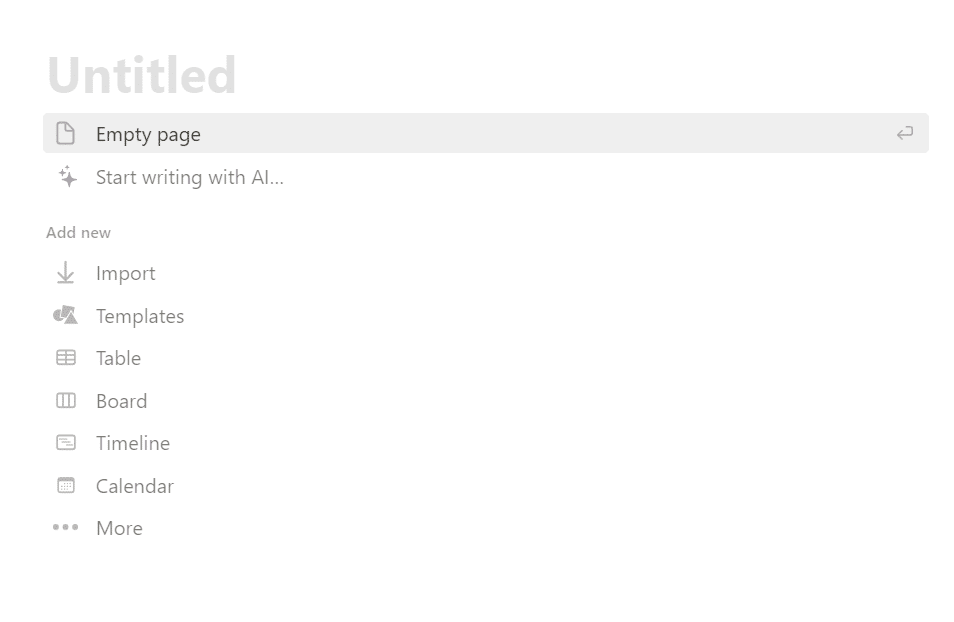 Step 3: Add Elements
There are a number of things you can add to your dashboard.
To add an item, click on the empty space and click the plus icon.

Scroll through the menu and choose 3 columns or 2 columns. This will allow you to add items side by side.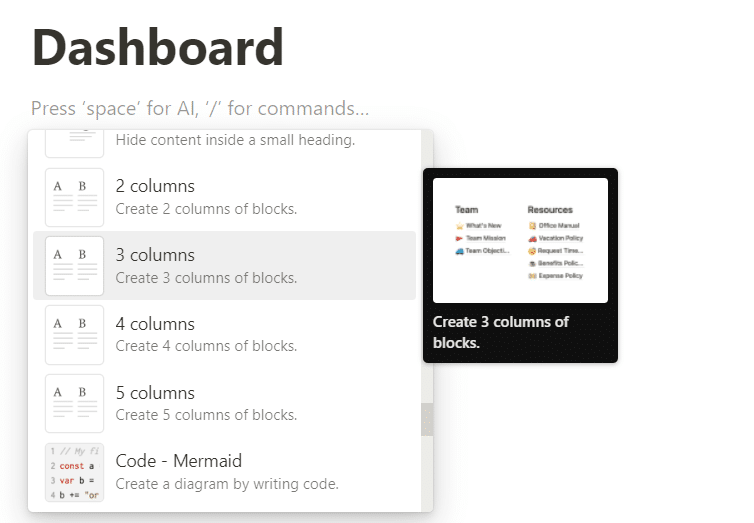 Click on the space below the title and type the heading for your first item.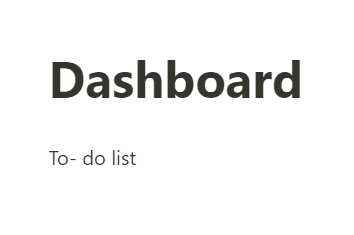 Click the + sign again and choose the item you want to add.
Once you've added the first item, hover your cursor over the right side of the page to find the second column.
Add another item here.
You can add as many items as you need to your dashboard, including a to-do list, toggle, calendar, text, table, and more.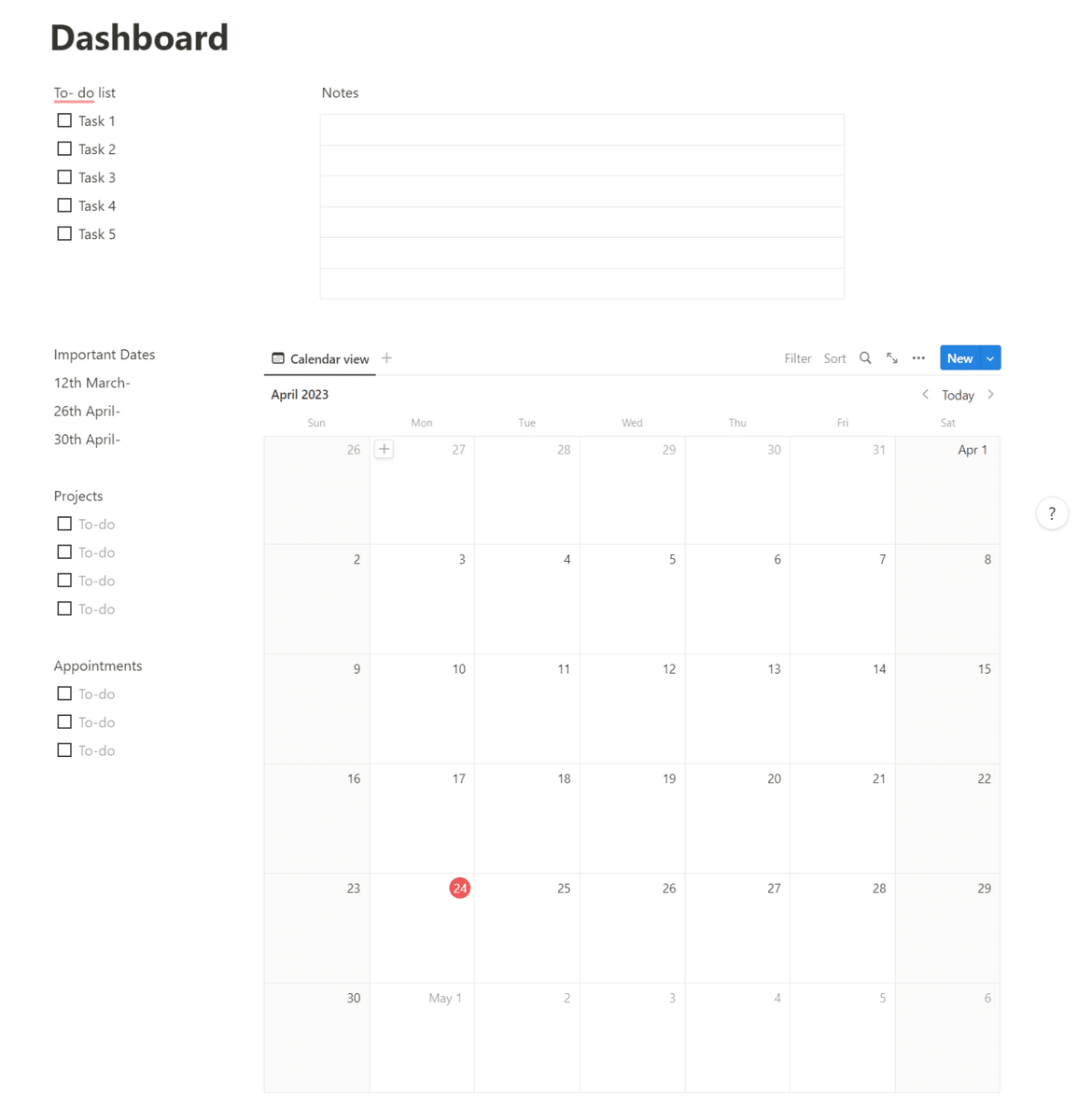 Step 4: Customize Your Elements
You can customize your elements by changing their size, color, font, and other properties to make them more visually appealing.
To Change the color of the text and background:
Hover over the text and click the dots icon beside it.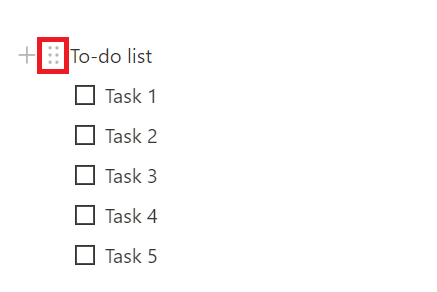 Click on Color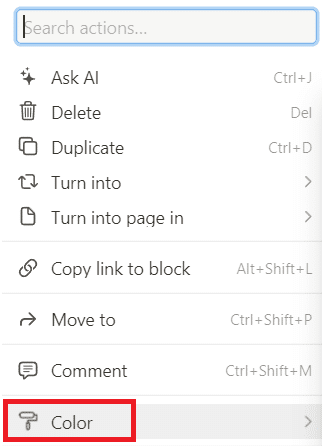 Choose the text color and the background color.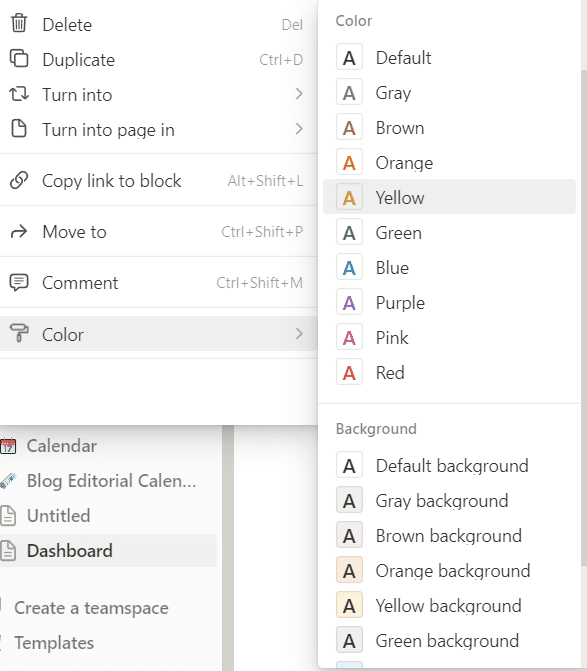 This is a great way to separate your items.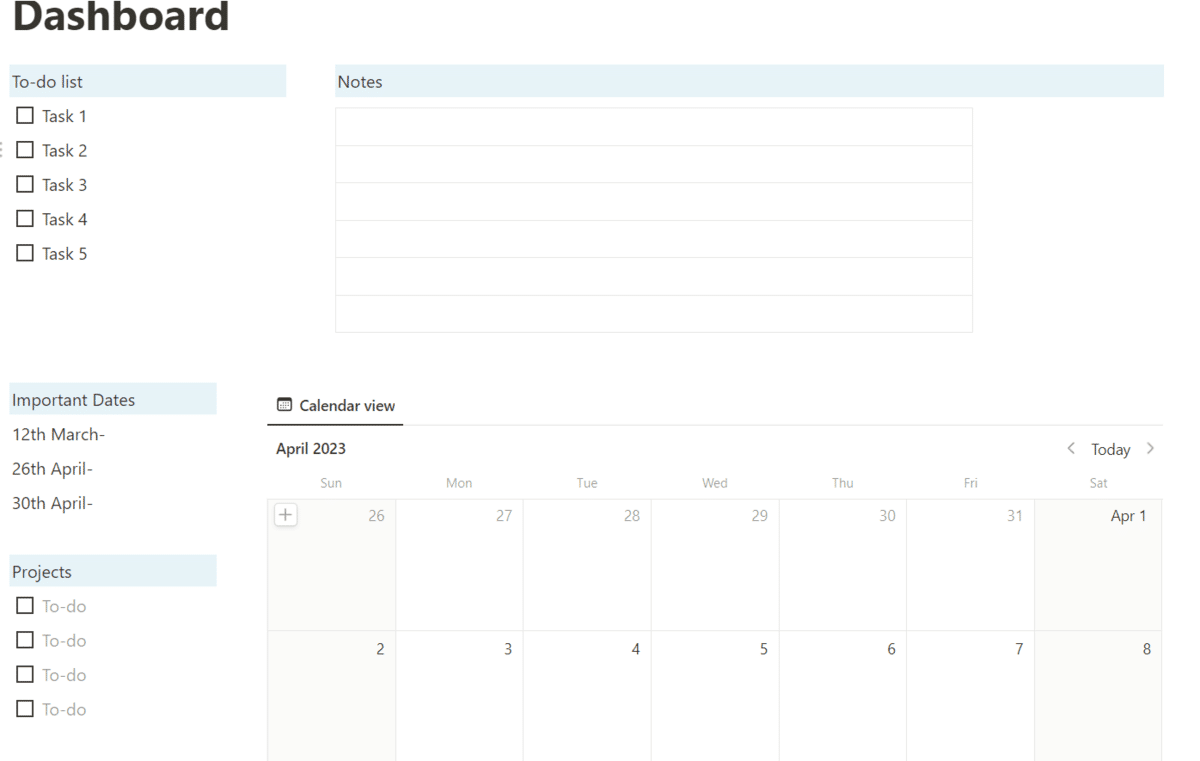 You can also add an image at the top of the page:
Click Add cover on top of the title.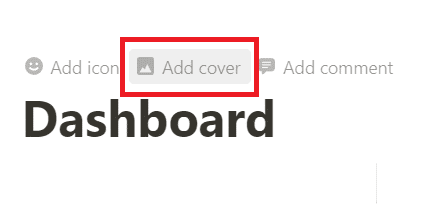 When the cover appears, click Change cover.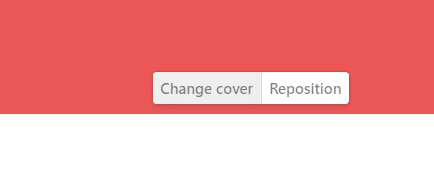 Choose an image from the gallery or upload an image.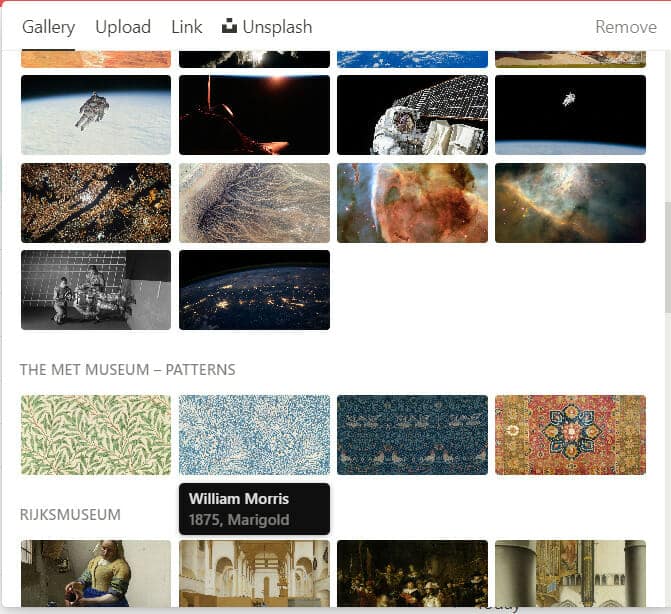 With that, an image will appear at the top of your page. Since the image is cropped, you can reposition it by clicking reposition, clicking and holding the mouse of the image, and dragging it to the right position.
Step 5: Organize Your Elements
Arrange your elements in a way that makes sense to you.
You can drag and drop elements to rearrange them by clicking and holding the dots icon.
You can also resize them or group them together.
Step 6: Share your dashboard:
You can share your dashboard with others by adding them to your  Notion workspace or by sharing a public link.
Once your dashboard is set up, you can get started on using it and getting more productive with it.
Adding Widgets to Your Dashboard
Adding widgets to your dashboard in  Notion is a great way to make it look aesthetic and also add more functionality to it.
Widgets are added from external sites like indify.co and widgetbox.app. In these sites you can find different widgets like clocks, calendars, life bars, buttons, and more and customize them for your  Notion dashboard.
Here's how to add a widget to  Notion:
Go to Indify.co or widgetbox.app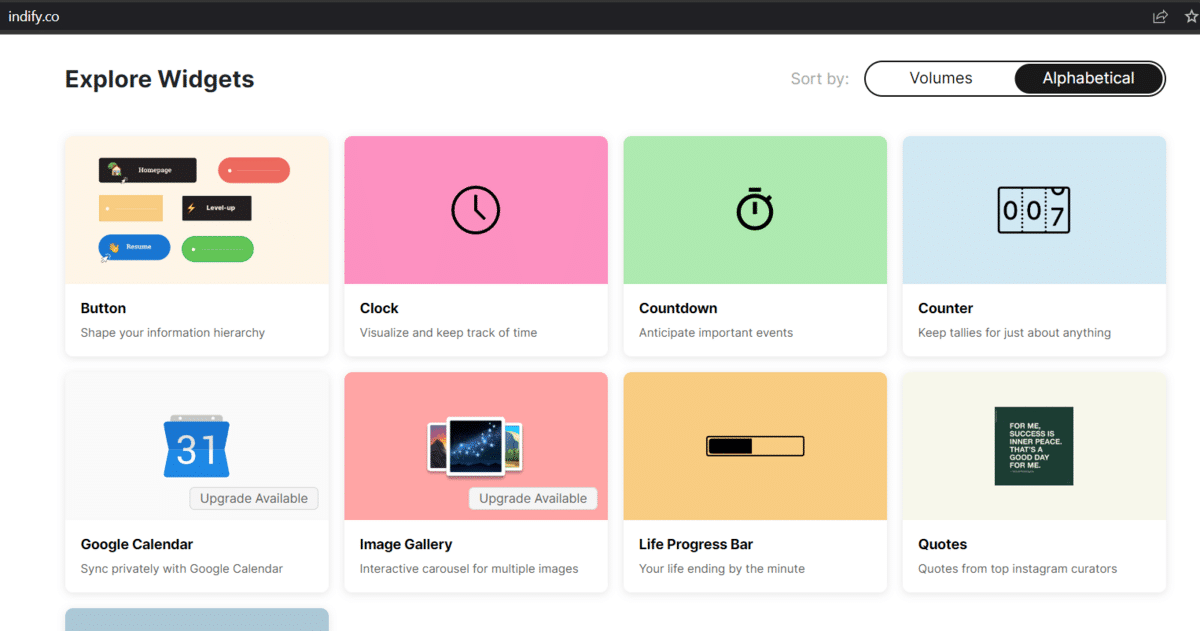 Choose a widget and click create widget
Name the widget and click Continue.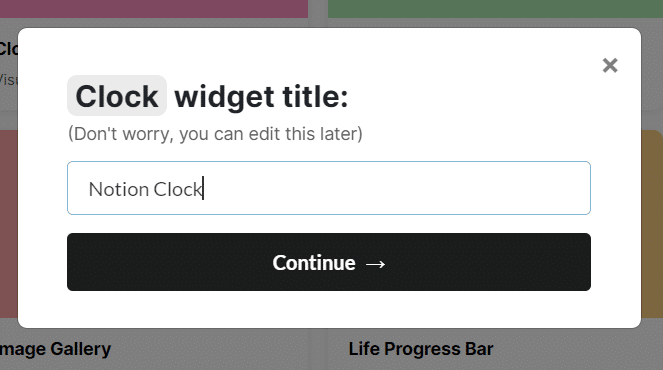 Customize your widget with the options given.
For the clock widget, you can change the type of clock by clicking on the clock type.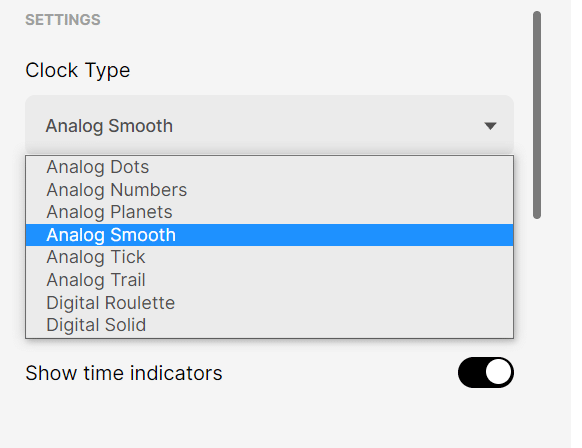 You can also change the background color and other colors for your widget.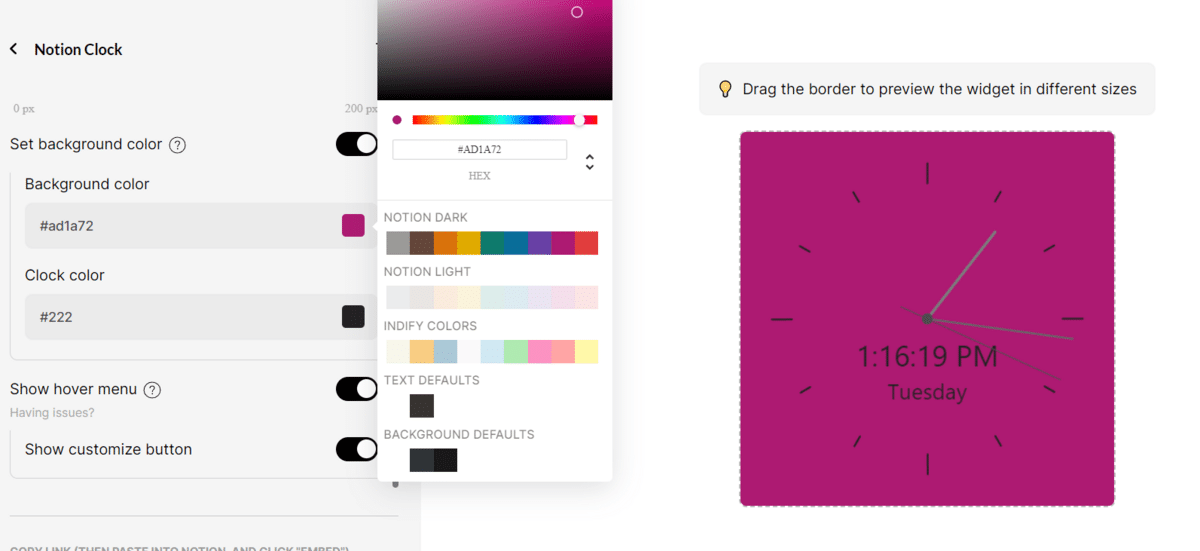 Once you're done customizing your widget, go to the bottom and copy the widget link.

Go back to your  Notion page and paste the widget link in an empty space.
Click Create embed in the menu that appears.

Your widget will be embedded into your  Notion page, and you can resize and reposition it however you want.
Read more: Aesthetic Notion Templates
Notion Dashboard Templates
Related: The Best Notion Templates
Notion dashboard templates aesthetic can be hard to achieve on your own that's why we made a couple of dashboard templates to get you started.
Notion Dashboard Template for Students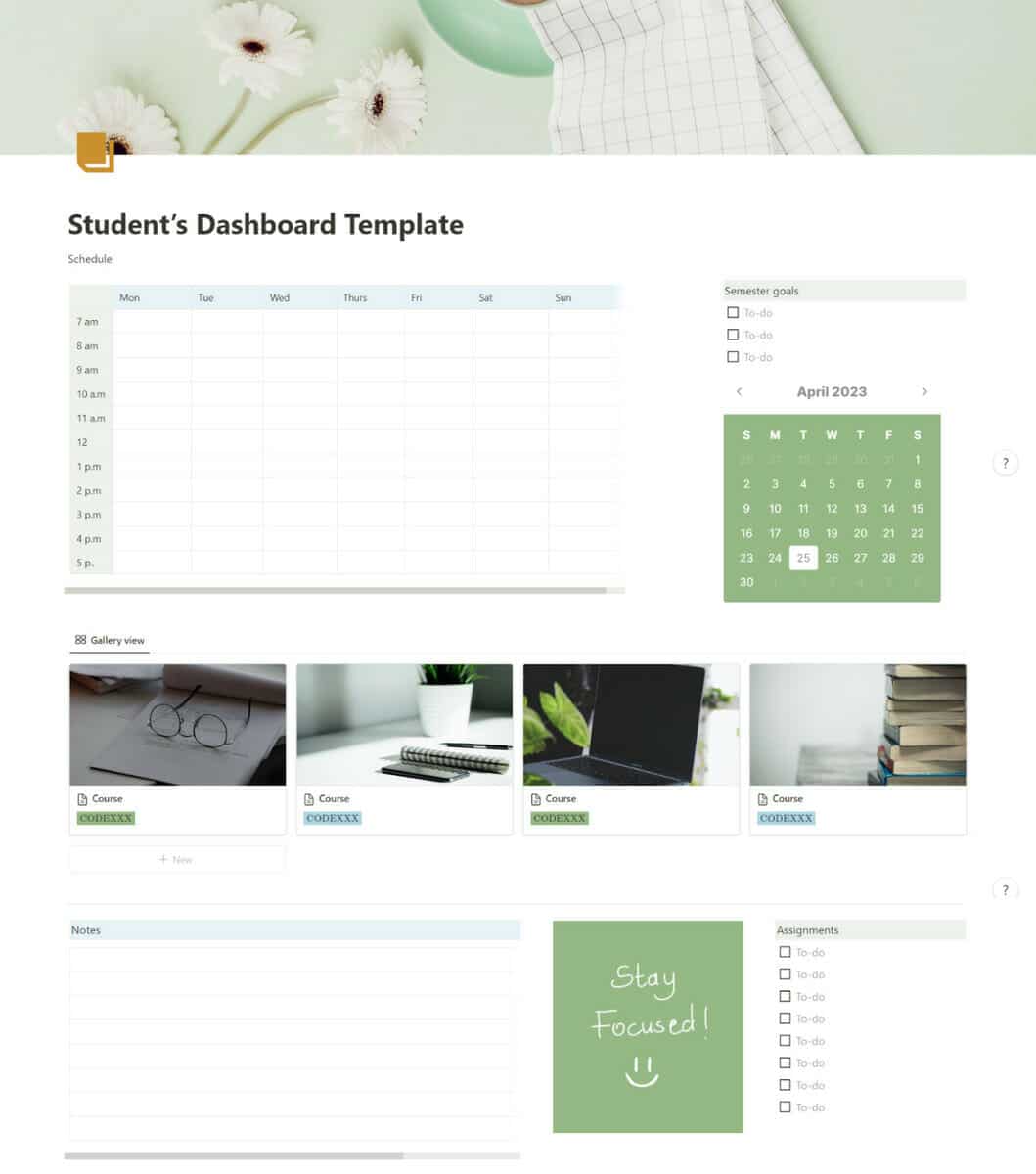 The student dashboard is an aesthetic but also a highly functional dashboard with a pastel green color scheme in light mode.
It has all you could ever need for your academic life, including a schedule table, a calendar, course thumbnails, a notes section, and a section for assignments. You can easily customize it and add your own sections to it.
Use our student dashboard template to keep track of your school life
 Notion Dashboard Inspiration Template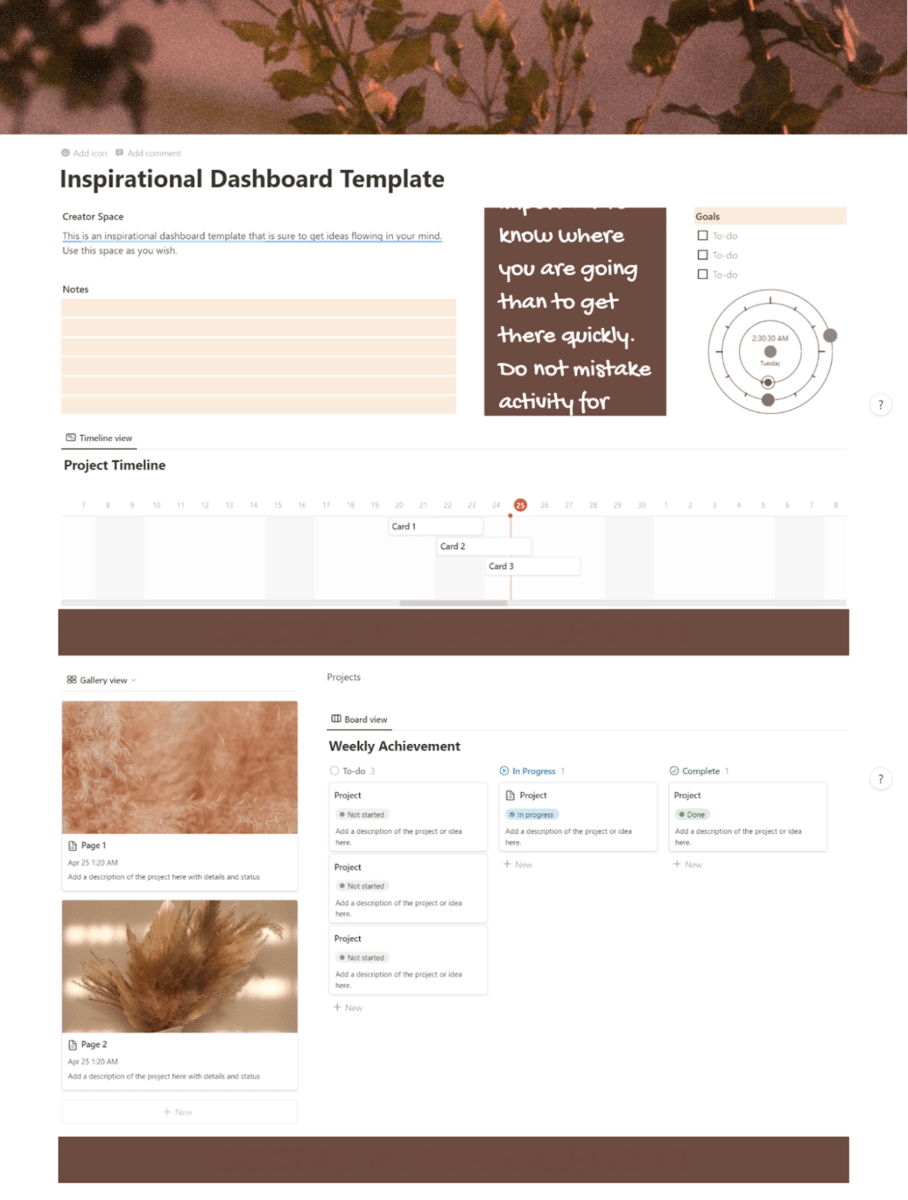 The inspirational dashboard template is the perfect template for creatives. It's a great dashboard to keep track of your creative ideas and projects. The dashboard has different sections for adding notes, goals, and weekly achievements. It also has a clock, a timeline, and a gallery for your projects.
The color scheme for this template is a relaxed shade of coffee brown.
 Notion Personal Dashboard Template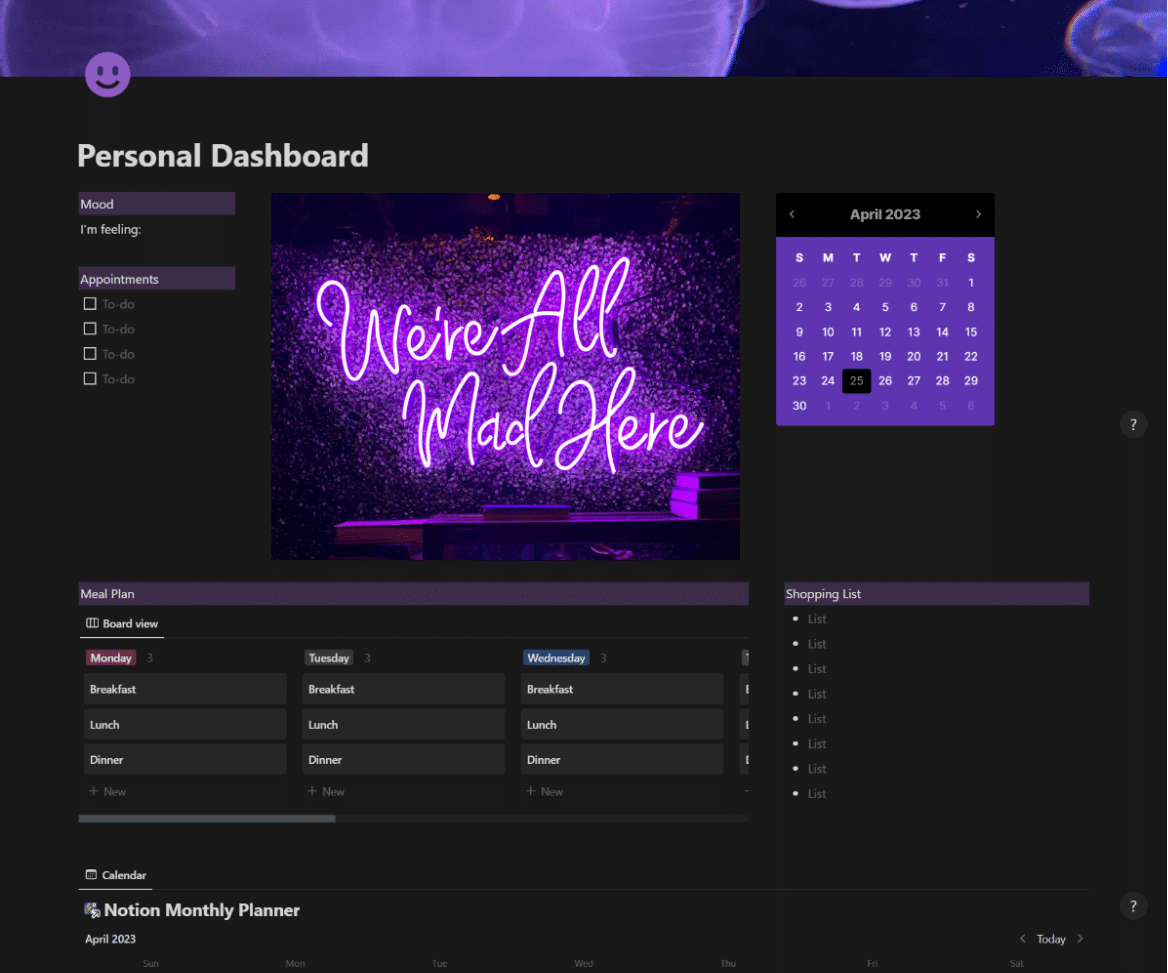 The personal dashboard template is an intricate template that helps you keep track of different aspects of your life. It has a black and purple theme which makes it go well with dark mode but light mode also works.
The dashboard has a selection for your mood, appointments, meal plan and shopping list. It also has a calendar and a monthly plan for your schedule. You can link a different calendar template here as well.
Wrapping Up
One of the benefits of using  Notion for journaling is its flexibility.  Notion offers a wide range of formatting options, such as text, images, videos, and other multimedia content, which allows for creative expression and personalization of your journal.
Make your dashboard today on Notion, or better yet, get one of our premade Notion dashboard templates and customize it for your own use.
If you still find Notion a little difficult to use, we recommend taking a comprehensive Notion course on Udemy.
Related: