Notion has recently gained immense popularity among students, professionals, and creatives for its flexibility and organization features. And using one of Notion templates' aesthetics makes studying, working, and organizing tasks much more user-friendly.
If you're on the hunt for artistic and eye-catching templates, we've compiled a list of both paid and free Notion templates that will help you arrange notes, manage tasks, and keep track of the projects that you're working on. They come in various themes and purposes, so you'll be sure to find something that suits your taste and needs.
Notion Templates Aesthetic for Students
Source: Gridfiti/Pomodoro
Key Features
Task agenda: A detailed database lets you plan tasks with precision. Input the start and end times for each specific task, as well as your target and actual Pomodoro sessions.
Automatic productivity rating: Track productivity with automatic ratings based on the number of your actual Pomodoro sessions. If you have fewer Pomodoro sessions than your target, your rating will indicate higher productivity.
Daily summary: Gain insights into overall productivity, completed tasks, and total hours worked for the day.
Pomodoro timer widget: A Pomodoro timer widget is available right on the page. You can even change its background to fit your aesthetic better.
This free Notion template's aesthetic for students is an all-in-one solution designed to provide you with a comprehensive toolkit for the entire school year. It comes with a task list database as well as a dedicated Pomodoro timer section to boost productivity.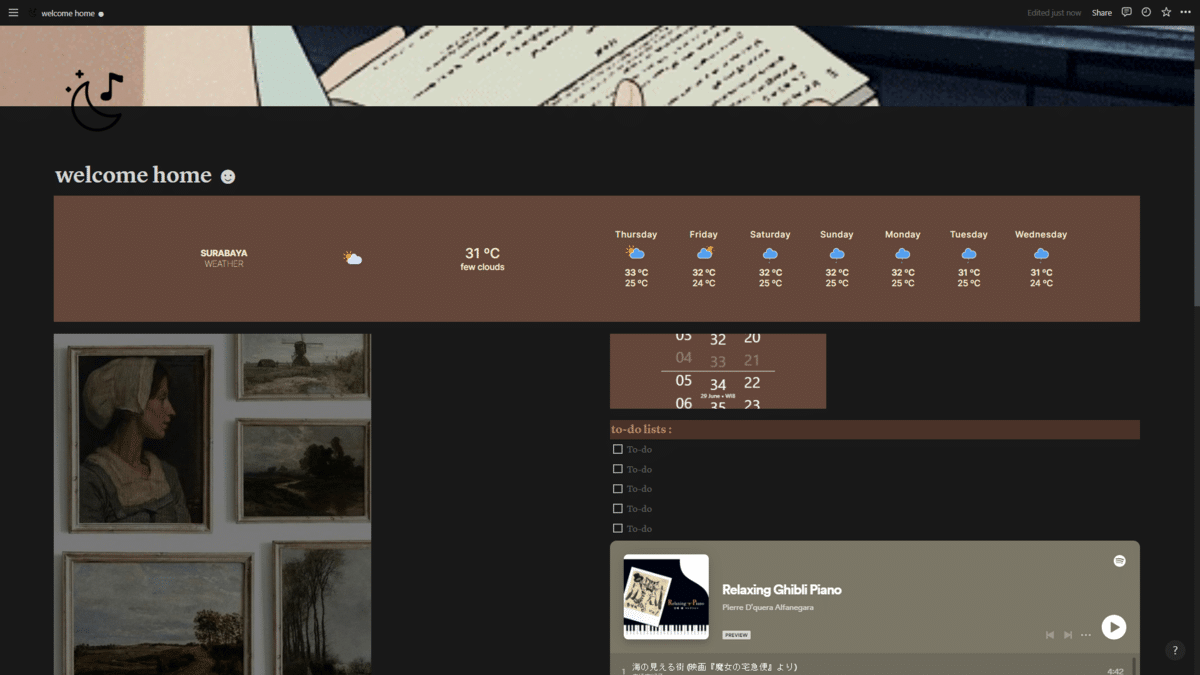 Source: Valley Beef
Key Features
Simple to-do list: A simple to-do list on the homepage to remind you of the most important tasks of the day.
Customizable pages: The homepage includes pre-made pages that can be customized to suit your needs. For example, a dedicated page for academics might feature your class schedule, goals, tasks, and notes.
Fun and aesthetic widgets: Incorporates weather updates, a convenient time tracker, Spotify playlists, and a life progress bar on the homepage. You can also add a calendar here using Indify's Google Calendar widget.
Exuding warmth and simplicity, Welcome Home is a pleasing Notion homepage aesthetic. This template is also quite functional, serving as a second brain. Here, you can effortlessly organize everything you might need every day, including tasks, class schedules, and homework deadlines.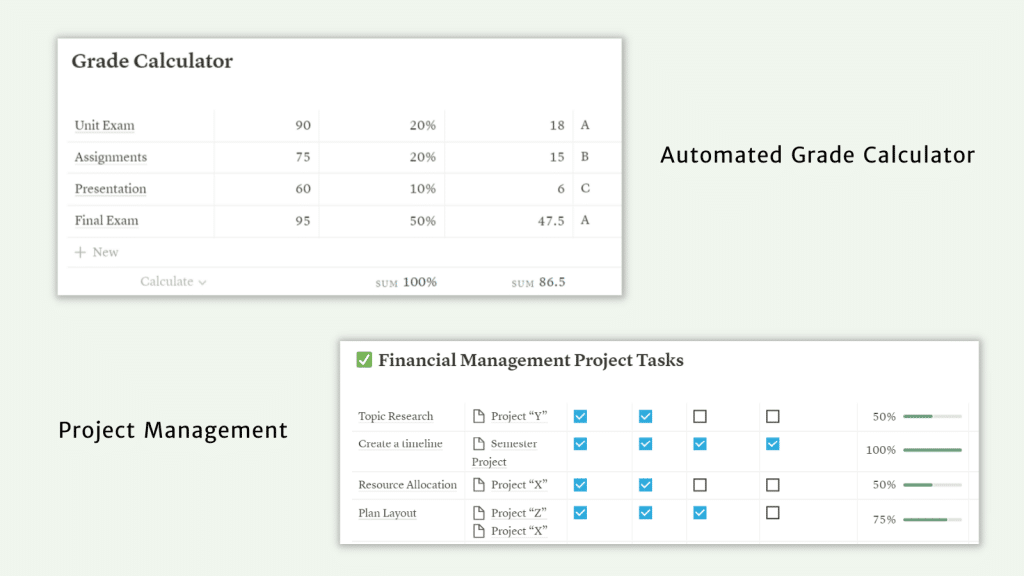 Source: Notionzen
Key Features
Progress tracker for assignments: Stay on top of assignments with a built-in progress tracker that helps you monitor completed tasks.
Automated grade calculator: An automated grade calculator grabs your grades in a few seconds.
Exam planner with countdown widget: Lists your classes and the topics you'll need to study. It comes with a countdown widget to show how much time is left until exam day.
Pomodoro tracker: Features a Pomodoro timer widget and a comprehensive list of tasks to accomplish.
Lecture schedule: This shows when your lectures are scheduled and comes with space to leave notes.
The Ultimate Student Hub template offers a comprehensive solution to keep you on top of your studies. No more wasting time on setup — dive right into planning classes and assignments.
Note: From creating charts to developing your branding, AppSumo offers Notion courses to help you excel — in whatever sector you're in!
Cute Notion Templates Aesthetic for Journals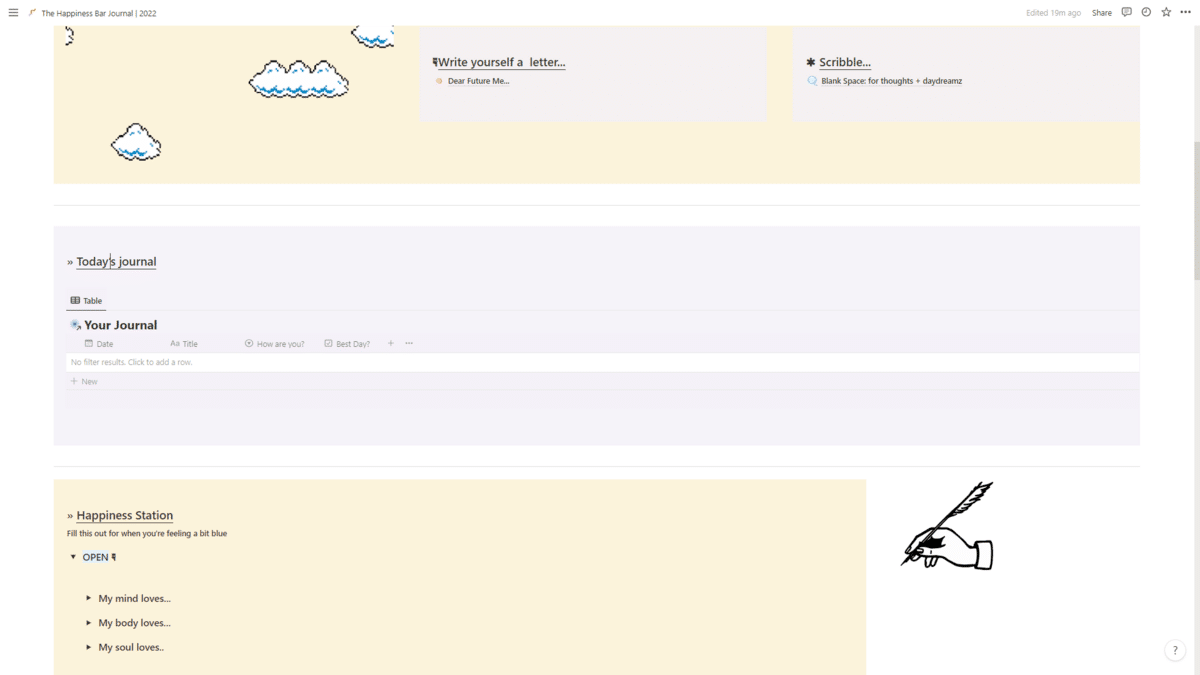 Source: Happiness Bar Journal
Key Features
Scribble space: At the top of the template, blank pages are where you can dump any thoughts, write your future self a letter, and list down your manifestation goals.
Today's Journal: Add new entries for the day, choose your mood, and look back on it later.
Happiness Station: Designed to house everything that brings you joy and contentment. It comes with prompts for you to list down things you love. If you marked a day in your journal as "the best day," it will also show up here.
Calendar view: A calendar for scheduling tasks and important events.
Filled with prompts and spaces to reflect, the Happiness Bar Journal is the ultimate tool to capture your thoughts. It's light-colored, easy on the eyes, and features GIFs and photos to give it some life.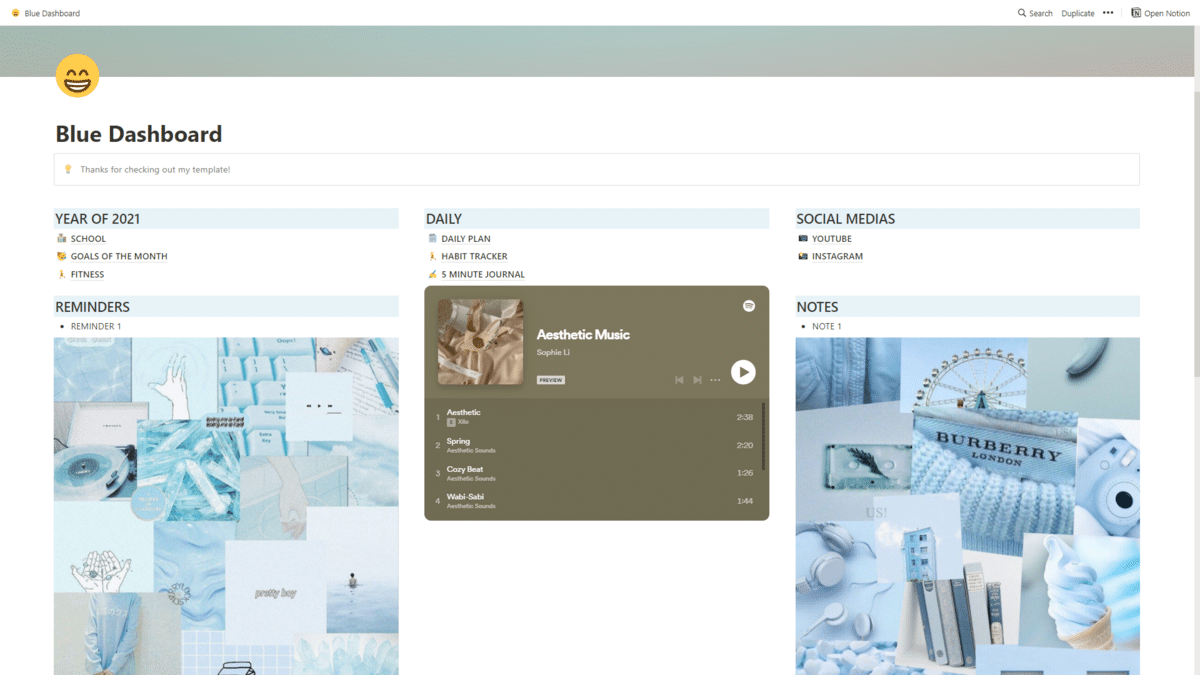 Source: Blue Dashboard
Key Features
Daily planner: A dedicated page for to-do lists, schedules, and daily reflections.
Weekly planner: Add tasks under each specific day to help you stay on track and get a clear overview of your entire week.
Five-minute journal: Blank pages encourage you to write short journals for five minutes every day.
Schoolwork: A simple tracker for your assignments, quizzes, and exams.
Habit tracker: A checklist for your daily habits that lists everything that needs to be completed each day.
Goals of the month: A basic bulleted list of your goals for the current month.
Love the color blue? Blue Dashboard is a great productivity planner for staying organized — in style.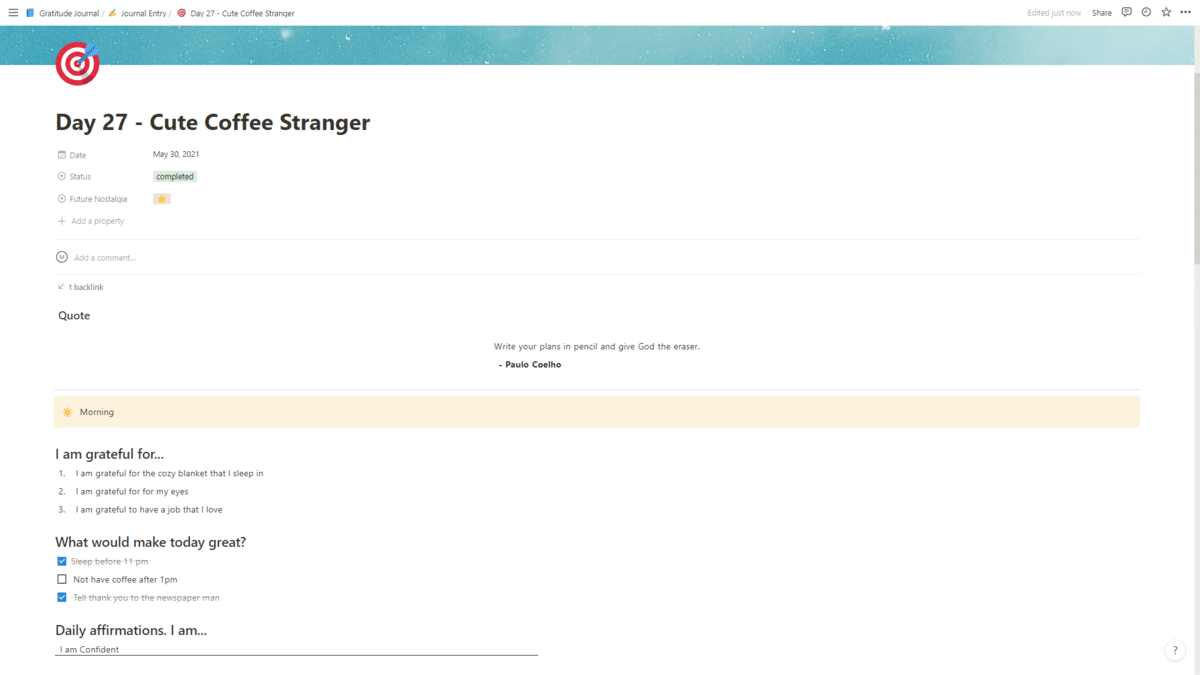 Source: Swamp Kayak
Key Features
Journal entry: A pre-made journal entry template for you to fill out. Each entry is thoughtfully divided into two sections: Morning and nighttime. You can also include a photo to remember the day by (and any other additional notes).
Journal entry calendar: Essentially a long calendar, navigate through your past entries and add new entries.
Commitment section: This prompts you to complete your gratitude journal every day. Here, you'll write how you'll reward yourself every time you complete a specific milestone.
The Gratitude Journal is designed to help you improve your daily practice of giving thanks. It's very straightforward to use and only includes two main pages: The Commitment section and the Journal entry section.
Aesthetic Notion Anime Templates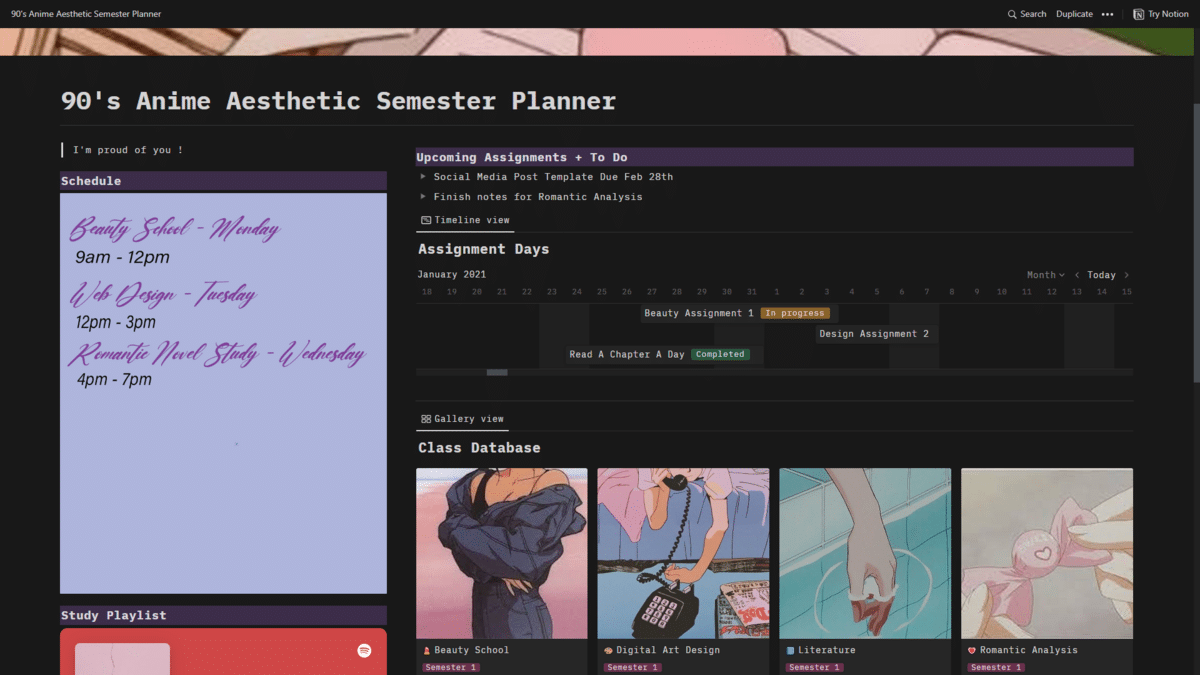 Source: Longing Plot
Key Features
Class database: A database with dedicated cards for each of your classes. Inside each card, you can add your class details (e.g., course code, teacher, teacher's email) and multiple lecture notes.
Study playlist: Dive into the perfect study ambiance by embedding your favorite Spotify study playlist directly into the template.
Assignment tracker: All your assignments are arranged in a timeline view.
This free 90s Anime Aesthetic Semester Notion Template offers a range of features to keep you organized and productive, all while immersing you in the vibrant world of anime. While specifically designed for students, you can readily customize it to fit your needs.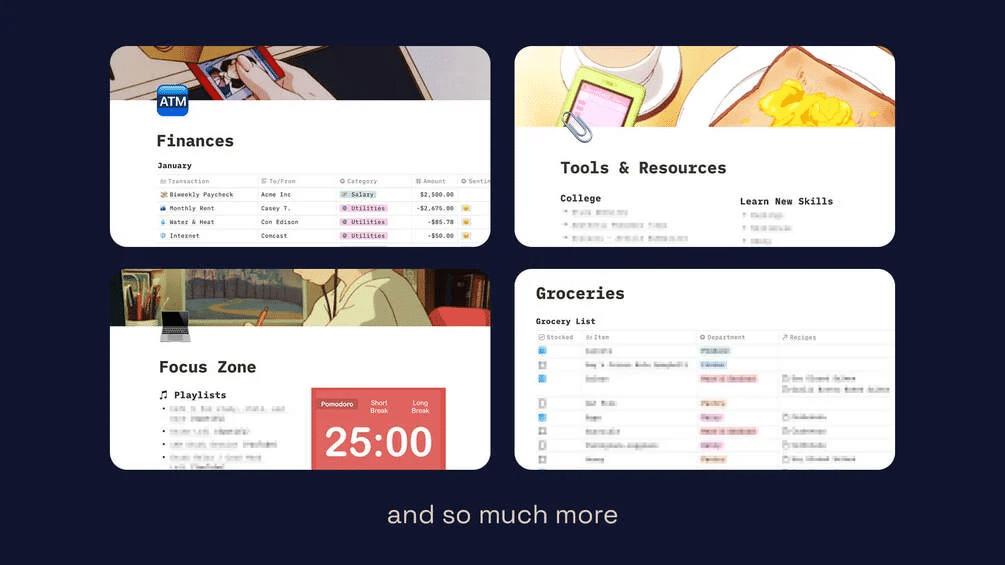 Key Features
Focus zone: Creates a customizable, focused, and immersive working environment. To boost your concentration and productivity, check out the Pomodoro widget and ambient cafe sounds.
Daily journal: A dedicated daily journal template encourages practicing mindfulness. You'll get three prompts for your morning and night journal entries.
Goals & milestones: Jot down your short, mid, and long-term goals (plus the milestones you've already reached).
If you're someone who likes the aesthetics of anime food, you'll love this Anime Cafe Dashboard. It comes with mouthwatering anime food designs and all the resources you'll need to organize your personal life.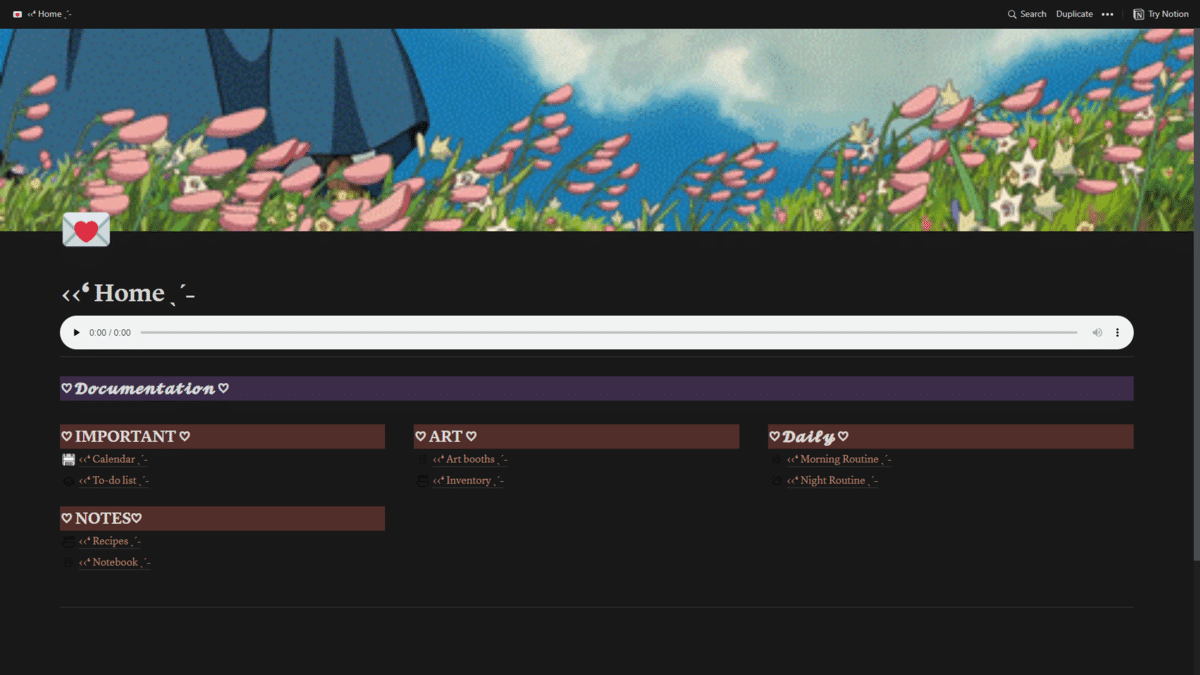 Source: Roan Fiction
Key Features
Homepage: Features Howl's Moving Castle on the cover image and the movie's soundtrack added as an embedded sound. Also includes links to all other pages within the template.
Daily section: Includes your morning and night routines in checklist form. The pages feature scenes and photos from My Neighbor Totoro.
Notes section: Recipes are thoughtfully arranged in a table database, while Notes are added to a gallery database.
Immerse yourself in the magical realms of your favorite Ghibli films while staying organized and productive. Complete with photos, GIFs, and music from different Ghibli anime movies. This Notion template aesthetic is designed with fans in mind.
Aesthetic Notion Habit Tracking Templates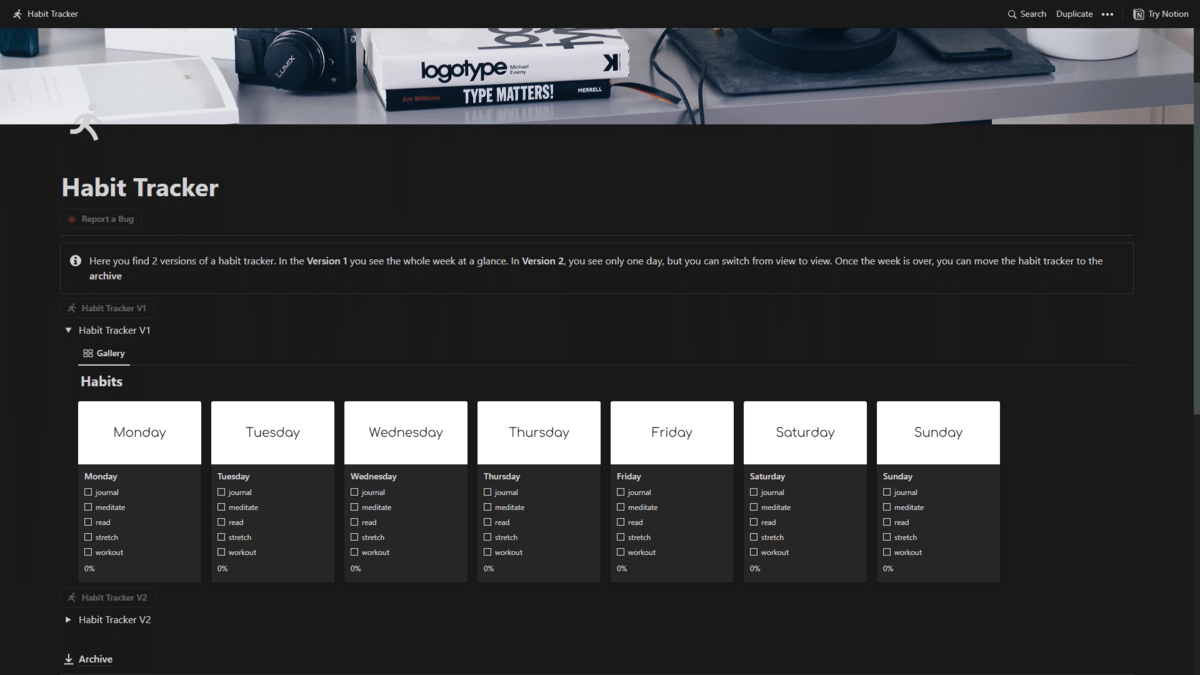 Source: Lilac Viscose
Key Features
Habit Tracker V1: A daily checklist of habits is represented by a card. Whenever you check a box, a percentage of completion appears at the bottom of the card.
Habit Tracker V2: A similar gallery database but with different views for different days. The cards here look similar to those in V1.
Take control of your daily habits with Severin's Habit Tracker. This simple and minimalist Notion page features two different versions: Version 1 displays the days of the week, and Version 2 shows the days separately.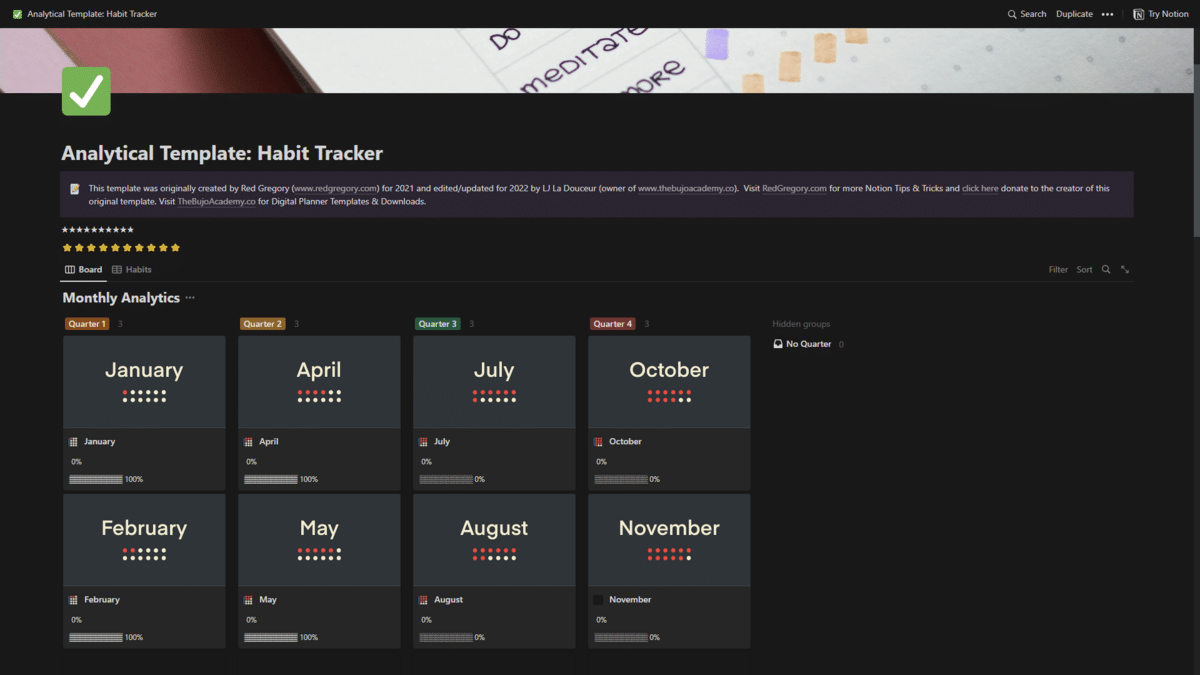 Source: Ljlad
Key Features
Monthly Analytics: Features a monthly Kanban board layout organized into four quarters of the year. In each card, view the percentage of days remaining in the month and the percentage of completed habits so far. Both percentages are automatically calculated and displayed.
Daily Journal: A table database displaying the days of the year and a habits checklist for each day. Every time you complete a task, the percentage of completion in the Monthly Analytics section will automatically be updated. Every day provides a "Star Rating" for everything you've successfully completed.
Originally designed by Red Gregory and modified by LJ La Douceur, the Analytical Habit Tracker is a more visual way of tracking your habit-building progress for the entire year. Not only does it track those completed in a day, but it also provides a percentage of those you've completed in a month.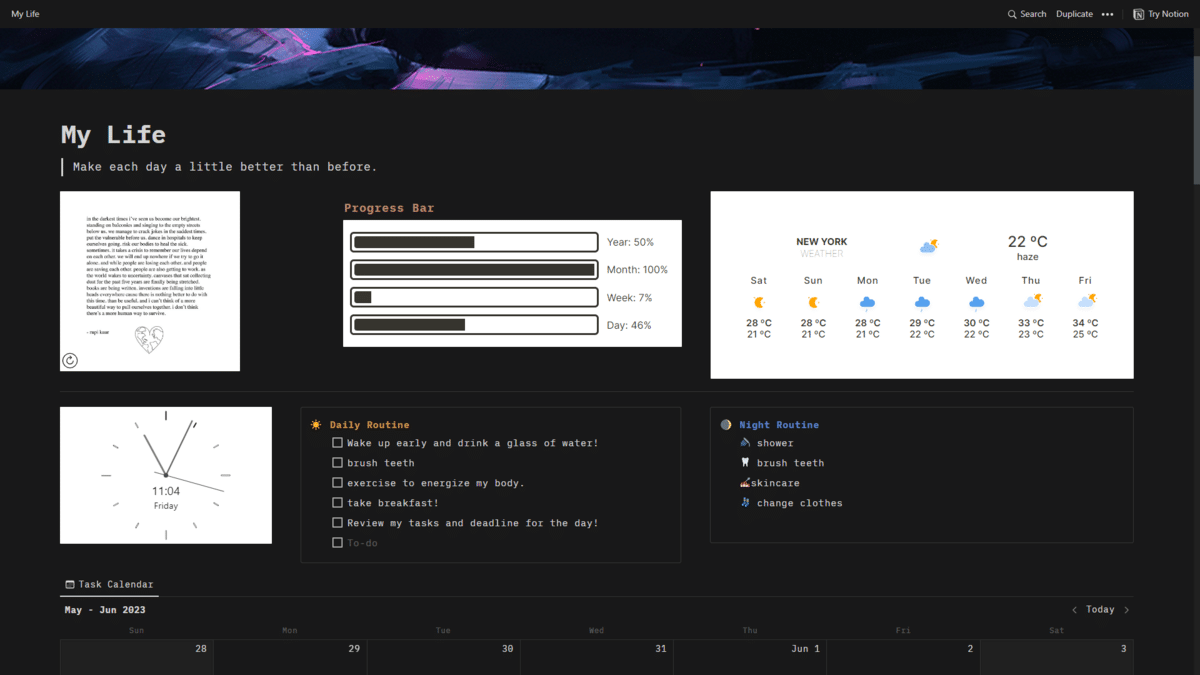 Source: Ruddro29
Key Features
Daily routine checklist: A customizable routine checklist for daytime and nighttime, conveniently placed at the top of the page.
Book tracker: Tracks your reading progress with a simple table database, including the book's URL, genre, status, and score.
Habit tracker: Looks like a Kanban board, categorized into Health, Writing, and Reading. You can find pre-made habits under each category, but feel free to add your own.
Deadlines: Shows your short and long-term goals, as well as the number of days remaining until each goal's deadline.
Calendar view: Displays a calendar with the current month.
More than just a habit tracker, the My Life Notion template is a comprehensive solution to track your daily routine, goals, habits, and even books read — all on one page.
In addition to its functionality, this minimalist Notion template aesthetic is filled with visually appealing widgets (e.g., motivation quotes, progress bar, weather, clock) as well as custom fonts, photos, and colored emojis.
Aesthetic Notion Travel Template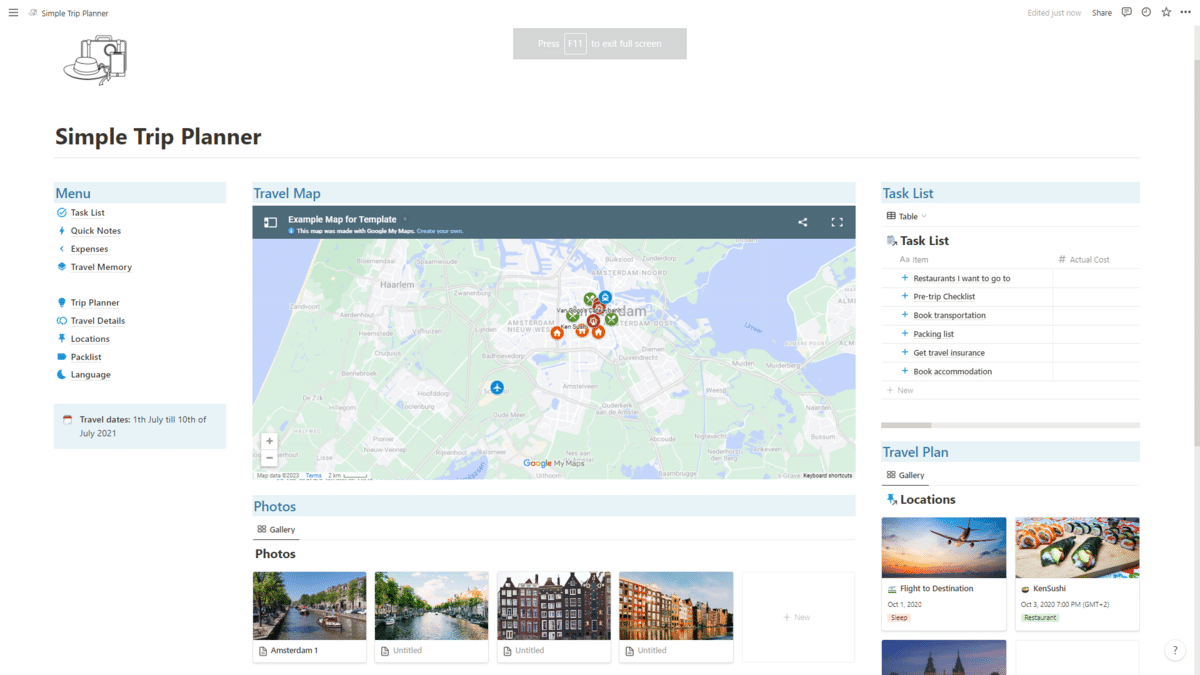 Source: Aliyasar
Key Features
Location organizer: A gallery database of the locations you plan on visiting, complete with the date of the visit, city, and cost.
Photo album: This lets you look back at the photos from your trip with ease. Just upload them into this gallery database, and you can enjoy browsing through them.
Task database: Manage trip-related tasks using the table database on the homepage.
Other essentials: The menu section takes you to the other relevant pages, such as Travel Details (i.e., Itinerary), Expenses, Packlist, and Quick Notes.
One of the best Notion templates for traveling, this Simple Trip Planner can get you started on organizing your adventures. It includes the usual vacation planning essentials you'll need to prepare for (such as itineraries, expenses, packing list, and to-dos), as well as an embedded Google Map that can be marked with important landmarks.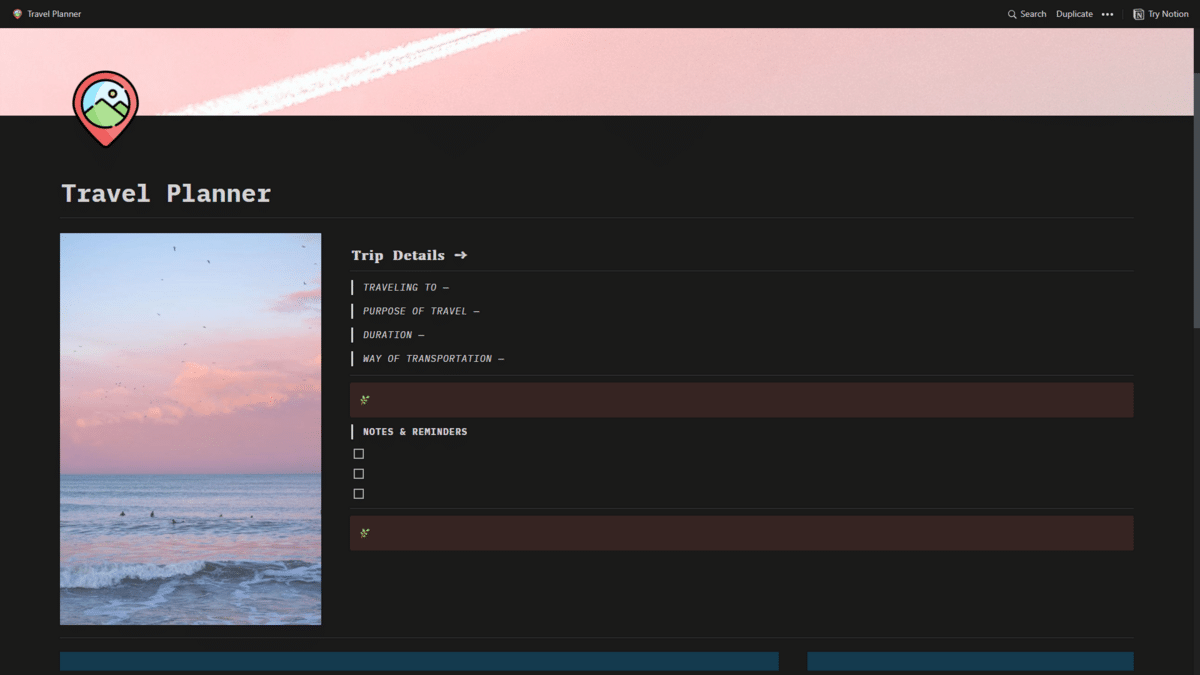 Source: Egg Templates
Key Features
Simple text for trip details and notes: The only plain text you'll see on the page is for trip details and important notes.
Research and Checklist gallery: A gallery database displaying cards for your potential accommodations, sightseeing destinations, budget estimations, packing checklist, and other relevant documents.
Important gallery: Store confirmed flight details, accommodation information, and daily and weekly itineraries in this gallery database.
Organizing your travel essentials in an aesthetic and simple fashion, the Ultimate Travel Planner is exactly what you'll need to keep your vacation plans in order. Its dashboard is sleek and uncluttered, showcasing galleries and photos that keep your planner pleasing to the eyes.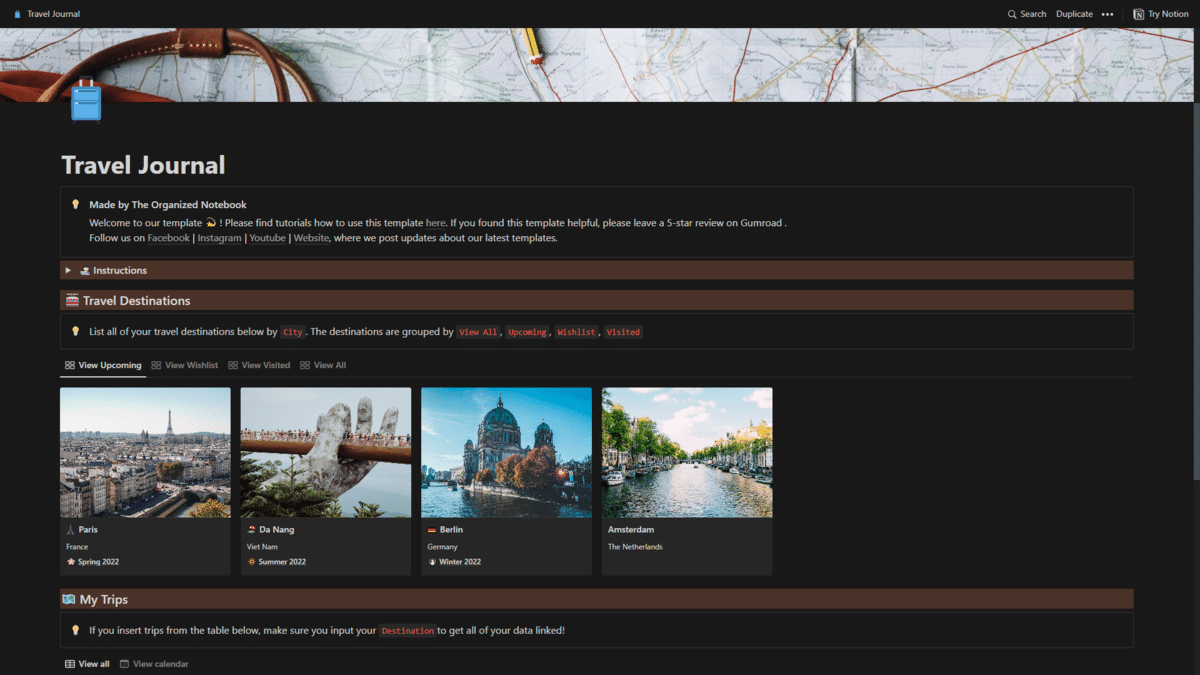 Source: The Organized Notebook
Key Features
Travel Destinations Section: A gallery database with three views: past travels, upcoming travels, and a wishlist of locations. Each card added to the database comes with a template to fill out, complete with travel research about that particular city, when you plan on visiting, and other relevant information.
My Trips section: A table database for the specific trips you're planning. Here, you can schedule your trip, jot down your to-do list, track expenses, link essential travel documents, and paste trip highlight photos.
If you're a globetrotter who loves planning every element of their trips, you'll want to use this Notion-based Travel Journal. It keeps planners and journal entries for the places you've already visited, will be visiting next, and wish to visit someday.
How To Make Notion Aesthetic
Notion provides plenty of customization options for users hoping to design their own Notion template aesthetic. Here are some tips and tricks to make your own workspace visually pleasing:
Pick a Color Palette
To achieve an aesthetic look, select a cohesive color palette (between 2 – 4 colors) for your Notion workspace. These can either be your personal favorite colors or trending color schemes. Once you have your palette nailed down, apply them to different Notion elements like the text color, headers, tags, and backgrounds.
Experiment With Fonts
Different font styles can give your Notion workspace better visuals. There are a few font styles and typographical emphases (e.g., bold, italics, underline, strikethrough) within Notion itself. Experiment with those or use a different style altogether. Check out Instagram Fonts, type your text, pick a style, and paste it on Notion.
Add Images
Pages without photos (especially cover images) can look empty and dull. Upload your own high-quality images or pick some from free stock photo websites like Unsplash and Pixabay. Make sure your photos follow the theme and color scheme of your workspace.
Use Icons
Icons can greatly enhance the aesthetic appeal of your Notion workspace and help with navigation. Use icons to represent different page categories, tasks, or sections. Notion already offers a range of colorful, plain-colored, and emoji icons. However, you can opt to hop on online icon libraries, such as Google Fonts Icons and Flaticon.
Implement Page Layouts
Add an aesthetic touch to your workspace with creative page layouts. Notion has multiple columns that you can experiment with to get asymmetric layouts, grid-based structures, and much more. To provide your page with greater visual clarity, mix and match elements like text blocks, headers, images, and dividers.
Leverage the Embed Feature
You can do a lot of things with Notion's embed feature. For one, you can embed third-party Notion widgets to add functionality, productivity, and beauty to your workspaces. You can also directly embed YouTube videos, Spotify playlists, and Google Drive links to your Notion page.
Start With Aesthetic Templates
There are tons of aesthetic Notion templates designed by the community (some of which you can find on Notion's templates page). Some are free to use and can be easily customized to suit your needs and preferences. You can use the templates as-is. Otherwise, use them as an inspiration to design your own.
Final Thoughts
The right Notion template aesthetic does more than create a visually appealing and organized workspace: It also boosts your user experience and productivity. We hope that our guide has provided the perfect Notion template for any and all of your needs!
Related: