As you probably already know, Notion is one of the best project management apps. For students, it definitely provides much more than simply taking notes: This powerful app can do everything, from basic task management to more complex requirements like tracking budgets.
With plenty of customizable features, users can track their personal goals to develop stronger habits. In this article, we discuss tips on how to use Notion as a student, how much it costs, tips on using different templates in Notion, and much more!
9 Ways to Use Notion as a Student
Whether you're in high school or college, this list will provide you with some ideas on how to use Notion to organize tasks more efficiently.
1. Take Notes Using Notion
Besides being a project management tool, Notion is also a note-taking app that's ideal for students. Your notes can be as detailed or basic as you wish. Use headings, links, text, and media embeds (such as images and files). You can even import web pages instantly using the Notion Web Clipper.
The Notion app is especially great for college students because it offers individuals the flexibility to organize their tasks, depending on their specific needs. Whether you need columns, tables, or calendars, Notion has you covered.
2. Manage Your Schedules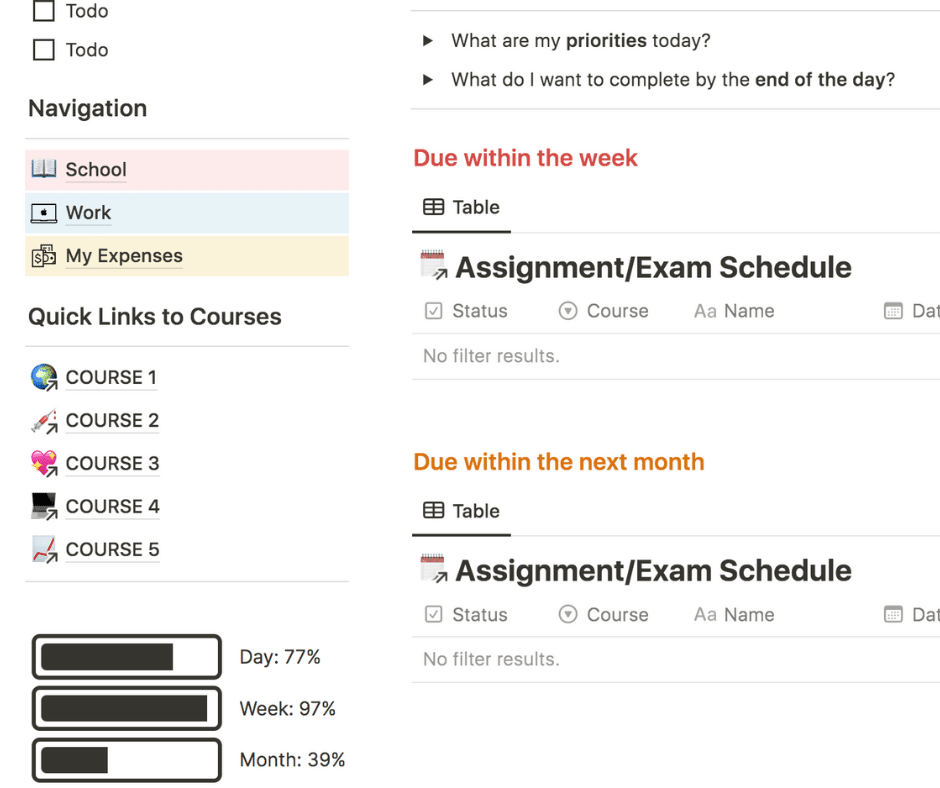 Another great Notion idea for students is to make checklists to help them track their schedules and assignments in a variety of styles (like calendars and Kanban). Regardless of the Notion plan, students can make checklists to track their assignments. One of the more useful features for students is setting due dates — even for repeated tasks.
Related: The Best iPad Productivity Apps
3. Make Group Projects Easier
Communication is one of the key elements of every group project, and Notion is excellent for coordinating group work outside of class. Add in-line comments, discuss the project in real-time, and restore a page if someone deletes it (up to 30 days later).
Furthermore, Notion makes it easier to embed images and documents into your page. This will help team members incorporate visual and technical aids into your project with ease.
To make group projects even more efficient, you can also create a page that is dedicated to shared notes in Notion:
Tap on Share in the top left corner
Enter the emails of the people you want to share your notes with
A great element of the Notion Student account is allowing students to share their pages with unlimited guests. Go ahead: Set permissions for as many classmates as you want!
4. Networking
College is the perfect time to start building your professional network. Whether you're meeting people at events or online, use Notion to keep notes on everyone you encounter (like where they work and what you discussed). You can also set reminders to follow up with them at a later date.
5. Build Better Habits
A heavy academic workload often leads students to eat more junk food and sleep less. Set aside allotted time for studying, exercise, and other hobbies to maintain a strong work-life balance. With Notion's simple checklists, stay on track more easily (and focus on what matters most).
Related: The Best Apps for Journaling
6. Draft Papers
Just like taking notes, Notion editor lets you draft your papers, too. By keeping them all in one place, you'll never risk losing them. If you need to revert to previous versions, that's possible, too.
7. Track Reading Assignments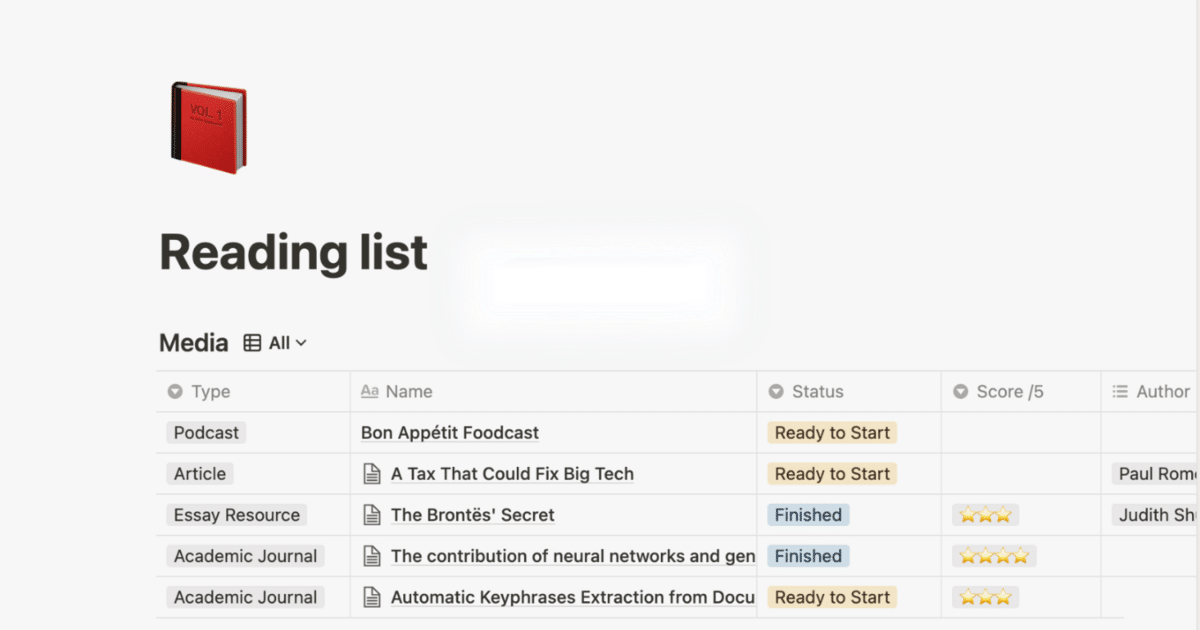 If you're juggling a lot of classes, it can feel difficult to remember every assignment. Whether it's a textbook, a link, or a file, it's easy to create a reading list in Notion. Track what you've read so far – and how much more you have left.
Related: Best Mac Apps of 2023.
8. Track Budget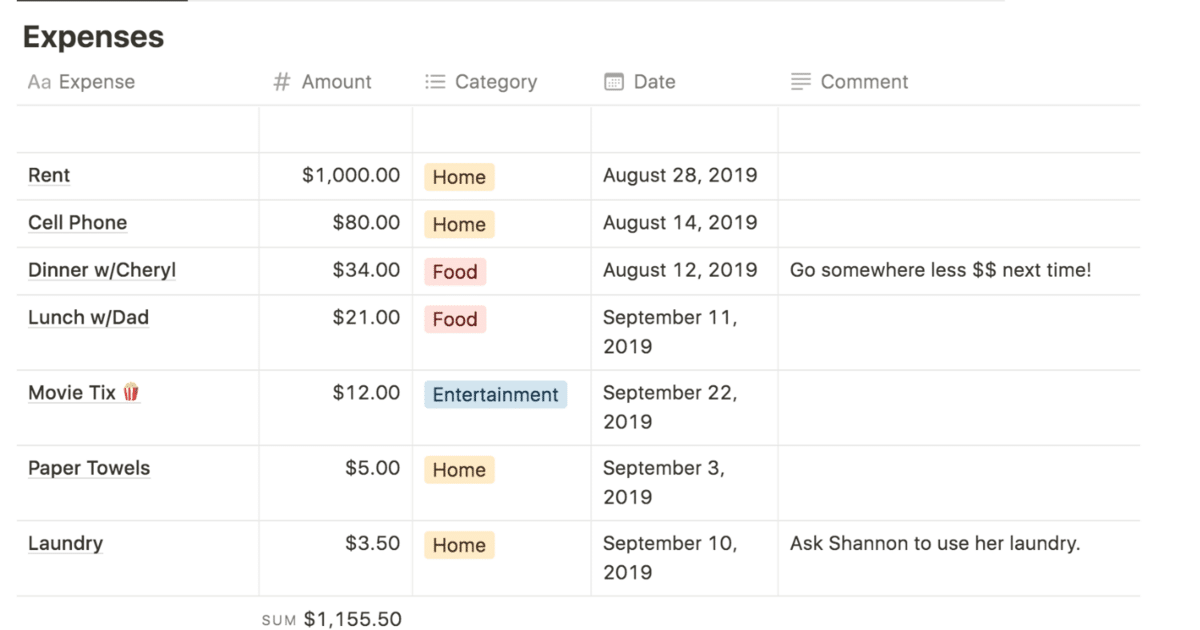 You don't need to be an economist or mathematician to create a budget. Just like with other tasks, Notion's budget tracker can determine where your monthly expenses are going, helping you find smart ways to save your money.
9. Track Goals
Use Notion to set your studying goals and track your progress. Whether you want to study more, stay social during exams, or have an exercise ambition, Notion is the perfect place to set your goals and track them.
The First Steps for Setting Up Notion for Students
If you want to use Notion for studying, there are a few steps you need to take before diving into databases for classes and assignments. First, you need to set up your Notion account. Here's where to begin:
1. Think About the Templates You Need
Whether it's networking, keeping track of your schedule, or understanding your budget, Notion gives students the flexibility to organize tasks with simple templates. Before you start downloading and setting up the templates, make a list of the templates you use. You can make pages out of this list by selecting the "Turn into subpage" feature.
2. Build First, Add Colors Later
Notion allows you to easily customize your templates with GIFs, beautiful headers, and other fun widgets. However, make sure you learn how to build a solid Notion foundation — then focus on making it beautiful afterward.
3. Use Linked Database
Notion allows college students to create and link databases, viewing them in one place if they want to. Here's how to do it:
Navigate to the database you want to link with other databases.
Open a new page within.
Type "/linked" inside the body of the page and choose "linked database."
Tap on the database you want to link.
How to Create a Notion for a Student Template
Let's say you want to set up your own class schedule template in Notion. There are a few properties that you might want to consider:
To-do lists: Add the list of assignments you have per week, month, or semester.
Dates: Include important details like start dates and exam times for your classes.
Course sections: Keep entire course sections or the class syllabus in Notion.
Notes: Add reminders to your student template in Notion. You can also keep entire backups of your assignments.
Exam tracker: Track the progress of your exams using Gantt charts or simple Kanban boards in Notion.
Links: Keep important links to books and other resources.
Frequently Asked Questions
Is Notion a Good App for Students?
Notion is especially useful for students because it's flexible enough to track personal goals, budgets, assignments, and even new contacts. Above all, Notion's simple and customizable structure means that each student can set actionable goals according to their specific needs.
Is Notion Free for Students Forever?
Notion offers a free student plan, with unlimited pages, file uploads, and a 30-day version history. All you need to do is to sign up with a school email address (no need for a credit card).
The Bottom Line
Now that you know how to use Notion as a student, you can organize your assignments and tasks depending on your specific learning style and organizational preferences. Whether you're in high school or a college student, Notion has plenty of features necessary to keep you focused and your grades up.
Thanks to its flexible and user-friendly interface, students can track anything in their workspace in Notion. And bonus points go to the free plan that students get from Notion!
An organizational app works best when you take advantage of its capabilities. From teamwork to personal designing a more aesthetic experience, check out this list of Udemy's Notion courses.
Related: