This guide will show you step-by-step how to make a Notion budget template and provide three ready-to-use downloads.
The process is as simple as adding some tables and activating the cells as databases to perform the basic calculations that budgets need. As Notion is a reasonably straightforward app, you can likely make your own custom budget template in a few minutes or make some simple edits to our existing templates. Let's get started.
What Is Notion?
Notion is a freemium productivity software similar to Evernote with organizational features like task management, to-do lists, project tracking, and bookmarking. One great benefit of using Notion over others is that it's highly flexible, meaning you can customize it to your heart's content.
Notion has a few pre-built templates that can help you get started. You can also use free and paid third-party templates readily available online that are specialized for a single type of task, such as habit tracking, expense management, calendars, and more.
Notion also has several collaboration features. You can share your workspace with others with a few simple clicks and work with others in real-time. This is extremely helpful if you're collaborating on a project with others or just want to share key information with your team. The tool is easy to use, and the best part is that you can design it to work exactly the way you want.
Master Notion Quickly
Notion is incredibly intuitive and, therefore, simple to start making powerful templates for yourself in no time. However, it is also one of those apps that you won't use to its full potential until you take a deep dive into all its features. To do so, you could read all of our content on Notion. For a more structured way to learn, you may also want to check out a comprehensive Notion course on Udemy.
Why Use a Notion Template for Budget Planning?
There are several reasons why you should use a Notion finance tracker template. These include:
Flexibility: In Notion, you can create a custom workspace that fits your needs. You can set up different pages for different expenses and tables to track your income and expenses over time. You can also add a custom field to track specific details about each expense. This flexibility means that you can create a budget planner that works specifically for you.
Customization: Notion offers several built-in and third-party templates you can use out of the box. You can also use them as a starting point and customize them according to your needs.
Collaboration: Notion makes it easy to collaborate with others by allowing its users to share their workspace. This allows you to make changes to the budget planner template in real-time. This makes Notion a great tool for sharing your finances with your partner or team.
Integration: Notion allows for integration with other services like Google Sheets, Slack, and Trello, which means that you can import your data easily from the other services or share the budget information with other platforms.
Visualization: Several visualization tools built into Notion allow you to understand your spending habits in visual form. This can be in the form of graphs and charts.
Elements of a Budget Planner Template
Although you can customize a budget template based on your needs, there are a few things that a budget template generally includes. These are:
Income: This section in the template will include a list of all the sources of income. These include salaries, freelance income, or rent. You can also include the time period of the received income, such as weekly, monthly, or bi-monthly.
Expenses: Similar to the income section, this section includes a list of all the expenses. This includes rent, food, fuel, utilities, and entertainment. You can also add recurring fixed expenses like internet and service subscriptions and their frequency.
Categories: In this section, you can break down all the expenses into broader categories such as housing, groceries, transportation, and entertainment. You can use these categories to create a chart and check how much money you spend in each area. This helps identify areas where you might be overspending.
Savings: This section in your budget planner template allows you to add your saving goals and track their progress. Here, you can add saving goals for specific expenses, such as a down payment for a house or saving for a vacation. This helps you set a reasonable goal and work towards it gradually.
Notes: You can add notes or comments about your spending or budget. This can include unexpected expenses or any changes to the income received.
Related: The Top 9 Best iPad Alternatives to Try in 2023
How to Create a Notion Budget Template
Before we look at some of the best Notion budget templates, here is how to create a Notion budget template: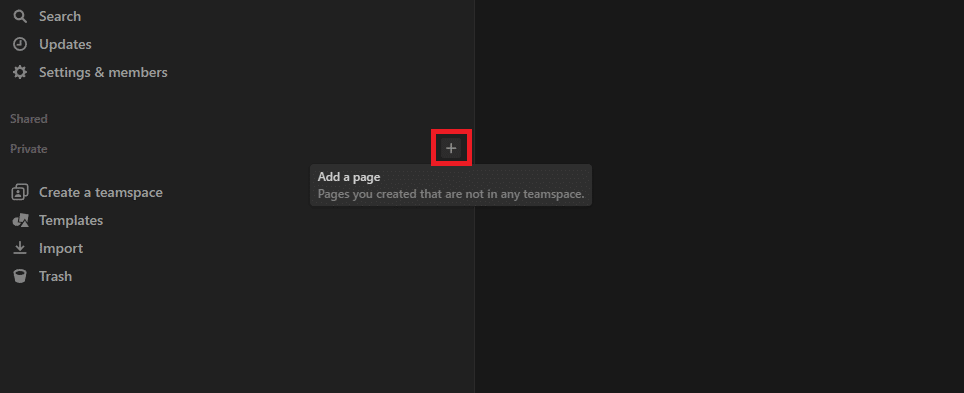 Log into Notion and click on the Plus (+) icon beside the Private section in the sidebar. This will create a new template on the main screen.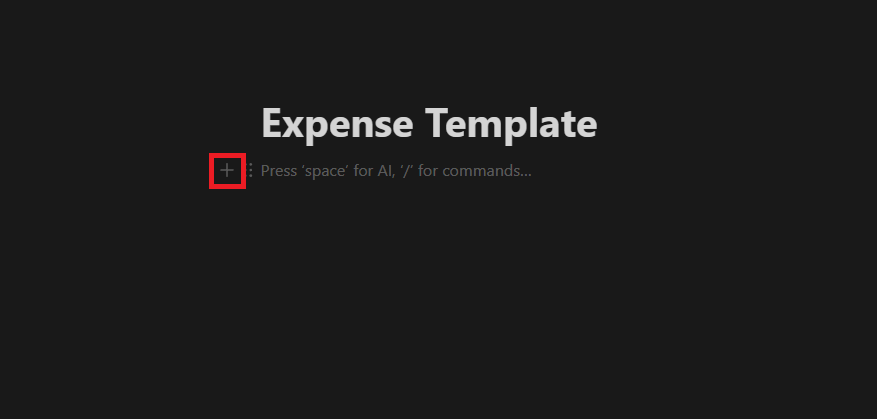 Add a name for the template in the main heading towards the top, and then click in the empty space under the heading. Click on the Plus (+) icon towards the left part to add an element.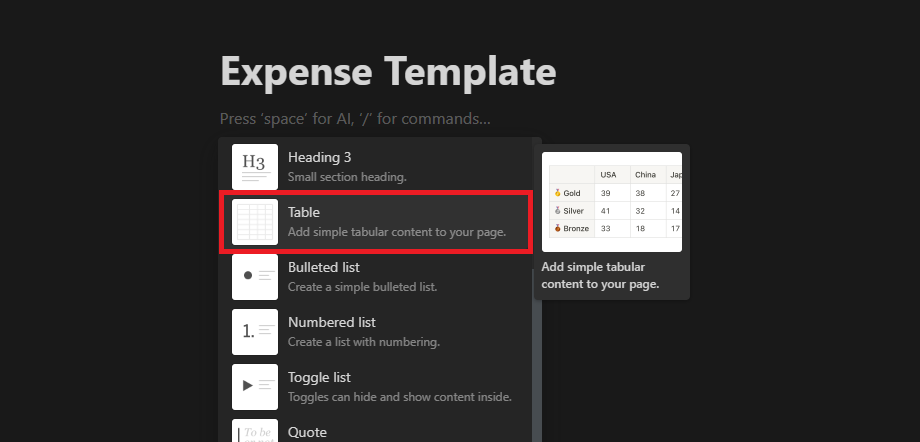 Here, scroll down and click on the Table option. This will add a simple table to your Notion page.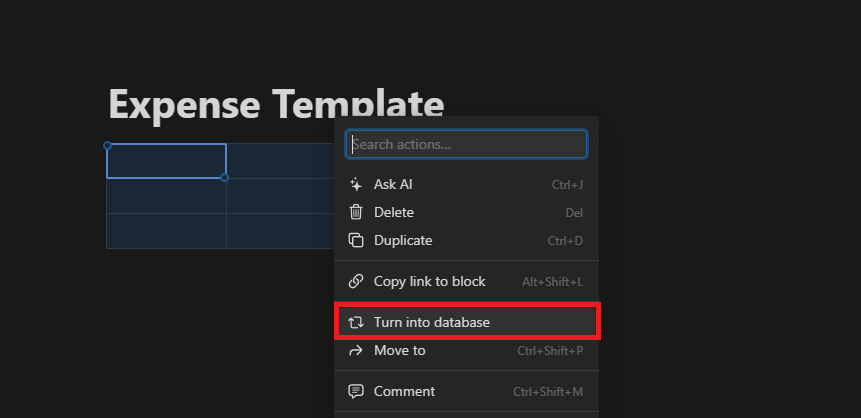 To allow calculations, we have to turn it into a database. Select the table and click on the three dots in the contextual popup to do this. Here, click on the Turn into database option in the dropdown menu.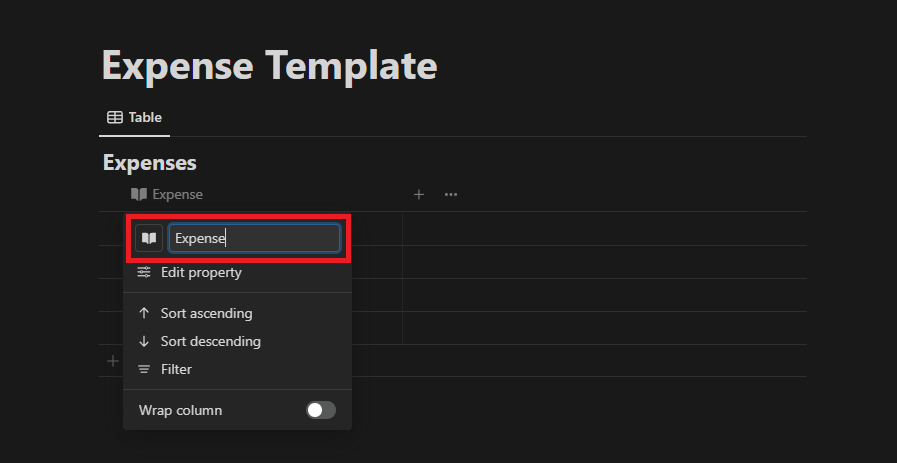 Here, click on the existing header to open the edit options. You can add a new name for the column header in the textbox and an icon by clicking on the icon beside the textbox.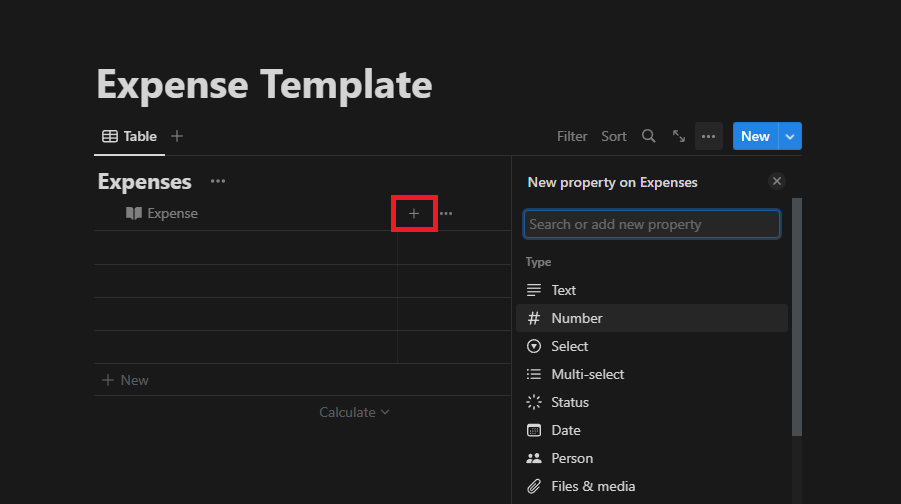 To add a new column, click on the Plus (+) icon towards the right side of the columns. You can select the type of property from the dropdown menu. Repeat this step to add as many columns as you need.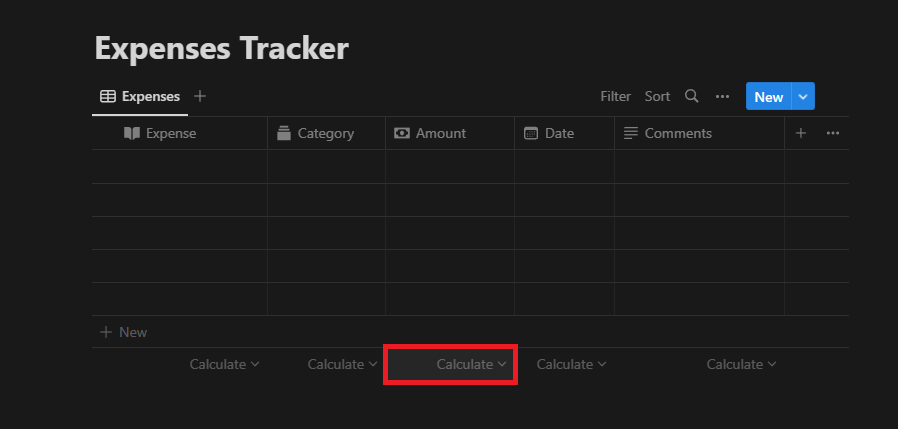 If you wish to perform a calculation, click on the Calculate button. Here, you can select the type of calculation you wish to perform. As we wanted to add the values in the column, we chose the Sum option.
Free Notion Budget Templates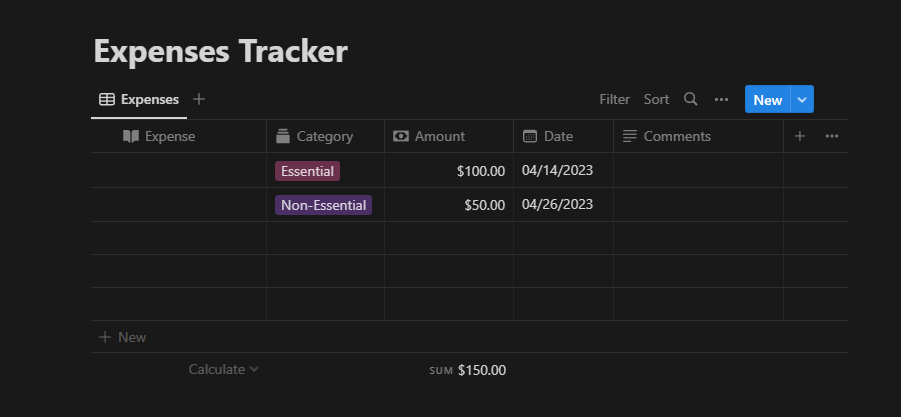 This first Notion finance template is perfect for people looking to track their every expense. When you open the template, click the Expenses Tracker button to open the table on a new page. Here, you can see 5 headers: Expense, Category, Amount, Date, and Comments. By default, this template has two categories which are essential and non-essential expenses. Feel free to add more based on your needs.
To do this, click on the Category header in the table and then click on the Edit property button in the dropdown menu. To delete the existing categories, click on the name of the category and click on Delete in the dropdown menu. To add a new category, click the Plus (+) icon beside the Options header and write the name in the textbox.
When you add the expense amount in this template, the sum counter towards the bottom will automatically start to update so you can see the total expense for the specific month.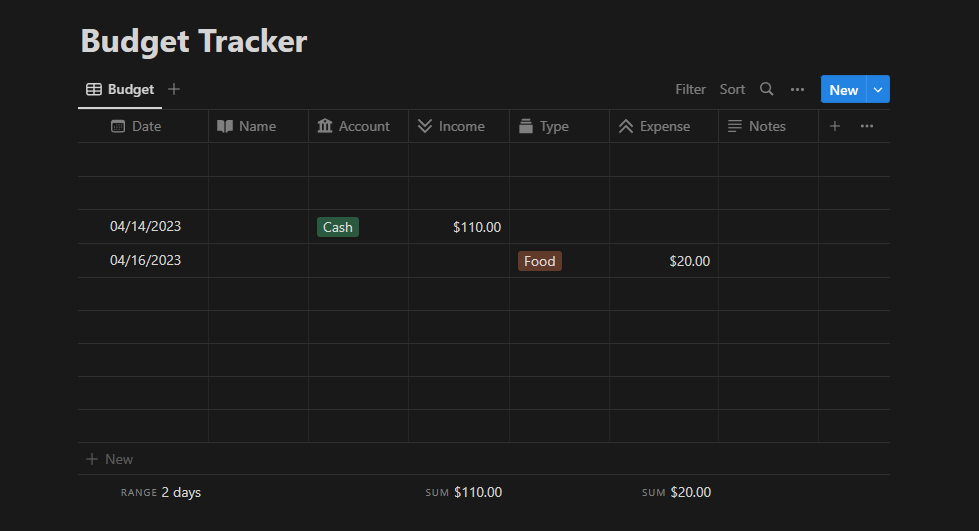 This template is better suited for people wishing to track their expenses and income in a single template. Like the previous Notion budget template, open it in your workspace and click the Budget button to open the table on a new page. The table includes seven columns: Date, Name, Account, Income, Type, Expense, and Notes. The Account and Type column allows you to add the tags for the Income and Expense, respectively.
The sum of the values in the Income and Expense columns is added toward the bottom of the table. The date range is shown at the bottom of the Date column. You can add any comments in the Notes section towards the right side of the table.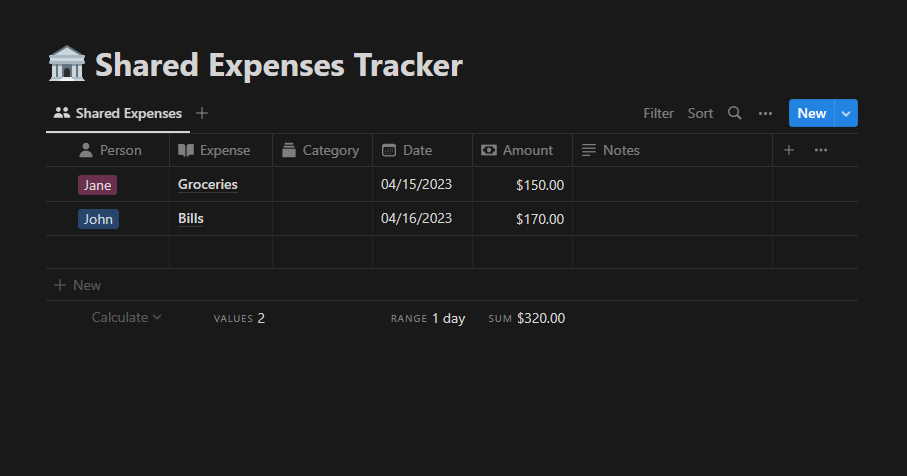 This template is best suited if you're sharing your expenses with someone. When you make a copy of the template in your Notion workspace, access the table by clicking on the Shared Expenses button. Here, you can see six columns: Person, Expense, Category, Date, Amount, and Notes.
Make sure to add the names of the people in the Person column. Click on the heading and then on Edit property. Here, change the names and add your own. To share the Notion workspace, click the Share button towards the top right part of the window. Type in the email of the person you wish to add to the workspace and assign their access permissions.
Premium Templates and Add-Ons
Our templates above provide enough functionality for most people in a broad sense. But budgeting is just one of the many things you can do with Notion. There are a ton of premium templates and add-ons for Notion available on AppSumo. We recommend checking them out for excellent ways to improve your industry-specific workflow.
Frequently Asked Questions
Do These Templates Work With Notion's Free Plan?
Most third-party templates work on Notion's free plan. To use the templates, simply duplicate them into your Notion workspace, and you can edit them according to your needs.
Can I Personalize the Templates?
You can easily customize the templates according to your needs when you duplicate them into your Notion workspace.
What Is the 50/30/20 Rule?
The 50/30/20 rule is a guideline for personal finance that suggests allocating your earnings into three distinct categories: needs, wants, and saving. 50% of your income is allocated for your needs like rent, utilities, and groceries. 30% is allocated for things like entertainment and expensive food. The last 20% is allocated for savings like emergency funds or down payments for a new house.
Wrapping Up
Making a Notion budget template can help you stay on top of your finances and will only take you a few minutes to set up. Make sure you stick to your guns with your strict budgeting, and you'll see those debts start to disappear and savings come in.
Related: