Over the years, more people have adopted a work-from-home lifestyle. There are even people who have adjusted their lifestyles completely to live and work in their RVs or vans. And then you have the digital nomads who support themselves by working as they travel the world one country at a time.
However, as the COVID-19 pandemic swept the world, more people suddenly found themselves thrust into the world of working remotely. Many found themselves struggling to adjust to a work-from-home lifestyle, especially since it might as well be uncharted territory for them.
Life is slowly starting to return to normal, but many companies have decided to allow their employees to continue working from home if they wish.
If you find yourself struggling to adapt to working from home or wanting to optimize your workflow so you can be as productive as possible, this list of the best work from home apps might just help you streamline.
Communication
You can't work from home without somehow keeping in touch with your employers, colleagues, or clients. While many simply use e-mails or good old phone calls and text messages, many use communication apps instead.
It's true — some of the best apps for working from home are designed for messaging, VoIP calls, or video calls. And, nowadays, face-to-face meetings and conferences have also been adapted to the work-from-home lifestyle.
If your company or clients don't have a preferred communication app, here are a few you can look into.
Slack
Slack isn't a new app by any means. The company has been around since 2009, and it slowly grew over time — and even before the Coronavirus pandemic hit, it was already one of the most popular work from home apps around.
Slack has many features such as channels, Slack connect, app integrations, and more. It's so beloved that big companies like Netflix and Uber also use it for remote and in-office workers.
The best part is anyone can use Slack for free, and it's cross-platform and cross-compatible as well.
The free plan allows access to the last 10,000 messages sent within the app, so if you want access to your archives, you, your employer, or your client will have to pay for a subscription. Slack's free plan also supports integration with ten third-party applications, one-on-one voice and video calls, and five gigabytes of total storage.
Slack has a Pro plan for $6.67/user per month (billed annually) or $8/user billed monthly if you want more features. They also have more features with their Business+ plan for $12.50/user per month (billed annually) or $15/user billed monthly.
Zoom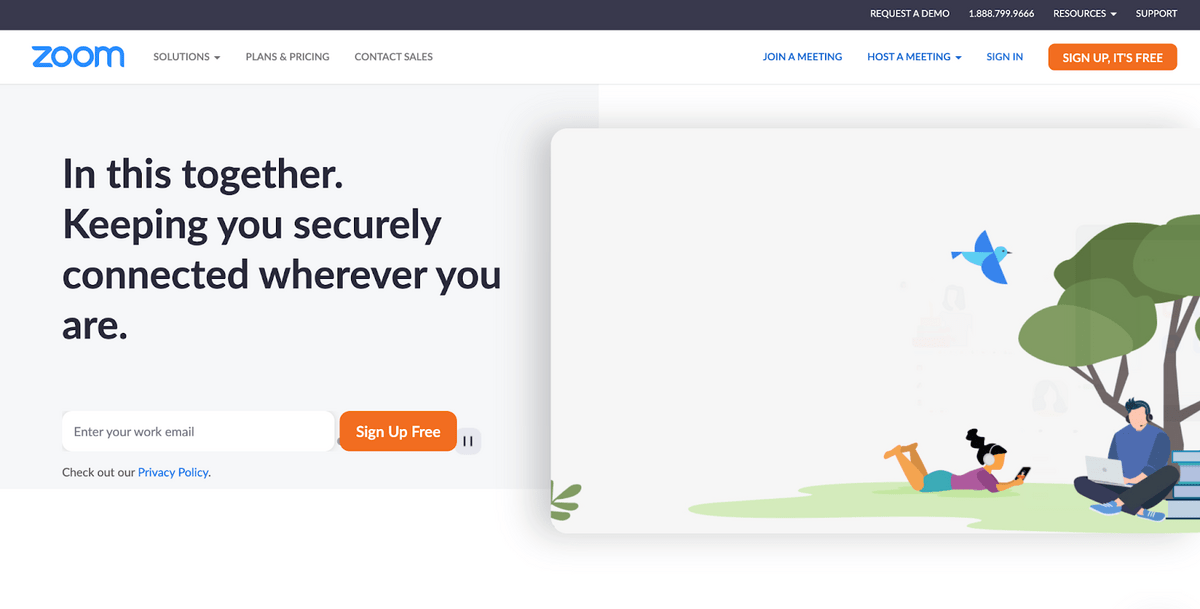 When the global pandemic hit, Zoom exploded in popularity. This app offers video calls for individuals, teams, and companies of any size. Zoom's popularity grew because it proved much more reliable than other options like Skype, which at the time suffered from calls freezing, lagging, or dropping.
Many others started using Zoom because of the ability to share screens and presentations, and it's for this very reason that Zoom also became synonymous with online school and classes. Thanks to the accessibility of this app, it's grown exponentially with no sign of stopping.
Zoom is cross-platform and cross-compatible, with apps for Windows, macOS, Android, and iOS. You can also use it straight from the browser. There is a free option for up to 40 minutes of meetings (of up to 100 participants) and more. However, the paid plans get a bit pricier, starting at $14.99/month per license. See their other pricing options here.
Microsoft Teams
Teams is Microsoft's answer to Slack. It's part of the Microsoft Office 365 Suite subscription but also has a limited free version available. As a Slack alternative, it offers many similar features.
If you would like to use Microsoft Teams, you can experience the app through their trial period. The paid subscriptions start at $5/month per user.
Although Microsoft develops it, Teams is available for Windows, macOS, Android, and iOS.
Skype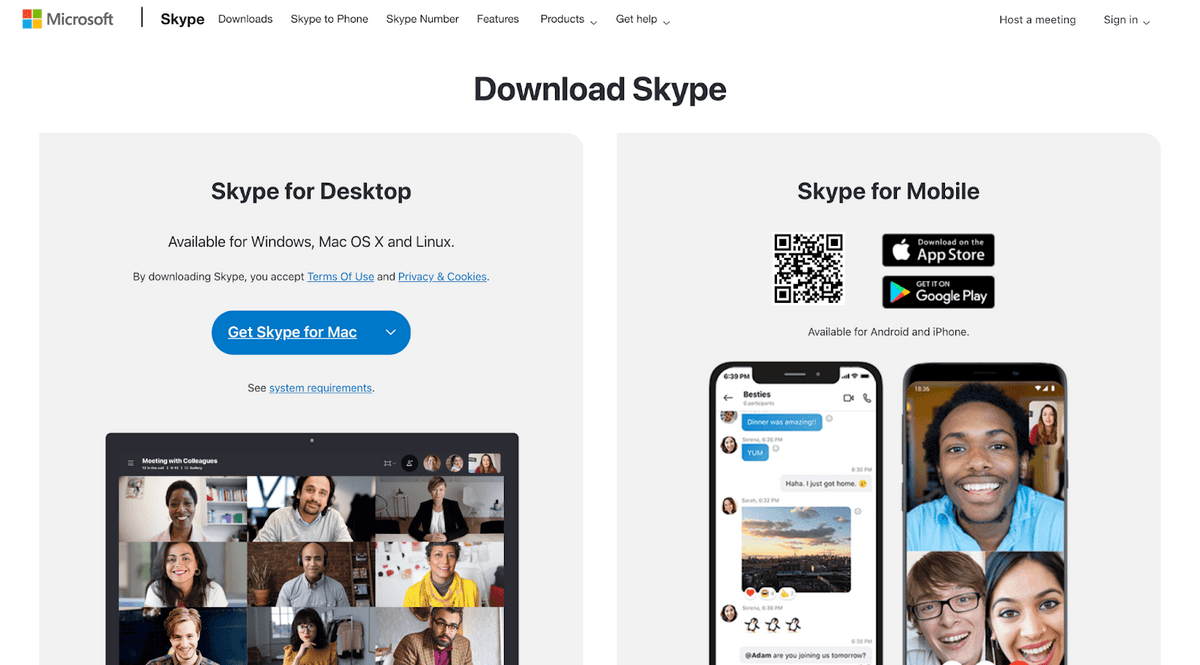 As other communication apps grew popular, Skype started falling more and more out of favor. However, many still use Skype as their communication app of preference. Skype remains quite popular among some freelancers, as it offers many of its features for free. Skype allows for audio calls, video calls, group calls, and text chats.
Skype also offers integrations with the Microsoft Office Suite.
You can use Skype for free or go pay-as-you-go. You can also do a subscription if you prefer.
Skype is compatible with Windows, macOS, Android, and iOS.
Bonus: Krisp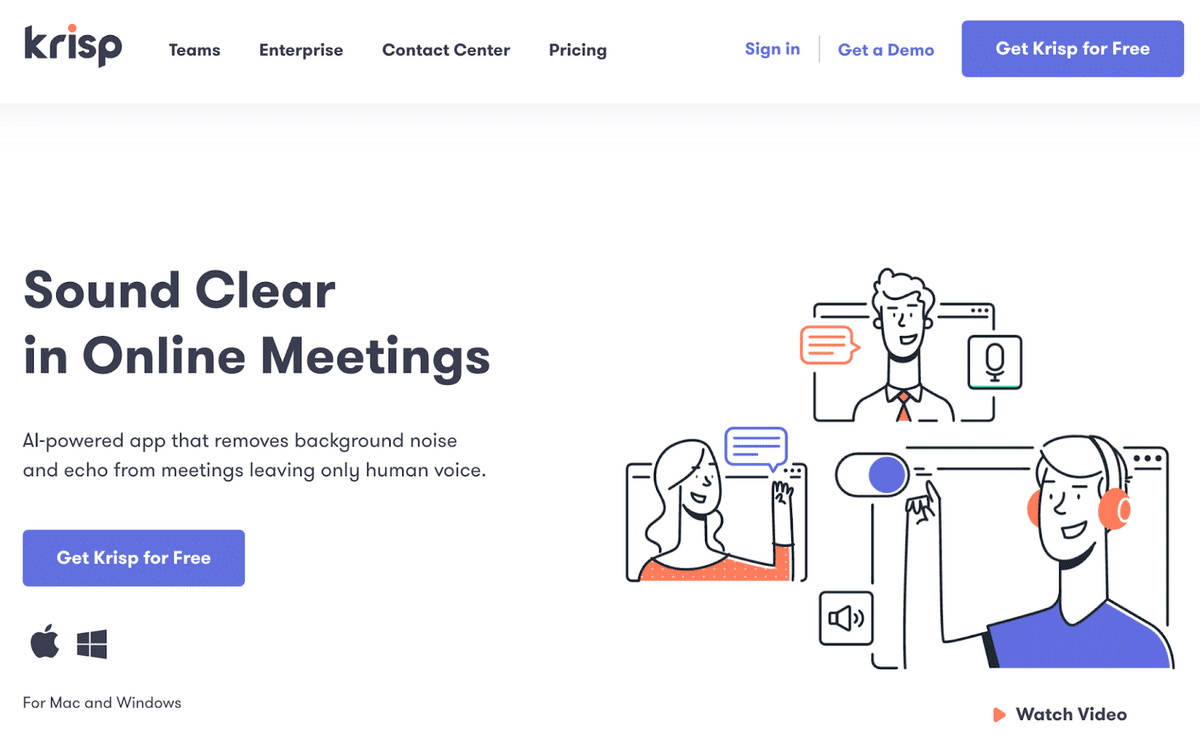 Nothing can be more frustrating (for you and people in calls with you) than unclear and noisy audio. Background noise can make it extremely difficult to understand each other, and the amount of time wasted trying to correct things lost in translation could be spent being productive instead.
Krisp is a noise-cancellation solution that helps remove echo and background noise from online meetings. You can use Krisp for free for 240 minutes per week, and paid plans start at $5/mo.
Collaboration and Project Management
Working remotely can sometimes make efficient collaboration difficult. Project management can also become problematic without the proper tools and the right apps to work from home with. It's not impossible to collaborate with someone when you're working online, but why make it more difficult than it has to be?
There are many apps and services online that help you manage your tasks and projects. Some of these apps also allow you to manage larger projects with your colleagues while also breaking down tasks into more manageable subtasks.
Some of the best apps for working from home can help you manage deadlines and project assignments more easily. Here are three of the best and most popular task management apps that might be able to help you.
Asana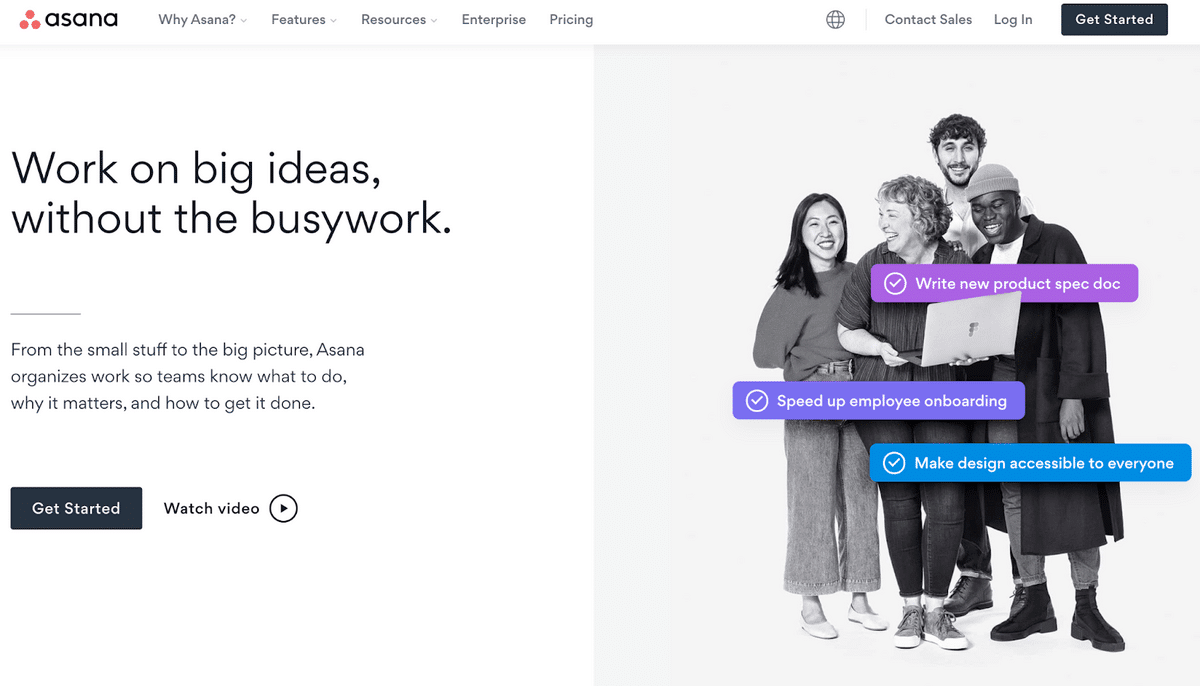 Asana is one of the most popular project management apps and services around today. It's a great help to collaboration and helps many with keeping track of tasks. It also helps teams with communication and accountability while maintaining a record of communication done within Asana.
Asana has apps for Windows, macOS, iOS, and Android. You can log in and sync your account across all platforms, and everything gets updated in real-time. You can also fully customize your notifications, so you only get the push or email notifications you want to get.
This app has many features that help users organize, prioritize, track, and collaborate on projects. Some of these features include:
Customizable dashboards
Email integration
Tracking and prioritization
Tasks and subtasks
Project assignments
Notifications and reminders
Custom calendar, reminders, and notifications
Tags and comments
You can use Asana for free with their basic plan, with limited features. Premium starts at $10.99/user per month billed annually. Business plans start at $24.99/user per month billed annually.
Trello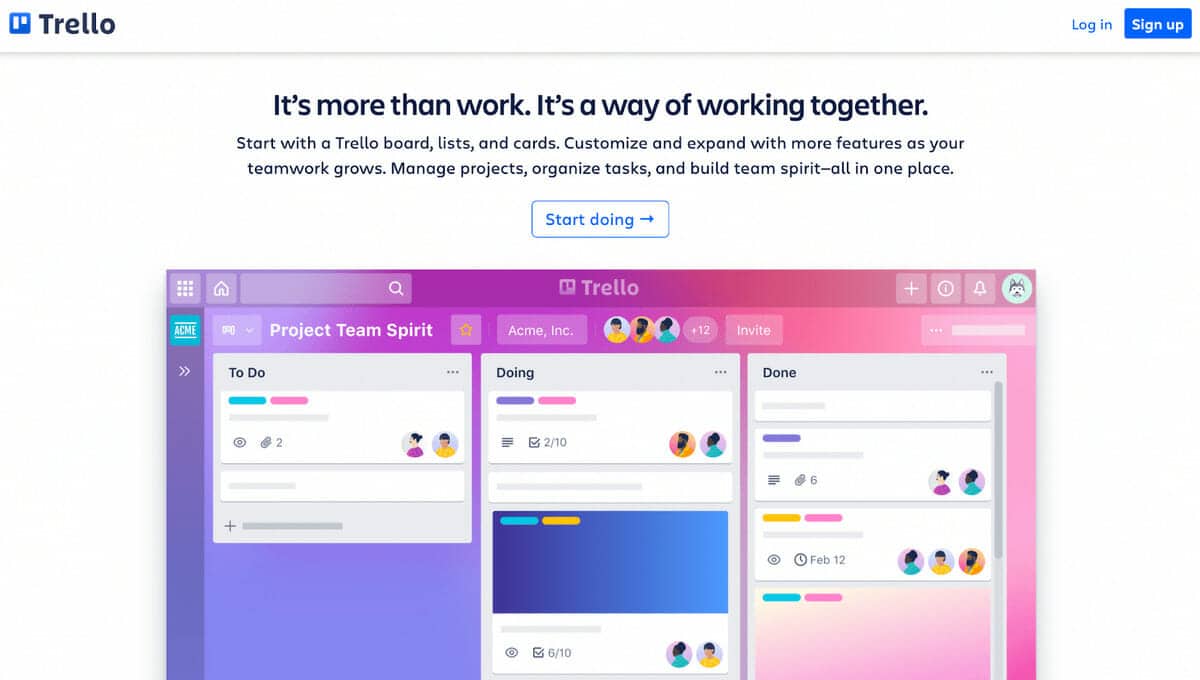 Trello is a project management app similar to Asana. You can often find articles comparing the two, but in the end, the choice between them will come down to your preference.
Trello is an app trusted by teams and users in the millions. What sets it apart from other apps like Asana is how it uses a board and card system for project and task management and tracking. Boards track projects, while cards within the boards track the specific tasks within each project. Through this system, users can prioritize tasks and track project progress while keeping teams accountable.
Thankfully, Trello is also cross-platform and cross-compatible. You can use it on browsers or download apps for Windows, macOS, Android, and iOS. Logging in to any platform will keep your account synced in real-time so you can always see what's going on.
If you want to give Trello a try, you can sign up for a free account which will allow you a good (albeit limited) look into the system. If you're ready to commit to a subscription, you can go for a standard plan starting at $5/user per month billed annually, and premium offers more features starting at $10/user per month billed annually. They also offer an enterprise package for organizations with a minimum of 25 users.
Todoist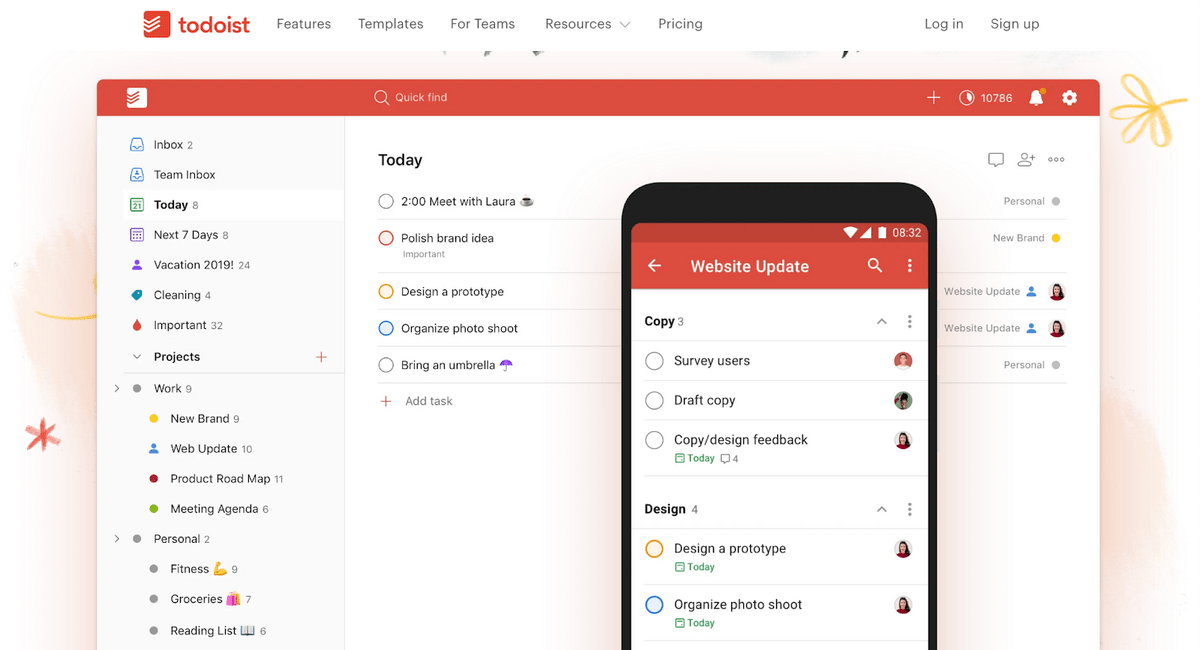 Todoist is another work-from-home app that helps users with project and task management.
Todoist allows you to create tasks, sections and subtasks, and even recurring due dates. This app also allows users to favorite tasks and set priorities. Like Trello, Todoist also has boards and cards to help with organization.
If you want to give Todoist a try, you can use it straight from the browser or via a browser extension (for compatible browsers). You can also use their app for Windows, macOS, iOS, and Android. This app also works with WearOS (Samsung smartwatches) and Apple Watch. It also offers many app integrations to make your life easier.
You can try Todoist for free with limited features. Pro plans are affordable, starting at $3 per month billed annually. Businesses can use this app for $5/user per month billed annually.
Productivity and Time Management
One of the biggest challenges of working from home is time management. Managing focus and avoiding distractions can also be a pain, especially for people who struggle with focus, to begin with.
If you often get distracted or have your mind drift off in the middle of a workday, some of the apps below can help you get everything back under control. Time-management apps can help you with increasing your productivity and finishing all your tasks by their deadlines.
Rescue Time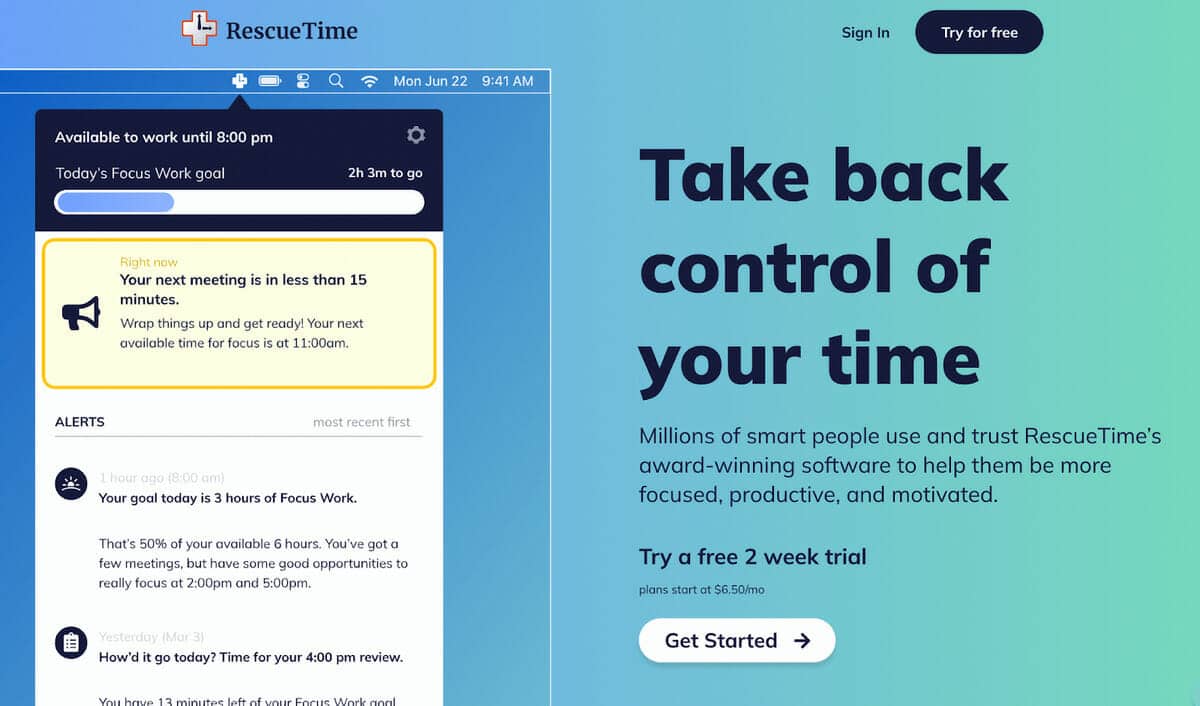 RescueTime does exactly what its name says — it helps you take control back and rescue your time from all the distractions around you. The app tracks your activity and helps you stay focused and motivated. In the end, it might just help you increase your productivity.
This app has a smart coaching feature that lets you know when you're spending too much time multitasking or entertaining distractions. It also allows you to set goals to help you stay on track throughout your day. With the goal system, RescueTime might also help you slowly increase your focus and discipline over time.
At the end of your workday, you receive an automatic account of how you spent your time during the day. This breakdown can help empower you to change your habits where needed.
If you'd like to give RescueTime a try, they have a lite version that you can use for free. There is also a two-week free trial if you want to try paid features, and paid plans start at $6.50 per month.
RescueTime is available on Chrome browser, Windows, macOS, Linux, Android, and iOS.
Time Doctor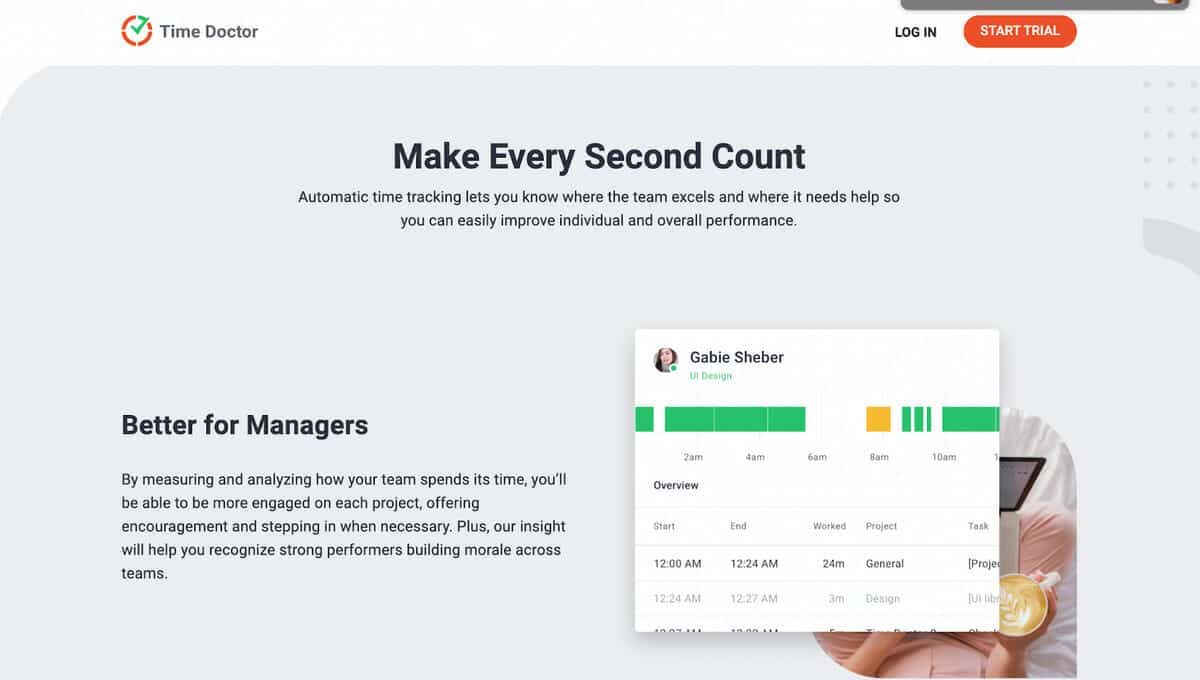 Like RescueTime, Time Doctor is a time management app that helps you make every second count. It works great for individuals but works even better for teams — especially for managers. This app tracks users without any invasion of privacy, and it reports how users spend time throughout the day, which can help with habit-correcting and accountability.
Time Doctor is available on Windows, macOS, and Linux. Mobile users can also use this app on Android and iOS.
If you'd like to try Time Doctor, there is a two-week trial available, no credit card required. For more features, you can choose between the basic, standard, and premium plans (1 user per plan only). Basic starts at $7 per month, standard starts at $10 per month, and premium sits at a pricy $20 per month.
Bonus: World Time Buddy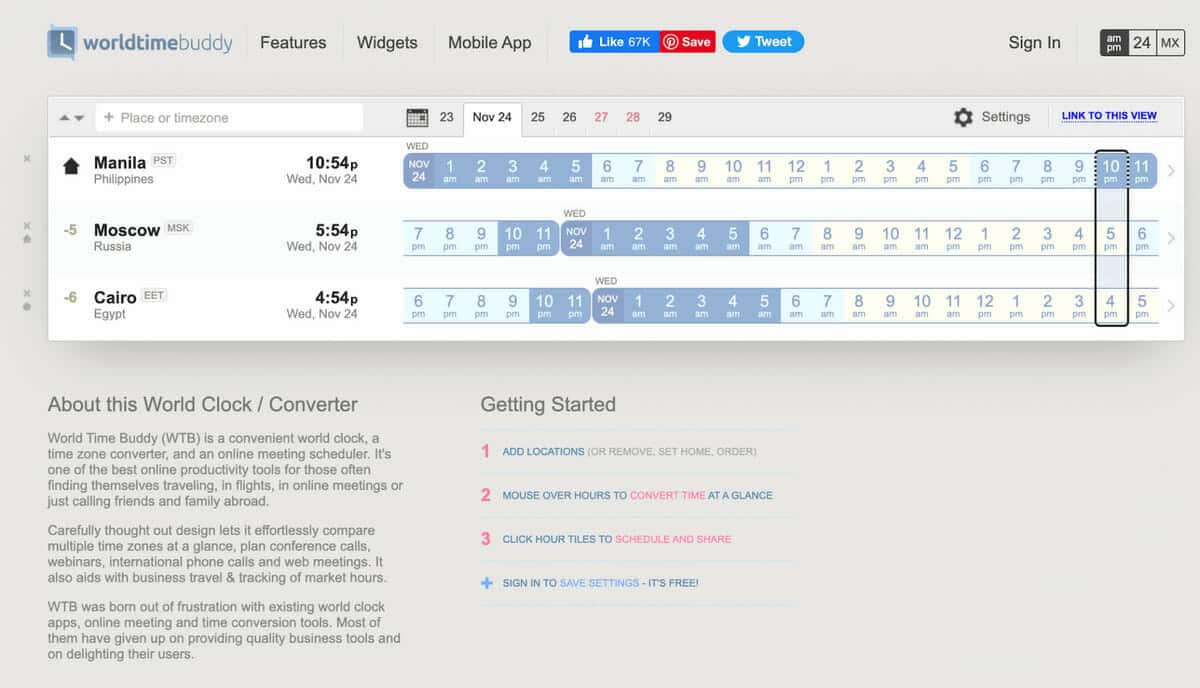 You probably know that when you work from home, there's a pretty big chance you'll have to keep in touch with people from different time zones. World Time Buddy is an app that can help you keep track of time zones more easily and convert between them effortlessly (even with daylight savings time accounted for).
You can use World Time Buddy right within the browser. There are also mobile apps available for Android and iOS, and you can use them for free, but you can upgrade for a one-time in-app purchase. There is also a subscription available through the website.
World Time Buddy is currently still in development, with its creators working towards having sync available through different platforms.
Choosing the Right Apps for You
When it comes to choosing the right work-from-home applications, what works for others may not always work for you. Your workflow is deeply personal, and only you know how well an app works for you. This reason is why most productivity apps have some form of free version or a trial period so you can try before you buy.
As you slowly figure out which apps are best for you, you'll be able to develop a personal suite of software and services that help you thrive.
Here's a tip: Don't buy a year-long subscription if you're not yet sure you're happy with the app.
We hope you find some of these awesome work-from-home apps useful for your productivity in 2022 and beyond!
Want to become even more productive as you work from home? Check out some of these useful guides: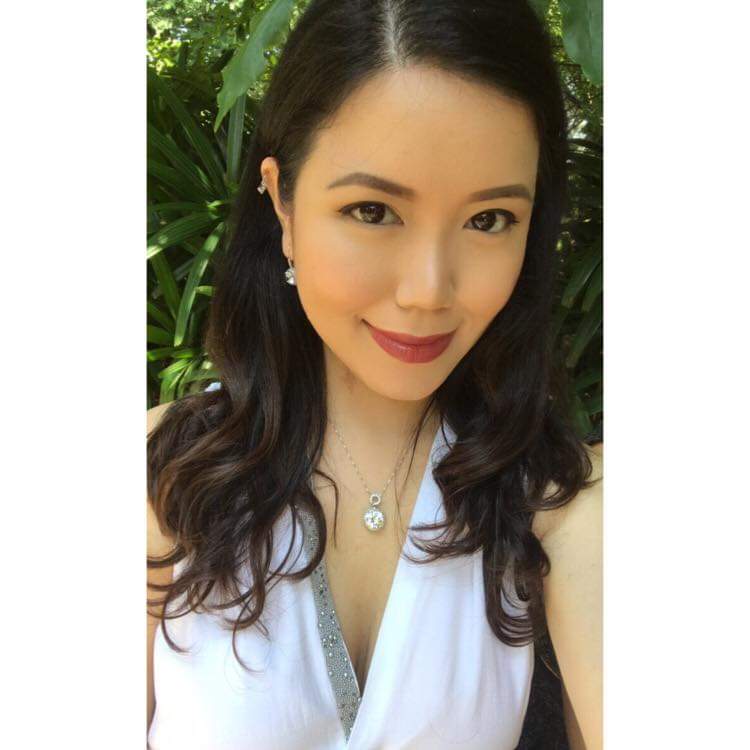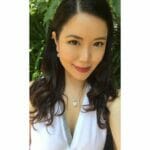 Chriselle has been a passionate writer for over 10 years, but she's a geek at heart. When she isn't busy writing, she spends her time streaming video games and learning new skills.