Google Meet vs Zoom — which conferencing tool is better?
Google has been a household name for the better part of the past two decades. However, thanks mainly to the pandemic, another company has become quite ubiquitous in today's society: Zoom.
Zoom has become one of the most, if not the most, popular video conferencing apps today. When it launched in 2013, Zoom got a whopping 400,000 sign-ups by the end of its first month. It continued to grow steadily, amassing 10 million daily meeting participants by the end of 2019. Then, the pandemic happened. By March 2020, Zoom had 200 million people joining meetings every day. In April 2020, that number grew to 300 million.
Google Meet quietly launched in 2017, offering users a convenient way to hold video conferences while integrating seamlessly into other Google products. It wasn't as popular as Zoom during the pandemic, but it still had over 100 million daily users in April 2020.
Both apps are some of the best and most popular remote work and communication tools today. But what exactly is the difference between Zoom and Google Meet?
In this article, we are going to compare Google Meet and Zoom, and take a deep dive into both to see their similarities and differences. Is Google Meet like Zoom? Let's find out!
An Overlook of Zoom Versus Google Meet
Google Meets
Zoom
Paid subscription
$0 to $18

per month

$0 to $25

per month per license

Participant capacity
Up to 250
Up to 1,000
Meeting Limit
Unlimited
Unlimited
Play Store rating
4.0
4.1
App store rating
4.8
4.6
What Is Google Meet?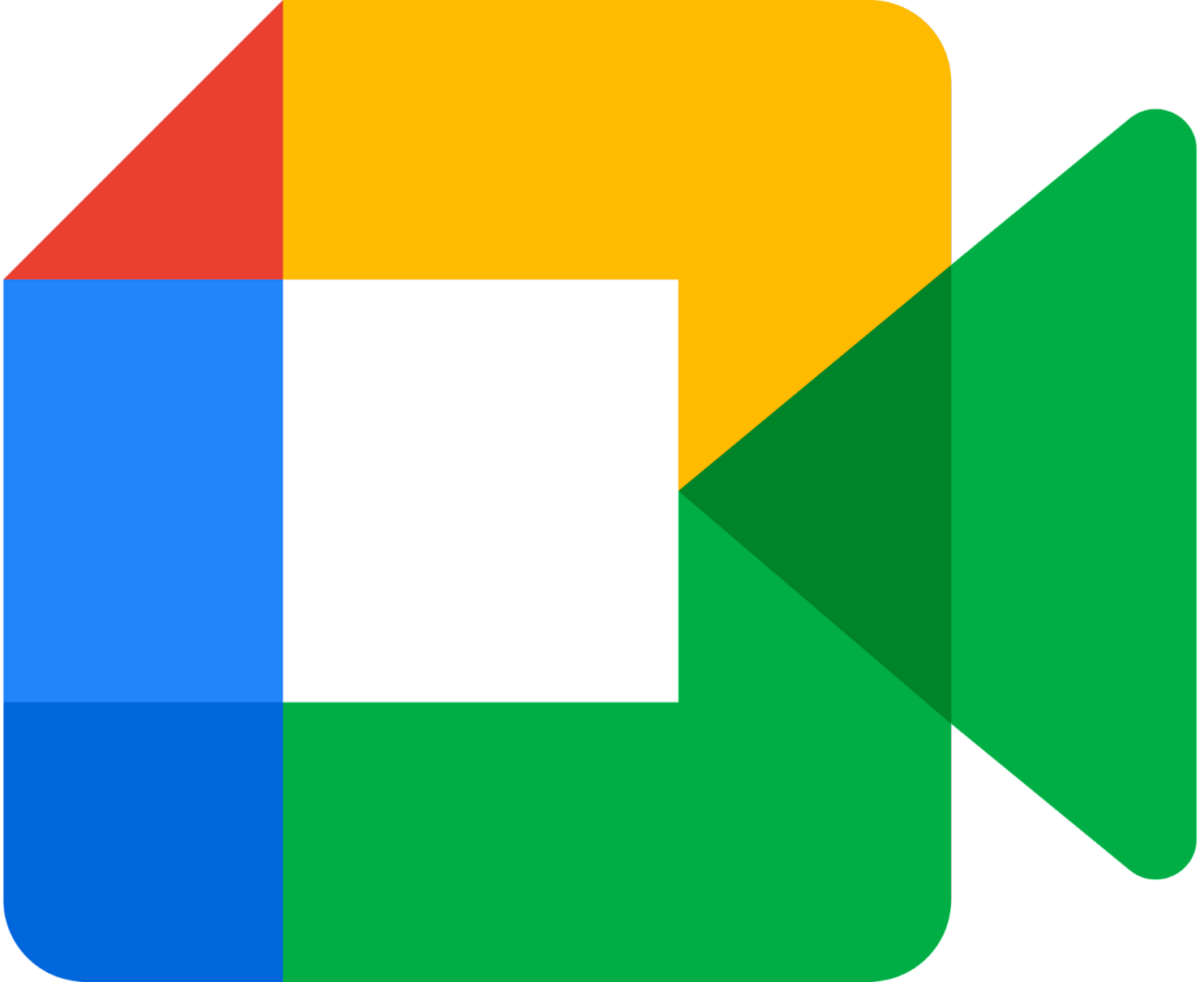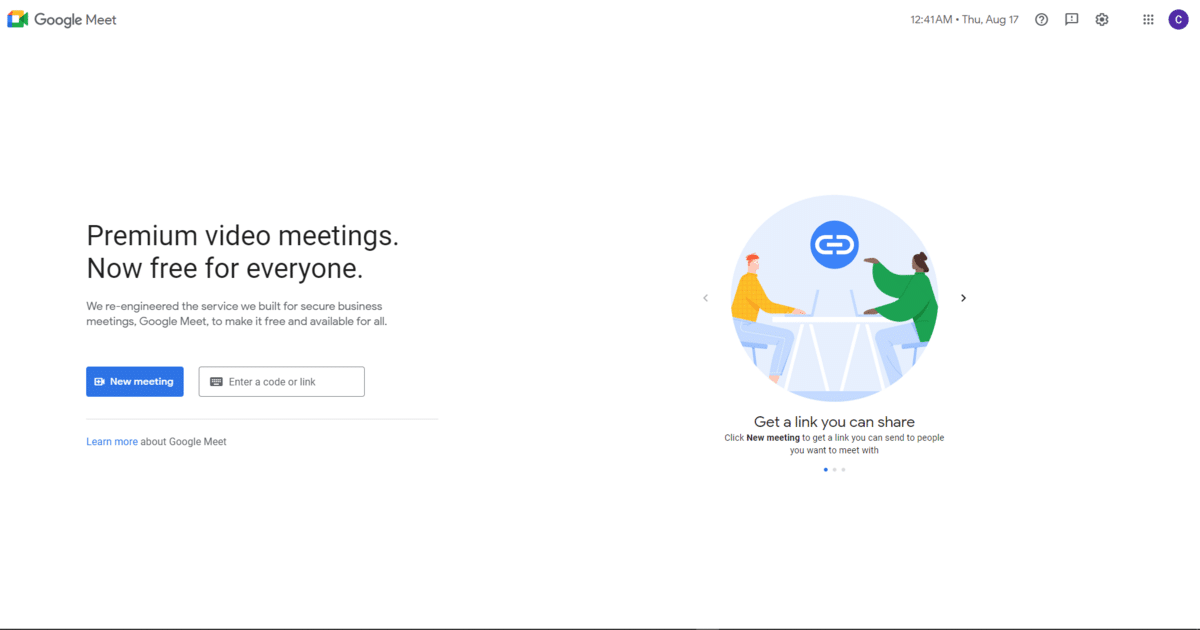 You may have already encountered Google Meet before when it was using its previous names, Hangouts Meet or Google Hangouts Meet. If you're wondering, is Google Meet the same as Zoom? Keep reading to find out.
Pros and Cons of Google Meet
| | |
| --- | --- |
| Pros | Cons |
| | Overall meeting/participant capacity is lower than Zoom |
| | Recording is only available on paid plans |
| Integrates nicely with Google products | Some features require you to install extensions on Chrome |
| Cloud storage capacities are pretty generous | |
| | |
| Subscriptions give you more features and access to other Google tools | |
What Is Zoom?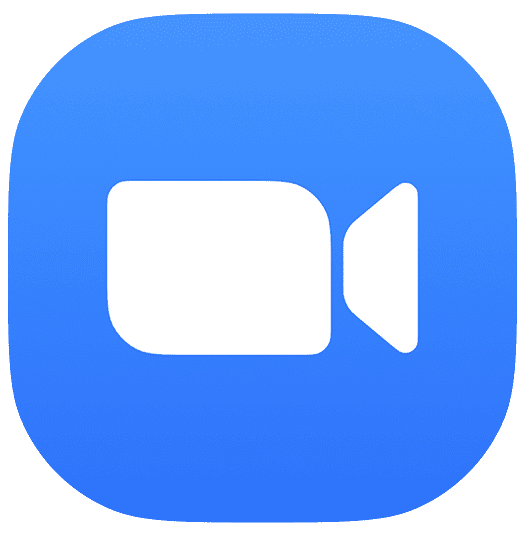 Zoom is a cloud-based video conferencing tool and is generally used by most for webinars and virtual meetings. It uses links to allow you to create and join meetings. You have probably already heard of Zoom, considering how ubiquitous it is in today's digital world.
Unlike Google Meet, Zoom is 100% focused on providing video conferencing tools, which means they'll be a bit better than Meet in some regards.
Pros and Cons of Zoom
| | |
| --- | --- |
| Pros | Cons |
| Paid plans support more meeting participants and longer sessions | The premium plans can be pricey |
| User-friendly, easy to set up | Cloud storage is pretty limited |
| Over 1000 meeting integrations available | Some issues with security |
| Free plan is good enough for general use | |
| | |
Google Meet vs Zoom: A Head-to-Head Comparison in 2023
Are you asking, "Is Zoom or Google Meet better?" Once upon a time, Zoom had far better features than Google's video conferencing tool, so back then, it would've been easy to answer that question with a resounding "yes." However, Google has released many new features to allow Meet to be more competitive with the king of the hill (Zoom).
Because Google Meet has caught up in many ways, answering that question is more challenging than ever. Both apps have similar features like changing your name or sharing your screen and more.
We've put together a head-to-head comparison to help you decide which one suits you better. Check out our deep dive into Google Meet vs Zoom below!
User-Friendliness
Perhaps one of the biggest reasons Zoom exploded in popularity is that it was really easy to set up and use, even for the less tech-savvy. Indeed, creating and joining Zoom meetings is pretty easy, and you can do it from your phone or your computer.
Features like screen sharing are easy to find and use in both. Learning a few of the other features can be a bit more challenging, but with enough time, you can learn those features, too.
Like Zoom, Google Meet is known for being easy to set up and use. Thanks to its integration with Google products, you can use Meet within other Google apps, like your Gmail inbox. There's also a Google Meet app like the Zoom meetings app for ease of use on mobile devices and tablets.
Pricing and Free Tier Offerings
Before we dive into the pricing of each app's premium plans, let's take a quick look at their free tiers.
Google Meet's free tier allows you to host meetings for up to 100 participants at a maximum of one hour. On the other hand, Zoom allows meetings of up to 100 participants, but at a shorter duration of only forty minutes.
| | | |
| --- | --- | --- |
| | Google Meet Free Tier | Zoom Free Tier |
| Maximum Participant Capacity | 100 | 100 |
| Maximum Meeting Duration | 60 minutes | 40 minutes |
Now let's take a look at pricing. Note that the prices below are the monthly base prices without additional discounts. You can save some money by paying annually instead.
Google Meet
Google Meet's premium plan is a subscription to Google Workspace. Prices range from $6 per user/month for the Business Starter plan, $12 per user/month for the Business Standard plan, and $18 per month per user/month for the Business Plus plan.
Custom enterprise pricing is also available. As a new user, you get a year-long discount on the Business Starter and Business Standard plans. For large organizations, there's the option for Google Workspace Enterprise.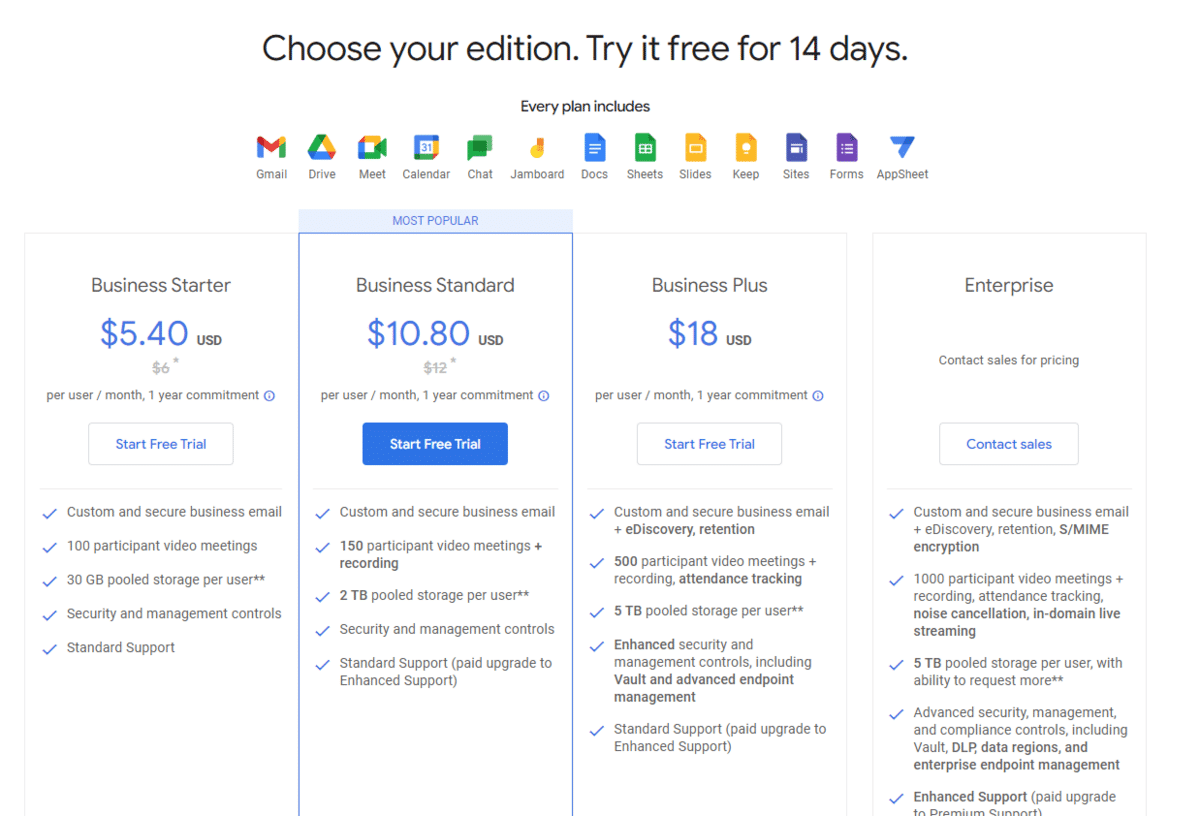 Zoom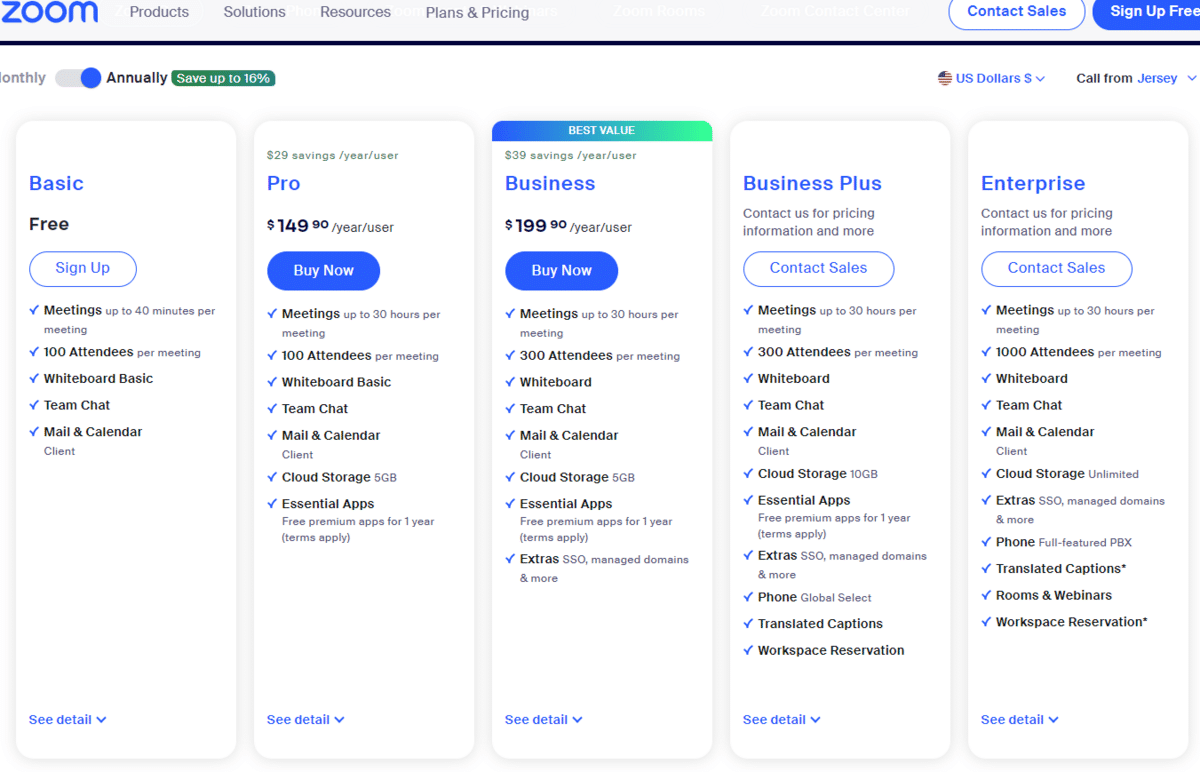 Zoom's premium plans cost $14.99 per user/month for the Pro plan and $19.99 per user/month for the Business plan. Enterprise pricing is also available.
The following are Zoom's three paid plans and their features:
Zoom Pro: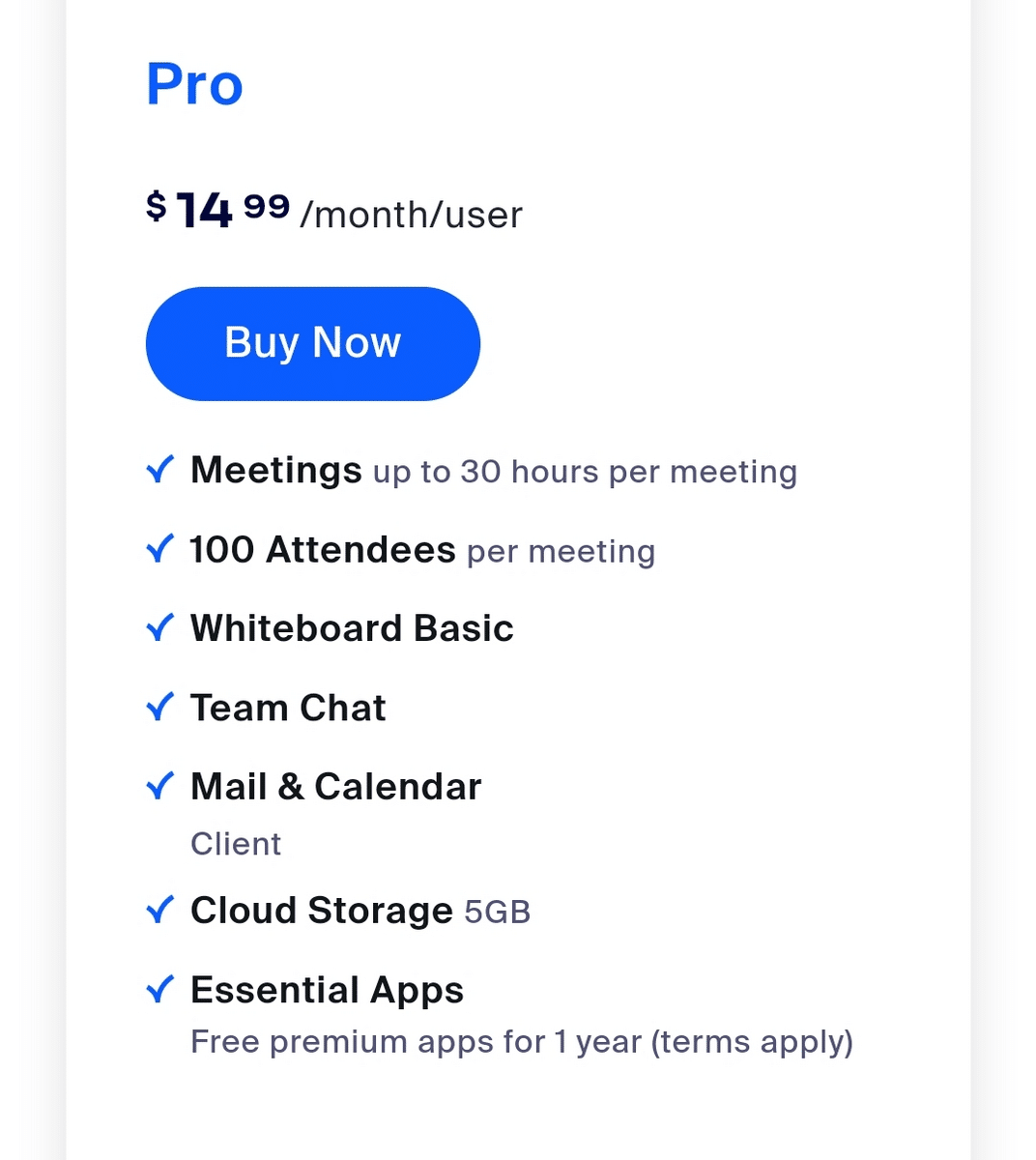 Suitable for small teams and individuals
Host up to 100 participants
Unlimited group meetings
24-hour meeting duration limit
5GB cloud storage
Basic reporting and user management features
Additional features like custom personal meeting ID, social media streaming, and 1 GB of cloud recording
Zoom Business: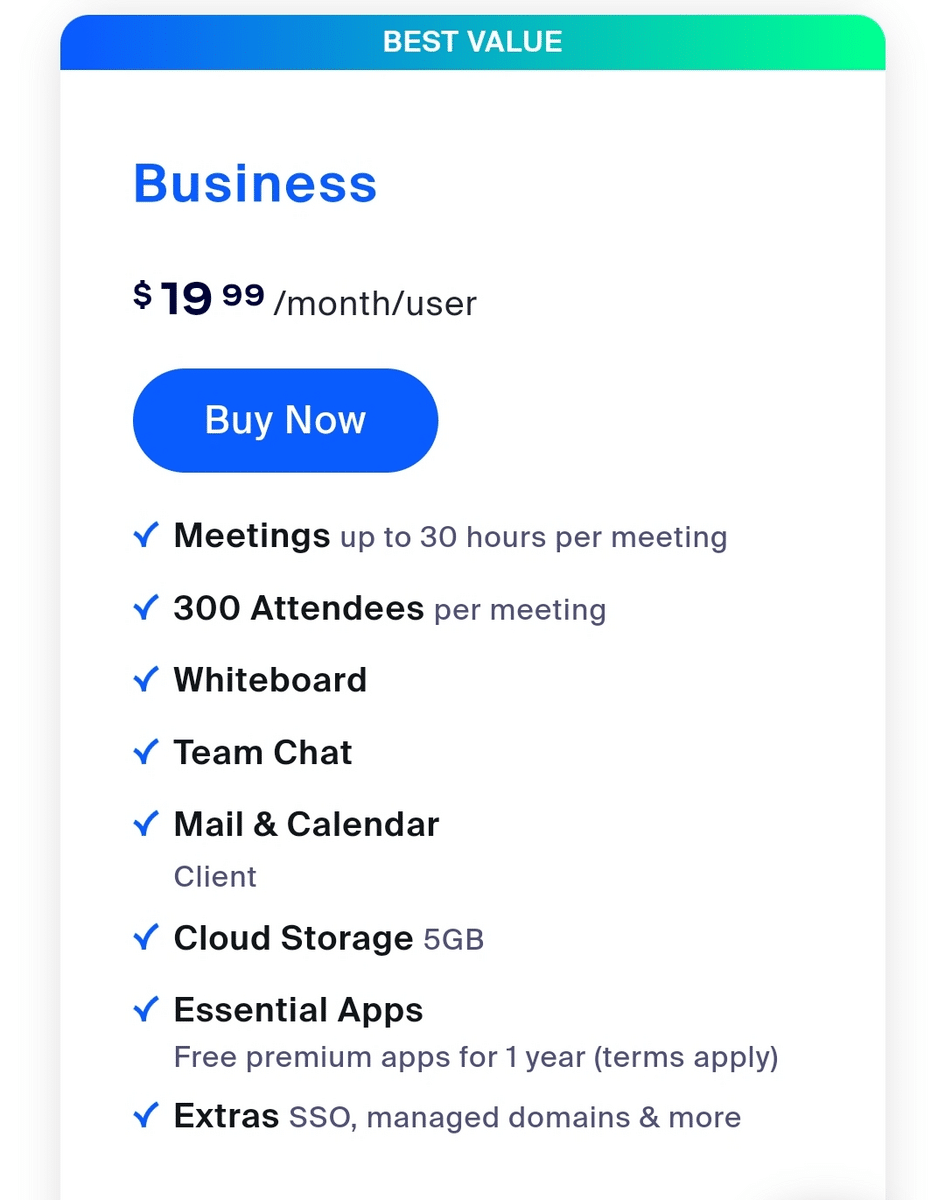 Ideal for small and medium-sized businesses
Unlimited group meetings
Includes all features of Zoom Pro
Host up to 300 participants
Admin dashboard for user management
Customizable branding
Optional cloud recording transcripts
Dedicated customer support
Additional add-ons are available
Zoom Business also has an extra option called Zoom Business Plus, including translated captions and workspace reservations.
Zoom Enterprise:
Designed for large enterprises and organizations
All features of Zoom Business
Host up to 1000 participants
Unlimited cloud storage
Advanced user management and single sign-on
Dedicated customer success manager
Executive business reviews
Customizable vanity URL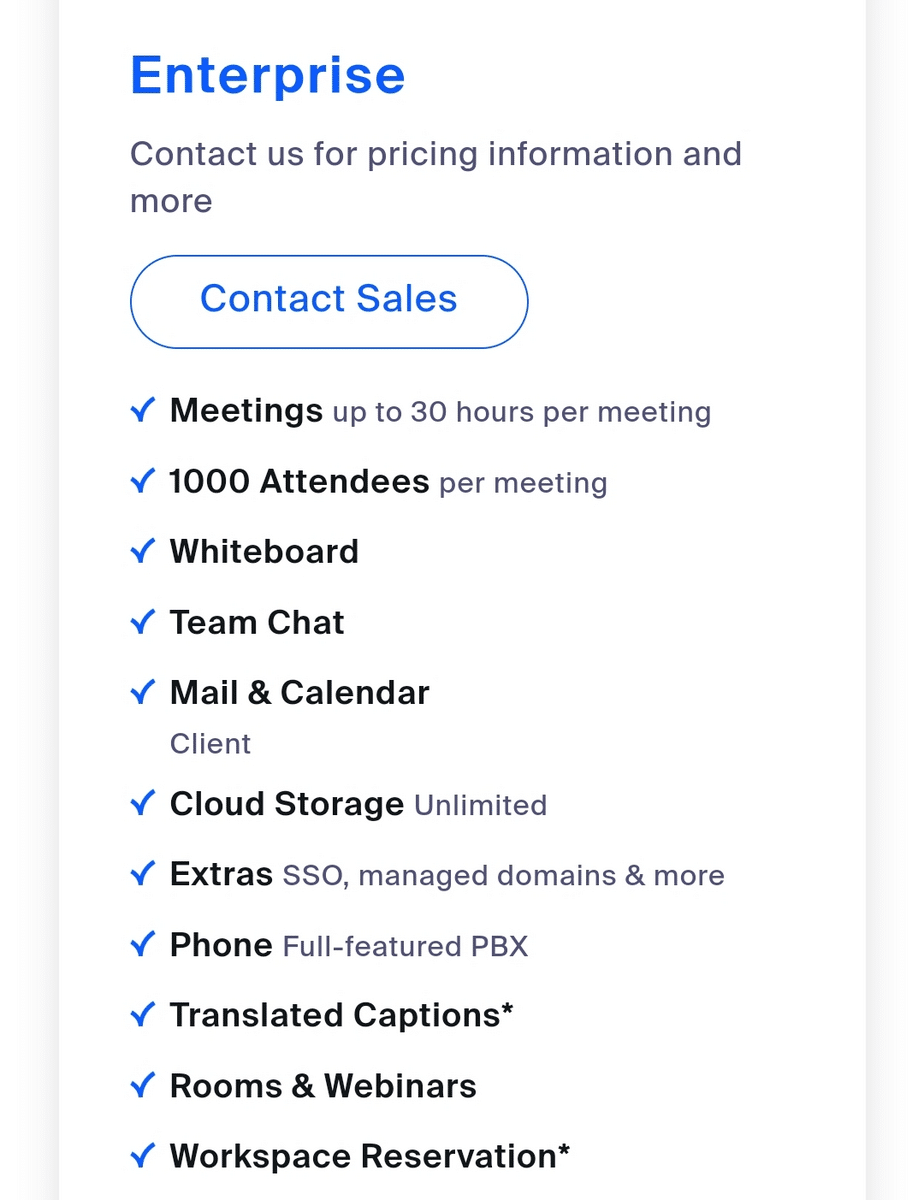 Here is a quick comparison of the pricing plans for both platforms.
| | | |
| --- | --- | --- |
| | Google Meet | Zoom |
| Free Tier | Yes | Yes |
| Premium Plan Pricing | $6 to $18 per user/month paid monthly | $14.99 to $19.99 per user/month paid monthly |
| Custom Enterprise Pricing | Yes | Yes |
Meeting Capacity and Time Limit
Let's compare Google Meetings vs Zoom meetings, at least regarding participant capacity and meeting time limits. The table below displays the maximum limits for each service's paid plans:
| | | |
| --- | --- | --- |
| | Google Meet | Zoom |
| Maximum Participant Capacity | 250 (some enterprise plans may allow 500) | 1000 |
| Maximum Meeting Duration | 24 hours | 30 hours |
Zoom is the clear winner, allowing you to hold larger meetings and webinars six hours longer than Meet.
Accessibility
Both Google Meet and Zoom offer plenty of accessibility options to help improve inclusivity during video conferences and meetings. For example, both offer live captioning, but Zoom also allows third-party captioning and manual captioning (where you assign someone to type what you are saying in real-time).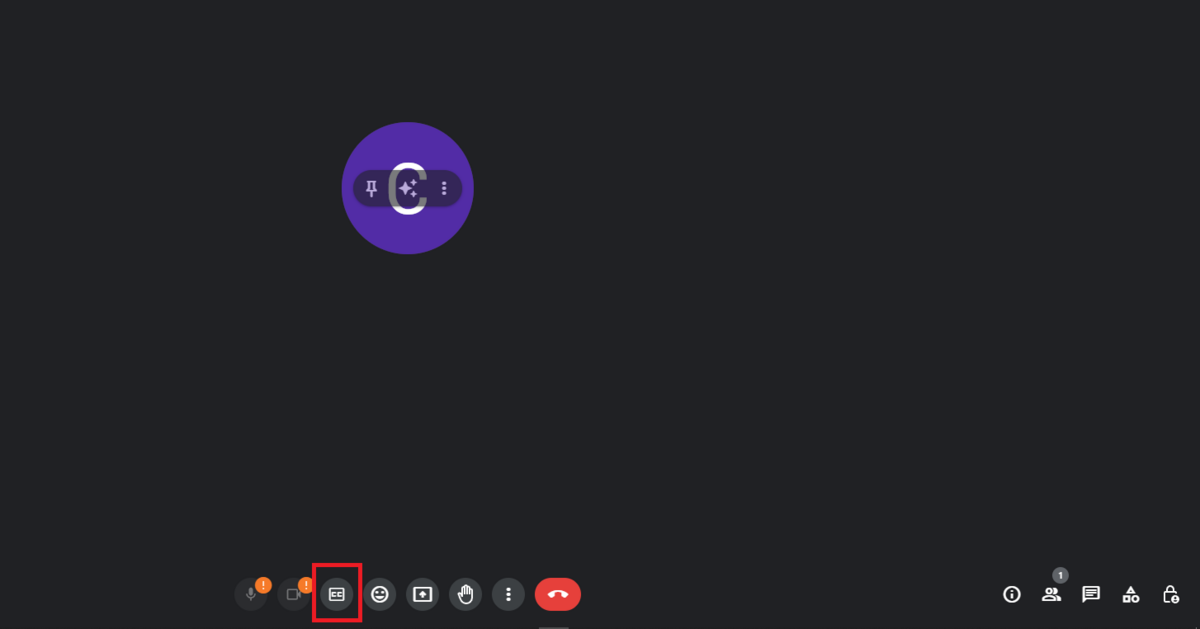 If you'd like to know more about each app's accessibility features, check out the Google Meet and Zoom pages.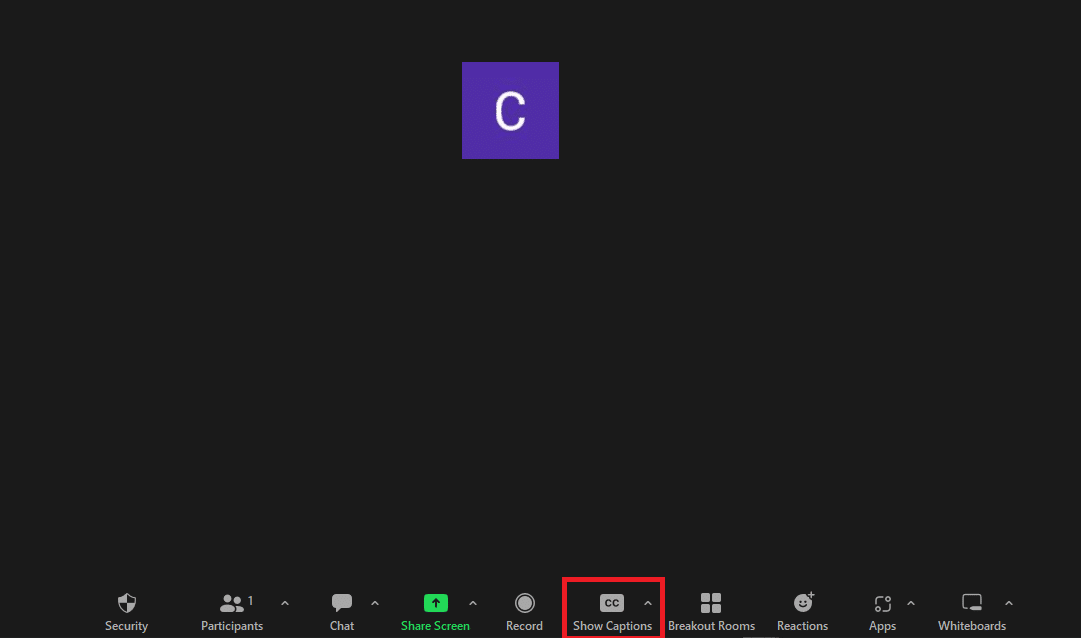 Recordings and Cloud Storage
If you want to record your meetings to track what's happened, you're in luck! Zoom and Google Meet allow you to record your meetings and even provide some cloud storage for your recordings.
However, Google Meet only allows recordings with its paid plans. And while Zoom allows you to record your meetings on a free plan, its cloud storage is only available on paid plans.
| | | |
| --- | --- | --- |
| | Google Meet | Zoom |
| Recording | Paid plans only | Free plans included |
| Cloud Storage | 15GB to unlimited (paid plans only) | 1GB to unlimited (paid plans only) |
Security
Google has long been known for the security of its products. It offers plenty of features, including 2FA (two-factor authorization), encryption (at rest/in transit), and more. Enterprise customers get even more features.
Zoom has its own security measures available. However, it's been the subject of many security breaches since Zoom usage boomed during the pandemic. Thankfully, Zoom took these threats seriously and took action.
Integrations
Regarding integrations, Zoom has a solid edge over Google Meet. Meet has a little over 200 integrations, while Zoom has over 1,000. And so, even if you don't necessarily get the benefits of a Google Workspace subscription with Zoom, you can still use integrations to streamline your work processes overall.
The clear winner for this category is Zoom!
A Full Comparison at a Glance: Google Meet Versus Zoom
Which is better, Zoom or Google Meet? The table below will give you a much closer comparison at a glance!
Google Meet
Zoom
User-Friendliness
Easy to set up and use
Easy to set up and use
Pricing

(Monthly cost without discounts)

$6 to $18 per user/month paid monthly (discount available for new users)
$14.99 to $19.99 per user/month paid monthly
Free Tier Offerings
100 participants and 60-minute meetings
100 participants and 40-minute meetings
Meeting Capacities
250 (some enterprise plans may allow 500)
1000
Time Limits
24 hours
30 hours
Accessibility Features
Yes
Yes, (more than Google Meet)
Recording
Recording on paid plans
Recording on all plans
Recording Cloud Storage
15GB to unlimited per user (paid plans only)
1GB up to unlimited per user (paid plans only)
Security
Very secure, enterprise clients get additional security options
Had a few security problems but worked to remedy them
Integrations
200+
1000+
Screen/App/Document Sharing
Yes
Yes
Chat
Yes
Yes
Virtual (Custom) Backgrounds
Yes
Yes
Pin or Spotlight Participants
Yes
Yes
Breakout Rooms
Only on paid plans
Yes
Whiteboard
Through Google Jamboard, available for free or with a Google Workspace subscription
Yes, built-in
Attendance Reports
Only on enterprise plans
Only on paid plans
Polls
Only on paid plans
Only on paid plans
Who Should Use Google Meet?
Google Meet is the best choice for users using other Google products such as Gmail, Google Docs, Google Sheets, Google Drive, and more. Meet integrates perfectly with other Google products, making it easier to streamline your work processes in day-to-day use.
Google Meet is also the clear choice for those who don't want to spend any money, mainly because Meet allows free meetings lasting an hour, while Zoom limits them to forty minutes.
Who Should Use Zoom?
When you're deciding whether you prefer Google Meet or Zoom, Zoom is the clear choice when it comes to finding a dedicated video conferencing tool that does its job exceptionally well. Zoom's comprehensive service ensures that users get reliable video call experiences. The fact that this app focuses only on video conferencing does offer a bit of an advantage over Google Meet.
We recommend Zoom to users not already well-embedded into the Google suite of productivity tools (also known as Google Workspace). Additionally, because Zoom can handle longer meetings and more participants with its paid plans, we would say that you should use Zoom if you expect to hold lengthy meetings or webinars for vast groups of people.
Frequently Asked Questions
Which Software is Better for Team Meetings and 1:1s?
It's hard to tell which software is better for team meetings and 1:1s since it depends on you and your team's needs.
Zoom offers a robust set of features for interactive meetings. This includes breakout rooms and annotation tools. On the other hand, Google Meet has seamless integration with Google Workspace, which can come in handy for team meetings. The best software for you depends on which tools your team uses.
Is Google Meet or Zoom Better for Interviews?
The choice between the two largely depends on your specific requirements and preferences.
Google Meet integrates well with other Google Workspace tools with features like scheduling through Google Calendar, easy access to meeting links, and automatic integration with Google Drive for recording and sharing interviews.
Zoom, on the other hand, is known for its reliable video quality and a wide range of features such as breakout rooms, virtual backgrounds, and webinar hosting.
Is Google Meet Easier Than Zoom?
You may ask, "Is Google Meet better than Zoom regarding user-friendliness?" If you compare both apps, they are similarly easy to set up and use. However, Meet has an edge because it integrates well with other Google products, allowing you to use Meet within them.
Which Is Better, Zoom or Google Meet for Students?
If you are a student comparing Zoom vs Google Meet, the best way to know which one is right for you is to consider a few factors. Decide how much you're willing to spend and use that amount to guide you. Know that a subscription to Google Workspace will provide you with more benefits than just an improved Google Meet. Additionally, Google Meet has a better free tier than Zoom.
Is Zoom Owned by Google?
No, Google does not own Zoom. The Zoom app is owned by Zoom Video Communications, Inc, a company established by Eric Yuan. Google Meet, however, is the Google version of Zoom.
What Is the Best Video Conferencing Platform for Larger Groups?
The answer to this question depends on how large a group you mean. Between Zoom and Google Meet, Zoom is the better option for larger meeting capacities. However, if you want to hold meetings with thousands of members, you can try an alternative to Zoom called Zoho Meeting, which allows up to 3,000 participants.
Conclusion
In the battle of Google Meet vs Zoom, picking a clear winner can be pretty challenging. However, it's easy to see where each app's strengths lie.
We think Zoom is the easy choice if you're looking for a video conferencing tool and nothing else. Zoom does a fantastic job at providing a comprehensive service to its users, who can expect a top-notch, reliable video conferencing experience. That doesn't mean you should count Google Meet out — Meet is still an excellent choice if you're already well embedded in the Google ecosystem.
In the end, the choice is yours. Choose which app suits your needs and budget best, and you can't go wrong!
If you're looking for the ultimate tool for scalable meetings, webinars, and conferences, we highly recommend checking out ClickMeeting. Get started for free and see the results for yourself!
Still not sold on Google Meet or Zoom? Need to supplement your tech stack with more tools? Check out this list of the 10 best remote work communication tools!
Related: