Are you tired of constantly reaching for the takeout menu or surviving on vending machine snacks? Balancing a demanding work schedule and healthy, sustainable meal choices is a tough task, but you can make it much easier with the right meal plan.
Even with a time-consuming job, you deserve fueling yet delicious meals without sacrificing hours on end in the kitchen. That's why we've put together these 9 to 5 meal prep ideas to help you get started.
Say goodbye to uninspiring meals and hello to healthy, delicious, and convenient nourishment that will keep you powered through your 9-5 days.
Don't feel like reading? Learn how to create a meal prep plan that works with a 9 to 5 schedule in this Productivity Spot webinar, with top tips from a renowned dietitian.
Benefits of a Meal Plan
Are you thinking, "Why should I switch to home cooking instead of continuing with the easier option of daily trips to the convenience store, fast food, or other restaurants?" Let's look at some benefits of why you should change your eating habits and meal plans for the 9 to 5 worker:
1. Healthier, balanced meals
Meal plans give you control of your portion sizes, ingredients, and cooking etiquette for your meals, ensuring you eat fresh and nutritious food that contributes to a balanced diet and healthier living.
2. Significant money savings
Purchasing ingredients in bulk means you avoid overpriced meals, impulse purchases, and unnecessary snacking. Overall, meal planning will save you a significant amount of money in the long run.
3. Save time with more organized meals
Planning easy meal prep ideas for lunch at work reduces the time you spend thinking about what you want to eat daily. Complete meal plans save a lot of time on each meal while keeping you organized. In turn, allowing you to focus on your work-related tasks.
4. Fewer leftovers
Planning your meals in advance ensures you only cook and prepare the food you can consume, reducing the probability of having leftovers that you'd throw away.
5. Increase energy levels
Do you find yourself sometimes eating out and feeling lethargic afterward? With a balanced and nutritious diet, your body will have more energy throughout the day, increasing your focus, and work productivity while giving you more energy to complete personal tasks.
6. Better weight management
Proper meal planning gives you control over your portion sizes, ensuring you make healthier food choices. This is especially beneficial for 9-5 workers who want to manage their weight or lose some pounds, as they have full control of everything they eat.
7. Improve cooking and prepping skills
If you're a novice in the kitchen with limited cooking skills, this is the time to get out of your comfort zone and have fun in the kitchen! Additionally, be more adventurous with new recipes and ingredients, giving you more opportunities to improve your cooking, preparation, and organization skills.
8. Reduced food cravings
Carbohydrate-heavy foods, like bread, pancakes, and ready-to-eat cereals, might be tasty, but they are less nourishing, leading to a higher chance of snacking. With proper meal planning, you can reduce the likelihood of snacking on unhealthy, processed foods because your body is consuming healthier food like beans, lentils, and vegetables, which reduces food cravings, helping to maintain a healthier body and lifestyle.
9 Tips When Preparing a Meal Plan
Understandably, if you are not a master in the kitchen, preparing a meal plan can be a daunting task. But once you learn a few basic cooking skills and incorporate meal planning into your daily routine, it will get significantly easier. Here are some helpful meal prep tips for beginners so you can start your meal planning today:
Choose a meal prep day – Establish one day a week where you can dedicate time to plan for next week's meals.
Plan for the week – Meal plans are more effective when planned ahead. At the beginning of each week, lay out the meals you want to prepare and eat for the next seven days. This also allows you to plan out your weekly food shop buying only the ingredients needed.
Plan your grocery list accordingly – Last-minute trips to the grocery store are a nightmare, especially if you live far away. That's why it's better to create a grocery list of all the ingredients you need after you finish your meal list for the week.
Be adventurous with new recipes – Don't be scared to try new recipes, ingredients, and meal planning! You might discover your love for cooking while adding excitement to your mealtimes. Also, as a novice, you're likely to make mistakes, but don't be deterred, and just keep trying!
Invest in good food containers – When meal planning, having high-quality, airtight food containers for storing and transporting your meals makes all the difference. They keep your food fresher and for longer while minimizing spills in your bag.
Make sure you have space in the refrigerator – Having enough space in your fridge is necessary for meal planning. That's why you must empty your fridge so there is enough space to store a week's worth of meals. This will also reduce the likelihood of leftovers and spoiled food that would otherwise go to waste.
Incorporate some cheat day meals – While eating a healthy diet is essential, it's also okay to sneak in a few "cheat" foods to balance your meals and not make you feel too restricted.
Always make room for fun snacks – Healthy snack options such as fruit, nuts, or fit bars will help you avoid snacking on junk foods.
Get creative – Mix up your meal plan every now and then by cooking easy recipes you're curious to try. This will also break the cycle of eating repetitive meals that can become boring. There are endless opportunities on how to meal prep for 9-5 workers, so get creative!
How to Get Started in Meal Plan for 9-5 Work Schedule
Now that we have looked at some tips and benefits of why you should meal prep, let's take a deeper dive into how to start meal prepping. Here's a step-by-step guide on how to properly meal prep and eat with a 9-5 work schedule:
1. Assess Your Needs
Before taking down notes on meals for the rest of the week, don't forget to consider your dietary restrictions, nutritional needs, budget, and time constraints. You can also consider your ideal calorie intake per day and weight goals.
2. Plan Out Your Week
Begin listing the meals you'd like to prepare for each day's meal across the week. This will help you to visualize your meals, so you can switch up your flavors, making it more interesting.
3. Shop for Groceries
Make a list of all the ingredients you need based on your meal plan. You can either go grocery shopping yourself or use services like Instacart to have your groceries delivered.
4. Prepare Ingredients
Wash, chop, and store all the fruits and vegetables you need for the week ahead.
5. Batch Cook Everything You Can the Weekend Before
When you work a 9-5 schedule, time is often not on your side. That's why it's important to batch cook a week's worth of vegetables, grains, oatmeals, or meat the weekend before, so you do not need to spend time during the week to prepare meals.
6. Properly Store and Label Meals
After preparing your meals, such as oatmeal jars, chicken and veggies, or smoothie ingredients, make sure you store and label them properly. This will help you keep track of the meals you have and avoid food spoilage. Label each container with the meal's name and the day you prepared it, making sure you eat the right meals, even when you're in a hurry.
Weekly Meal Plan – Sample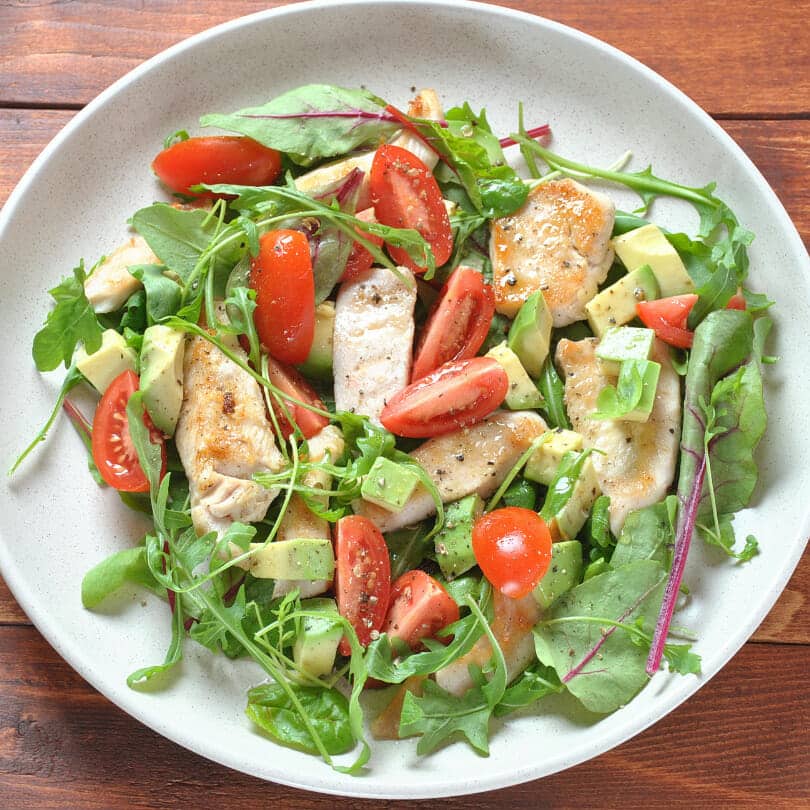 To give you everything you need to start your meal prep planning successfully, we've put together a sample meal plan with some easy meal prep ideas for busy people with a 9-5 work schedule.
Remember that you are the one who will eat these meals, so ultimately, the meals that you prepare will depend on your needs and preferences, so feel free to mix things up!
Monday:
Breakfast – Oatmeal, milk, nuts, and fresh fruits
Lunch – Grilled chicken salad
Dinner – Baked salmon with roasted vegetables and quinoa or brown rice
Tuesday:
Breakfast – Scrambled eggs with spinach or avocado and whole wheat toast
Lunch – White meat (turkey) and cheese sandwich
Dinner – Veggie stir-fry with tofu or meat and brown rice
Wednesday:
Breakfast – Pancakes with fruits and maple syrup
Lunch – Grilled chicken Caesar salad
Dinner – Whole wheat pizza with mixed vegetables and protein toppings (or a takeout pizza if it's your cheat day!)
Thursday:
Breakfast – Frittata with mixed vegetables and toast
Lunch – Chicken and vegetable soup
Dinner – Grilled steak with roasted potatoes/cooked broccoli/mashed potatoes
Friday:
Breakfast – Whole grain waffles with fresh berries and almond butter
Lunch – Tuna salad sandwich with apple slices
Dinner – Baked chicken with mixed vegetables or whole wheat creamed pasta
This set of meal prep ideas for work can be customized depending on your preferences and dietary restrictions.
For alternatives, you can also consider simple, easy-to-make meals, like grilled chicken or fish with roasted vegetables, salad with chicken, tofu, hard-boiled eggs, fried rice with meat, veggie wraps, avocado toast with grilled chicken, frittatas, and omelets.
You can also consider satiating or high-fiber foods instead of eating empty carbohydrates like white rice, white bread, or pasta. Satiating foods are usually protein-dense or fiber-enriched foods, like barley, oats, and legumes, which are perfect for creating delicious meals that will keep you fuller for longer.
9 to 5 Meal Prep: Wrapping Up
Preparing meal plans for 9 to 5 workers is not as tedious and time-consuming as you think. With our 9 to 5 meal prep ideas, you don't have to sacrifice your health to enjoy your meals every week. It's also a great way to introduce a healthier diet while saving a significant amount of money from eating out or ordering takeaways.
As you follow our tips and meal prep ideas, you'll find yourself with an organized and well-balanced system for meal prepping. You'll also have the added bonus of habitual meal plans, giving you well-thought-out meals suited to your nutritional and dietary goals.
Technologies like Instacart can also help you save time. Partner it with easy-to-follow, fun recipe tutorials for meal planning, and you can create a meal plan that fits your budget and busy lifestyle!
Related: