Work culture today is very different from that of 100, or even 10 years ago. Technology has changed the way we live and work, with new innovations constantly shaping our professional lives in different ways. The requirement for teams to physically sit together to finish a project is obsolete. Now, people can work from different parts of the world and accomplish successful projects like never before.
Remote work has gained popularity over the years, and the COVID-19 pandemic gave this trend a massive boost. Consequently, as more and more companies adopt the remote work model, more and more remote work collaboration and communication tools are available. So many that it can be hard to know which to choose!
Of course, you could try every online communication tool on the market, but who has time for that?  We've put together the top 10 business communication tools that are popular, highly rated, and packed with extensive productivity features. Read on to learn everything you need to know about these tools, as well as the pros and cons of each.
10 Best Communication Tools for Efficient Remote Teamwork
It's hard to pick only 10 favorites from the many remote communication tools available today. The below picks are the most popular and highly rated solutions for team collaboration. They all have the high-end features you'll need to manage your projects and communicate in the best and most productive way possible.
1. Google Suite

Google Suite, also known as G Suite, is a suite of valuable collaboration tools that leverage the cloud to offer a range of functions, from communication to information storage and sharing.
With G Suite, you can set up shared workspaces to collaborate with team members, broadcast live video, or connect via video conferencing.
The suite has a range of online business tools, including Google Sheets, Google Docs, Google Slide, and many more that allow you to collaborate with your team members.
Handy features include the ability to archive your emails and chat history, auditing, and reports.
You can also create custom email addresses, track emails, and store files in the cloud, as well as take advantage of two-way video and audio communication.
Google Suite also lets you create to-do lists, set up email notifications, and offers resource allocation capabilities.
G Suite can be easily integrated with other Google solutions, including Google Calendar, Gmail, Zapier, and Bitium. You can even access a free trial without using credit card details.
Cost:  Google Suite has a pricing plan with different editions of the subscription. Google offers the business starter, business standard, business plus, and enterprise subscriptions, all of which vary between $8-$25 per month, excluding the Enterprise plan, which has a cost specific to each business or individual and requires contacting Google for more pricing information.
Key features:
Video conferencing & live video broadcast
Cloud storage
Two-way video and audio communication
Email and chat functions with archive functions
To-do lists
Easy integration with other tools
2. Microsoft Teams

Microsoft Teams is one of the best communication tools for business that uses multi-factor authentication to keep your interactions safe and protected.
Teams also presents conversations between team members like email threads, making them easy to read. It comes with several features for team conversations, voice and video conferencing, and both private and team chat functions. Dedicated tabs make regularly used documents more easily accessible.
You can also integrate Teams with other Microsoft software such as MS Word, MS Excel, PowerPoint, and MS Outlook, which allows you to collaborate, share, manage, and edit files. This isn't limited to the MS Suite — Teams can also integrate seamlessly with a range of other programs, including PowerPoint, Asana, Skype, and Cisco WebEx.
We also like Teams' discussion panels that make it easy for users to make new posts and ask each other questions. Besides file sharing and screen sharing features, this communication tool also allows you to use a virtual background. Customizable alerts and animated GIFs are two other notable features. 
Cost:  You can use Teams for as low as $5 per month, and it's included in Microsoft 365 packages.
Key features:
Multi-factor authentication for increased security
Voice and video conferencing
Private and team chat
Easy integration with MS Suite and other tools
Customizable alerts
File sharing and screen sharing
3. Zoom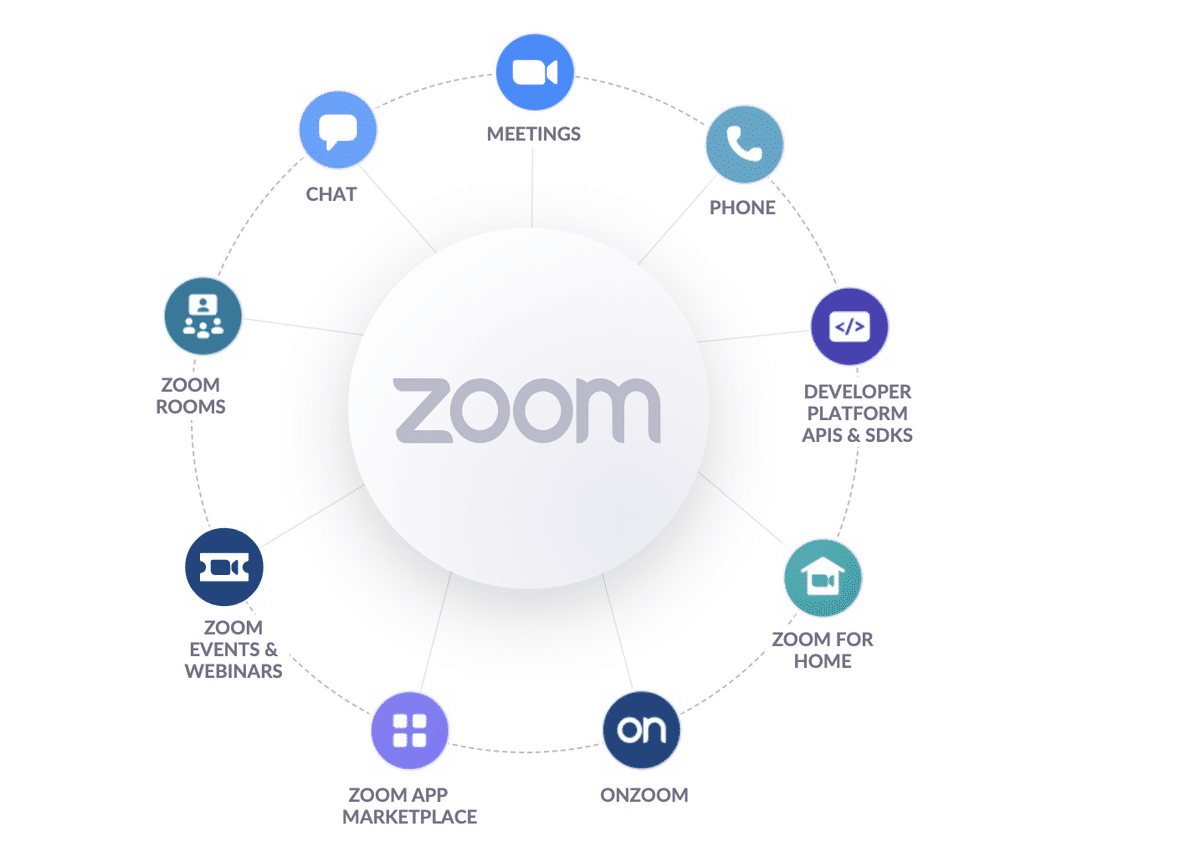 Zoom is a team communication software that acts as a one-stop shop for all your meeting, chat, and conferencing needs. It has an excellent interface for scheduling and managing meetings efficiently, and lets you send email meeting invites.
Since the onset of the COVID-19 pandemic, Zoom has become one of the most popular business communication tools. It's primarily used as a high-quality video conferencing tool, though it also has many additional features such as user management, statistics and reports, and branding options.
Document sharing is another key feature. You can easily drag and drop files for sharing and collaborating with other team members. You can also share your screen with them for more productive discussions. Business instant messaging service, video webinar, and Zoom Room are other notable features. This high-level communication tool also lets you record full-length video calls and offers a synchronized information library.
Zoom also easily integrates with a range of programs and online applications, such as HubSpot CRM, MS Outlook, Zapier, and many others. Zoom can function on the web, iOS devices, and Android platforms.
Cost: You can use the basic version of Zoom for free, and there is a free trial available for paid versions. Among the paid versions, Zoom Pro is $13.99 per month, per host, and can accommodate up to 9 hosts. As the number of hosts increases, you'll need to upgrade to Zoom business (up to 90 hosts) or Zoom Large Enterprise Ready (50+ hosts). Both these versions cost $18.99 per host per month.
Key features:
High-quality video conferencing
Screen and document sharing and in-conference chat
Full-length meeting recording
Synchronized information library
Ability to run reports and gather statistics
Easy integration with other apps
4. Slack

Slack is yet another popular team communication tool, allowing all team members to stay up to date with tasks and projects. Team members can share ideas and information and communicate via instant messages.
One of Slack's strengths is that you can create channels for specific topics or teams, helping teams organize their communications. Team members can also share comments, making collaboration more efficient by keeping all communication in the same place.
Slack also has a search function to let you easily find comments or messages.
Furthermore, unlike many messaging platforms, Slack lets you send messages to yourself, which is handy for personal notes and reminders.
There is also a dedicated reminder feature that allows you to send reminders to a particular person or channel.
Slack easily integrates with many popular business tools including Trello, Google Docs, and other communication solutions for business.
Cost:  Slack has a free version that gives you access to its basic features.  Paid premium options start at $8 per month and $80 per year.
Key features:
Private and team messaging
Ability to organize chats by topics or teams
Comment sharing
Search function
Integration with other online business tools
5. Trello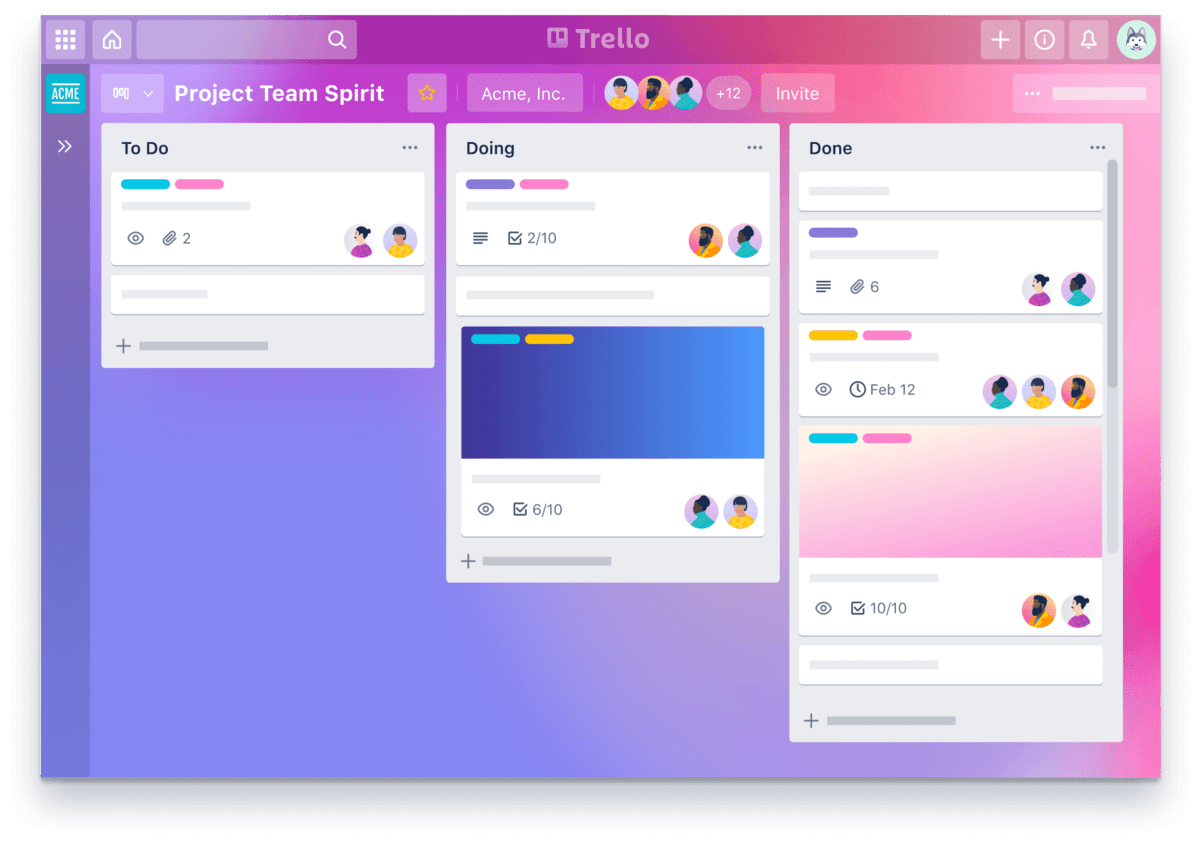 Trello is a very popular project management collaboration platform, thanks to its simplicity and user-friendly interface, which gives you a simple visual representation of all your projects and tasks. It's highly customizable, so you can easily use it to keep yourself on track.
Using the Kanban system, Trello organizes projects into boards. Under each board, you can create columns and fill them with various tasks. Different stages of multiple tasks are easily viewable on Trello's interface, and anyone can make comments, allowing for efficient collaboration in teams.
Trello's flexibility is what has made it one of the most popular project management tools. Large projects and small tasks can also be organized separately on your Trello dashboard.
There are also tagging and color-coding functions that allow you to prioritize tasks.
You can assign tasks to different team members and track their progress using Trello's Activity Area.
Cost:  Trello's basic plan is free, with a Standard version available for $5 per user per month, and premium options starting at $10 per user per month.
Key features:
Simple visual overview of all tasks and projects
Team members can comment on tasks for efficient collaboration
Tagging and color-coding
Ability to assign tasks to team members and track progress
6. Skype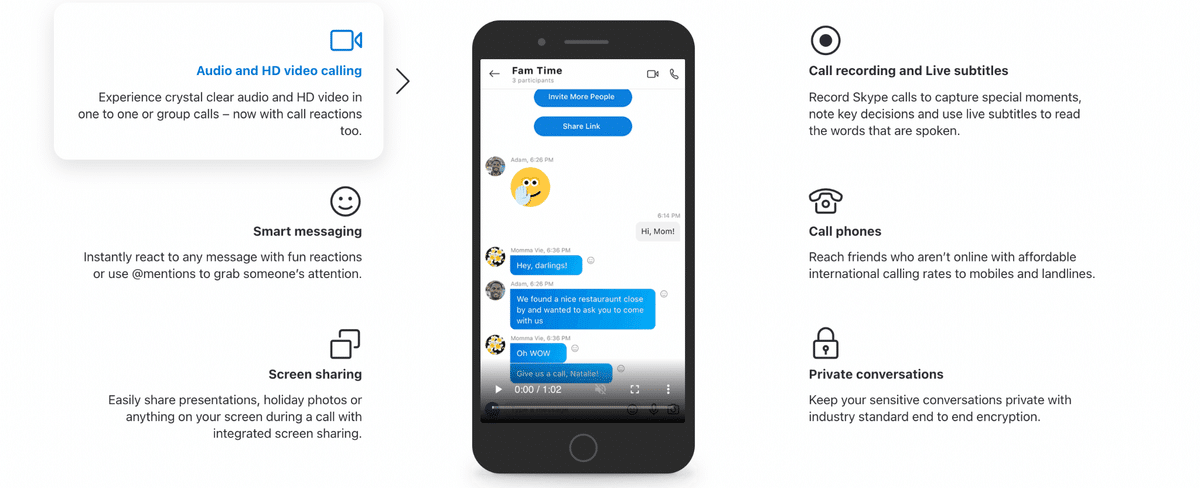 Skype has long been one of the world's most popular online communication tools. It has an efficient interface for all modes of communication such as video, audio, and text. While its primary functions include instant messaging, video, and audio calls, Skype also lets you conduct meetings and run video conferences online.
Other handy features include SMS integration and voice mail, as well as report creation and statistics monitoring.
Skype integrates with many programs such as Microsoft Outlook, Slack, Bitium, and MS Dynamics CRM.
Cost:  Most of Skype's features are free, but you need to pay to use it to make calls to landlines. You can either do this by loading credits on your account and paying by the minute, or through a subscription to a premium version, which starts at $2.99 per month. While you can conduct small virtual meetings and group chat sessions with the free version, upgrading to a paid version will let you conduct larger group meetings.
Key features:
Video and audio calls
Instant messaging
Group video conferencing
Integration with other apps
Ability to run reports and statistics
7. Monday

Monday is an excellent project management tool that allows for efficient team communication. Managers and team members alike collaborate through the same dashboard, keeping everyone focused on a common goal. Monday takes task management seriously, with each task seen as a building block towards the final objective.
This advanced tool is equipped with features that can accommodate even very large teams. One handy feature is that you can customize your viewing options according to your preferences. This lets you get the most accurate picture of your workflow, checklists, reports, timelines, and project overview.
You can also set notifications for various parameters, such as approaching deadlines, and it's easy to track progress and update tasks or project statuses.
Each team member can upload and share documents and information to a common dashboard so that everyone gets timely updates as the project progresses.
Managers can use Monday to assign tasks to team members according to their workload, location, experience, or performance.
Cost: Monday offers a free version and a couple of paid versions that allow for more users. The standard package costs $14 per month, the Pro costs $22 per month, and the Enterprise has tailored pricing that requires contacting the platform.
Key features:
Common dashboard for viewing tasks and projects
Ability to assign tasks to different team members
Customizable viewing preferences
Flexible notifications
Document sharing
8. Xtensio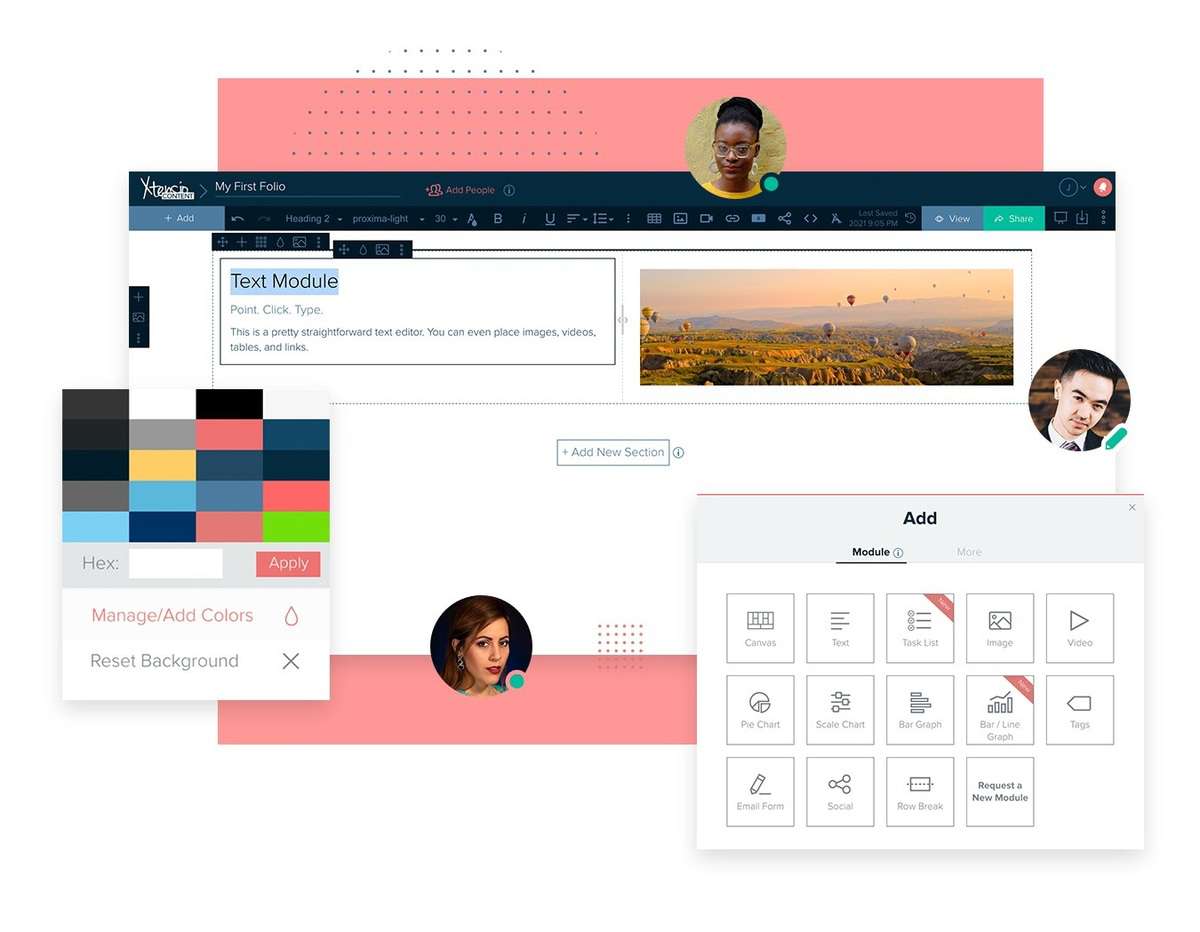 Xtensio allows team members to collaborate to create excellent content, such as creatives or web pages.
It's one of the best marketing communication tools around, allowing teams to create high-quality sales presentations, guides, and templates. This allows for powerful collaboration between team members, bringing everyone's ideas together to create valuable marketing content.
Xtensio has a vast library with a wide range of templates if you don't want to work from scratch. Collaboration is easy because every change is updated live and instantly synchronized across all devices.
You can browse, label, and organize documents, as well as categorize them according to clients, projects, or teams.
Xtensio takes data security seriously, using SSL encryption for all information on its network, and keeps a reliable backup of your data.
Cost:  You can try out Xtensio's features and use its templates for free, but if you want to use its collaboration features, you'll need to sign up for one of their plans, which start at $10 per month.
Key features:
Content creation
Large template library
Instant synchronization of updated content
Document organization
SSL encryption of all information
9. Hive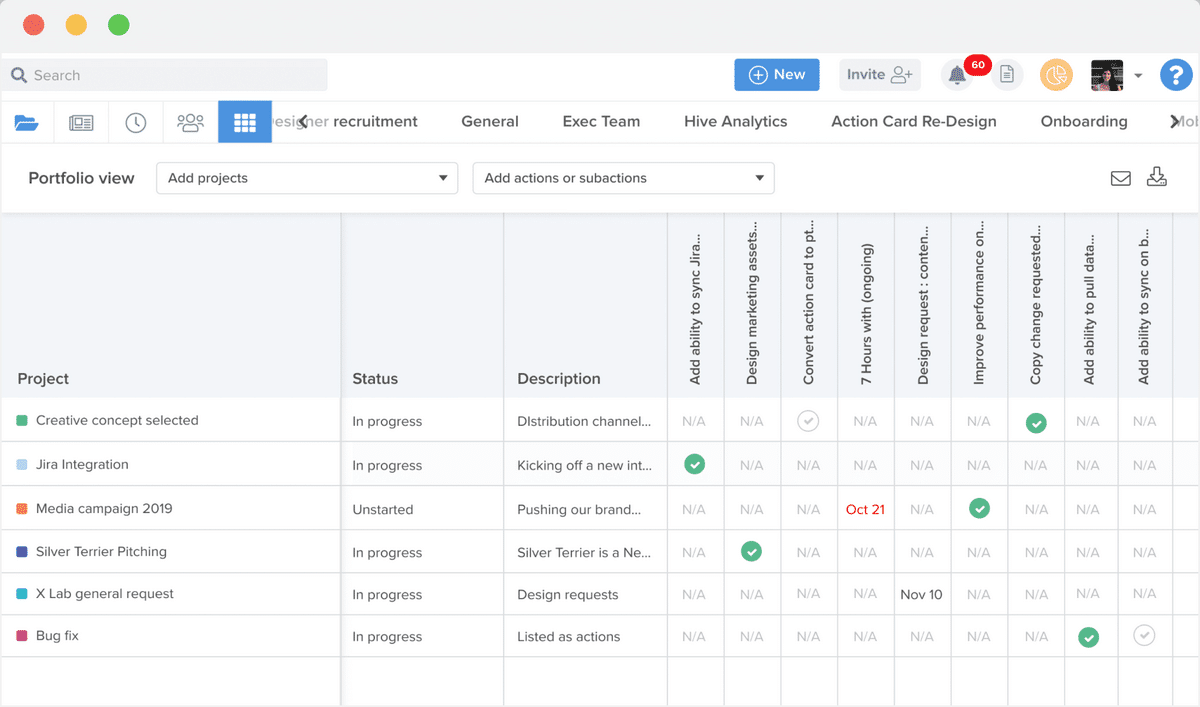 Hive is one of the most popular team communication tools around that allows teams to collaborate on projects and tasks.
Its Portfolio view allows you to view more than one project in the same place. It shows your action list and provides a native chat interface, helping you manage multiple tasks from one window.
Hive has many features that promote effective team collaboration, like action cards, email integration, and file sharing. You can use templates for recurring tasks, and use timesheets and workflow charts to manage projects efficiently. It offers four viewing options — Gantt chart, Table, Kanban, and Calendar views — so you can choose the one that works best for you.
Hive Notes is another feature that can make meetings more efficient, allowing you to take notes, assign tasks, and track progress through the platform.
Hive can integrate with over 1,000 applications including Google Drive, Dropbox, One Drive, and Slack, which allows you to work with all these tools through a single, centralized interface.
Cost:  You can sign up to Hive for around $12 per month per user.
Key features:
Multi-project overview to manage multiple tasks in a single window
Four viewing options – Gantt chart, Table, Kanban, and Calendar
Timesheets and workflow charts
Ability to take notes and assign tasks during meetings
Integrations with over 1,000 apps
 10. GitHub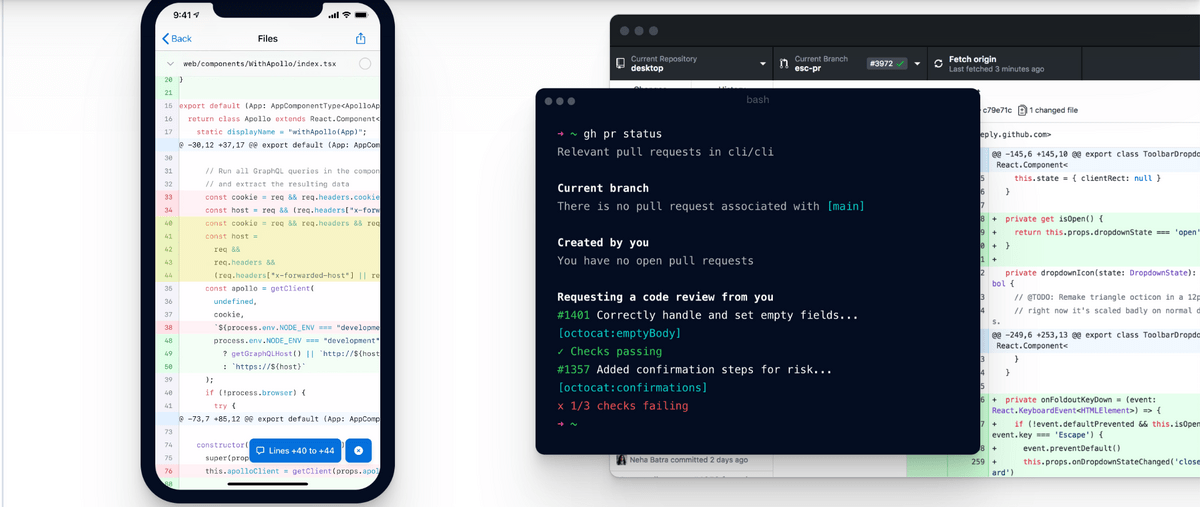 GitHub is one of the most popular remote collaboration platforms for software developers, thanks to its coding and development features.
Developers can share their code with team members, manage projects, and perform software development processes through GitHub.
You can use this platform to work on both open-source projects as well as private program development. Irrespective of their location, all team members can collaborate efficiently using the vast variety of tools available on the GitHub marketplace.
Cost:  Github's basic features are free to use, with advanced collaboration features available with premium options, which start from $4 per user per month.
Key features:
Ability to share code and other aspects of software development
Project management
Software development processes
Open-source and private program development
5 Benefits of Using Remote Team Communication Tools
Now that we've covered the best internal communication tools available today, let's take a look at their advantages. There are many benefits of using remote work communication tools, from boosting productivity to cutting expenses.
Great internal communication tools give everyone access to the information they need, so no team member is left out. Better communication builds stronger employee relationships and creates a unified work culture that produces better results. Team members who have strong internal communication are more focused and work toward a common set of goals.
Remote communication tools improve and streamline team communication for businesses, making teams more productive. Easy and centralized access to documents and updated information reduces double work or tasks falling through the cracks, boosting productivity.
Better Client Relationships
Virtual communication platforms are not only great for team members, but also for clients and other stakeholders. Clients can easily get timely updates and know how their project is progressing. They can also suggest real-time changes and give feedback, greatly improving your relationship with your clients.
Increased Access to Talent
Collaborating via online communication tools makes it possible to hire employees from all over the country, or even the world. This means organizations have greater access to great talent with specialized skills.
Remote communication tools allow employees to work from home, which helps companies cut down on expenses like rent, maintenance, and office equipment. For example, IBM saved $50 million in real estate by moving towards a remote work model.
Contrary to what you may believe, studies show that employees believe they are more productive when working remotely. 
When the COVID-19 pandemic forced many organizations to adopt a work-from-home model, many feared that productivity would suffer. However, in many cases, the opposite has proved to be the case.
This is thanks in no small part to the many exceptional team collaboration and communication tools that are available these days.
During times of uncertainty and change, it's hard to tell how remote work culture will evolve in the coming years. However, having tools like these at your disposal will help you to prepare for anything!
Final Thoughts
There is no one-size-fits-all solution when it comes to communication tools. Every individual and organization has their own distinct set of needs and requirements, so some business communication tools may be more suitable than others. It's important to evaluate your priorities and choose the best tool or tools for you.
Having said that, all of the tools listed above have strong track records and are sure to meet most, if not all of your needs. They are well equipped with all the features you need to boost productivity, improve efficiency, cut costs, and ensure a smoother workflow.
For more on how to use business tools to maximize your efficiency, check out this Sparkline Google Sheets tutorial and guide to creating a combo chart in Google Sheets.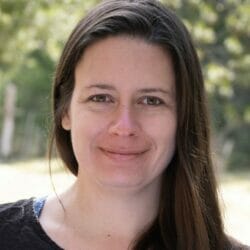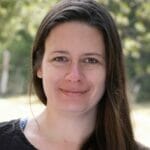 Lisa is a full-time writer specializing in career advice, further education, and personal development. She works from all over the world, and when not writing you'll find her hiking, practicing yoga, or enjoying a glass of Malbec.