Many people choose Firefox over the more popular Google Chrome browser for many reasons. One significant advantage of the open-source Mozilla browser is that it is better for user privacy as they browse the internet. Another reason people prefer Firefox over Chrome is that it uses much fewer resources on your computer, putting less stress on your system overall.
But even with Firefox's advantages, have you used it to its fullest potential? Like Chrome and Safari, Firefox also has browser add-ons or extensions that can help improve your overall user experience as you browse the web. Extensions can help you do all sorts of things, from blocking ads to taking screenshots of your screen.
If you want to know more about what these add-ons can do, read on to discover the best Firefox extensions of 2023.
What are Firefox Extensions?
Mozilla used to call their extensions add-ons. However, when the ever-popular Google Chrome started using extensions, the term became too commonplace, so Mozilla adopted it. Nevertheless, the terms add-on and extension are used interchangeably.
If you also use Google Chrome you may want to check out The Best Google Chrome Extensions.
Firefox extensions are plugins or apps that you can install on your browser. They can change your browser's functionality by adding new features or modifying how it works. These extensions are helpful in several ways, such as adding extra functions, fixing bugs, or improving your browser's privacy and security.
The best extensions for Firefox can help you with things, including but not limited to:
Blocking all types of advertisements
Helping you to manage your passwords
Helping you to fill forms automatically
Preventing scripts running on websites (helpful for preventing malware or adware)
Enhancing memory usage and browser performance
Modifying how websites appear in your browser
Related: Best Time Management Apps
Are Firefox Extensions Safe?
Most extensions you'll likely come across are generally safe and beneficial, especially those developed by trusted companies or developers. However, with any third-party app or modification, there will always be a chance to encounter bad actors that create extensions for malicious purposes. It's worth mentioning that any browser can suffer from risks like these, and it's not a problem exclusive to Firefox.
For example, malicious adware developers can create extensions that inject ads into search engine result pages and websites. These extensions can also inject browser miners, hijack your homepage, or attempted theft of your login credentials. The worst part is that sometimes, these extensions may install without your permission.

When an extension is submitted for consideration to Mozilla, it does get scanned for common problems (it might even go through some human reviews). However, that still does not guarantee 100% safety.
To avoid running into problems, use only Firefox-recommended extensions (which are vetted by Mozilla to be safe and beneficial) or:
Make sure you look at reviews and check how many users have installed an extension before installing it
Download extensions only from the official sources
Check what permissions you are giving the extension before installation and confirm they are within the scope of the add-on's functions
In the end, if you get your add-ons from official sources, you should be okay.
Best Firefox Extensions to Check Out in 2023
To make things easier for you, we made a list of the best Firefox add-ons in 2023 according to category:
Ad and Tracker Blocking Extensions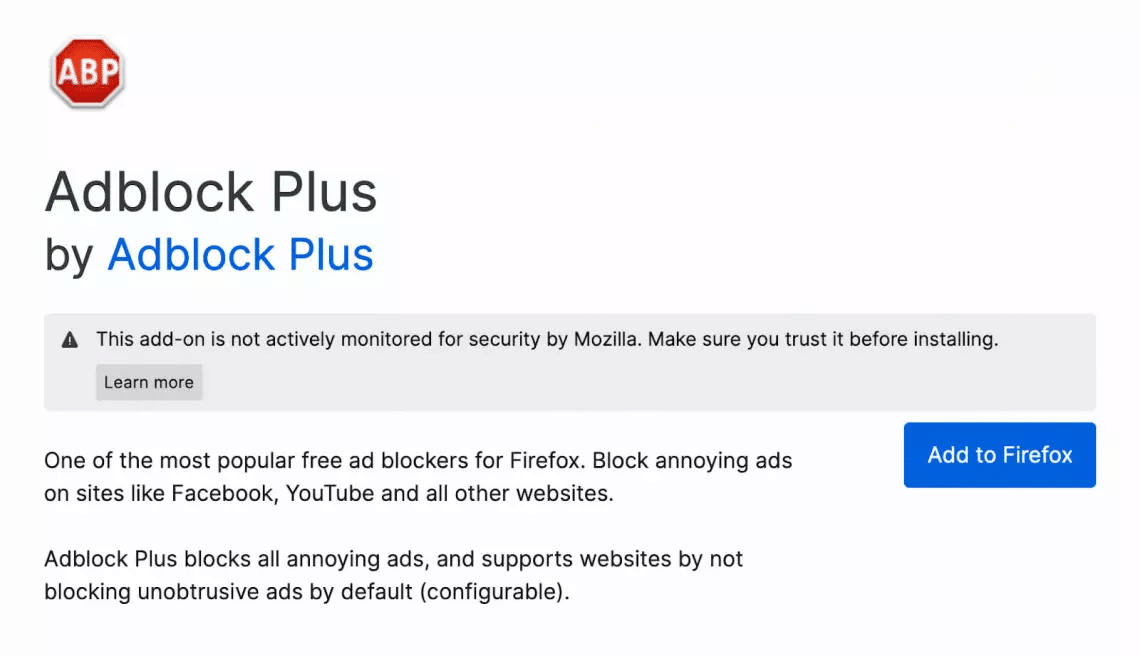 Overall Rating
Over 5,200,000 users
4.5/5 stars
Best Mozilla extension for blocking ads
Key Features
Blocks all ads but "allows" some customization for some ads
Prevents websites from tracking you
Blocks domains known for malware
Block buttons for social media
Price
Adblock Plus is one of the best Firefox plugins in the market today. It works well for blocking ads, so you never have to see or deal with them. It also saves bandwidth, clears up valuable screen real estate, and prevents your browser from loading malware or adware.  Additionally, you can control what you can see and what you block while preventing you from being tracked.

Overall Rating
Over 5,500,000 users
4.8/5 stars
Firefox recommended extension
Key Features
Blocks unwanted adverts
Light on the system's memory usage and doesn't slow your browser down
Has filtering options
Price
FREE (though you can choose to donate to the developer if you'd like)
uBlock Origin, a Firefox-recommended add-on, is a plugin that is vetted and proven to be good quality by Firefox. It is a free, open-source add-on that you can use on Firefox, Google Chrome, Edge, Opera, and more.
Like its sibling on Google Chrome, uBlock Origin on Firefox works by blocking ads and trackers. More than that, uBlock Origin also acts as a content filter so you can control what you see on the internet. As one of the best Firefox add-ons, uBlock Origin has been praised for being light on your system's memory usage.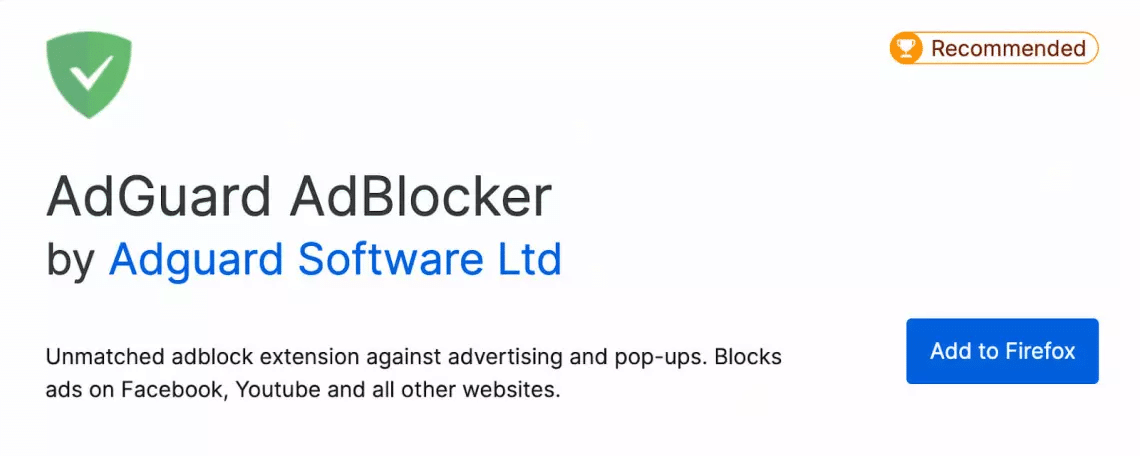 Overall Rating
Over 770,000 users
4.7/5 stars
Firefox recommended
Key Features
Blocks advertisements
Blocks buttons for social media
Prevents tracking
Blocks domains associated with malware
Price
If you want to eliminate ads and unwanted distractions while browsing the internet, watching videos, and so on, AdGuard is a straight-up ad blocker that blocks banners, pop-ups, rich media, video, and text ads. Adguard is free to use (though you will have to register for an account) and also comes Firefox-recommended.
Screenshots Extension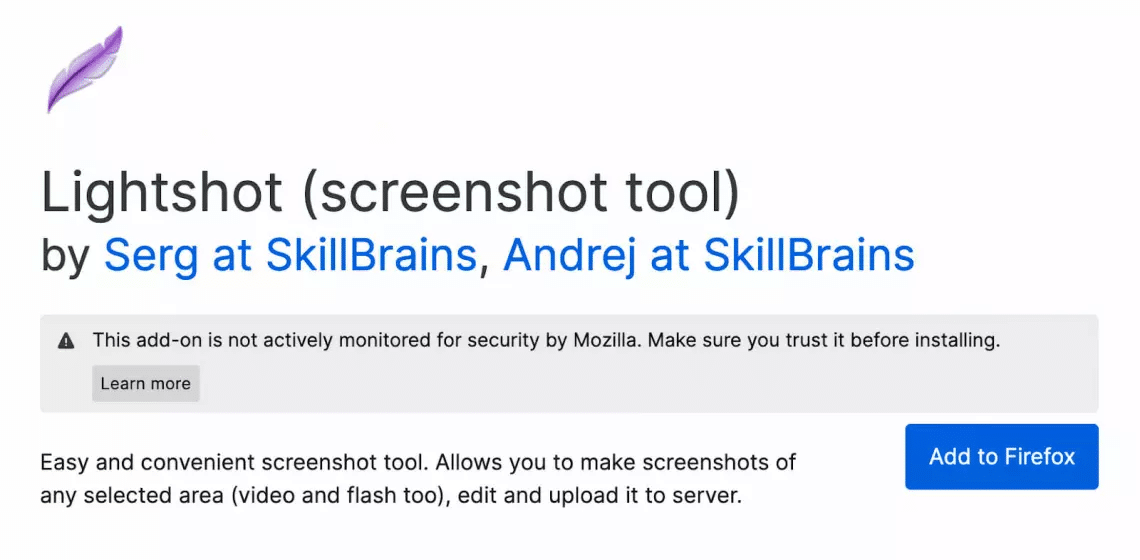 Overall Rating
Over 37,000 users
4.1/5 stars
Available on the desktop for Windows and Mac
Key Features
Take better screenshots
Edit, save, print, or share screenshots
Search the internet for content similar to the screenshot
Price
Although every computer has a built-in method for taking screenshots, taking the perfect screenshot with help can take time and effort. This extension can highlight, edit, save, print, and share screenshots from your browser tabs.
Reading Extension

Overall Rating
Over 14,000 users
4.4/5 stars
Firefox recommended
Best Extension for web clipping
Key Features
Save clips of text from the internet for later use
Manage clippings
Import or export clippings
Assign shortcuts
Placeholders
Sync clippings
Price
Although Clippings doesn't have as many users as the other add-ons on this list, it remains one of the best add-ons for Firefox. Clippings make it much easier to copy and paste, send canned responses, and keep your clipped data safe (instead of losing it when you accidentally copy something else).
Related: Best Mac Apps
YouTube Experience Extension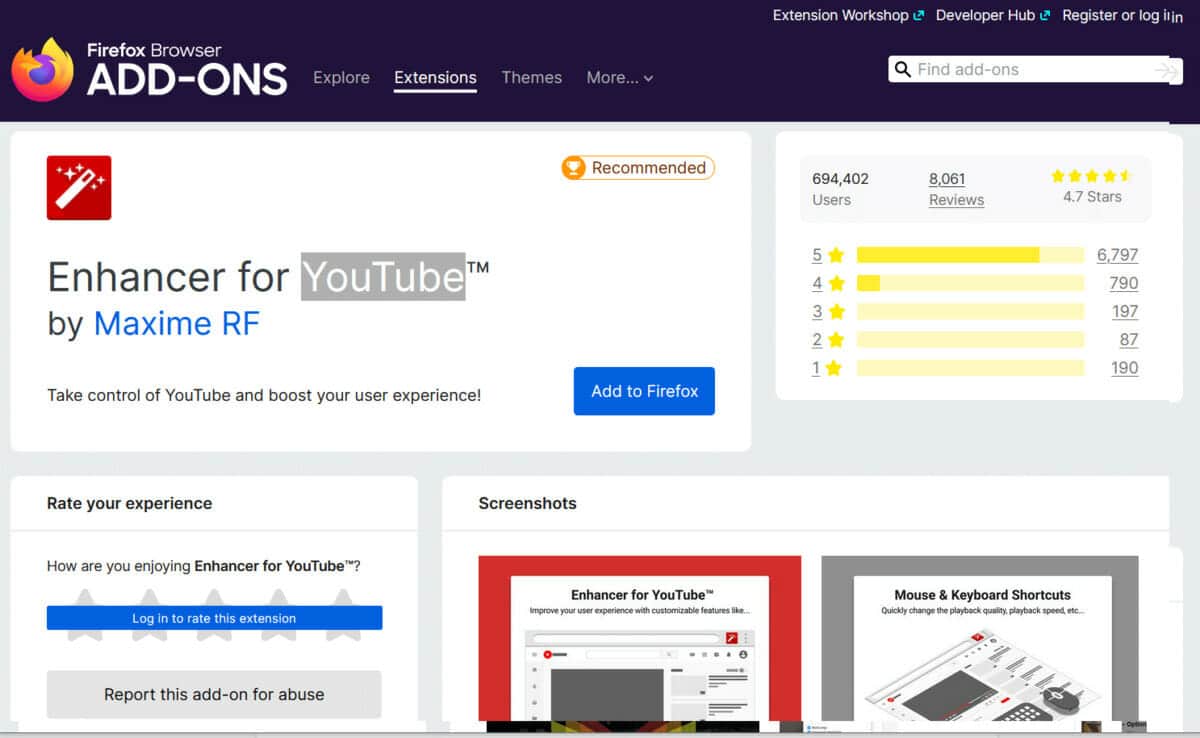 Overall Rating
Best YouTube extension for Firefox
4.7/5 stars
Recommended by Firefox
Key Features
Custom keyboard and mouse shortcuts
Over 30 different functions
Video quality control
Playback speed control
Manage ads
Price
Enhancer for YouTube is a Firefox-recommended plugin that makes the overall user experience on YouTube better. The extension has many features that allow you to manage ads, have better playback speed and playback quality control, and enable you to manage YouTube according to your personal preferences.
Eye Protection Extension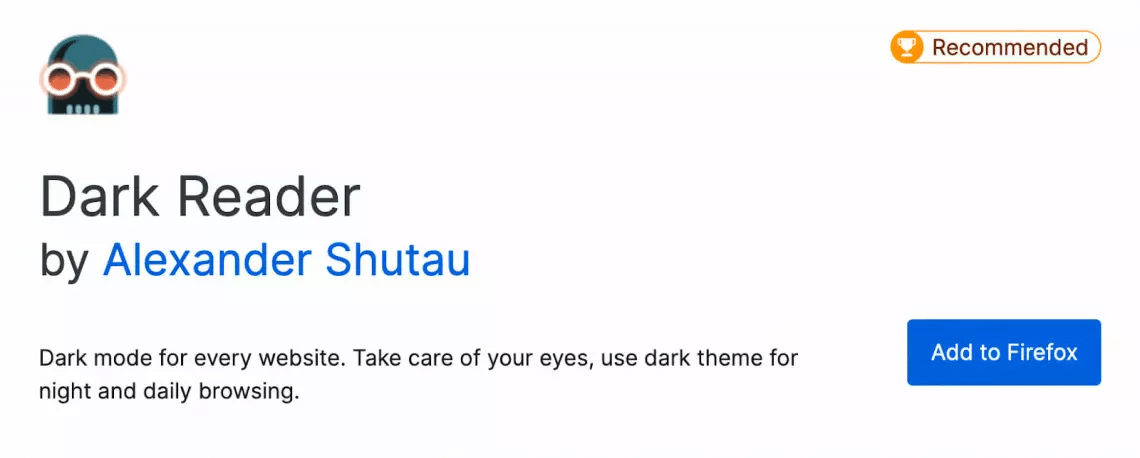 Overall Rating
Almost 800,000 users
4.6/5 stars
Dark mode on every website
Firefox recommended
Key Features
Dark mode on the go
Filters
Site list
Custom website settings
Generate themes
Price
Dark Reader is a Firefox-recommended open-source extension that works by creating dark themes for any website. There are customization options and a site list (for setting where Dark Reader applies and doesn't.) This is the perfect add-on if you like viewing things in dark mode.
Spell Checking Extension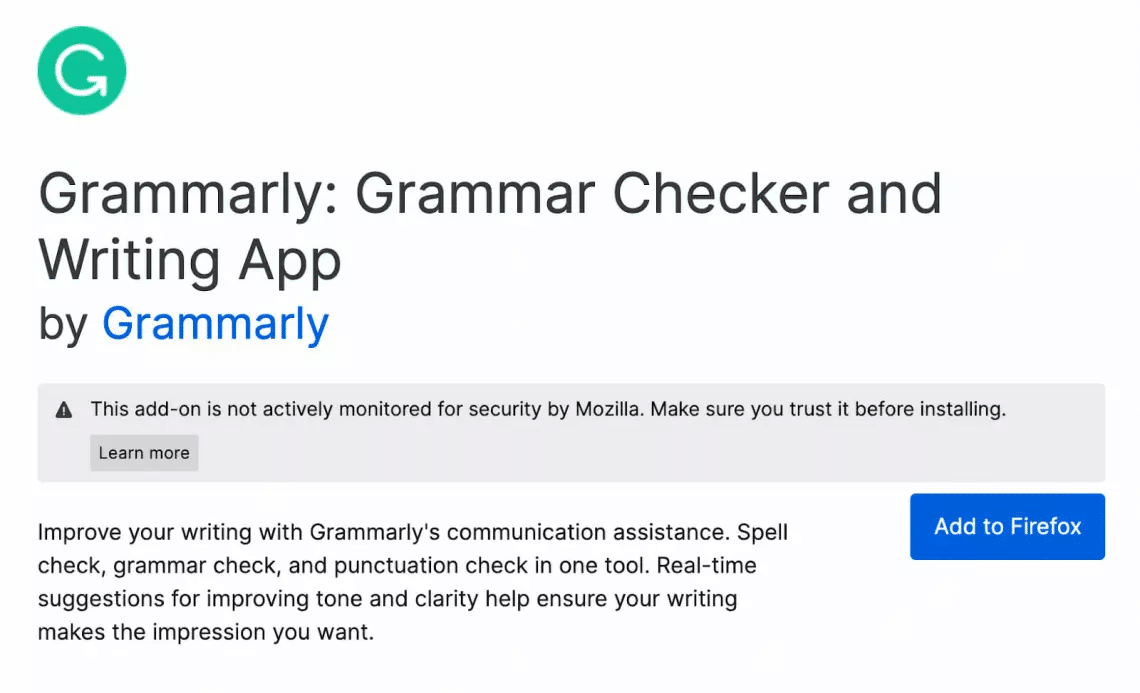 Overall Rating
Over 930,000 users
4.1/5 stars
Best spelling and grammar checker
Key Features
Spelling, punctuation, and grammar checker
Plagiarism detector
The premium version has additional features to improve writing style and clarity
Price
Free version (limited features)
Monthly plan $30/month, Quarterly plan $20/month, Annual plan $12/month
Grammarly is available on many web browsers, including Firefox and Chrome. It is a well-trusted extension that helps improve your writing, spelling, grammar, and punctuation. The free version is available forever. However, if you want more features, you'll need to pay for the premium service, where you can also have one account on multiple devices. Grammarly also has desktop apps available.
Mouse Gestures Extension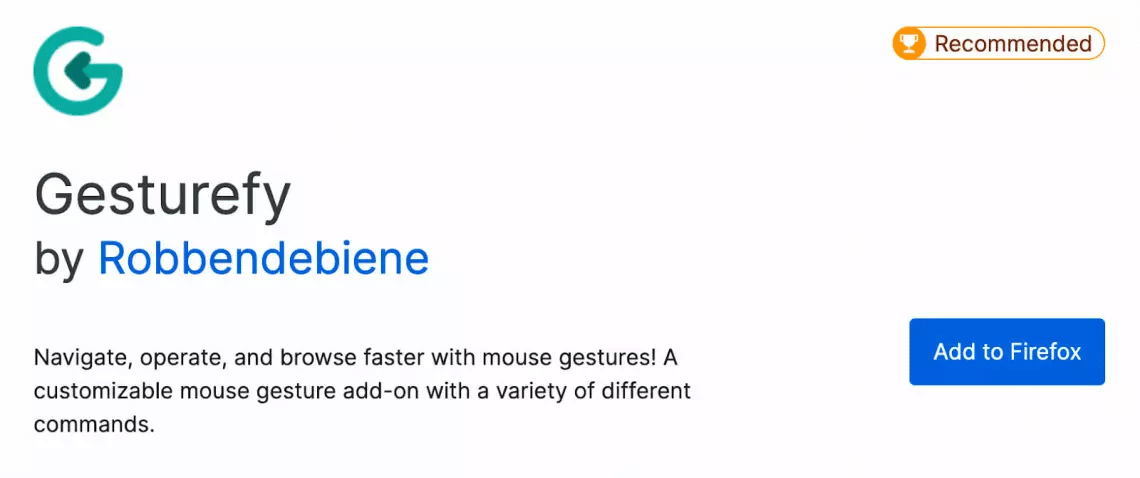 Overall Rating
Almost 100,000 users
4.4/5 stars
Free Firefox extension for more mouse control
Firefox recommended
Key Features
Mouse, rocker, and mouse wheel gestures
60+ actions
Gestures are customizable
Can blacklist some sites
Price
If you've ever wanted to control your browser with simple mouse gestures, Gesturefy can help. This must-have Firefox add-on is Firefox recommended and allows you to customize mouse gestures. You can also use the default gestures for actions like forward, back, refresh, and more.
Before using Gesturefy, you must set the triggers in your settings. Once you have completed this step, you can use the gestures with the trigger action on the extension. Unfortunately, Gesturefy has some limitations, such as not working when you are on SVG pages or when you open a new tab on Firefox. For Gesturefy to work, at minimum, there must be a partially loaded web page, making it inconvenient for some users.
Website Appearance Extension

Overall Rating
Over 3,300 users
4.7/5 stars
Firefox recommended
Best for website customization
Key Features
Can easily change a website's appearance (font sizes, color schemes, and content layout)
Auto-save function
Magic editor (for readability – remove unwanted clutter from a website)
Code editor (for people who know CSS)
Price
FREE (with the option to donate support to the developer)
Although Stylebot isn't necessarily popular, it's still worth a look. This Firefox-recommended plugin allows you to change the website's appearance, so you don't have to put up with obnoxious designers if you don't want to. The best part is that you can do everything in your browser without knowing how to code.
Using Firefox Extensions
How to Install a Firefox Extension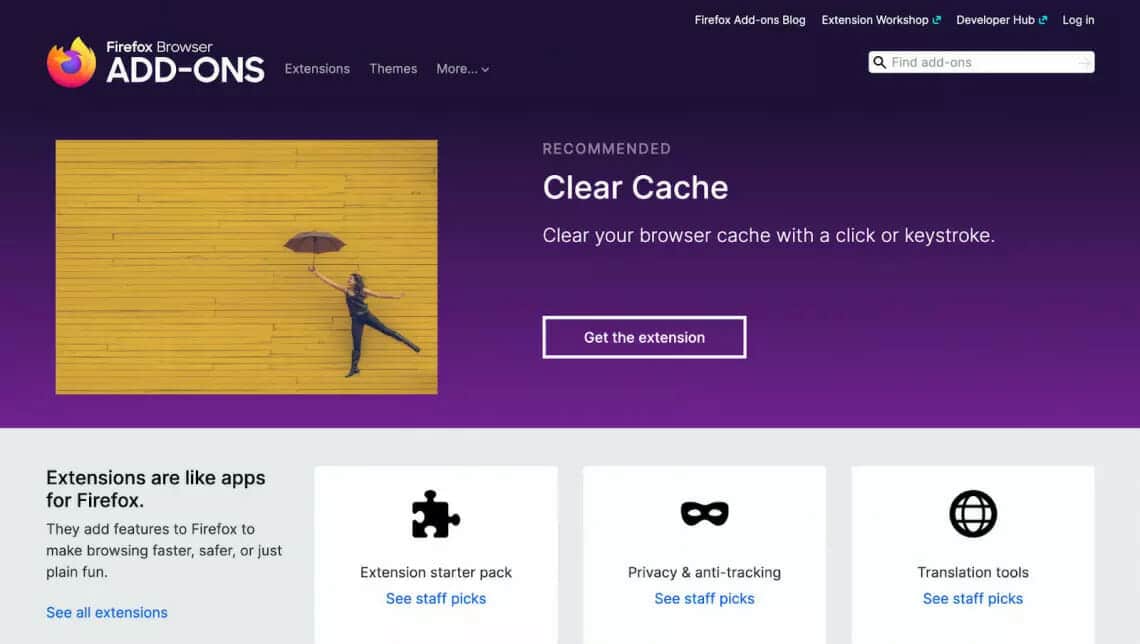 Search for an extension you want to install and use.
Once you have found the add-on you want to install, click on the link to open its extensions page.
Click on "Add to Firefox" to install.


Check the permissions for the extension before you click "Add."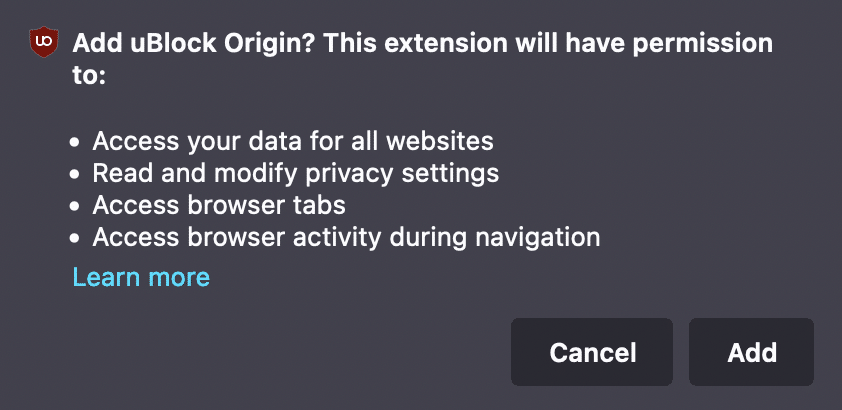 How to Manage or Remove a Firefox Extension
To manage or remove your Firefox extensions, navigate to the "Extensions Library" by using one of the below methods:
On the top menu bar, click on "Tools" > "Add-ons and Themes" > "Extensions."
Use the keyboard shortcut:

Windows: "control + shift + A"
Mac: "command + shift + A"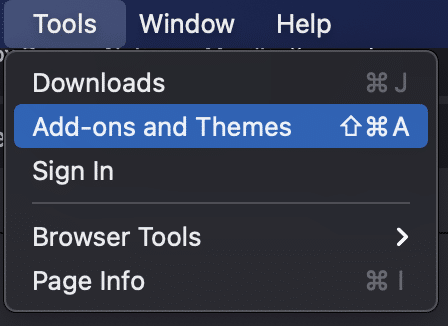 Once you have found the "Manage Your Extensions" page, your extensions library will be opened, displaying the complete list of install extensions, as pictured below.
You can enable or disable your extensions and manage what you have installed from this web page.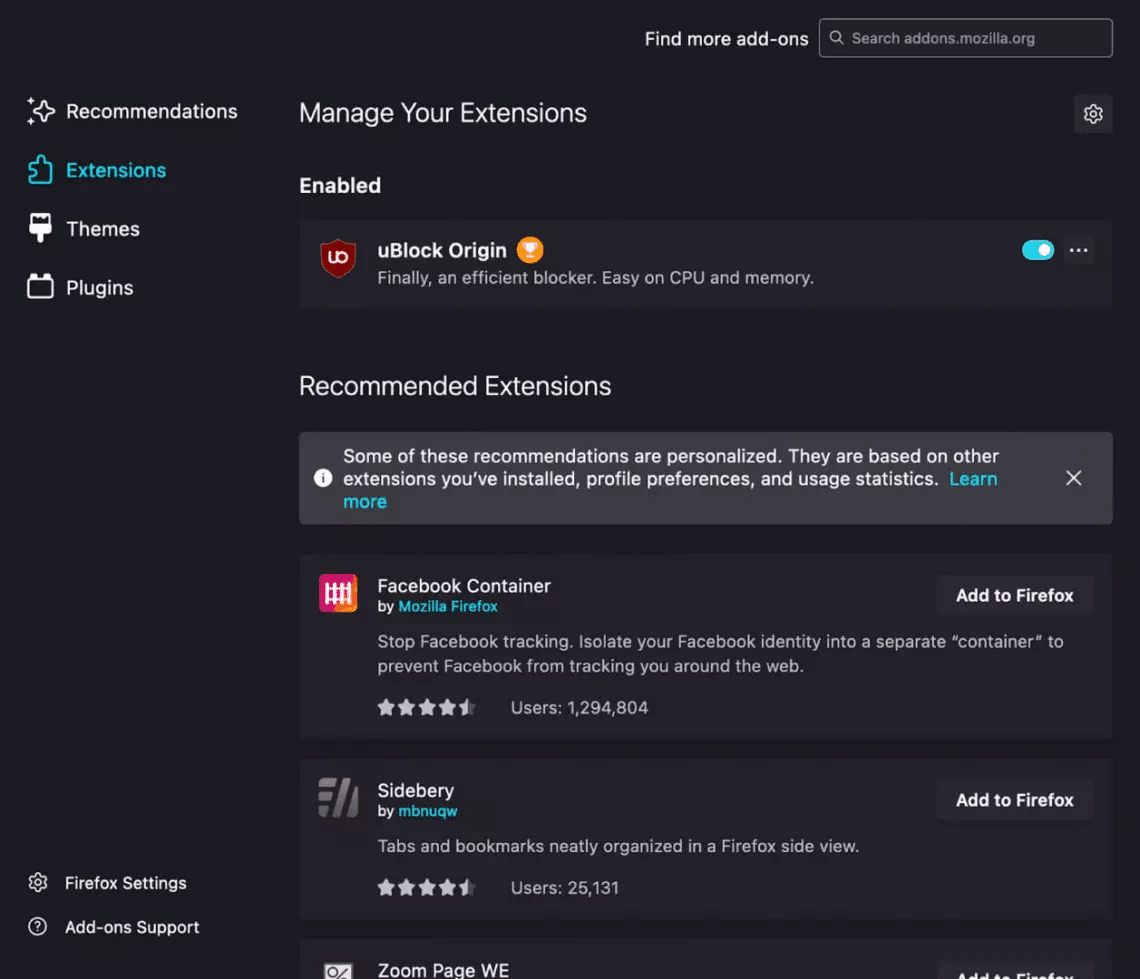 Frequently Asked Questions
Can I Trust Firefox Extensions?
There will always be an element of risk for malicious add-ons. However, if you are getting your extensions from trustworthy sources, installing the extension is safe.
Additionally, before installation, ensure you check the permissions you are granting for the add-on to ensure they are consistent with its purpose!
What Can Firefox Extensions Do?
Extensions can do many things — block ads, manage your passwords, beef up your privacy, help you take better notes, take screenshots or screen recordings, and much more.
Can Firefox Extensions Steal Passwords?
Malicious extensions can steal passwords, so ensure you get your add-ons from safe sources! You should only download extensions for Firefox from official sources, such as addons.mozilla.org or the extension's official website (if there is one).
How Do I Manage Firefox Extensions?
On Firefox, navigate to your menu bar and click "Tools > Add-ons and Themes > Extensions."
Alternatively, you can go to your extensions library to manage your add-ons by pressing:
Windows: "control + shift + A"
Mac: "command + shift + A"
How Do You Update Firefox Extensions?
Open your extensions library by following the steps above and navigate to your extensions panel.

Click on "Settings" or the gear icon from the extensions panel to bring up the drop-down menu. You can check for updates, view recent updates, or set your add-ons to update automatically from this menu.
Where Are Mozilla Firefox Extensions Stored?
For Windows users, extensions are stored – C:/Users/<yourusername>/AppData/Roaming/Mozilla/Firefox/Profiles/xxxxxxxx.default
For Mac users, extensions are stored – ~/Library/Application Support/Firefox/Profiles/<yourprofilename>/plugins(or extensions)
Conclusion
The best Firefox extensions can help you improve your browsing experience by leaps and bounds. As long as you're installing add-ons from trusted sources, you should be fine and at no risk at all. We hope that this list of the best has helped you find some great add-ons to try!
And if you are looking for ways to increase your productivity, we picked top productivity courses for you on Coursera that will inspire you to reach your maximum potential at work.
Related: