Most of us already have an adblocker installed on our desktop browser, but that can make the ads that pop up on your phone even more annoying. All because you aren't used to having them there. Luckily, we've found the best Adblock for Android devices by comparing the top options on the Play Store, F-Droid, and direct apps. Read on to find the perfect Android ad blocker for your needs.
What Is an Ad Blocker?
An ad blocker is an application, often a browser extension, that eliminates advertising content from websites, including intrusive pop-up advertisements.
The ad-blocking program examines the names of the domains of the elements loaded on the website page against an extensive, constantly updated blacklist as the website loads. The ad blocker prevents any website component identified as containing advertisements from loading. Even media players within your browser can have ads blocked by an efficient ad blocker.
How Do Ad Blockers Work?
After the page's contents have been shown, an ad blocker scans it for elements that match specified criteria, such as images with standard banner dimensions, and removes them from view. Some adblockers can entirely remove the ads from a website, so it seems like the ads weren't there in the first place. Some adblockers manage only to remove the ads but not re-adjust the page layout, which means that there simply may be a white or black space in place of the ads.
Related: How to Block Websites on Chrome (4 Simple Methods)
Pros and Cons of Ad Blockers
Here are some pros and cons of using an android ad blocker.
Pros
Your browsing experiences are smoother when ads are blocked. The websites you visit are typically crowded with ads, occasionally to the extent that you cannot read the actual content. Additionally, they use up your bandwidth, slowing down browsing.
An ad blocker blocks all the malicious advertisements that might infect your device with malware when you click on them.
An ad blocker can save your device's battery life, as unwanted advertisements can drain the battery.
Annoying ads may invade your privacy. Using trackers, advertisers can target your advertisements after observing your browsing patterns. Ad blocking shields you from the irritating experience of seeing advertisements for previously searched products and stops other device users from ever seeing your personalized advertisements.
Cons
Acceptable ads might be useful and relevant. Some marketers employ moral marketing strategies. Additionally, approved advertising has little to no effect on how you browse.
For many sites and other online services, advertising is the only source of income. One way to "pay" for content you appreciate is through them. For independent multimedia organizations, advertisements are frequently a significant source of funding. It could be financially harmful to publishers to disable them.
Ad blocking does not completely protect from bad ads because many advertisers and web developers find innovative ways to get around it.
Related: The Best Google Chrome Alternative: Comparing the Top 9
The Best Adblock for Android in 2023
Here is a list of some of Android's best ad blocker apps.
TrustGo Ad Detector (Best App Ad Blocker)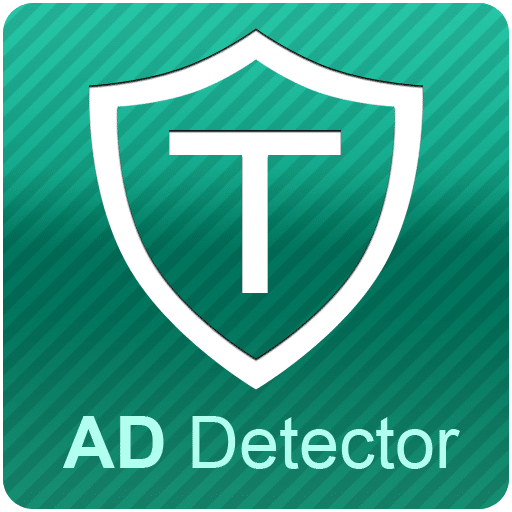 TrustGo Ad Detector removes advertisements slightly differently than a standard ad blocker because it analyzes the device to determine the source of advertisements and trackers. Then you can ignore or delete the apps that display the most obnoxious pop-ups and advertisements on the screen. This makes it the best Adblock for Android as it doesn't just block ads on your browser but across your whole device!
Pros
It helps you detect annoying applications and regain your device's control.
It is easy to use.
It identifies any risky applications that might steal your personal data.
Cons
Best used once you pair it with other ad-blocking solutions.
AdAway (Best Free Root Only Option)
AdAway is among the best free ad blockers for Android. It directs all advertising requests to 12.0.0.1 using a host file that has been altered. No response is received, which means that no advertisements are displayed. You can get a simple host file from the application itself or add your own, as the software allows modified or customized host files.
Host files are kept on the Android system in a read-only directory. Therefore, the root is necessary for this one. The entire program is free to use. The main drawbacks are that users require root access. The app isn't available on Play Store due to Google's Terms and Conditions. However, you can download the app through F-Droid or an APK file. Alternatively, if they wish to, root users can modify the host files manually without using an application.
Pros
It blocks advertisements across all devices.
It provides a high degree of personalization, with blacklisting and whitelisting options.
Free to use.
Cons
It is intended for tech-savvy individuals, so it may be challenging to use for certain individuals.
It is not accessible through the Play store, meaning that Google's security measures are missing.
AdGuard (Best Monthly Subscription Service)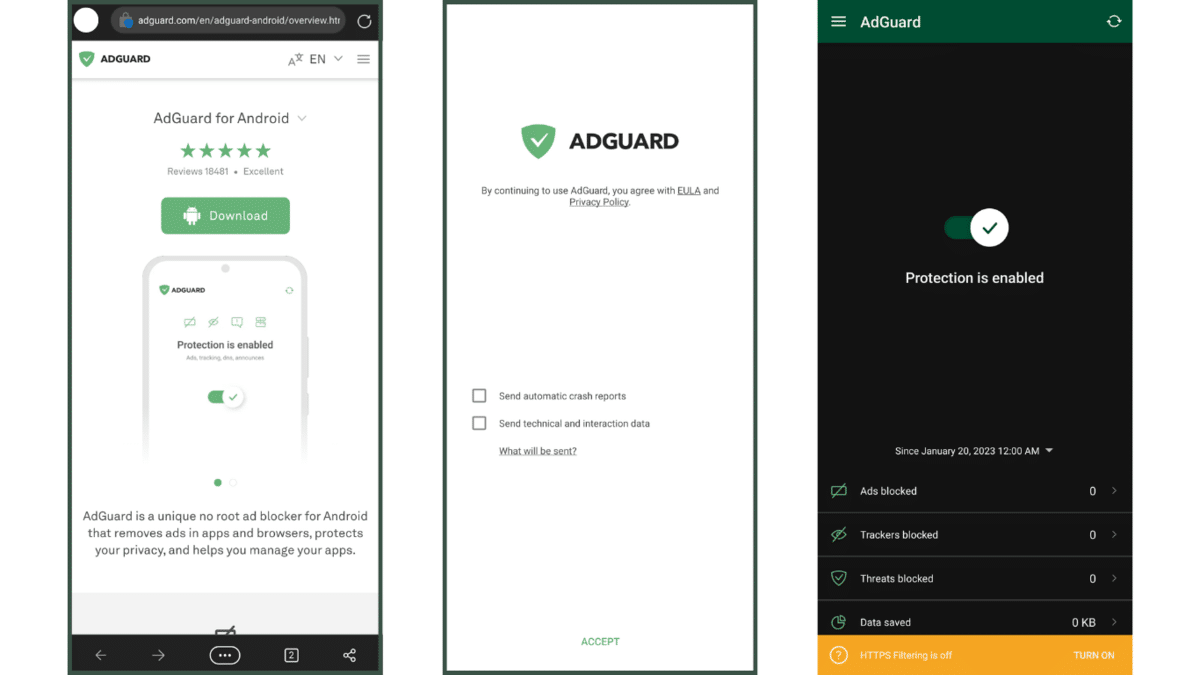 AdGuard is a little bit unpredictable. Similar to Adblock Plus, the program fully disables advertisements. Web traffic is filtered by AdGuard, which operates in the background like a service. It does function without root, but further setup will be needed. Similar to applications like GlassWire, it also monitors all of the web activity.
Additionally, you receive a beautiful Material Design UI that ties everything together. The free version just disables ad blocking for web browsers. You can purchase AdGuard's premium edition for $24.99 monthly, which means you'll also get the Windows PC or Mac edition and the Android version.
Pros
It blocks ads, banners, pop-ups, and video ads.
It hides frames and empties the spaces left after the advertisements are blocked.
It does not require any root access to the device.
Cons
It is unavailable in the Play Store, meaning Google isn't checking its security measures.
It uses a VPN to block ads, hence cannot be used alongside a VPN application.
Blokada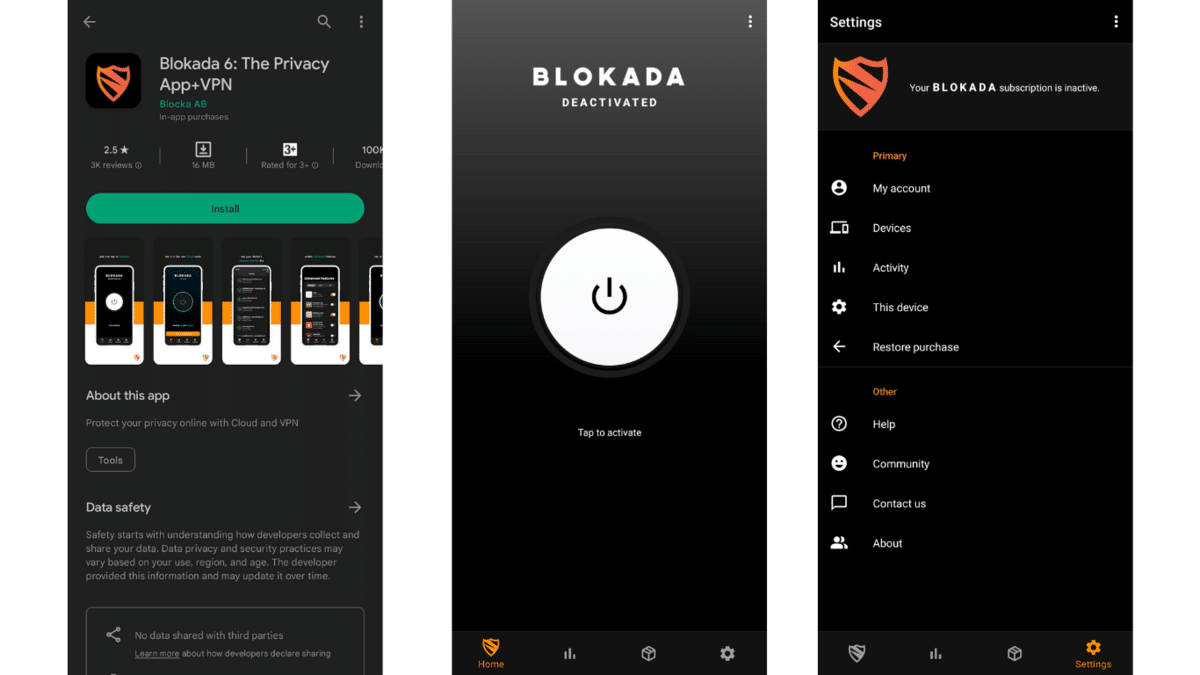 Blokada is a different form of an android ad blocker. With a little counter, the free edition hides trackers and advertisements so you can see it in action. As the application is open-source, we know that the developers are not stealing user data. There is a paid version as well, which is essentially a VPN. The VPN provides an additional layer of privacy, does not log activity, and has no bandwidth limits.
Blokada 5 is a free version, so we recommend installing it instead of the newer Blokada 6. The version of Blokada 6 accessible through the Play Store requires a membership. Use the option that truly works for you, but keep in mind that the premium version is available in the Play Store, meaning it has Google's security features, and the free one needs to be sideloaded but is free to use.
Pros
It has a pre-installed VPN.
Doesn't require root access.
It's free and open source.
Cons
Blokada uses an internal VPN, meaning it won't work if you're using another VPN.
Adblock Plus (Most Trusted)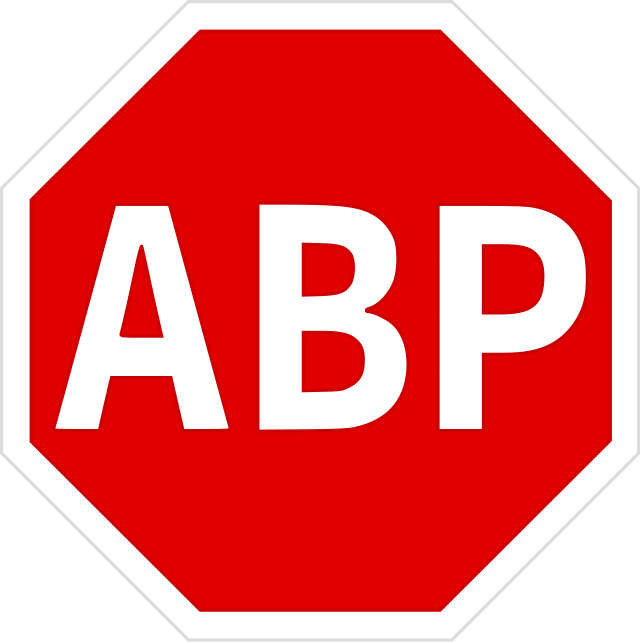 Possibly the most well-known ad blocker for android phones is Adblock Plus. You can use it on rooted and non-rooted smartphones. However, non-root users will need to put in more effort. Like its internet browser extension, the program filters website traffic in the background. You launch it once and set it up, which starts automatically afterward.
Although not particularly elegant, it effectively blocks banners, pop-unders, pop-ups, video advertising, text ads, floating ads, and other kinds of advertisement.
Pros
It works on Android browsers like Opera, Chrome, Firefox, and more.
It speeds up browsing by blocking advertisements and trackers before they even load.
It is reliable and more well-known than other ad blockers for Android.
Cons
It can not block advertisements in other applications.
Alternate Options
Browsers With Ad-Block
Many browsers have ad-block. These browsers block the majority of ads, or at least those that are the most objectionable. Although Google Chrome includes an ad-blocking feature, it nevertheless displays the least objectionable advertisements while keeping a few behind so the websites can continue to generate money. Likewise does Firefox. Additionally, browsers such as Firefox provide plugins with choices, including uBlock, for additional blocking.
Brave Browser, Samsung Browser, Kiwi Browser, and a few other browsers with ad blocker add-ons like Dolphin Browser are some additional examples of browsers featuring ad blocking.
Change the DNS to Block Ads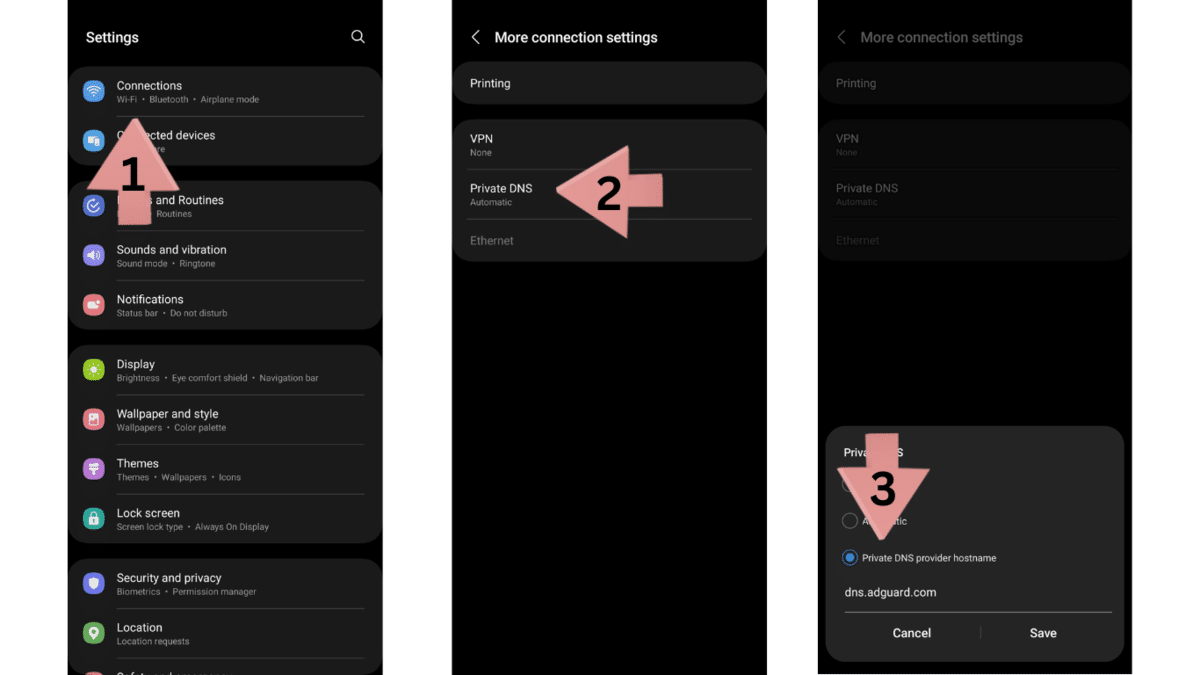 AYou can block advertisements before they even reach your phone by altering your DNS. Free DNS providers will block advertisements without downloading an application, making your job here rather simple.
To do this:
Open Settings on your Android.
Now, click on the Connections setting.
Here, click on More connection settings.
Click on Private DNS and change it from Automatic to Private DNS provider hostname.
Enter the hostname in the text box and click on Save.
For the domain, most people use "dns.adguard.com". Although there are others, AdGuard's DNS is among the best available. Every modern Android phone should include the setting, although the procedure may vary based on your device's OEM.
DNS66
To block advertising from content aimed at you, DNS66 creates a VPN connection. Everything on the blacklist is blocked from reaching your phone via the application. That implies that some advertisements might run, but only because they have not been blacklisted. The software also allows users to use their own DNS servers. You must sideload to install this one from F-Droid.
Pros
Uses a VPN connection to filter trackers
Easy to use and set up.
Cons
Not on the Play Store, making it hard for some users to download it.
Related: Top 10 Best Firefox Extensions For Productivity & More [2023]
Frequently Asked Questions
Are Android Ad Blockers Safe to Use?
Although Android ad blockers are usually secure for use, you should generally pick a popular ad-blocking application. You should also keep in mind that using an ad blocker is not a substitute for an anti-malware app and does not offer malware and virus protection.
Are Ads Tracking Me?
Your data is gathered by advertisers so they can identify you when the other businesses pay them for this service. Retargeting services are provided by Facebook and other advertisers, and they follow the progress of items you nearly purchased but abandoned in your shopping cart.
Wrapping Up
We hope our list helped you find the best Adblock for Android devices for your specific needs. Perhaps try a few of the free options before committing to a paid ad blocker. Let us know in the comments which one you went with and how effective you found it to be.
Related: