Many people are willing to do whatever they can to further their careers, especially if they aspire to climb the ladder. Some may choose to go for higher education, such as earning a master's or doctoral degree. Others may decide to sign up for seminars and workshops that can help them improve their knowledge or skill.
If you want to increase your chances of getting hired or getting a higher salary, you can look into Six Sigma Certification.
What is Six Sigma?
Companies and businesses use Six Sigma to improve their production processes, guarantee quality, and reduce or eliminate defects in manufacturing. In 1986, Bill Smith, an American engineer working for Motorola at the time, introduced Six Sigma as a set of tools and techniques meant for business process and quality improvement.
Six Sigma is a statistical and data-driven process that seeks to increase manufacturing quality by finding and removing the causes of defects. It also seeks to minimize variability in business processes.
Businesses hire employees who have Six Sigma Certification to oversee various parts of the manufacturing process. What role they play and what responsibilities they handle will depend on their belt or Sigma Six certification level. Higher certification levels often mean more duties and higher salaries.
But what is Six Sigma Certification? And what does it mean for you as an employee?
Having your Six Sigma Certification helps validate your skill in identifying risks, defects, and errors in a business process in order to eliminate them. Certification enhances your credibility and can help you become a specialist in process improvement. However, to get certified, you must prove your proficiency and experience.
Why Should You Get Six Sigma Certified?
Six Sigma training comes with hands-on experience in the industry. The experience and knowledge you gain may make you a better candidate for management roles, helping you climb the career ladder. There are many other benefits, of course — let's take a look at some below.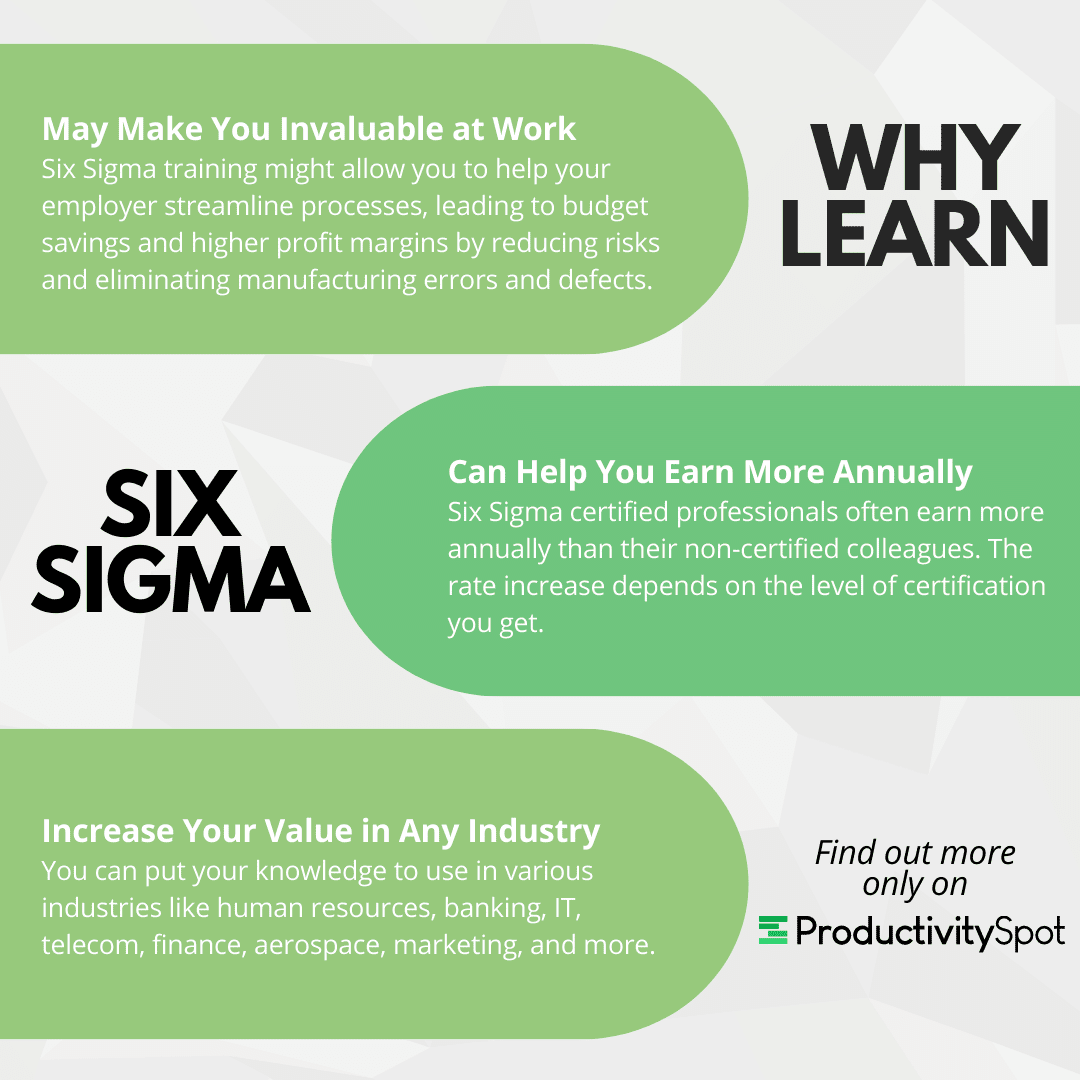 1) Invaluable to Your Employer
When you're capable of helping your employers reduce risks and eliminate manufacturing errors and defects, chances are you might just become more valuable to the organization. Six Sigma training may allow you to help your employer streamline processes, leading to budget savings and higher profit margins.
Your Six Sigma knowledge can help you ensure the compliance of partners, vendors, procurers, and oversight organizations. It also enables you to maintain profitable contracts that comply with international standards.
2) Earn More Annually
Six Sigma certified professionals often earn more annually than their non-certified colleagues. The rate increase depends on the level of certification you get.
3) Increases Your Value in Any Industry
Being Six Sigma certified can continue to help you through your career, even if you decide to shift industries one day. You'll be knowledgeable in many methods to help your employer streamline processes, reduce costs, and increase revenue.
You can put your knowledge to use in various industries like human resources, banking, IT, telecom, finance, aerospace, marketing, and more.
What Are Six Sigma Belts and What Do They Mean?
There are various Lean Six Sigma certification levels, which are called belts. They're similar to the belt ranking system in martial arts, where white is beginner level and black means expert. Let's take a look at the Six Sigma Belts Below.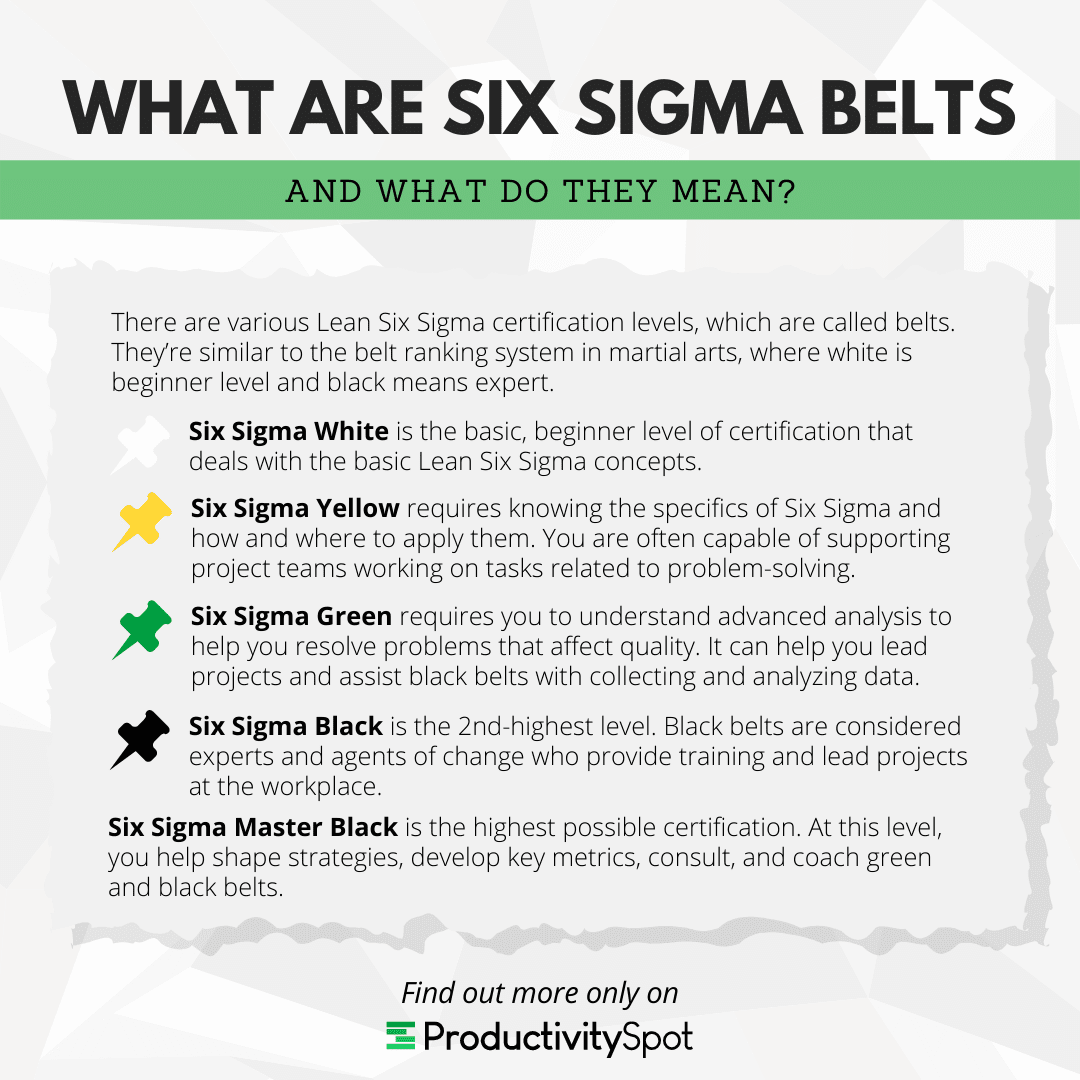 Six Sigma White is the basic, beginner level of certification that deals with the basic Lean Six Sigma concepts. As a white belt, you can support management and engage with problem-solving teams assisting in projects.
Six Sigma Yellow comes next, and it requires knowing the specifics of Six Sigma and how and where to apply them. As a yellow belt, you are often capable of supporting project teams working on tasks related to problem-solving.
Six Sigma Green requires you to understand advanced analysis, which can help you resolve problems that affect quality. A green belt can also help you lead projects and assist black belt certified colleagues with collecting and analyzing data.
Six Sigma Black Belt is the second-highest level. Black belts are considered experts and agents of change who provide training and lead projects at the workplace.
Six Sigma Master Black is the highest possible certification you can get. As a master black belt, you help shape strategies, develop key metrics, act as a consultant, and coach green and black belts.
Requirements and Costs of Certification
If you're wondering how to get six sigma certification, the answer is that you'll have to study, complete requirements, then pass an exam (paid). There are usually three main certifying bodies:
The ASQ or American Society for Quality, who often has the most rigid requirements
The IASSC or International Association for Six Sigma Certification
The CSSC or Council for Six Sigma Certification
The Council for Six Sigma Certification provides self-study training manuals covering every belt level. They also offer a free complete step-by-step guide that can help you through all the belts. This step-by-step guide is also available in paperback or hardback editions through Amazon.
It's worth mentioning that you can get a white belt for free from the CSSC, as the exams there cost $0. You will need to get a score of 56 out of 80, so you will need to do some self-study. Alternatively, you can get training from a qualified Six Sigma training provider. There are no other prerequisites to taking the white belt exam.
Yellow Belt
Yellow belt 6 Sigma certification requires you to be familiar with the knowledge necessary for a white belt. You can also take the white belt exam for free.
ASQ
$394 for non-members, $294 for members, retakes cost $184
IASSC
CSSC
Green Belt
ASQ
Requires three years of industry experience in one or more areas of green belt knowledge
$438 for non-members, $338 for members, retakes cost $238
IASSC
CSSC
Offers two levels of certification
$159 for basic certification
$300 for advanced certification (optional), obtainable after a final assignment, task, or evaluation
Black Belt
ASQ
Requires completion of two projects (with attached signed affirmation), OR one project with three years of industry experience (with attached signed affirmation)
$538 for non-members, $438 for members, $338 for retakes
CSSC
No prior requirements, but offers three levels of certification
$229 for basic
+$300 for level 2
+$300 for level 3
IASSC
No prior requirements
$395
Master Black
To qualify for a master black belt, you must already be black belt certified. The IASSC does not offer a master black certification.
ASQ (the highest Six Sigma certification cost)
Portfolio review costs $545 for members, $650 for non-members
Exam costs $2,124 for members, $2,229 for non-members
Retakes cost $2,074
CSSC
Best Six Sigma Certification and Preparation Options
When it comes to Six Sigma certification, you have many options. You can self-learn, do e-learning, or attend live study classes — it all depends on your preferred style of learning and your budget. To help you decide, we've curated a list of the best places to get your Six Sigma and Lean Six Sigma certification.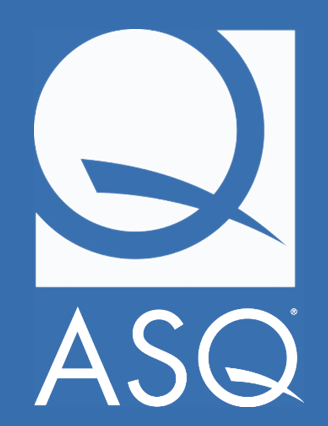 Many often consider the ASQ to be the best certification provider for a few reasons: they have a global reputation for their standards for quality, they focus on subject mastery, and rigorous course training and exam preparation.
First founded in 1946, the ASQ has members in more than 130 countries around the world. Aside from Six Sigma training and certification, they also offer training and certification for managers, inspectors/technicians, auditing, foundational quality, and engineering.
Training materials include handbooks, question banks, and study guides. It's worth noting that members of the ASQ get discounted rates for exam costs and course costs. The exam costs are separate, and there is also a fee to retake exams.
ASQ offers a Yellow Belt course costing $595 for e-learning and $799 for live virtual e-learning. They provide self-paced online certification for this level as well.
Green Belt costs $1,895 for e-learning and $5,159 for live virtual learning.
Black Belt costs $2,790 for e-learning and $6,439 for live virtual learning.
Unfortunately, the ASQ does not offer Lean Six Sigma certification.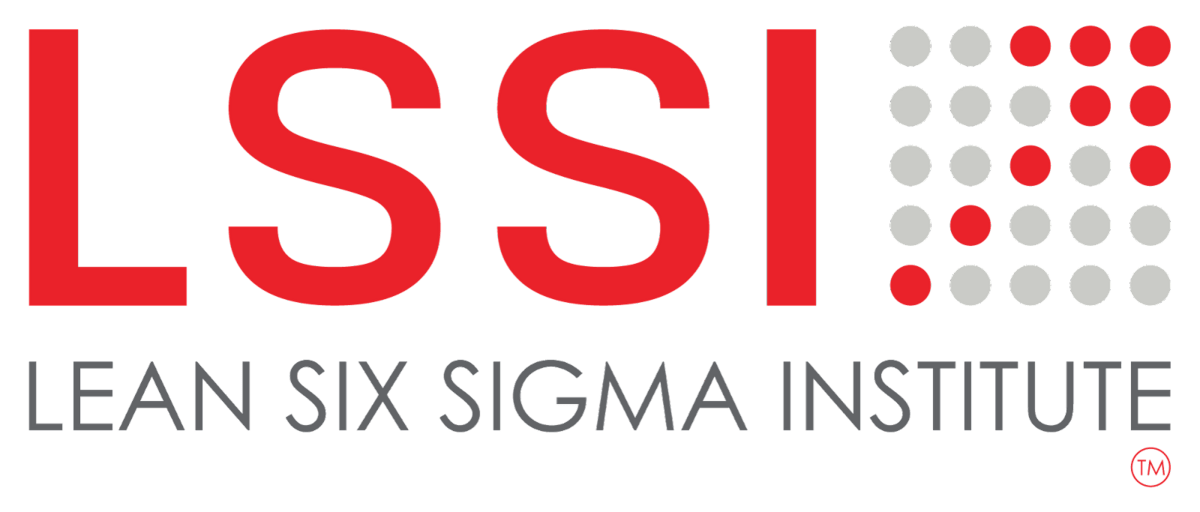 If you prefer self-paced learning, you can go with the Lean Six Sigma Institute. Here, you are given six months to complete your self-study. The self-paced courses often cost more than 50% cheaper than their instructor-led counterparts as an added benefit.
The Lean Six Sigma Institute has been around since 1998. Choosing to take your self-paced course at this institute gives you access to practitioners and the ability to hire a coach.
After paying for your course, you have two days to ask for a refund if you are not satisfied. The prices below include Minitab Workspace for three months, video demos, downloadable content, and two exam takes. If you fail the exam twice, you must purchase the course again.
Lean Yellow Belt $599 self-paced, $1,299 instructor-based
Green Belt $999 self-paced, $2,399 instructor-based
Black Belt $1,499 self-paced, $3,499 instructor-based
Master Black Belt $1,997 self-paced, $4,599 instructor-based
Champion $299 self-paced, $999 instructor-based

The International Six Sigma Institute was founded in 2011. Nowadays, it has clients in 143 countries worldwide.
If you're looking for an affordable option, the International Six Sigma Institute offers the best value out of all the options on this list. You get lifetime access to your courses and their future updates with the price you pay, along with a money-back guarantee.
Here's what comes with your payment: lifetime access to your course through the ISSI online education portal, access to future updates, exam cost, and live Q&As held on a monthly basis. Once you pass your certification, there are no recertification fees or requirements moving forward.
Yellow Belt $49
Green Belt $69
Black Belt $99
Master Black Belt $149
Champion $149
Deployment Leader $149
Trainer $199
Coach $199
The ISSI does not require projects, affidavits, or work experience.

Established in 1842, Villanova University is a well-known private institution that offers one of the best business schools in the United States. The Six Sigma and Lean Six Sigma certifications focus on skills highly applicable and relevant to managers, such as process mapping, decision analysis, potential problem analysis, and other problem-solving tools.
The prices below include the examination fee. There is a 15% discount for active-duty service members, reservists, guardsmen, veterans, and spouses/dependents. Groups of five or more also receive a discount.
Six Sigma Green $2,495
Lean Six Sigma Sensei $2,295
Lean Six Sigma Black $4,095
Lean Six Sigma Master Black $3,495
Your course materials include videos and online learning tools, live weekly online classes, and mock projects.
Frequently Asked Questions
How long does it take to get Six Sigma certified?
The average time it takes to learn a level of Six Sigma may vary because some people choose to self-study while others learn through a course at a school or institution.
Yellow belts often take 3-8 weeks, green belts can take 2-3 months, and black belts can take 6-8 months. It's very difficult to estimate how long the master black belt takes to achieve, given it often requires real-world experience.
However, the online courses are self-paced when you're self-studying, which means it's possible to get your belt faster if you can reasonably manage.
Which Six Sigma Certification is Best?
The best level of certification to go for depends entirely on your career goals and what you think your employer needs.
In terms of certifying bodies, you can choose between the ASQ, IASSC, and the CSSC. The ASQ has the most rigorous requirements and the most expensive rates, but getting certified by the ASQ often means you will have real-world experience you can take into your job.
Can I Learn Six Sigma On My Own?
If you don't want to pay for classes or courses, you can find many self-learning manuals online. Some are free. It's possible to go at your own pace as you learn Six Sigma online, then pay for the certification exams when it's time.
What is a Six Sigma Black Belt Salary?
According to ASQ.org, the average Six Sigma Black Belt's annual salary in the United States is around $90,000. This figure can be an excellent return on investment on the time and money you spent learning and taking exams to get your certification.
Is Six Sigma Certification For You?
There are certainly many benefits to getting your Six Sigma certification. Getting to the black belt level is a long and expensive road, but it can be extremely worth it, considering you will most likely get a return on your investment.
Six Sigma certified professionals often become indispensable to their employers and organizations. They generally tend to earn more while becoming more attractive to potential employers looking to improve their business's bottom line.
In the end, deciding whether to get certified depends on your goals. Fortunately, it's possible to learn and go at your own pace so you can take your time!
Related Productivity Articles: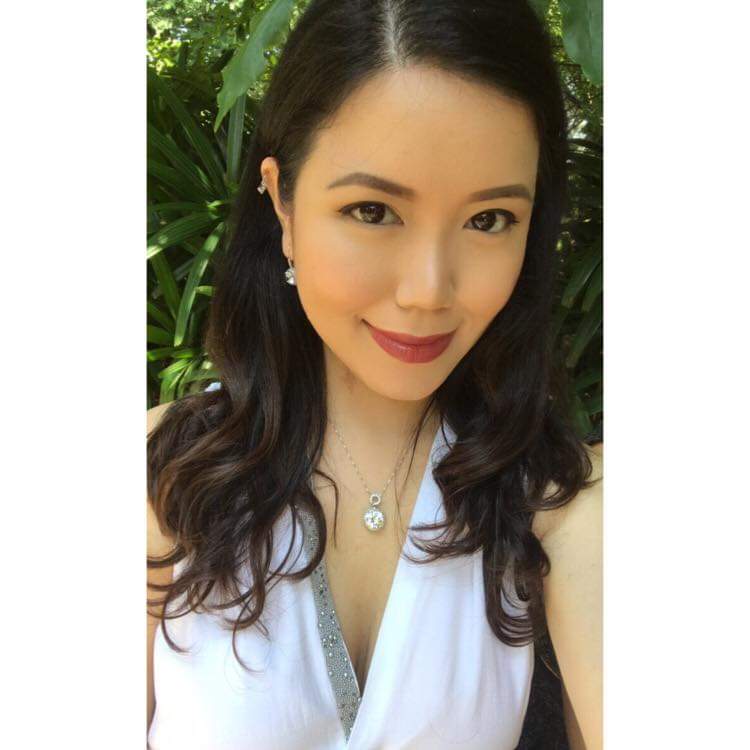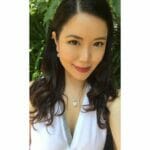 Chriselle has been a passionate writer for over 10 years, but she's a geek at heart. When she isn't busy writing, she spends her time streaming video games and learning new skills.