Gmail by Google is one of the most popular email messaging services, and since its inception in 2004, it has gained over 1.5 billion users worldwide. With more and more communication going digital, many people opt for Gmail as it's quick, free, and easy to use.
But are all those users getting the most out of their Gmail accounts? We would argue not. There is so much untapped potential in this email server.
Most working people spend a large chunk of their work time managing emails. Whether you're filtering through your messages, writing an email, or organizing your emails into folders, you could streamline these processes and spend this time doing other essential tasks.
We have compiled a few email tricks which can help your email life much easier. We have everything from Gmail organization tips to sorting out account settings. Read on to find out how you can maximize the benefits of your Gmail account.
25 Best Gmail Tips and Tricks For 2022
Take a scan through our 25 useful tips. You'll be sure to find at least one that will improve your email life dramatically.
1. Using Multiple Accounts
Suppose you have multiple Google accounts for various purposes. In that case, Gmail has a feature that allows you to add multiple Gmail accounts and switch them with ease without having to do the arduous process of signing in every time.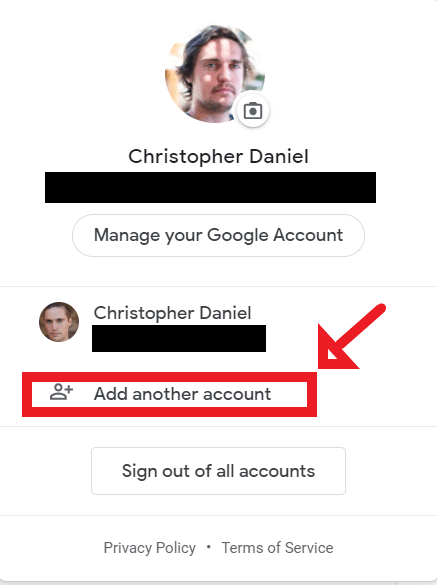 Sign in with your main account first and then click on your avatar, and you should see an option called Add another account. Simply use this to add your accounts, and you can select your accounts freely by clicking your avatar in the top right corner again.
2. Recalling a Message Using Undo
Sometimes, you may instantly regret sending a message. Maybe you want to reword the message, or perhaps you sent it to the wrong person. Regardless of the reason, Gmail provides its users with the option to recall a message with just one click of a button.
Gmail gives its users a short period to recall a sent email. To use this feature, you must activate it first. You can easily do this by going to the settings and enabling the Undo Send option. You can also set the cancellation period there using the drop-down setting.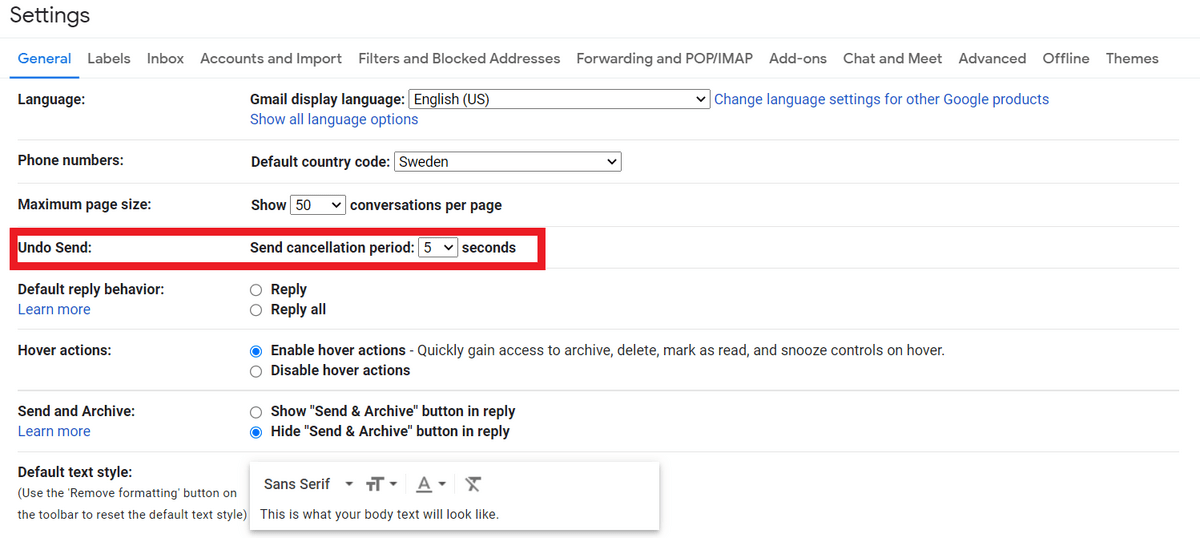 After enabling this, every time you send a message, an Undo button will appear for a set amount of time that allows you to undo your message.


3. Email Templates
Email templates can be a lifesaver if you're someone who needs to send the same message to multiple recipients again and again.
You can enable this feature by going to the Account Settings and the Advanced tab. You will find the option to enable Templates here.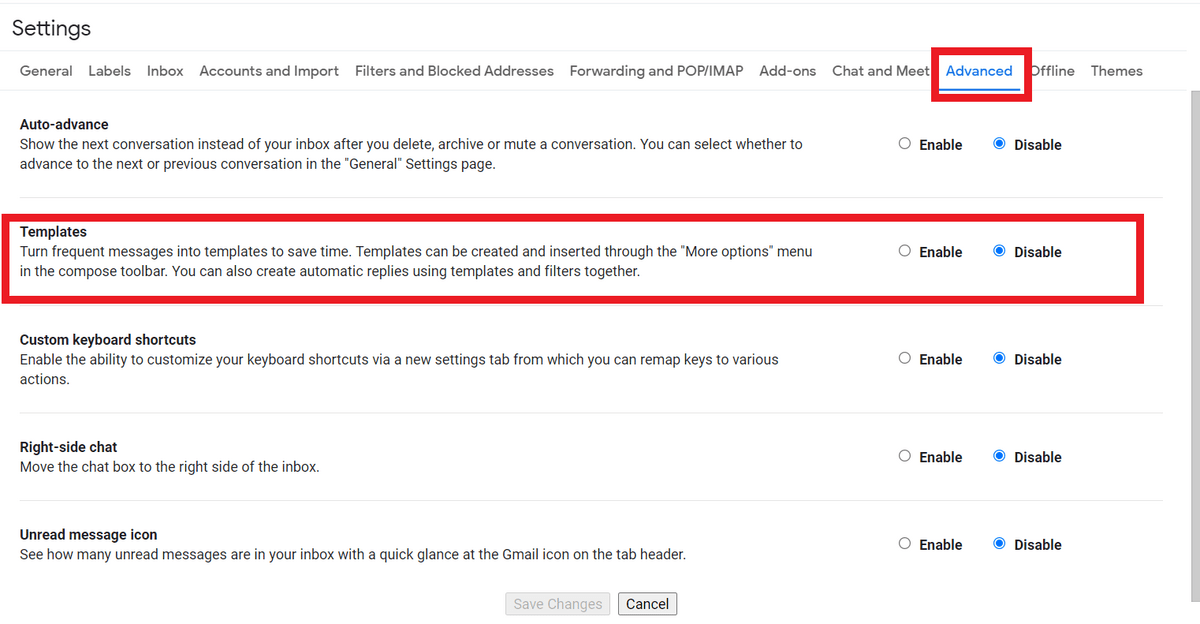 After enabling this option,
Write a message like you usually would
Click on More Options, and click on the Templates option.
Click on Save draft as a template to save the written message as a template. You can also delete your templates here.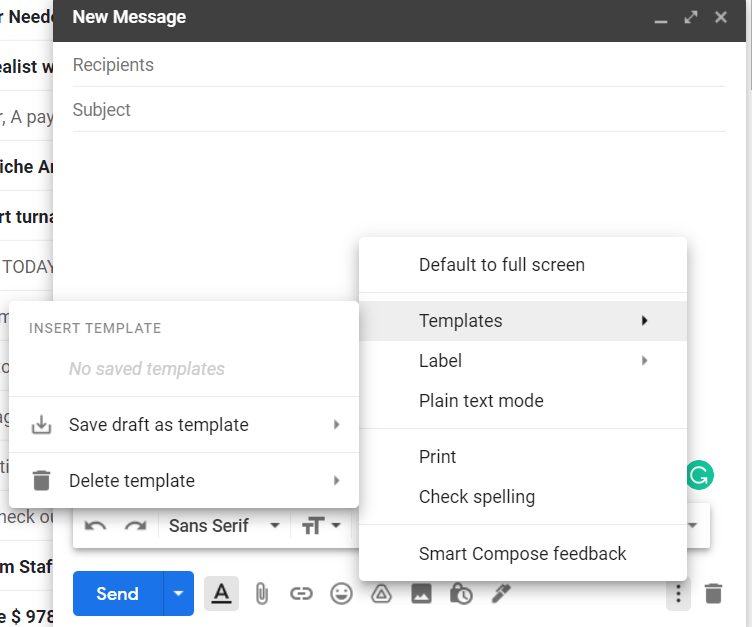 4. Smart Compose
Gmail's Smart Compose feature recommends different words and phrases to its users to help them complete their sentences efficiently. This simply predicts what the user might want to say next and shows the suggestion as light grey text in front of the keyboard cursor on the screen. The user simply has to press the Tab key to accept the suggestion.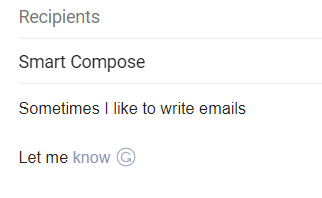 You can activate this feature by going to the Settings and the Smart Compose option in the General tab. You just have to click the button to turn the Writing Suggestions on. If you want to personalize the suggestions, you can also turn on Smart Compose Personalization.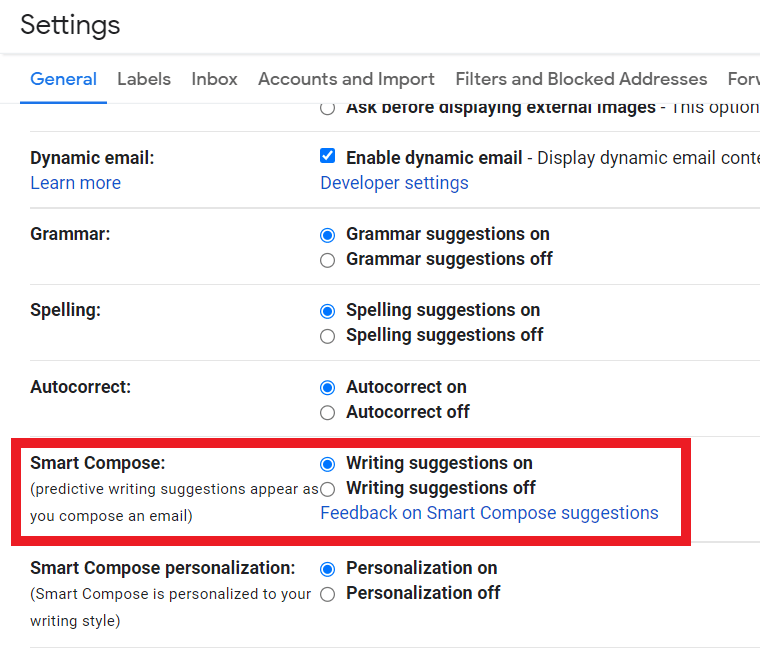 5. Scheduled Emails
Not everyone has enough time to reply to emails 24 hours a day. The email scheduling feature in Gmail helps fix this inconvenience as it allows the user to compose their emails in advance.
You can do this by simply writing your message, and before sending it, just click on the little arrow next to the Send button.

This shows a menu that will allow you to pick a time and date on which you want your message to be sent.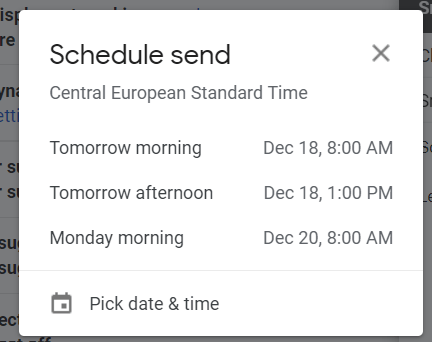 This feature is also available on the mobile apps of Gmail and is very useful for users who have to communicate with people in different time zones.
6. Keyboard Shortcuts
Gmail gives its users several keyboard shortcuts to make their emailing life much easier to manage.
To enable keyboard shortcuts:
Head to the Settings and scroll to the Keyboard shortcuts in the General settings
Click to turn the Keyboard shortcuts on
To see the Gmail shortcuts, just press the "Shift" and the "?" keys together, and you should see a whole list of shortcuts.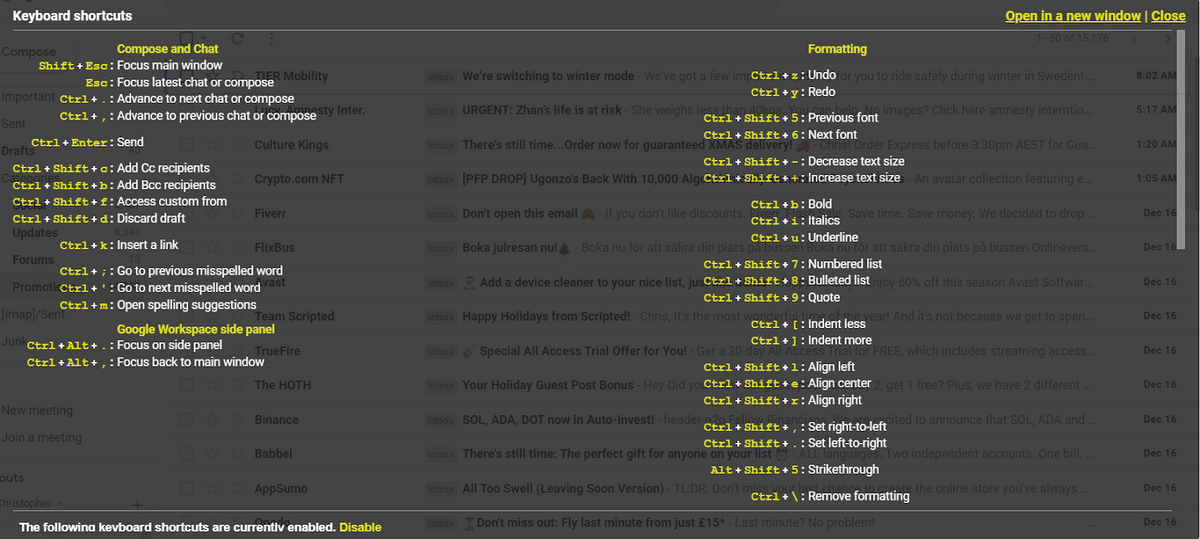 7. Send Email From a Different Email Address
Gmail has a neat feature that allows its users to send emails from different emails through the same inbox. This is different from the multiple Gmail accounts because it allows you to use any email ID, not just the Google one.
To set it up:
Go to the Settings and the heading Accounts and Import. There you will find an option called Send mail as

Click on Add another email address, and you should be able to add your email account

Click on Next Step and Send verification, and you should be able to change your "From" address in the Compose window.
8. Labels & Filters
Gmail allows its users to organize their inbox by tagging emails using labels. This can help them manage and categorize their emails. You can also apply multiple tags to an email, and you will find that email under both labels.
You can create a label in the left sidebar by scrolling down and clicking on Create new label. This will allow you to set a name for your label. You can also create sub-labels or nest existing labels under another label in your inbox.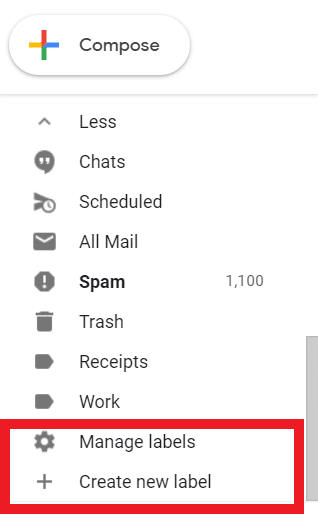 You can do this on the Gmail app for smartphones as well.
9. Snooze Notifications
Sometimes, you don't want to reply back to a message, or maybe you're busy and don't want to be disturbed by constant email notifications. Gmail has a snooze feature just for that. This will hide the incoming messages and display them at a time of your choosing.
To snooze messages:
Hover over an email, and you should see a clock symbol on the right side
Click it, and you can choose a time and date at which you would like the email to appear in your inbox again.

Till then, the snoozed emails will be stored in the Snoozed folder, which you should be able to see in the left sidebar.
10. Archive and Mute Emails
Sometimes you may get an annoying email or two, and you may not want to get their notifications every time. You can quickly mute these threads. To do this, simply click on the three dots and then click the Mute button. You can unmute the thread by doing the same process and clicking the Unmute button.

You can also archive an email to remove it from your inbox and store them separately. To do this, select it, and you will see the archive icon on the right side beside the delete option. You can find the archived emails in the All mail tab on the left sidebar.

11. Create Calendar Events
You can create events on Google Calendar straight from your Gmail inbox. This is a beneficial feature to create reminders for important events, and if you have Google Calendar on your smartphone, you will be notified of them later.
To do this:
Open the email message and click the three dots below the search bar
Click the Create event dialog box. This will then take you to a Google Calendar tab or window
Add the specific details of the reminder

12. Search Operators
Scrolling through thousands of emails can be challenging. Even with proper labels, sometimes you just want to find a specific email quickly. To do this, you can use search operators in the Gmail client to see your emails quickly.
Here are a few search operators that can make your email searches much easier:
"older_than:xd" (replace x with the number of days) — this allows you to view emails older than a specific number of days. For example, use "older_than:10d" to view emails that are older than 10 days. 0It's helpful to filter out old emails.
"+" (write a keyword after the plus sign) — allows you to search for an exact word in your emails. For example, writing "+work" will show results for every email with the word "work" in your inbox.
"Size:xm" (replace x with the size) — this allows you to find emails in your inbox of a specific size. For example, if you write "size:10m" in the search bar, every Gmail message over 10MB will appear in the results.

13. Block Spammers
Unfortunately, most of us have our inboxes filled with spam and unwanted emails. While you can just ignore the spam, usually, it builds up fairly quickly and uses up a lot of your Gmail storage space. Even though Gmail deletes unread spam after 30 days, it would still be helpful if you didn't receive spam in the first place.
Fortunately, Gmail allows you to block spammers so you won't receive new emails from them.
To do this:
Go to the email by the person you want to block and click on the three dots on the right side
You will see an option called Block (name). Clicking this will block the person and restrict further messages from them too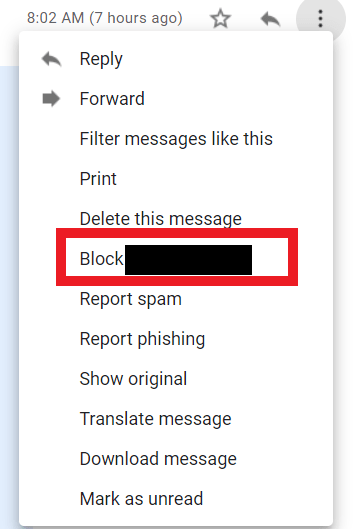 14. Offline Gmail
Gmail has a nifty feature that allows you to read your email offline and even reply to them without an internet connection. You need to have the Google Chrome browser on your computer to use this function.

You can enable this easily by going to Settings and the Offline tab. There, click on the Enable offline mail. You can also set how many days of emails you want to be synced and choose various security options.
15. Confidential Emails
Sometimes, your emails may contain sensitive information you don't want to get into the wrong hands. This is where Gmail's confidential mode comes in. It allows you to prevent your recipients from forwarding, copying, printing, or even downloading your email.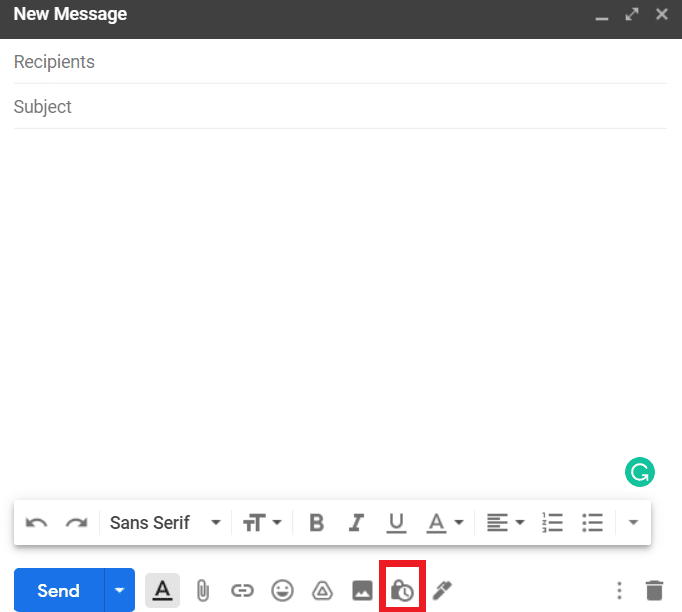 To send a confidential email, compose an email like you usually would. At the bottom of the screen, you should see a lock icon to set an expiration date for the email. This means both the email and any attachments in that email will be deleted at the time of expiration.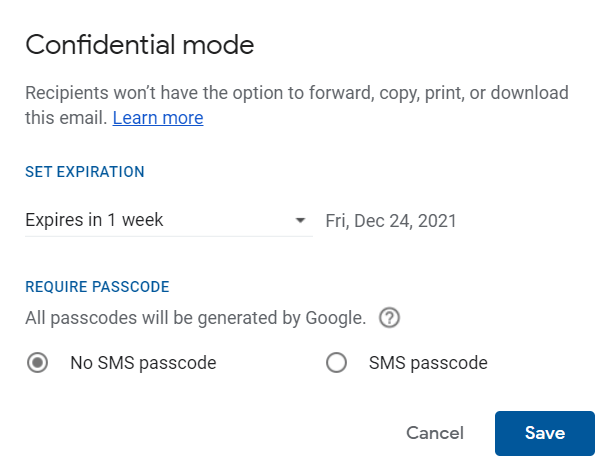 You then grant access to the email through a code sent to your recipient through an email or a text message on their phone.
16. Sending Money
Gmail allows seamless transfer of funds through email, but it requires both users to be a user of Google Pay. This is perfect for users who use Google Pay already and transfer money frequently to people they communicate with through email.
Simply compose your email like you usually would, and then click on the $ button to use this feature. This will show a menu that allows you to request or send money. You can just type in the amount and an optional note if you're sending money. Then just click on Attach Money to send the money through the email.

17. Video Calls
This tip is convenient for someone who needs to communicate face-to-face with their email recipients. This saves you from the hassle of loading up and logging into a different video calling app. Instead, you can just make video calls from Gmail using Google Chat.
To do this, first, you need to grant access to your camera and microphone. Head over to Google Chat. There, click on a video call, and you will get a notification on top of the window that asks you to give access to your microphone and camera. Simply click on allow, and you should be able to make calls from Google Chat.
You need to enable Google Chat from settings first:
Navigate to Settings>Chat and Meet
Turn on Google Chat

18. App Access and Auto Sign In
Google has a variety of services that it offers to its users. These interconnected services allow its users to seamlessly transfer data between the services that Google provides. Many different applications and services have also started integrating Gmail accounts into their infrastructures. You may have noticed "sign-in with Google" popping up a lot in your favorite third-party apps.
This provides users with the benefit of making sign-in processes easier but at the cost of their personal information.
You can revoke permission to your data by going to your Google account, scrolling over to the Third-party apps with account access section, and clicking on Manage third-party accounts you've linked to Google. Now you will be presented with all the third-party services you have connected to your Google account. You can simply disconnect the ones you don't want here.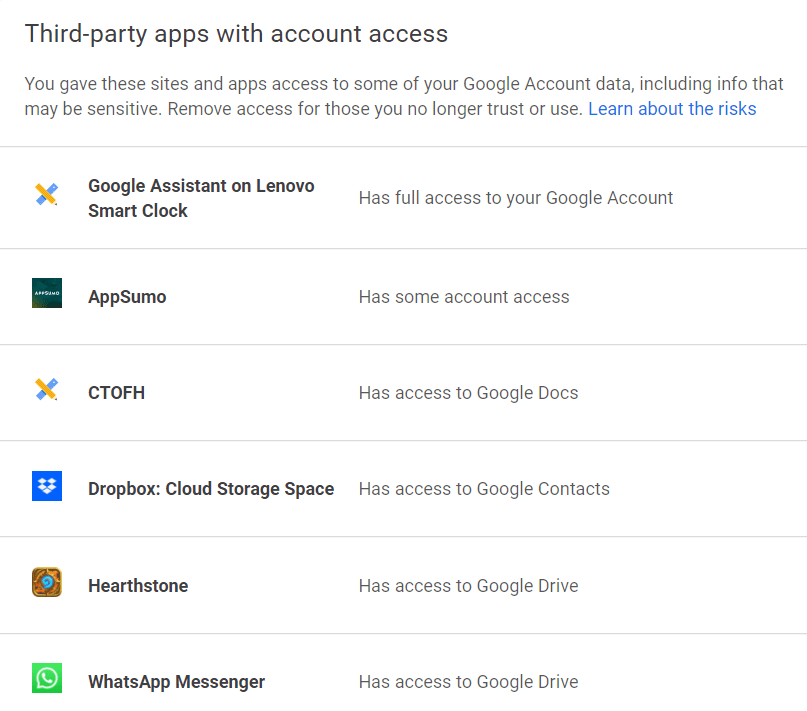 19. Unsubscribe Junk Mail

If you use your email to sign up for several websites, your inbox is more prone to be filled with junk than having relevant messages. Scrolling your whole email list, finding every single email, and unsubscribing can become tedious really quickly.
Instead, you can just search for "unsubscribe" in the search bar, which will cause every email containing the word unsubscribe to appear. Legally, junk mail senders must have an unsubscribe clause at the bottom of their emails. Now, you can simply open and unsubscribe from all the services you don't want junk mail from.
20. Organizing Tasks
Gmail offers its users a built-in task organizer. When dealing with dozens of emails per day, it can become hard to remember all your important tasks. Having a to-do list, in this case, helps a lot.
Using Gmail's built-in list maker lets you keep your emails and your tasks in sync.
You can access your tasks by clicking on the Tasks icon on the right side of your Gmail toolbox. The icon is a checkmark in a blue circle.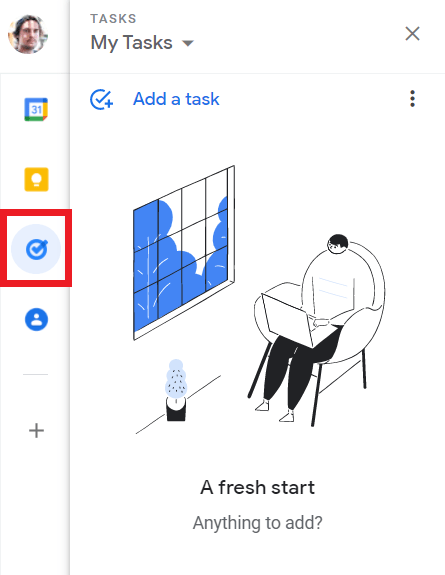 21. Attaching Attachments
Gmail intelligently pops up a reminder if you forget to attach your attachments with a message if it includes phrases similar to "I have attached," and you hit send. This may or may not be a feature you're already familiar with. If you haven't come across it yet, it's still nice to know it's there — just in case.

You can simply drag and drop your files onto your composed message to add your attachments. Images can be embedded into the message or can be attached separately. There is a limit of 25MB per email. If you have a larger file, it is sent through Google Drive, and a link is sent to the recipient.
You can also send files usually blocked by Gmail through Drive, such as .exe files.
22. Adding a Delegate
You can add another person as a delegate to your account and allow them to share control of your account on Gmail. You can do this to share your Gmail account with a company admin or maybe your family member.
You can set it up by:
Going to Settings >Accounts and Import
Click on Grant access to your account
Click on Add another account


The person who you're adding as a delegate must have a Gmail or a Google account for you to add them as a delegate. If you see a name there that you didn't add as a delegate, remove them immediately and change your password.
23. Delete Big Messages
If you're someone who receives a lot of attachments with their emails, you will find out that your storage space runs out fairly quickly. You don't always have to pay more to get the extra storage if you don't need to.
We discussed search operators previously. You can help one of these to assist you in finding messages with a larger size and delete them if not needed, or you can just back it up on your hard drive.
Saving them to Google Drive isn't viable as that's the space shared with Gmail.
Use the "size:xm" and replace the "x" with your preferred file size. Anything over 10MB can fill up your storage reasonably quickly.


From there, you can check their boxes and bulk delete the larger emails.
24. Get Rid of Horizontal Scrollbars
It can be a nuisance if you receive an email with a horizontal scroll bar. This usually happens if your emails have wide images in them.
You can change your settings to enable Conversation View to avoid this.
You can do this by clicking the gear icon to open up quick settings. Then scroll down till you can see Conversation View. Click on the button to turn it on. This will show a more compact view of your email.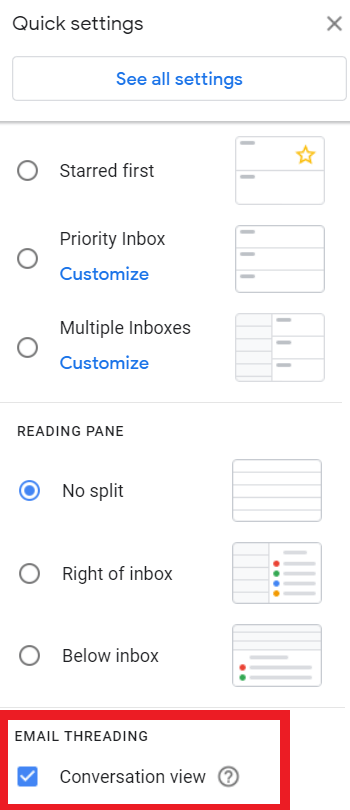 25. Create an Alias (One of the Best General Email Tips)
This is one of the handiest privacy features built into Gmail, and it allows you to easily create a new email address by just creating an alias. This way, having different aliases means you can have a different name for each service. For example, you can have one alias for your subscriptions and another for your family emails.
This can easily be done by adding a plus sign and a word after your username to your email address. It should look something like this: "email+alias@gmail.com"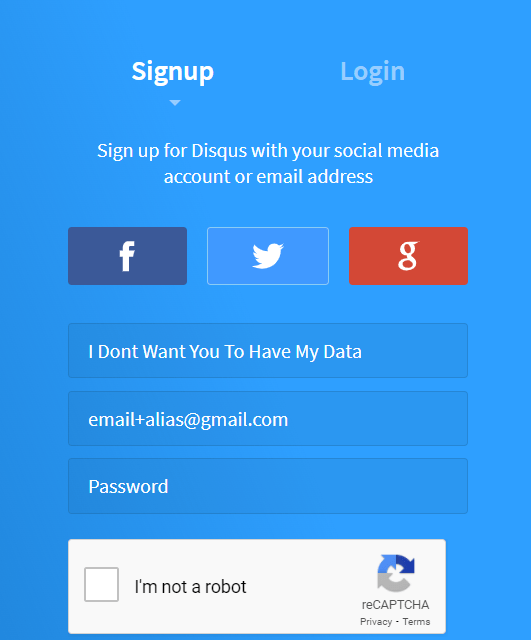 This is also a sneaky way to see if a company gives out your email address to other companies. When you receive an unknown message, just check what email it was sent to, and you can narrow down which company may be selling your data.
Which Was Your Favorite of the Gmail Tips and Tricks?
Now that you have had a look at all the ways to level up your Gmail account, let us know in the comment section which you think will be the most useful for you.
We have plenty of other productivity hacks for you to explore too. Check out some of our other work efficiency articles: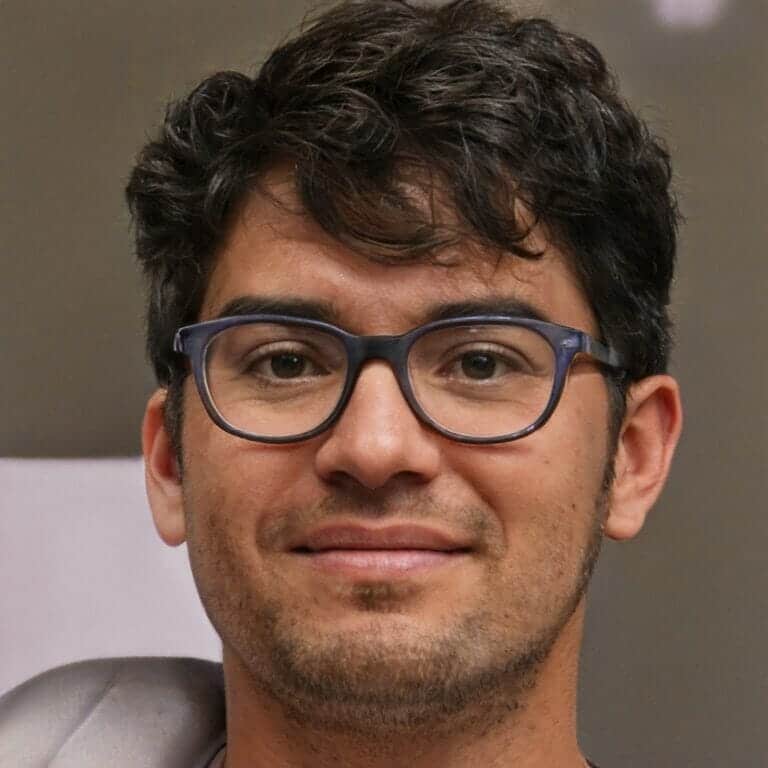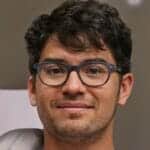 Jake is a spreadsheet expert and content writer from New Zealand. He has a double Bachelor's Degree in Teaching and has been working in the education industry for over 11 years. His experience makes him adept at breaking down complex topics so that everyone is able to understand.