Video call tools like Google Meet are excellent for everything from school classes to corporate meetings. These days, Google Meet has many features to make meetings and conference calls as convenient as possible. And the tech giant continues to add more features to its video call tool to stay competitive with other similar apps on the market.
One feature that has been improved upon recently is the ability to blur or replace your background on this app. On Google Meet, change background effects can vary, and you can select the option that suits your needs best.
If you want to learn how to change your Google Meetings background, read on for the step-by-step guide!
What is Google Meet, and How Do You Use It?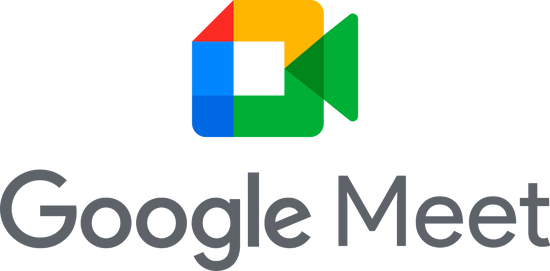 Before we talk about how to change your background in Google Meet, let's first talk about the app itself.
So what is Google Meet?
Google Meet is what you get when you combine Google Hangouts, an obsolete cross-platform app for messaging, and Google Chats. It is a video conferencing app that's available entirely for free and is used by businesses, schools, and governments worldwide.
These days, it's one of the most popular video conferencing tools, along with Zoom and Microsoft Teams. You can share your webcam and microphone or even share your screen on Google Meet to do some presentations. And as you might imagine, people use Google Meets for all their video call needs. Google Meet video is just as clear and reliable as what you may experience on Zoom.
Does Google Meet have backgrounds? Yes! The background features are somewhat new on Google Meet, but today they are just about as good as the ones you'll see on Zoom. Let's discuss how to add a background in Google Meet below.
Related: How to Record Google Meet Meetings
The Background Changing Features
The Google Meet background feature allows you to blur your background on two levels — a light blur to hide distinguishing features while still giving a vague idea of your background and a more aggressive blur to turn everything behind you into indistinguishable blobs.
The mobile apps have also recently gotten an update. Now, not only can you change your background, but you can also add a style (change the coloring of your video) or a filter (AR filters and masks that can make you look like an animal, a pirate, and so on). Note, however, that you can only use one effect at a time. Nevertheless, Google Meet now provides a variety of background options so there will never be any lack of choices.
You can also change Google Meet background photos into whatever you prefer. A library is available for you to choose from, or you can upload your own background image. Yes, you can add backgrounds to Google Meet. All you need to do is find a background image you prefer and upload it within the interface. You can find some fantastic images on stock photo websites like Pixabay, Pexels, or Unsplash for free.
If you don't want to use any specific images, you can always just change the Google Meet background color. There doesn't appear to be any options for just changing your background color, so the best thing you can do is to upload a plain color image and use that as your background.
Related: How to Change Background on Zoom [Desktop and Mobile]
Requirements to Be Able to Change Your Background
If you want to use the background replacement feature, you'll need to meet some requirements.
| | |
| --- | --- |
| Device/Platform | Minimum Requirements & Operating System Requirements |
| iOS | iPhone 6s or newer, iOS 12 and up |
| Android | Android version P and up, 3GB RAM, 4 CPU cores at 1.6GHz clock speed, using ARM64 chip architecture |
| Mac | Feature only available through the Google Chrome browser |
| macOS, Windows, Linux | Google Chrome browser version M84 and up |
| Chrome OS | Google Chrome browser version M86 and up |
Why Should You Blur or Change Your Background on Google Meet?
If you're unsure why you should change or even blur the background on your Google Meet webcam, there are quite a few reasons. Let's take a look at some of them:
Present a more professional appearance – Sometimes, you may need to join video calls in situations where you aren't able to be as professional as you would like to be. If you work from home or are hopping into a call outside, the best thing you can do is use the blur background option (or change your background to something more appropriate).
Hide clutter or a messy location – If you find that you suddenly need to hop into a video call, you might not be able to clean up or organize your office or location beforehand. In such a case, a quick background change is one of the easiest ways to remedy the situation.
Privacy – There may be some times when you need to jump into video calls without having privacy. If you would like to ensure that people in your meeting only see you and no other people around you, blurring your background can help. It won't work perfectly all the time, but it's generally a helpful way of doing it without having to physically leave a room.
For fun – Sometimes, you may just want to change things up! Or maybe, you're doing a themed video call with friends or family. Either way, changing your background can help make video calls more exciting!
Google Meet Change Background: Steps Before Joining a Meeting
On Desktop
Here's how to change your Google Meet background before you join the meeting you're attending.
Open Google Meet in your browser.
Create or sign in to your meeting.
On the next page, you'll get a chance to preview your audio and video. Click on the button in the bottom right corner of the camera preview.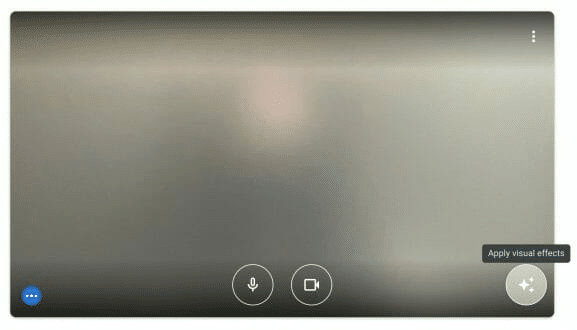 Select your background from the window that pops up. Once you finish configuring your camera and audio, press X on the upper right corner of the Get Ready screen. Then, you can click "Join Now" to enter your meeting.
On Mobile
Open your Google Meet app and sign in to your meeting.
The next page will give you a chance to preview your video. Tap on the Visual Effects button.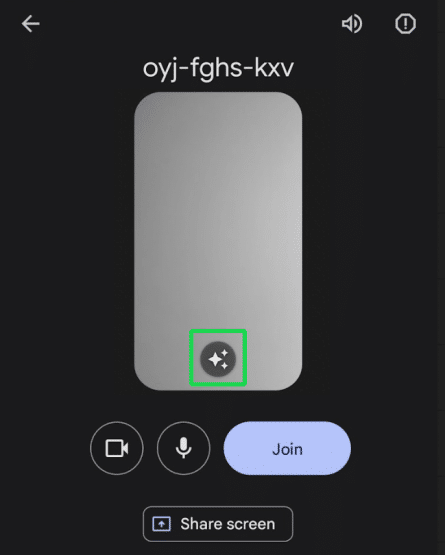 Select your background effects, styles, or filters and tap Done. Then, you can join the meeting via your meeting link.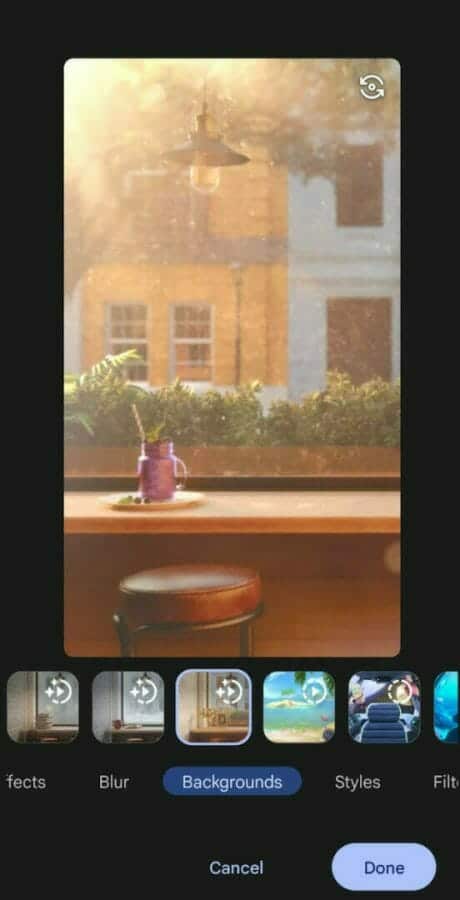 How to Change Background in Google Meet After Joining a Meeting
On Desktop
If you're wondering how to change background in Google Meet on laptop and desktop computers, follow the steps below. These steps will show you the various background options available to you.
Open Google Meet in your browser.
Create or sign in to your meeting.
On the bottom of your screen, look for the three dots (More Options) and click it.

Click on Apply Visual Effects.
Select your new background option from the corresponding menu on the right-hand side of your screen.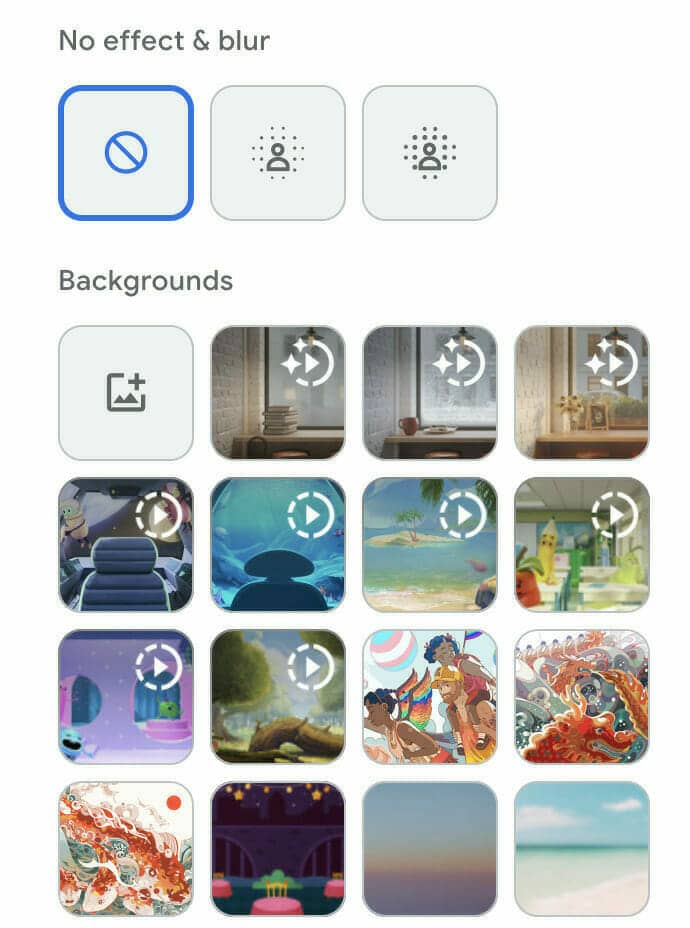 On Mobile
Here's how to change the background in Meet after joining a meeting on mobile.
Open your Google Meet app and create or sign in to your meeting.
Look for your self-view, then tap on the visual effects icon in the bottom right corner.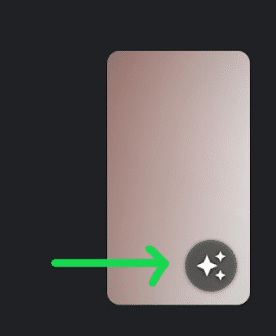 Select your background option, style, or filter from the next screen, then tap the X when you finish to return to your meeting.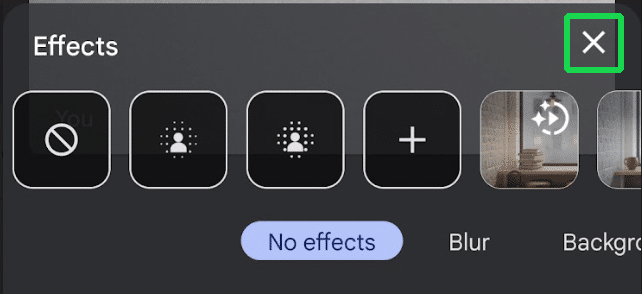 How to Blur the Background in Google Meet
If you'd like to blur your background on Google Meet, you can simply follow the instructions above. When you're selecting your background in Google Meet, click or tap on the blur icons as seen below.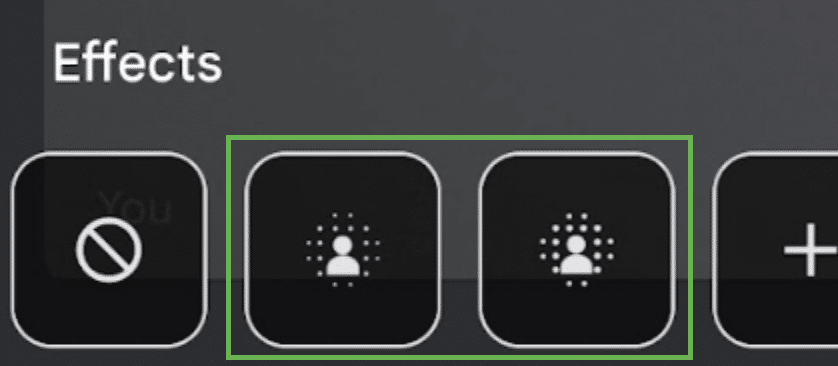 Google Meet offers two blur intensities. The first is not as intense, while the second is a complete background blur. Choose whichever one you prefer!
Frequently Asked Questions
Why can't I change my background on Google Meet?
There are a few possible reasons why you can't change Google Meet backgrounds. Here's what you can do:
Check to ensure your device or machine meets the minimum requirements to use the feature.
Check if the meeting admin/host has disabled the feature.
Try creating a new meeting to see if it works there.
If you are using a browser, enable hardware acceleration.
Try clearing your browser's cache and disabling any extensions
In some cases, you cannot change your background, such as if you have Google Workspace for Education.
How do I change my Google Meet background?
Changing backgrounds on Google Meet is simple as long as your device meets the minimum requirements. The guides above will show you exactly how to do it!
Does Google Meet have virtual backgrounds?
Yes! It used to be that you could only have virtual backgrounds on the desktop or browser version of Google Meet, but Google has recently implemented virtual backgrounds on the mobile app versions. In this way, Google Meet is similar to Zoom. You can choose from the existing gallery of backgrounds for Google Meet, or you can upload your own if you prefer.
Google even took it one step further and added a mobile-only feature: live styles and filters that can alter your video's appearance. The styles can make your camera black and white or change its coloring. The filters, however, are more of a fun feature that you probably won't use in professional settings. You'd be amazed at the types of fun filters available on the mobile app — some are so good and responsive! Technology has come a long way since the first dog filters on Snapchat. So yes, there might actually be an advantage to using Google Meet on your mobile device over a computer!
If you're wondering how to change your virtual background in Google Meet, the process remains entirely the same — follow the steps in the guide above and choose or upload your background.
Conclusion
The addition of the background features on Google Meet helps make the service competitive in the global market, especially when other apps like Zoom exist. Plus, the feature is helpful overall since you can blur or replace your video's background with a virtual one to hide a distracting or messy background behind you.
We hope that this guide on how to change your background on Google Meet has helped you figure things out so you can banish your background woes forever. If you have any questions or more Google Meet change background tips and tricks, feel free to share them in the comments below!
Do you prefer Zoom over Google Meet? If you'd like to do your presentations on Zoom, you can read our guide on how to share your screen on Zoom.
Note: Looking for the best webinar platform? We highly recommend checking out LiveWebinar, as it's the most advanced webinar software on the market right now. 
Related Reading: