Working from home means occasionally, you'll need to join video meetings. If you want to look a bit more professional, you may want to give your home office background a bit more thought.
Your video background can leave an impression on other meeting attendees, so putting something together that isn't distracting or too personal is always a good idea. You can also have fun with designing and decorating if that's something you're into!
Below, we've compiled some of the best ideas for home office backgrounds. We also included helpful tips and tricks to help you get set up. Let's get right to it!
Ideas To Spruce Up Your Home Office Background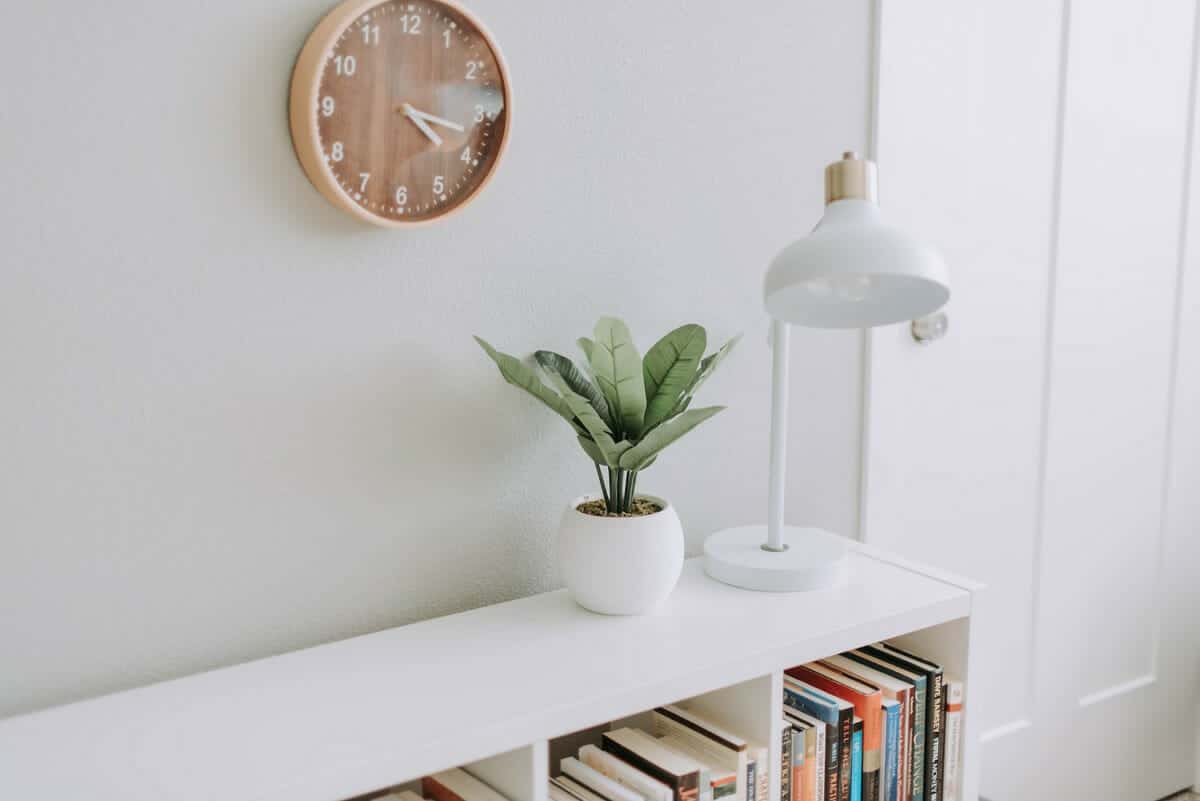 Use Plants
Not only can a plant make your home office backdrop look nicer, but studies have found that plants can help mood and mental health. Plants help purify the air and add life to any space, both literally and figuratively. They may even help energize you for long days at your standing desk (or when you're working on your desk treadmill)! Therefore, having a few in your office will likely go a long way toward improving your work environment.
It's worth mentioning that pots or planters offer you another way to make a statement or set up a certain aesthetic. Just remember to choose easy indoor plants — and make sure you water them properly!
Bookcase or Open Shelving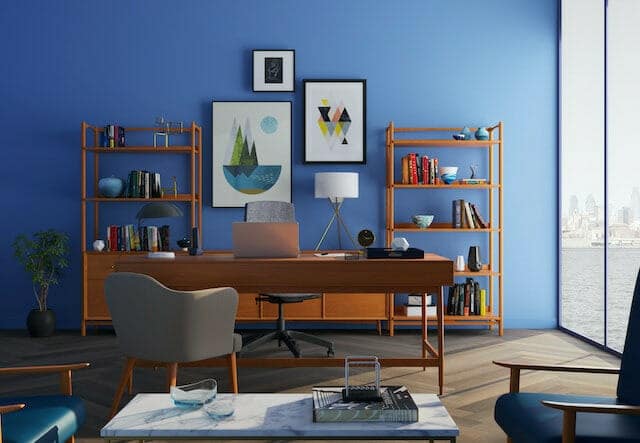 Clutter affects your mental health and productivity, so make sure you set up functional storage (like shelving or a bookcase). Not only are they great productivity hacks, but they also make for fantastic home office backgrounds!
Bookcases allow you to create a curated display while having space for boxes or baskets of hidden-away clutter. They can help you add a pop of personality without looking too cluttered or overwhelming. Use bookcases that offer a mix between glass doors and opaque doors to make it easier to keep items from sight.
An Accent Wall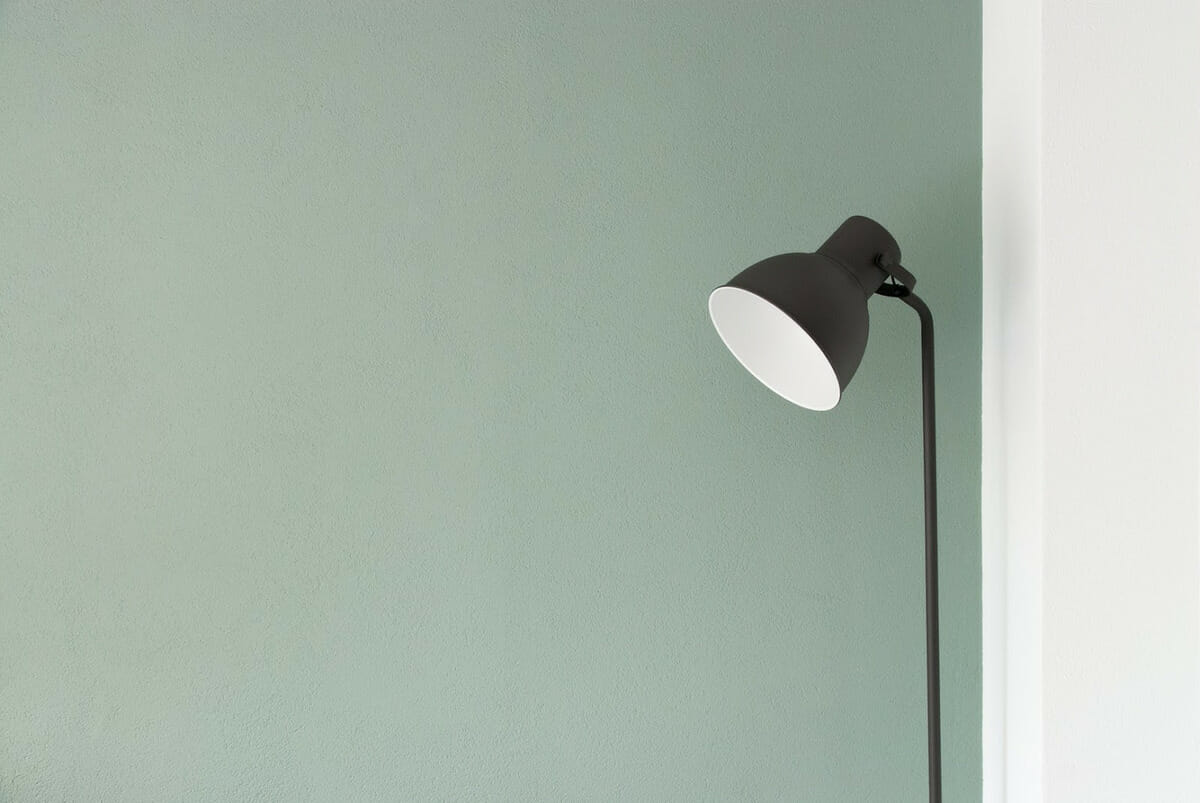 Accent walls can make the best office backgrounds. If you have a wall with stone cladding, wood panels, or an interesting point like a fireplace, you already have a fantastic background option. If you don't have a wall like this, create your own accent wall!
Paint a wall in a color that looks good without being too distracting. Consider dramatic lightings like wall sconces, floor lamps, or LED lights. Additionally, hang a painting, print, or other piece of art. To make a plain wall look more interesting, another option is hanging up PVC wall panels. You can buy PVC panels in packs of 12, which should be enough to create a cohesive look.
Reading Nook
A cozy corner can make a great "working-from-home" background for your video. Just add a comfy armchair, optional throw pillows, a few books (or a bookshelf), and lighting. Extra elements might include a side table, plants, curios, or wall hangings for more personality. Remember to avoid too much clutter and try to prevent the space from looking too busy!
A Window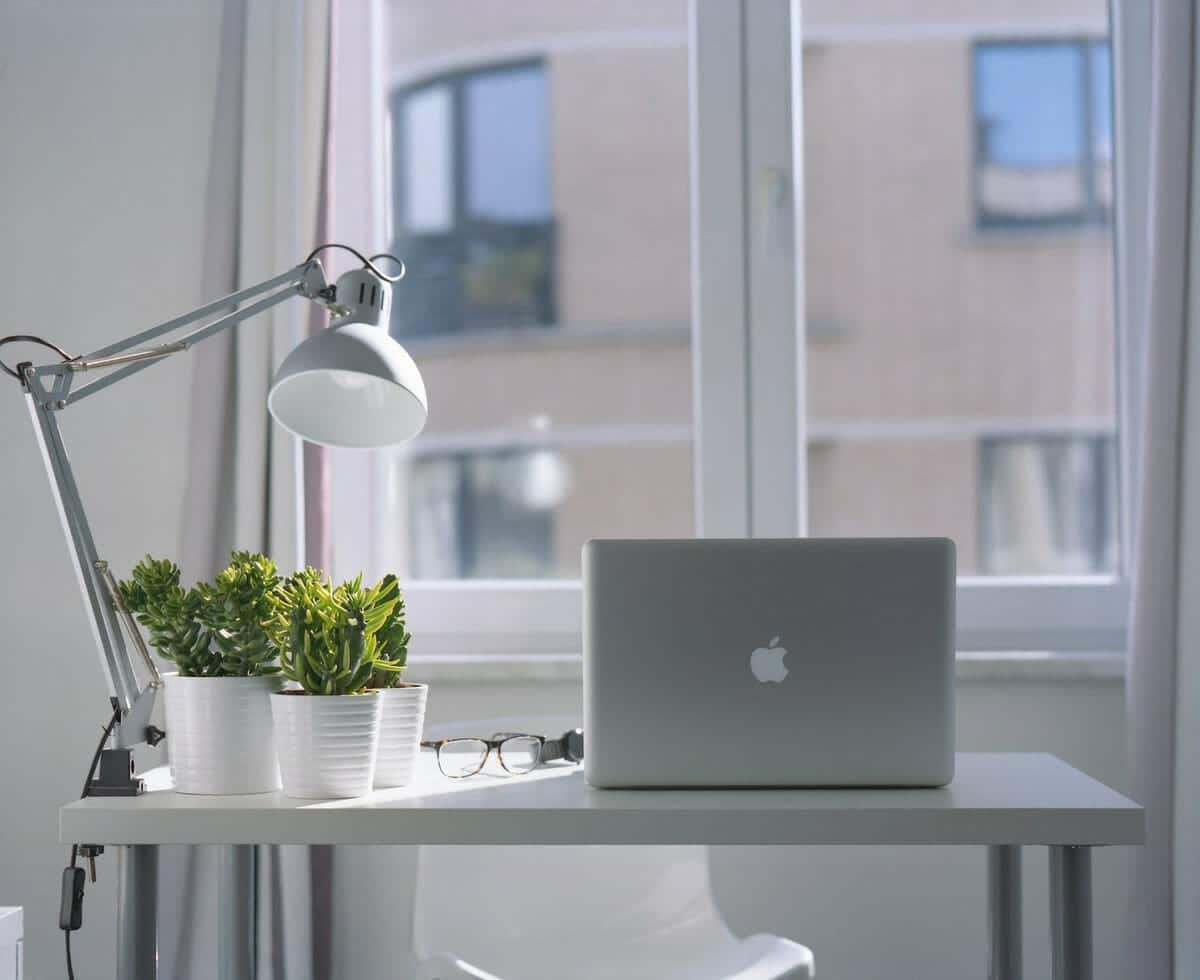 If you have a nice view and prefer to have your window behind you (or just don't have a better place to set up your desk), a window can make a beautiful home office backdrop for video conferences.
Natural light has countless benefits in your workspace, like reduced eye strain (vitally important if you look at a screen all day.) After all, even the best home office monitors can still cause eye fatigue — even if they advertise eye-friendly features.
If you choose to use a window as your backdrop, you'll need to set up additional lighting. Otherwise, your camera will struggle with exposure, making you appear dark because the background light is too overwhelming.
Use sheer curtains to help diffuse the light coming in from the window. Then, use video lighting to help you appear properly exposed. The "On Lighting" section offers helpful tips and suggestions below.
Room Dividers
One of the simplest home office backdrop ideas is a room divider. If you don't have a dedicated home office, room dividers allow you to split a space by creating a sectioned-off work area. Even if you use the best WFH apps, you might struggle with productivity if you work in the same space where you sleep or relax. Sectioning off a workspace can help put your brain in work mode.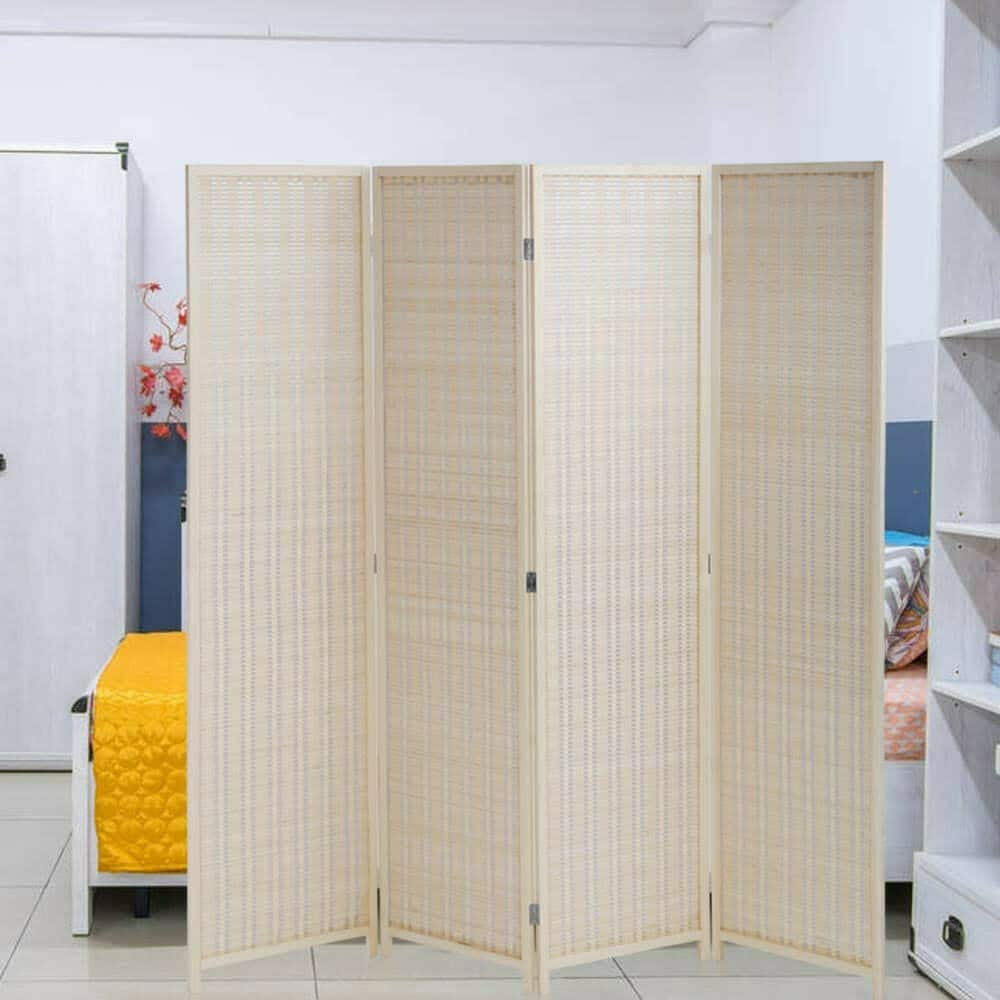 Room dividers and privacy screens like the one above look great while being functional. As an additional benefit, they can help you hide clutter in the background. They're relatively affordable and can be easily folded up when they're not needed.
A Blank Wall with Wall Coverings
If you have a blank wall, you might have an excellent small office home office background for Zoom.
A blank wall is like a blank canvas — you can use it as is, paint it, or as hanging decor. While applying wallpaper can take significantly more time, effort, and energy, it is an affordable yet interesting way to create a more unique background.
Using Wallpaper
There are a few benefits to having a wall as your WFH background. First, with your back against a blank or wallpapered wall, you can keep any clutter or distractions out of sight. Using a blank wall for your WFH background means that you can choose whichever paint color or wall covering you want and do a fun DIY project. You can even mix and match paint and wallpaper (or PVC wall tiles) to create a visually appealing design. Just be careful not to choose patterns and colors that are too bright or busy!
If you're worried that your chosen wallpaper may not suit your room, you can look for wallpaper brands offering sample pieces. The samples typically come in around an A4 size and can be quite helpful in selecting the right pattern and colors for your space.
Peel and Stick Wallpaper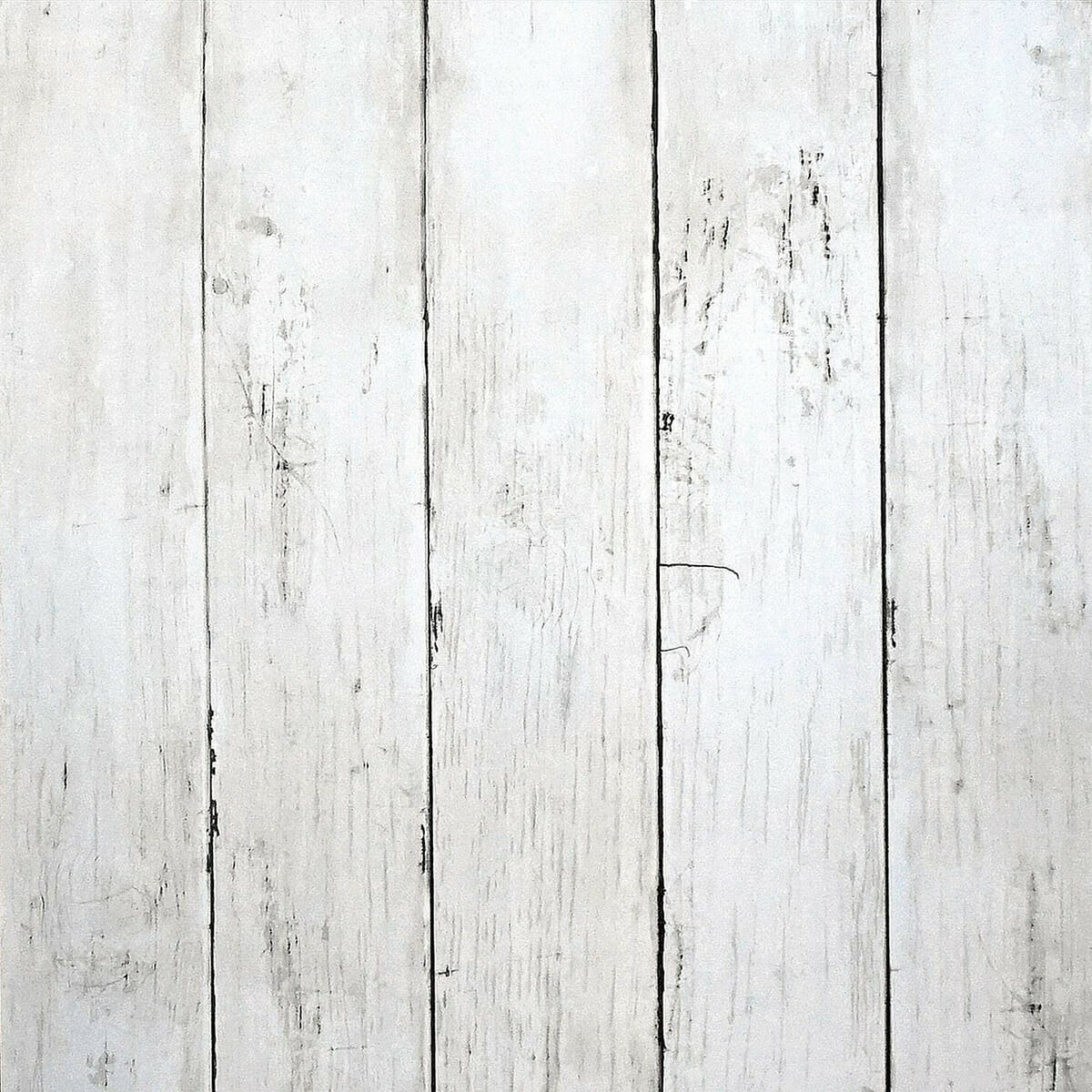 If you want a somewhat easier, more affordable, and renter-friendly wallpaper option, try peel-and-stick wallpaper like the one above. These sticker wallpapers come in various designs, including plain colors, floral prints, and geometric patterns. You'll probably need some patience when applying them, but they can make a statement for cheap!
Photo Backdrops with a Stand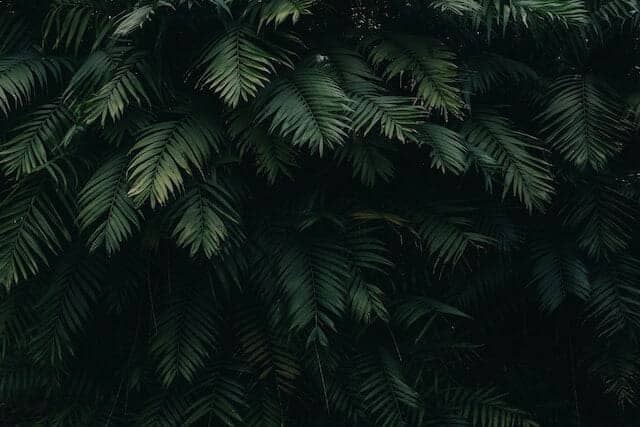 Unsurprisingly, some of the best home office backgrounds were made specifically to be used in backgrounds.
Photography backdrops make excellent video backgrounds, are easily accessible, and can be quite affordable. Backdrops come in all sorts of designs and colors (such as vintage abstract, brick, or wood), and custom backgrounds can be printed to fit your specifications.
Once you have a background in mind, you can choose how to hang it up. It could be as simple as nailing it to your wall. However, if you don't sit with your back to a wall, a backdrop stand or banner display stand will help you hold it up. As a bonus, putting your backdrop on a stand allows you to store it when it's not in use.
If you have the space, consider using a full-stand setup. A smaller version (such as this T-style stand) also works. Just remember to check the backdrop measurements to ensure they suit your stand.
Green Screen
Nowadays, video conferencing apps like Zoom, Google Meet, or ClickMeeting have virtual background features that practically eliminate the need for a green screen. However, green screens remain an excellent way to set up your background, allowing you to change them to whatever you want.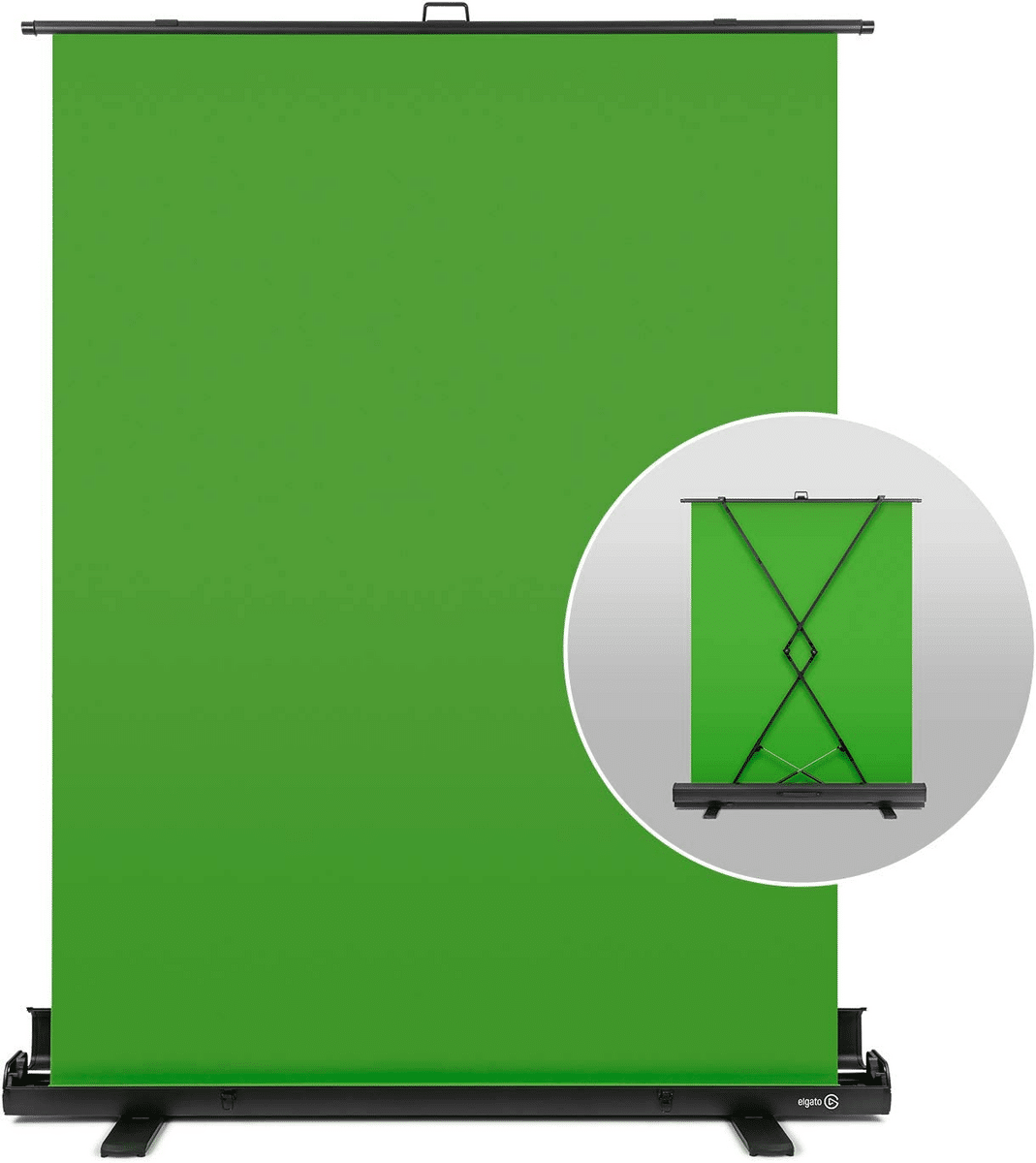 The Elgato Green Screen pictured above is an excellent option. Choose between regular-sized or XL-sized collapsible screens. Alternatively, a wall-mounted version is great if you want it out of your way.
It's worth noting that green screens do have a slight learning curve. If you use Zoom, you can use their guide on setting up your virtual background to configure your green screen. You'll also need proper lighting to ensure your camera renders images properly. If you're unsure how to set your lights up, you can watch Elgato's green screen lighting guide for assistance.
Tips for a Professional Office Background at Home
Regardless of the style of background you choose for your office, there are a few universal things that improve any backdrop. The following tips below can help you create the best office background on any budget!
Choose the Best Option for Your Budget
Not everyone has the time, money, or space to invest in decorating a home office. Luckily, the best office background doesn't have to be expensive! In fact, you can put together a fake office background using a photography backdrop or a virtual background.
Virtual backgrounds are incredibly easy to set up and can cost you next to nothing to boot. You can select home office background images from free stock photo websites like:
If you're creatively inclined, you can even create your own background image using a free tool like Canva.
Minimize Distractions
If you spend a meaningful amount of time wrapped up in video meetings, you probably already know how bothersome distracting backgrounds can be. Thus, eliminating (or at least minimizing) distractions can help you appear much more professional overall.
Ensure that the following personal home items aren't within your camera's frame:
Laundry baskets
Wastebaskets
Children's toys
Liquor bottles
Busy wallpaper
Overflowing shelves
Personal collections
It's worth mentioning that minimizing distractions doesn't mean getting rid of everything. You can still decorate and add personal touches to the space. Just try to curate the items displayed within the frame.
When you set up your webcam, try to:
Choose a background that isn't too busy or attention-grabbing
Clean up any messes and remove items that don't quite belong in a professional setting
Avoid clutter as much as possible. You can hide clutter by putting items in opaque boxes or baskets if you can't. If you can, choose containers with lids!
Webcam Positioning Matters
Most people know that a well-angled camera can help present a more flattering image of themselves. What some may not realize, however, is that a well-positioned webcam can also help improve a home office background.
It's a good idea to put your camera front-on and angle it downwards, as this can be more flattering than angling it upwards. Positioning your camera well can help you keep distractions out of frame, reducing the amount of cleaning and decluttering you need to do.
Avoid pointing your webcam at a bright light source like a window (unless you have a fill light). Having bright lights in the background without a video light to compensate will mess with your webcam's image, lowering its quality all around.
On Lighting
Part of putting together a home office background is setting your webcam up as optimally as possible. Additional lights can improve your webcam's image quality and reduce noise and grain. It can also allow you to use light sources or windows in the background, so you can choose whichever interesting WFH background you wish.
There are many different kinds of lights you can use. Here are a few suggestions:
Conclusion
Setting up a well-planned home office background can elevate your work meetings and leave a great impression. Selecting the best background option for your situation and budget is up to you, so have fun with it. Just remember to keep your background clean and clutter-free — and use additional lighting where needed!
If you need to create scalable meetings, webinars, or conferences, one name keeps coming up: ClickMeeting.
Related: