Today, it's common to find that many tech enthusiasts would love to have Apple products. And, you will find that Apple products come with accessories designed specifically for them.
For instance, Apple's Mac and iPad have the Magic keyboard options designed as their ideal partners. Yet, that doesn't mean they're the best option on the market.
You might find yourself scouring through tons of keyboard options for an ideal alternative to no avail. We've reviewed the keyboard options compatible with Macs and iPads and compiled a list of the best choices you can get for your device. So you no longer have to worry about searching high and low for yourself.
We separated the list into two segments, one comprising of options for Macs and the other list for iPads. Read on to find the perfect match for you.
Disclosure: Productivity Spot is supported by its audience. When you purchase through links on our site, we may earn an affiliate commission.
Best Magic Keyboard Alternatives for Mac
Let's face it, Apple has the best apps and keyboard gestures, so you'll need an ultra-compatible keyboard. Check out our favorites below.
Related: Best Keyboard for Mac [Top 9 Picks]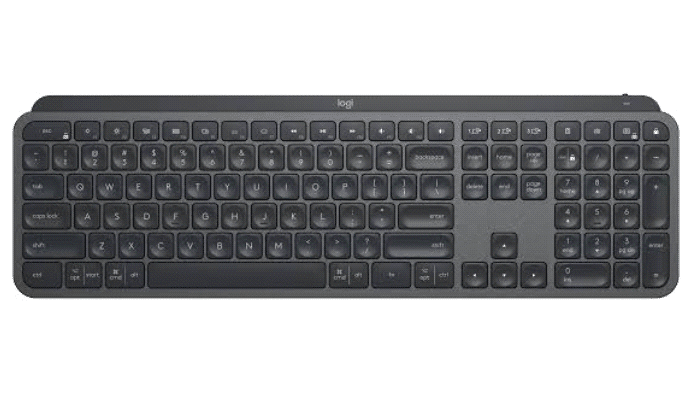 Pros
Slick look that blends well with Mac
Dished-in keys add comfort
You can choose between having it wired or wireless
Smart Backlighting
Good battery life (Without backlight)
Cons
There are not many customization options on this
Does not have a wrist rest pad included
Specifications and Key features
Connection- Wired (USB) or Wireless (Bluetooth connectivity, up to 3 devices)
Battery life- 10 days (Full charge)/5 months (backlight off)
Compatible with Logitech Flow
Dished stroke keys to match fingers
Color- Space grey
79 keys
When it comes to looking for a Mac-style keyboard, you might find yourself hard-pressed to find a better overall option than this. Right off the bat, you will notice the slick graphite and black color combination smoothly blends with most Mac devices. As the keys are spherically dished, they easily match the fingers of the user to add to the overall comfortable experience while using the keyboard.
Also, with the Logitech MX Keys, you can choose between connecting the keyboard via USB and having it wireless when you want to work from a distance. The MX keys can also connect with up to 3 devices via Bluetooth. Using the Logitech flow feature, you can seamlessly switch between the devices.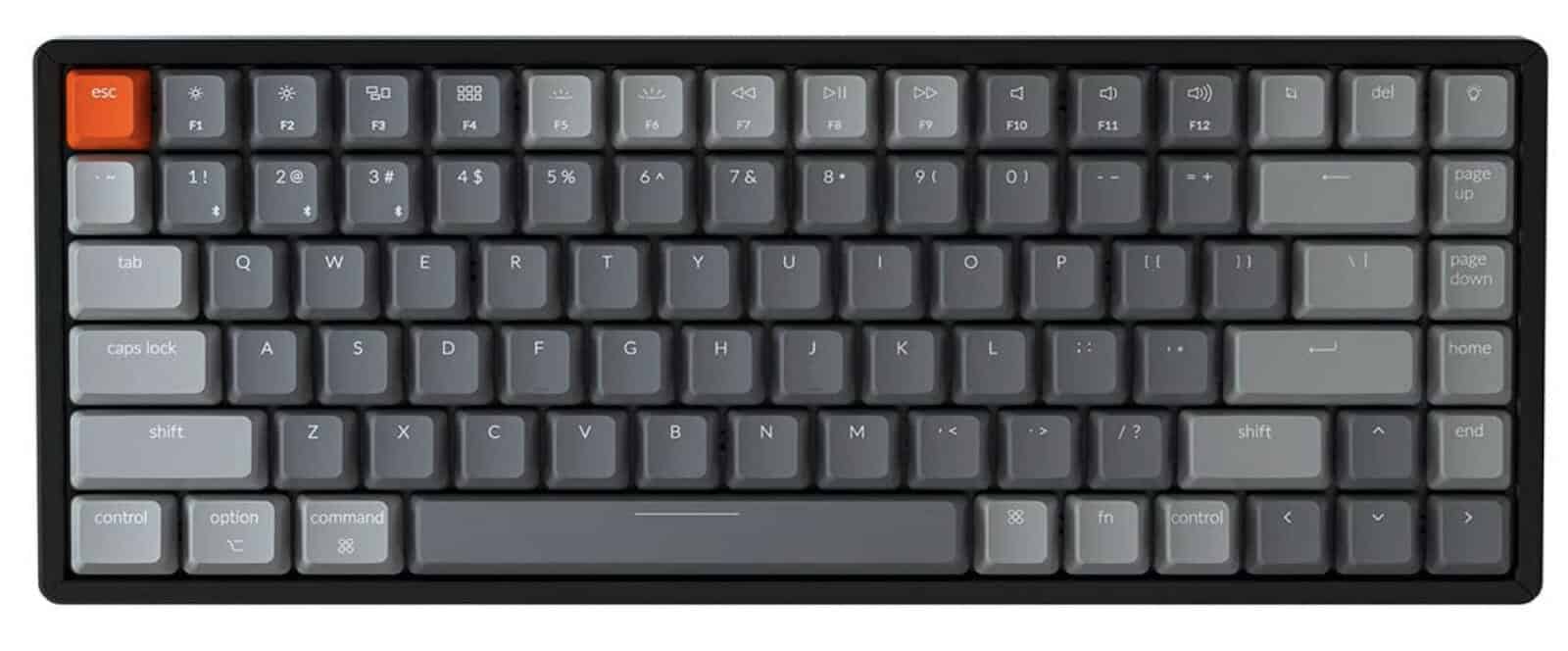 Pros
Easily customizable keys
One of the best battery life when it comes to mechanical keyboards
Multiple backlight options
Mechanical speed and accuracy
Cons
Battery life is poor with the backlight on
Specifications and Key features
Connection- Wired (USB-C) or Wireless (Bluetooth connectivity, up to 3 devices)
Battery life- Up to 240 hours (backlight off)
87 keys
Backlight- Yes, with 18 RGB light options
Tenkeyless layout design
Hot-swappable key customization
If you're looking for a mechanical keyboard option at an affordable price, the Keychron K8 keyboard is the way to go. The K8 comes with a compact design accommodating 87 functions and essential multimedia keys.
Also, it's designed with the popular Tenkeyless layout which ensures users have easy access to all the keys. To switch the keys, users don't have to worry about complex processes; all you have to do is simply pop them out and replace them with your pick.
Regarding connectivity, you can opt between using a USB cable or connecting the keyboard via Bluetooth to your device. The wireless option allows users to connect to up to 3 devices and easily switch between the devices.
The keyboard also boasts one of the biggest batteries when it comes to mechanical keyboards, this then means it can last up to 240 hours with the backlight off.
Additionally, if you're a backlight enthusiast, you will be happy to know that the Keychron K8 comes with 18 RGB light options, which you can further customize to match different styles. This is a good alternative for home use, light gaming, or office work.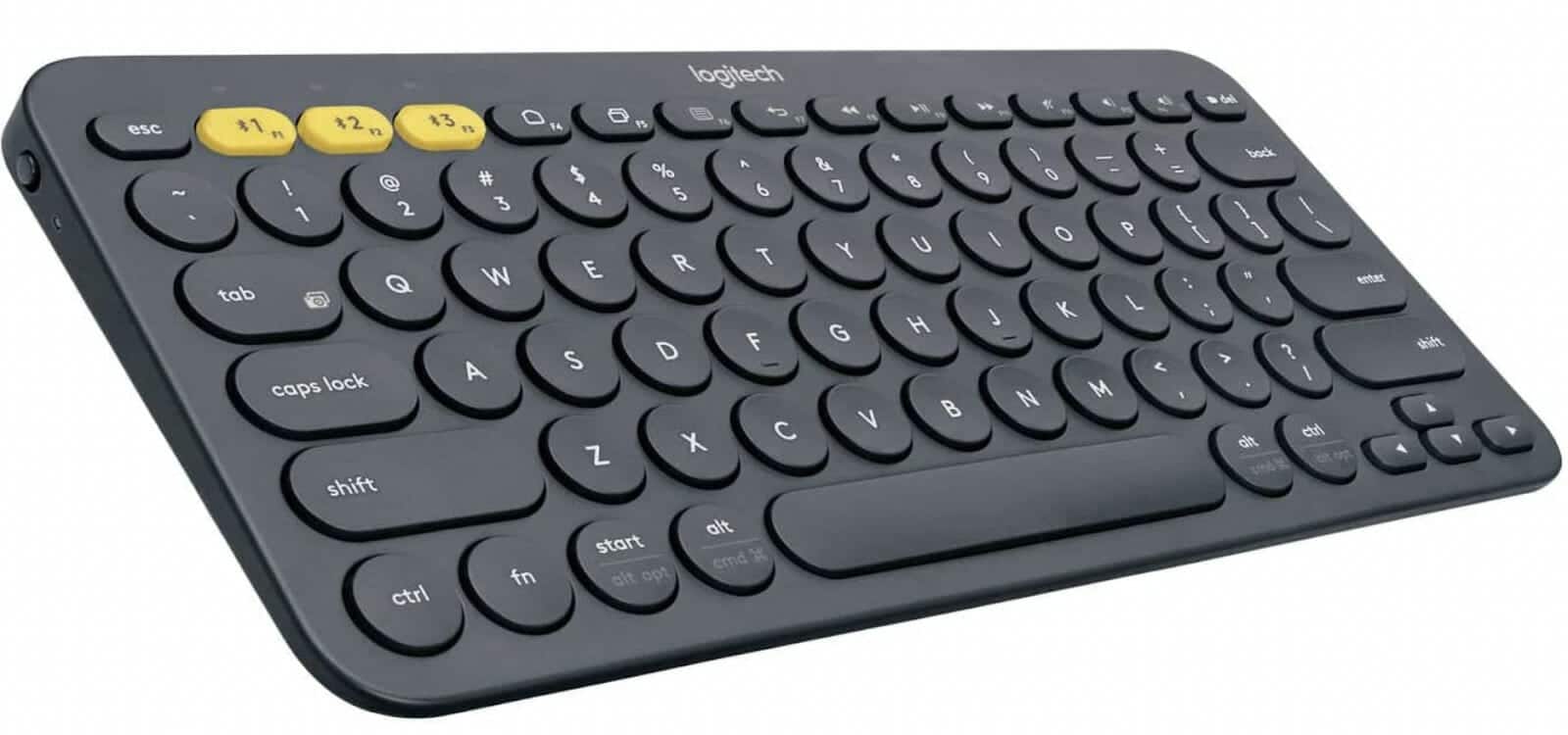 Pros
Long battery life with over 2 years before replacement even on heavy use
Design that blends well with Macs
Multiple color options
Compact design makes it easy to move around and usable on multiple surfaces.
Cons
No backlight
Not user-friendly for people with big hands
Not many key customization options
Specifications and Key features
Connection- Wireless (Bluetooth connectivity, up to 3 devices)
Battery life – Up to 2 years (AA batteries)
80 keys
Multiple color options
Compatible with Logitech Flow software
Seeing that this is the second Logitech product on our list, it should be pretty obvious now that Logitech is a master when it comes to creating products that work well with Apple Macs. They demonstrate this again with their K380 addition, which is a slick, compact, minimalist keyboard.
After spending some time with Mac users you might notice a different colored version of this on someone's desk as they come in multiple colors that blend well with the most popular Mac cases.
With a 10-meter wireless range, you can easily connect it to up to 3 devices and carry it around a room as you use it. Its tightly spaced key design also allows for efficiency as users don't have to overreach just to pres particular keys but may not suit those with larger fingers. You won't have to worry about the battery dying out too as the battery life on this can last up to 2 years before they need to be replaced.

Pros
Sleek minimalist design that blends well with Macs
Cheaper option
Rechargeable battery
Cons
 Specifications and Key features
Connection- Wireless (Bluetooth connectivity, up to 3 devices)
Battery life- 80 working hours/up to 100 days on standby
Multiple color options
76 keys
To finish our list of the best alternatives for Macs we have to mention the Satechi Bluetooth keyboard. This is a good option if you're looking for something that will match Apple's full-size Magic Keyboard without spending too much money.
It comes in a thin, modern, sleek, Aluminum design that compliments Mac devices. Like all the other devices on this list, you can connect it to 3 devices via Bluetooth and easily switch between them.
For charging, Satechi has incorporated a USB type C port, and you can get the keyboard to full battery in less than 2 hours.
One key downside to these keyboards is that they have relatively low battery life compared to other Keyboards. Even then, this is a pretty solid choice for a Mac-style keyboard at a lower price.
Related Reading:  Best Journal Apps for Mac and Windows
Best Magic Keyboard Alternatives for iPad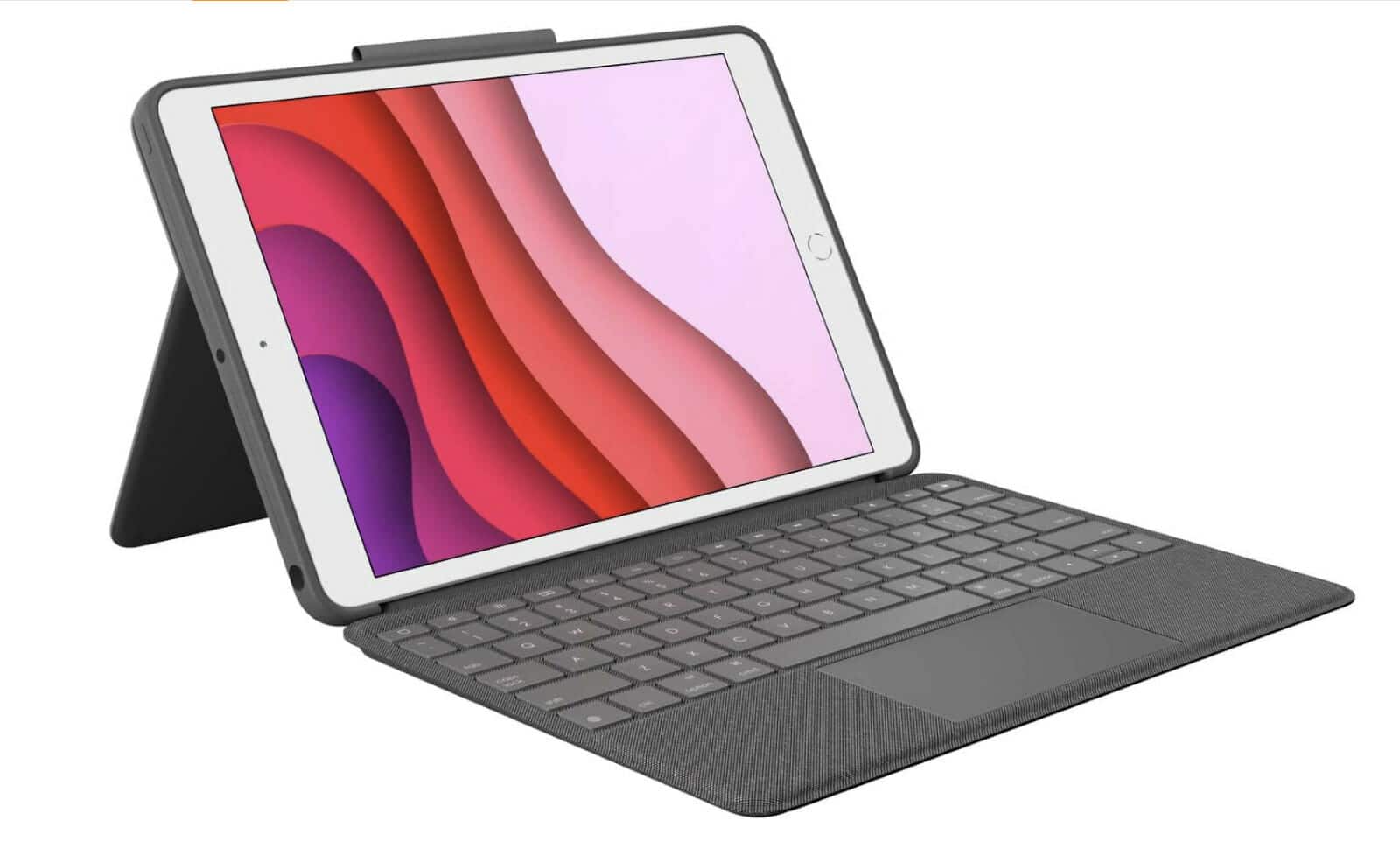 Pros
Various levels of the backlight
Space for charging your Apple pencil
Big name connectivity and reliability
Cons
Does not work with all versions of iPads
Must be hooked on to iPad to be used as it depends on it for battery life
Close together keys can cause users to make many typos
Specifications and Key features
Connects to iPad via Smart connector
No battery life (Powered by iPad)
Compatible with 7th, 8th, and 9th iPad generations
Backlight enabled with 16 levels of brightness
Apple pencil charging space
Various color options
If you're a user that needs an offer you have versatility in terms of what you can use your keyboard for this is the perfect choice.
Together with its case combination, you can use it to read, type, and even sketch. It comes in a small compact design and uses scissor mechanism switches that allow for silent, comfy typing. A large trackpad also allows for more control and extra trackpad features such as extra gestures.
If you're wondering whether you can use this at night, you will be happy to know that it comes with backlights and up to 16 levels of brightness adjustment. As a bonus, it has a space you can use to charge your Apple pencil.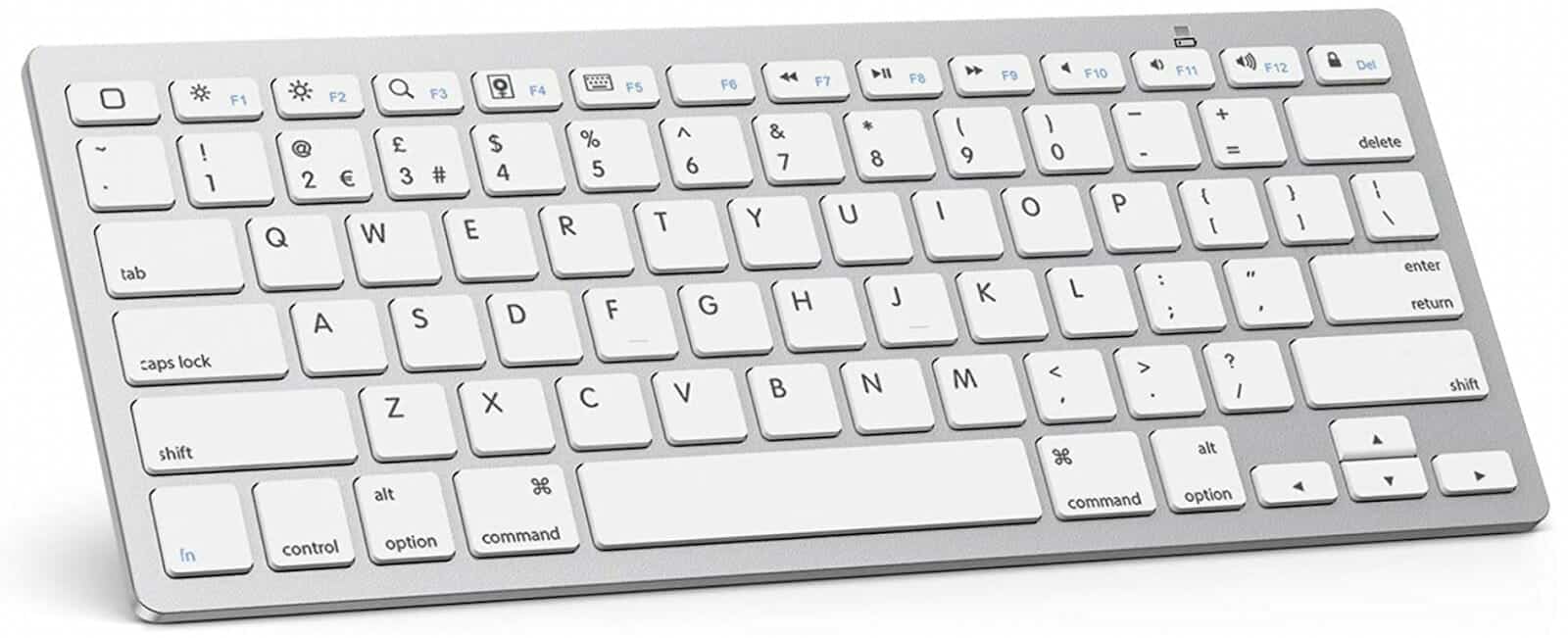 Pros
Long battery life of up to 6 months.
Durable design.
Very cheap
Cons
It does not have a backlight
Specifications and Key features
Connection- Wireless (Bluetooth connectivity)
78 Keys, including 13 iPad hotkeys
Durable stainless steel and ABS material
Battery life of up to 6 months
Compatible with all iPad devices
When it comes to iPads the OMOTON Ultra-Slim Keyboard is easily our pick for the best alternative. The keyboard comes in a stainless steel and ABS material design, making it durable and resistant to damage.
Its keys can take multiple kicks, with the company claiming it can take up to 3 million key presses. As it's a wireless device, it can connect to multiple devices within a 10-meter range. With up to 6 months of battery life, you won't need to worry about the battery constantly dying, and you can instead focus on your tasks.
It comes equipped with 78 keys, including 13 iPad hotkeys, and all are designed using the scissor mechanism. Additionally, it's important to note that the keyboard is compatible with all types of iPads.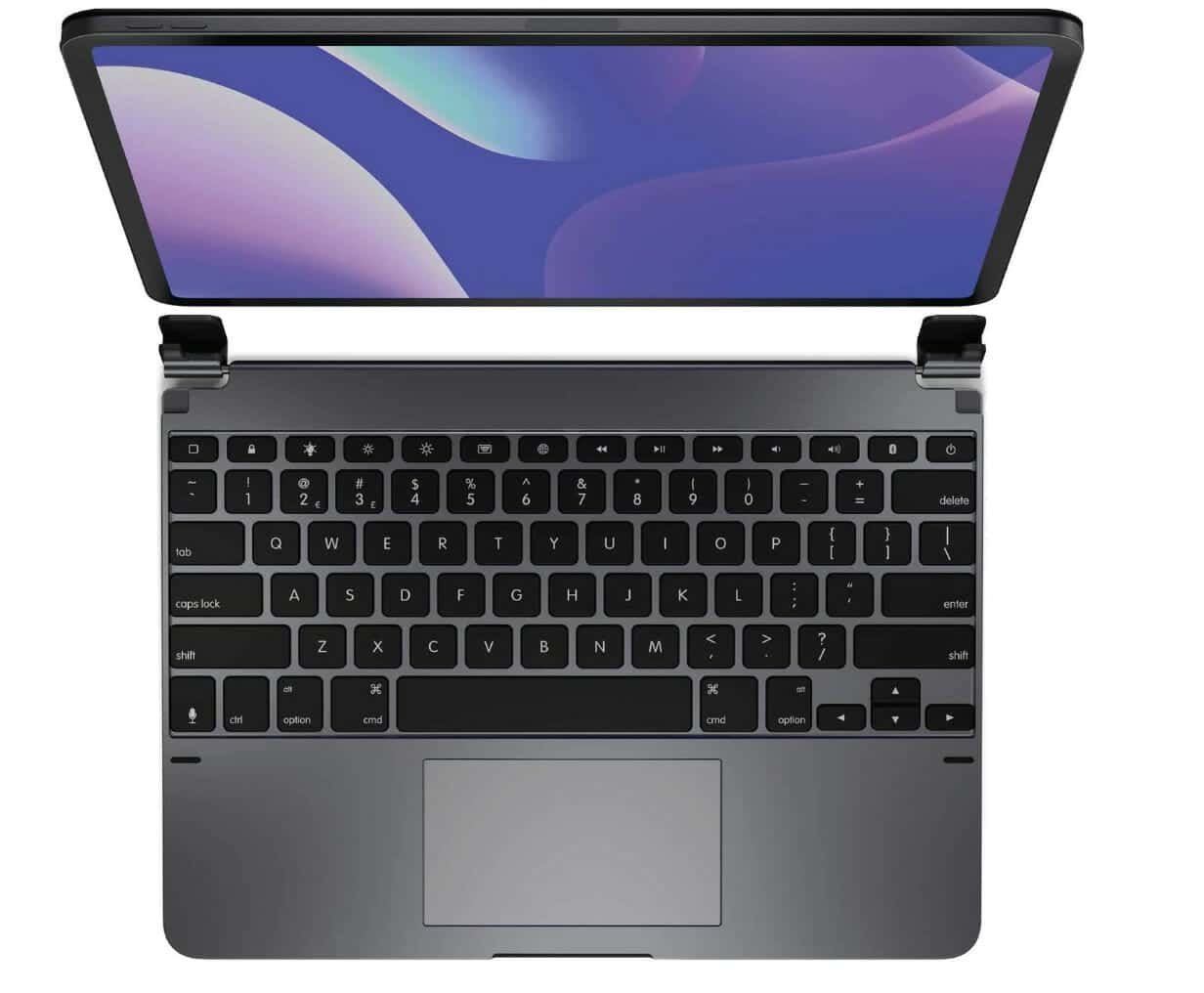 Pros
Unique design allows for a unique ultimate keyboard feel
Lag-free connectivity with 5.0 Bluetooth
Cons
Small Trackpad that is also not multi-gesture friendly
Expensive
Specifications and Key Features
Connection- Wireless (Bluetooth connectivity), USB- C for charging
Battery life- lasts 20 with backlight on and up to 3 months is used for 2 hours a day with no backlight
Backlight available
Includes Snap-On magnetic cover
Space grey color
Although its undersized trackpad is usually largely criticized, the Brydge Pro+ more than makes up for its trackpad deficiencies in other features. This keyboard features an excellent design made up of high-quality, durable Aluminum.
It features a Snap-On magnetic cover to protect your iPad from damage and is connected to the iPad via hinges for that well-known laptop feel.
No need to worry about visibility though as the hinges do not obstruct the screen in any way. For nighttime visibility, the keyboard comes with 3 levels of the backlight to match your moods. The keyboard is also equipped to handle Bluetooth 5.0 for the ultimate lag-free connectivity experience. If you're looking for an iPad alternative with a good laptop keyboard aesthetic feel, this is it.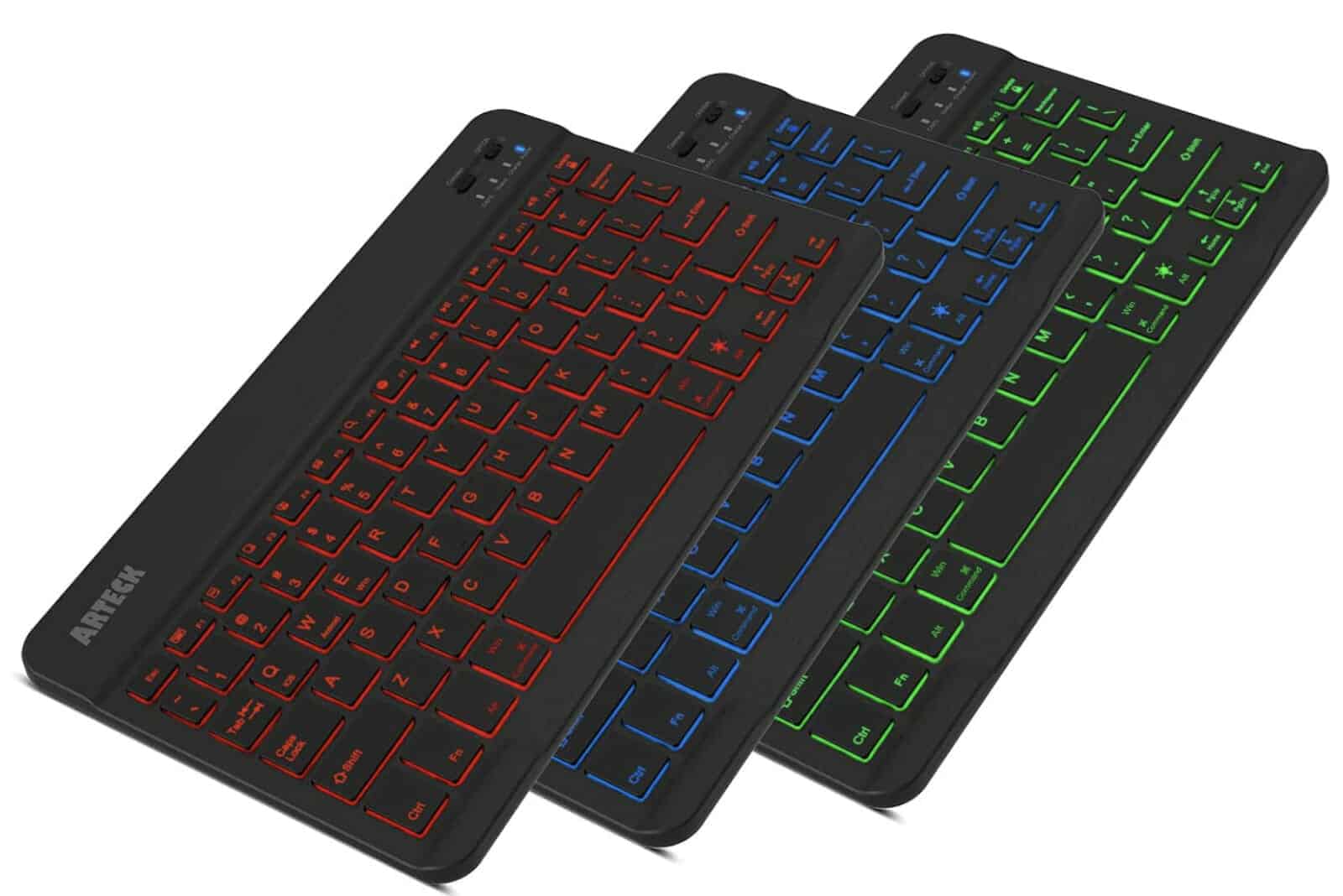 Pros
Cons
Doesn't have many features
Can only connect to one device at a time
Specifications and Key Features
Connection- Wireless (Bluetooth connectivity)
Battery life- 6 months (2 hours a day with no backlight)
7 multi-color backlight options
Black color
Compact thin design
If you're looking for a budget-friendly Magic Keyboard alternative that has just enough features to keep you happy, we recommend the Arteck HB030B Universal Slim Portable Wireless keyboard. Just from this baby's name, you can already pick up a few key features that may impress you: slim, portable, and wireless.
With its lightweight all-black design, you can easily have this as a travel keyboard. It also features 7 led backlight options to add contrast to the keyboard per your preference. For users who don't use their keyboard for more than 2 hours a day and with the backlight off, it can last up to 6 months before you need to recharge it.
How to Choose a Mac/iPad Keyboard
Choosing an alternative for the Magic Keyboard can be daunting if you don't know what to look for. Even then, it's important to note that a considerable part will depend on your specific preferences. Here are a few general things you can consider when looking for an alternative to the Magic keyboard:
Compatibility – Confirm that your keyboard choice is compatible with the specific model of your Mac or iPad.
Battery Life – Each keyboard will have different battery life depending on how often you intend to use your device. The longer it can last on one charge, the better.
Connectivity – Check to see how the keyboard is designed to connect with your keyboard. For instance, if it's through Bluetooth, ensure your keyboard can connect with the version of Bluetooth on your device.
Key features – Each keyboard will have its strengths and weaknesses. Say perhaps you want something with a backlight, the Logitech combo touchpad with its 16 levels of backlight levels may impress you.
Customization – The customization options on the keyboard vary, with some allowing for more customization than others.
Size and aesthetics – This will help you know whether or not your keyboard is going to blend with your lifestyle or not.
Price – Be careful here as a high price is not always an indicator of higher quality, always compare the features to see if the keyboard is worth it.
Frequently Asked Questions
Is There A Magic Keyboard Alternative?
Yes, depending on your specific preferences, you can find multiple alternatives you can use instead of a Magic Keyboard. There are even options that go well as a Macbook Pro alternative keyboard.
What Keyboard Is Most Like the Apple Keyboard?
While there are multiple options you can find for the Magic Apple Keyboard, one of the best options would be the Logitech MX Keys. Another good option is the Satechi Aluminum Bluetooth Keyboard.
Is Apple Discontinuing Magic Keyboard?
In 2021, Apple confirmed that they would be discontinuing the space grey accessories, including Magic Keyboard, Magic Mouse, and the Magic Trackpad 2. But, the keyboards are still available in different colors.
Can I Use a Non-Apple Keyboard With a Mac?
Yes, there are multiple keyboard brands other than Apple compatible with Macs. Examples of these brands include Logitech, Keychron, Satechi, and OMOTON, amongst many others. You can even use most Windows-specific keyboards, and just use the Ctrl button as the CMD button.
Is the MacBook Keyboard the Same as Magic Keyboard?
Apple claims to have made significant changes to the MacBook keyboard while drawing inspiration from the Magic Keyboard. A close look reveals that the two are quite similar, with slight variations in their mechanisms.
Which Keyboard Is Best for iPad Pro?
You will find various keyboard types have strengths and weaknesses in terms of features. Depending on your specific needs, the best option for your iPad may be different to other people.
However, we recommend the Logitech Combo Touchpad as an excellent overall keyboard to try out. If that's a little out of your price range, you could use the OMOTON Ultra-Slim Bluetooth keyboard as a budget alternative.
Final Thoughts
We hope that you were able to pick out a keyboard alternative that will work for you from this list. There is something for all users among the various options in this list.
Our favorite for a Mac is the Logitech MX Keys. If you're shopping for an iPad keyboard, check out the Logitech Combo Touch instead.
Related Reading: