Nobody wants to ever say, "I can't swipe up on my Apple Watch!" If you're unable to swipe up on Apple Watch, it results in additional issues that are frustrating and problematic, like being unable to use the control center, change modes, and locate your iPhone!
If your Apple Watch won't swipe up and you need a quick fix, the guide below may help. In this article, we listed some of the most common reasons why Apple Watches might not swipe up, as well as potential fixes.
Before you attempt a fix, we recommend cleaning your screen and trying slow swipes. If that doesn't work, it might be time to try one of the fixes below.
Can't Swipe Up on an Apple Watch? Try These 9 Solutions!
There are a few possible reasons why someone can't swipe up on their Apple Watch. It could be because of an unresponsive app, a software issue, hardware troubles, and more.
1. Try a Reboot
"Help! My Apple Watch won't let me swipe up!" One of the first things to do is attempt a reboot. That's right: Turn it off and on again!
To perform a reboot on your Apple Watch:
Press and hold the Apple Watch side button.
When the Power Off slide appears, slide it all the way to turn your Apple Watch off.
Wait a minimum of five minutes.
Press and hold the Apple Watch side button until the screen turns on again.
Wait for the watch to fully boot up, then see if the problem is resolved.
2. Attempt a Force Restart
Force restarting is the typical advice when a device isn't working or responding, and that is also the case for the Apple Watch. If a reboot doesn't fix your swiping issue, try force restarting your Apple Watch:
Press and hold on to the Apple Watch's side button and Digital Crown simultaneously.
Wait until you see the Apple logo on the display.
Release the buttons.
Wait for your watch to fully reboot.
Once the watch is fully loaded, check if the issue has been resolved.
It's important to note that Apple doesn't recommend force restarting your Apple Watch unless your watch is irresponsive (or as a last resort). You shouldn't perform a force restart if your watch is in the middle of updating watchOS.
3. Update watchOS
Can't swipe down on Apple Watch? The fix could be as simple as updating the watchOS. After all, the software is often the reason behind all sorts of issues — and the Apple Watch isn't immune to these problems, either! To update your watchOS:
Go to the Watch app on your iPhone or iPad.
Go to General.
Scroll to Software Update.
Download and install the update, following any instructions provided.
Note: Although watchOS 9 is the newest version, not all Apple Watch models can support it. Update your watch to the latest possible version available to your specific model.
Related Content: How to Change Your Country in the App Store
4. Choose a Different Apple Watch Face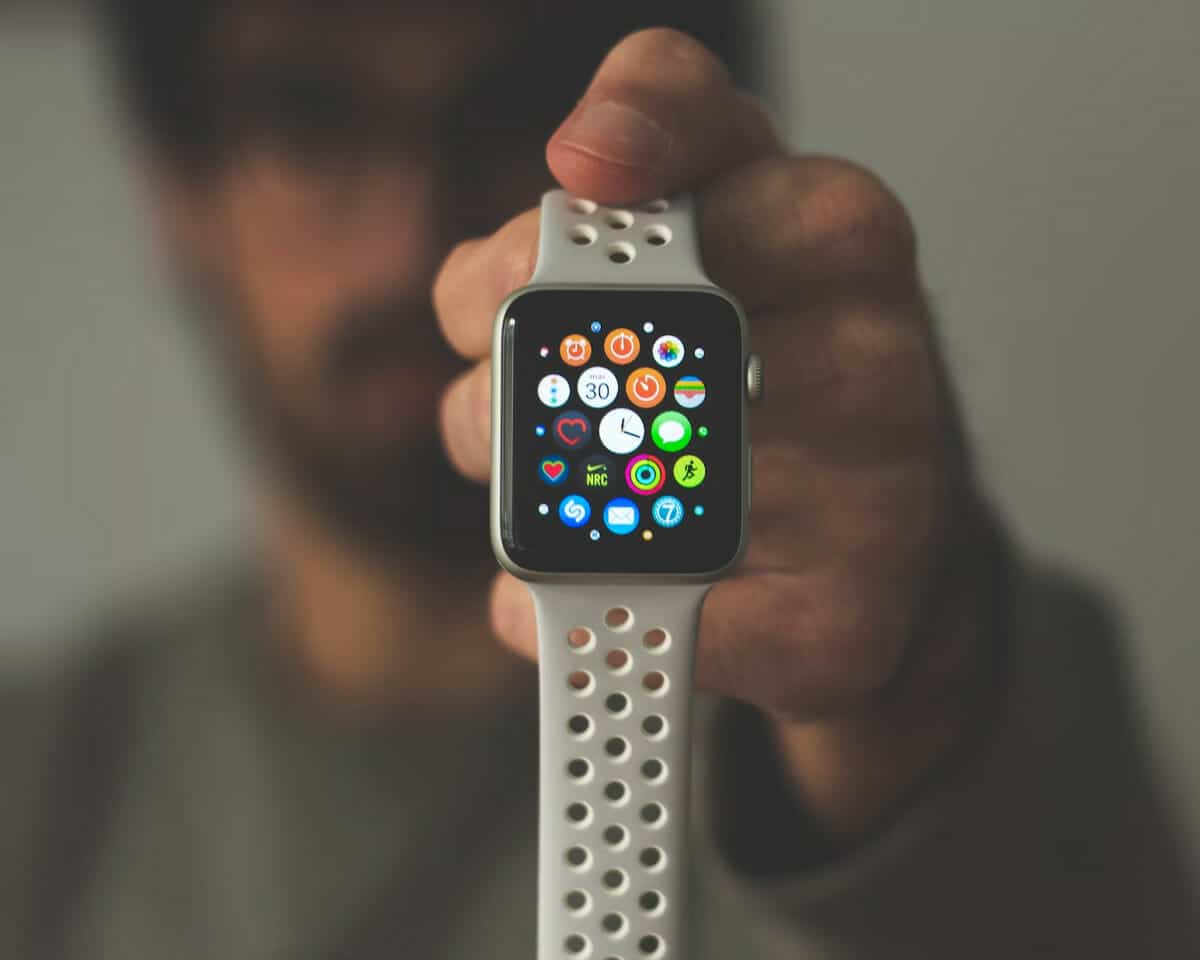 Although Apple Watch faces are a great way to customize and personalize your experience with the wearable, they can occasionally cause issues. Switching to a different watch face may help —  especially if you use a third-party face. Read our full guide on the best Apple Watch faces here.
To switch to a different watch face:
Go to the Watch app on your iPhone or iPad.
Navigate to Face Gallery from the button at the bottom of the screen.
Select a new watch face and tap on it. Locate the Add button and tap it to add it to your watch.
On your Apple Watch, swipe left/right to change the face.
Check to see if your problem is resolved.
Related: Always looking for the next big app? Check out SetApp's custom functionalities to improve your productivity!
5. Clean Your Watch
Dirt and debris can cause issues with your Apple Watch. Sometimes, products like soaps, lotions, and hand sanitizers can cause buildup affecting your watch's functions.
If you feel your watch's button or Digital Crown is stuck, it may be time to clean and de-gunk your watch. Clean your Apple watch carefully to ensure you don't cause any unwanted damage.
Note: Screen protectors that are improperly fitted or applied can be the culprit.
6. Disable the Zoom Feature on Your Apple Watch
Apple Watches have a feature that allows you to zoom in using a two-finger double tap. This feature is fantastic for accessibility. However, it may occasionally cause your Apple Watch to become unresponsive.
If this feature is enabled on your watch, it's simple to disable the zoom function:
Press your Apple Watch's Digital Crown.
Navigate to Settings.
Use the crown to move down and click Accessibility.
Tap Zoom.
Turn the setting off.
The Watch app found on your iPhone can also perform these steps.
7. Toggle the System Haptics On and Off
Some people have reported that toggling their Apple Watch's Haptics feature on and off helped fix their Apple Watch without requiring a restart. To attempt this fix:
Press your Apple Watch's Digital Crown.
Navigate to Settings.
Use the crown to navigate down and click Sound & Haptics.
Find System Haptics.
Turn it off.
Wait 30 seconds and toggle it back on.
8. Reset Your Apple Watch
In the unfortunate event that your Apple Watch refuses to swipe up — even if you've already attempted all of the fixes above — the last resort is to reset it. Resetting your Apple Watch performs a full wipe.
Here's how to reset your Apple Watch to factory settings:
On your iPhone or iPad, open the Watch app.
Go to General.
Scroll down until you see Reset. Tap it.
Click Erase Apple Watch Content and Settings.
On the message that pops up, confirm if you wish to proceed.
Follow the on-screen instructions, then set up your Apple Watch as a new device or restore it from your most recent backup.
If you'd rather not set your watch up again, you can always restore it from a backup. To accomplish this, remember to back up your Apple Watch before performing the reset.
Related Content: How to Change Goals on an Apple Watch
9. Check for Hardware Problems
"I can't swipe up on my Apple Watch!" If this is still you, despite trying all of the fixes above, it may be time to check your device for hardware issues. Check for any hairline cracks or other visible damage. If you don't spot any, seek advice from an Apple expert, who can perform a more in-depth diagnosis.
Frequently Asked Questions
What Is the Control Center on the Apple Watch?
Apple Watches come with the Control Center. This provides the most convenient way to check your battery life, put your watch on silent mode, choose your focus, turn on your watch's flashlight, and much more. It's also customizable, so you can add or remove shortcuts as you wish.
Unfortunately, you need to swipe up on your Apple Watch to access the Control Center. Therefore, if your watch is unresponsive to upward swipes, you won't be able to access all your convenient controls and shortcuts.
Why Can't I Swipe Down on the Red Dot on My Apple Watch?
Red dots indicate unread notifications on the Apple Watch. A reboot might fix the issue if you can't swipe on your watch. If that doesn't work, try a force restart. If neither method helped, try one of the abovementioned methods (in our guide).
Why Is My Apple Watch Not Responding?
There are several reasons why your Apple Watch doesn't respond. One of the easiest and quickest fixes is a force restart. If that doesn't work, you can attempt other methods for fixing an unresponsive Apple Watch.
What Should I Do if Force Restarting Does Not Work on My Apple Watch?
If force restarting doesn't fix the issue, try a hard reset. We recommend leaving this method as a last resort and backing up your Watch before doing so. Once reset, you can restore your watch from the backup or set it up like new. If a hard reset still doesn't work, it may be time to seek support from Apple.
Bottom Line
We hope this guide helped answer the question, "Why won't my Apple Watch swipe up?" If you still can't swipe up on Apple Watch — despite trying all the methods above — the next step is to seek Apple's assistance. If your watch is still under warranty or if you purchased AppleCare+, repairs might be covered at no extra cost!
If you want to improve your Apple Watch knowledge, check out this online course for newbies on developing Apple Watch apps.
Don't think the Apple Watch is for you? If you want to try something else, check out some of the best Apple Watch alternatives !
Related: