If you work with text in Google Sheets, there is an easy way to run spell check and take care of the misspelled words.
As an example, below I have the fruits name in Column A.
If you look closely, you can find two misspelled words in it – Aple (instead of Apple) and Strawbery (instead of Strawberry).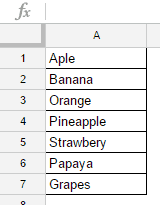 Now this is a small dataset, but if you have a lot of text, manually scanning for misspelled words would be time-consuming and prone to errors.
Here are the steps to run spell check in Google Sheets:
Select the data on which you want to run the spell check. If you want to run it for the entire sheet, click on the square at the top left of the sheet cells area.
Go to Tools –> Spelling.
This would run the Spell Check and if it finds any misspelled words, it opens the Spell Check dialog box as shown below.
In this Spell Check dialog box, you have the following options:

Change the highlighted instance of the misspelled word. If there are more than one occurrence of this word, you can check all the occurrences and correct it by selecting Change All.
Ignore the suggested change. If you have a name or item that is highlighted as misspelled, you can choose to ignore it. If there are multiple occurrences of it, you can choose to ignore all the instances by click on Ignore All.
If there is a word you want to add to the dictionary so that it isn't highlighted as a misspelled word in future, click on Add to Dictionary.
Spell check continues to run as long as it finds misspelled words. If you want to close it, click on the cross at the top-right.
Related: Using Spell Check in Excel.
You May Also Like the Following Google Sheets Tutorials: