A planner can be a great tool, especially when you know how to use it. It can help you allocate your time effectively, keep up with your commitments, and focus on your tasks. Join us as we discuss how to use a planner effectively for everyday life and work.
What Is a Planner?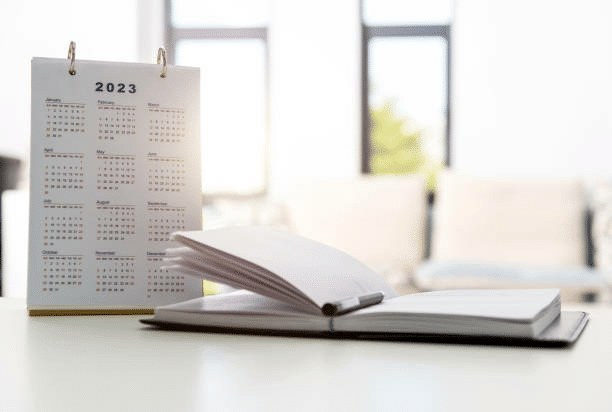 As simple as it sounds, a planner helps you track tasks and goals within a specific time frame. Traditional or digital planners have long been used for promoting a productive life and getting things done.
Planner Basics
Like any notebook, how you use your planner is up to you. But to use it effectively, it's important that you first know the basic features and structures of your planner.
Calendar Events and To-Dos
Your planner items would belong to two general categories: Calendar events and to-dos. Calendar events include scheduled activities, meetings, or occasions on specific dates and times, like an upcoming business conference or a birthday party.
On the other hand, a to-do list refers to an actionable task you need to accomplish, such as grocery shopping or homework assignments.
Between the two categories, you want to set up your to-dos and create actionable items around your calendar events. The latter are generally more rigid and must be scheduled beforehand, while to-dos come and go, making them easier to lay out.
How To Structure Your Planner
With the essential elements of your planner established, it's time to figure out how to organize your planner. There is no right or wrong way to do this. The most important thing is to find your own style — a planning system that works for you and that you'll really use.
Here are some examples of what to write in a planner:
Calendar (yearly, monthly, and weekly)
Task list
Notes
Future goals
Trackers (for things like sleep, mood, spending, etc.)
Inspirational quotes or quotes from books you're reading
Habit trackers
Anything else that is helpful to track
As a beginner, consider keeping your planner as simple as possible for the first few weeks. For example, record your tasks and their deadlines and priority levels. This way, you don't get overwhelmed with the number of things you need to track and organize. It also makes planning easier to make a habit.
Using a Planner to Organize Your Life and Work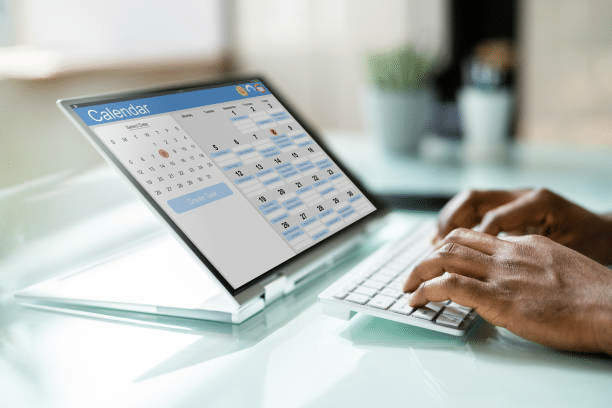 After determining the things to put in a planner, think about how you can use it to organize your personal life and professional matters. Here are a couple of steps to using a planner to stay organized:
1. Use the Monthly Section
Usually, the planners that you can buy on the market include a monthly section. Here, you want to track every date and matter that won't change easily. For example, you can jot down events like birthdays, holidays, bill dues, and anniversaries. Alternatively, you can get a separate monthly planner.
2. Fill In Important Dates and Deadlines Right Away
One common mistake most beginners make is that they don't write down new task details (e.g., the due date of the task) immediately upon knowing them. Hence, they tend to forget these dates, resulting in faulty planning and schedule conflicts.
By promptly writing specific tasks down and taking note of their due dates, you can ensure that you stay organized, track all new tasks, and do not miss any important reminders or events.
3. Take Notes of Things You Care About
Ultimately, you're using a planner to make your life and the things you care about more organized. What these specific things are, you're the master. But here's a list of what you might want to jot down in your planner:
Your monthly task list
Appointments and events for the week
Yearly goals and objectives
Important dates
Reminders
Daily reflections
Health and wellness
Finances
Ideas and brainstorms
Projects
Personal development
Travel plans
Special occasions
Other tasks and notes
Tip: Write down whatever comes to mind! Sudden thoughts and ideas might be more important than you think.
4. Make Use of Planner Features
Besides the common writing spaces in daily planners (date section, task name, etc.), the one you're using might also have extra features that make planning easier.
Address book: Write down essential contacts here to easily retrieve them when the time comes, such as when confirming your appointments with other people.
Stickers and labels: Try using distinct and functional stickers, sticky notes, and labels to group the same tasks and separate personal and business matters. Or, why not use them to decorate your planner?
Notes section: Jot down essential details here during your meetings. Then, when keeping track of your tasks, check out these notes.
Journal section: Write down important reflections here. Or, if you want to keep things separate, consider finding good journal apps to use.
5. Use Color Coding To Keep Track of Different Items
It will gradually become harder to organize and differentiate between the things on your planner as you track more of them. To sort them out and keep your actionable items organized, using color coding for the items on your task list might do the trick.
Let's say you keep both personal and work items in one planner. Here, you can color code your personal goals blue and your work or school activities green. To highlight important items, use an eye-catching red hue or other bright colors.
When tasks are completed, you can use colored pens to strike them off your task lists.
6. Take Control of Your Time like a Boss
Things don't always go according to plan. You'll realize this concept better as you start doing the items on your planner. The most common scenario is that you don't finish everything you listed for the day or the week ahead.
That's why you have to set realistic and manageable goals. To organize your schedule and control your time like a boss, why not pick out the top three most important tasks from your to-do list? Prioritize doing these three things, and do whatever fits your remaining time. The same goes for your weekly planners and monthly planners.
Using your planner ensures you get the right balance of work and rest. Don't make your task lists so stressful. Instead, do what you can when you can.
7. Practice Time-Blocking
Time-blocking is another way you can set realistic goals for the day. It's a time management technique that involves assigning a task to a particular "time block" throughout your daily schedule. Here's an example of a daily to-do list:
6:30 AM – 7:00 AM: Check for missed phone calls
7:00 AM – 9:00 AM: Go to the gym
9:00 AM – 11:30 AM: Write a blog post
11:30 AM – 1:00 PM: Eat lunch
When you schedule time blocks, remember to include some "me" time. This allows you to have enough rest to continue with the rest of your tasks and avoids early exhaustion throughout a jam-packed day.
8. Set a Regular Planning Session
Strive to update your planner daily. Before going to bed, jot down everything that you want or need to do for tomorrow. By practicing daily planning, you don't miss out on any commitments and appointments you have.
Consider making a weekly planner, too. Think about any events or deadlines you must attend in the upcoming week. Specifically, you want to jot down more significant tasks in your weekly schedule that you can't easily plan out on particular days, such as your doctor's appointment or a family dinner on a Sunday evening.
More Planner Organization Tips You Should Apply
While individual preferences vary, you might also want to follow these top tips on how to use a planner for beginners:
Use a Small Passport or Regular Sized Planner
When choosing a new planner, pick a paper planner compact enough to carry around, like a passport-sized planner that fits in your bag. This is an effective way to organize every task and add appointments as needed, even when you're out.
To find the perfect planner, don't only consider the right size. Consider finding a beautiful planner that suits your aesthetics (e.g., minimalist planners). This keeps you interested in planning your daily to-dos. One planner brand you might want to check out is The Happy Planner.
Allocate Time for Unexpected Events
Consider big-picture planning — always anticipate things that don't follow your plan and build upon that. As such, you want to be flexible with your schedule. For example, your flight was delayed, so you must push back the appointments you planned for the week by a few days.
Write things with a pencil and change the details of each task as needed. Or better yet, allocate some buffer time when planning your time blocks.
Consider Digital Planners
A digital planner works as effectively as a paper planner for an organized life, except it's easily accessible using a phone, tablet, or computer. They accommodate people who regularly go on business trips, as you can organize your appointments and sync your digital planner across multiple devices.
One favorite planner app here is the Notion Planner, which allows you to set up not only your task details. It also creates wikis for your personal tasks and integrates online calendars.
How To Use a Planner When You Don't Have Plans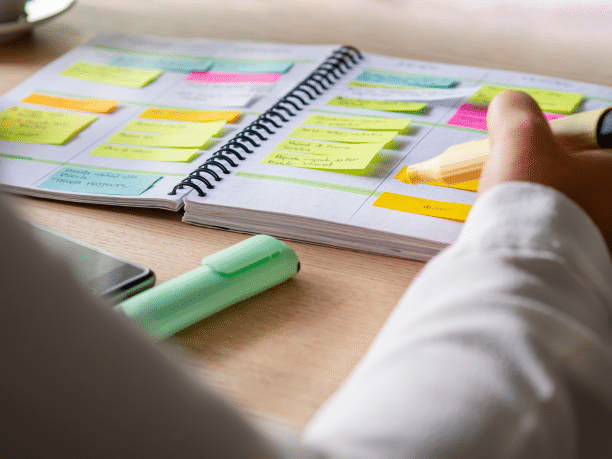 In rare moments of idleness, you might wonder how to write in a planner without having anything to do. Here are some ideas of what you can write down when you don't have plans:
Habit tracking: Treat your planner as a log of your daily tasks, chores, behaviors, and hobbies. This helps you see how you're doing and helps you stay motivated to stick to the positive habits you're working on.
Meal planning: Thinking about what to eat at every meal can be a chore. Instead, why not schedule your meal prep, plan nutritious meals for the whole week, create grocery lists, and monitor your dietary habits with a planner? You can even share your meal plans with your entire family!
Personal health: Incorporating your planner into your fitness goals would be a great thing, too. For example, you can track your gym sessions, weight, body proportions, and other metrics for a week or month using your planner.
Ultimately, planners aren't strictly for planning, though it is their primary purpose. You get to decide what you want to write in it.
Frequently Asked Questions
What Are the Different Types of Planners?
Planners are mainly categorized into daily, weekly, and monthly planners. They can be further grouped according to purpose, such as work planners, wellness planners, financial planners, and blank journals.
Is Using a Planner Effective?
Yes. Planners can help you organize important tasks and improve your time management skills. They can also help you choose which tasks to prioritize and allocate enough time to your responsibilities.
Why Do Planners Fail to Plan?
Most planners fail because they set unrealistic goals, such as condensing many tasks into a single day. To solve this, consider using time management apps and/or techniques like time blocking. Try to allocate resting time from task to task to avoid burnout.
How Do You Use a Planner for ADHD?
People with ADHD can use planners to make lists, organize tasks, and allocate ample time to accomplish their projects. This helps them stay focused on one task at a time and avoid negative feelings from not being able to finish everything included in their to-do list.
Conclusion
Planners are tools you use to have an organized life, whether personal or professional. They're helpful "tools" that help you to track your top priorities. What to write and how to use a planner effectively is entirely up to you.
When you're ready to plan your days, weeks, months, or even the entire year ahead, learn how to set up a planner using our guide above, and you'll be good to go.
Want to go one step further with organizing your personal and professional life? Check out this online bullet journaling course that will teach you how to combine planners, notebooks, and project managers using a bullet journal.
Related: