Buying a new phone can be exciting. Switching the operating systems of your mobile device is less so. You just got your shiny new iPhone and wish to transfer your data from your Android device.
Transferring data from Android to iPhone can be a bit tricky if you don't know what you're doing.
Although it can seem like a daunting task, armed with the proper knowledge, you can make the process of switching from Android to iPhone seem like a piece of cake. This article will detail some methods you can use to move Android to iOS and some tips to help make this process even simpler for you. Read on to learn how to transfer data from Android to iPhone.
Before You Begin Android to Apple Transfer
Here are a few things you need to do before transferring the data from your Android to your iPhone:
Ensure that the Wi-Fi is switched on, on both of your devices.
Charge up your iPhone and Android devices to at least 75%, so they don't shut down during the transfer process.
Ensure that the data you're moving can fit on your new iPhone. Include the data on both your internal storage and the external SD card.
If you wish to move your Chrome browser bookmarks from your Android to your iPhone, ensure you have the latest version of Chrome installed.
Data Transfer From Android to iPhone
To transfer data seamlessly from your Android to an iPhone, Apple has developed an application that you can download from the Play Store. Read on for the in-depth guide on how to transfer Android to iPhone using this app.
Move to iOS application.
Here are the steps you need to follow to move data from Android to iPhone: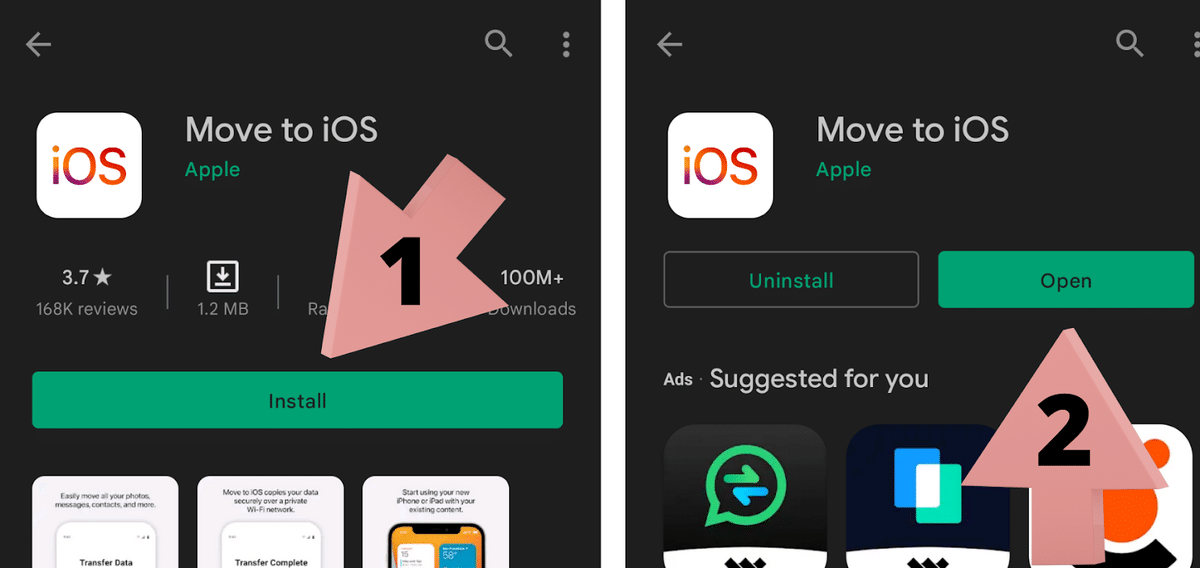 Step 1: On the Android phone, head over to the Google Play Store and search for "Move to iOS ."Click on Install on the application's page. Alternatively, if you're reading this on an Android device, use this link to go to the application's Play Store page. Once it's installed, click on Open to start the app.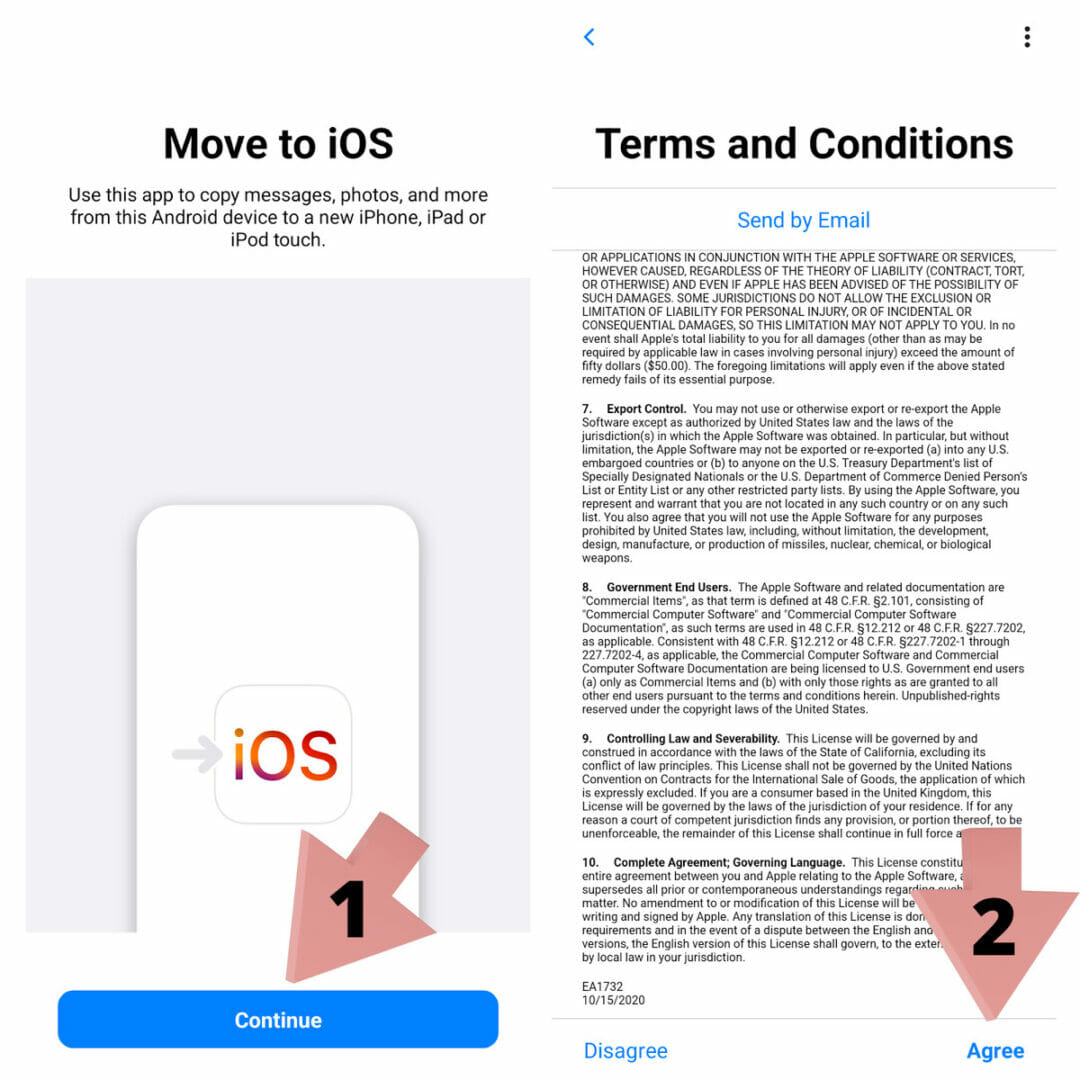 Step 2: Once you open the Move to iOS application, the app will greet you with a short welcome message. Click on Continue to get to the Terms and Conditions page. Click on Agree once you're done reading them.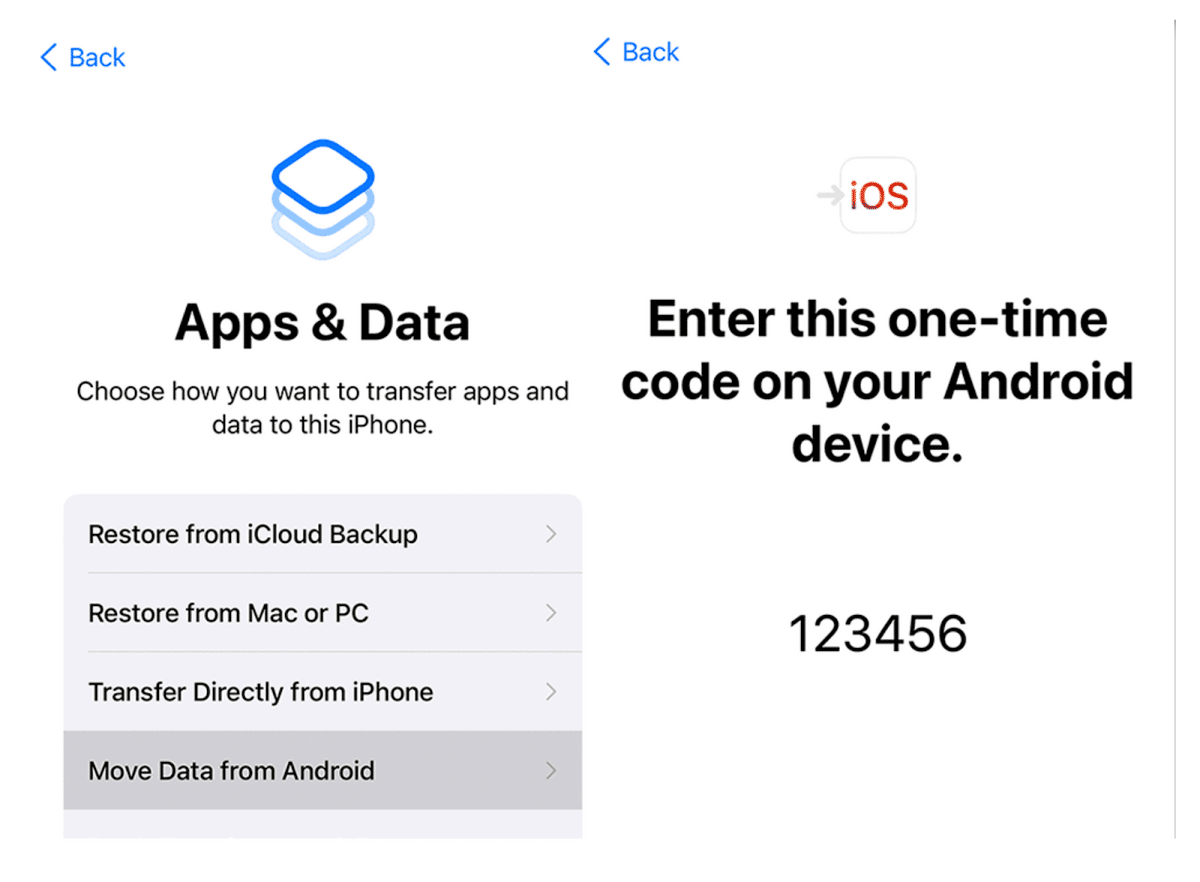 Step 3: Look for the Apps & Data section on your iPhone's setup screen. There, click on Move Data from Android. This will take you to a screen that will show either a six-digit or a ten-digit code on the screen.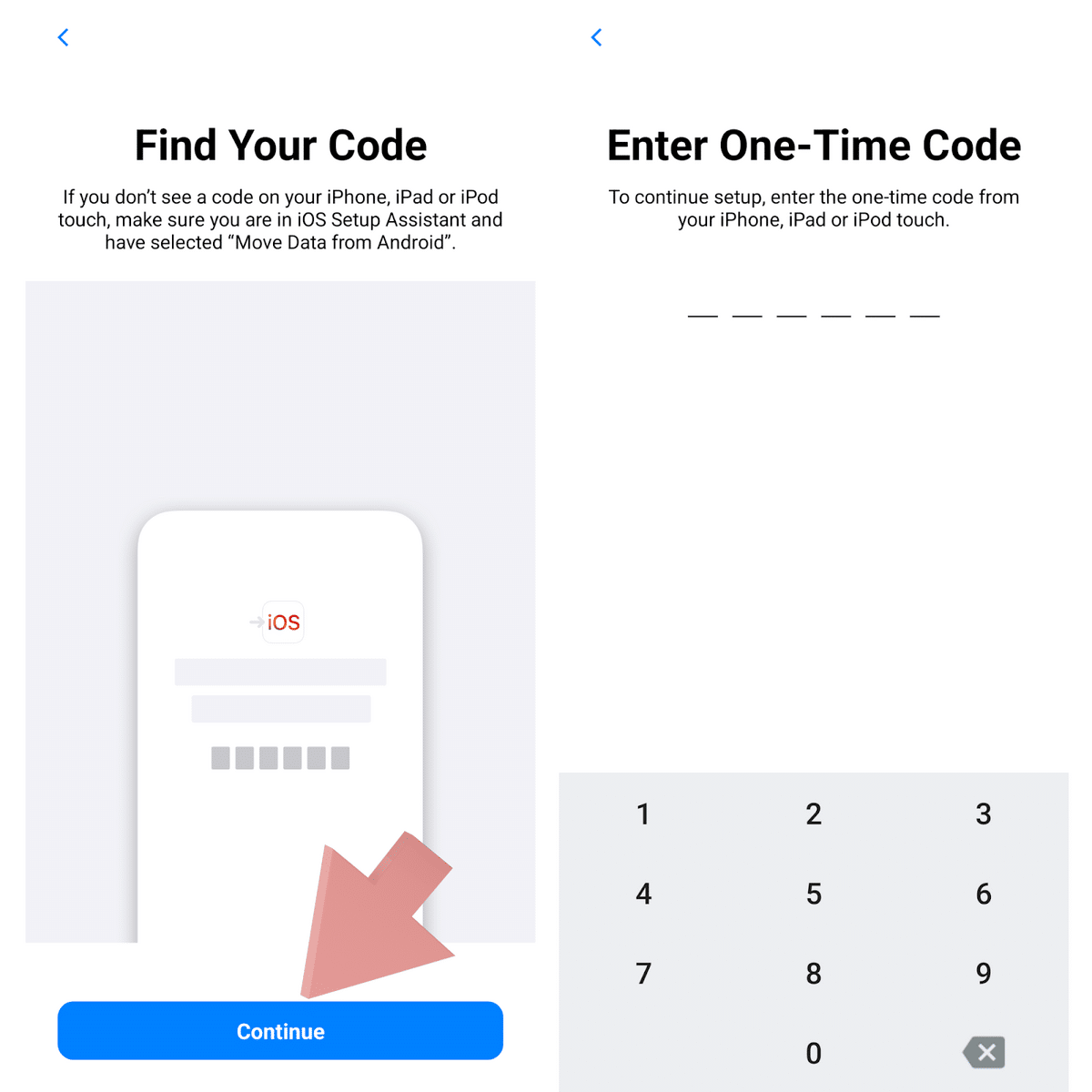 Step 4: On the Android device, click on Continue in the Find Your Code section and input the code using the keypad. The iPhone will then temporarily create and share a Wi-Fi network, which will facilitate the Android to Apple transfer. Select the network, and you will be taken to the content selection screen.
Step 5: Now, you will have the option to select the data you wish to transfer on the android device. You can select data like your Google Account, Camera Roll, Messages, Calendar, and Contacts. Once you're done selecting the data, click on Continue, and the transfer should start.
Make sure you wait until the iOS device's loading bar finishes and not the Android one, as it usually tends to finish faster than the one in iOS. The process can take a couple of minutes to about an hour, depending on the amount of data you're transferring.
Once the loading bar finishes on both devices, click Done on the Android device. Click on Continue on the iOS device and start following the steps on the screen to finish setting up your iPhone. If you have data that needs to be moved over manually, check further down in the guide. For missing apps from the Android device, head over to the App Store on iOS to download them.
Move to iOS Without Google Play
If you're looking at how to transfer data from Samsung to iPhone, you can simply go to the Google Play Store and download the Move to iOS application. However, if you're using a device like Huawei or a brand that doesn't have Google Play installed, you can sideload an APK file to use the Move to iOS application on your phone.
To do this, follow these steps:
Step 1: Download the Move to iOS installation APK on your device here:
Step 2: Use the Files application on your phone to head to the Downloads folder. There you will see the Move to the iOS installer. Make sure the filename ends with .apk
Step 3: Click on the file and then click Install.
The application should install after a few seconds. You will see a confirmation window. There click on Open to start the application. You should also be able to find the application in the app drawer on your phone.
How to Transfer Data From Android to iPhone Manually
If you cannot use the Move to iOS application on an Android device, you can also transfer your data manually. Although it's not the fastest alternative, it's still handy when the Move to iOS application fails to transfer your data.
Mail, Contacts, and Calendars
The software on your iPhone, iPad, and iPod touch is connected with many popular email service providers such as Gmail, Yahoo, Microsoft Exchange, and others meaning you should be able to maintain your current email, contacts, and calendar.
To begin, add your current email to both of your devices. Click on Settings, then Passwords & Accounts. There you can sync your email and its settings.
Photos and Videos
Connect your Android phone to your PC or laptop and open your videos and photos folder. Drag and drop the videos and photos you want to move to a folder on your PC. Now, remove your Android device and connect your iPhone to your computer.
For Mac devices with macOS Catalina, open Finder
For Mac devices with macOS Mojave or earlier, open iTunes
Sync your images from your PC to your iPhone. You can find your photos and videos by going to Photos and then the Albums.
Music
If you use a music streaming application after setting up your iPhone, head over to the App Store and download the application. Sign in with your username and password, and you can download your music there.
How to Make Switching From Android to iPhone Faster
To ensure your Android to iPhone transfer goes smoothly, follow these guidelines:
Don't touch either of your devices until the transfer is complete. The iOS transfer app should remain onscreen on the android phone the entire time. Your content may not be transferred if you make a phone call or use another app from your Android device before the transfer finishes.
Turn off all the apps on the Android phone that could impact your Wi-Fi connection, like the Smart Network. Then go to Settings and find the Wi-Fi option, touch and hold each of the listed networks connected to, and delete those networks.
Restart your Android and iPhone before you start the transfer.
Turn off the mobile data on the Android device before starting the transfer.
Frequently Asked Questions
How Do I Transfer From Android to iPhone Without Losing Everything?
Simply download the Move to iOS application from the Google Play Store and launch the app when you want to switch from Android to iPhone without losing your data. Your new iPhone will establish a safe Wi-Fi network and discover your Android device running the Move to iOS software.
Once you verify the security code, it starts transferring the data and putting it in the correct places. On the Android and iPhone, press Done and Continue after the data transfers over to the new device.
To complete the setup on your iOS device, simply follow the onscreen instructions. Ensure that everything has been transferred from your Android to the iPhone. If any data remains, you can manually move it over.
Can I Stop the Transfer From Android to iPhone?
Yes, you can stop the transfer from Android to iPhone. Swipe the Move to iOS app closed on the Android and uninstall the app to do this. Your iPhone will inform you that the transfer was halted.
Reinstall and open Move to iOS on the Android phone. Then choose the option to reset your iPhone and start over by holding down the power button. After the iPhone has been reset, you can start with the setup wizard and reselect everything you wish to transfer.
How Long Does It Take To Transfer From an Android to an iPhone?
In general, the length of time it takes to transfer from Android to your iPhone is determined by the amount of data that needs to be transferred. Wi-Fi connectivity also needs to be considered. If you have a stable Wi-Fi connection, it will take relatively less time, maybe a couple of minutes, to transfer a dozen gigabytes. Otherwise, it may take approximately an hour per 4GB of your data.
Transfer Data From Android to iPhone
Apple has made it a seamless experience when switching from an Android to an iPhone, thanks to their Move to iOS application. If that doesn't work for you, manual data transfer is an equally viable option.
We hope this article helped you better understand how to transfer data from Android to iPhone and other iOS devices. Let us know in the comments if you have any questions.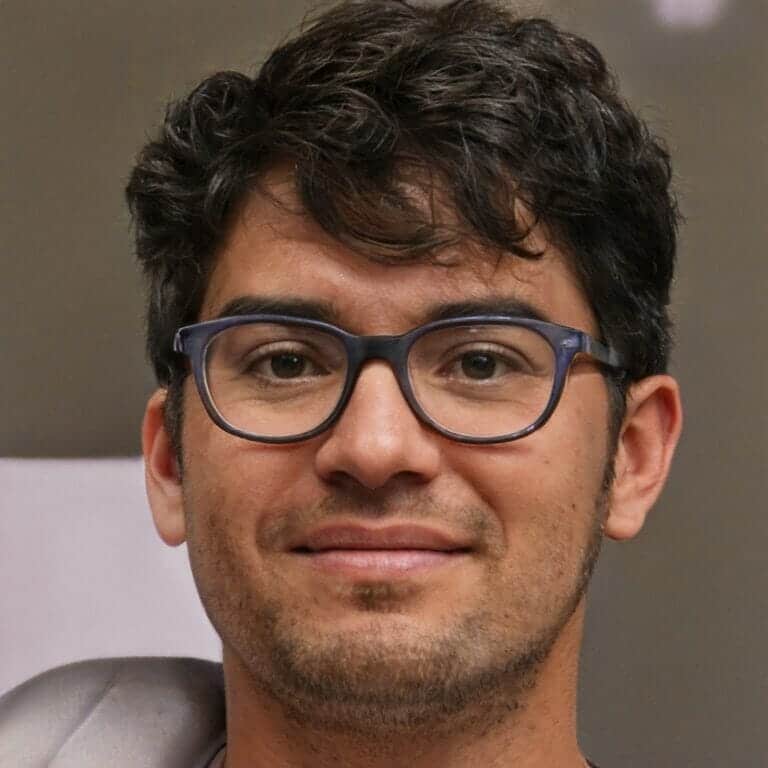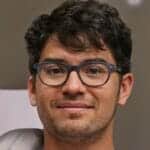 Jake is a spreadsheet expert and content writer from New Zealand. He has a double Bachelor's Degree in Teaching and has been working in the education industry for over 11 years. His experience makes him adept at breaking down complex topics so that everyone is able to understand.