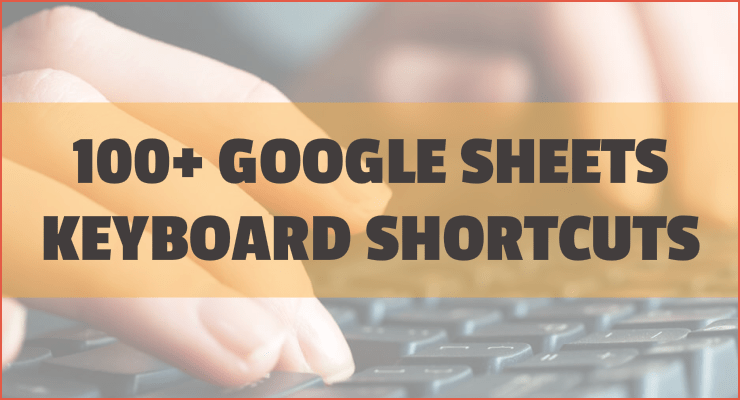 Google Sheets is a relatively new spreadsheet tool in the market. It has quickly gained a lot of fan following and I see a lot of people migrating from other spreadsheets applications to Google Sheets.
The fact that you can use it for free (as it comes with every Google account) is a huge reason for this fast adoption.
In this article, I have listed 101 Google Sheets Shortcuts that will save you a lot of time.
Scroll down to see all the Google Sheets Keyboard Shortcuts.
Google Sheets Shortcuts for Navigation
Action
Windows
Mac
Move One Cell Up/Down/Left/Right.

↑

↓

←

→

↑

↓

←

→

Go to the Left Most Cell in the Current Row.

Ctrl

←

⌘

←

Go to the Right Most Cell in the Current Row.

Ctrl

→

⌘




→

Go to Bottom Most Cell in the Current Column.

Ctrl

↓

⌘

↓

Go to Top Most Cell in the Current Column.

Ctrl

↑

⌘

↑

Move to the beginning of the row.

Home

Fn 

←

Move to the beginning of the sheet.

Ctrl

Home

⌘

Fn 

←

Move to the end of the row.

End

Fn 

→

Move to the cell on the right.

Tab

Tab

Move to the cell on the left.

Shift

Tab

Shift

Tab

Move to the end of the sheet.

Ctrl

End

⌘

Fn 

→

Move to the next sheet.

Ctrl

Shift

PageDown

Option

↓

Move to the previous sheet.

Ctrl

Shift

PageUp

⌘

↑

Display the list of sheets.

Alt

Shift

K

Option

Shift

K
Google Sheets Keyboard Shortcuts – Cut/Copy/Paste
Action
Windows
Mac
Copy the Selected Cells.

Ctrl

C

⌘

C

Cut the Selected Cells.

Ctrl

X

⌘

X

Paste the Content of the Selected Cells.

Ctrl

V

⌘

V

Paste Values Only.

Ctrl

Shift

V

⌘

Shift

V
Google Sheets Keyboard Shortcuts – General
Action
Windows
Mac
Undo

Ctrl

Z

⌘

Z

Redo

Ctrl

Y

⌘

Y

Repeat the Last Action

F4

F4

Insert/Edit Note (comment)

Shift

F2

Shift

F2

Find within the Sheet

Ctrl

F

⌘

F

Opens Find and replace Dialogue Box

Ctrl

H

⌘

H

Save (Every change is saved automatically in Drive)

Ctrl

S

⌘

S

Open a File

Ctrl

O

⌘

O

Print

Ctrl

P

⌘

P

Show common keyboard shortcuts

Ctrl

/

⌘

/

Compact Controls

Ctrl

Shift

F

⌘

Shift

F

Open Hyperlink (when the cell with a link is selected)

Alt

Enter

Option

Enter

Enable screen reader support

Ctrl

Alt

Z

⌘

Option

Z
Google Sheets Shortcut Keys – Selection
Action
Windows
Mac
Select column

Ctrl

Space

⌘

Space

Select row

Shift

Space

⌘

Space

Select all

Ctrl

A

⌘

A
Google Sheets Keyboard Shortcuts – Data Entry
Action
Windows
Mac
Complete Data Entry and Move to the Cell Below

Enter

Enter

Completes Data Entry and Move to the Cell Above

Shift

Enter

Shift

Enter

Insert a New Line in the Same Cell

Alt

Enter

Option

Enter

Completes Data Entry & Move to the Cell on the Right

Tab

Tab

Completes Data Entry & Move to the Cell on the Left

Shift

Tab

Shift

Tab

Get into Edit Mode

F2

F2

Fill all the Selected Cells

Ctrl

Enter

⌘

Enter

Copy the content of the selected cell in the cell below (all cells should be selected)

Ctrl

D

⌘

D

Copy the content of the selected cell in the cell to the right (all cells should be selected)

Ctrl

R

⌘

R

Move One Character to the Left (when in cell edit mode)

Left Arrow

Left Arrow

Move One Character to the Right (when in cell edit mode)

Right Arrow

Right Arrow

Select all content to the left of the cursor

Shift

Up Arrow

Shift

Up Arrow

Select all content to the Right of the cursor

Shift

Down Arrow

Shift

Down Arrow

Move to the end of the cell content (when in cell edit mode)

Ctrl

End

⌘

End

Move to the beginning of the cell content (when in cell edit mode)

Ctrl

Home

⌘

Home
Google Sheets Keyboard Shortcuts – Insert
Action
Windows
Mac
Insert New Sheet

Shift

F11

Shift

Fn

F11

Insert Hyperlink

Ctrl

K

⌘

K

Insert Current Time

Ctrl

Shift

;

⌘

Shift

;

Insert Current Date

Ctrl

;

⌘

;

Insert Row Above (in Google Chrome)

Alt

I

R

Option

I

R

Insert Row Above (in Other Browsers)

Alt

Shift

I

R

Option

Shift

I

R

Insert Row Below (in Google Chrome)

Alt

I

W

Option

I

W

Insert Row Below (in Other Browsers)

Alt

Shift

I

W

Option

Shift

I

W

Insert Column to the Left (in Google Chrome)

Alt

I

C

Option

I

C

Insert Column to the Left (in Other Browsers)

Alt

Shift

I

C

Option

Shift

I

C

Insert Column to the Right (in Google Chrome)

Alt

I

G

Option

I

G

Insert Column to the Right (in Other Browsers)

Alt

Shift

I

G

Option

Shift

I

G
Google Sheets Keyboard Shortcuts – Delete Row Shortcut in Google Sheets
Action
Windows
Mac
Clear Cell Contents Google Sheets Shortcut

Delete

Delete

Delete Current Row (in Google Chrome)

Alt

E

D

Option

E

D

Delete Current Row (in Other Browsers)

Alt

Shift

E

D

Alt

Shift

E

D

Delete Current Column (in Google Chrome)

Alt

E

E

Option

Shift

E

D

Delete Current Column (in Other Browsers)

Alt

Shift

E

E

Option

Shift

E

E
Keyboard Shortcuts for Google Sheets – Formatting
Action
Windows
Mac
Bold the contents of the selected cell

Ctrl

B

⌘

B

Underline the contents of the selected cell

Ctrl

U

⌘

U

Italicize the contents of the selected cell

Ctrl

I

⌘

I

Apply the Strikethrough Format

Alt

Shift

5

Option

Shift

5

Center align the contents of the selected cell.

Ctrl

Shift


E

⌘

Shift 

E

Left aligns the contents of the selected cell.

Ctrl


Shift

L

⌘

Shift

L

Right-align the contents of the selected cell.

Ctrl

Shift

R

⌘

Shift

R

Apply a top border to the selected cells.

Alt

Shift

1

Option

Shift

1

Apply the right border to the selected cells.

Alt

Shift

2

Option

Shift

2

Apply the bottom border to the selected cells.

Alt

Shift

3

Option

Shift

3

Apply a left border to the selected cells

Alt

Shift

4

Option

Shift

4

Remove borders from the selected cells.

Alt

Shift

6

Option

Shift

6

Apply the outer border to the selected cells.

Alt

Shift

7

Option

Shift

7

Apply the decimal format

Ctrl

Shift

1

⌘

Shift

1

Apply the time format.

Ctrl

Shift

2

⌘

Shift

2

Apply the date format.

Ctrl

Shift

3

⌘

Shift

3

Apply the currency format.

Ctrl

Shift

4

⌘

Shift

4

Apply the percentage format.

Ctrl

Shift

5

⌘

Shift

5

Apply the exponential format.

Ctrl

Shift

6

⌘

Shift

6

Clear All formatting.

Ctrl

\

⌘

\
Google Sheets Hotkeys – Formula Related
Action
Windows
Mac
Show all formulas.

Ctrl

~

⌘

~

Wrap the current formula in an array formula.

Ctrl

Shift


Enter

⌘

Shift 

Enter

Collapse an expanded array formula.

Ctrl

E

⌘

E

Show/hide formula help (when entering a formula).

Shift

F1

Shift

Fn

F1
Google Sheets Keyboard Shortcuts – Menu
Action
Windows
Mac
Open File menu (in Google Chrome).

Alt

F

Option

F

Open the Edit menu (in Google Chrome).

Alt

E

Option

E

Open View menu (in Google Chrome).

Alt

V

Option

V

Open Insert menu (in Google Chrome).

Alt

I

Option

I

Open Format menu (in Google Chrome).

Alt

O

Option

O

Open Data menu (in Google Chrome).

Alt

D

Option

D

Open the Tools menu (in Google Chrome).

Alt

T

Option

T

Open the Add-ons menu.

Alt

N

Option

N

Help menu (in Google Chrome).

Alt

H

Option

H

Sheet menu (copy, delete, and other sheet actions).

Alt

Shift

S

Option

Shift

S

Context menu.

Ctrl

Shift

\

⌘

Shift

\
Useful Google Sheets Tutorials:
Other Useful Resources: