The Amazon Firestick TV remote uses the wireless network for navigation. So even when you lose it around the house, it can still connect to WiFi. However, if you can't find your Firestick remote, you can't really do anything.
So what do you do if you have lost your Firestick remote? There are a few backup options, such as using your smartphone, a keyboard, Alexa, or a tablet. If nothing else works out, you can also purchase a brand-new Firestick remote.
In this article, we will walk you through all the solutions in case you lost your Amazon Firestick, how to navigate the Firestick without the remote, whether you need WiFi for Fire TV to work, and more!
Lost Your Amazon Fire Stick Remote? Here's What to Do
Here is what you can do if you have lost your Firestick remote:
Use Your Smartphone (iPhone or Android)
If you lost your Amazon Fire TV remote, you can easily use your mobile device as a replacement. The good news is that the Amazon Fire app can be used on Android and iOS. Here's how to use your smartphone as a Firestick remote:
Step 1: Install the Amazon Fire TV app — it is free, and you can download it from Google Play and App Store.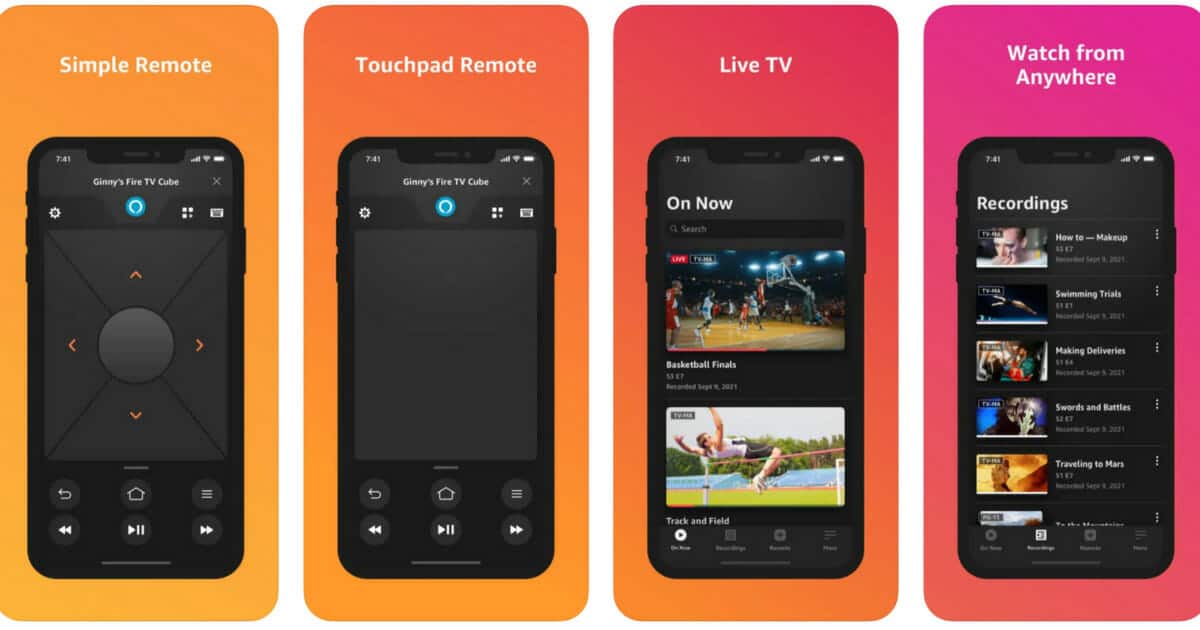 Step 2: Connect your smartphone and your Amazon Firestick to the same wireless network
Step 3: After your smartphone detects the TV, enter the 4-digit code that you see on the TV screen
Related article: How to Mirror iPhone to TV With or Without WiFi
Use the Amazon TV App Without WiFi
If you don't have a wireless network at home, don't worry. You can still use your Amazon TV app as a Firestick remote replacement. You need two smartphones to set it up: One for sourcing the wireless connection and the other one for using the Fire TV app.
To use your Amazon TV app without WiFi, just follow these simple steps.
Step 1: Use the first smartphone as a WiFi hotspot by going to "Settings"
Step 2: Go to "WiFi" > "Network"
Step 3: Then choose "Hotspot and Tethering"
Step 4: Choose "WiFi Hotspot"
Step 5: Rename the hotspot to the same wireless network that your Fire TV was connected to. You must also change the password to the one you used on the previous WiFi.
Step 6: Turn the hotspot on and restart your TV. The TV will automatically connect to the new wireless hotspot.
Step 7: Use the other smartphone to install the Amazon Fire TV app using the same hotspot.
Step 8: Log in to your Amazon account by entering your Amazon details.
Step 9: The app will scan and detect your Fire TV. Now enter the code you see on the TV.
Step 10: You are now ready to use your smartphone as a Firestick remote.
Use an Old Firestick Remote
Do you have an old Firestick remote lying around the house? Even if it's coming from a previous generation of remotes, there's a big chance you can use it! Although the older models don't have some buttons, such as volume, mute, and power buttons, any Firestick remote that has an HDMI-CEC feature can replace your lost Firestick remote.
Here's how to use an old Firestick remote by resetting it:
Step 1: Press and hold these three buttons at the same time: Home, Back, and Left Arrow
Step 2: After 10 to 15 seconds of holding these three buttons, let them go
Step 3: Turn the Firestick remote on and wait for it to connect to the WiFi
Use Your TV Remote
Did you know that you can also use your TV remote to navigate the Fire TV Stick? This solution is only available for TVs that have HDMI-CEC. This special feature allows connecting more than one HDMI device and eases their communication.
To enable it, you need to press any button on your TV remote. This will activate your Fire TV using the HDMI-CEC protocol. However, your TV remote doesn't support all the button combinations, such as casting, but you can use it for basic Fire TV remote functions.
Use a Keyboard and Mouse
You can also use a keyboard and mouse to navigate your Fire TV. You can use both a wireless keyboard and one with a cable. There is only one issue: You might have to buy a micro USB port because Firesticks come with only one micro USB port. The good news is these ports don't cost a lot — you can buy one for as little as $6.
Use Alexa
Using an Amazon Echo device is another way to control the Firestick TV. All you have to do is to say, "Alexa, play 'specific content' on my Fire TV," to the speaker that is powered by Alexa and you will be able to navigate your Fire TV. Furthermore, if you have Alexa Voice Remote Pro, you can ask Alexa to find your lost Firestick remote.
Related article: Best Alexa Skills for Improving Your Productivity
Purchase a New Remote
If none of these options work for you, and you can't find your lost Firestick remote, you will need to buy a new one. Where can I buy a Firestick remote? You can buy an Alexa Voice Remote from Amazon that is compatible with other Firestick TVs.
How Do I Pair a New Fire Stick Remote Without the Old One?
Here are a few simple steps you can take to pair a new Firestick remote without using the previous one:
Step 1: Configure the Amazon Fire TV app to get access to your Firestick remote
Step 2: Go to "Settings" > "Remotes and Bluetooth Devices" > "Amazon Fire TV Remotes" > "Add New Remote"
Step 3: Then press and hold the "Home" key on your new Firestick remote for 10 seconds
Step 4: You are now ready to use your new Firestick remote
Frequently Asked Questions
Can I Use My Fire Stick Without a Remote?
Yes, you can use your Firestick TV without a remote. To replace the remote, you can use a smartphone (both Android and iPhone), Alexa, a keyboard, and a mouse (both wireless and wired).
Do You Need WiFi for Amazon Fire TV to Work?
Yes, you do. If your home WiFi doesn't work, you can also use a smartphone to use it as a hotspot. Keep in mind that you need another smartphone to use as a Firestick remote replacement.
Can You Replace a Fire Stick Remote?
If you lose a Firestick remote, you can replace it with a smartphone, a TV remote, an old Firestick remote, or even Alexa and a keyboard and mouse. However, if these options don't work for you, you can purchase a new Firestick remote to replace the one you lost.
The Bottom Line
So there you have it! If you wondered how to replace a lost Firestick remote, we have just presented you with seven ways you can do it. And if you keep losing things around the house (or the city), it might be time to work on your memory because buying new stuff can be expensive!
There are many useful memory courses that will help you boost your memory and even speed up your reading. And now you can watch your favorite courses and other content using some of the best 4K projectors in 2023.
Related: