Tons of people around the world use spreadsheets on a daily basis. There are quite a few spreadsheet apps out there, but two that have risen most to prominence are Microsoft Excel and Google Sheets. Both apps are great and serve their purpose well, but there are a few key differences when you look closer at Google Sheets vs Excel.
If you want to know which spreadsheet app suits your needs better, this comparison of Google Sheets vs Microsoft Excel might answer whatever questions you have.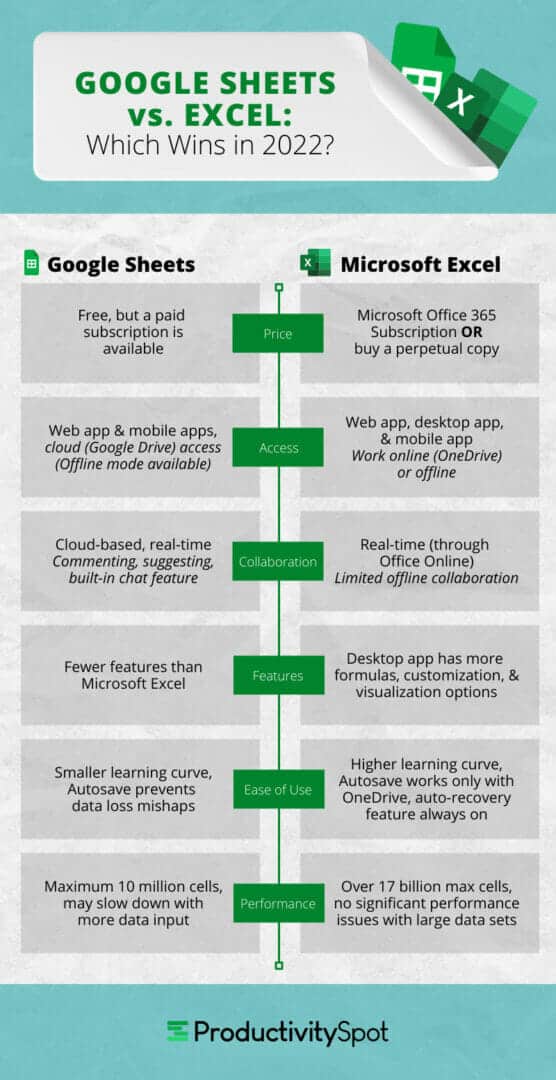 What is Google Sheets?
Google Sheets is a web-based app by Google that was released in 2006. It came out as part of the Google Suite, which includes other apps like Google Docs, Google Drawings, Google Slides, Google Sites, Google Keep, and Google Forms. It's available as a web application, which means you can use it on any device that has a browser connected to the internet. It doesn't have to be Google Chrome, either — you can use any browser you prefer. If you want to view or edit files on the fly on your mobile devices, Google has mobile apps available for its apps suite.
Unfortunately, there are no desktop apps for the Google Suite (unless you are using a Chromebook that uses Chrome OS). Thankfully, the web apps are well-designed enough to run smoothly and mostly without issue. You can also toggle the offline editing mode if you anticipate having to work on a spreadsheet without an internet connection for a while.
Google Sheets allows users to create, modify, and update spreadsheets, then share data over the internet, all in real time. It uses the cloud (through Google Drive) to store files and make it easy for people to share and collaborate. And, of course, thanks to the cloud, Google Sheets allows you to work on your file from any device as long as you're connected to the internet or have toggled offline mode on.
Sheets has the typical spreadsheet features you might expect. But, unlike other spreadsheet apps, it allows people from all over the world to collaborate with ease. Users can see edits in real-time, and the commenting, suggesting, and built-in chat features make it possible to communicate without ever leaving the spreadsheet. Google Sheets also has a convenient autosave feature and revision history to see which changes were made when (and revert to the previous versions if you please).
What are some of Google Sheets' convenient features?
Google Sheets has many features that make it even easier and more convenient to use. Here are some of them:
Sheets has a shortcut that will allow you to create a new spreadsheet straight from your browser's address bar without ever navigating to Google Drive. As long as you are logged into your Google account, you can type "sheet.new" into your address bar to create a brand new spreadsheet instantly. You can also use "sheets.new" or "spreadsheet.new" and they will both have the same effect. Remember to log into the correct account you intend to use for editing this file.
If you need to add the date and time to your spreadsheets frequently, there are some quick ways to do it:

CTRL or CMD + semicolon ( ; ) = insert date
SHIFT + semicolon ( ; ) = insert time
CTRL or CMD + alt + shift + semicolon ( ; ) = insert date and time
Google Sheets allows you to create keyboard shortcut macros so you can personalize your experience.
If you want to freeze or pin rows at the top so they will always display no matter how far down you scroll, there's an incredibly easy way to do it. It may not seem intuitive or instantly obvious, but if you put your cursor on the bottom border of the empty cell to the left of A and above 1 and drag the line down right below the row(s) you want to pin. Drag the bar back up all the way to unfreeze the row(s). This GIF better illustrates what to do: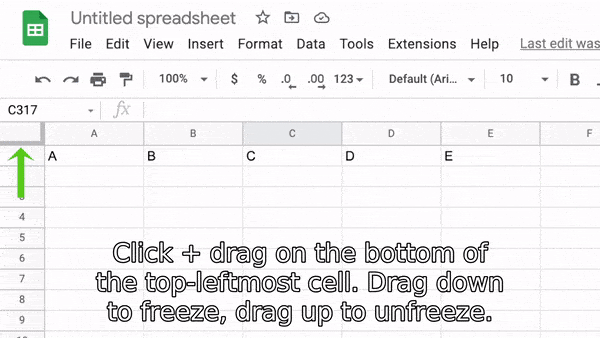 Google Sheets allows you to make the formula bar as large as you want so you can see everything that you are typing in it with no issue. Simply click and drag on the bottom of the formula bar to adjust its size. This can be pretty handy if some of your cells contain a lot of text.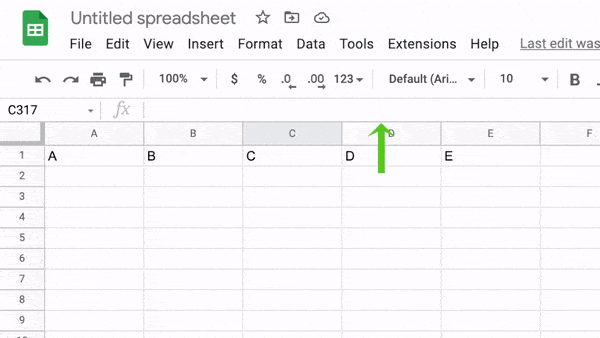 Using the formula =TRIM(Cell) cleans up the data in the cell by taking away extra spaces.
You can use formulas to standardize the case formatting in your cells.

=UPPER(Cell) transforms the cell text into uppercase
=LOWER(Cell) transforms the cell text into lowercase
=PROPER(Cell) transforms the cell text into title case (the first letter of each word capitalized)
The SPARKLINE feature allows you to display a little mini graph in your cell. Learn more about the SPARKLINE feature here.
There are many more convenient features that make Sheets easy to use, but don't forget that you can also make a particular spreadsheet available offline to edit it even without access to the internet.
What are the Pros and Cons of Google Sheets?
Pros
100% free
Easy to use
Convenient and easy to access
Mobile apps available
More convenient collaboration in real time
Extremely simple interface useful for even beginners to get started
Autosave prevents potential data loss disasters
Uses the cloud
Cons
Not as powerful as Microsoft Excel and starts getting slower when there is a lot of data
Limited data visualization options compared to Excel
Limited customization and formulas
Not great for complex bookkeeping and accounting
Cloud/data safety may sometimes be a concern if you use your account on public computers
What is Microsoft Excel?
Microsoft Excel is a commercial software program that's part of the Microsoft Office suite. It was initially released in 1989 in Microsoft Office's first-ever release. This may surprise you, but the first MS Office came out for the Mac. Of course, nowadays, it's available on PC, Mac, and mobile devices. It's also available on the web via Office Online.
Excel is used to create sheets that can format and organize data, calculate formulas, visualize information, and more. Much like Google Sheets, Excel can handle and display data. However, it has more complex features that also allow users to do more.
Microsoft Office exists in various versions — 1995, 1997, 2000, XP, 2003, 2007, 2010, 2013, 2016, 2019, and finally, 2021 (the most recent). You can purchase a perpetual copy of MS Office, but it may be a good idea to buy more recent versions. It's worth mentioning that Microsoft still currently supports versions going back to 2013. Unfortunately, the company stopped support for the 2010 version in October 2020.
You can get Microsoft Excel as part of your Microsoft 365 cloud subscription, which gives you some OneDrive storage space and access to the regularly updated versions of the Office Apps. The M365 subscription allows you to use Office on all your devices.
Check also Top Alternatives to MS Office.
What are some of Microsoft Excel's convenient features?
When comparing Sheets vs Excel, there are some aspects of each app that stand out. Excel also has quite a few convenient features. Here are some of them.
Excel's flash fill feature can save you a lot of time. It detects patterns and uses the information to automatically fill data, so you won't have to do it manually. It works great for:

Separating or combining first and last names
Extracting the initials from names
Formatting email addresses and phone numbers
Excel has the watch window feature, which eliminates the need to scroll back and forth between cells constantly. This feature allows you to add cells to the watch window so you can keep track of its contents no matter where you're working in the spreadsheet. You can access the watch window by going to Formulas > Formula Auditing > Watch Window.
Conditional formatting is a feature that's easy to find on the ribbon's "home" tab. However, not many may think to use this handy tool, which allows you to shade cells in various styles depending on the data they hold.
Like Google Sheets, Excel also has a SPARKLINE feature.
If you want to paste only specific parts or aspects of your selected cells, you can use the paste special feature to copy only the text, formula, formatting, validation, or comments of a cell (or cells).
What are the Pros and Cons of Microsoft Excel?
Pros
More advanced functionality
More robust and capable of handling much more data and larger batches of calculations
More data visualization options
Conveniently available online, through desktop apps, and mobile apps
Faster performance
Often the industry standard
Cons
Not free — can get pricey, especially if you choose the subscription model
Can be more challenging to get started due to the learning curve, and troubleshooting can be a pain
Too many Excel versions can lead to potential issues with collaboration
Unless you have portable data storage options (or a cloud subscription), there is no way to open spreadsheets away from your primary device
There's no way to check for human errors in formulas, so it's easy to make hard-to-trace mistakes
Google Sheets vs. Excel: The Main Differences
If you're wondering about the main difference between Google Sheets and Excel, there are quite a few:
Google Sheets is free unless you are paying for a business account. And even then, it's more affordable monthly than Microsoft 365.
When it comes to collaboration, Google Sheets is clearly the winner. It's hard to beat a built-in chat functionality and real-time collaboration. Not to mention, being able to see who is making edits and where is quite a handy feature too.
If you don't need to work with heavy volumes of data, Sheets allows you to perform many of the same functions without ever downloading an app to your computer.
Sheets seamlessly integrates with the other apps in the Google Suite. You can easily take data from a Google Form straight into a spreadsheet!
It's effortless to share files from Google Suite's apps, thanks to the seamless integration with Google Drive. Additionally, Google's share features are top-notch and provide privacy options.
Google Spreadsheet vs Excel at a Glance
Google Sheets
Microsoft Excel
Price
100% free to use, but there are paid business subscriptions available.
Has a free option available through Office Online, but the online version has fewer features compared to the full app. The online version also does not allow for offline use.

You can purchase a perpetual copy by buying Microsoft Office, but you cannot buy Excel without the rest of the suite.

Availability and Accessibility
Online web apps, no desktop apps. Mobile apps available.
Online through office online, desktop apps, and mobile apps.
Collaboration
Real-time cloud-based collaboration allows users to see where others are in the spreadsheet at the moment. In-app chat feature also available.
Real-time collaboration through Office Online.

Collaboration through the desktop apps is limited.

Data Visualization and Statistical Analysis
Has fewer features, meaning you will have to do some things manually if you would like to display data in a similar manner.
Full desktop app is much more robust and has more features, providing users with far more options.
Ease of Use
Has a smaller learning curve, allowing beginners to get started right away. Has autosave features to prevent any mishaps and problems arising from unexpected situations.
Has a bigger learning curve, may be more difficult to get started. Has an autosave feature that only works with OneDrive.

Has auto-recovery options that is always on by default, saving your work every ten minutes to prevent data loss.

Performance
Although its maximum ten million cells in one spreadsheet isn't necessarily insignificant, Sheets can begin to slow down when you start putting larger volumes of data in it.
No significant performance issues with larger volumes of data (unless you are on a really old or low-specification machine). Capable of handling seventeen billion cells in a single spreadsheet.
Macros
No
Yes
Cloud Service
Google Drive
Microsoft OneDrive
Frequently Asked Questions
Is Google Sheets better than Excel?
In some ways, Google Sheets is better than Microsoft Excel — and vice versa. If you'd like to know more about Google Sheets' advantages over its Microsoft counterpart, check out the question "what are the advantages of Google Sheets over Excel?"
Which is easier to use, Excel or Google Sheets?
In the battle between Microsoft Excel vs Google Sheets, it's easy to see that the clear winner is Google Sheets — at least in terms of ease of use. It can be much easier for beginners to get started with using Google Sheets because it is simpler in many ways. Of course, learning formulas is a different thing altogether, but thankfully there are many guides on the internet to help with that.
What are the advantages of Google Sheets over Excel?
When you compare a Google spreadsheet vs Excel, it's hard to tell the difference visually. Sure, the UI is much more straightforward, but functionally, it can be hard to tell. Let's take at how Sheets might come out on top:
What is the difference between Google Sheets and Excel?
There are quite a few differences between Excel and Google Sheets, such as:
Google Sheets is free, while Excel is a paid product.
Google Sheets is available as a web app and on mobile devices. Excel is available as a web app through Office Online. Otherwise, you can pay for a Microsoft 365 subscription or buy a perpetual copy of Microsoft Office (2021).
Google Sheets wins the battle in terms of real-time collaboration.
Sheets is simpler.
Google apps do not have desktop versions.
Google Drive vs. OneDrive. OneDrive is optional.
Excel wins in terms of performance and handling of massive amounts of data.
Can Google Sheets do everything Excel can?
Unfortunately, no. Excel does a few things better, such as the features mentioned in the next question below.
What does Excel do that Sheets doesn't?
When you're picking between Google Sheets or Excel, it's essential to know what features exist (or don't) in both. Here's what Excel can do that its Google-made counterpart doesn't:
Microsoft Excel can handle more significant amounts of data than Google Sheets can. Although Google Sheets upped its maximum cell capability from a (not insignificant) five million to ten million, it still can't quite keep up with Excel's maximum. According to Microsoft's support page, Excel is capable of handling 16,384 columns and 1,048,576 rows. Multiply that, and you get 17,179,869,184 — a ridiculous number of cells that is most probably impossible to fill completely.
Excel has more functions and formulas than Google Sheets and can do more types of calculations in comparison.
As the industry standard, Excel is present on many work office computers worldwide. This means it's most likely easy to collaborate with others on the same file, even if the collaboration does not necessarily occur in real time.
Microsoft Excel has macros (Google Sheets does not).
Thanks to its decades of existence and experience, Microsoft Excel has been able to improve upon its data visualization features. Sheets has some catching up to do.
Excel has more options for importing data.
Microsoft Excel offers more customization options in comparison, allowing users to personalize their experience and improve their spreadsheets.
Can I open Excel in Google Sheets?
Yes, you can. However, it's worth mentioning that not all functions and formulas from Microsoft Excel will work in Google Sheets. Therefore, if you would like to edit formulas, it's best to get your major editing done in Excel.
Wrapping Up – Which App is Better for You?
Looking at Google Sheets and Microsoft Excel in comparison, it's easy to see that both apps serve their core purposes well. However, in the "fight" between Excel vs Google Sheets, we've observed that each app has its own strengths and weaknesses.
So, is Google Sheets the same as Excel? No. Sheets is best for less complicated data handling and lower data volumes. It's absolutely free unless you want to pay $5/month for a business account. Google Sheets is also clearly the best option when it comes to collaboration between colleagues and sharing files with others.
Microsoft Excel is the better option for businesses handling large amounts of data. Excel is capable of more complex data handling, thanks to its robust library of formulas and functions. It also does well at data visualization. As the industry standard, many businesses provide corporate Microsoft Office accounts and copies to their employees or office workstations.
In the end, deciding between Google Sheets vs Excel entirely depends on your needs and whether you are willing to pay.
Related reading: