Let's face it: We need cloud storage. Today, we're working remotely far more often. We're juggling multiple devices. We're answering multiple email accounts. We need services like Dropbox to keep track of our data.
But while Dropbox is a great service, it's not perfect. For some, Dropbox might not load on their computer properly — or maybe they want a better web interface. For others, the subscription costs may be too high, or the data limitations may be too low.
So, what's the best Dropbox alternative out there? The best alternative to Dropbox will depend on what you're looking for — whether you want something cheaper, easier, or faster to use. We've made a comprehensive list of the top 13 alternatives to Dropbox out there in 2022.

So, let's start with the obvious, in terms of Dropbox alternatives. Arguably the most popular is OneDrive — and it's easy to see why. If you have a Windows computer, you more-or-less already have OneDrive installed.
OneDrive is particularly great because it syncs with most Microsoft programs already. If you turn on "auto save" on Word, for instance, it automatically saves into your OneDrive. If you're using a lot of Office 365 products, using OneDrive can just make sense.
Like Dropbox, OneDrive syncs with your drive. Files are stored on the cloud and also your computer. So, you can rest assured that your files are protected. You can sync your OneDrive with multiple computers (like a desktop and a laptop). You can also use OneDrive with your family, so you can create family accounts under the service.
OneDrive pricing can get a little complicated at first glance. If you're not storing a lot (5 GB), it's completely free. If you want to store up to 100 GB, you'll need to pay $1.99 a month. That should be enough for most users. If you have Office 365 Personal, it comes with 1 TB of OneDrive space. If you have Office 365 Family, it comes with 1 TB per person up to 6 TB.
Pros:
One of the most used Dropbox alternatives for business.
Integrated with Office 365 applications.
Cons:
Can feel cumbersome to use if you're not using Office 365.
Doesn't have a lot of storage compared to other, similar options.

Like OneDrive, Google Drive integrates into a suite of applications. While otherwise similar to Dropbox, Google Drive supports services like Google Docs and Google Sheets. These free products are analogous to the Office 365 suite. If you use Google documents more frequently than you use Microsoft Office, Google Drive is probably a better solution.
Google Drive provides more storage than Dropbox (15 GB to 2 GB, on the free plan), but it may not be as well-secured. While they both use two-factor authentication, Google uses slightly weaker encryption standards. It's a little easier to use Dropbox on your computer or another device, but Google Drive makes it a lot easier to access functions on the web.
If you're looking for something to sync your data and integrate with your desktop, Dropbox is better. But if you're looking for apps similar to Dropbox that perform better on the cloud, Google has it mostly locked in.
Pros:
Provides more storage capacity for free.
Operates better on the cloud.
Cons:
Not as inherently secure as Dropbox.
It is a little more cumbersome to use on desktop computers.
Related: Top 9 Best Chrome Extensions for Productivity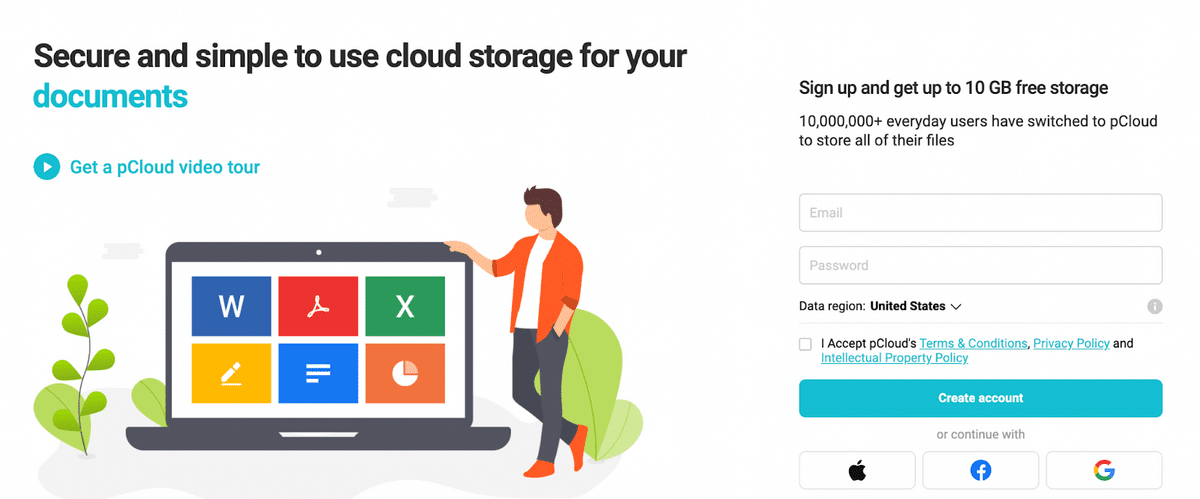 While pCloud isn't as good at collaboration and sharing as Dropbox, it has superior security. pCloud operates very similarly to Dropbox, but it has a zero-trust encryption system as an add-on. Its free plan comes with 10 GB of space, but you do need to "unlock" some of that storage by adding your email account, uploading files, and downloading the apps. pCloud has advanced features such as automatic photo syncing/backing up.
When people talk about Dropbox alternatives, pCloud is one of the top competitors. It's not only extremely robust, but also very popular. There's a strong community that uses pCloud — and consequently, it also has a lot of support and documentation.
In terms of security, privacy, and speed, pCloud is the clear winner over Dropbox. But Dropbox can also be easier to use. If you're willing to spend the time exploring and learning more about this Dropbox alternative, it has a lot of quality-of-life features available. You just need to do a little digging.
Pros:
Better security than Dropbox.
A full 10 GB of space for free.
Cons:
Might be a little difficult to use.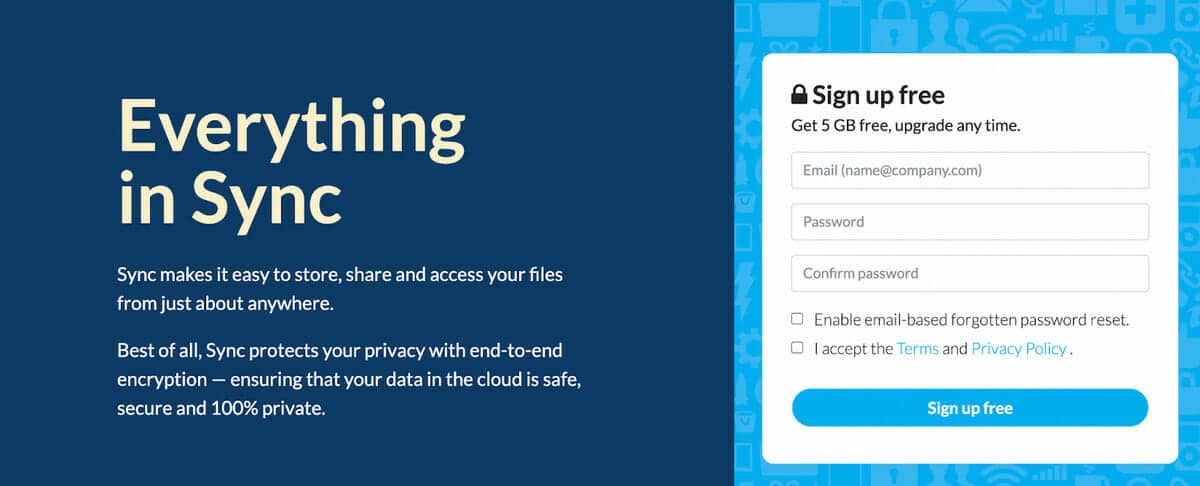 Sync has all the core features of Dropbox: folder syncing, file folder sharing, versioning, and more. It's also a little less expensive than Dropbox and there's no cap on file sizes. That being said, outside of core features, Sync doesn't have a lot. It's a fairly lightweight, streamlined app. Long-time users of Dropbox may notice features missing, such as Dropbox Paper note-taking.
In terms of usability, the simplicity of Sync makes it easier to manage. Sync is also faster and provides more granular control over security. But if you want the feature-completeness of Dropbox, it might not be the right Dropbox alternative for you.
Pros:
Sync is a lightweight, simple app for cloud documents.
Provides some granular security controls.
Cons:
Doesn't have all the features of Dropbox.

Did you know that Amazon has a Drive solution? If you're an Amazon customer, you already have access to 5 GB of storage for photos, videos, and files. So, if you use Amazon a lot, Amazon Drive could be the perfect solution for you. Amazon Drive doesn't have a lot of features like Dropbox, it's mostly a great Dropbox alternative if you're already using Amazon. In that respect, it's a lot like Microsoft OneDrive and Google Drive.
Ideally, you use Amazon Drive for less a syncing program/document sharing tool and more a backup solution. If all you're looking for is a backup solution, then Amazon Drive will work for you.
Pros:
Already comes with your Amazon subscription.
Is a simple, easy backup solution.
Cons:
Doesn't provide a lot of advanced features.

Tresorit bills itself as a secure, private alternative to Dropbox. In fact, it guns for Dropbox pretty hard.
Tresorit provides better security and privacy, encrypting your data and ensuring that you remain in control of the keys. It's a complete syncing, file sharing, and backup solution, with just as many features as Dropbox. With end-to-end encryption, zero-knowledge authentication, and security policies for individuals and teams, it's great for a business.
That being said, it's significantly more expensive than Dropbox. It's not designed so much for personal use as it is for those who want a business or commercial solution. Further, it doesn't have as much integration as Dropbox does — likely because each integration would render it less secure.
Pros:
Far better security than Dropbox.
A number of professional features, such as team management.
Cons:
More expensive than Dropbox.
Not as many integrations.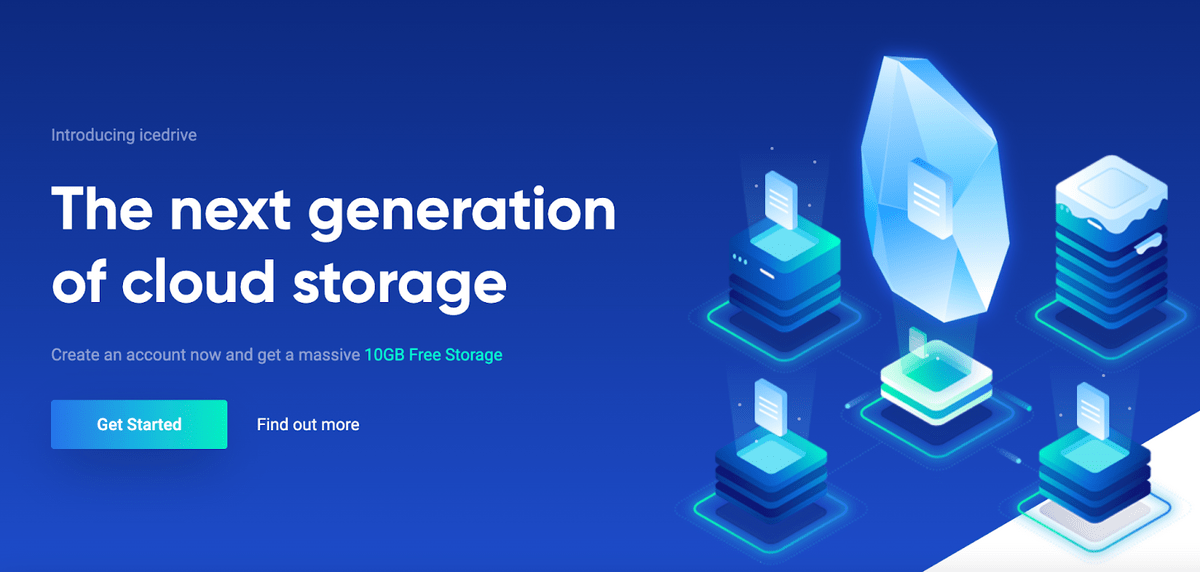 Icedrive is an encrypted, cloud-based storage system designed for file-sharing, collaboration, syncing, and backup management. So, it's very similar to Dropbox. It offers 10 GB of free space; after that, you need to pay for the professional version. Icedrive is a very popular backup solution.
But there are some features missing, some essential, such as downloading complete folders.  It also doesn't provide 24/7 customer support the way that Dropbox does. Many like Icedrive because it's a little simpler than other solutions, but because of that, it also doesn't have all the same features.
Pros:
A simple, encrypted cloud storage system.
Up to 10 GB of free space.
Cons:
Missing some features.
Doesn't have 24/7 customer support.

Backblaze is, as the name suggests, more a backup solution. It provides personal and commercial backups, as well as cloud document retrieval. It's able to automatically backup your computers, as well as synchronize files. It has better reliability and security than Dropbox, and is very friendly to beginners.
It also has a unique feature: You can order a physical backup for your files, too. BackBlaze is an excellent backup solution for either personal or corporate use.
Pros: 
Has a unique feature: get a physical backup of your files.
Cons:
Doesn't have all the quality-of-life features that Dropbox does.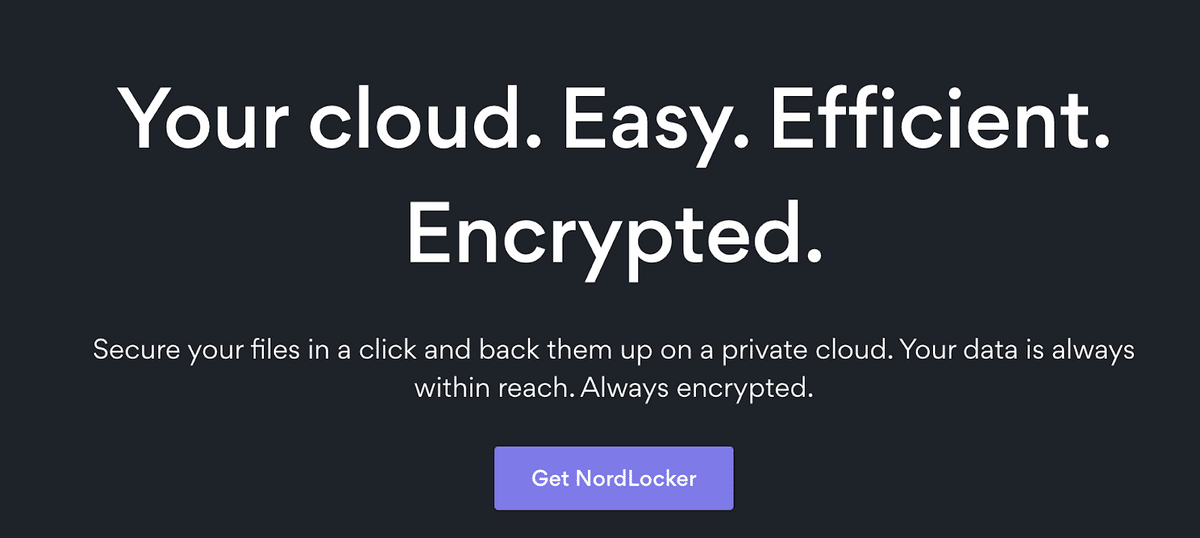 NordLocker is a highly rated Dropbox alternative; some even think of it as the best Dropbox alternative. Surprisingly, it doesn't support as many platforms. Compared to Dropbox, it doesn't support Linux or iOS. But it provides encryption services, it's affordable, it's easy to use, and it has excellent design and support.
Some features like access control, archival, data migration, data synchronization, and version control are a little lacking compared to Dropbox. Where Nordlocker shines is that it's easy and intuitive to use — even a beginner can start using it to backup, archive, and sync their files right away.
Pros:
NordLocker is highly rated and easy to use.
It provides all the basic features of a cloud archival solution.
Cons:
It doesn't provide nearly as many features as Dropbox.

Between Box and Dropbox, Box provides more features, including their collaboration tools. While Box is a little more expensive, it has a lot of quality-of-life features. Box provides some great collaborative and sharing features, although Dropbox still has the advantage of more granular controls. But both Box and Dropbox are professional, polished solutions that can be used by both individuals and business owners.
In terms of speed, Dropbox is actually faster, so that's one notch against Box. But Box has superior security features like private key management. Either of these solutions are excellent choices for those who are looking for a complete collaboration and file syncing tool.
Pros:
A comprehensive and feature-complete Dropbox alternative.
Superior security features.
Cons:
A little more expensive than Dropbox.

SpiderOak is an affordable and effective storage solution. Compared to Dropbox, SpiderOak is less expensive for the same amounts of space. SpiderOak also provides a number of security options: native encryption, meta data privacy, and peer-to-peer syncing. SpiderOak helps users manage cloud storage and backup while still providing syncing and collaborative tools.
But in terms of user experience, Dropbox is a little better than SpiderOak. It's easier to just pick up and use, whereas some work might need to be done to make SpiderOak intuitive. Dropbox also makes it easier to share files and collaborate on files — and it's developed many great quality-of-life features over time.
Pros:
Less expensive than Dropbox.
Has better security solutions.
Cons: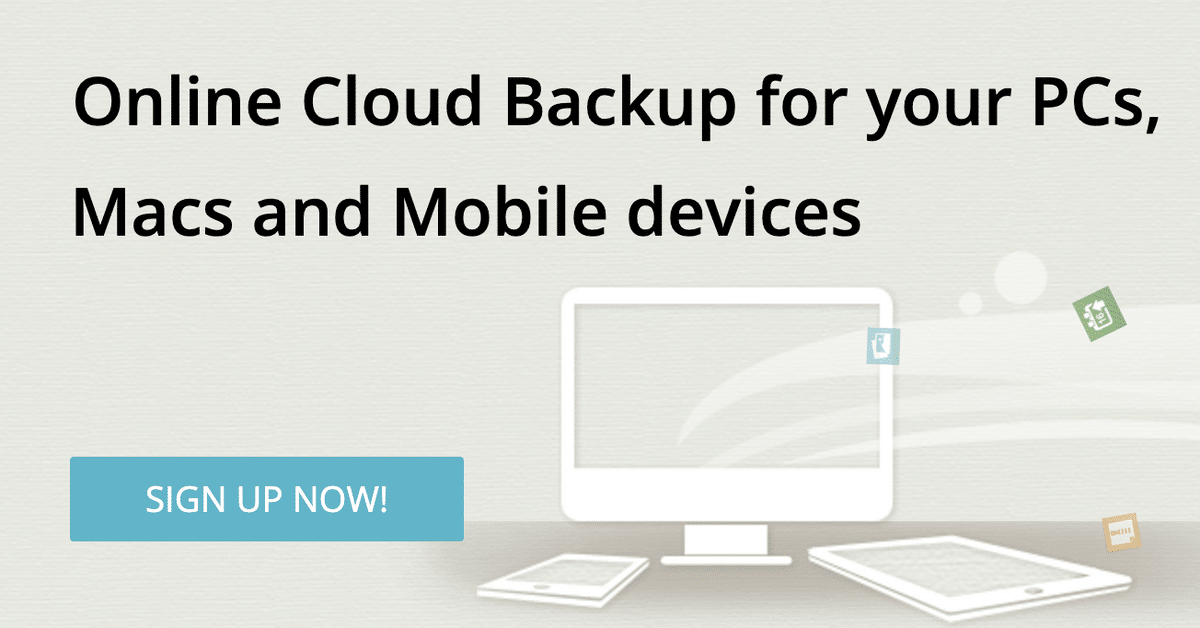 Most in the IT industry have run into iDrive at some point in time. iDrive is a backup solution that comes with 5 GB of storage. With iDrive, you have a plethora of backup options. iDrive is able to secure your backups, take multiple backups, and take backups both cloud and off-premise. So, you'll always know you have your data available.
But there are downsides to iDrive, too. iDrive doesn't have as many syncing or collaborative solutions. It's primarily made as a commercial backup solution. So, if you need more collaborative tools or the syncing services of Dropbox, you will need a different Dropbox alternative.
Pros:
A complete backup solution for business use.
Excellent backup features and functionality.
Cons:
Not great at collaboration or file sharing.

MEGA offers quite a bit of free storage space, in addition to the standard features: syncing folders, sharing files, and versioning. The free version of MEGA gives a full 20 GB, which is more than most storage solutions. MEGA also provides zero-knowledge encryption, but that also does introduce some complexity: if you lose your password, you're not going to be able to decrypt your files.
MEGA's privacy, speed, ease of use, and syncing and sharing features are all as robust as Dropbox's if not more. In terms of raw speed, MEGA is faster, which is impressive given the fact that it provides more in terms of resources. MEGA also provides features such as the ability to easily preview files before downloading them.
Pros:
More storage than any other leading competitor at 20 GB.
Solid security and speed.
Cons:
If you lose your password, you'll lose access to your documents.
Finding the Right Dropbox Alternative For You
It's really a matter of what you want most in a Dropbox alternative. Some people want a Dropbox alternative because they don't want to pay as much for their files. Others are looking for functionality that they need, such as the ability to manage large-scale corporate backups.
Dropbox has been in business for many years. But there are also dozens of similar solutions available. Many of these solutions are as advanced or even more advanced than Dropbox.
So, before you start looking for a Dropbox alternative, make a list of the features that are most important to you.
Do you want better security? Sync.
Do you want something that works with Microsoft Office 365? OneDrive.
Do you want something that works with Google? Google Drive.
Do you want something that's free? MEGA.
Do you want something easy to use? Icedrive.
You can try out most of these products for free to determine which is the best Dropbox alternative for you.
Related: 9 Best Alternative Browsers to Try Instead of Chrome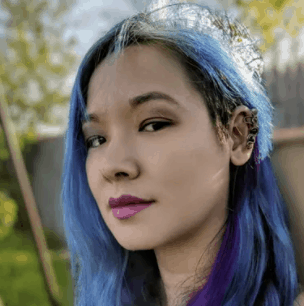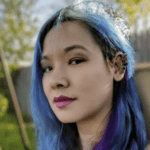 Jenna I. is a tech and entertainment expert with a B.S. in Information & Computer Science and MCITP certification. She writes for Udemy, The Gamer, and SVG.