A Facebook poll is a poll created on Facebook by any user who has an account on this social media platform. Facebook polls are free, and they can be created on a timeline, story, or business page.
Polls on Facebook can help your business make more strategic business ideas. Creating a poll on Facebook can also help you:
Get more engagement on your Facebook page
Build a stronger community around your business
Learn how your audience feels in real-time
Wondering how to create a poll on Facebook? You can create a poll easily in a Facebook Group, a Facebook story, an event page, or in Messenger.
In this article, we will walk you through all the steps you need to create a poll on Facebook — and how to use the results to grow your brand, how to see the results, and who can see them.
How to Create a Poll on a Facebook Page vs Business Facebook Page
Personal profiles on Facebook used to support polls in the past, but now they no longer do.
Currently, there is no way to create a poll on a personal Facebook page.
While you can no longer create a Facebook poll from your Facebook timeline or Newsfeed, you can share it through a Facebook Group, Messenger, or Story.
How to Make a Poll on Facebook Group
If you have ever wondered how to do a poll on Facebook, this step-by-step guide is for you. Here's how to create a poll within a Facebook group:
Step 1: Go to your Newsfeed and click on the "Groups" icon on the left and choose the group where you want to post your poll.
Step 2: Click on "Write something" to create your post. Then go to the three dots to see more options.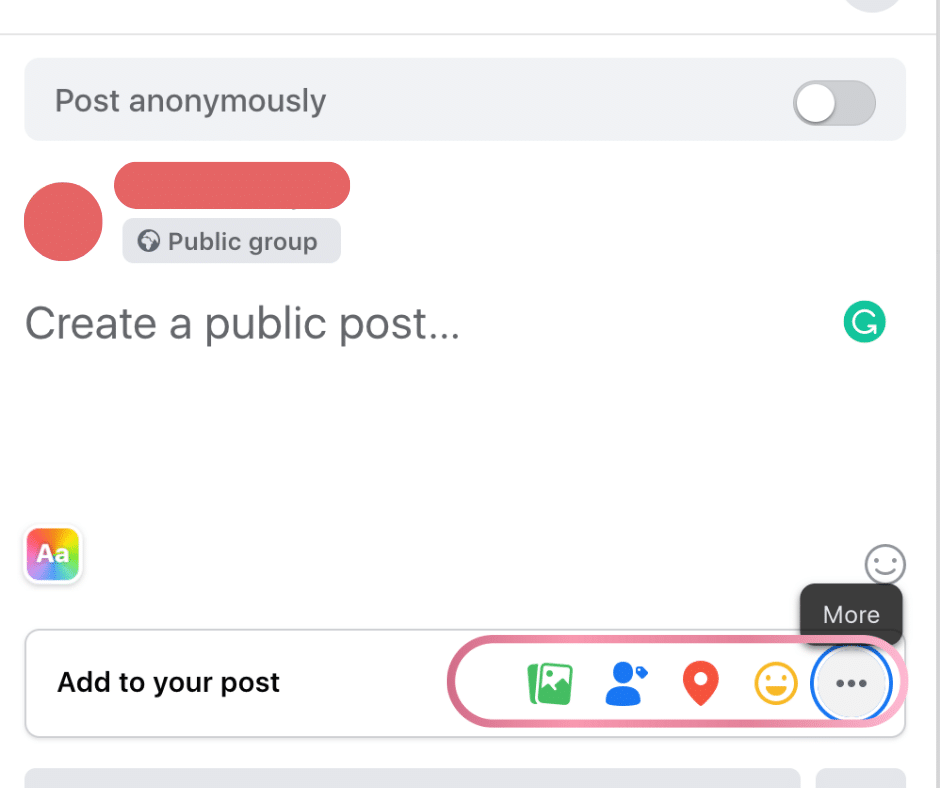 Step 3: Create a poll on Facebook by selecting "Poll" from the list.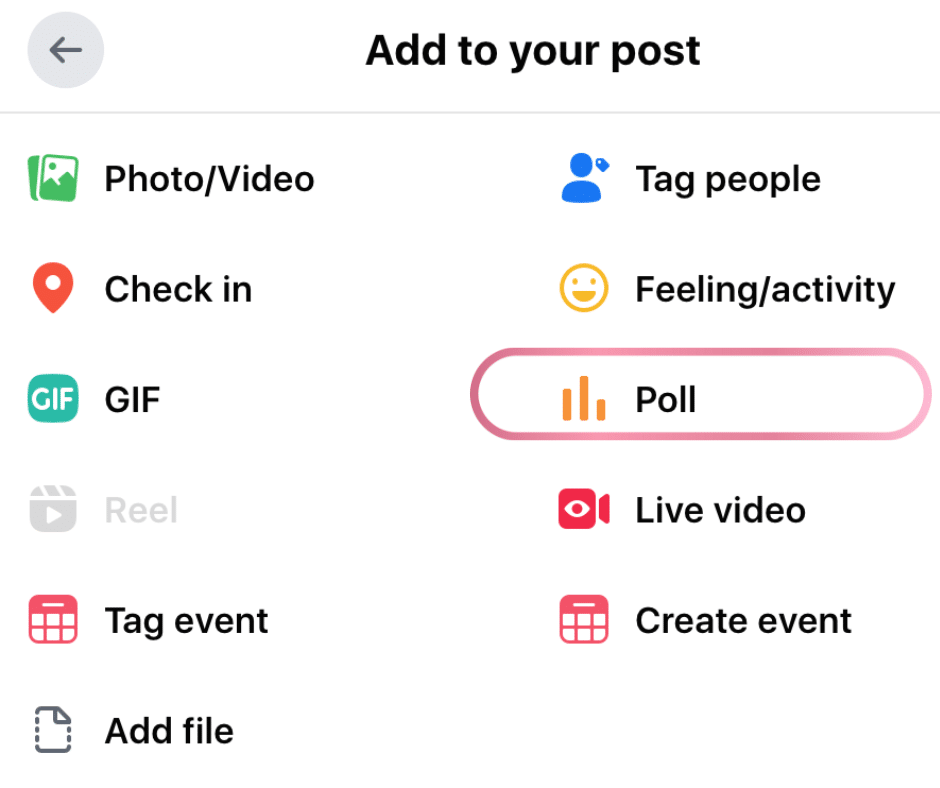 Step 4: Add all your options and tap on "Poll Options" to choose if others can add options and if they can vote for more than one option. Then click "Post" to publish the poll.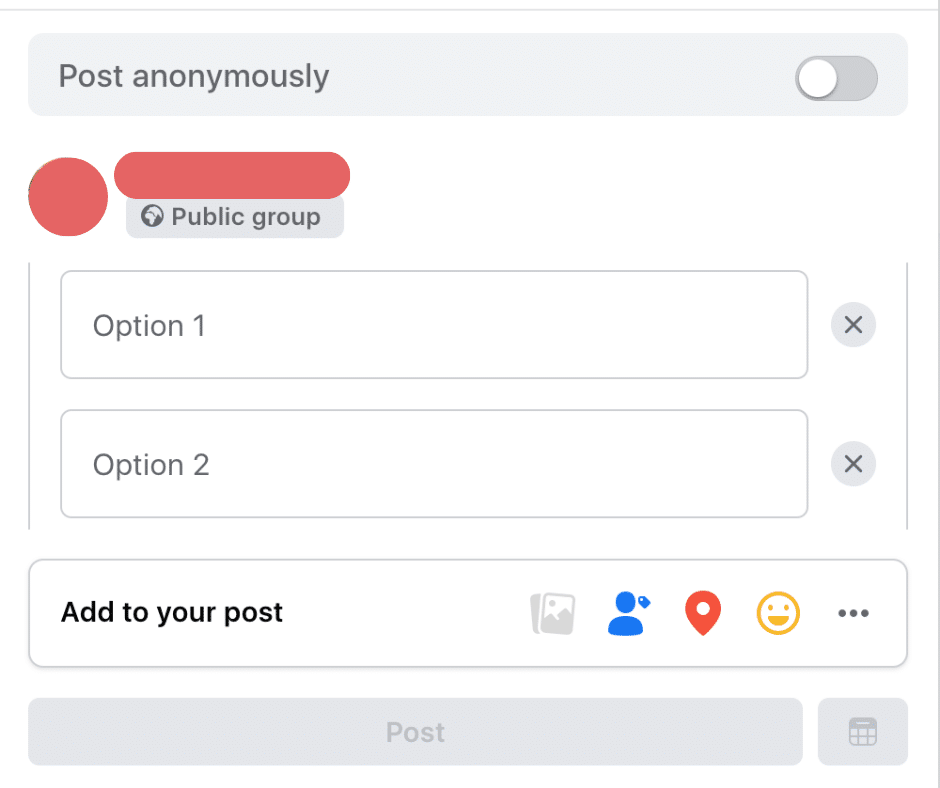 How to Create Facebook Story Poll
Many business owners want to know how to make a Facebook poll, but they still need to learn they can also create a Facebook Story poll! With so many people using Stories every day, creating a poll in a Story can be quite beneficial.
Here's how to make it:
Tap on the three-lined "Menu" icon on the left and then scroll down to tap on the "Pages" button.
Now tap on the blue circle with the plus sign around your profile picture and choose "Create a Story".
Then swipe to the left until you see the "Poll" card. Insert your questions and customize the "Yes" or "No" options. Click on the "Share Now" button when you finish.
While your followers will be able to see the percentage of who voted for which option, only you will be able to see how many votes each option received and how each specific user voted.
How to Create Facebook Messenger Poll
Facebook has added a really handy functionality to group chats! Now you can create a Facebook Messenger poll for your personal account, and hopefully, Meta will create the same feature for business page chats.
So far, you've learned how to create a poll on a Facebook page, and now you can learn how to create a Facebook Messenger poll:
Open a group chat or make a new one.
Click on the plus sign at the bottom of the Messenger window (next to the text box).
When another window pops open, choose the Facebook poll icon and type your question.
Add all options and tap on "Create a Poll".
Related: What are the best remote work communication tools?
How to Create Event Page Facebook Polls
Polls are also very useful when it comes to hosting virtual events. A Facebook poll can help you determine what your audience thinks about your event, what time of the day is best for them, what type of catering they prefer, and so much more!
Here's how to add a poll on Facebook when hosting an event:
Log into your Facebook account and click on "Events" on the left side.
Select the event you need and then click on the "Discussion" tab. Now choose "Add a Post."
Tap on the poll icon and go back to the "Create a post" screen, where you can add your questions. When you finish editing your poll, click on the "Post" button.
How Facebook Polls Can Help You Grow Your Business
There are several ways to boost your business using Facebook polls:
Boost engagement and awareness: Polls are a pretty easy way to engage your audience and build relationships with them. It can be monotonous to post content every day and polls are a great way to stir things up a bit.
Feel the pulse of your audience: The best way to learn about what your audience likes and dislikes is to ask them. Facebook polls are a great way to ask people what they want to see next. The feedback you get is incredibly valuable. Don't forget to ask your community what they would change about your brand as well.
Tease your audience: Let's say you are planning to launch a new product. You can ask your audience to vote for their favorite version of the product you plan to launch. This can be a great way to tease your community and announce your next product!
How to View the Facebook Poll Response Data
Here's how to see your Facebook poll response data:
Click on your profile image.
Go to "View Insights".
Choose "Polls" from the dropdown menu.
After a dashboard pops up, you will have the option to choose your recent polls. Here's what type of information you can check here:
Total responses or Average score. You will be able to see the summary of what everyone has responded
A breakdown of respondents, sorted by age, gender, and location.
All the responses from everyone who took part in the Facebook poll.
Frequently Asked Questions
Can You Still Create a Poll on Facebook?
You can still make a poll in a Facebook group. While personal profiles on Facebook don't support polls anymore, creating a poll in a Facebook group allows you to obtain opinions from your followers which can be especially useful when it comes to adjusting your marketing strategy. To make the most out of creating a poll on Facebook, open a discussion and ask the questions you'd like your audience to answer. Remember that you can even add images and videos to your Facebook poll as well as set time limits to voting.
Why Can't I Create a Poll on Facebook Event?
Sometimes it's not possible to create a poll on Facebook. The reason for this could be that Facebook doesn't offer the feature on all groups. In some cases, this might be because of privacy restrictions and various technical limitations. Also, note that creating a poll on a personal Facebook page is impossible.
Did Facebook Discontinue Polls?
Facebook discontinued creating polls on Facebook years ago on personal profiles as they realized the feature is more useful for brands than personal profiles. Although users aren't able to use the poll to collect feedback from their community anymore, there are other ways to gather opinions, such as survey tools and third-party applications.
Who Can See or Answer a Facebook Poll?
Only the members of your Facebook group can see your polls and answer them. After the poll has ended, anyone who clicks on the poll can see the results. Additionally, the page admins can see who voted for which option by clicking on the number of votes. Page admins can also set the results of the Facebook poll to be published after the voting is done. This way, voters and those who didn't vote will be able to see the results.
The Bottom Line
If you ever wanted to know how to create a poll on Facebook, this article has, hopefully, answered all your questions and guided you through all the steps. Facebook polls are one of the best ways social media managers and creators can connect with their audience and check their feelings about their brand.
Facebook polls are also a great way to learn about your audience's problems so you can solve them more easily. When creating the Facebook poll, focus on asking the right questions to make your audience want to answer them.
Are you having trouble with your creative process? Enroll in this MasterClass held by advertising icons Jeff Goodby and Rich Silverstein. In this MasterClass, Jeff and Rich share how they made the edgy advertising work liked by millions of people. Learn how to break the rules, change minds, and create the best work of your life!
Finally, if you liked this article, you will probably also want to learn what is the best landing page builder and what are the best alternative browsers.
Related: