There are potential legal issues involved with removing passwords from PDF files that you shouldn't have access to. So, this guide will primarily show you step-by-step how to remove passwords from PDF files that you already have the password to and some general advice for removing passwords that you may have forgotten. Read on to learn more.
Why Remove Passwords from PDF Files?
The main reason you'd want to remove a password from a PDF file is if you need to share the PDF with many other people, and the data it contains is no longer considered confidential.
Another reason could be that you simply don't trust yourself to remember the password and may need to access the information at a later date.
You may also want to convert the PDF to Word or turn the PDF into a Google spreadsheet. In these cases you would need the password removed first.
What to Do if You've Forgotten the Password for a PDF Document
It is a legal issue if you are trying to remove passwords from documents you aren't supposed to have access to so you can read or edit them. It may be considered a cybercrime and could result in a huge fine or jail time.  As such, we don't recommend removing passwords from PDFs to which you shouldn't have access.
However, there are plenty of PDF password crackers that you can use at your own risk, through a simple Google search for "PDF password cracker." One of them is the SmallPDF password remover. The steps for using it and other similar tools are as follows:

Click and drag your file onto the site
Click the disclaimer stating that you have rights to the file
Click Unlock PDF
You may get an error message from such tools depending on how secure the files are. You can keep trying similar tools, but there's no guarantee they will work, even with the paid versions.

Again, please don't use tools like this unless you have the legal right to view the file.
Related Reading: Combine PDFs into One Document
How to Remove a Password From a PDF With Adobe Acrobat
If you have an Adobe Acrobat license, the steps to remove a PDF password are easy. Here's what you need to do:
Open your PDF in Acrobat and enter the password for the file when prompted.
Click on File in the main menu bar and click on Properties in the dropdown menu.
There, in the new Document Properties window, select the Security tab.
Click on the option in front of the Security Method option and select No Security from there.
Click on the OK button to confirm your choice.
Click the window, then click on File in the main menu bar, and Save.
How to Remove Password From a PDF File Using Online Tools
Not everyone wants to download software to their computers just to unlock a file which is why using websites like ilovePDF.com can be a great, free alternative to remove passwords from PDF files.
This particular tool is similar to the one we discussed earlier in the article, but it also gives you the option to enter the password while unlocking. However, you sometimes won't need to do it, depending on how secure the file is.
Here are the steps you need to follow to remove password protection from a PDF using an online tool like ilovePDF:
On your web browser, click on the address bar and type in the URL for the site, which in this case is ilovePDF.com.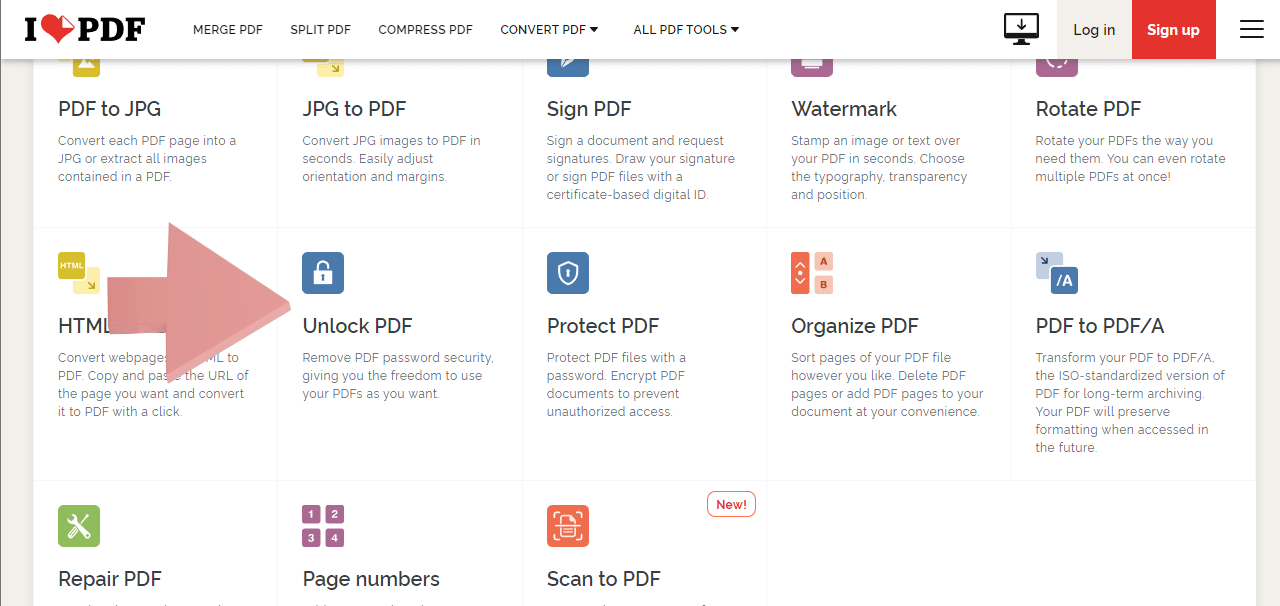 Here, you will see a list of tools you can use with your PDF. Scroll down to find the Unlock PDF option and click on it.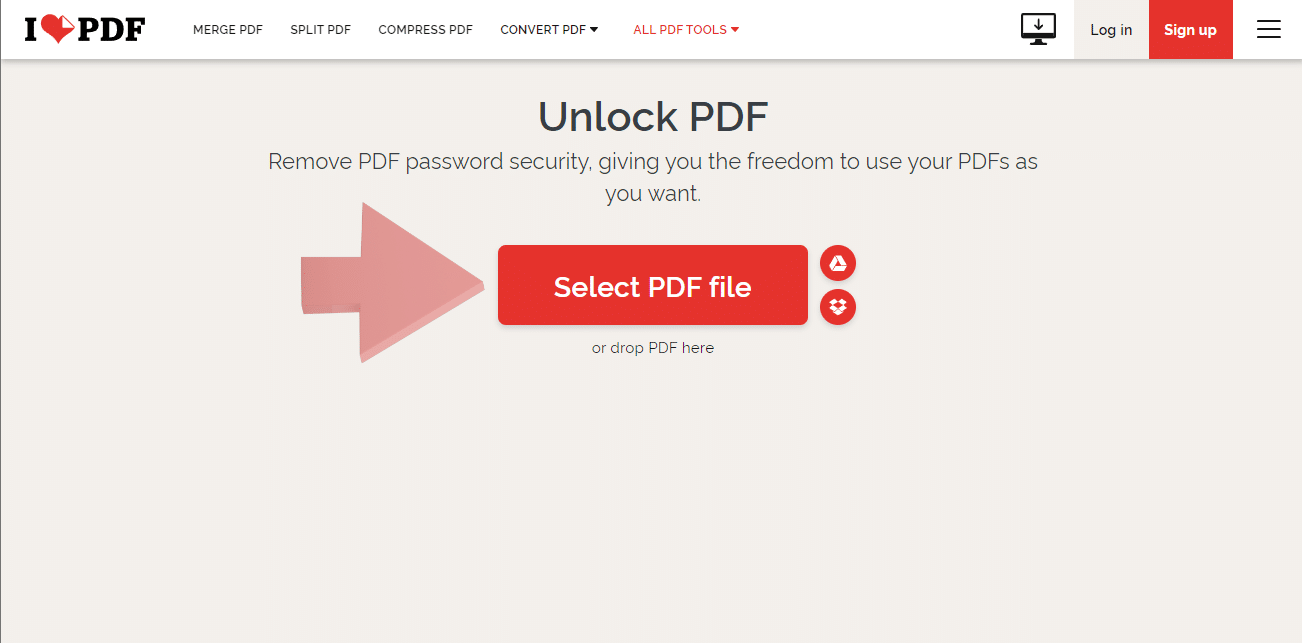 You will be prompter to upload your PDF file here. Either drag and drop the file or click on the Select PDF file option.
This will open the file manager on your PC, where you must select the file. Click on the file and then click on Open.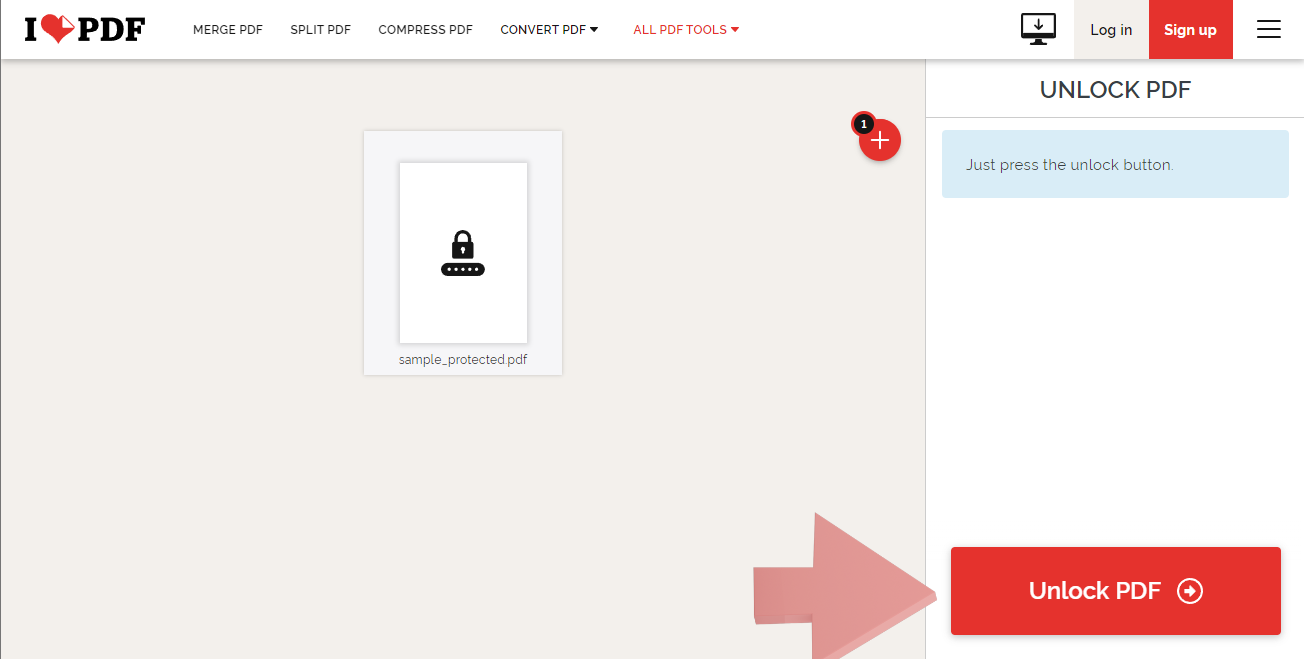 After the PDF is loaded, click on the Unlock PDF button.
Enter the password for the PDF
Now, click on the Download unlocked PDFs button to download all of the unlocked PDF files.
Related Reading: How to Attach an Email to an Email
How to Remove Password Protection From PDF Files Using Print to PDF
This may sound weird, but you can easily remove PDF security by opening it on any modern browser and then using the print feature. It's one of the simplest ways of removing passwords from PDFs.
This method will essentially create a duplicate copy of your PDF file. For this example, we use the Microsoft Edge browser that comes built-in in windows 10 and 11, the most commonly used operating systems.
Here's how to remove PDF password protection using the print function in borwsers:
Open your browser on your PC and use the file manager to go to the location of the PDF file.
There, click on the file and drag it into the browser. Drop the file near the Plus (+) symbol to open the file in a new tab.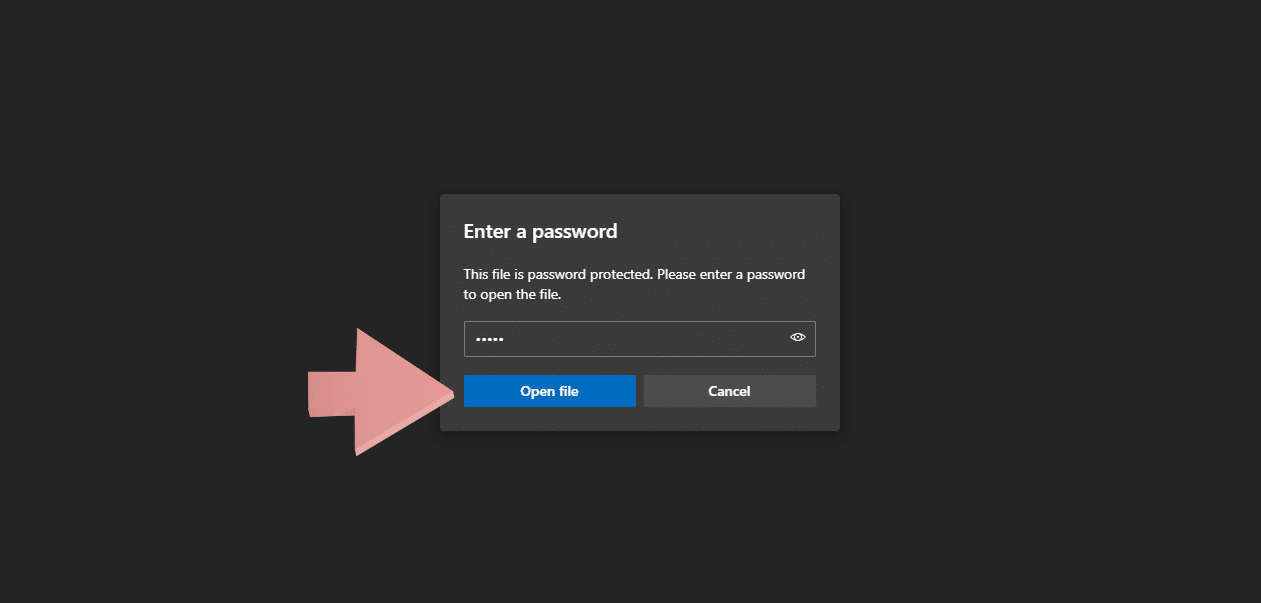 You will be prompted to enter the password for the PDF here. Enter the password and click on Open file. You will now have access to the file.
To remove the PDF security password, click on the Print icon towards the top right corner of the screen.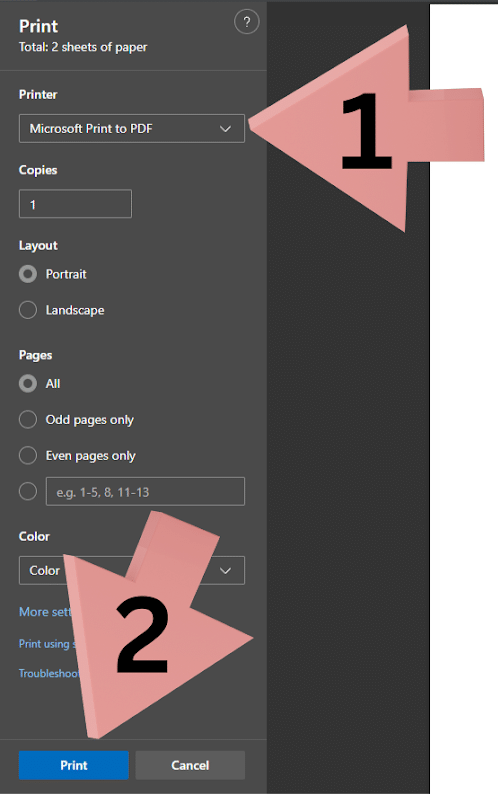 In the window that opens up, under the Printer option, choose Microsoft Print to PDF, which will remove security from PDF.
Now, click the blue Print button towards the bottom of the screen.
This will open the file manager of your PC, where you can save the PDF without password protection.
Reasons to Protect PDFs Using a Password
Here are a few reasons you should protect your PDFs with a password. The following reasons are also why you may have trouble accessing password-protected files from other sources and why it may be illegal to crack them.
Limiting Internal Access
Many businesses and organizations permit individuals to search servers for the files they require for daily operations. However, the companies must protect the sensitive records kept in these repositories against unwanted access. This inhibits network attackers from about to steal the information contained in the papers, as well as unauthorized workers from reading restricted documents.
Prevent PDF Alteration
Controlling who has access to altered documents makes sure that only specific individuals may unlock PDF files. Passwords can ensure that only the individuals necessary to examine a document can access and make adjustments to it if you need to adhere to a stringent protocol. You could just want users to complete specific fields or even make sure they can't alter an encrypted PDF form while filling it out.
Protecting Intellectual Property
A password does more than only stop someone from opening or editing PDF files, even if security is its primary objective. Additionally, it could restrict file copying and printing. This is crucial for business publications like internal memos or newsletters that must stay confidential and only viewed by employees. You may increase your confidence that damaging breaches of internal documents or regulations won't occur by implementing security protocols forbidding the copying and printing of PDF files.
Protect Financial Information
In many sectors today, PDF has established itself as a standard method of transferring documents of all kinds. These documents may include sensitive information that, if made public, may harm a company's reputation. This may include private financial information, such as account numbers or records, and private transaction information. It is recommended to password-protect or encrypt financial documents and transactions before sending them to a second party or third party, as well as while archiving them.
Wrapping up How to Take a Password Off a PDF File
Now you know how to remove passwords from PDF documents. You may still have some trouble if you've forgotten the password for a particular file. You can try out some PDF password crackers, although these won't always work. If you've had a tough time finding one, but eventually found one that works, please let us know in the comments so others can benefit too. Again, we can't stress enough how important it is that you don't try to access and remove passwords from PDFs that you shouldn't have access to. This is very illegal in most countries and could land you massive fines or even jail time.