If writing is part of your bread and butter, you will agree that editing requires more effort than writing itself. Imagine a life where we have to read and re-read for every missing preposition or punctuation mark, check and correct length of each sentence, horrifying! Thank heavens for editing tools.
My corporate job did not warrant extensive language editing. Therefore, it never crossed my mind to use a tool exclusively for language correction and improvement. However, as a blogger, I cannot afford to miss any chance to improve my writing. So, with this humble aim, I got a ProWritingAid premium subscription.
My review of ProWritingAid? Initially, I struggled to get a hang of the tool but after overcoming initial hiccups, I look forward to enhancing my understanding of the tool and becoming a Pro at ProWritingAid. (pun intended!)
This ProWritingAid review is based on first two weeks of usage.
What is ProWritingAid?
ProWritingAid is an English language editor. It was designed to help professional writers improve their manuscript, but slowly it found an audience among students, bloggers, copy-editors etc.
In technical terms, it runs statistical analysis to identify areas for improvements in your writing. A human copy editor will take days to accomplish the same tasks.
It is available as online web editor, google docs extension, Chrome app, MS word extension and desktop app.  If you are a novice user, I would recommend starting with the web editor.
ProWritingAid v/s Grammarly
The first thing that comes to anyone's mind is how different is it from existing tools like Grammarly  Frankly, comparing these two tools is like comparing apples and oranges (if I run the cliche report, ProWritingAid will highlight this cliche for me).  I have only used the free version of Grammarly, so it may not be a fair comparison either.
ProWritingAid is an editor, so it analyses your writing from various facets and gives you a score on these aspects. For e.g., if you run the sticky sentence report, it will tell what percentage of your text contains sentences with filler words. If that number is always high, it is an indicator that your writing may be verbose.
In Grammarly, you can analyze your writing from Basic, Intermediate and Advanced level. It will find missing articles, correct spellings, give suggestions writing style etc.
If your main goal is to ensure that your language usage is correct, Grammarly might be a better choice. But, if you want to improve your writing one aspect at a time, ProWritingAid should be your choice.
Since it is an editor, it's work starts after you are done writing. After completing your work, run the various reports.
Personally, I find it productive to finish the posts first, without concerns of wrong spellings or missing articles. I find real-time corrections distracting and have an obsession to remove the underline reds before completing the sentence. Because of this annoying habit, I tend to lose my chain of thought on some days, but still removing the reds takes precedence.
It does mean making a lot of corrections at once, but it helps me focus on getting the text right.
If this approach is not your cup of tea or mug of beer, you can divide your post into parts and edit it in that order. This way you also get to assess if the output is as per your plan.
ProWritingAid Web Editor
Creating a post in a word processor and then editing it with ProWritingAid may seem cumbersome at first. But, after few iterations, you will get used to it.
The online editor is intuitive and simple to use.
Don't treat it like word processor though! You won't be able to add links or pictures. Which means additional work when you are finally ready to post. In fact, this is the recommended method by the makers themselves

Bonus Tip: Whenever I have used the Chrome extension, either my word processor like WordPress has crashed or somethings start behaving in a funny way (I couldn't make FB comments). So, you may want to avoid it for first use.
ProWritingAid Reports
There are multiple ways you can review your writing. You can check writing style, grammar, readability, cliches, overused words, sentence length, etc. The result of this analysis is presented in a report.
For the zealous lot, it may mean a riot, for others it might be a nightmare. For me, it started as a riot but turned into a nightmare.
I figured I was wasting a lot of time on reports which did not suit my purpose. From that moment, I made a rule to run few common reports for all articles and try only one new report at a time.
Here are my favorite reports so far which I always use for my work.
Before you start running reports, make sure you have selected the correct writing style and language in the top right-hand corner.

Summary Report
I always start editing with ProWritingAid by running the summary report. As the name suggests, it gives a summary of all reports of ProWritingAid. I start by making a note of all reds.
Don't worry, if you get a lot of thumbs down at the beginning, just like with human editors, it takes time to understand the 'expectations' and terminology of the tool.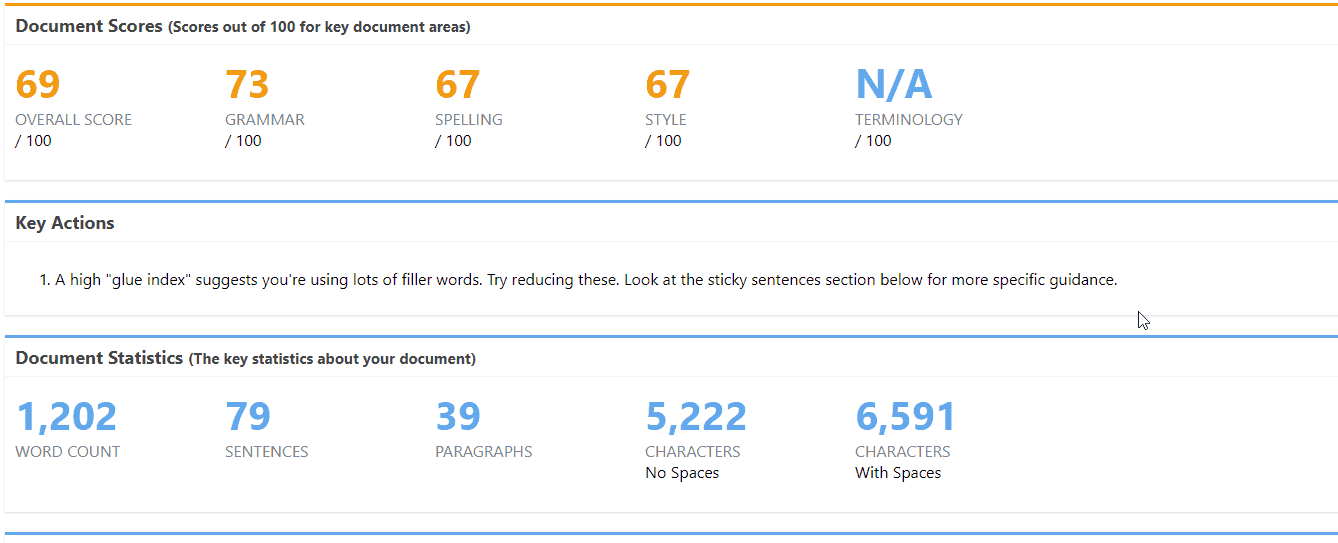 If I am running short on time, I use only five reports – Style, Grammar, Readability, Sticky and Sentence.
Writing Style
Style report is to improve your general writing style. It checks for use of active verbs, minimal use of adverbs, repeated sentences, etc. Although I do not take all the suggestions, I do review the highlighted sentences to improve them in any way.
Grammar
You cannot skip the output of Grammar report. It highlights the spelling errors, suggests sentence formation, tenses, etc. Along with the standard rules, it also had additional checks based on input by PWA's copy editors.
Readability
Readability report measures the Flesch Reading Ease Score for your text. It gives an overview and highlights difficult to read paragraphs. The results are color coded. Green is for easy to read, yellow for slightly difficult to read and red for difficult to read paragraphs. Unless you have a lot of reds in your text, you need not worry at all. Some days it is more important to be creative than simple.
Sticky Sentence
The Sticky Sentence Report highlights the sentences with glue words – words which are adding to the number, not to the meaning. It is not possible to eliminate all these sentences from your writing, but a huge number is certainly a red flag you should avoid.
Sentence Length
Sentence length report is very important to ensure that your writing is not mundane and complex. It is a visual representation of the length of the sentences in the text. Whenever I have spent time on results of this report, I have seen improvements in the way I articulate my ideas.
Bonus tip: Ctrl+Shift+E is the shortcut for word explorer. It is quite helpful to avoid writer's block and to play around with words.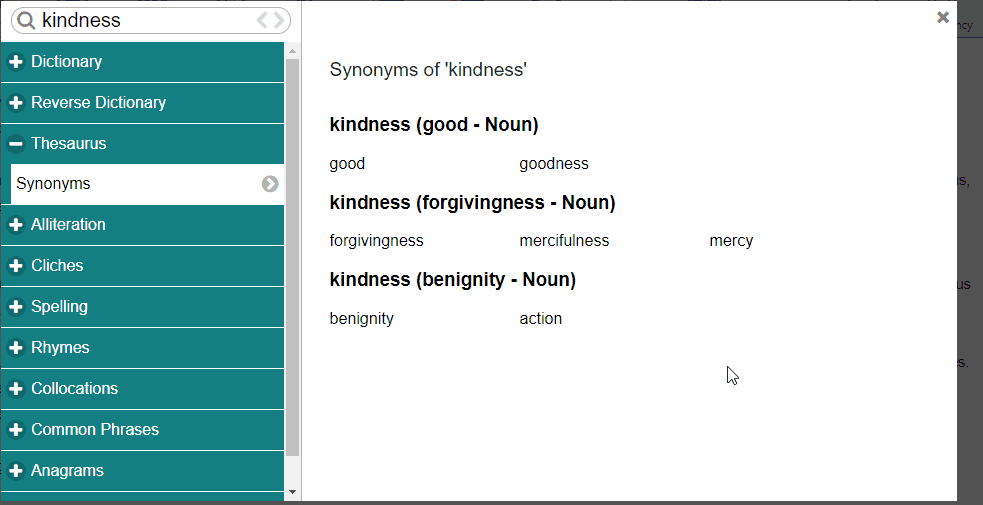 ProWritingAid Pricing
Like all good things, ProWritingAid isn't free. You can sign-up for free at ProWritingAid. But, you will be able to analyze only first 500 words of your text in this option.
Alternatively, you can request a free 14-day license of the Premium version for trial.  If you like it enough, subscribe to their Premium plan which comes with 14-day money back guarantee.
One year subscription starts at $50, two years for $75, 3 years for $100 and lifetime at $175. I would recommend to try the 14-day free trial, get comfortable with the tool and then subscribe to the lifetime plan. After all, writing needs to be improved throughout our lifetime?
If you don't like it you can always ask for a refund in 14 days.
ProWritingAid Review: My Verdict
Although I don't harbor any aspirations to become one of the greatest writers, I do want to improve with every attempt. As a language purist, it is of utmost importance to me. And I think editing with ProWritingAid will definitely help me improve at every step.
The biggest change I had to make was the change in habit of relying on the inbuilt functionality of word processors for language sanity. Now, I keep few hours aside for editing with ProWritingAid. Even when I am writing, I mentally revise the results of previous analysis and try not to repeat those mistakes. It does mean extra effort on my part, but how can we improve without putting that extra effort.
I think another thing I love is the fact that I get an unbiased view before it hits the blog world. Sure, it is not a foolproof way to know how it will be perceived, but if ProWritingAid's statistical analysis says the post is easy to read on Flesch Reading scale, I can trust it more than my own judgment for sure.
As long as you want to improve your writing and have time to spend on editing, ProWritingAid shouldn't disappoint you in any way.
How was your first experience of using ProWritingAid? Let us know in comments.
Edit: Need tips on using ProWritingAid? Read our cheat sheet here.