Have you ever wondered how to find the owner of a cell phone number for free? These days, information security has become exceedingly crucial because of how much of our financial and personal details are available online. That being said, people are far wearier in picking up phone calls or answering text messages from unknown sources.
Fortunately, there are a few ways to find owners of cell phone numbers for free, allowing you to vet the person before you call or message back. It's worth noting, however, that leveraging free methods come with a fair share of limitations.
Disadvantages of Tracing Cell Phone Numbers for Free
There are several tools and platforms you can use to find out who owns a phone number without spending a dime. But before we dive into them, it's worth mentioning the downsides of searching for phone number owners without using a paid service.
Here are several disadvantages to tracing a cell phone number for free:
In the case that someone has made an effort to have their phone number delisted from online phone directories like White Pages and True People Search, then their number will be increasingly hard to track. The same can be said if they added their number to your country's Do Not Call registry.
Certain countries have disallowed reverse lookup services for phone numbers, so you won't be able to investigate numbers from those nations using those kinds of services.
It's not uncommon for phone numbers to go out of commission or switch owners, and these updates aren't usually posted immediately with tracing services. That being said, there's always the possibility that the details you uncover are unreliable.
It's rather difficult to find owners of phone numbers in free services, as doing so often requires using paid ones.
Expect free services that find number owners to push you to subscribe to their paid plans, despite that information being available through other channels.
Find the Owner of a Cell Phone Number for Free
There are several free methods available that you can use to identify unknown callers and track their information. Whether you're dealing with annoying telemarketers or suspicious calls, these methods can come in handy and give you peace of mind.
Google
The first method you should try is the most obvious — simply Google it. After all, many of the details available in free and paid phone lookup services are pulled from Google and other similar platforms.
Here's how you to use Google to look up phone number owners:
To get started, launch your web browser of choice and head to www.google.com.


Key the phone number into the search bar, followed by the term "owner." E.g., "(323) 888 8888 owner."


Hit the "Enter" key to see the search results.

If the Google search can't pinpoint the phone number owner, it can at least narrow down the country and area codes. For example, if you received a phone call that started with "+1", that means that the phone call originated from the United States. The succeeding three numbers are the area code.
The number in the example above has "323" as the area code, and if you Google that, you'll find that it's the code for Los Angeles. That being said, you can Google the country and area codes that appeared in a number that called you to find out where it originated. That way, you can choose a lookup service that accommodates that area.
White Pages
White Pages is one of the more well-known services for finding phone number owners, particularly in North America. It's capable of looking up both landline and mobile phone numbers, as well as address searches. Just keep in mind that it only works for numbers in North America. Using the platform is fairly straightforward. Here's how to get started:
To get started, head over to www.whitepages.com.


Navigate the "REVERSE PHONE" section.


Enter the phone number in the textbox and click "Search."

It's worth noting that White Pages offers a paid subscription that promises to yield more accurate and detailed results. The site warns that looking up a cell phone number using the free service will often end in unsubstantial results, though you will at least be informed of the city and state of the number. Any more info would require a paid subscription.
WolframAlpha
WolframAlpha is an advanced answer engine that utilizes a propriety algorithm to find various results ranging from mathematics to society and culture. While it can't check a phone number owner, if used in a specific way, it can help you figure out the city, state, and country the number belongs to.
To use WolframAlpha, simply follow the steps below:
Head to www.wolframalpha.com.


Type the phone number into the search bar using the following format: +1 (323) 888 8888. Ensure that the parentheses are used to encompass the area code, and add the "+" sign before the country code.


The search result should show you the city, state, and country of the number you inputted.

WhoCallsMe
WhoCallsMe is an online reverse phone lookup service that caters primarily to North American numbers but also lists some international ones. It's used mostly to uncover telemarketers, NGOs, scammers, and other disruptive sources. If that's the case for you, then it's definitely worth trying this site out.
Here's how to use it:
Navigate to www.whocallsme.com.


Type the number into the search bar and hit "Enter."


The results will show the country and city of the phone number, as well as any reports created by users pertaining to that number. This may include the company it belongs to, the nature of the call, and more. You can also submit your own details about the number for other people to look up.

Spy Dialer
Spy Dialer is a comprehensive lookup service that prides itself on being completely free. Not only can it search for phone numbers, but it can also look into people, addresses, and emails. It works a lot like any other lookup service:
Go to www.spydialer.com.


Enter the phone number into the search bar and click the "Search" button. Make sure that you're in the "PHONE" section.


The site will then start processing the information you've provided it. Then you'll be asked to select a search option. Make sure "Name Lookup" is selected, and click the "Search" button once again.


Next, you'll see the search results. Even if no records could be found, you'll be at least provided with the city, state, and sometimes with the carrier of the phone number.

How to Trace an Unlisted Phone Number
Unlisted numbers are those that aren't included in any public phone directory, such as the White Pages, meaning searching there would not yield any significant results. Apart from using the White Pages, tracing an unlisted phone number can be done using the aforementioned methods.
You can start off by using a search engine like Google, then move on to a phone number reverse lookup service. If that doesn't work out, your last bet is to give the phone number a call and simply ask them who they are. This may not have the highest chances of success, but it's worth a shot if all else fails.
Services to Find the Owner of a Cell Phone Number Online
Aside from the services mentioned above, there are various other platforms that can find the owner of a phone number. Here are a few popular options:
Searchbug
Searchbug is a North American-based reverse lookup website that can search for a name or phone number. Even if it can't find a public record of the phone number you're looking for, it can at least tell you whether the number is mobile, landline, or toll-free. On top of that, it can also give you the area the number belongs to. Keep in mind, however, that it's not uncommon for Searchbug to try to get you to shell out money for additional info.

EmobileTracker.com
If you're in the market for a lookup service that caters specifically to mobile numbers, then EmobileTracker.com is worth looking into. According to the website, it tracks numbers across the globe in more than 230 countries and is capable of potentially looking up names, locations, and telecom provider information.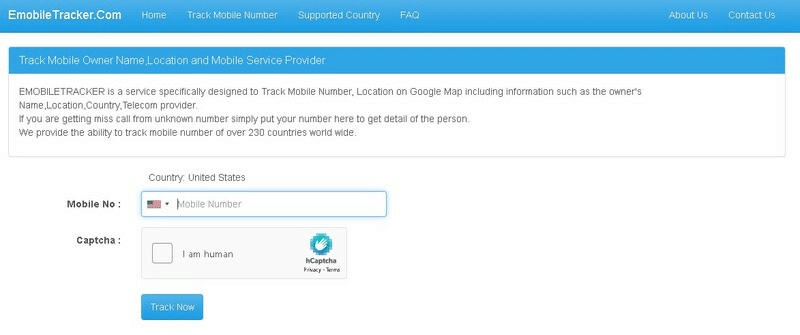 NumLookup
NumLookup is a lookup service that has partnered up with the likes of AT&T, Verizon, T-Mobile, Sprint, and other US telecoms to provide more accurate results for their searches. That being said, their searches are most detailed when the phone number is from the United States, though they also cater to some other countries, like Germany, India, and the United Kingdom.

Conclusion
Getting repeated calls from an unknown number is both alarming and annoying. The good news is that you might be able to find owners of cell phone numbers for free using the various platforms detailed in this guide. Just keep in mind the limitations that come with using free platforms and reverse lookup services, which are rarely capable of returning detailed results.
If you want to discover more platforms to find phone numbers, email addresses, and more, check out these lead generation options.
Related: