Face ID has given iPhone and iPad users a more convenient way to unlock their devices, authenticate purchases, and provide app access just by looking at their screens. However, no feature is immune to glitches. And while Apple's Face ID can malfunction due to different reasons, you can fix most of these scenarios even by yourself.
In this article, we'll discuss why your Face ID might not be working and all the methods you can try to fix the "Face ID not working" issue.
Why Face ID Might Not Work on your Smartphone
Face ID uses facial recognition technology to verify your identity. Apple devices feature a TrueDepth camera to read your facial features accurately. This feature is a primary alternative for passcodes if you want to increase the security of your device with the option to lock photos, hide messages on iPhones, among others.
Before jumping to our methods to troubleshoot your Face ID, we recommend you to verify your device's compatibility as well as the permissions allowed for this feature.
Checking Face ID Compatibility
Face ID is not available for all Apple products. If your device does not have the TrueDepth camera, you would only have Touch ID as an authentication option.
First off, check if your smartphone or tablet is included in the current list of Apple devices with Face ID. As of January 2023, the feature only exists for iPhones and iPads with the following models:
iPhone
iPad
Permissions
Some apps require you to give permission before enabling Face ID. One of the causes of an iPad or iPhone Face ID not working may be because it wasn't enabled at all, or Face ID was recently disabled for the app/feature you're trying to unlock.
To check your Face ID permissions, follow these steps:
Go to Settings. Then, find and tap "Face ID & Passcode."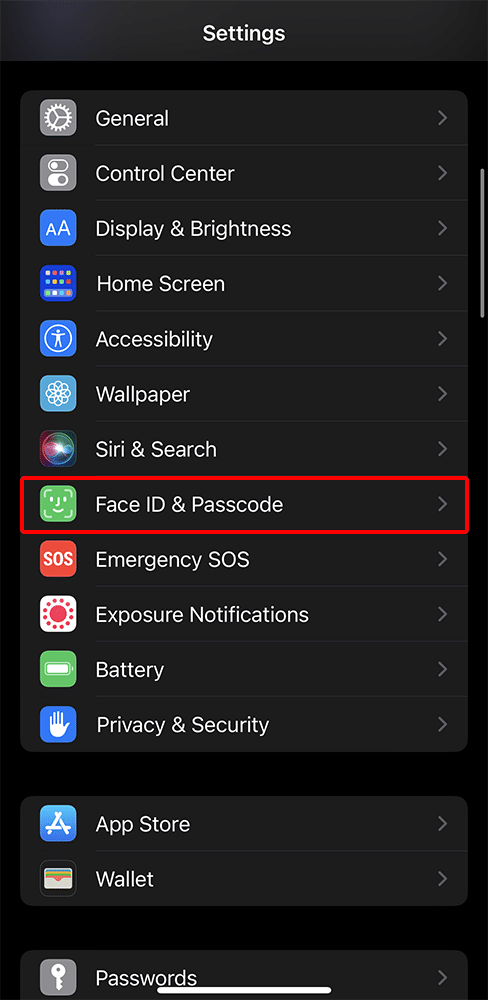 When prompted, enter your passcode to continue.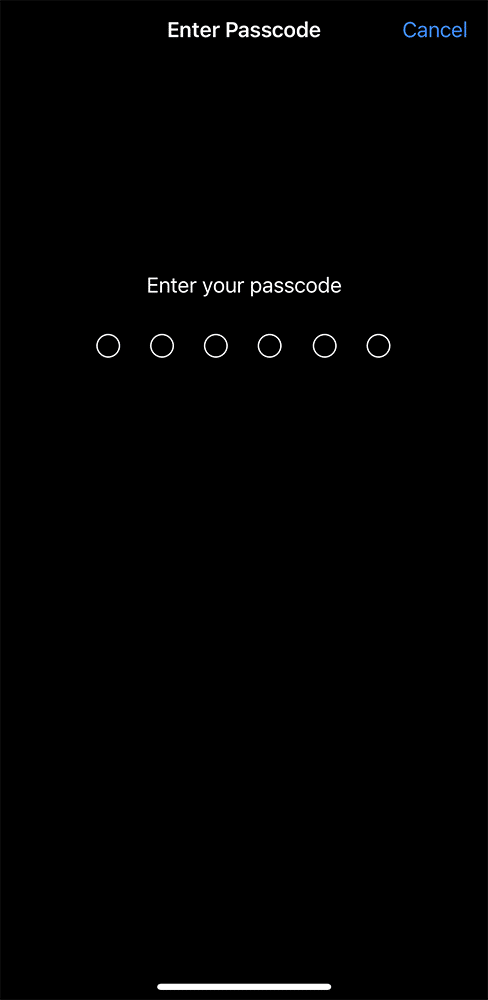 Finally, toggle on the switch to for options where you want to use Face ID for.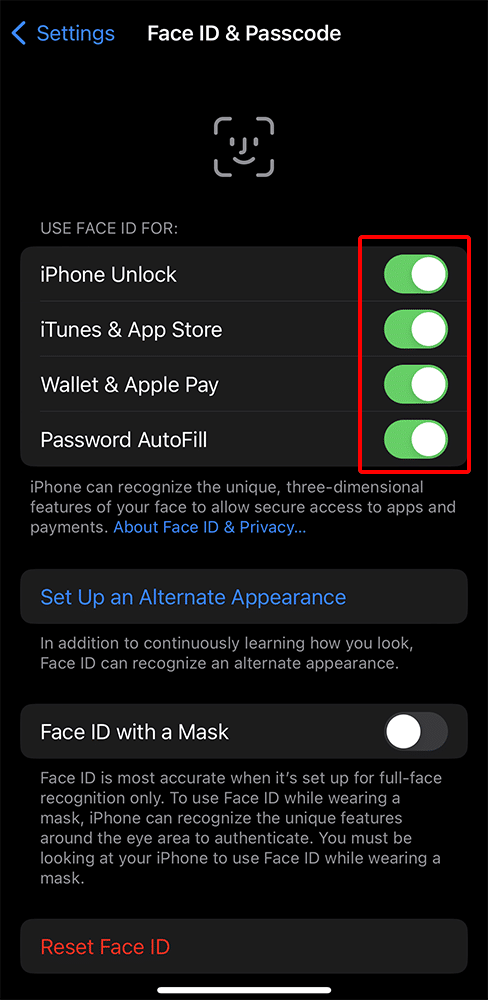 For third-party apps, go to Settings > Face ID & Passcode > Other apps
Using Face ID Properly
If your Face ID has been properly set up in the past but is now encountering issues, you can also check if you're using the feature properly. Here are some notes on using Face ID that could help it work seamlessly:
Make sure that nothing is covering your phone's TrueDepth camera. Check that nothing is obstructing its view. This may include protruding phone cases, incompatible screen protector, or any stain.
Make sure that your face is not blocked. Ensure that your facial features are completely visible to the TrueDepth camera. This includes your eyes, nose, and mouth. If you're trying out the Face ID with a mask feature, we recommend you hold your iPhone higher so the camera can capture your eyes clearly. Additionally, make sure your face mask does not cover your eyes. This is because the feature relies on the distinct features around your eyes. If you're wearing sunglasses, you can take it off and try the Face ID again since some sunglasses don't work well with Face ID.
Make sure that you're facing the TrueDepth camera. Face ID works best when you're holding it around 10-20 inches away from your face.
Make sure that there's enough light in the room. Face ID requires a certain amount of ambient light to function properly, so if it's too dark, the feature may not work.
Make sure that your eyes are open. If your eyes are closed or obscured, Face ID may not work.
Check the orientation of your iPhone. While the newer generations of iPhones have started rolling out landscape Face ID recognition along with iOS 16, this has been currently limited to the iPhone 13 and 14 lineups. If you have iPhone 12 or below, make sure that your phone is in portrait orientation. Also check that you are facing the TrueDepth camera of your phone at eye level.
If you've been using Face ID according to our guidelines in this section but your Face ID stopped working suddenly, you can proceed to the next section.
How to Fix Face ID Not Working
There are a lot of tested methods you can use to fix your device's Face ID. We have arranged our methods from the simplest to do, to the ones that may require resetting or erasing your data.
Note that it's good practice to backup your files before proceeding to methods that need erasing or resetting your data.
Check Your Face ID Settings
Your Face ID may be turned off accidentally. To verify, you can check your Face ID Settings. If Face ID is already up before, verify your Face ID usage by checking the "Use Face ID for" section of the Face ID settings.
To check if your Face ID settings, do the following:
Access the Settings app. Then, tap the "Face ID & Passcode" option. Enter your passcode if prompted.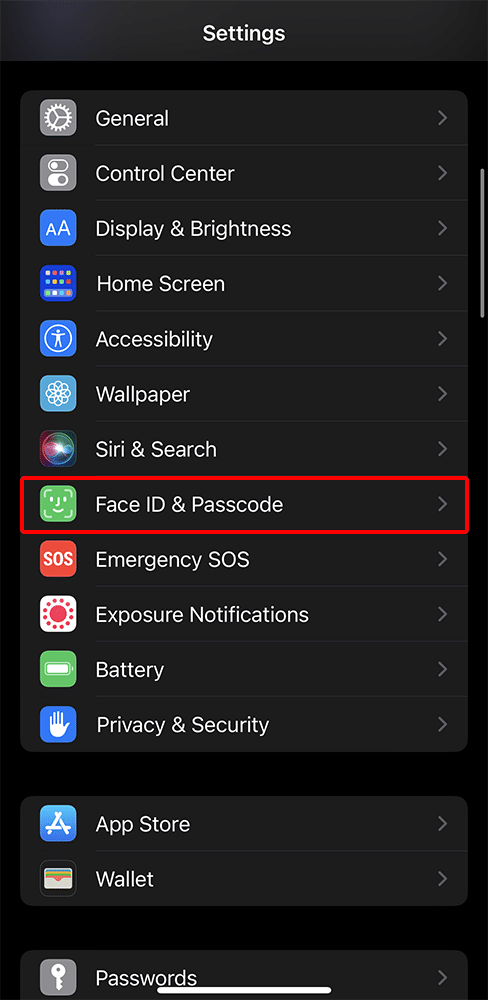 If you see "Set up Face ID", it means you don't have any Face ID data on your phone currently. it may be either you haven't set up Face ID, you haven't set it up correctly, or your Face ID data has been reset or deleted.
Restart your Device
Restarting your device is one of the simplest methods of troubleshooting your Face ID malfunction. To do so, just follow these steps:
Hold the power button and volume up button together for a few seconds until the option to turn off the device appears. Then, slide through the option to turn off your device.
Turn on your phone again by holding the power button until your device starts. After it boots, try if Face ID is now working.
You can also try to force restart your iPhone. This helps remove system settings that may be affecting Face ID.
Press the volume up button.
Then, press the volume down button.
Finally, press and hold the side button of your device until the Apple logo appears on your screen.
Turning Your Face ID Off and Back On
In some cases, turning off your Face ID and turning it back on can reset the feature and make it work again. To restart your Face ID, following these steps:
In the Settings app, tap "Face ID & Passcode". Enter your passcode once prompted.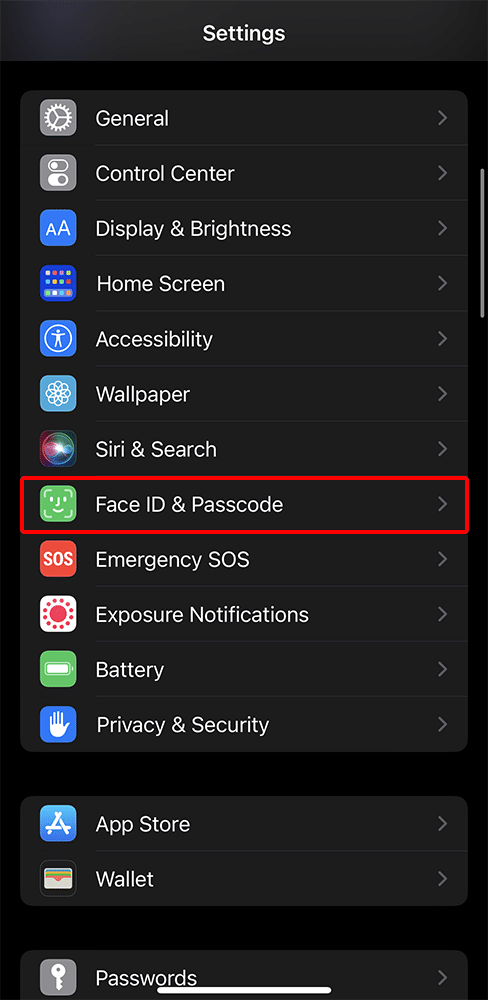 Turn off the switches under the "Use Face ID For:" section. Also turn off third-party app permissions.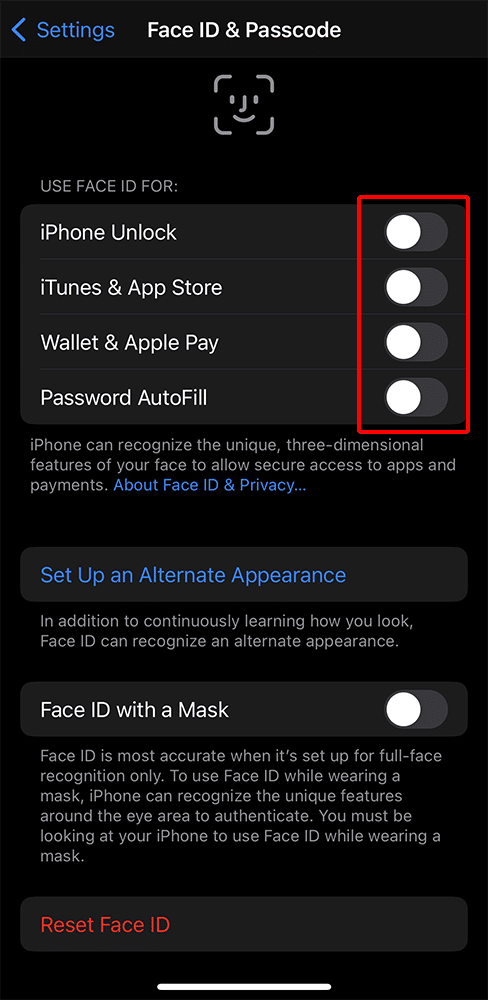 Afterwards, restart your device and turn on the switches you previously turned off.
Update your OS
Some glitches in the Face ID can be solved by OS updates. Usually, Apple devices automatically send out notifications when there is a software update available. You can also manually check for updates in your OS. To do so, simply follow the steps below:
First, go to Settings > General > Software Update.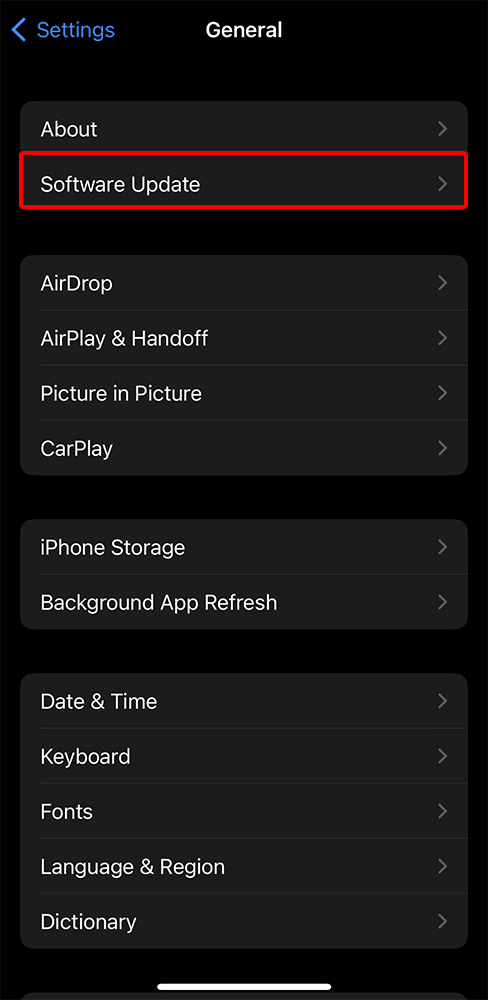 If there is an update available, tap "Download and Install."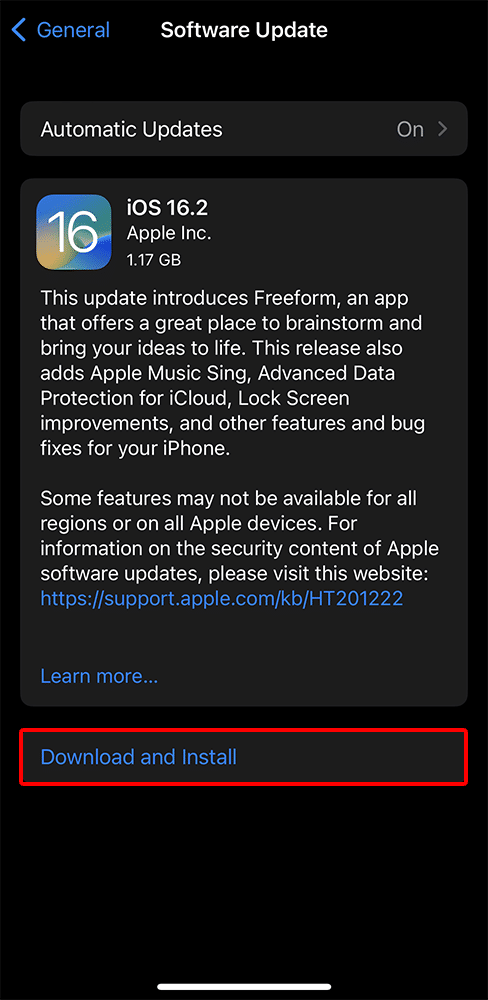 Set Up an Alternate Appearance
Maybe you have face coverings you usually wear that may make Face ID not available. In this case, you can set up an alternate appearance. This involves setting up Face ID to a secondary appearance. Alternate Appearance can also work if you want to add another person's face so Face ID can recognize it.
To set up an Alternate Appearance, here's what you can do:
On the Settings app, tap "Face ID & Passcode".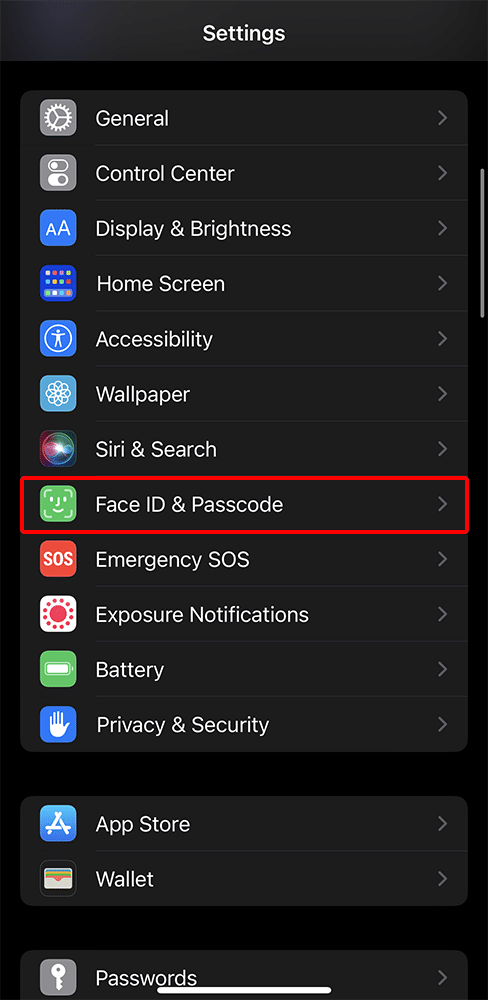 Tap "Set Up an Alternate Appearance".
Your screen will show a camera that captures your face. Finish the setup by following the instructions on your device.
Only allow a person you trust to register for an alternate appearance as it can be used to authenticate transactions and even view saved account passwords, as well as view saved WiFi passwords on iPhones.
Reset Face ID
If none of the above steps work, you can try resetting the data that Face ID uses to recognize your face. Here's how:
First, go to "Settings". Then, select "Face ID & Passcode"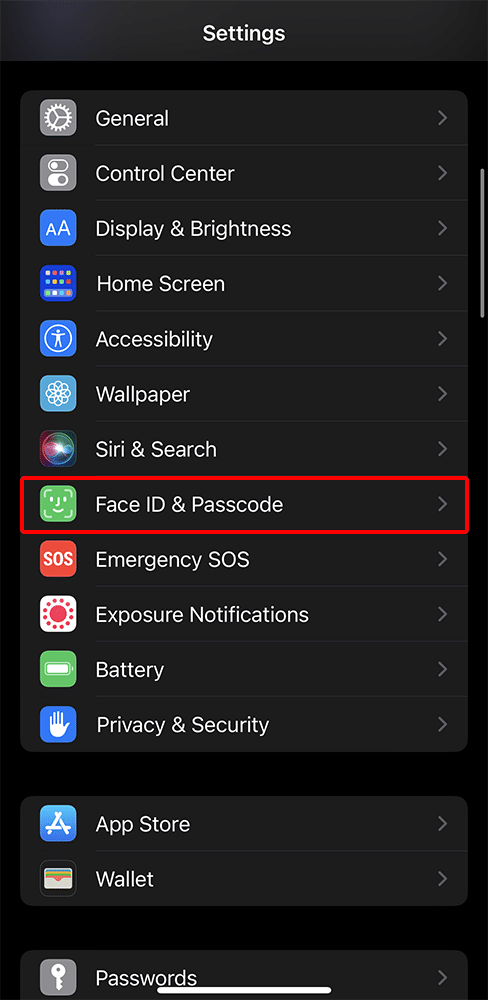 Finally, tap "Reset Face ID."
Restore Your iPhone to Factory Settings
If Face ID still doesn't work even after everything you've tried so far, it may be a good idea to restore the device to its factory settings. This is a good way to fully refresh the device and get it working normally again.
The system may prompt you for your Apple ID, password, as well as your screen passcodes and other security prompts to set up your device.
Here's how to restore an iOS device to factory settings:
Go to Settings > General > Transfer or Reset iPhone > Erase All Content and Settings.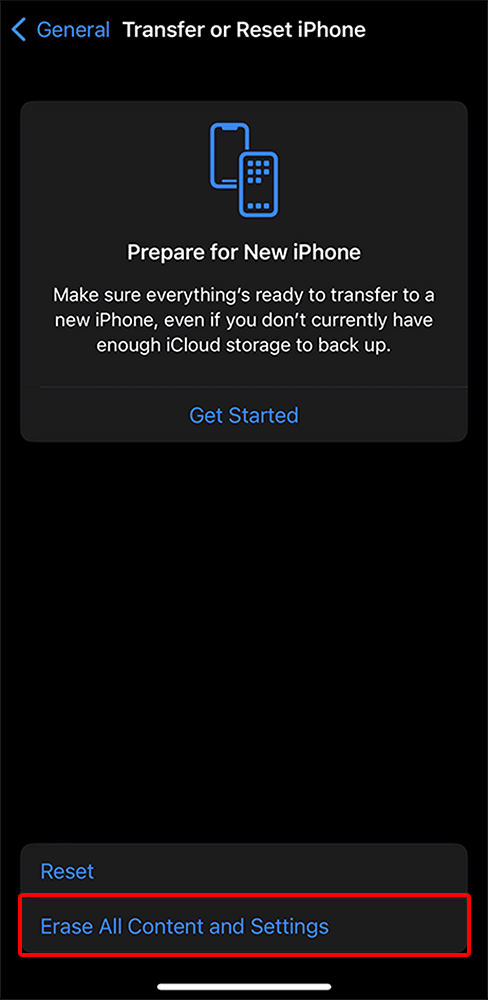 You may be prompted to update your iCloud storage backup. To avoid losing files, we recommend you to back up your files before proceeding.
Tap continue and wait for your device to finish erasing your data.
When the device restarts, follow the on-screen instructions to set up the device as new.
Contact an Apple Professional
If the Face ID not working issue persists after all these methods, it may be time to contact Apple Support. We recommend only contacting Apple-authorized technicians and only installing genuine Apple components when repairing your device to avoid Face ID from malfunctioning.
Just remember that if Face ID is not available, you can still unlock your device using your passcode.
Face ID After Water Damage
Water damage can occur due to a variety of reasons, such as dropping your device in water or exposure to moisture. When this happens, it can cause damage to the device's internal components, including the sensors used for Face ID.
If your device has been exposed to water and you are experiencing issues with Face ID, here are a few steps you can take to try and fix the problem:
Turn off your device and remove it from the water as quickly as possible. This will help to prevent further damage to the device.
Dry your device as thoroughly as possible. This can be done by using a towel or a dry cloth to wipe down the device, or by using a vacuum cleaner to suck out any remaining moisture. You can also place your device in a sealed container with silica gel packs, which will help to absorb any remaining moisture.
Once your device is dry, try to use Face ID. If it is still not working, you may need to take your device to an Apple Store or a professional repair service for further examination. They will be able to diagnose the problem and determine if any repairs are necessary.
It is important to note that even though you may have dried your device, water damage can cause permanent damage to the internal components of your device. This includes the sensors and cameras used for Face ID. If the damage is irreparable, you may need to replace your device or find alternative methods of unlocking your device, such as passcode or Touch ID.
The Bottom Line
There are many reasons why your Apple Face ID is not working. This may include lighting, obstruction, distance, and hardware or software issues. For most of the issues, you can just start troubleshooting by yourself. But if you suspect iPhone water damage or screen cracks, you should contact an Apple technician to diagnose and repair your Face ID.
Want to learn more about your iPhone? Check out our article on how to turn off Do Not Disturb on iPhones.
Related: