Dealing with the routine tasks of planning meetings, managing projects, and sorting a mountain of emails can seem like a real headache, especially when you're short on time. Thankfully, we're living in the new era of artificial intelligence — and utilizing the right tools can easily make you ten times more productive!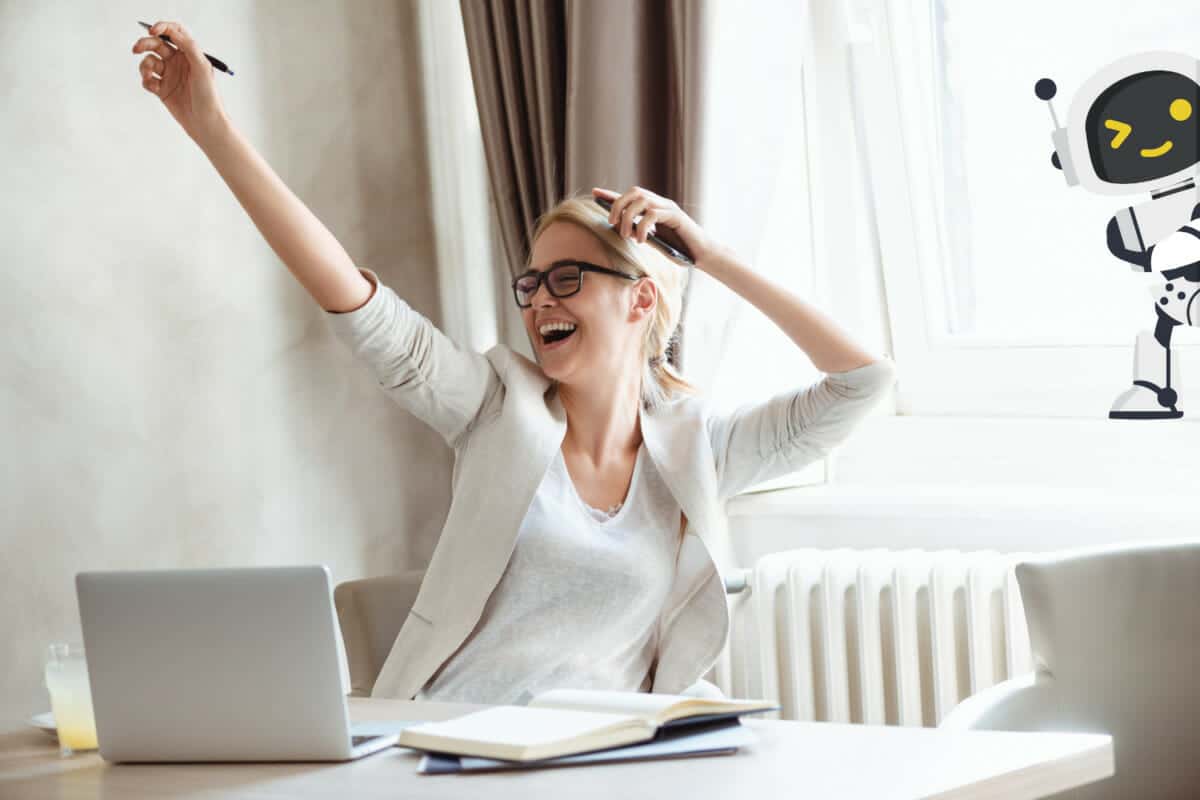 In this article, I'll share my seven favorite AI tools for productivity, covering their coolest features and how each one can potentially boost your day-to-day performance.
How Can AI Tools Help Productivity?
According to the latest AI statistics, 9 out of 10 leading businesses are actively investing in artificial intelligence. This interest isn't just due to the novelty or allure of cutting-edge technology: It stems from recognizing the tangible, game-changing impact on everyday productivity that's happening worldwide.
When introduced properly into your routine, AI can become your silent partner by streamlining workflows, reducing stress, and saving you hours of time every week.
Here are just a few ways AI tools can enhance your productivity:
Planning Your Day
Remembering appointments and setting up meetings is nobody's favorite job. With AI, your schedule can pretty much be managed automatically, laying out your agenda in a smart way (and leaving you with one less thing to worry about).
Getting Rid of Busy Work
AI is able to handle the boring, repetitive tasks that take up so much of your time. This frees you up to focus on the things you enjoy — and the elements that no one can do but you.
Keeping Things Tidy
Ever spent ages looking for that one email or file? AI tools can sort and organize your digital world so you can find everything you need in a snap.
Writing Faster
AI is a great ghostwriter. Use it to start a tricky email or check your messages for mistakes before hitting "send."
Learning New Things
Interested in picking up a new skill or learning a new language? AI might recommend personalized content to help you learn at your own pace. It could even become your personal tutor in a variety of subjects.
Making Smart Choices
AI is able to provide useful tips and insights based on your behavior and patterns. This could help you make the best decisions for your day-to-day activities.
7 AI Tools For Serious Productivity Improvement
Now, you could take an AI course to brush up on the technology. That takes time. What if you wanted to use something that's already built? That's where this list of AI tools comes in. I focused on evaluating those I found most helpful in my normal routine.
Embracing AI tools in your day-to-day life might impact much more than you imagine. These tools are equipped with the capability to automate the mundane, put your schedule in order, or simply give you a nudge when you hit a roadblock.
Let's dive into seven AI tools that can seriously upgrade your productivity game!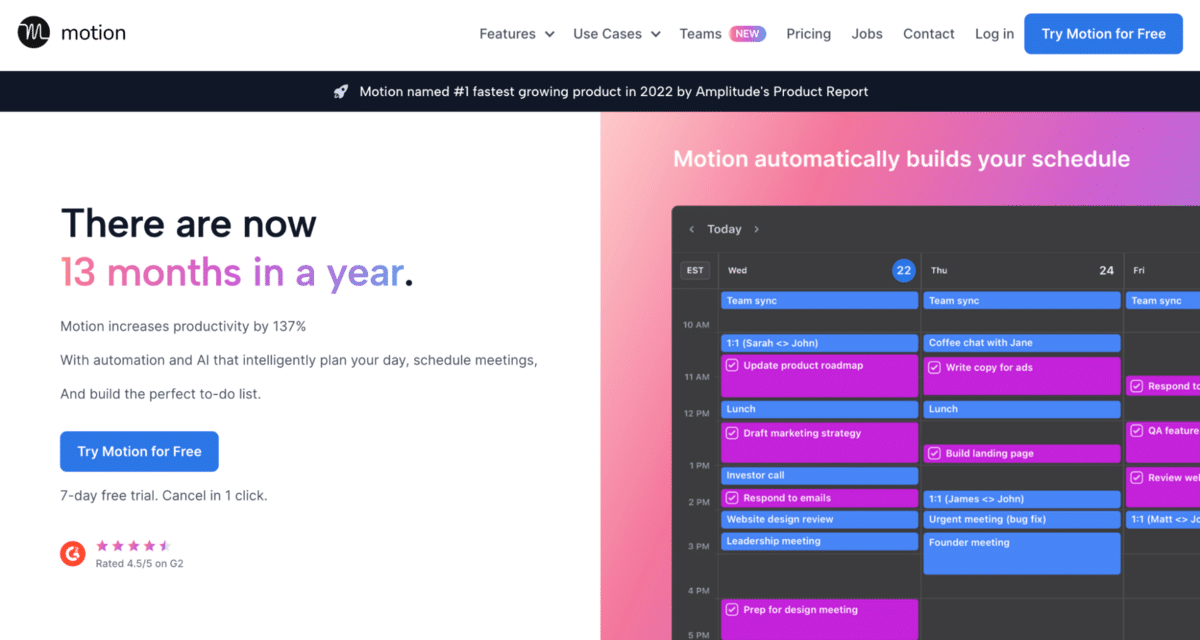 Motion is a remarkable AI-driven tool that's built as a personal productivity powerhouse. It takes all the elements of your work (e.g., calendars, meetings, projects, tasks) and brings them together in a seamless, intelligent system that streamlines your day.
Motion takes the guesswork and manual planning out of your daily routine, claiming to increase productivity by a mind-blowing 137%. It uses an intelligent automated approach that plans your day, prioritizes tasks, and reschedules unfinished business to keep you on track.
Pros:
Plans your whole day for you
Reshuffles your schedule based on deadlines and priorities
Automatically reschedules the tasks that didn't get done
Has privacy settings to keep your personal tasks to yourself
Cons:
Lacks integrations with some popular tools
Many people feel it's too expensive for what it does
How Motion Improves Productivity
This AI project manager gives you a bird's eye view of your tasks and projects, all neatly organized and scheduled. It handles your to-do list in a smart way.
Out of all the productivity tools I've had a chance to experiment with, Motion feels the closest to a real personal assistant that would handle the ins and outs of your schedule, leaving you free to focus on the work itself.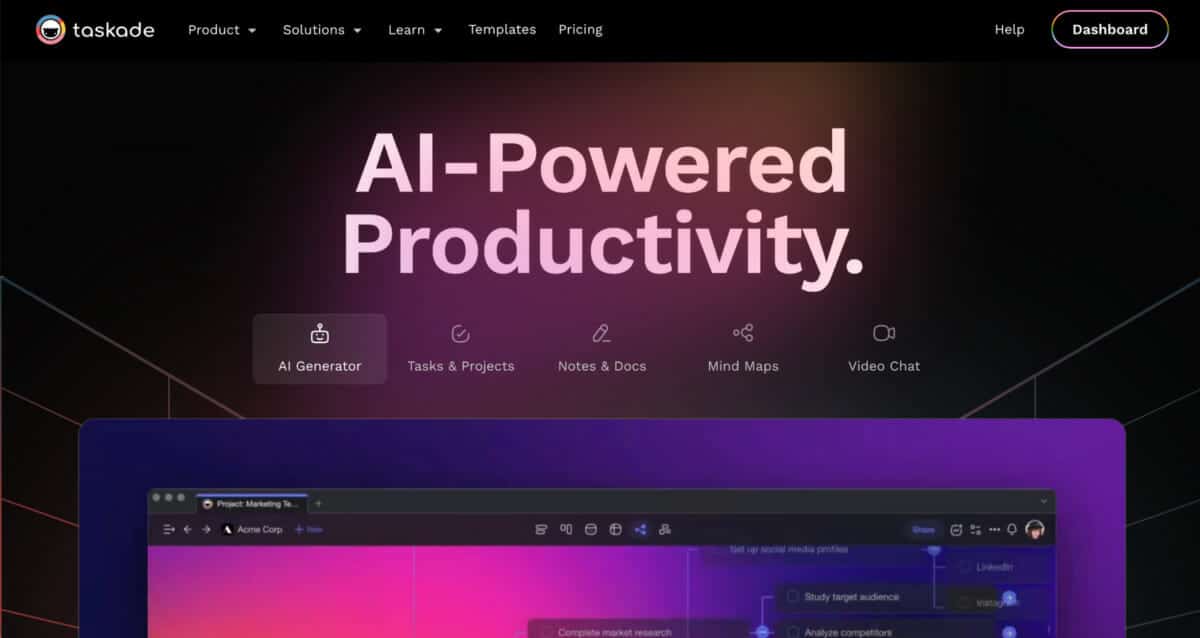 Think of Taskade as your personal assistant for project management. It lets you map out your tasks visually, making it easier to see your to-dos and understand your workload at a glance.
This AI tool also allows you to collaborate with others in real-time, whether it's brainstorming new features, solving roadblocks, or discussing the team's progress.
Pros:
Smart AI generator for project management
AI-supported mind map creation
Dozens of pre-defined templates
Easy navigation and scheduling
Real-time team collaboration
Syncs between all platforms
Cons:
Could be overwhelming if you've never used a project management tool before
How Taskade Improves Productivity
Taskade AI feature was introduced a few months ago, and I'm seriously impressed by its ability to speed up workflows!
Whether you're breaking down goals into tasks and subtasks, writing meeting agendas, or generating whole mind maps based on a simple text prompt, Taskade has the potential to become a staple in every productive person's toolbox.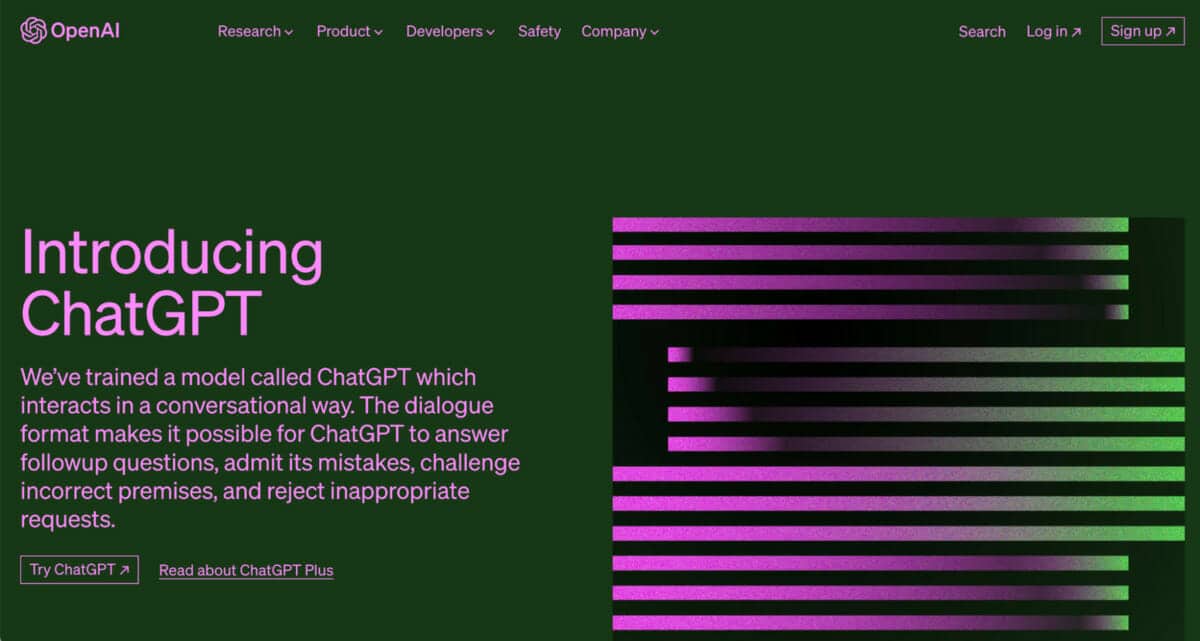 It's unlikely that you haven't heard about ChatGPT by now, but I'll introduce it anyway (since it definitely deserves to be part of this list).
ChatGPT is an advanced, AI-based chatbot developed by OpenAI. It can interact with you in a conversational way, helping you brainstorm ideas, find information, generate reports, or even write code.
The app can easily answer all your questions and excels at explaining everything from "why the grass is green" to more complex scientific concepts.
ChatGPT excels in using natural language, understanding, and responding to your inputs in a way that feels like you're talking to another person. This makes it a great tool for both work and fun.
Pros:
Amazing AI helper you never knew you needed
Can do a ton of text-based tasks for you or with you
Access to the Internet in the premium version
Hundreds of additional plugins to simplify your life
Cons:
Best features are only available on the paid plan
Has relatively short memory and other output limitations
Need to fact-check everything it says, as it's known for hallucinations
Requires some prompt engineering skills for optimal results
How ChatGPT Improves Productivity
After using ChatGPT every day for months, I'm calling it my personal assistant and can hardly remember how I lived without it. It helps me draft emails, generate ideas for articles, reframe my thoughts better, summarize big chunks of data for research, organize and filter the information I work with, and so much more!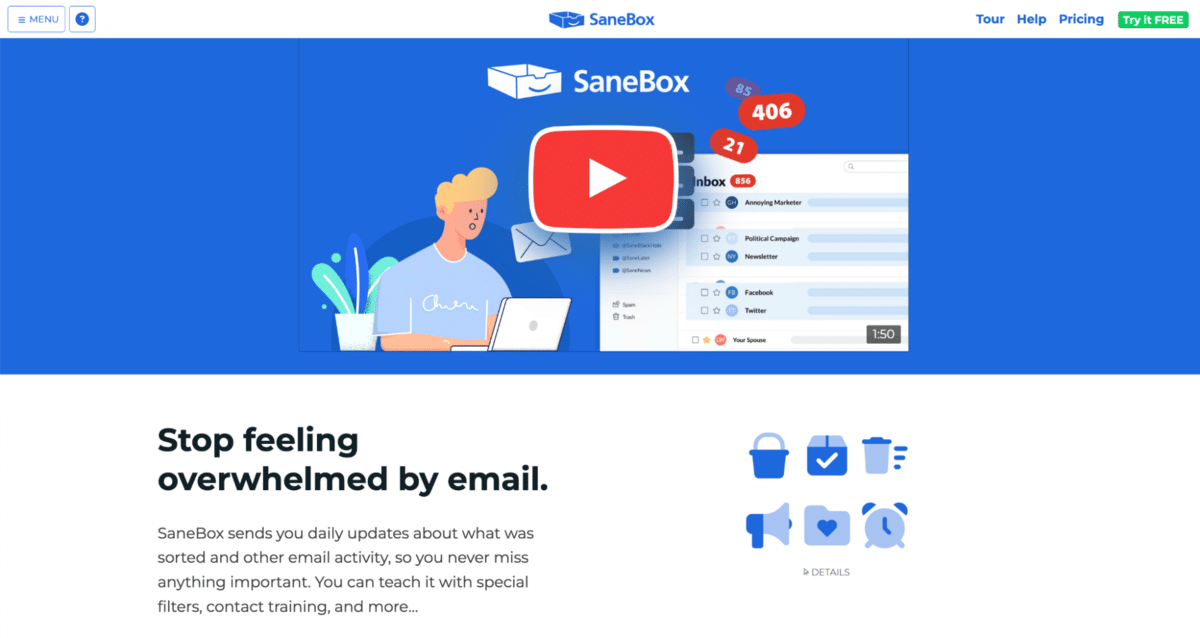 If you're drowning in emails, SaneBox might be the lifesaver you need. It uses AI to automatically sort your emails into different folders based on their importance (from client invoices to emails from a parent). This way, you'll be able to focus on the emails that really matter — and deal with the rest when you have the time.
Pros:
Keeps your inbox organized
Distinguishes newsletters from work emails
Lets you block annoying emails instead of repeatedly deleting them
Has a "deep clean" feature to get rid of old junk
Cons:
Has access to all your emails
Requires a monthly payment
How Does Sanebox Improve Productivity?
There are two types of people: Those who have hundreds of unread emails and those who have a clean inbox folder at the end of (almost) every day.
As someone who sticks to the "inbox zero" approach, I think SaneBox is a useful tool to beat that email overwhelm. It's one of the several AI email assistants that are remarkably intuitive in daily use and make life easier.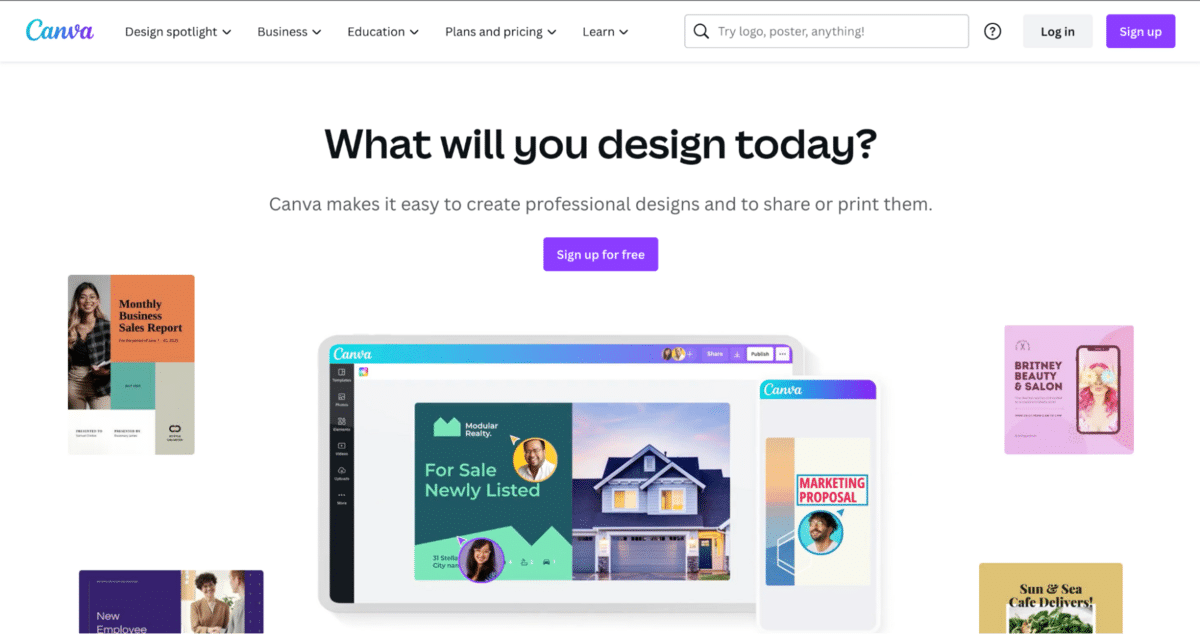 Canva is a graphic design tool that uses AI to make design accessible to everyone. You don't need to be a professional designer to create stunning visuals. Whether it's a social media post, a presentation, or a birthday card, Canva has you covered.
This tool offers a user-friendly interface where you can drag and drop elements, change colors, and add text with a few clicks, making the design process a piece of cake. On top of that, it recently introduced many intelligent features — such as an AI image generator and an AI assistant — to draft text for your designs.
Pros:
Incredibly easy to use, intuitive interface
Wide variety of templates for designing anything
Thousand of unique images and elements to use
Plenty of free tutorials are available
Cons:
Some features require a premium subscription
Professionals might find it limited compared to more comprehensive design software
How Canva Improves Productivity
I've been using Canva for many years and have created over 500 designs with it. It's so simple to create any kind of aesthetic graphic — without any special education. Their new and powerful AI image generator lets you create images that don't exist yet, which is an awesome way to explore your creative ideas!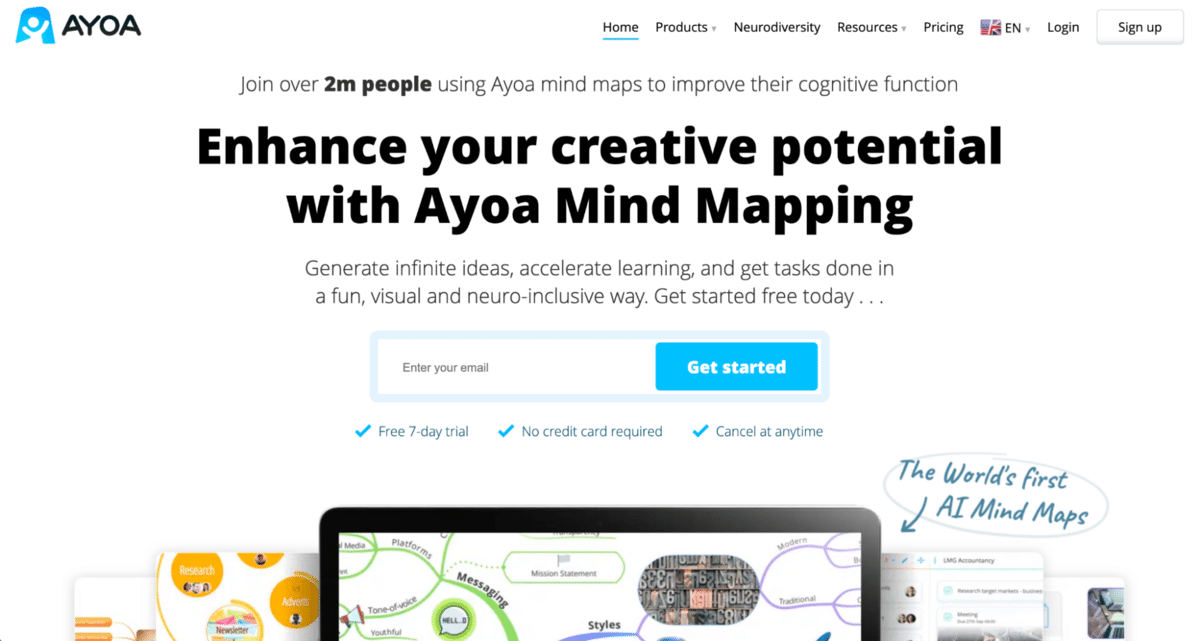 Ayoa is an AI-powered tool that combines task management with mind mapping. This makes it easier to visualize your tasks, keep track of your ideas, and leverage artificial intelligence in the creative process.
Ayoa is a great productivity tool for brainstorming, as it can break down tasks and difficult concepts, generate new ideas you haven't thought of, and enhance team collaboration in countless ways.
Pros:
Great AI brainstorming tool
Organizes your tasks in various visual ways (e.g., boards, lists, Gantt timelines)
Many different kinds of mind maps
Generate and explain concepts in one click
Cons:
How Ayoa Improves Productivity
Mind mapping is a well-known way to boost creativity and simplify project planning. With the Ayoa AI tool, you can visualize your ideas and get intelligent help by generating new concepts.
Two heads are better than one — even when one is artificial!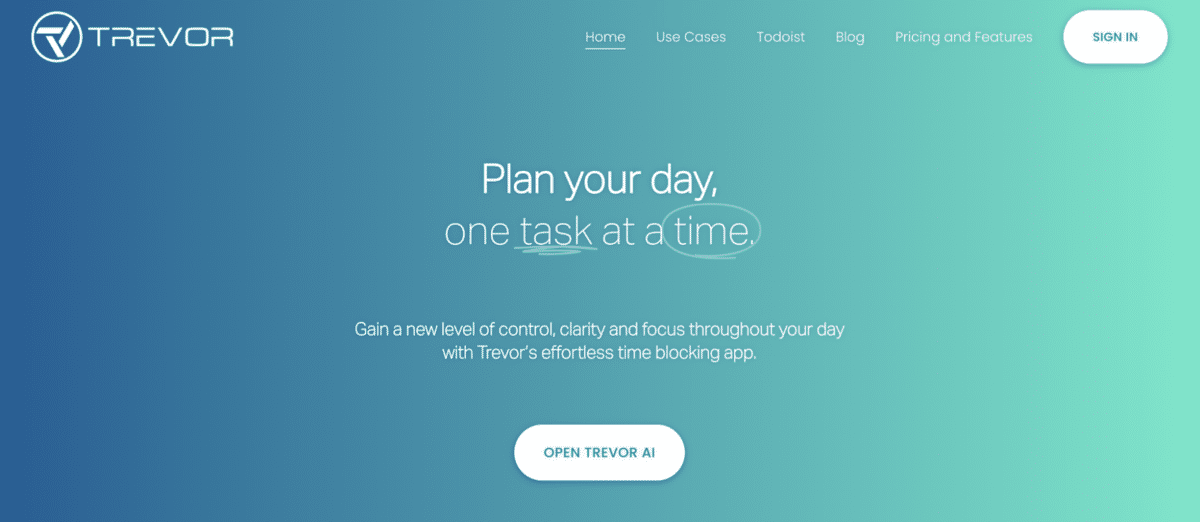 Trevor is another AI-powered personal assistant that handles your tasks, scheduling, and reminders in one convenient place.
It seamlessly integrates with the Todoist app, Google Calendar, and other productivity tools to introduce additional smart time-blocking capabilities. This makes it really easy to find enough time in a day to get each of your tasks done.
One great thing about Trevor AI is that it learns your work habits and patterns over time and adapts to them, meaning less required manual work. A deep focus mode with a timer helps you focus on a single task without distractions.
Pros:
Schedules important tasks into your calendar with drag and drop
Works together with your existing toolbox
Allows you to share projects and assign tasks in a team
Has a free plan with unlimited scheduling for personal use
Cons:
It takes some time to learn your routines and predict task duration correctly
How Trevor AI Improves Productivity
We occasionally underestimate how much time a particular task will take and overestimate the amount of work we can fit in a day. Using a time-blocking tool like Trevor allows you to be more mindful about your schedule, understand where your time goes, and never feel unproductive at the end of the day.
Wrapping Up
As we wrap up,  remember that the point of integrating technology into your routine is to simplify your life, not complicate it. All of these productivity tools are designed to streamline your workflow. However, be sure to experiment with them and only use those that actually help minimize your workload — not just add extra tasks to your to-do list.
Related: