What should you do when your phone goes straight to voicemail on an iPhone? Usually, the solution is fairly simple — and this guide will cover each potential fix in step-by-step detail. Here's a quick list of recommendations to try.
Fixing Phones That Go Straight to Voicemail on iPhone
1. Turn Up the Volume
A common reason your iPhone goes straight to voicemail is that your ringer is on silent mode. You might assume that the calls are going to voicemail, but really, you simply can't hear them.
The first thing to do is to check if the "mute" switch (on the left side of your iPhone) is toggled on. If you can see the orange part inside the mute switch, then the silent mode is on. That means you won't hear any ringtones or alerts, but you'll still be able to hear other sounds. Simply toggle the switch off to switch back to ring mode.
If your mute switch is on and you still can't hear your calls, you can change the volume from the settings menu. Here's how:
Click on "Settings" in the main home screen on your iPhone.
Scroll down and open the "Sound & Haptics" section.
Here, look for the slider under "Ringtone And Alert Volume." Move the slider towards the right side to choose the desired volume.
If you don't want the side volume buttons of your iPhone to change the volume, then toggle off the "Change with Buttons" option.
2. No Cell Service
Your phone may be disconnected from nearby cell towers when a call goes to voicemail iPhone. This can happen for several different reasons, like being too far from a cell tower or your phone is in airplane mode.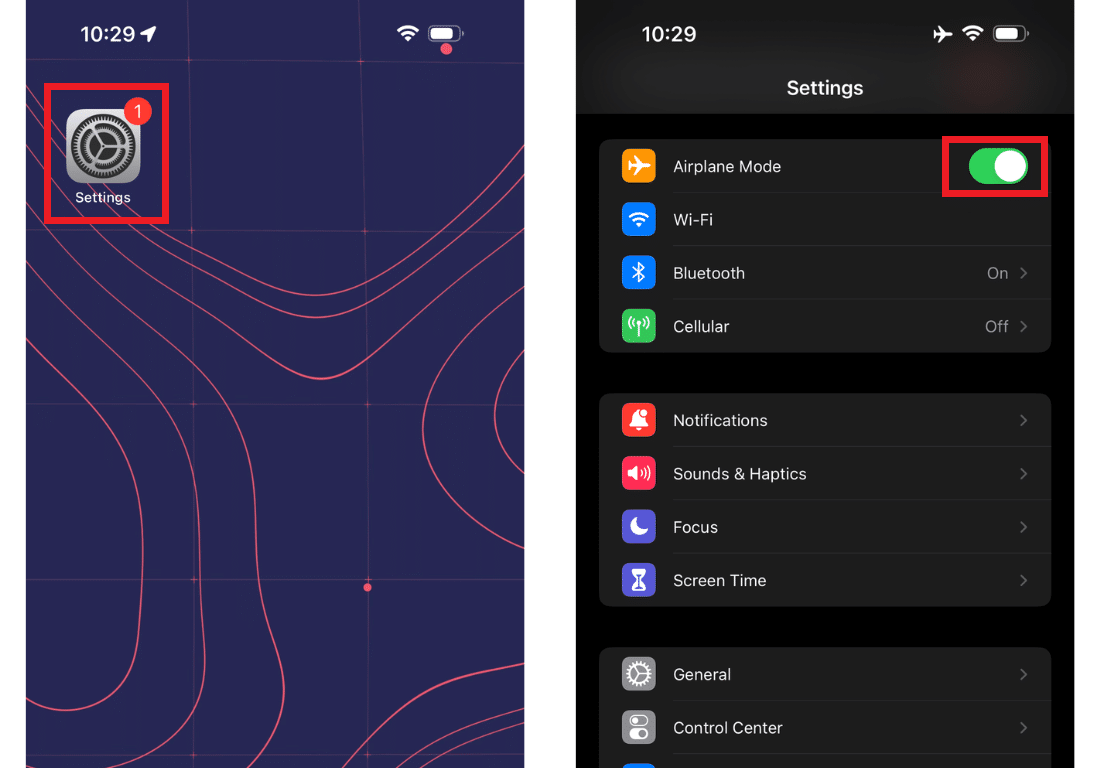 To check if your phone is connected to a cell tower, look for a cell signal icon in your status bar. If you see an airplane icon here, your iPhone is in airplane mode. To disable it, head over to "Settings" from the main iOS home screen, then click on the "Airplane Mode" toggle towards the top of the list to turn it off.
If you're not getting any cell signal and airplane mode is also off, try toggling airplane mode on and off. This should force your iPhone to connect to the cell tower again, refreshing the signal.
3. Disable the Silence/"Unknown Callers" Feature
If you can receive calls from people in your contacts but not from unknown callers, you probably have the "Silence Unknown Callers" feature turned on. To disable this feature on iOS: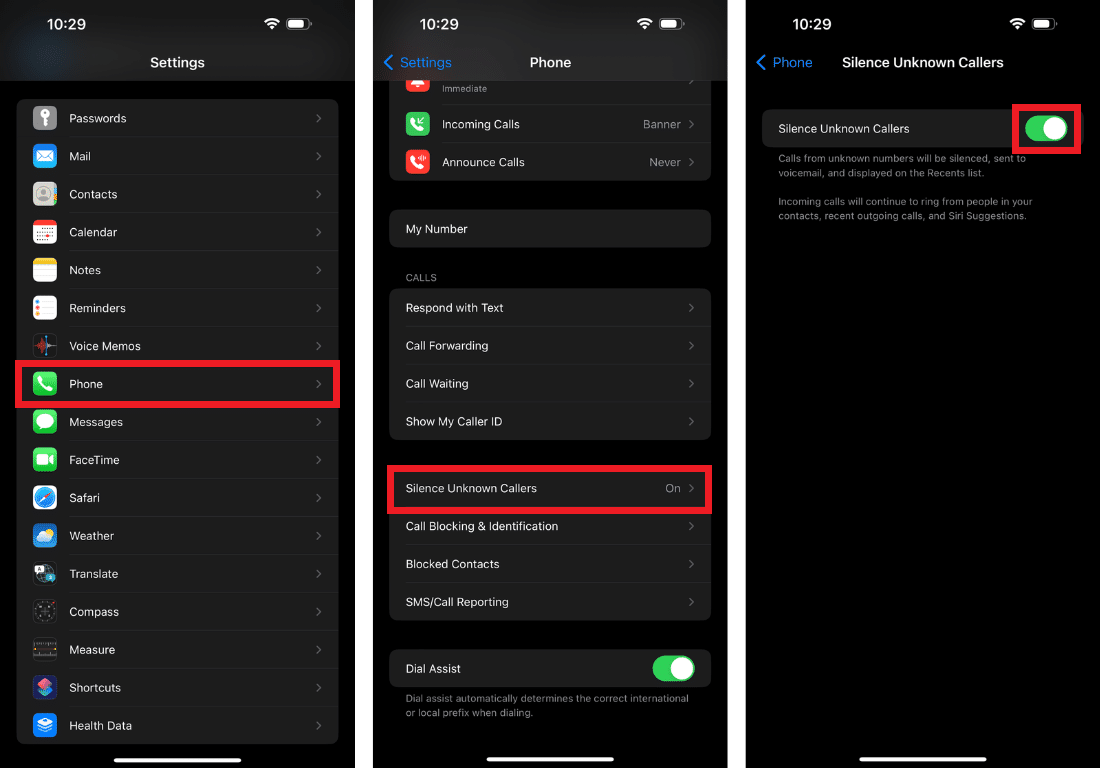 Click on "Settings" in the main home screen on your iPhone.
Scroll down and select "Phone."
Scroll down and click on the "Silence Unknown Callers" option.
Here, turn the toggle off.
You should now be able to receive calls from unknown callers without them going to voicemail.
4. Disable Do Not Disturb or Focus Mode
The "Focus/Do Not Disturb" feature in iOS allows users to silence all or some notifications, calls, and alerts. This feature doesn't stop the iPhone from receiving calls when turned on. Instead, your phone won't notify you when it sends the call to voicemail.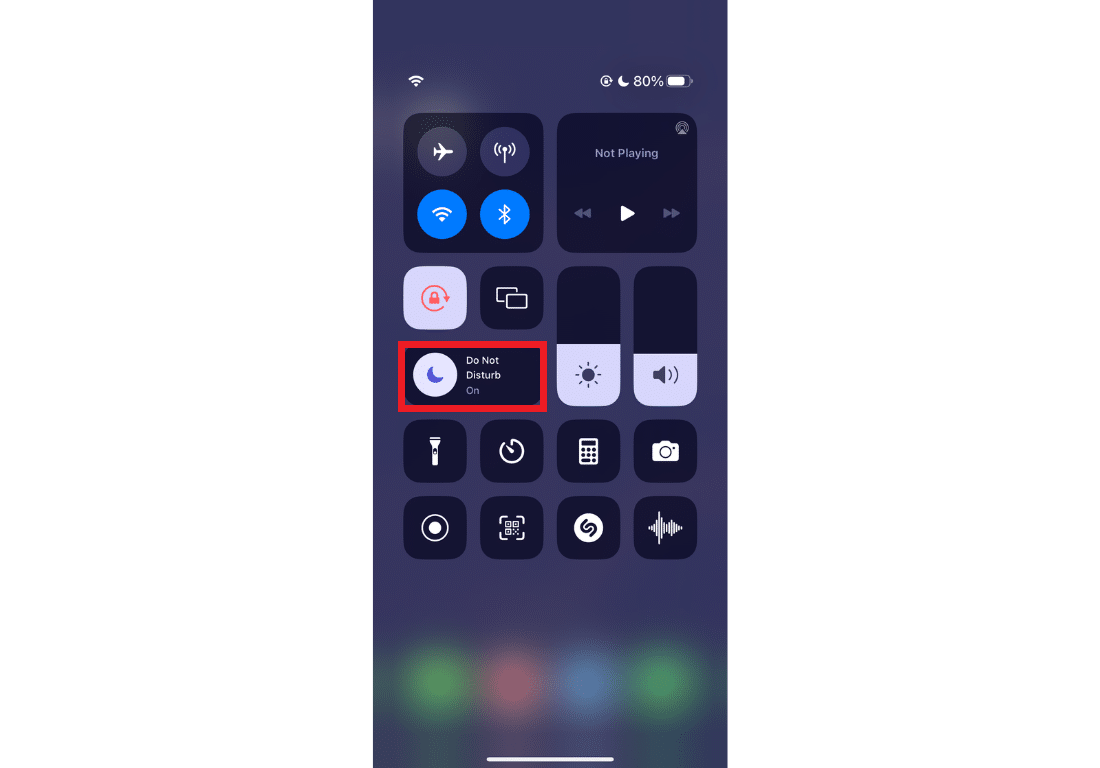 If your iPhone has FaceID, swipe down from the top-right side of the screen to open the control center. Otherwise, swipe up from the bottom if your iPhone doesn't have FaceID.
Look for the "Focus" option towards the left side of the brightness slider. Depending on whether the "Focus Mode" is toggled on or off, the option may be named something different.
Click to turn it off. The icon in the pull-down menu should now say "Focus."
What Happens If Only One Contact Goes to Voicemail?
iOS Focus Modes also allow you to select the contacts who can call you. Here's what to do if only one contact goes straight to voicemail iPhone: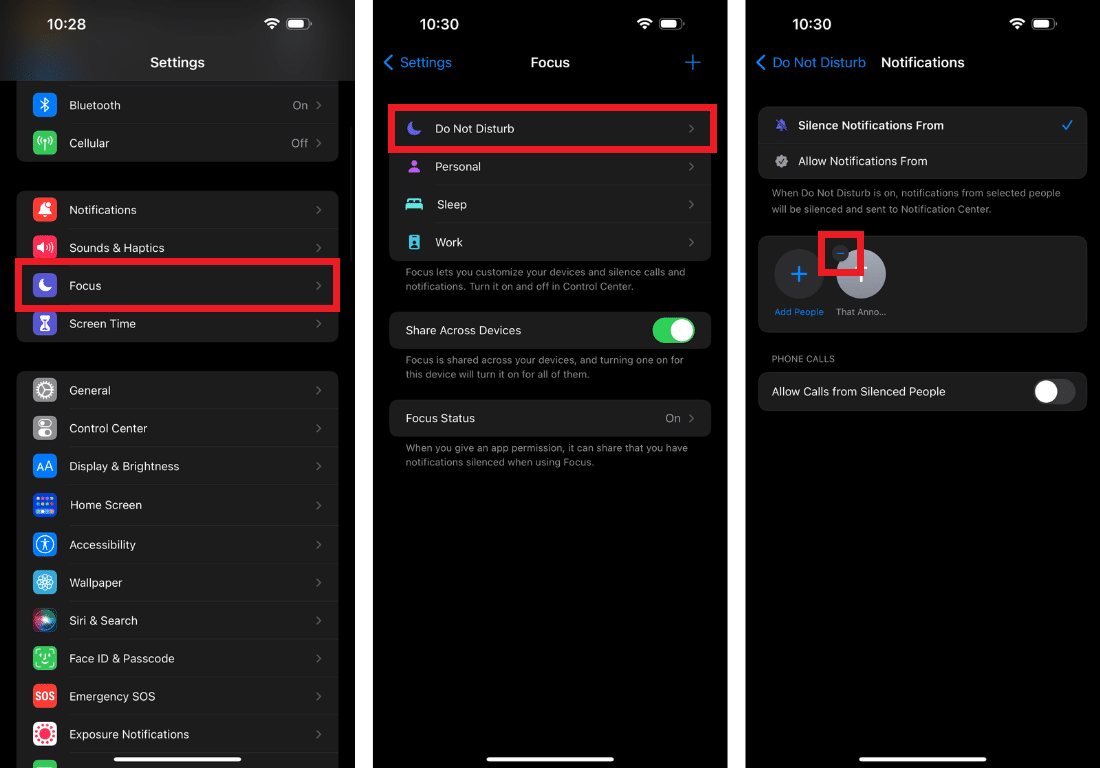 Go to "Settings" > "Focus." Here, you'll see all the Focus Modes you've created.
Click to open the settings for the Focus Mode of your choice. In this example, we will edit the settings for the Do Not Disturb Focus Mode.
Click on the "People" section on the chosen Focus Mode's configuration page.
You may see the contact whose iPhone calls go straight to voicemail. To remove it, click on the Minus (-) sign towards the top left of the contacts image.
Related: What to Do When an iMessage Is Sent as a Text Message
5. Update Carrier Settings
To improve performance and network connectivity, some network carriers release individual updates for iOS. Updating the carrier settings can help the "no ring straight to voicemail" iPhone issue. To update carrier settings in iOS: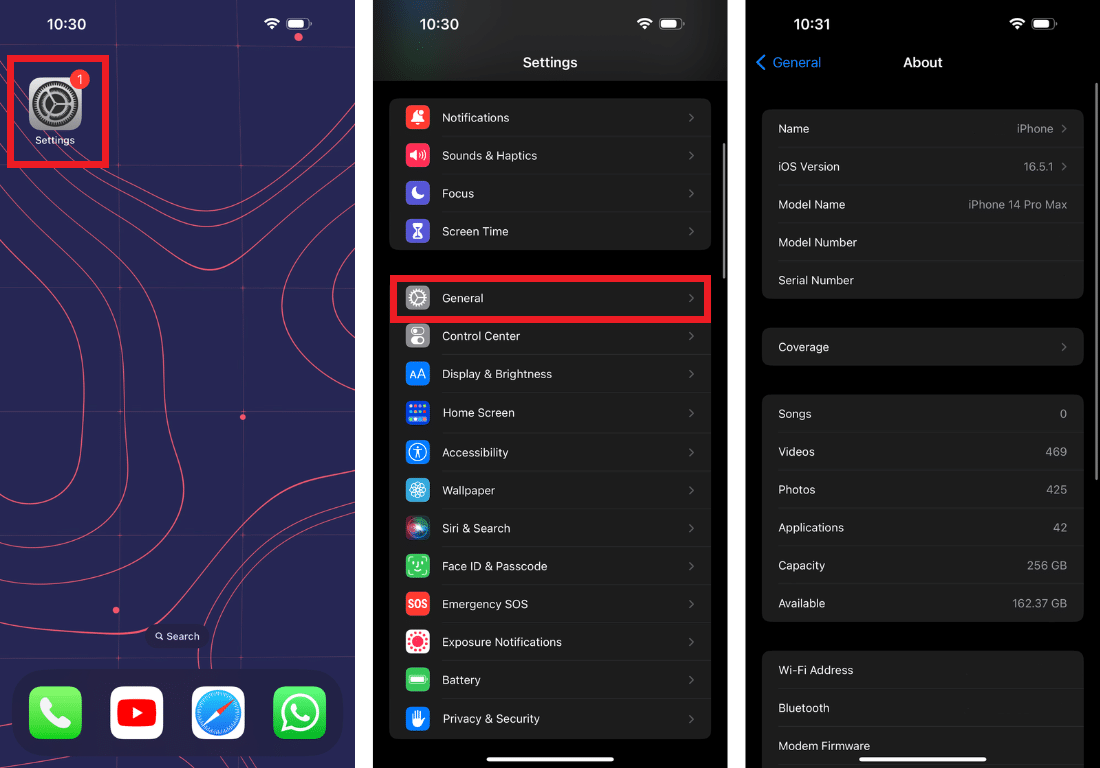 Click on "Settings" in the main home screen on your iPhone.
Scroll down and click on "General."
Here, click on the" About" option. Here, you can see the general information about your iOS device, like the model name, software version, and network provider.
Stay in this menu for a few seconds, and you should see a pop-up asking you if you wish to update the carrier settings. Click on the "Update" button to proceed.
6. Update the iPhone
iOS updates often fix software bugs, especially if a newer iOS version exists. Follow these steps to update your iOS version:
Click on "Settings" in the main home screen on your iPhone.
Scroll down and click on "General" > "Software Update." Your iPhone should automatically start looking for an update for iOS.
If an iOS update is available, click the "Install Now" or "Download and Install" button.
7. Uninstall Spam Blocker Apps
Spam blocker apps can be very useful, especially if you get a lot of spam calls in your area. However, most can be unreliable and may block calls from numbers that you actually want to receive. Try uninstalling these apps to check if it fixes the issue.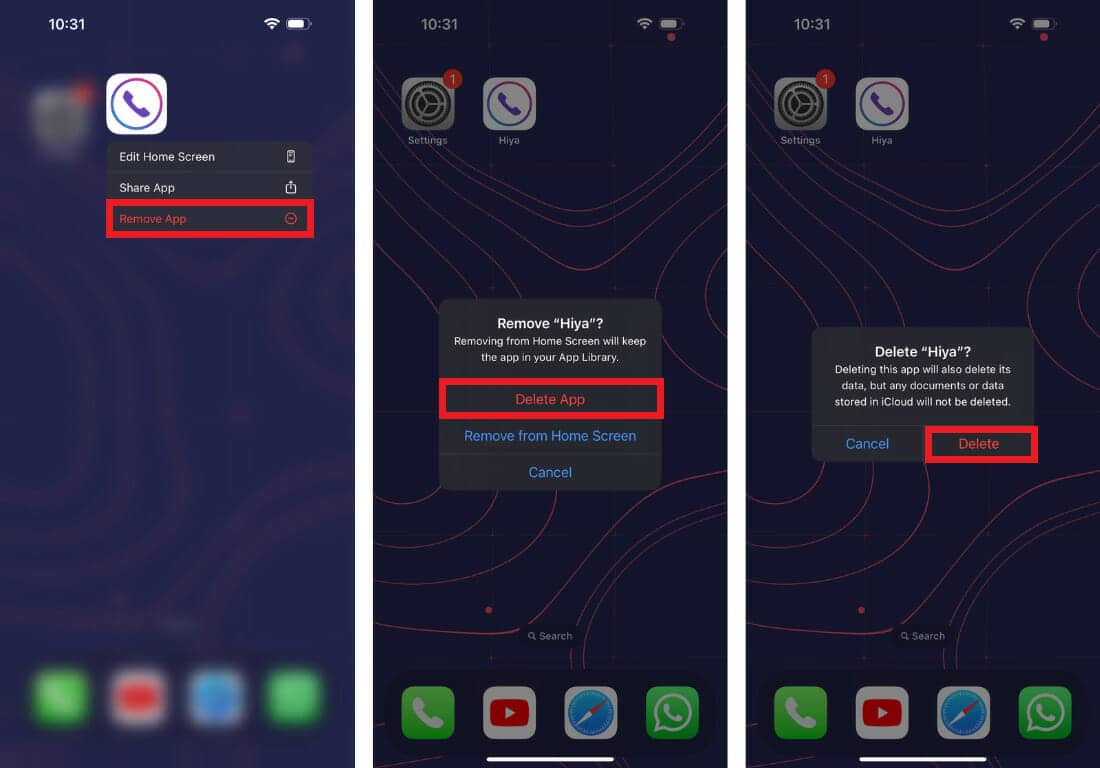 To do this, press and hold the third-party app icon on your home screen. Select the "Remove App" option. In the open pop-up menu, click the "Delete App" button and remove it from your iPhone. Hopefully, this should prevent your iPhone calls from going to voicemail in 2023.
Related: How To Record an iPhone Call
Why Is My iPhone Still Going to Voicemail?
If your iPhone call still goes to voicemail, the issue likely isn't with your iPhone — it might be your network provider.
How To Reset iPhone Network Settings
Go to "Settings" > "General" > "Reset Network Settings." You'll be prompted to enter your password, which should reset the network settings. Restart your iPhone to save the changes. If this still doesn't fix the problem, contact your carrier to resolve the phone going to voicemail iPhone error.
You May Need to Fully Reset Your iPhone
If that doesn't solve the problem, you may need to do a full reset on your iPhone. Otherwise, you might have hardware issues that require a repair — or even a replacement.
Pro Tip: Amazon often has reliable, refurbished, and unlocked iPhones that can save you money instead of buying a new one.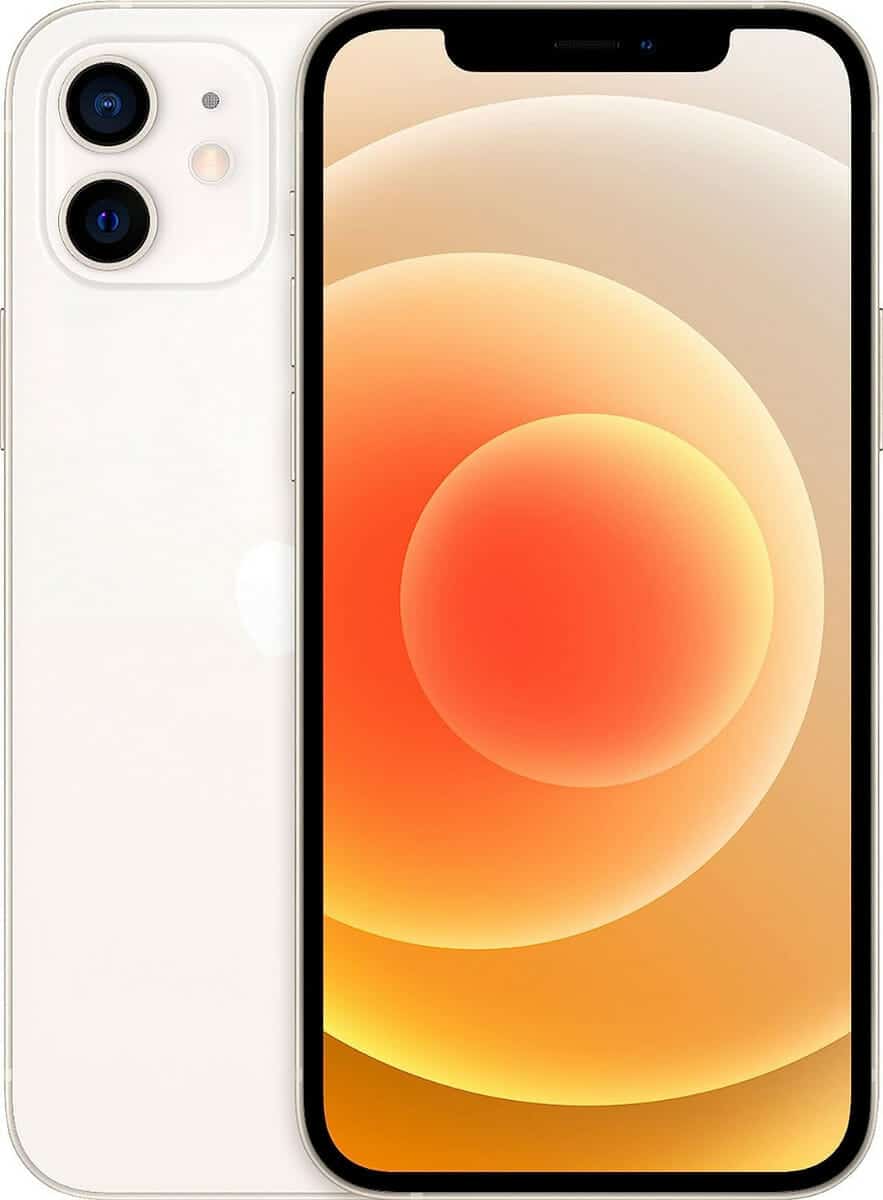 Frequently Asked Questions
What Does It Mean When You Call Someone and It Goes to Voicemail on an iPhone?
There are multiple reasons why an iPhone goes straight to voicemail on an iPhone. The device could be in airplane mode, have poor coverage, have the Do Not Disturb or Focus Modes switched on, or have blocked or restricted calls active. The recipient may also have blocked your number.
Why Can I Make Calls but Not Receive Them on My iPhone?
If you can make calls but not receive them, you may have turned on a Focus Mode that prevents calls from ringing on your iPhone. You can find the Focus Mode icon in the Control Center. On iOS 16, you can access it by swiping from the top right part of the screen. One older iPhones, you may have to turn off Do Not Disturb mode instead.
When an iPhone Goes Straight to Voicemail, Am I Blocked?
Not necessarily. The receiver may be out of cell service, have Focus Mode on, or have several other reasons that will make your calls go straight to voicemail.
Wrapping Up
One of the above fixes is bound to work when your phone goes straight to voicemail on an iPhone. In the comments section, let us know which one worked for you.
If you're an iPhone user and you haven't heard of Setapp, your life's about to change. One program, a flat monthly fee, and dozens of app subscriptions: What's not to love?
Related: