Within few weeks of usage, ProWritingAid has become my favorite tool. I like the depth and breadth in which I can analyze my writing.
For a language purist like me, the greens of the reports are a reassurance I am maintaining the required sanctity.
Given our familiarity with the inbuilt language checks in word processors or other language enhancement tools, it is easy to get intimidated by ProWritingAid at first.
ProWritingAid: Then
I remember when I first tried using the ProWritingAid Chrome Extension in the WordPress editor, I got confused with the sheer number of reports options and I didn't know which one would be best for my requirement. Grammar Check seemed as important as Writing Style check.

The number of reports options, the interface of the tool, the scary names of the reports (Diction report anyone?), was too much to grasp and analyze the humble text.
The word report options may have confused you. Because ProWritingAid is an editor, it analyzes the text in various ways. These ways are called reports.
Essentially, these are set of rules you should follow for your text. And these reports give you an indication of how good or bad you are in each of these areas.
ProWritingAid: Now
As I got used to the tool, some of these inhibitions went away. I won't say I have become an expert at ProWritingAid, but it has become an integral part of my writing process. With every iterative use of the tool, I am more confident about my writing. 
Over the course of time, I have realized some techniques worked better for me while using the software, I have summarized them below.
Hope you find them useful.
Tip #1: Start with the Desktop app or Web editor instead of chrome app
As a new user, when you start in the desktop app or web editor it is easier to build familiarity with the reports. Once you generate a particular report, you can get more details about it by clicking on the link that is generated within the report.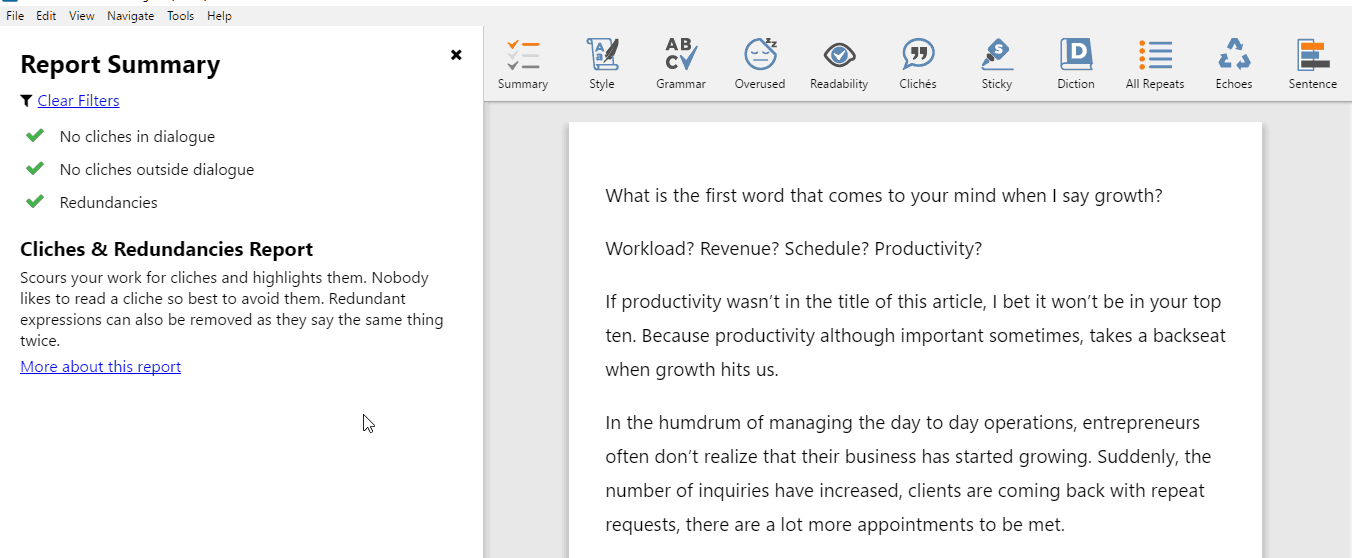 Tip #2: Don't use all reports
Unless your full-time job is editing, I would recommend don't use all the reports. Don't even explore them.
Would it really matter to you that Transitions in your writing is less than 25 %? It is good to know this benchmark but if I have a writing style, it won't change overnight and I might waste more time if I try to achieve this benchmark at first-go.
Tip #3: Start with following reports
As mentioned above, using few reports at the beginning is more productive. I wrote a ProWritingAid review about the five reports I used at the beginning.
With frequent use, I have become better at what to focus on and what to ignore in these reports. I have elaborated further on them below.
Grammar Check
No writing can be improved without basic grammar check, can it? That is why you should never skip the Grammar Check report of ProWritingAid.
It does the basic spelling and grammar checks, whether sentences are structured as per rules, punctuations are in place, correct tenses are being used.
The ProWritingAid editors have added additional rules based on their experience. I was surprised to know the word "allows" should never be followed by a gerund. Small knick-knacks like this make ProWritingAid editor exciting.
Writing Style Report
The Writing Style Report combines several checks together to improve the quality of your text. It analyzes your writing from five different perspectives:
Use of active voice – Active voice is considered reader-friendly and impactful. The Writing Style report will highlight the sentences with passive voice and recommend to change them. You don't have to consider every suggestion, however, a high percentage of sentences in passive voice should be avoided.
Hidden Verbs – As ProWritingAid describes on their blog, verbs are the engine of the writing. Sometimes we turn verbs into nouns and replace them with weaker verbs instead. For e.g. instead of saying

I am excited about the new launch,

we may end up using

I feel the excitement about the new launch.
Instances like this and more are highlighted in the result. It helps you to review such usage and refine them further.
Usage of adverbs – To make your writing impactful, rather than adding another layer to the verb with adverbs, try using a stronger verb. Instead of saying

Cheryl very happily accepted her score,

we can use

Cheryl gladly accepted her score.
I may not agree with all the suggestions in this field, but it does give me ideas on how to frame sentences better.
Readability Enhancements – The report highlights if additional words are complicating the text. So it is essentially about saying what you want without being verbose.
Repeated Sentences – although I didn't find it very effective, this feature does help in figuring the monotony of same words in the text.
After analyzing few of my posts, I became conscious about hidden verbs and active voice in my writing. While writing a new piece, I consciously try to improve some of these aspects that were highlighted by the tool in my previous edits. ProWritingAid is actually delivering on its promise of improving my writing and being my personal coach.  
Sentence Length Report
This report gives a detailed view of the variance of sentence length in the text. It becomes immensely helpful while writing long posts.
The visual representation of the sentence length makes it easy to see which section of your text is getting complex.
Combine this with Writing Style report and you have reduced chances of being verbose.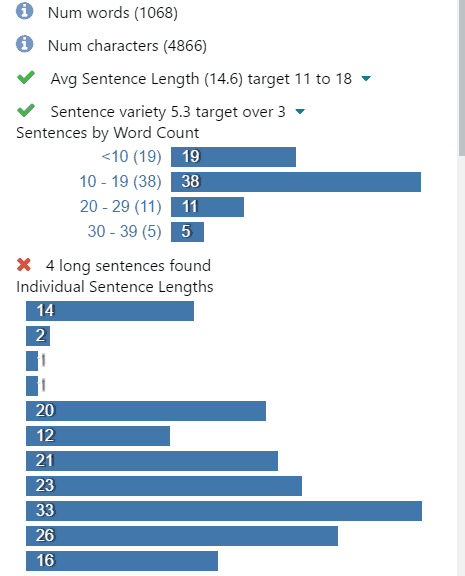 Readability
The results of this report may look very simple but they have a sound mathematical foundation. The ProWritingAid editor uses Flesch Reading Ease Score and Coleman-Liau formula to calculate the score.
As a writer, you should be only worried if there are too many difficult to read paragraphs in your text or if the entire text is difficult to read.
Just because the tool is highlighting certain sentences as too difficult to read, doesn't mean they are always.  One of the easiest ways I have figured to reduce these difficult to read paragraphs is by dividing them into two or more paragraphs.
Combo Report
If you are one of those people who find running separate reports cumbersome, the ProWritingAid software has Combo report for you.
Setup your preferences here and run this one report. Get all the results together. It may be confusing at first, but once you get a hang of it, it is a faster method.
It is also helpful if you are working in a team, and want to make edits at one go in a meeting.
Consistency Report
I switch between UK and US English spellings unwillingly. And hyphenation is something I can never get hang of. How does one decide it is day to day or day-to-day?
Thanks to ProWritingAid developers for this feature. It neatly mentions all these consistencies and offers a correction. Do ensure to run this report before sending your work to the client. Your attention to detail in the smallest of the things will be highly appreciated, even though you took this tool's help. 
Word Explorer and Collocations dictionary
There are two other features that cannot be missed in an article the title How to use ProWritingAid – Word Explorer and Collocations dictionary
All of us have those days when we sit and stare at the word processor on our screens. Ideas are humming in our heads, but words are not. On those days, I use the shortcut Ctrl+Shift+E in the ProWritingAid app and start exploring.
Using one seed keyword I find alliterations, synonyms, rhymes, collocations, anagrams, phrases containing the word, clichés that use it, famous quotes that include it, and more. Literally, this is a fun way to get words rolling.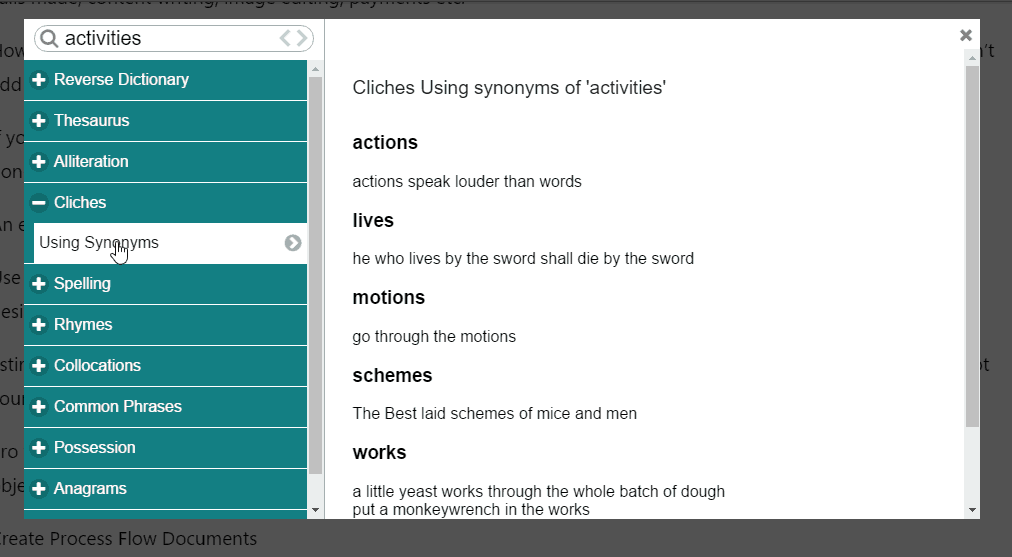 And if it gets too much, then I focus only on ProWritingAid Collocations dictionary.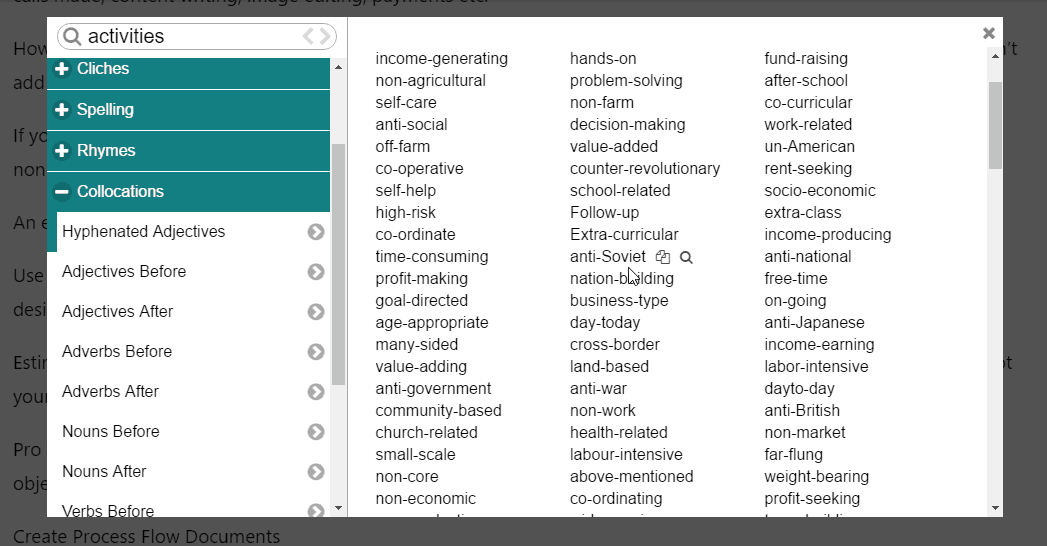 In a normal, plain sense, it is about words that are frequently used together with the seed keyword.  In a philosophical sense, it just shows how similar our thinking is to million others on the web. (Okay I cannot decipher if this is a lame attempt is a bad joke or bad philosophy!)
But, nonetheless, I think it achieves the objective of igniting the creativity.
The Secret of making the most of ProWritingAid
At the onset, too many reports, too many improvements of ProWritingAid editing tool seem a lot more than one can handle. But, I think the real power of the tool lies in smartly combining these reports to make your writing effective.
For e.g., If I combine Writing Style report with Cliches' report, I will be able to see how mundane my writing is and going through the details will help me improve that particular area.
Similarly, if I run the Overused words report and then follow it up with Word Explorer, I can improve my vocabulary.
It will need some practice, patience and trial and error to be able to figure the effective combination of these reports. Until then you can improve your writing report by report.
Want to know more? Read my ProWritingAid review.
Have questions on ProWritingAid or want me to delve into a particular report? Let me know in comments.