At some point, you may find yourself in a situation where you need to know how to combine files into one PDF.  This may be for a job, homemade e-book, or for your personal office bookkeeping.
Let's look at how to combine PDF files on different operating systems.
How to Combine PDF Files on a Mac
It may not come as a shock that macOS has simple user-friendly tools built in to help you create and combine PDFs on your computer. You can use either the Preview app or macOS Finder. Let's start with the latter option.
How To Combine PDF Files in macOS Finder
If you have not done so already, it may be easier to have all the files that you want to combine into a PDF in one folder.  Once the folder is ready, we can access the Finder tool.
First click on the very friendly looking icon in the lower right-hand corner of your screen…..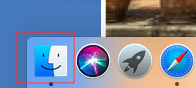 Or, you can go to the Finder Menu and click "New Finder Window".

Once the macOS Finder window is open, you can switch to Gallery view in the Finder toolbar by clicking on the icon that looks like a rectangle with five dots underneath it.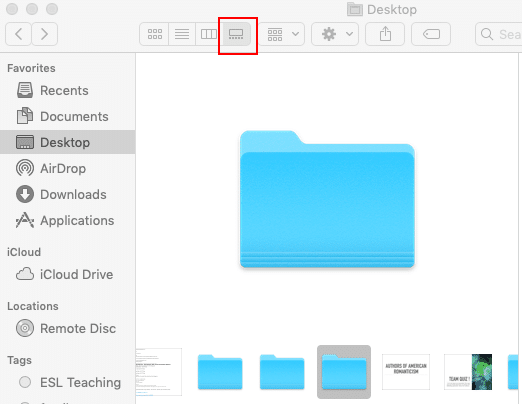 Alternatively, you can click  "Gallery View" in the View menu at the top of your screen.
Now that you are in the Gallery view, you will notice that all your files appear as picture icons. You can quickly shift through the icons to double check which ones you need for your PDF. As stated earlier, it will be much easier for you if all the PDF files are already in one folder.
We must select each individual file to combine them into one. Hold down the command key to select each file. Try to click each file in the order that you want them to appear in the final PDF.
Upon selection of the second file, you will notice a "Create PDF"  icon in the inspector panel.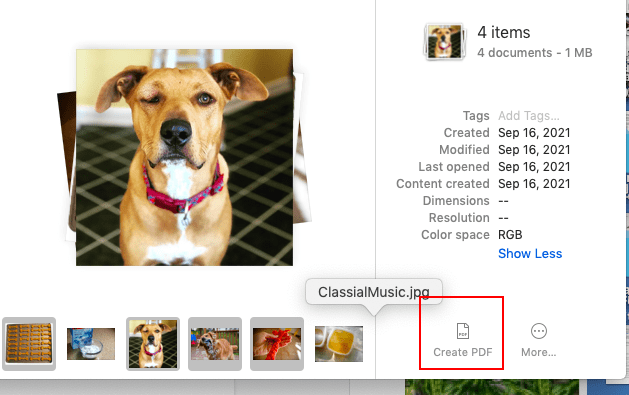 When you select more than one file, a Create PDF button appears in the inspector panel on the right. Click on it, and the Finder will create a new PDF on your desktop or selected folder, containing all the PDFs that you selected.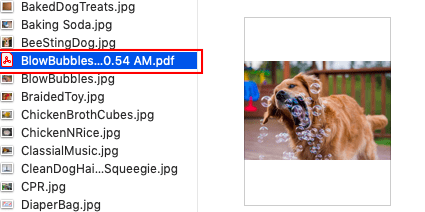 In case you haven't noticed, the selected dog photos above were not already PDFs. Those were in jpg form. However, this macOS Finder allows you to take different file types such as JPEGS, PNGS or TIFFs, and combine them into a PDF file without having to convert each file to an individual PDF first. Pretty cool way to save time and create a PDF with images!
Easily rearrange the order of your PDF pages by using the Preview tool. The Preview icon looks like this:

To open and adjust your new PDF, simply double-click on the PDF file to automatically open it in Preview. In addition, you can also click the Preview icon and find your PDF on your desktop.
Once you open the PDF in Preview, you need to see the thumbnails to change the page positions. Go to the View menu and click "Thumbnails" to switch them on if they are not already visible.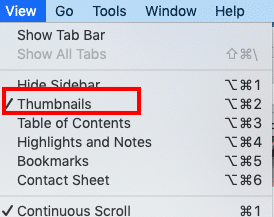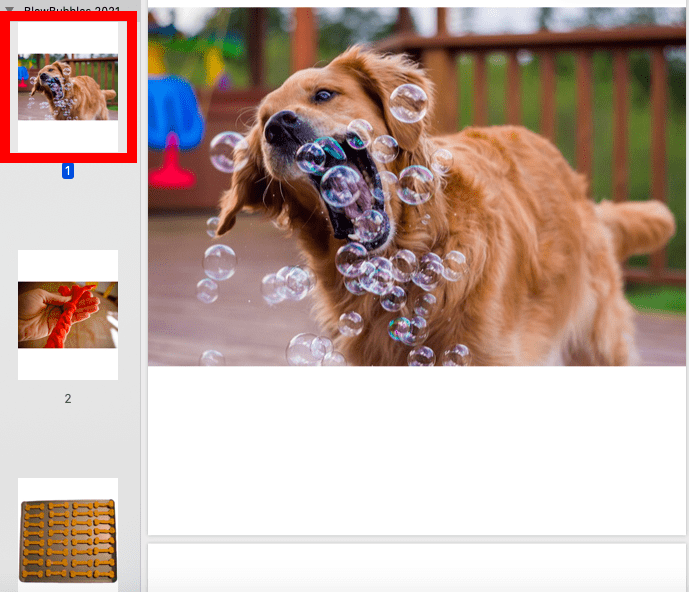 The first three thumbnails are visible in the snap. As you can see, our furry friend is having a lot of fun with those bubbles in the first picture.
But those treats look so yummy, and we all know how much dogs love food. So, I decided to move the dog bones up to number one. All I had to do was:
Place my cursor/arrow on the thumbnail
Hold it and drag the image
Drag it up or down in sidebar
Lift the cursor once it is in the desired position
Repeat as necessary
How to Edit Pages In The PDF
At this point, you may decide that you have an extra page or two which you no longer want or need. Simply click on a thumbnail in the sidebar and hit "Delete" on your keyboard. Did you hit delete by mistake? No worries! Simply go to the Preview menu, hit "Edit", and click  "Undo" from the dropdown menu to restore the page and thumbnail.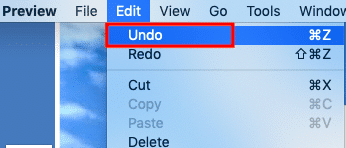 How To Combine PDF Files in Preview
Preview can also be used as the sole source to combine PDF files.
First, open your initial PDF page in Preview.
Our recipe could use some images, so let's take the following steps:
Click "Edit" in the Preview menu
Click "Insert" from the dropdown menu
Click "Page From File…"
Select the file you want to add to this PDF.  As you can see, I am adding a JPEG.
Now, my new apple page shows up in the thumbnails. Repeat this step for each new page you want to add.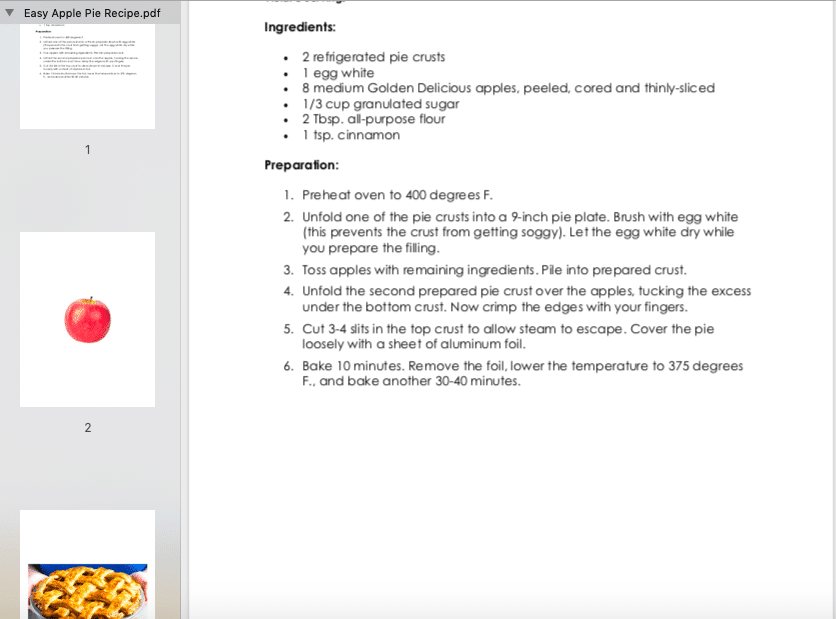 When you have finished adding and moving around your pages, save your new PDF. Go to the "File" menu and click "Export as PDF".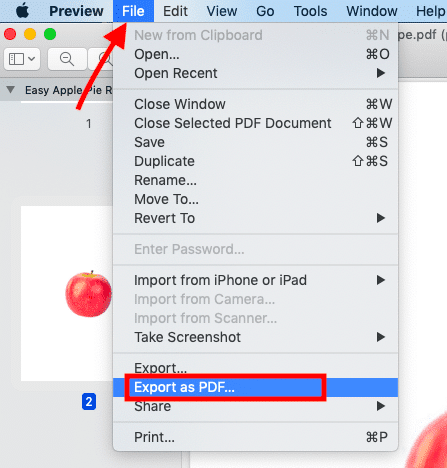 How to Combine PDF Files on Windows 10
Sorry, PC users, it is simply much easier to combine and create PDFs on a Mac. However, you do have your share of PDF producing options to download. For this lesson, I will demonstrate the ideal program to use: Adobe Acrobat DC. FYI, you can use this program on a Mac as well.
You can sign up for Adobe Suite and access Adobe Acrobat DC's web client or download the app to your computer. To combine PDF files and other files into one document, you must:
First, click "Combine Files"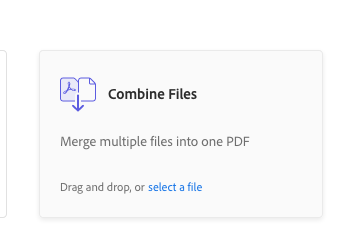 Choose where you want to add your files from: computer folder, recent Acrobat PDFs, etc.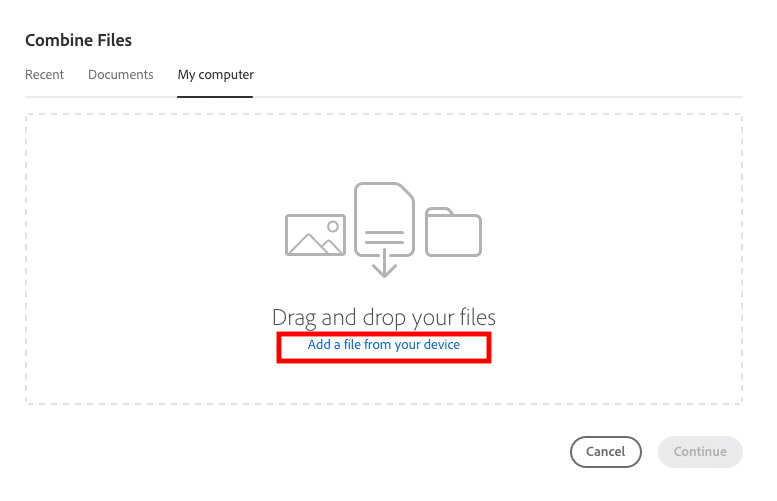 Select all the files for your PDF and click "Open".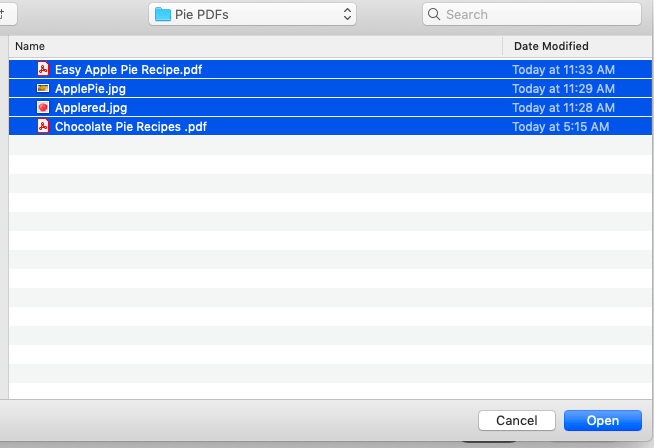 All the files for your PDF are now visible. You can drag, add more, and move them around to your preferred position. Hover over an image and click the trashcan icon to delete it.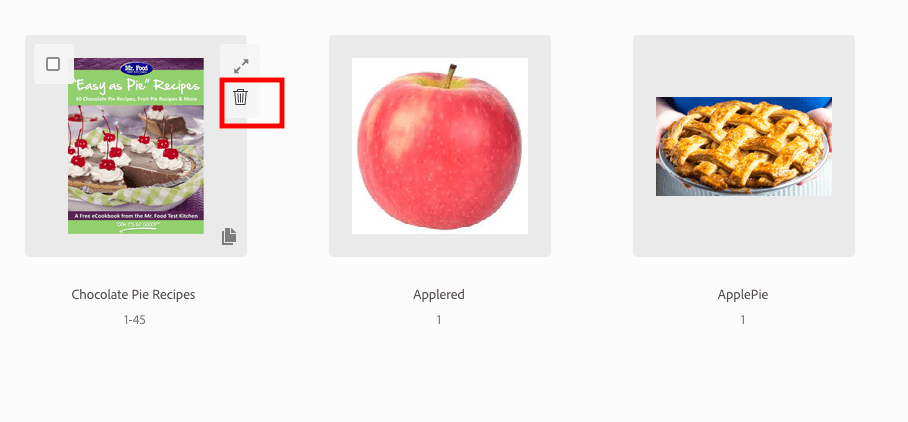 Final steps to combine your files:
Hover over each image and check the ones you want for the PDF
Name your PDF file. For example, "My Best Apple Pie Recipe"
Click "Combine"

And that is it! Congratulations, you know how to merge PDF files (and other kinds of files) to create one PDF document. We hope this tutorial was helpful for both Mac and PC users alike.
Looking for more tips and tricks to improve your productivity? Check out these guides: