Although pop-ups can be incredibly annoying, sometimes we need them to progress with payments or other important website functions. In such cases, you'll need to learn how to allow pop-ups on iPhone and iPad devices. This guide will show you step-by-step how to do so in Safari and Chrome. Read on to learn more.
What Are Browser Pop-Up Blockers
Getting pop-ups when browsing can be one of the most annoying things you can face. Most of the time, they can be frustrating as they litter the webpage with ads or pop-ups asking you to perform a specific action. Nowadays, most browsers have a built-in pop-up blocker to prevent web pages from showing unwanted windows.
Generally speaking, you should turn on your browser's pop-up blocker to avoid getting these annoying pop-ups. However, some websites utilize pop-ups for navigation, such as logging in or using a custom feature on the site. This means that pop-up blocking can block a desirable feature. Disabling it will help you solve this.
Related Reading: Top Safari Extensions to Get in 2023
Why Allow Popups on iPhone
Although Safari's pop-up blocker is fantastic most of the time, there will inevitably be those circumstances where you feel pop-ups must function. Some online pages rely on pop-up tabs to access the information you want.
This is particularly true of certain financial websites, such as credit card and banking websites, which occasionally use pop-up screens to show bank records, PDF files, and other documents. Many websites may also rely on pop-up windows to enable you to sign up for newsletters, obtain voucher codes, or conduct other functions.
Related Reading:  Best Web Browser For Mac
However, if you encounter difficulty browsing a website and find out that you require Safari to unblock pop-ups on your iPhone, you'll need to turn the pop-up blocker off. Some sites that display pop-ups on the desktop work well on mobile browsers.
You'll need to learn how to enable pop-ups on your iPhone. However, once you finish with the pop-up window, it's good to put the pop-up blocker back on. Otherwise, other sites would be allowed to display pop-ups without your consent. After all, the purpose of the pop-up blocker from Apple is to facilitate your browsing.
Related Reading: How to Turn Off Do Not Disturb on iPhone
How to Turn Off Pop-Up Blocker iPhone on Safari
Apple has created a built-in pop-up blocker iPhone in its Safari browser. By default, the pop-up blocker for iPhone is turned on, and it will stop websites from opening overlay windows on top of the webpage. Unfortunately, Apple doesn't allow you to add approved websites to a list allowing pop-ups on iPhone. Instead, you can either have it on or off.
The Safari browser is a built-in app on your iPhone. The settings for the browser aren't built into the application. You must use the phone settings app if you wish to change the options. You can do these steps for both iPhones and iPads.
Here is how to enable pop-ups on iPad or iPhone in Safari:
Open your Settings application and scroll down.


Here you will see a Safari option. Click on it.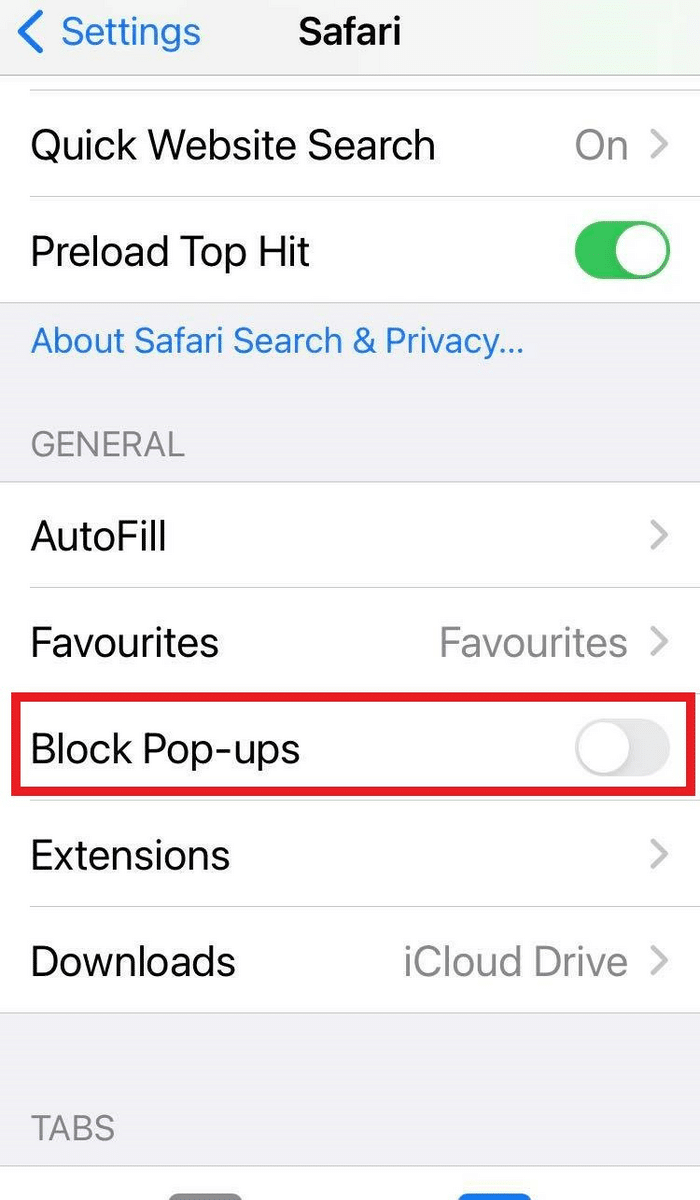 Under the General option, turn the toggle off of the Block Pop-ups option.
When the toggle turns grey, you have successfully allowed the pop-ups on Safari.
Related Reading: How to Fix Last Line No Longer Available Error on iPhones
How to Turn Off Pop-Up Blocker on iPhone on Chrome
Only some people love using Safari on their iPhones. Many people use Chrome on their computers, which means if they use iPhone's Safari browser, they won't be able to sync their bookmarks and passwords.
Most users then simply opt to switch to Google Chrome on iPhones to fix this. But, the method of how to disable the pop-up blocker on iPhones on Chrome is different.
To disable the pop-up blocker iPhone, you must go to Chrome's settings rather than your iPhone's settings.
Here is how to allow pop-ups on iPad and iPhone devices with Chrome:
On your iPhone, open the Chrome application.
Now click on the three dots at the bottom right of the page.


Click on the Settings option.
Scroll down and click on the Content Settings option.


Here you will see the Block Pop-ups option. Open it, then turn the toggle off.
When the toggle turns grey, click on the Done option.
Related Reading: How To Share Focus Status on iOS
Wrapping Up How to Allow Pop Ups on iPhone
In the guide above, we showed you exactly how to allow pop ups on iPhone, iPad, and other iOS devices in the two most popular browsers. If you happen to use a different browser, you can still use similar steps to allow pop ups. If you're still having trouble, let us know in the comments, and we'll help when we can.
Related: