Trying to be productive is a continuous struggle.
It's always a tussle to keep your mind focused and keep it from wandering away. After all, there are so many distractions at play – be it social media, email, a water cooler chat, a short break, not so important meetings, follow-up calls, etc.
While some of these distractions cannot be avoided, there are some you can control.
And in an effort to do that, I am sure you can use all the help you can get.
So let's take help of the same beast that has given us so many distractions – technology.
In this article, I want to give you 10 tools that you can use in your day-to-day life to be more productive at work (or any work that you do).
I am big productivity junkie myself and have tried all these tools that I recommend in this article.
So let's get started!
Grammarly
My work involves a lot of writing and I have a feeling yours does too. It could be emails, project reports, PowerPoint presentations, minutes of meetings, articles, white papers, etc.
No matter what you write, it's important that it be error free.
Grammarly is a free tool that you can add to your Chrome or Firefox browser and it will help you correct any misspelled words or incorrect grammar. It's amazingly accurate in the suggestions it gives and makes it super easy to fix it.
As soon as Grammarly encounters an error, it highlights it in red (as shown below).

All you need to do is hover the mouse over the highlighted text and it will show you suggestions to correct it.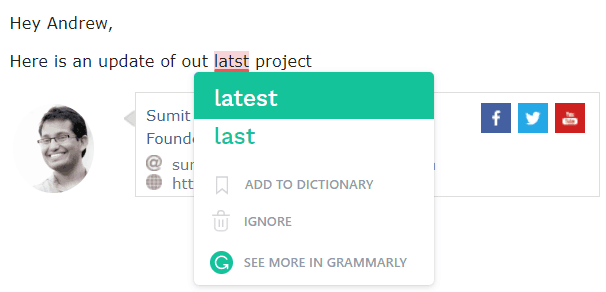 You can click on the suggestion that you want to use, or you can manually go and correct it.
Grammarly works well with most email clients and the text that you write online (such as status updates on Facebook or Twitter).
While the free version doesn't work with MS Word, PowerPoint or Google Docs, it allows you to create a new document in Grammarly online editor and then copy paste text from Word or Google Docs into it.
Google Suite
Google has provided a lot of awesome tools absolutely free.
These include Google Drive, Google Sheets, Google Docs, Google Slides, etc.
All you need is a Gmail account and you automatically get access to all these tools as well.
I personally use Google Sheets to create all my to-do lists. Since it can easily be accessed via smartphones, I tend to use it as a repository all my ideas and notes.
If your work involves collaborating with other people, Google Apps can be a real time saver. For example, instead of email back and forth a presentation, you can just save it in a folder in Google Drive and share that folder with the person. One of the amazing features it has is real-time chat, where all the people accessing a document can talk to each other.
Boomerang
While Boomerang is a not a free tool, there is a free version that comes with limited features.
And the feature I love the most is available for free – the Pause Inbox feature.
Boomerang allows you to Pause your inbox for a set number of hours. This would prevent any distractions from incoming emails for the specified number of hours. Once that time elapses, all the emails would get delivered to your inbox.
In case you don't want to miss out on emails sent by your boss or client, you can specify that as an exception. So while all the emails are paused, you will still get emails from the ones you have specified as exceptions.
It also allows you to set an autoresponder to any message that comes when you've paused your inbox. These are suitable when you're pausing your inbox for a long amount of time.
Boomerang has a lot of amazing features in it's paid version as well. You can check out my detailed review of Boomerang here.
Unroll.Me
Unroll.me is a service that allows unsubscribing from the list of emails where you have subscribed at one point in time.
This is extremely useful as it removes the distraction you may have to face if you continue to get emails in which you're not interested.
A lot of times, we subscribe to a newsletter of websites as there was a freebie you wanted or it was important at that point in time. But even if you're not interested in the emails, it will continue to flood your inbox, coz at one point in time you agreed to be an entry in their email list.
Unroll shows you all your current subscriptions and you can unsubscribe from these from Unroll itself.
Less number of subscriptions means less number of emails, which in turn leads to fewer distractions via email.
Go ahead and give it a try. You may be surprised at how many email newsletters you have subscribed to.
Pomodoro Timer
Since there are distractions everywhere, a lot of productivity experts advice working in batches where you focus on one task at hand and keep all the distractions at bay.
I have been doing this for years now and find it extremely useful.
The idea is to work in a batch of 25 minutes and make sure you only focus on the task at hand. So no emails, so social media, so chit-chat with co-workers, and no coffee/smoke breaks.
Once you have completed a session of 25 minutes, you can take a short break before moving on to the next session.
There is an online timer available for this – the Pomodoro Timer.
And yes, this technique is also called the Pomodoro time management technique.
Workflowy
Workflowy is a free application that you can use on your iPhone or your laptop/desktop (available for Windows, Mac, and Linux).
The concept on which WorkFlowy works is simple – it's a long one-page document that allows you to create a list. Each item on the list can have sub-items in it.
What amazes me is not how simple WorkFlowy is, but how simple it makes to organize and plan the work.
If you're thinking why not simply create a list in Excel or Google sheets, let me tell you what WorkFlowy has to offer that a huge advantage.
With WorkFlowy, you can:
Create a list of items.
Create a list of sub-items for all the items.
Rearrange items and sub-items easily with a drag and drop.
Mark the items as complete
Delete the items when done.
While I am a huge advocate of using spreadsheets, what WorkFlowy offers cannot be done with spreadsheets.
Personally, I use WorkFlowy to plan my blog posts.
The free version of the tool allows up to 100 items. If you have more than 100, then you need to opt for the paid version.
I have been using the free version for six months now and I am super happy I found it.
RescueTime
If you want to know what websites are eating your time, you can give RescueTime a shot.
It's an application that keeps running in the backend while you work. It analyzes each your time spent on each site and then it can give you a detailed account of it.
It's helpful as you may not realize the amount of time you spend on some sites (especially social media). The first step in solving a problem is to acknowledge that it exists.
RescuetTime helps you cut down on less productive time and focus your time and energy on things that can help increase your productivity at work.
There is a FREE plan where you get a report of sites with time spent on it. You can also set up to 3 goals (where a goal could be to spend less than 1 hour on Facebook).
These are some of the tools I use on a daily basis to boost my workplace productivity and get more work done in less time.
I am sure you also have a list of your own tools that you find useful. Do share it with me in the comments section.