I met a fellow blogger at a conference last year and he asked me about my website URL.
As soon as I told him the URL, he did something on his iPad and said – "Let me boomerang it so that I don't forget about it".
I had to ask – "Boomerang what?"
And then he told me about the tool that has practically changed the way I work with email.
That tool is Boomerang for Gmail plugin (available for Chrome and Firefox).
If you get flooded with emails all day long and have thousands of unread emails in your inbox right now, Boomerang can be of great help. While it won't read and reply to your emails for you, it still makes sure you don't miss out on the ones that matter.
In this article, I will show you why I love Boomerang and why I recommend it as one of the best email tools that can do wonders for your workplace productivity.
Click here to install Boomerang and be an Email Ninja
If you start using Boomerang using the above link, you get an email with a link to spin the Wheel o' Prizes, including a chance to win a Kindle Fire (only if you're using it for the first time).
What is Boomerang for Gmail?
Boomerang is a free browser plugin (available for Chrome, Firefox, Edge, Safari, and Opera) that allows you to:
Create emails now and schedule these to get delivered later.
Schedule emails to reappear magically at the top of your inbox emails so that you don't forget about and miss on important emails (hence the name Boomerang).
Send follow-up emails to people by reminding you after a given time period (in case you don't hear back).
Even if you one or two of the above features, it still makes it a killer browser extension.
And the best part is – it's FREE.
There are some paid plans as well that gives you more features (which I will discuss later in this article).
Getting Started with Boomerang – Installation
To install Boomerang in your browser, click here.
This will show you the option to install Boomerang for Chrome. If you're using other browsers. click on the name of the browser to install it.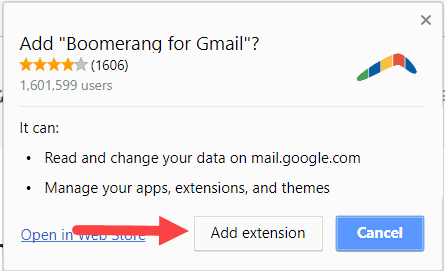 If you're using other browsers. click on the name of the browser to install it (it will show you the exact steps to do this).
Once you have Boomerang installed, you will be able to see it (and all it's functionalities), when you open your Gmail.

Now let's see the different functionalities Boomerang offers and how you can be super efficient email ninja using it.
Pause Your Inbox to Keep Distractions Away While Working
If you get a lot of emails and have enabled receiving emails on phone, you would know the distraction it can be. Every time I see my phone buzz, it breaks my rhythm and throws me off it for at least a few minutes.
Boomerang allows me to tackle this by pausing the inbox while I am working.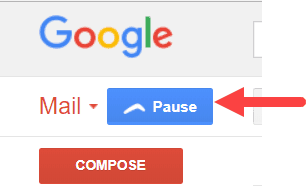 With Pause option enabled, no inbox would be delivered and shown to you. Any incoming email will get delivered as soon as you Unpause it.
There are some great options that you can configure when pausing your inbox:
Turn On Autoresponder: If you want the sender of the email to know that you won't be reading this email for next 2 hours (or however long you have paused your email), you can turn on the autoresponder and create the message there.
Specify delivery exception

(available with paid plan)

: If you don't want to miss out on some important senders emails, you can specify those. Now even though the inbox is paused, you will get the important emails. You can also specify some words that are important and emails with those words would also get delivered.
Batch Delivery at scheduled times

(available with paid plan)

: If you prefer getting your emails in batches at specific times, you can set that using inbox pause. Just specify the times at which you want the email delivery to be made. If you don't want to get disturbed on weekends at all, check the Weekdays only option.
Hide Label: When you pause the inbox, Boomerang automatically creates a new label and sends your email to that label. While it's not in your inbox, it still shows up in that label. You have the option to hide the label so that you don't get distracted by it as well. I highly recommend hiding the label.
Automatically Unpause in 2 Hours: To make sure you don't pause and forget about it (and miss out on the call to save the world), Boomerang has a feature to unpause it after 2 hours. This is the default setting and you can change this to any number of hours or even specify a date.
You can manually unpause your inbox
Boomerang is also available for Outlook and also has this Inbox Pause feature. You can get Boomerang for Outlook by clicking here.
Set Reminder to Check Important Emails Later
If you get an email and you don't have the time to act on it immediately, and you also don't want it to be lost as other emails pile up, you can schedule it to resurface at a later time/date.
This could be really useful for bill payments or important project work emails. These emails are important, but not urgent, so you can boomerang these.
To boomerang an email, open that email and click on the Boomerang button above email headline. It will show you time options when you want the email to resurface.

As soon as you set the time, the email is taken off from your inbox and will be delivered later at the specified time.
Here is a detailed video on how you can schedule reminder emails using Boomerang:
Send Emails at a Later Date/Time
This feature works great for me as I prefer to work in batches.
I can compose and schedule all the important emails and either send those immediately or schedule it for a later time or date.
If you have Boomerang installed, while composing an email, you will see a red 'Send Later' button right below the blue 'Send' button.
As soon as you compose your message and click on it, it will show you the options to schedule it for later.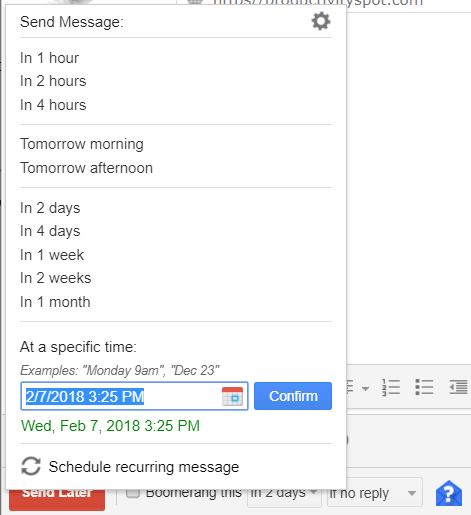 Schedule Recurring Message (available with paid plan)
If you don't have Boomerang, you can send an email only once.
But with Boomerang, you can schedule a mail as recurring – which means that it will go out again and again at the specified time period.
This could be useful if you want to remind yourself of paying rent/bills or remind someone else every week/month.
I used this feature to remind my virtual assistant to send me the invoice at the end of every week.
Here is how you can set recurring messages.
While you're composing a message in Gmail, click on the red Send Later button, and then click on the 'Schedule recurring message'.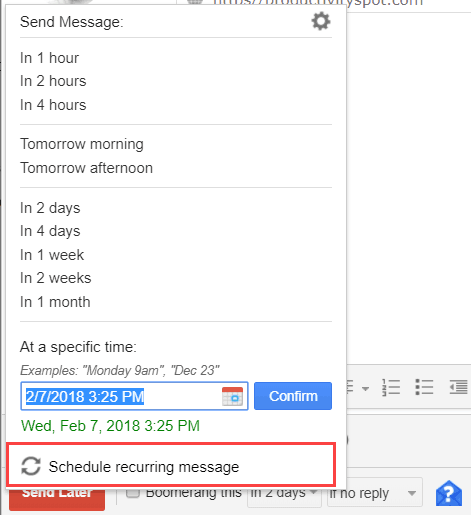 This opens the dialog box where you can specify the start date, frequency and time of sending this message.
You can also specify how many times you want to send this recurring email before it stops sending it.
Get Read Receipts
If you want to know whether the receiver that read the email or not, you can ask boomerang to send you the read receipt.
To do this, click on the blue envelope icon at the bottom when composing an email.

Note that as soon as you click on this icon, it automatically inserts a line at the end of your email informing the recipient that a read receipt has been requested. If the reader doesn't want you to get the read receipt, they can click on it and disable it.
And yes, there is no way to remove that line ( I tried!).
Track Responses for Better Email Followup
In my work, I have noticed that followup emails are really powerful.
But since I send a lot of emails every day, it's hard to keep a track of who responded and who didn't.
Before using Boomerang, I was missing out on sending a lot of follow-up emails. But using Boomerang makes it really easy to know when a follow-up message is due.
You can schedule an email to reappear at the top of your inbox in case the receivers:
Doesn't reply to your email
Doesn't open the email.
Doesn't click on the link in the email.
Regardless of whether anything happens or not.
Once the email is boomeranged, you can follow-up accordingly.
Add Notes to Boomerang Reminders (available with paid plan)
You can add a note to self while scheduling an email to boomerang and magically reappear after a few hours/days.
This can be helpful if you need some context with the email. Instead of scouring your inbox to find the context of this long lost email, it better to invest a few seconds and add a note to it.
To do this, open the email to which you want to add notes and click on the Boomerang button. In the options that appear, click on the edit icon. It will show you the area where you can add the note.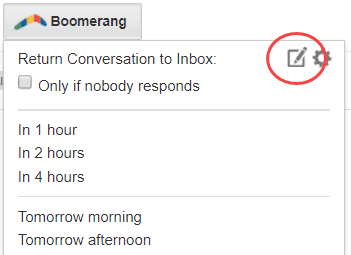 When this email boomerangs, this note will be appended to the mail.
Write Better Emails with Boomerang Respondable
Boomerang uses Artificial Intelligence and suggests areas of improvements in your emails.
Remember it's a machine language algorithm at work and these are only suggestion. You are the best judge of whether the email is good to g or needs improvement.
Boomerang Respondable can highlight his insights in the following areas:
How likely it is for your email to receive a response.
Your Subject line length, word count, question count and the reading level. It also gives you suggestion on how to improve the readability score of your email.
(Paid features) The tone of your message – positivity, politeness, and subjectivity.
While it's a good feature to have, personally I prefer taking a call based on who I am writing to and my writing experience so far.
Manage Message You've Already Scheduled
Once you start using Boomerang, you can visit the 'Manage Scheduled Messages' page to see what all is in play and edit anything if needed.
To go to this page, click on the Boomerang icon in the gray bar and click on 'Manage Scheduled Messages'.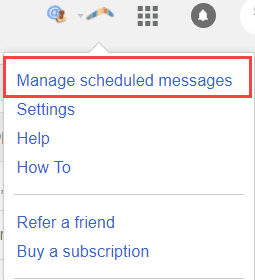 This opens a page that will show you:
The number of messages to boomerang
Messages you have scheduled to be sent later
Recurring messages (available in paid plans)
Messages where you have enabled read receipts or link click tracking

You can click on any of these tabs and change the settings of these emails.
Pricing for Boomerang
Boomerang allows 10 email credits in its free account.
You use a credit when you any of Boomerang's feature in any of your emails – such as scheduling emails, or tracking.
In my opinion, 10 credits are nothing and you might end using it in a few days.
If you use a Gmail account, you can avail the Personal level that will cost you $4.99/month.
In case you use a Google App email (which I do), it will cost you $14.99/month.
Note that there is 30-day free trial when you signup for the first time. No credit card is required, and if you don't upgrade by the end of 30 days, your account is automatically made a basic account.
Click here to install Boomerang and be an Email Ninja
If you start using Boomerang using the above link, you get an email with a link to spin the Wheel o' Prizes, including a chance to win a Kindle Fire (only if you're using it for the first time).