At times, it can be difficult to brainstorm and come up with ideas you might need for school or work — especially if you don't know where or how to begin.
You could be feeling creatively blocked and unsure how to proceed. We all know the feeling of coming up with ideas only to decide that every single one belongs in the trash.
On the opposite end of the spectrum, you could be overflowing with ideas — too many ideas. You might be struggling to organize your thoughts because every thought is coming too quickly for you to keep track of effectively.
When brainstorming, the first thought that often comes to mind is to write everything down with a pen. This method has been around for ages, proving its effectiveness. There's nothing wrong with using a good old-fashioned pen and some paper.
These days, however,  there are newer ways to make it easier and more convenient to keep track of your ideas.
If you're looking for an easier and better way to brainstorm and organize your thoughts simultaneously, you might want to consider using a mind mapper app.
A Quick Look: 2022's Best Mind Mapping Tools
What Is a Mind Map?
Mind maps are tools to make it easier to brainstorm your thoughts and ideas organically. They do this while also allowing you to keep your ideas organized and structured to a degree.
In a way, mind maps can work like outlines. However, unlike with outlines, there's not much need to worry about conventional structure and order when you're creating a mind map.
Mind mapping is a visual brainstorming method that can help you recall and analyze information. A mind map is essentially a diagram for ideas, tasks, concepts, items, and words linked around a single, central concept using a non-linear format. You can also add more main concepts if need be.
Why Is Mind Mapping Good for the Brain?
We all know how much potential our brains possess. Mind mapping can help unleash some of that potential by stimulating, enhancing, and challenging the brain. Mind mapping, therefore, works more in line with how the human brain functions — on top of having the advantage of being simple, brain-friendly, and much easier to recall.
Looking at the image below, it's apparent that a mind map presents information more visually, making it easier to remember.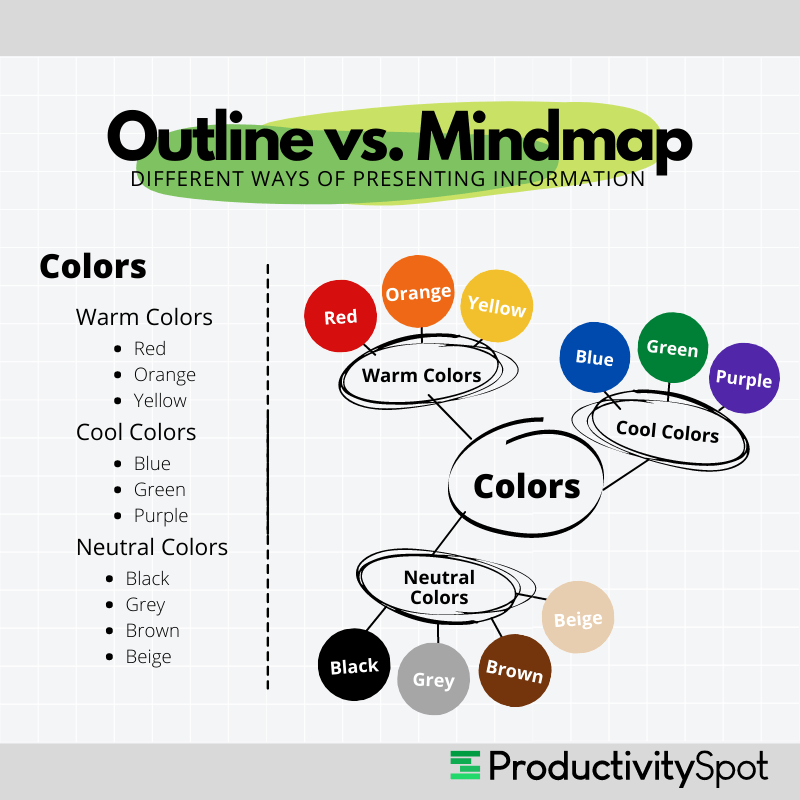 According to Nobel Prize winner Dr. Roger Sperry, who won the prestigious award for his research, the human brain is divided into two major hemispheres which perform different intellectual skills. These intellectual skills are also called cortical skills, including lines, lists, logic, rhythm, color, daydreaming, imagination, numbers, words, and gestalt (basically seeing the whole picture).
Dr. Sperry's research confirms that when we integrate these activities and cortical skills, we allow the brain's performance to become more cooperative — meaning each skill enhances the performance of others.
Mind mapping is a more holistic approach to brainstorming that involves many of these cortical skills.  It's a creative and logical method where you literally map out your ideas on paper or mind mapping software. Thus, it exercises your memory and information processing and a whole range of other cortical skills.
What Can You Use Mind Mapping For?
Mind maps are useful for several things, namely:
Brainstorming and visualization
Graphic organizing, note-making, and note-taking
Presenting and communicating ideas more efficiently and effectively during meetings
Outlining essays, reports, articles, theses, and dissertations
Simplifying project and task management
Is Mind Mapping Effective?
Whether you're using brainstorming software or old-fashioned pen and paper, mind mapping offers many benefits. This study from Johns Hopkins shows that students who integrate mind mapping into their study processes have 12% higher grades.
Additionally, mind maps can also be helpful for those who are visual learners or those who struggle with reading text, such as people with dyslexia.
What Makes Mindmap Software Good?
Making mindmaps with pen and paper is intuitive. You take a sheet of paper and write down everything you want to around a central point or idea. You can use different pen colors, attach images and cutouts, and even expand your mindmap through several sheets of paper. You can even do it all on a whiteboard, although you may find your working space limited.
Because of how easy it is to create mindmaps the traditional way, mind mapping tools must also feel natural and comfortable while bringing more features to the table.
But what exactly makes a good mind mapping app?
1) The app keeps things simple and easy
A good app keeps the process of creating mind maps simple and easy, just like pen and paper. Of course, mind mapping applications by nature won't be as simple — but a good app will make things as simple as possible.
Look for apps that minimize the learning curve so you can get the ball rolling as quickly as possible. Beyond that, you might also want to look for apps with intuitive user interfaces and user experiences. An intuitive experience can help you get so used to creating mindmaps through the app that it becomes second nature.
2) The app is made specifically for mind mapping
You can technically use many different apps to create a mind map. Word processing programs like Microsoft Word can work well enough for creating mind maps. You can even use Microsoft Powerpoint or Mac OS Keynote, typically used for presentations. And, of course, you can use just about any kind of drawing app — Paint, Adobe Photoshop, Corel Draw, Clip Studio Paint, Affinity Photo, and more.
There's nothing wrong with using whatever app you have handy. However, apps that developers didn't specifically make for creating mind maps may lack features and the ease of use you need to keep your ideas flowing. It might even be a good idea to look for an app with templates to help you get started.
It's worth mentioning that some apps offer multiple uses and purposes, and these multi-tasking apps may often be a great choice.
3) Unlimited canvas sizes
One thing you might find yourself struggling with when it comes to using pen and paper (or a whiteboard) is the limited space you'll have available to work with. When choosing mind mapping software, it's a good idea to look for one with unlimited canvas sizes. Alternatively, you can look for apps with maximum canvas sizes that suit your needs.
It's also worth mentioning that even if apps advertise unlimited canvas sizes, you may still be limited to what your computer or device can handle.
4) The app allows you to save and export
When you're working in any app, it's always good to have the ability to save and export what you're working on. It may be helpful to have a mindmap app that allows you to do the same.
5) Cost
Something you may want to keep in mind when choosing the right mind mapping software for you is the app's cost (and the features that come along with the price). Some developers may make their mind map software free to use, although you might find that these free apps might not have all the features you want. It's a good idea to find something within your budget, especially if you don't plan to use the app very often.
6) Platform
The last thing you may want to consider is the platform on which the apps work. There's no point in paying for an app that you can't use on your operating system, computer, or device. If you have several devices, it might even be a good idea to look for an app that works across several platforms.
Best Mind Mapping Software of the Year
Platforms: You can use ClickUp on just about any platform — the company made their product available on any web browser. It's available on Windows, Mac OS, Mac OS (for M1 devices), and Linux. If you prefer using your mobile devices for productivity, you can download ClickUp on iOS and Android. There are also e-mail add-ons and a Google Chrome extension. This app has native integrations with Google Suite, Slack, Dropbox, and more. It also offers over 1,000 more through Zapier.
Price: Available for free, unlimited plan starts at $5/user per month.
Despite how widely available this app is, there is a caveat — ClickUp is an app made to replace everything else. It works to replace task management apps, Docs, employee chats, and more. However, ClickUp does have a dedicated mind mapping feature through which you can plan and organize projects and ideas.
ClickUp's mind mapping feature allows users to visualize their workflows, draw relationships in between tasks and projects, and create or manage tasks that come directly from your mind map. You can use free-form diagrams, add nodes acting like reference points, and share your brainstormed mind maps for real-time collabs.
One great thing about ClickUp is that its free plan includes all the primary features you might need. However, if you want additional features, you'll have to sign up for the unlimited plan.
What We Liked
It's easy to convert map nodes to tasks that you can also manage, thanks to the drag-and-drop functionality
Frequent updates
Many types of charts and diagrams are available if you want something more structured, such as Kanban and Gantt
100 mind maps for free users
What We Didn't Like
Mobile app isn't the best
If you want to create unlimited mind maps, you'll have to be either an unlimited or business plan subscriber
Free plans don't allow for edit permissions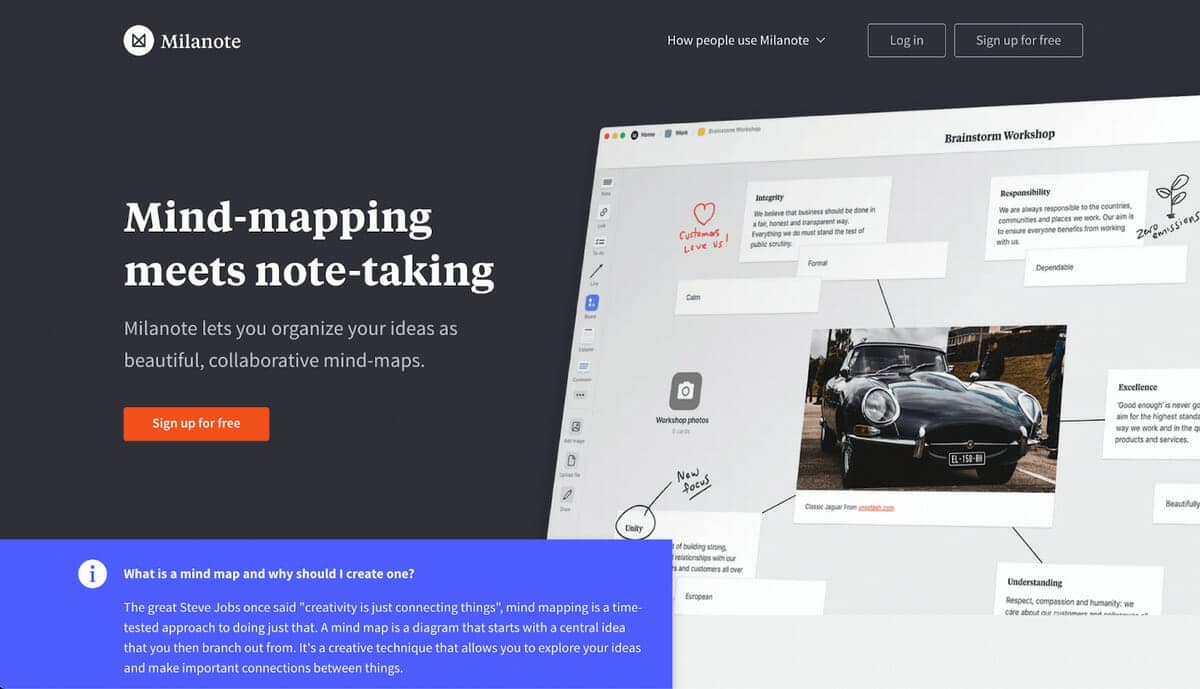 Platforms: Milanote is a mind mapping app available through different platforms. You can download it on mobile through iOS and Android. If you'd rather use a computer, you can download Milanote for Mac OS or Windows. There's also a web clipper app available on Google Chrome and Apple's Safari browser.
Price: Free plan available, $9.99/user per month billed annually or $12.50/user per month billed monthly, team plans available. The free version will allow you to add 100 images, notes, or links. Pro allows for unlimited storage.
Milanote is an incredibly easy-to-use mind map/concept map maker to help you organize your projects and ideas into visual boards. However, it's not just a basic tool — Milanote lets you add different types of media (links, videos, images, files, notes) and nest as many hierarchy levels as you want when you want to go deeper into ideas and topics.
This app uses a drag-and-drop diagram designer interface that allows you to continue working on an infinite pinboard. Not only can Milanote create mind maps, but it also handles to-do lists and notes. Collaboration is also thankfully easy to do in real-time through remote means.
If you want to get started right away, you can use one of Milanote's templates to get things going quicker.
What We Liked
Getting started is easy thanks to templates
Creating and saving notes is easy
You can link boards to each other
Great fast and lightweight user interface
Multimedia
What We Didn't Like
Can't live share if you don't sign up
You can only add 100 elements if you're using the free plan
Comments can only be deleted, not hidden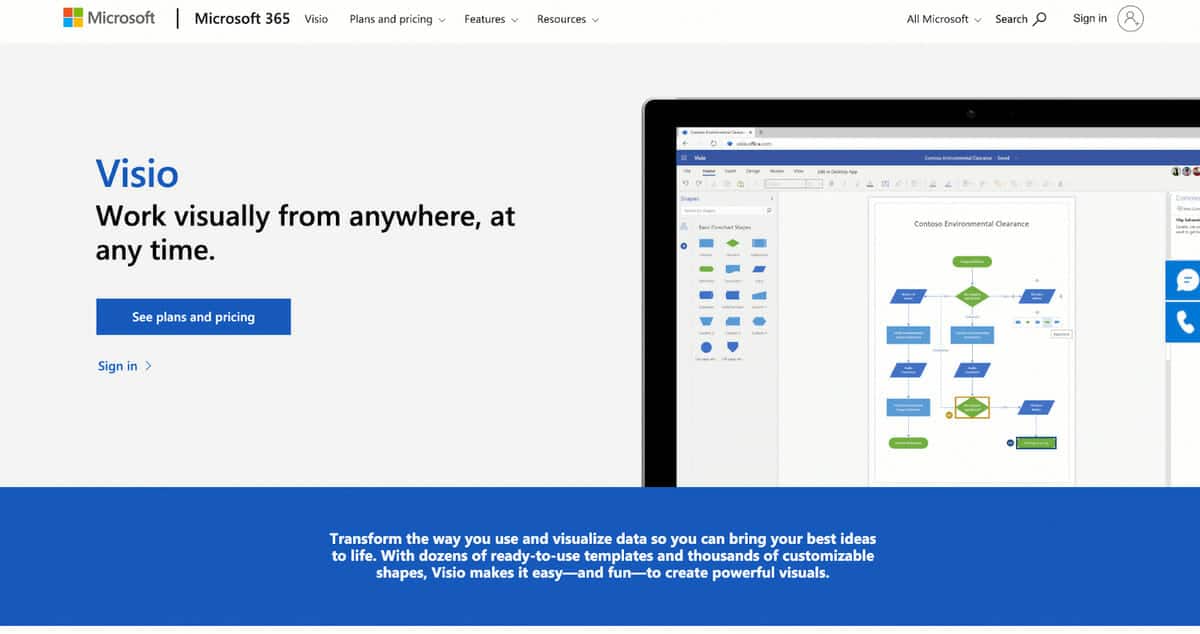 Platforms: Microsoft's Visio app is available on Windows devices. You can also use it through the web app if you need to use Visio on a different platform.
Price: A free trial is available, but after that you will have to pay a subscription. Visio starts at $6.40/user per month. You can also purchase a lifetime license for Visio outright, starting at $459.
Microsoft's Visio app works well for mind maps and visual diagramming, and graphic representations like UML diagrams. It integrates well with Office 365 thanks to its ability to pull data and visualize it in real time within Visio.
Visio offers a robust database of templates for flowcharts, block diagrams, timelines, engineering designs, floor plans, and SDL diagrams. Thanks to the annotation and comment features, collaboration is possible, and multiple collaborators can simultaneously work on one mind map. You can also share your creations as an attachment, an image, a link, or a PDF.
What We Liked
Getting started is easy thanks to the wide range of templates
Works well for UML diagrams
250,000 shapes available to use
Premade flow diagrams and blocks
What We Didn't Like
Not as accessible
Expensive lifetime license
Complicated user experience and features
You can't customize predefined shapes
Can lag on older devices
Steep learning curve

Platforms: Mind Genius was developed for Windows, so if you're looking for a mind mapper for Mac OS, you might be out of luck. However, some people have reported success with running Mind Genius through a Windows emulator. Alternatively, you can use Mind Genius Online as a web app.
Price: You can use this mind map software free of charge during the 14-day trial period. After that, it costs $160 for the first year and $56 for every year thereafter through the subscription method (subscription grants access to regular updates). You can also purchase a lifetime license for $256, though you may not get access to all the updates.
Mind Genius offers an extremely simple and easy user experience. It's a combo mind mapper-project planner tool that anyone can use.
This app allows easy drag-and-drop creation plus project management tools like Kanban task views, Gantt charts, and other basic reporting tools. Mind Genius includes tools like labeling, filtering, and highlighting to help you organize ideas and present mind maps more easily.
One great thing about this app is the frequent updates it gets (as long as you're on a subscription).
What We Liked
Mind maps work well into Microsoft projects
You can easily switch format from mind map to Gantt to timeline
User-friendly
What We Didn't Like
Notes editor can feel clunky
Templates may sometimes be finicky
May take some time to learn and get used to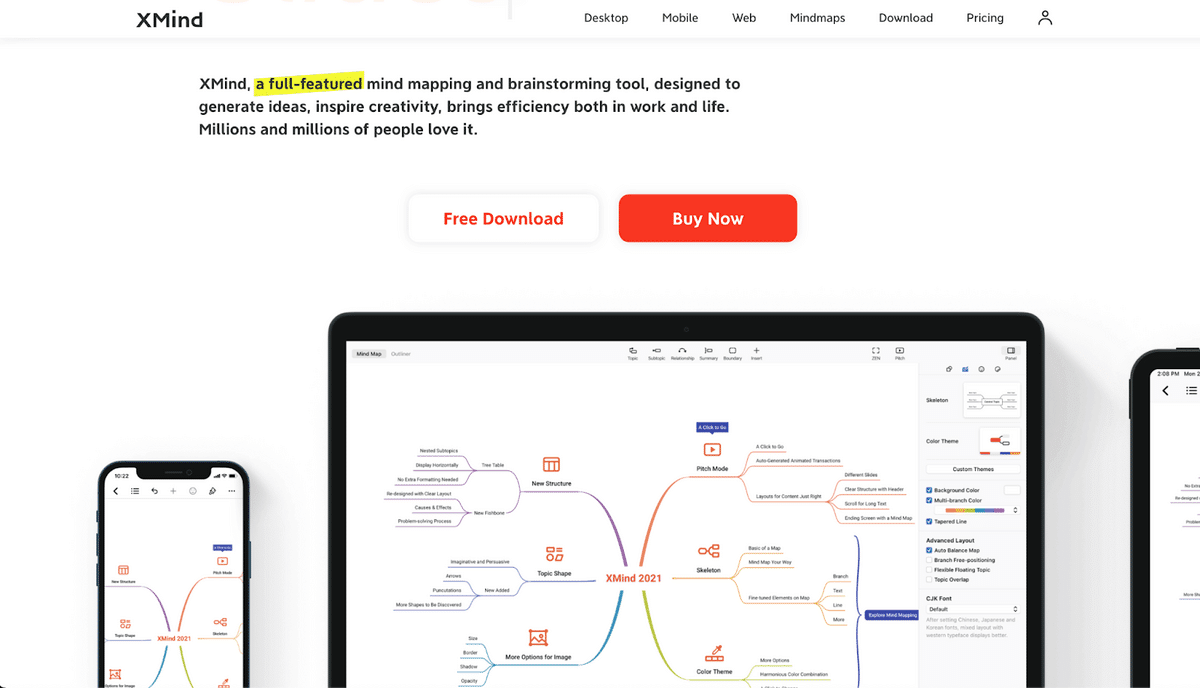 Platforms: XMind is widely available. You can use it on Mac OS, Windows, and Linux. It's also available on iOS and Android. XMind Works is also available as a web app that runs in browsers and connects to Google Drive, Dropbox, and One Drive.
Price: Freemium — free download, additional features purchasable starting at $1.24/user per month on mobile. Also available with a lifetime license at $129.
XMind is an extremely popular mind mapping tool that also happens to be the best mind map software for mobile users. Anyone can use it — whether you're an individual, a startup, or a large business.
This app offers an easy way to make mind maps, even on mobile. Themes and styles are available to help you get started, and it's also possible to attach links, audio, images, and files to your mind maps. It even allows you to quickly convert your mind maps to outlines if you want it in that format. There's also a feature to turn your mind maps into presentations by allowing slide creation in one click.
You can activate "zen mode" if you want to work without distractions in the user interface.
One of the best features of XMind is the ability to convert mind maps into easily understandable Gantt charts. It also allows Evernote integration, though if you want to share with other apps you'll need to save in one of the various formats available.
What We Liked
Allows you to link emails, websites/pages, files
Has a brainstorming mode for fast idea dumping
Multiple file types available
Can connect multiple sheets in a file
More affordable lifetime license
What We Didn't Like
No real-time collaboration on free version
Limited node type choices
Not many customizations if you want to create deeper level maps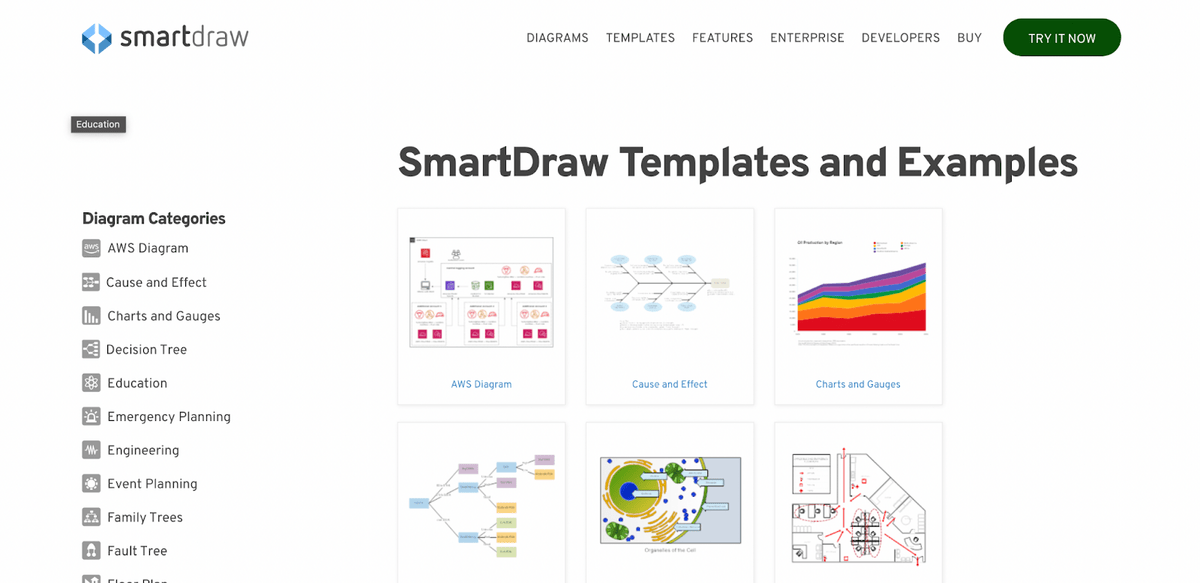 Platforms: SmartDraw is available as a web app, but you can also download it on Mac OS and Windows. You can also use it on iOS and Android.
Price: Starts at $9.95/month billed annually for a single user, or $5.95/user per month (minimum five users) billed annually. Enterprise plans are also available.
SmartDraw positions itself as a Visio alternative, allowing many of the same features in a much more user-friendly experience. Indeed, SmartDraw's UI is intuitive, with plenty of features that make it easy to get started. You can even import Visio files and work on them within SmartDraw if you're looking to move away from Microsoft's complicated tool.
The best part about SmartDraw is it has over 4500 templates for more than 70 diagram types, making it easy to create just about any graph, diagram, and — you got it — mind map. You can even make floor plans, flowcharts, infographics, timelines, and more.
Smartdraw integrates with many other apps and services, including Microsoft Office apps, Confluence, Jira, Trello, Dropbox, WordPress, Box, and Google Workspace.
What We Liked
Can work with Visio files
Easily customizable input dimensions and colors
Lots of tutorials and documentation
Insert links and photos
Tons of templates
What We Didn't Like
Free version has extremely limited features
You can't flip your workflow between portrait and landscape
Choosing The Best Mind Mapping Software for You
When choosing a mindmap app, it might be a good idea to look for one with the perfect combination of features, cost, and ease of use.
But in the end, choosing the best mind mapping tool for you will depend purely on your preference.
Thankfully, most mind mapping apps have free versions or free trials to experience using them before you commit to a subscription or a license purchase.
Looking for more productivity tips? Check out these related articles: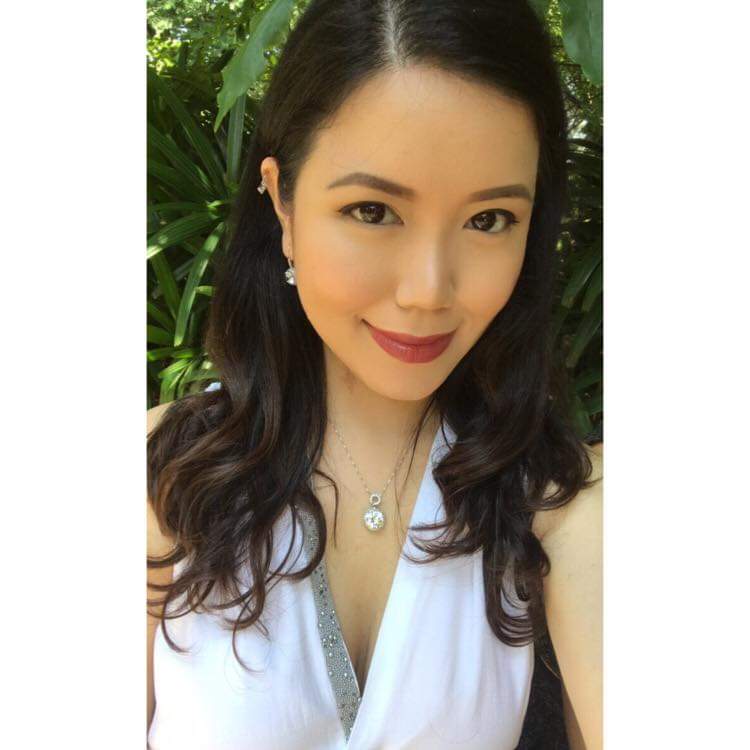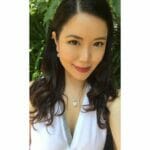 Chriselle has been a passionate writer for over 10 years, but she's a geek at heart. When she isn't busy writing, she spends her time streaming video games and learning new skills.