It can be difficult to brainstorm and come up with ideas you might need for school or work – especially if you don't know where or how to begin. On the opposite end of the spectrum, you could be overflowing with ideas and struggling to organize your thoughts because your brain is working a mile a minute.
While there's nothing wrong with using a good old-fashioned pen and some paper to brainstorm,  there are newer ways to make it easier and more convenient to keep track of your ideas.
For an easier way to brainstorm and organize your thoughts, consider using programs for mind mapping, like ClickUp, Mind Genius, Coggle, Milanote, and XMind.
Keep reading to see our recommendations for the best mind mapping software in 2023 — and a side-by-side comparison of each tool!
Best Mind Map Apps: A Head-to-Head Comparison
Let's compare all the mind map apps side by side.
Tool
Free Forever Plan
Pricing
Platforms

Yes, best available
Unlimited plan starts at $7/month
Windows, Mac, Linux, iOS, Android, Web app

Limited
$9.99/user/month billed annually OR $12.50/user/month billed monthly
Windows, Mac, iOS, Android

Trial only
$6.40/user/month OR one-time lifetime license purchase at $459
Windows only, or web app

Trial only
Subscription: $160 for the first year and $56 every year thereafter OR lifetime license $256
Windows only, or web app

Limited

$9.95 per month for one user OR $5.95/user/month minimum of 3 users

Enterprise plans available

Windows, Mac, iOS, Android, web app

Limited

Individual plan $7.50/month, Team plan $9/user/month minimum of 3 users

Enterprise plans available

Windows, Mac, Linux

Limited

Personal plan $4.99/month, Pro plan $8.25/month, Business plan $12.49/month

Enterprise plans available

iOS, Android, web app

Limited

Awesome plan starts at $5/month, Organization plan starts at $8/user/month

Enterprise plans available

iOS, Android, web app

100% Free
Comes free from macOS Ventura, iOS 16.2+, and iPadOS 16.2+
macOS, iOS, iPadOS
Best Mind Mapping Software of 2023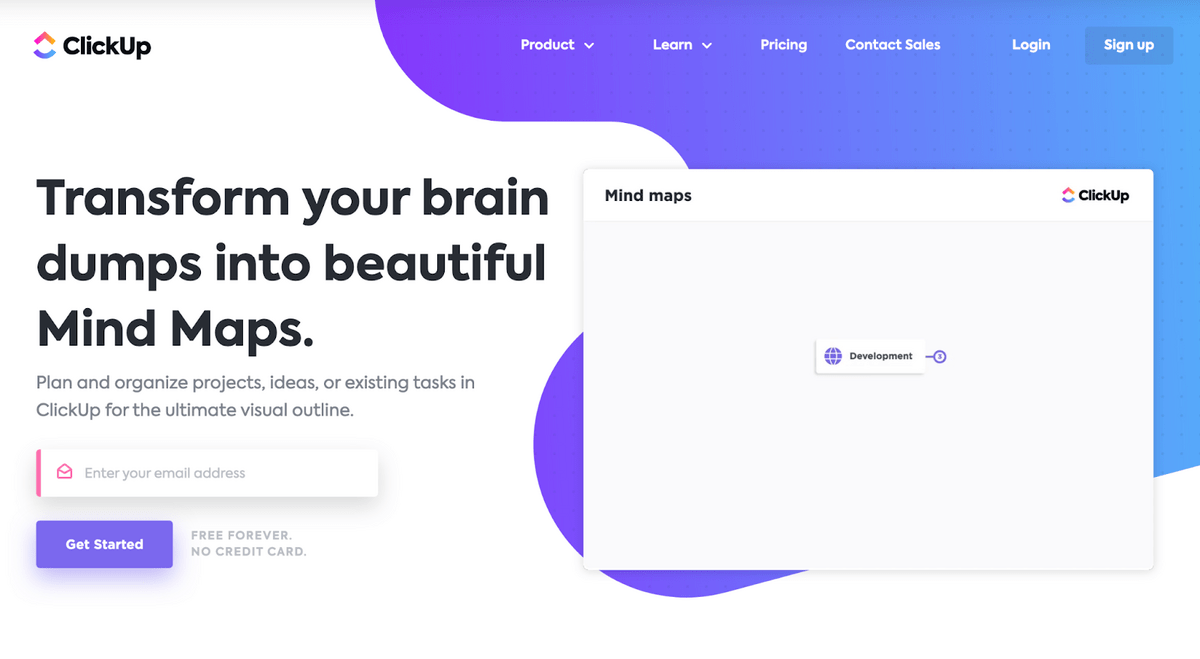 Key Information:
Rating: 4.8/5
Price: Unlimited plan starting at $7/month
Free version: Available, best free forever plan
Platforms: Web app, Windows, macOS (Intel and M1), Linux, iOS, and Android; e-mail add-ons, Google Chrome extension (also usable on other browsers running on Chromium)
Integrations: Native integrations with apps like Slack, Google Suite, Dropbox, etc. 1000+ integrations available via Zapier
Best feature: Primary features are available with the free forever plan
Despite how widely available this app is, it's not a full, dedicated mind mapper. ClickUp is an app made to replace everything else. It works to replace project planning apps, task management apps, Docs, employee chats, and more.
However, ClickUp does have a dedicated mind-mapping feature to plan and organize projects as well as ideas. Concept mapping is entirely possible, for individual or team mind map creation.
ClickUp's mind mapping feature allows users to visualize their workflows, draw relationships between tasks and projects, and create/manage tasks that come directly from your mind map. You can use the free-form diagramming tool, add nodes acting like reference points, and share your brainstormed mind maps for real-time collabs.
One great thing about ClickUp is that its free plan includes all the primary features you might need to create your concept maps. However, for additional features, you'll have to sign up for the unlimited plan.
What We Liked
It's easy to convert map nodes to tasks that can be managed with drag-and-drop functionality.
Frequent updates
Many types of charts and diagrams are available, including Kanban and Gantt
100 mind maps for free users
Keyboard shortcuts to make your life easier
Great for project managers
If you need to go into presentation mode, there are plenty of templates to help you get started.
What We Didn't Like
The mobile app isn't the best.
Free plans don't allow for edit permissions.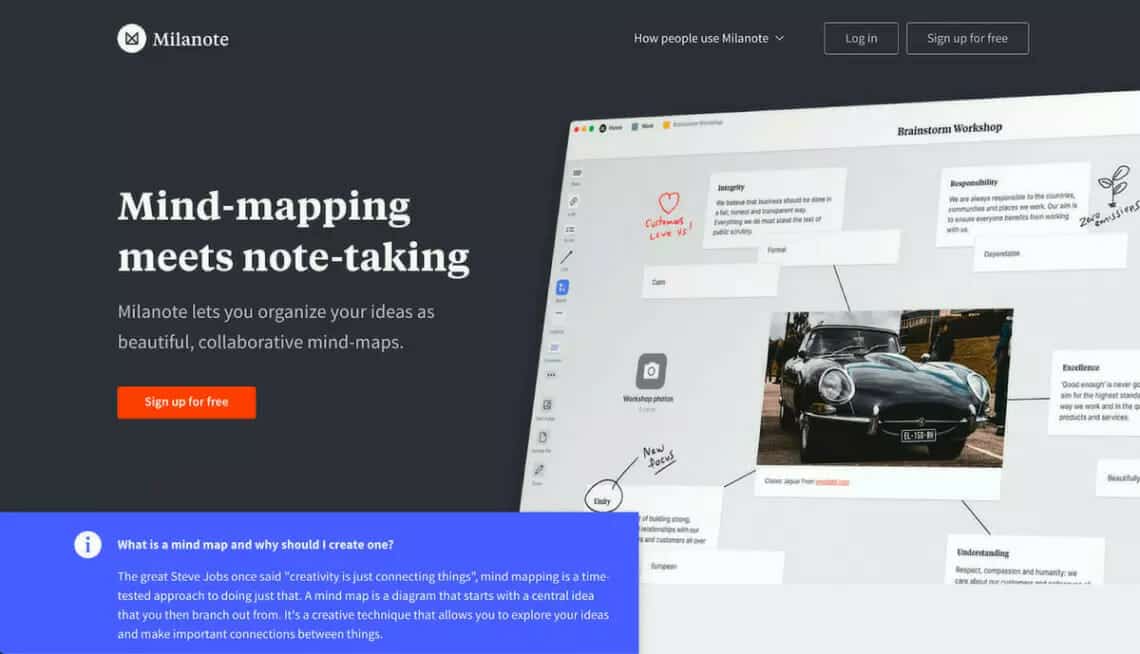 Key Information:
Rating: 4.7/5
Price: $9.99/user per month billed annually, $12.50/user per month billed monthly
Free version: Yes, with limitations (100 images, notes, or links)
Platforms: iOS, Android, MacOS, Windows; web clipper browser extension on Google Chrome and Apple Safari
Best feature: Milanote allows you to add various types of media, giving you visual note-taking capabilities
Milanote is an incredibly easy-to-use mind map maker that helps organize projects and ideas into visual boards. It's not just a basic tool: When you want to get deeper into ideas and topics, Milanote lets you add different types of media (e.g., links, videos, images, files, notes) and nest as many hierarchy levels as desired.
This app uses a drag-and-drop designer interface that allows you to continue working on an infinite pinboard. Not only can Milanote create mind maps, but it also handles to-do lists and notes. Collaboration is also thankfully easy to do in real-time through remote means.
To get started right away, consider using one of Milanote's templates.
What We Liked
Templates offer an easy start
Creating and saving notes is easy
Link boards to each other
Great fast and lightweight user interface
Multimedia
What We Didn't Like
Can't live share if you don't sign up
You can only add 100 elements if you're using the free plan
Comments can only be deleted, not hidden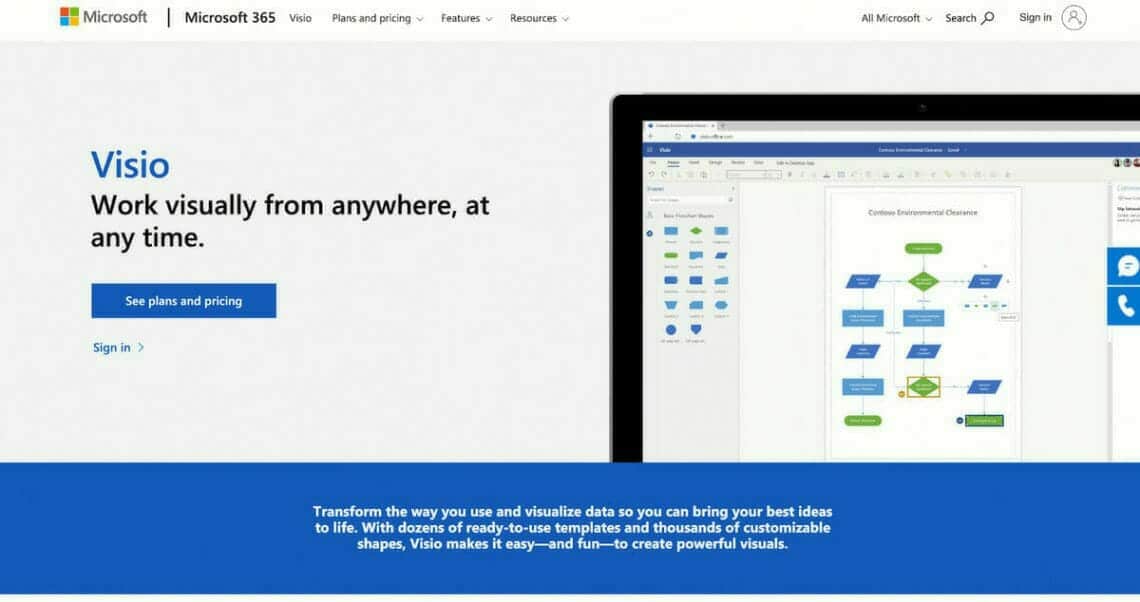 Key Information:
Rating: 4.6/5
Price: Starts at $6.40/user per month. Lifetime licenses are available for a one-time purchase at $459.
Free version: Limited-time free trial only
Platforms: Windows only, but available on other platforms through the web app
Best feature: 250,000 shapes are available for you to use
Microsoft Visio enables users to create some of the best mindmaps around. In addition to working well for creating mind maps, visual diagramming, and graphic representations like UML diagrams, it also integrates well with Office 365 (thanks to its ability to pull data and visualize it in real-time within Visio).
Visio offers a robust database of templates for flowcharts, block diagrams, network diagrams, timelines, engineering designs, floor plans, and SDL diagrams. Thanks to the annotation and comment features, collaboration is possible — and multiple collaborators can simultaneously work on one mind map. You can also share your creations as an attachment, image, link, or PDF.
What We Liked
Getting started is easy, thanks to the wide range of mind map templates
Works well for UML diagrams
250,000 shapes available to use
Premade flow diagrams and blocks
What We Didn't Like
Not as accessible as other tools
Expensive lifetime license
Complicated user experience and features
Can't customize predefined shapes
Can lag on older devices
Steep learning curve

Key Information:
Rating: 4.7/5
Price: Subscription costs $160 for the first year and $56 for every following year. The one-time purchase for a lifetime license is $256.
Free version: 14-day free trial only
Platforms: Windows only. Some users reported success with running MindGenius through a Windows emulator. Alternatively, you can use MindGenius Online as a web app.
Best feature: User-friendly interface also makes it possible to switch formats from mind map to Gantt to timeline.
MindGenius offers an extremely simple and easy user experience. It's a 2-in-1 mind mapping and project planning tool that anyone can use to create concept maps.
This app allows easy drag-and-drop creation, plus project management tools like Kanban task views, Gantt charts, and other basic reporting tools. MindGenius includes tools like labeling, filtering, and highlighting to help you organize ideas and present mind maps more easily.
One great thing about this app is the frequent updates it gets (as long as you're on a subscription). Users on a lifetime license may not receive all the updates beyond security updates, bug patches, and selected feature updates.
What We Liked
Mind maps work well in Microsoft projects
Easy to switch formats from mind map to Gantt to timeline
User-friendly
Print or present your mind map in presentation mode
What We Didn't Like
Notes editor can feel clunky
Templates may sometimes be finicky
May take some time to learn and get used to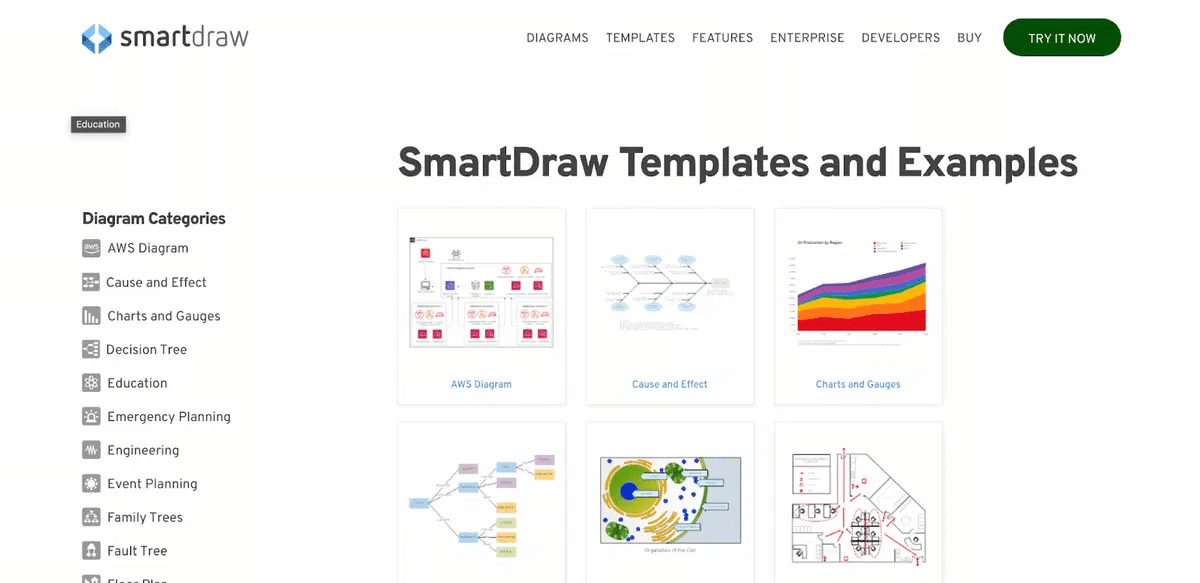 Key Information:
Rating: 4.8/5
Price: $9.95 per month for a single user, billed annually. $5.95/per user per month for a minimum of five users, billed annually. Enterprise plans are also available
Free version: Available but extremely limited
Platforms: MacOS, Windows, iOS, Android, and web app
Best feature: Over 4500 premade templates to make getting started much easier
SmartDraw positions itself as a Visio alternative, allowing many of the same features in a much more user-friendly experience. SmartDraw's UI is intuitive, with plenty of features that make it easy to get started. If you'd like to move away from Microsoft's complicated tool, you can even import Visio files and work on them within SmartDraw.
The best thing about SmartDraw is it has over 4500 diagram templates for more than 70 diagram types, making it easy to create just about any graph, diagram, and — you got it — mind map. You can even make floor plans, flowcharts, infographics, timelines, and more.
SmartDraw integrates with many other apps and services, including Microsoft Office apps, Confluence, Jira, Trello, Dropbox, WordPress, Box, and Google Workspace.
What We Liked
Can work with Visio files
Easily customizable input dimensions and colors
Lots of tutorials and documentation
Insert links and photos
Tons of templates
Keyboard shortcuts to make your life easier
What We Didn't Like
The free version has extremely limited features
You can't flip your workflow between portrait and landscape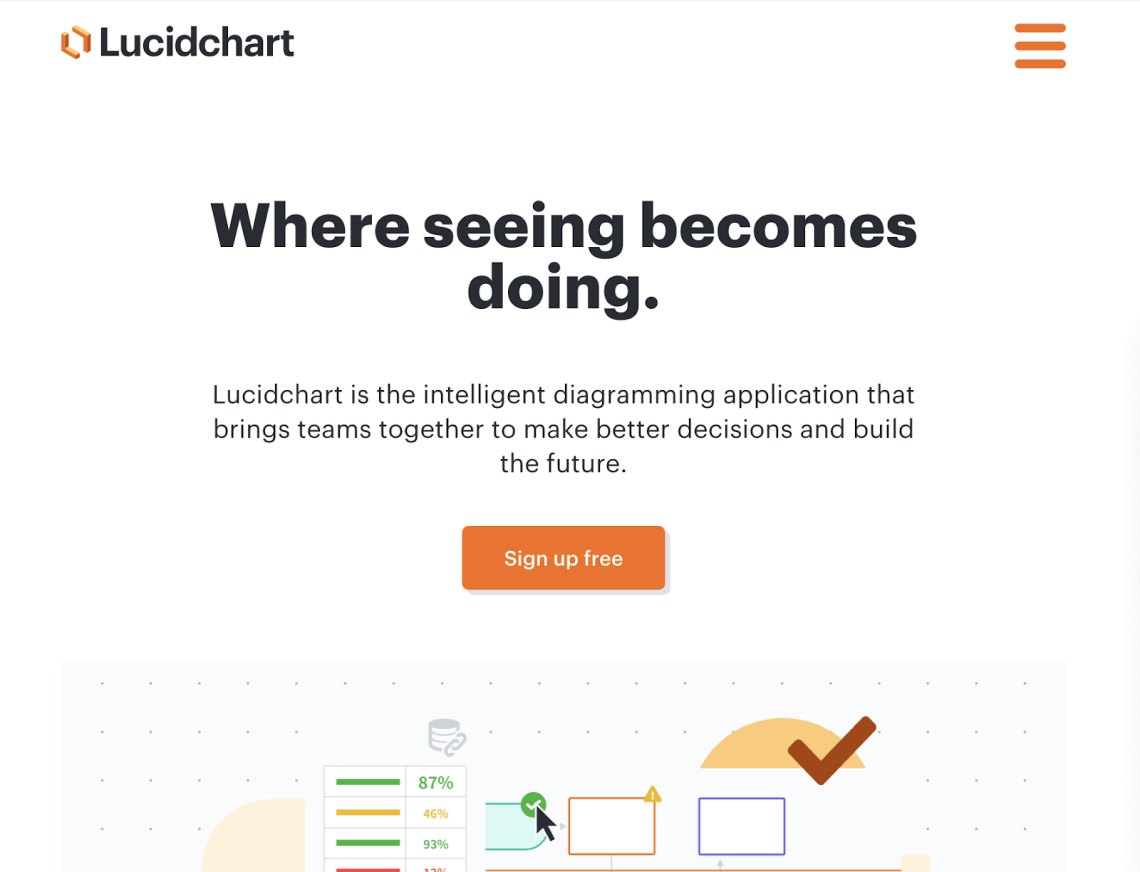 Key Information:
Rating: 4.8/5
Price: Individual plans start at $7.50/month. Team plans start at $9/user per month with a three-user minimum (contact Lucidchart for enterprise pricing).
Free version: Available but limited
Platforms: Windows, Mac, Linux
Best features: Tons of integrations available!
Lucidchart is one of the best mind mapping tools, especially for larger or scaling organizations. It's the tool of choice for many tech giants, including Google, Amazon, Atlassian, and more — and it's easy to see why.
The app has tons of integrations available and works really well in a project management process. You can connect mind maps you create in this app to project management tools, making it easier to stay on top of your deadlines.
Lucidchart's features appear to be designed for larger or more complex projects, so you may feel overwhelmed as an individual. Nevertheless, users can sign up for the individual plan starting at $7.50 per month.
What We Liked
Sharing is incredibly easy, and collaboration is a smooth process (thanks to the edit permissions feature)
Comes with many industry-standard templates to speed up your process
Tons of features and integrations are available
Excellent choice for project management integration
Tons of export options to share your mind maps
What We Didn't Like
The free version is quite limited
There are some shapes missing from the object library
The interface isn't the most modern
Geared more towards larger or more complex projects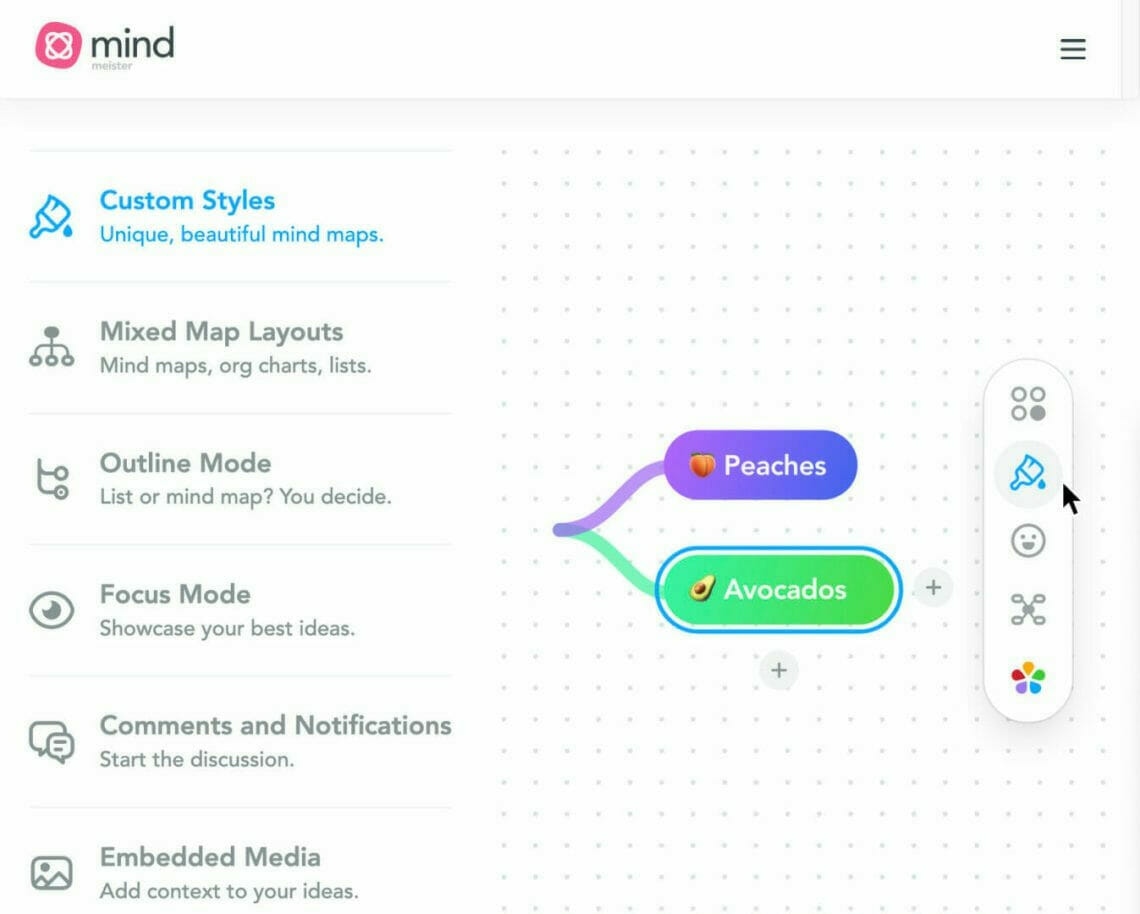 Key Information:
Rating: 4.7/5
Price:

Personal plans start at $4.99/month. Pro plans start at $8.25 per month. Business plan starts at $12.49 per month. Enterprise plans are available.
Purchasing the MeisterBundle — which includes some of the other Meister tools — can help you save 30% overall.
Free version: Available but limited
Platforms: Web app, iOS, Android
Best feature: An incredibly simple cloud-based tool with excellent real-time collaboration features
If you want a collaborative tool you can use without downloading anything, MindMeister is an excellent choice. Rather than focusing on creating a desktop app, MindMeister has instead chosen to focus on a robust and powerful cloud-based web app. This way, people can use the tool anywhere and on any platform, as long as they have a compatible browser and an internet connection.
MindMeister features a sleek interface that is easy to use and feels quite modern. The real-time collaboration that's available through this tool makes team brainstorming sessions a breeze. The tool has plenty of integrations, including working with Microsoft Teams and with its own project/task management app, MeisterTask.
What We Liked
Amazing collaborative tools, all available on the cloud
Microsoft Teams integration makes real-time collaboration with team members simple
Affordable plans, free forever plan available
What We Didn't Like
No desktop app is available, but not a dealbreaker for many
The free forever plan is quite limited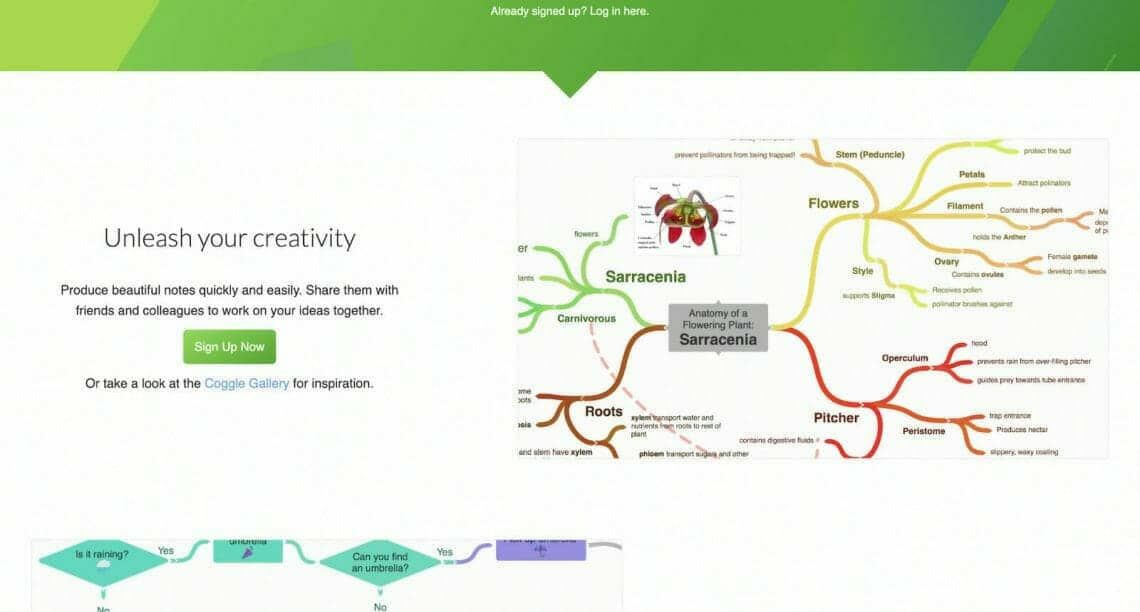 Key Information:
Rating: 4.7/5
Price: Awesome plan starting at $5 per month. Organization plan starts at $8/user per month. Enterprise plan also available.
Free version: Available but limited
Platforms: Android and iOS apps, Web app
Best feature: Super simple to learn and start, even for beginners and children
Coggle is one of the best mind mapping tools for beginners just trying out the whole visual mapping process. Despite its simplicity and ease of use, Coggle offers plenty of features that even pros can appreciate. However, this tool may not be enough if you need to create more complex mind maps.
One of the best things about Coggle is that it's designed in a thoughtful way. You'll notice elements such as the ability to format text in Markdown, a simple feature that allows you to fancy up your mind maps by just typing certain syntax before exporting them. Coggle also has built-in collaboration tools, making it easy to work with teams on a single map.
What We Liked
Great tool for creating simple mind maps
Easy to learn, even for younger users
Chat history, export options, embed options, and more
Great for creating visual notes
Sleek and simple interface
What We Didn't Like
Not as many features as other tools; can feel simplistic for those who need to make more complex mind maps
Mobile apps have middling app store ratings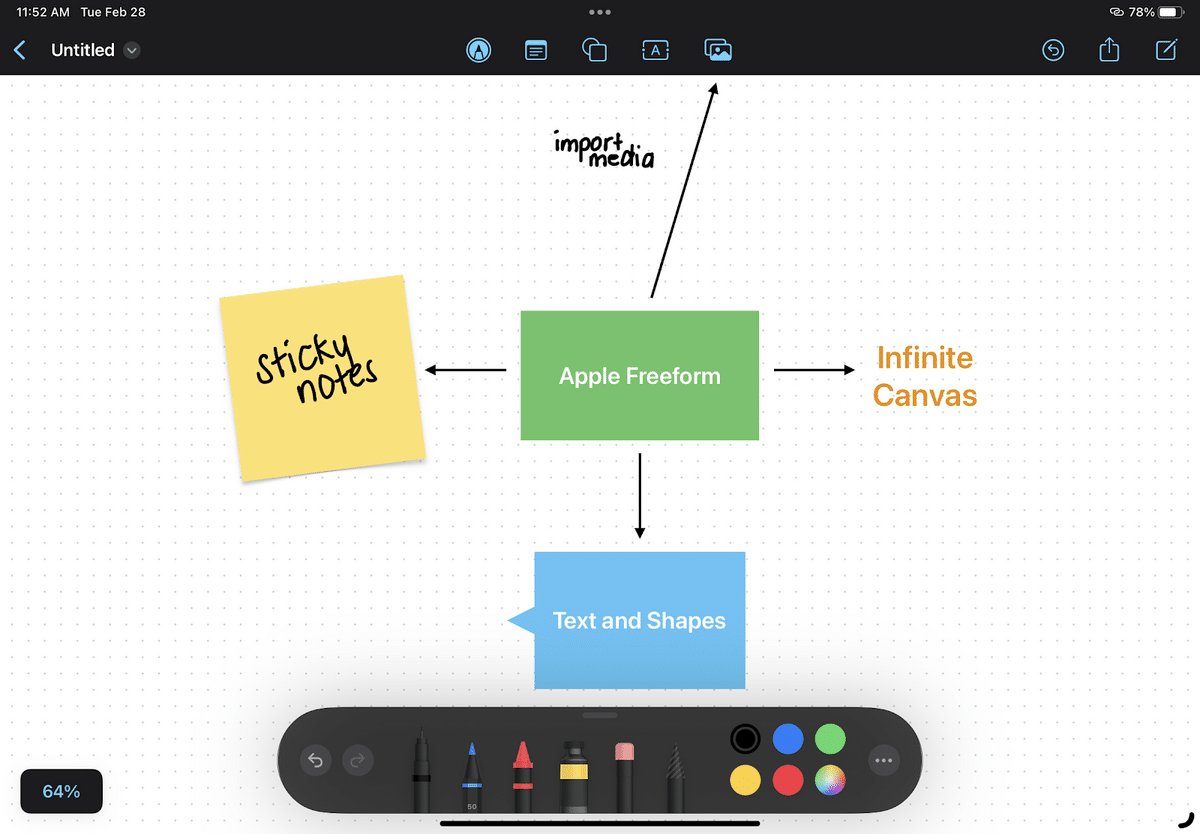 Key Information:
Rating: 4.5/5
Price: Free
Platforms: macOS Ventura, iOS 16.2+, iPadOS 16.2+
Best feature: Absolutely free, offers collaboration features, allows brainstorming on an infinite canvas (with web clipping and media importation)
If you want to create a mind map on your Mac, iPhone, or iPad, Apple's very own Freeform is worth a look. It's completely free and comes with macOS Ventura, as well as the iOS 16.2 and iPadOS 16.2 updates. As long as your laptop or device is compatible with the aforementioned operating systems, you should be able to run Freeform.
Freeform is a diagramming tool that also works well for making notes, scrapbooking, and mind mapping. While it's still relatively new, from what we've seen and experienced so far, it's not a bad tool at all! Freeform is simple and easy to use, allows collaboration, and even lets you import various types of media, links, and more.
Unfortunately, Freeform only runs on Apple devices — and only on the ones running the latest versions of their respective operating systems. It may also be too simple for some use cases.
What We Liked
100% free
Simple and easy to use
Syncs across all your Apple devices
Has features for collaboration
Allows you to import media
What We Didn't Like
For Apple users only
Too simple for some uses
Related: Top 23 Best Mac Apps
Honorable Mentions: Best Mind Mapping Tools for Mobile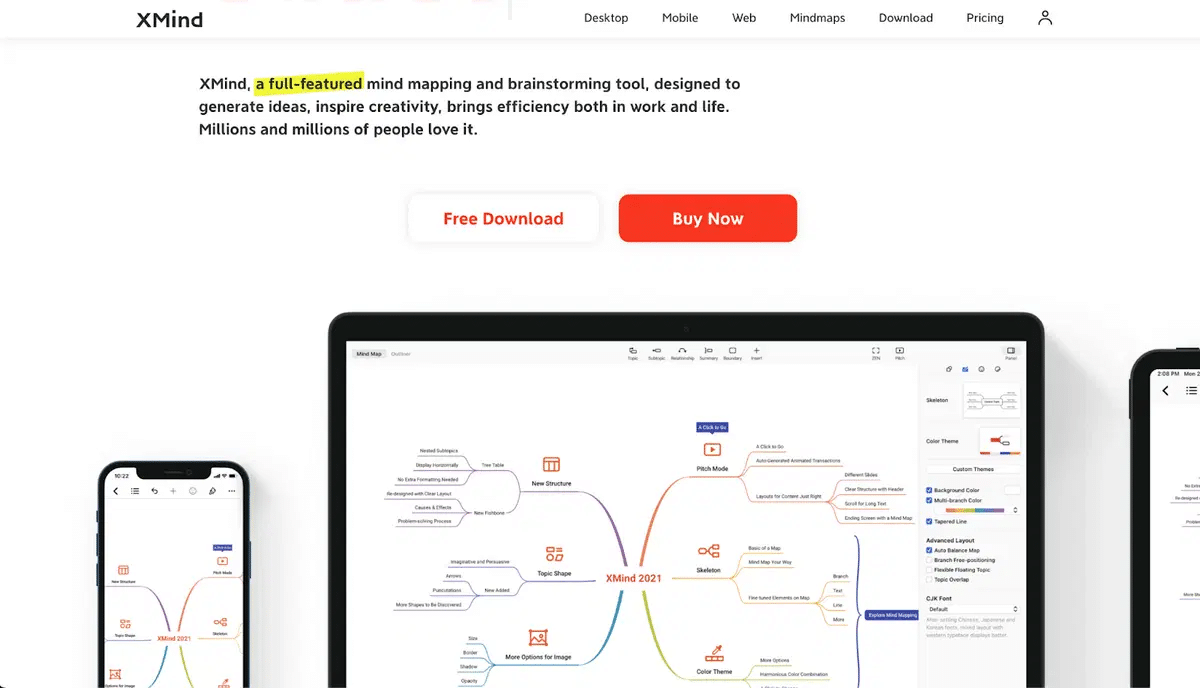 Key Information:
Rating: 4.7/5
Price: Free to download and use, additional features cost a subscription. Subscriptions start at $1.24/per user per month. A one-time purchase of a lifetime license costs $129.
Free version: Yes, XMind is a freemium app
Platforms: Windows, MacOS, Linux, iOS, Android; XMind Works is also available as a web app that runs in browsers and connects to Google Drive, Dropbox, and One Drive.
Best feature: Wide availability through all platforms
XMind is an extremely popular mind mapping tool that also happens to be the best mind map software for mobile users. Anyone can use it, from individuals to startups to large businesses.
This app offers an easy way to make mind maps, even on mobile devices. Themes and styles are available to help you get started. It's also possible to attach links, audio, images, and files to your mind maps.
XMind even allows you to quickly convert your mind maps to outlines if you prefer that format. There's also a feature to turn your mind maps into presentations by creating slides with one click. You can activate "zen mode" if you want to work without distractions within the user interface.
One of the best features of XMind is its ability to convert mind maps into easily understandable Gantt charts. It also allows Evernote integration, though if you want to share with other apps, you'll need to save in one of the various formats available.
What We Liked
Allows you to link emails, websites, pages, and files
Has a brainstorming mode for fast idea dumping
Multiple file types are available
Can connect multiple sheets in a file
More affordable lifetime license
What We Didn't Like
No real-time collaboration on the free version
Limited node type choices
Not many customizations if you want to create deeper level maps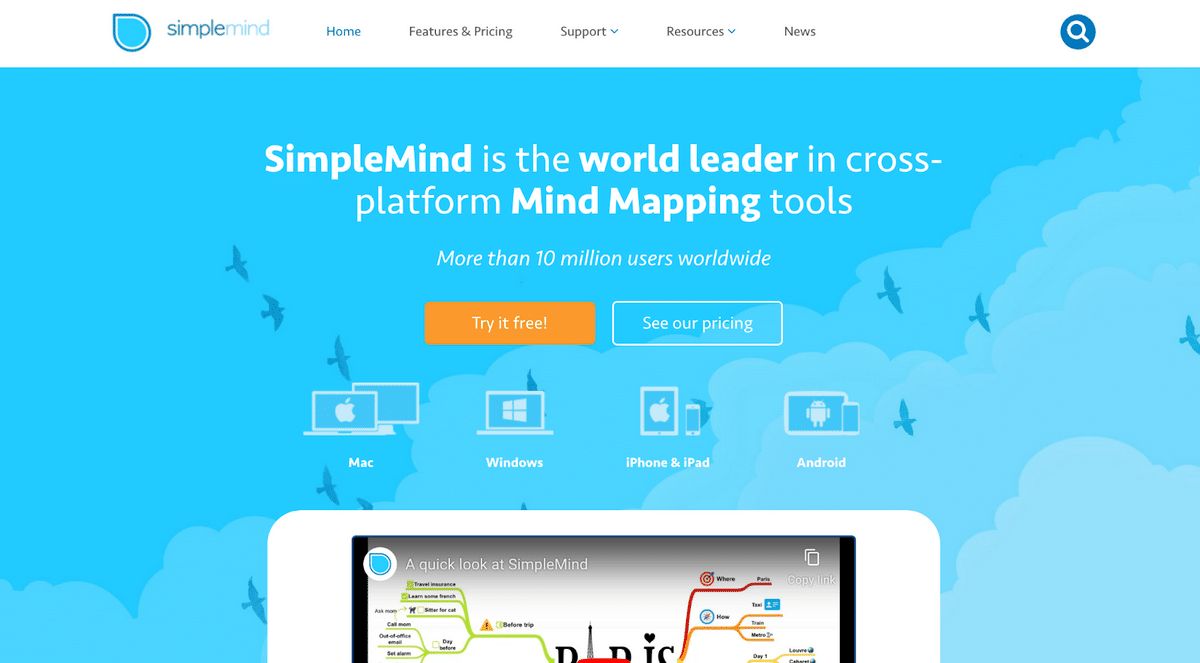 Key Information:
Rating: 4.8/5
Price: Available as a one-time purchase on various platforms (you must purchase the app on each platform you intend to use). For more information on specific purchase prices and available plans, check this link.
Free version: Yes, limited free forever tier (with no ads or registration). 30-day free trial on macOS and Windows
Platforms: macOS, Windows, iOS, Android
Best feature: SimpleMind is a one-time purchase — no subscription required! Also features a freeform layout and many ways to customize your mind map.
SimpleMind isn't exclusively a mobile mind mapping tool. However, this tool is still worth mentioning, thanks to its simplicity and ease of use. SimpleMind 2.0 also came out in January 2023, providing users with many QoL (quality of life) adjustments to make their mind mapping experience a breeze.
SimpleMind has been around for over 15 years. During this time, the developers worked to provide features that make a mind mapping tool great, such as a freeform canvas and many diagramming tools.
What We Liked
One-time purchase pricing model
15 years on the market
Plenty of features adapted to desktop and mobile use
Simple and easy to use
Themes and templates available
What We Didn't Like
Free version is mobile only
Most great features are paywalled behind SimpleMind Pro
Cannot export maps in some formats like .jpg or .doc/x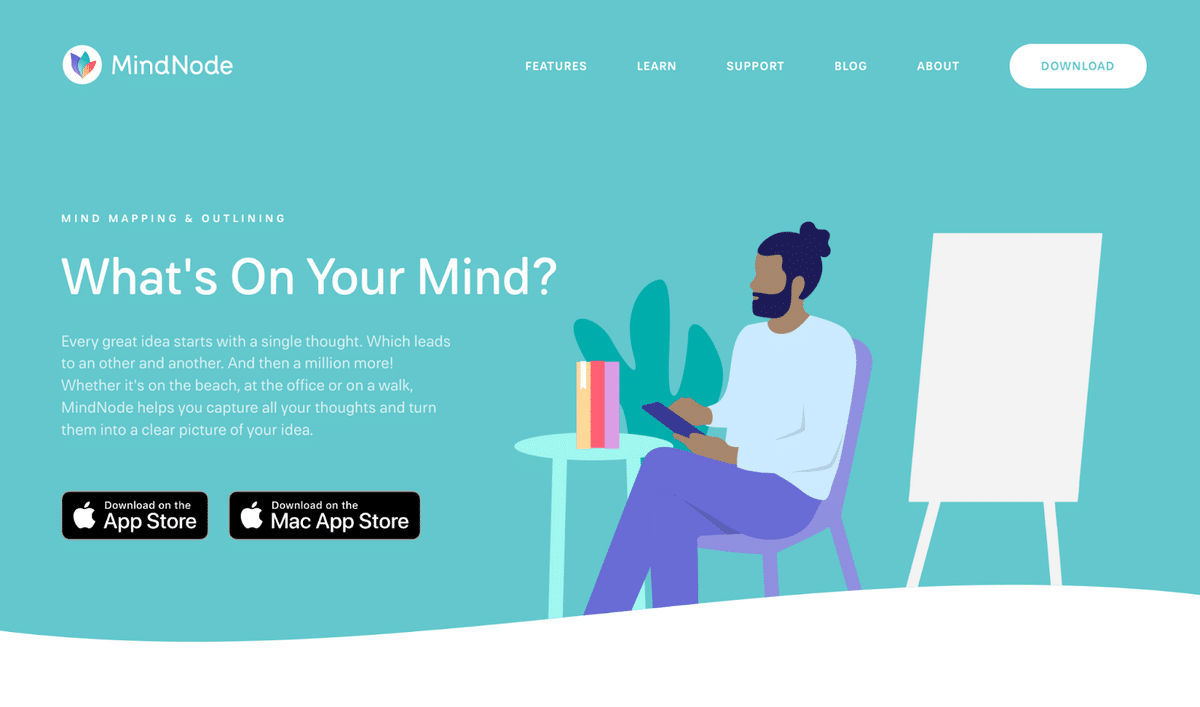 Key Information:
Rating: 4.7/5
Price:

Mind Node Plus subscription costs $2.49 per month or $19.99 per year. Your subscription works on macOS and iOS/iPadOS, so you won't need to subscribe on both platforms
Also available with a SetApp subscription
Free version: Yes, a limited Free Editor comes with a free 2-week trial.
Platforms: macOS, iOS, iPadOS
Best feature: The outline feature lets you do your brainstorming using a more organized approach. Use an outline or mind map individually or use both in tandem
If you are an Apple user looking for something a little more feature-heavy than Apple's Freeform, MindNode is worth a look. This Apple-only app looks and feels great — and it's loaded with features to make organizing your thoughts easier all around.
MindNode includes features like focus mode to help you look past the clutter. It also allows you to work using the outline mode if you prefer organizing your thoughts this way. If you prefer, you can use outlines and mind maps together.
What We Liked
Beautifully designed, it looks and feels great
Outline feature
Relatively affordable subscription that works across Apple devices
Simple and easy to use
Focus Mode
What We Didn't Like
Apple devices only
Minor issues with iCloud sync are occasionally reported
What Is a Mind Map?
Mind maps are tools designed to make it easier to brainstorm your thoughts and ideas organically. They do this while also allowing you to keep your ideas organized and structured to a degree.
In a way, mind maps can work like outlines. However, unlike with outlines, there's not much need to worry about conventional structure and order when you create a mind map.
Related: If you're more of the journaling type, consider checking out some of the Best Journal Apps in 2023 instead!
What Is Mind Mapping?
Mind mapping is a visual brainstorming method that can help you recall and analyze information. It's essentially a diagram for ideas, tasks, concepts, items, and words linked around a single, central concept via a non-linear format. You can also add more main concepts if necessary.
Why Is Mind Mapping Good for the Brain?
We all know how much potential our brains possess. Mind mapping can help unleash some of that potential by stimulating, enhancing, and challenging the brain. This process, therefore, works more in line with how the human brain functions.
Looking at the image below, it's apparent that a mind map presents information more visually, making it easier to remember: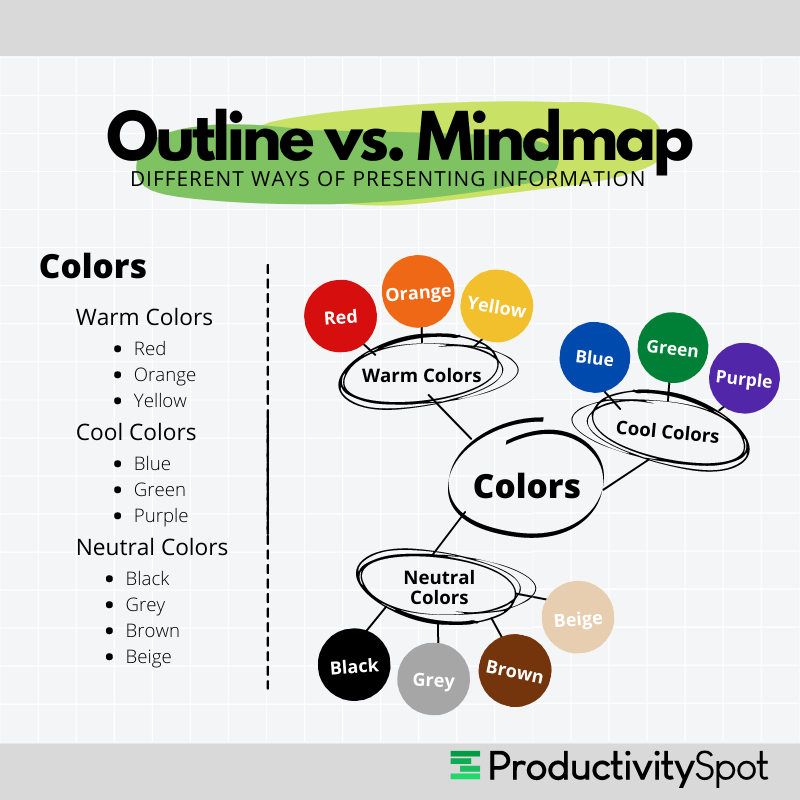 According to Nobel Prize winner, Dr. Roger Sperry (who won the prestigious award for his research), the human brain is divided into two major hemispheres which perform different intellectual skills. These intellectual skills are also called cortical skills, including lines, lists, logic, rhythm, color, daydreaming, imagination, numbers, words, and gestalt ("seeing the whole picture").
Dr. Sperry's research confirms that when we integrate these activities and cortical skills, we allow the brain's performance to become more cooperative. This means that each skill enhances the performance of others.
Mind mapping is a more holistic approach to brainstorming that involves many of these cortical skills.  It's a creative and logical method where you literally map out your ideas on paper (or mind mapping software). Therefore, it exercises your memory and information processing — and a whole range of other cortical skills.
What Can You Use Mind Mapping For?
Mind maps are useful for several things, namely:
Brainstorming and visualization
Graphic organizing, note-making, and note-taking
Presenting and communicating ideas more efficiently and effectively during meetings
Outlining essays, reports, articles, theses, and dissertations
Simplifying project and task management
Is Mind Mapping Effective?
Whether you're using brainstorming software or old-fashioned pen and paper, mind mapping offers many benefits. This Johns Hopkins study shows that students who integrate mind mapping into their study processes have 12% higher grades.
Additionally, mind maps can also be helpful for those who are visual learners or those who struggle with reading text (such as people with dyslexia).
What Makes Mindmap Software Good?
Making mind maps with pen and paper is intuitive. You write down everything you want around a central point or idea using different pen colors, attaching images and cutouts, and even expanding your mind map across several sheets of paper. You might also do it all on a whiteboard (although you may find your working space limited).
Because creating traditional mind maps is so easy, mind mapping tools must also feel natural and comfortable while bringing more features to the table.
But what exactly makes a good mind mapping app?
1) Keep Things Simple and Easy
Just like pen and paper, a good app keeps the process of creating mind maps simple and easy. Of course, mind mapping applications by nature won't be as simple, but a good one will make things as simple as possible.
Search for apps that minimize the learning curve to get the ball rolling as quickly as possible. You might also want to look for apps with intuitive user interfaces and user experiences.
2) Made Specifically for Mind Mapping
Technically, you can use all sorts of apps to create a mind map. Word processing programs (like Microsoft Word) can work well enough. You can even use Microsoft Powerpoint or Apple Keynote, which are both typically used for presentations. Of course, you can use just about any kind of drawing app like Paint, Adobe Photoshop, Corel Draw, Clip Studio Paint, and Affinity Photo.
There's nothing wrong with using whatever app you have handy. However, apps that developers didn't specifically make for creating mind maps may lack features and the ease of use that help keep your ideas flowing.
Choose an app that puts a major focus on mind mapping. It might even be a good idea to look for an app with templates to help you get started. It's worth mentioning that some apps offer multiple uses and purposes — and these multi-tasking apps might be a great choice.
3) Unlimited Canvas Sizes
When it comes to pens and paper (or whiteboards), you might find yourself struggling with limited space. When choosing mind mapping software, it's a good idea to look for one with unlimited canvas sizes. Alternatively, you can look for apps with maximum canvas sizes that suit your specific needs.
It's worth mentioning that, even if apps advertise unlimited canvas sizes, you may still be limited to what your computer or device can handle.
4) Allow You to Save & Export
When you're working in any app, it's always good to have the ability to save and export what you're working on. It may be helpful to have a mind map app that allows you to do the same. If you use many other productivity hacks and tools, look into a mind map app's integrations to see whether you can streamline your process at any point.
5) Collaboration with Others
Another thing to consider is whether an app has communication tools that are capable of supporting collaboration. If you generally work on your mind maps alone (or they're for personal use), this criterion may not be too important. However, if you usually work with a team, a tool with a robust set of collaborative features can help set you up for success.
Although collaboration can mean the ability to work on mind maps together in real time, this feature isn't always a necessity. After all, real-time collaboration — where people work on the same map simultaneously — can get confusing really fast if you aren't careful.
If real-time collaboration isn't required, look instead for apps with features that allow users to leave comments, tag each other, and export or share mind maps.
How to Make a Mind Map
Making a mind map is a creative process. Depending on preferences, projects, and tools you're using, your process may differ from other people's. Creating your mind map can be as simple or complex as you'd like it to be. There's no real "right" way to create your mind map. In fact, you don't always even need a tool — mind mapping can be done with pen and paper alone!
Nevertheless, there are some general steps to the process of making a new mind map. Here are some of them:
Start with a Blank Canvas
With your choice of tool, open up a blank canvas. A blank canvas will give you a clean slate and help keep your thoughts on the topic at hand.
Create a Central Node
Create your central node in the center of your canvas. This will act as the central theme or idea of the mind map. Central ideas can be anything you need them to be!
Start Brainstorming
Write down ideas for sub-nodes and their branches. Add them to the canvas as you come up with them. You don't have to be super organized — or even sure about your ideas — since you can always reorganize your mind map later.
Make Connections
Draw lines between nodes to represent the connection between your ideas. Here, you can begin to organize your ideas.
Begin Formatting
Finally, if you are using a digital tool, you can begin using formatting tools to display your ideas however you'd like. Add images, icons, colors, and so on.
How We Chose the Best Mind Mapping Software
As we considered which apps to include on our list of recommendations above, we looked into all sorts of factors to ensure that each one was deserving of its spot. Here are some of the criteria we considered:
Cost – We chose to include apps in every budget. We worked to ensure there were plenty of reasonably-priced options for you to choose from.
Free version – Beyond cost, we also looked for apps that offered free versions for those who don't need a full-featured mind mapping tool (and those who wanted to check out these apps before purchasing them).
Features – We looked at each app's features and chose tools that provided the best value to users. We appreciate tools that offer unique features to simplify users' lives.
Platforms and Cross-Platform Compatibility – We made sure to find apps that functioned on various platforms and allowed cross-platform syncing (so you can take your work wherever you need).
Other factors we also considered include user experience, ease of use, and user interface design.
Why Trust Productivity Spot?
At Productivity Spot, our primary aim is to provide our readers with the information and tools they need to improve their day-to-day lives. Whether it's providing tips and tricks or offering up our recommendations on products and services, we provide only the best and most accurate information possible.
In line with this goal, we tried the majority of the tools mentioned above (provided they had trial versions or free tiers). We also sought the opinion of others who have used the tools in the past to ensure we reached unbiased conclusions.
Frequently Asked Questions
Which Is the Best Mind Mapping Software?
The best mind map app is subjective because everyone's needs are different. The best app for you is the one that suits your needs and use cases best while fitting within your budget. You can always take a look at our recommendations (above) to find one you like or try Setapp for several options. We suggest ClickUp if you'd like an all-in-one tool, XMind for mobile, and SmartDraw if you're looking for templates.
What Is the Most Affordable Mind Map Software?
ClickUp is a fantastic mind-mapping tool that has premium plans available. It starts at $5/user/month but you don't need to pay for the premium plan at all: ClickUp's free forever plan offers a ton of value, including all the features you might need to create your mind maps. Another great thing about ClickUp? It can help consolidate all your productivity management via features like team chat and project management tools.
What Is the Easiest Mind Mapping Tool?
If you feel intimidated by the apparent complexity of some of the mind map tools out there today, you can try one of the easier tools: Coggle. Coggle meets our criteria as one of the best mind map tools and shines as one of the easiest to use — even for beginners. It's so simple that even younger users can pick it up and start creating their first mind maps in no time.
Does Office 365 Have a Mind Mapping Tool?
Microsoft Office 365 does not come with a dedicated mind mapping tool. If you want a Microsoft tool, you can use Visio. The caveat is that Visio can be extremely expensive to purchase outright, so you may have to go for a subscription instead.
If you need to create simple mind maps, you can still use Office 365 apps. For example, some mind map templates for Microsoft Powerpoint can help you create some basic mind maps.
Note: Visio is included in the Microsoft 365 subscription.
Related: Top 5 Best Microsoft Office Alternatives of 2023
How Do People Collaborate on a Mind Map?
As long as it has the necessary features for teams to work together, a mind mapping app can compete with even the best collaboration tools. With the right feature set, teams can use a mind map maker as a collaboration tool. As people brainstorm together, they can add additional nodes, organize the mind map, and much more.
People can choose to draw whenever an idea comes to them, while others may prefer having a designated person working on the mind map alone (to prevent any confusion).
Can I Save My Changes to a Shared Mind Map Online?
It depends on the tool, but the answer is most likely yes!
Conclusion: Choosing The Best Mind Mapping Software for You
When choosing a mind map app, it might be a good idea to look for one with the perfect combination of features, cost, and ease of use. But in the end, choosing the best mind mapping tool for you depends purely on your preferences.
Thankfully, most mind mapping apps have free versions or free trials to experience using them before committing to a subscription or a license purchase. Feel free to try some of the tools to find the best mind mapping software for your situation!
Want to learn about mind mapping and how it all works? Consider enrolling in some of Coursera's Mind Mapping courses to take advantage of tips and tricks.
Looking for more productivity tips? Check out these related articles: